Last updated on April 21st, 2023
Find out the complete Kyushu travel guide and itinerary with the best things to do from northern to southern Kyushu. We spend an amazing time in Kyushu and here is our Kyushu travelogue including Fukuoka, Kumamoto, Oita, Miyazaki, and more.
Here is our Kyushu travel guide with best things to do, best food to do, and best place to stay, that separate by prefecture and region: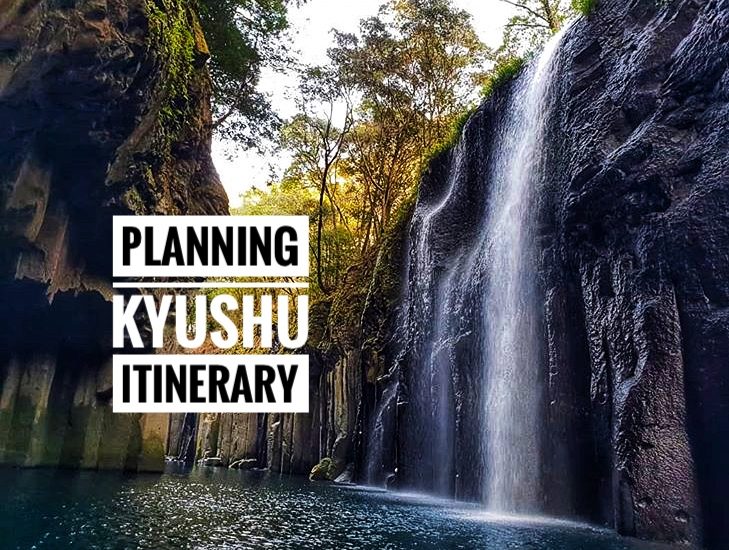 For a quick idea on how to plan for your Kyushu itinerary, here is the ultimate travel guide to guide you on interesting things to do in Kyushu. Most importantly, how to getting around and some money-saving tips.
How To Plan Your Kyushu Itinerary: Ultimate Guide
For a complete list of Kyushu travel info: 
Added, we also have a separate travel blog to guide you with Kyushu SunQ Pass itinerary by traveling in central and southern Kyushu by using the bus in more detail. Places covered with SunQ Pass are Kumamoto, Mount Aso, Kurokawa Onsen, Takachiho Gorge, Miyazaki, and Beppu.
Kyushu SunQ Pass itinerary: From North To South By Bus
Alternatively, please refer to our Fukuoka itinerary by using JR Pass traveling around Northern Kyushu with Fukuoka as a great base.
For quick access, feel free to check on below travel blog:
Kyushu Transportation Guide
Public transport is one of the budget way when visiting Kyushu Japan. However, there is something that you need to know when traveling in Kyushu by bus and train. Below useful transport tips will help you save a lot of effort and money.
Kyushu JR Pass vs SunQ Pass: Which One To Choose?
Here are the useful Kyushu Transport Guide to make a reservation for train and bus:
Detail explanation on easy travel from Fukuoka Airport to downtown city and other places:
Fukuoka
Fukuoka (福岡) is the biggest and busiest city in the Kyushu region. It is also a great base to plan for a day trip to nearby attractions, starting and end your Kyushu trip. Added, Fukuoka also the birthday to Hakata ramen, motsunabe, and mizutaki delicacy. Make sure to sample those local cuisines in Fukuoka when visiting Fukuoka.
Day Trip From Fukuoka:
The Complete Lists of Fukuoka Food Guide for the best food to eat in Fukuoka.
For Fukuoka Best Ramen:
Kumamoto – Aso – Kurokawa Onsen
The Kumamoto (熊本) is one of the must-visit places in Kyushu Japan. Plan your visit to explore the Kumamoto city, Aso, and Kurokawa Onsen.
Kumamoto city (熊本市, Kumamoto-shi) with what to do and eat during our visit.
Kumamoto Food Guide: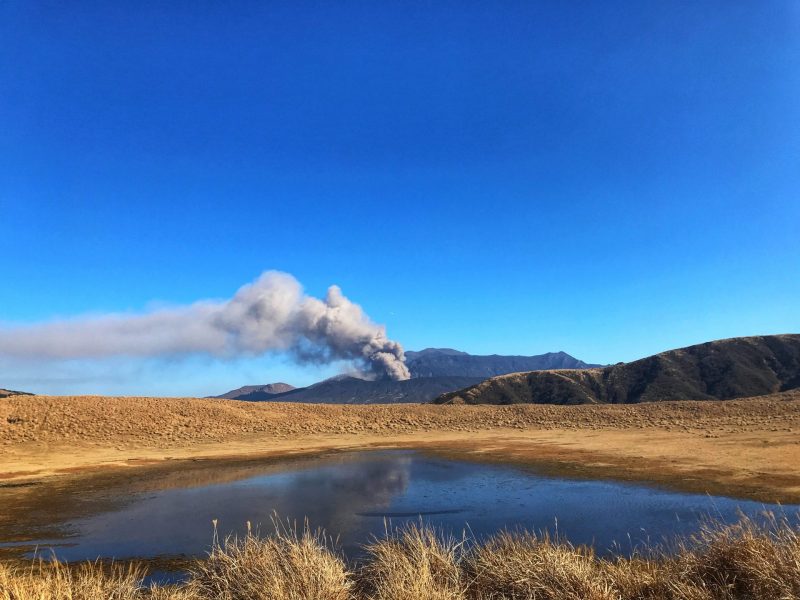 Aso (阿蘇) is known as nature sightseeing. Mount Aso (阿蘇山, Asosan) is the largest active volcano in Japan and worth spending time to get closer to the volcano activities.
Located at the northern foot of the Mount Aso, Kurokawa Onsen (黒川温泉) is the most popular hot spring spot in Kyushu. It boasted by numerous open-air baths and high quality of natural hot spring water. Many visitors are coming all the way to experience their authentic natural onsen bath in Kurokawa onsen.
Miyazaki – Takachiho Gorge
An amazing tropical city in Southern Kyushu, Miyazaki (宮崎) worth spending one or two days to slowly discover. It is ideal to plan on Miyazaki itinerary for an excellent day trip and visit the popular attractions along the Nichinan coastline.
Miyazaki Food Guide for best local specialties in Miyazaki: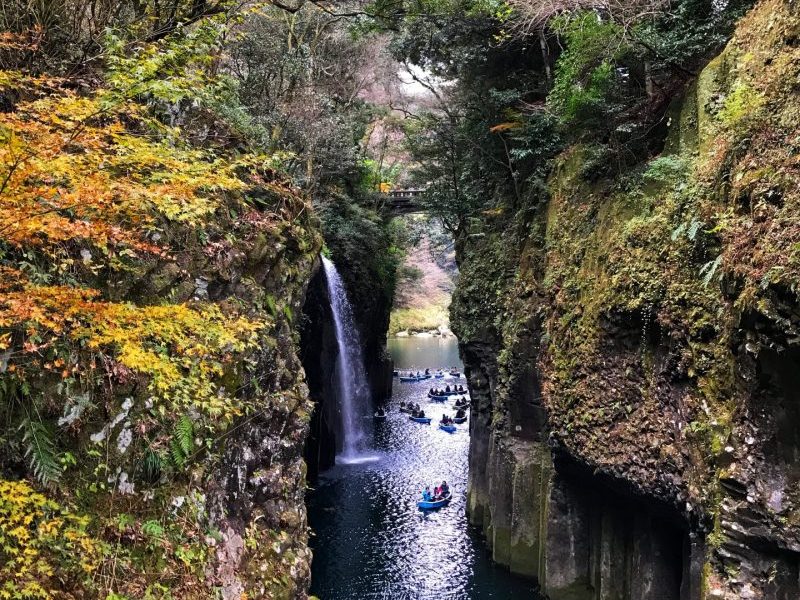 Takachiho Gorge (高千穂峡) is the most popular geological attraction and must-visit in the Kyushu region. Many locals and travelers from many countries coming to mesmerized this stunning natural wonder. Difficult to reach by public transport. Please read on my Takachiho Gorge travel guide, itinerary, things to do and transport arrangement to this dramatic columnar rock formations.
Oita – Beppu – Yufuin – Kokonoe
Located in Oita Prefecture, there are many attractions and things to do and see when visiting here. We plan our time visiting Beppu, Yufuin, and Kononoe Yume Otsurihashi and had a great time here.
Beppu (別府), one of the famous onsen towns in Kyushu Japan. My Beppu itinerary and food hunting tour in this amazing hot spring town as below:
Yufuin (由布院/湯布院) is a renowned onsen town in Oita prefecture and famous for its unique charm. There are many boutiques, art museums, antique toy, restaurants, and shops can easily spend your time discovering.
Half-Day Trip to Kononoe Yume Otsurihashi (九重"夢"大吊橋). It is Japan's Highest Pedestrian Suspension Bridge.
Oita, Beppu, Yufuin Food Guide: