Last updated on September 23rd, 2023
Do you ever taste the basashi or horse meat sashimi? Must-try local food in Kumamoto. Suganoya Kumamoto served the best horse meat cuisine in town.
There are a variety of local dishes and specialty food to eat in Kumamoto. For sure you may have try and experience on various Japanese food. But don't forget to try on horse meat cuisine in Suganoya Kumamoto if visiting here.
The basashi (馬刺し), so-called the horse meat sashimi is one of the unique culinary and popular food in Kumamoto. It is most well-known as the origin of horsemeat cuisine and hard to find in most other prefectures. We were keen and happy to try the basashi during our visit to Kumamoto. Once we have done check in to Nest Hotel, our accommodation stay in Kumamoto. We first headed to Suganoya Kamidori for lunch.
Suganoya Kamidori Kumamoto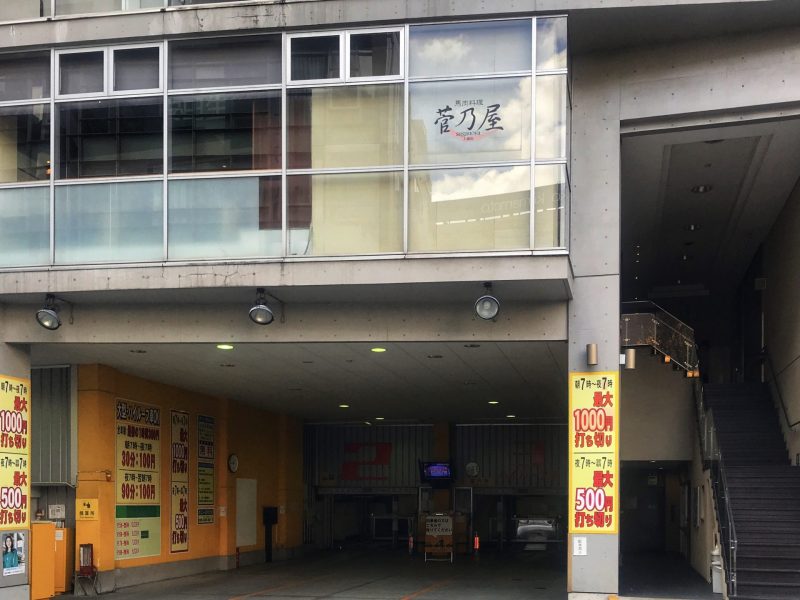 Suganoya Kamidori (菅乃屋 上通店) located on the second floor of a car park building. It took us about 15 minutes from the hotel by walking. We arrived early before the lunch peak hour. Surprisingly, the restaurant was almost full even weekday. Most of the customers are Japanese. We didn't make the reservation but luckily there were still seats available at the counter bar. So it is advisable to make a reservation for dinner and the weekend.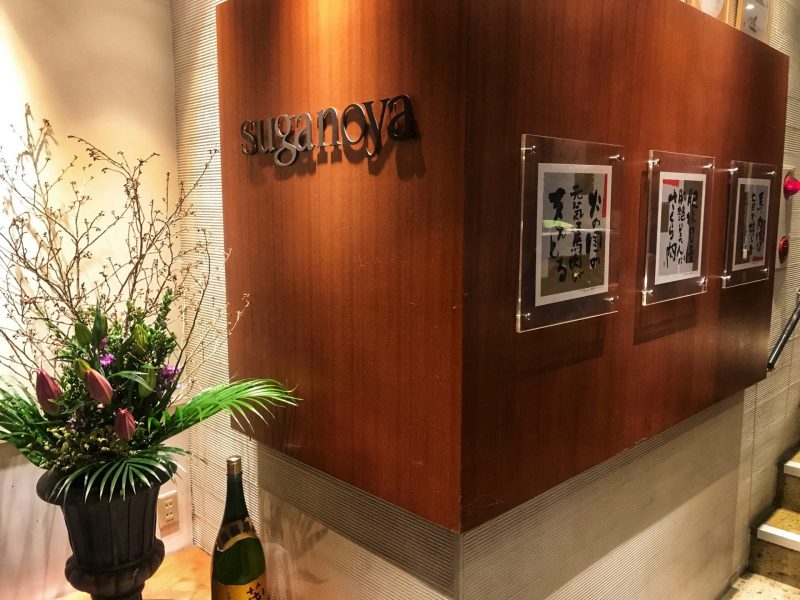 Suganoya (菅乃屋) is one of the best places in town, serving the horse meat cuisine. Suganoya has other branches in Kumamoto as far off as in Tokyo. However, the Kamidori flagship store is where the business started in 1789 during the Kansei period. Their horse meat is raised on the ground of Senkyo farm. Most importantly, Suganoya is the only specialized horse meat processing facility in Japan with international certification. So you won't go wrong by trying their basashi when visiting Kumamoto.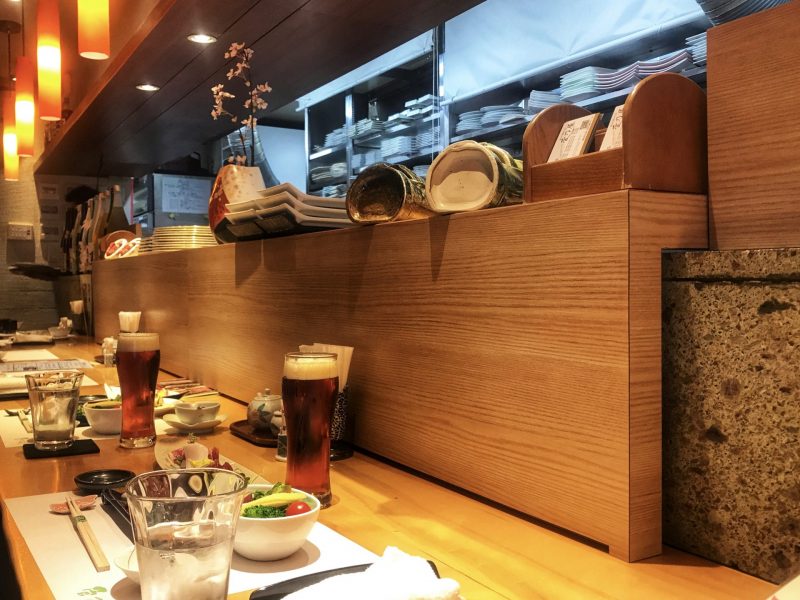 A friendly Japanese lady welcome us and promptly showed us to our seats by the counter. We had a good view of the kitchen as well as of the space in general. The atmosphere was very lively and casual.
Suganoya Lunch Menu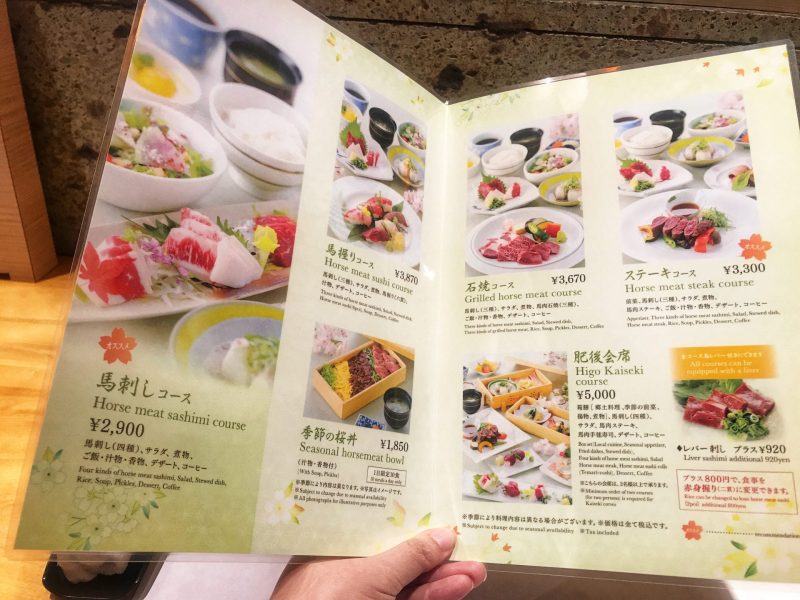 Ordering was easy. There are menu come in various languages with pictures and well explained on the cuisine. Suganoya is famous on horse meat specialized cuisine. Price is slightly upscale and can be ranging from ¥6,000 for kaiseki meal during dinner. But Suganoya also offered a valuable set menu during weekday lunch. One of the budget way without burning an unnecessarily huge hole in our pockets.
All sets come with basashi to satisfy our curiosity on Japanese horse meat cuisine. We opted for Stone Grilled Lunch Set (石焼コース) at ¥3,670. So that we can try on raw meat and grilled meat in different ways.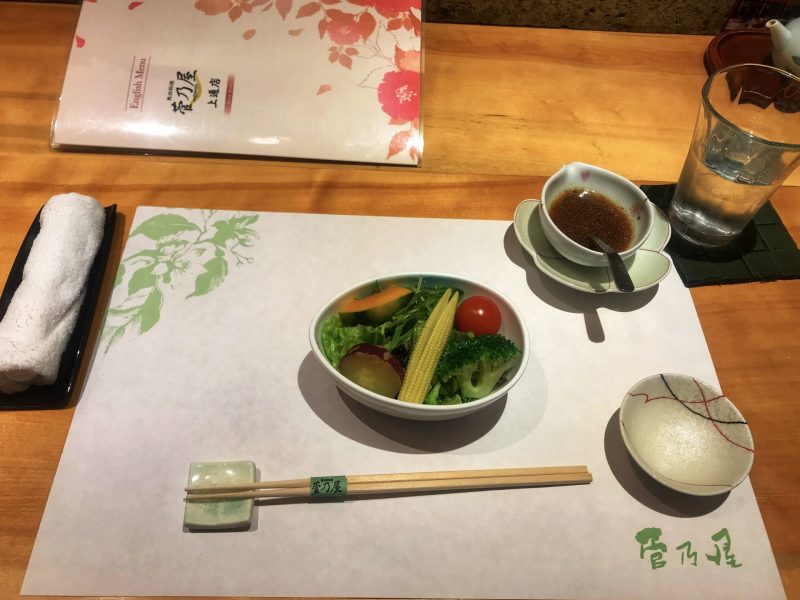 Firstly, we started with a refreshing salad while waiting for our first try on horse meat.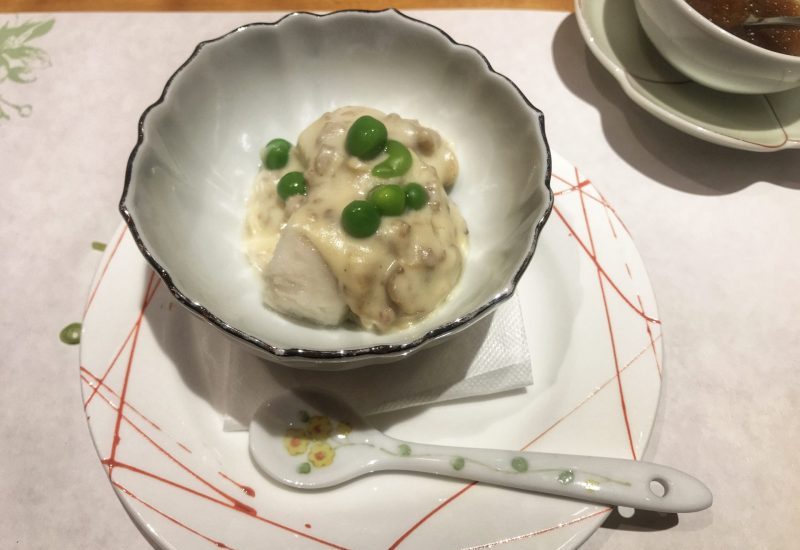 Stewed dish with some spring peas simply tossed in creamed dressing. A very typical Japanese way of stewed dish. It was particularly rich in texture and very delightful.
Horse Meat Sashimi (Basashi)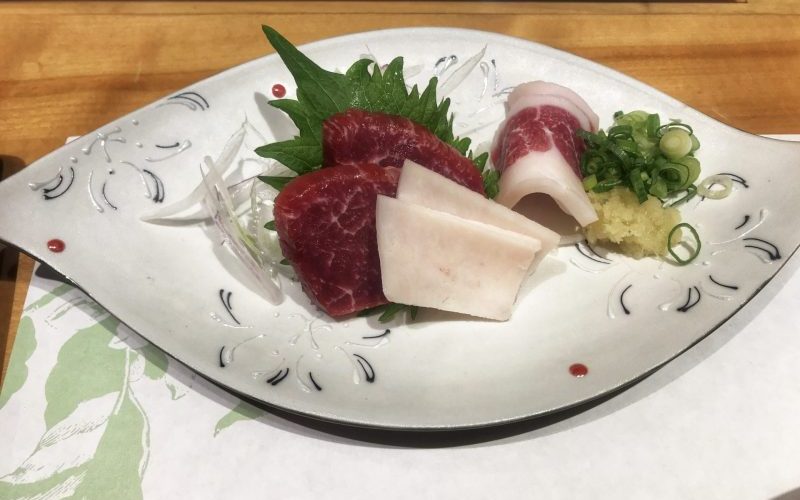 Next, horse meat sashimi with beautiful marble cut in slide was served. The dishes were also beautifully presented. Due to its pink color, horse meat also called sakura (桜) or sakuraniku (桜肉). However, the fat from the neck is white, not pink.
My first taste of horse meat yielded a most pleasant impression of a tender. It did taste a bit like beef but had a touch of sweetness. It changed my impression of basashi.
While horse meat did taste a bit like beef, we still preferred beef. However, given the food quality of this restaurant, we still think it is worthwhile to come here for a good sampling of horse meat cuisine.
Grilled Horse Meat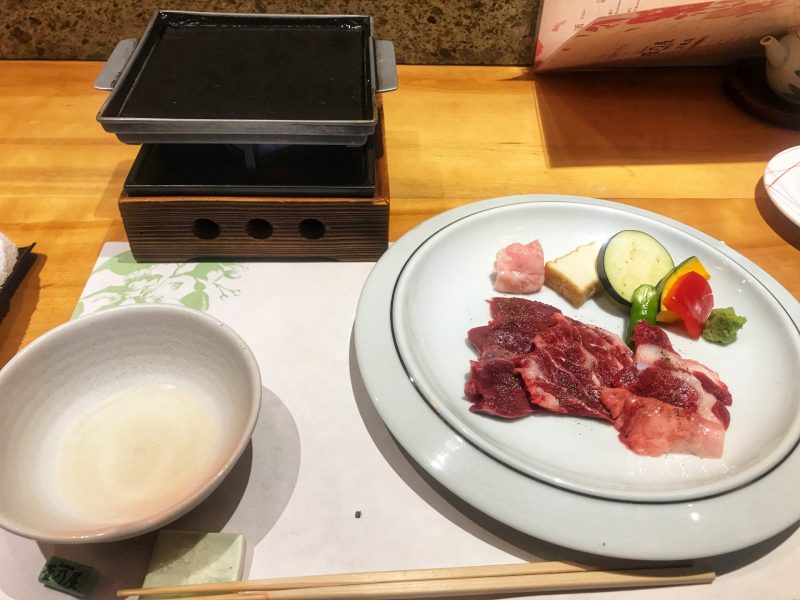 NNext on, various cut of horse meat was served together with a grilled stone. It served in three different parts of the horse meat together with some vegetables. The lady server teach us to use the fat to geese the pot and dipped the meat to the prepared seasoning sauce.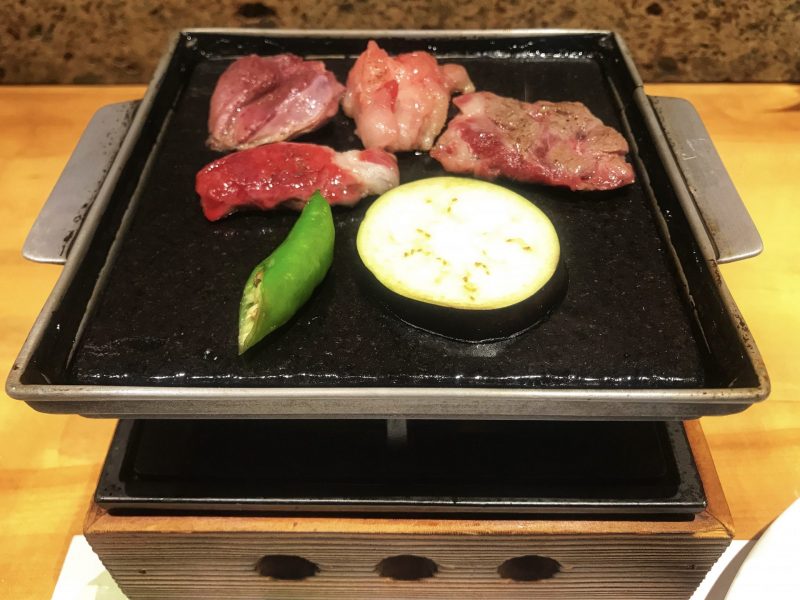 We can't wait to start our grilling process. Probably the roasted meat has more seasoning. When grilled, the aroma of the horse meat adding a mouthwatering flavor.
Horse meat with high nutrition and protein with less fat. Some parts may a little bit fat, but taste so good. Each taste differently with its characteristics. We love dipped our meat in the sauce provided. It is the simplest and great match with horse meat. It brings out the inherent flavor of the meat. Delicious.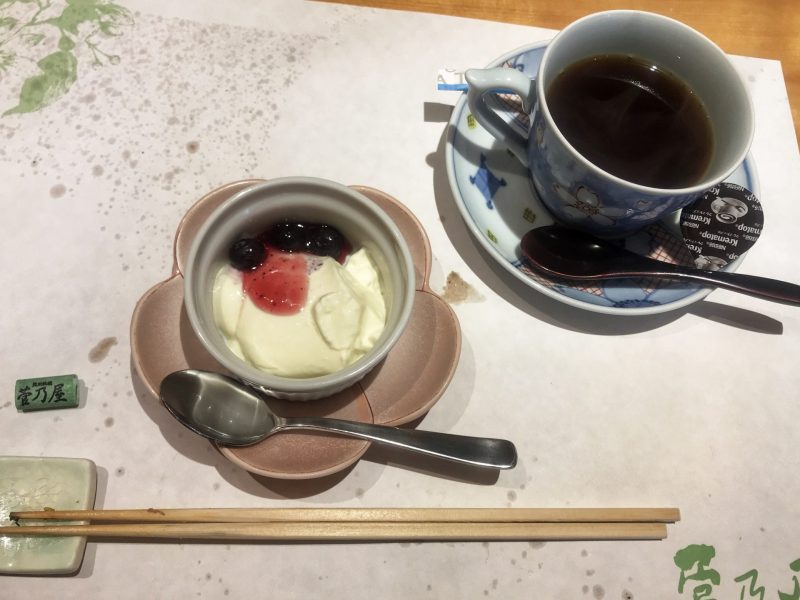 Last but not least, we had our dessert and coffee served after the meal. Such a satisfied meal in Suganoya. We end our meal with a well-filled belly.
Must Try Food in Kumamoto
All in all, it is worthwhile to visit Suganoya Kumamoto for a good sampling of horse meat cuisine. The service was very courteous and the quality of the horse meat was excellent. Given the food quality and very decent for such a lavish meal.
Horse meat is a must-try delicacy in Kumamoto. It is not so scary as what you think. Highly recommended for this unique culinary when visiting Kumamoto. Truly a distinctive gastronomic experience.
菅乃屋 上通店 Suganoya Kamidori Branch (Reservation is recommended)
Address: 2F, 2-12 Jōtōmachi, Chūō-ku, Kumamoto, Kumamoto Prefecture 860-0846, Japan
Getting there: 1-minute walk from Kumamoto City Tram Torichosuji Station (通町筋駅)
Official Website: https://service.suganoya.com/kamidori/
Operating Hours: Daily from 11:30 am to 15:00 pm and from 17:00 pm to 22:00 pm.
Related Kumamoto travel and food blog:
Day trip from Kumamoto:
Lastly, if you are looking for inspiration on how to plan your trip to Kyushu? Continue reading on our travel stories in Kyushu to Fukuoka, Yufuin, Miyazaki, and more.
How To Plan Your Kyushu Itinerary: Ultimate Guide
Fukuoka travel blog:
Miyazaki travel blog:
Beppu travel blog:
Kurokawa Onsen travel blog: