Last updated on September 23rd, 2023
A step-by-step guide on how to reserve Kyushu Odan Bus or Sanko Bus in Kumamoto with detail explanation. Applicable for SunQ Pass holder.
The Kyushu Odan bus, also name Kyushu Sanko bus is a bus operator company running the popular route between Kumamoto city, Aso, Kurokawa onsen, Yufuin, and Beppu. All are popular tourist spots in Kyushu. While from Fukuoka to Kumamoto, Yufuin and Beppu can be access by train. The Kyushu Odan bus is one of the best public transport connect Kumamoto city and other attractions mentioned by public transport without further transfer required.
One of the major concerns that cross across is how to reserve your seat on Kyushu Odan Bus? While most of the reservation portal is only in Japanese, we are facing the difficulty to look for information on Kyushu Odan Bus reservation. There is a website to help foreign visitors. However, it does not only accepted booking for SunQ Pass. We plan to use SunQ Pass during our visit as it greatly saves us the transportation fee on the bus ride. It make us some effort to understand and manage to board the bus as per plan.
We have documented on how to reserve seat for Kyushu Odan Bus with the explanation. This is applicable for SunQ Pass holder. Hope this helps.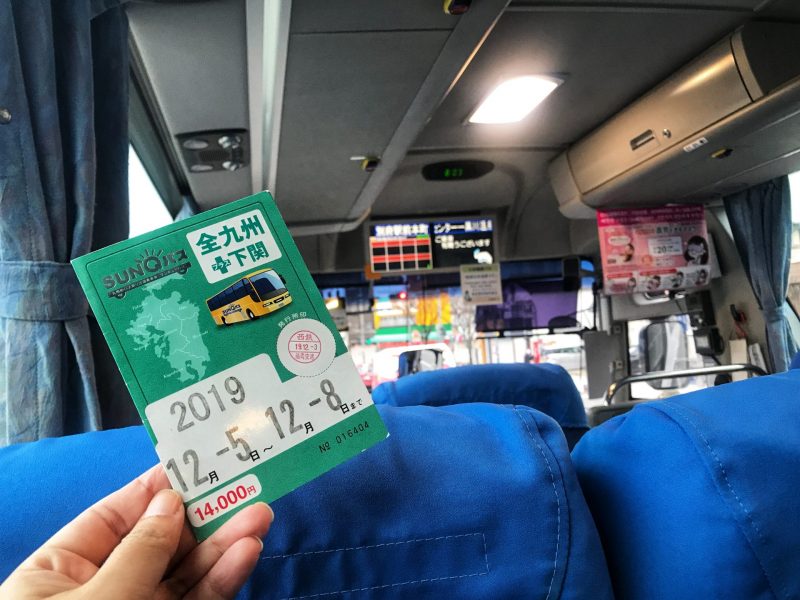 Before we proceed further, let me explain this great money-saving tips. The SunQ Pass is an unlimited bus pass in Kyushu dedicated for foreign visitors. It cover almost all the highway bus and city bus in Kyushu. For sure you know how expensive the transportation fee in Japan. Compare with train, bus is the cheaper and budget transport. It is extremely helpful when traveling in Kyushu as some of the attraction is only accessible by bus. Such as Kurokawa onsen, Takachiho Gorge and attractions in Miyazaki. If you are planning on any day trip, the pass is worth the value. Make sure you get the correct type of SunQ pass which eligible for your route.
There are few option for the Kyushu SunQ Pass:
Southern Kyushu 3-Days Pass (¥8,000)
Northern Kyushu 3-Days Pass (¥9,000)
All Kyushu 3-Days (¥11,000) and 4-Days Pass (¥14,000)
You can get the Kyushu SunQ Pass from Klook and exchange it at Fukuoka International Airport. Extremely easy and simple. Plan on your Kyushu itinerary and check on whether worth to get one for your trip.
Kyushu Odan Bus Reservation
For foreign visitors, the most common route that we used on Kyushu Odan bus is route connecting Kumamoto city to Kurokawa Onsen. So we will use this as an example for the Kyushu Sanko bus reservation step.
Click On Kyushu Odan Bus Website
For the very first step, please click on the Kyushu Odan Bus Web Website. It is only Japanese language supported. If you choose another language, you will redirect to Kyushu Bus Booking which not applicable for SunQ Pass holder.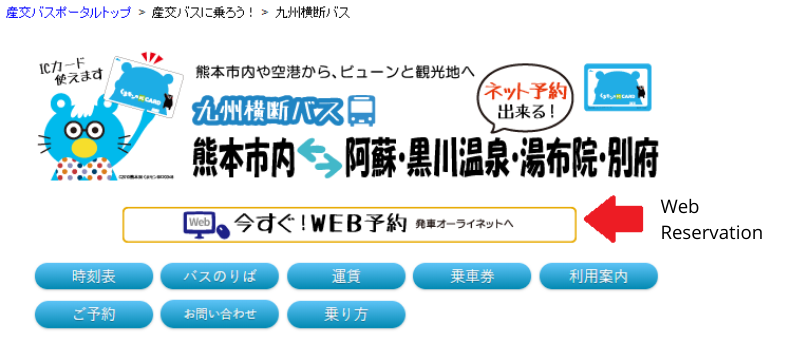 Select Travel Date
Once you select on your desire travel date, the page will automatically display all the available bus schedules, route information, and available set.

Select Desire Bus Route
Make sure the route that you want. For this case, we will select the earliest bus depart from Kumamoto. Click on the one-way selection button.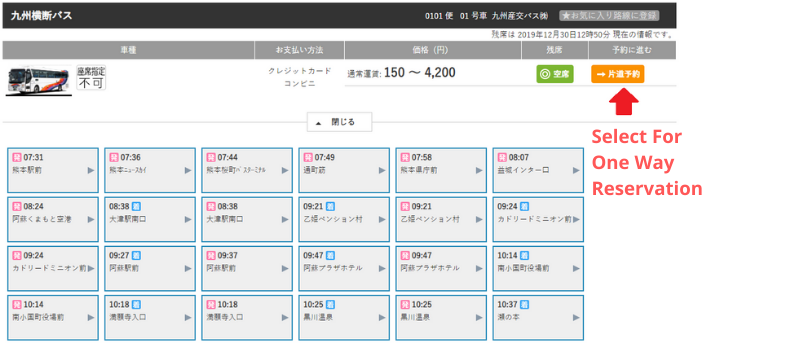 Select On Bus Reservation Detail
Set the bus reservation information including departure and drop off location, number of passengers. It is easy to navigate with the bus schedule. It will automatically calculate the bus fare for your ride. Once everything is done, click on the orange button to proceed to the next page.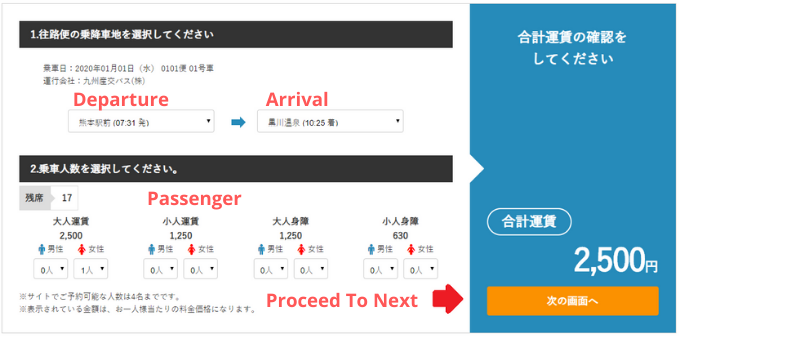 Register As User Of Kyushu Odan Bus
User Registration
Next, you will be required to log in as a user. For first time users, you will need to register to proceed for seat reservation on Kyushu Odan Bus. Click on the new user registration to proceed to the user registration page and agree on the term and conditions.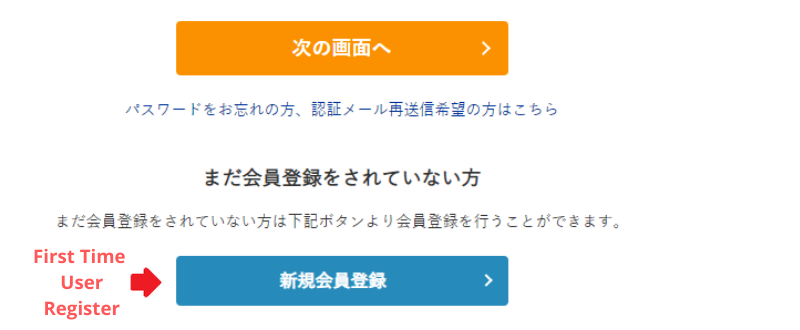 Fill in all user information
Next, fill in all user information including Password, name (Japanese Katakana characters only), Email address and Telephone Number. One of the most tricky part is the name as it only accept for Japanese katakana. What we did is use google translate the English name to Japanese character. To avoid error, it is best to simply the length of the name. We keep hitting error putting the full name. So shorter version is acceptable. The driver will use the name and reservation number to make sure on the passenger. Once, it done, click the below button to complete the registration.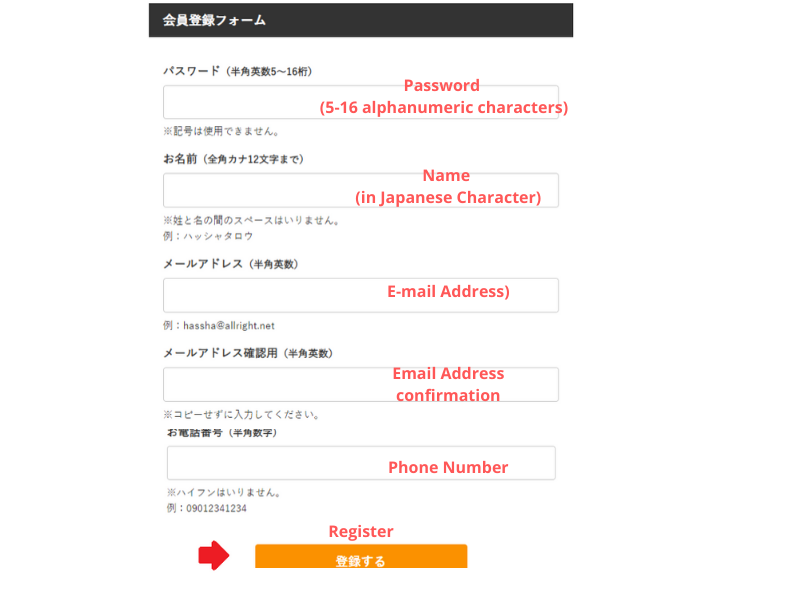 Email Verification and Proceed For Log In Page
Once registration complete, a verification email will send to your email address provided. As per the standard process, please verify the confirmation email from Kyushu Odan Bus. Click on the verification and direct you to the login page. Log in to proceed for seat reservation.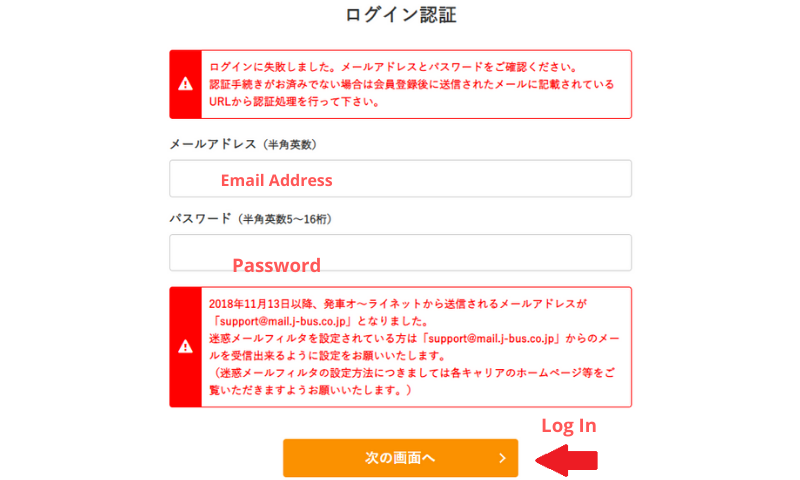 Bus Seat Reservation confirmation
Lastly, is the reservation confirmation. There is an option for payment method. Please select the credit card payment instead of a convenient store settlement. Although you are selecting credit card payment, that is no further payment required. You can show the reservation to the driver and board the bus.
Complete Kyushu Odan Bus Reservation
After confirming your reservation including date, bus schedule, fare, and passenger, check the button to submit a seat reservation on Kyushu Odan Bus ride. That's it. You will received an email for your reservation.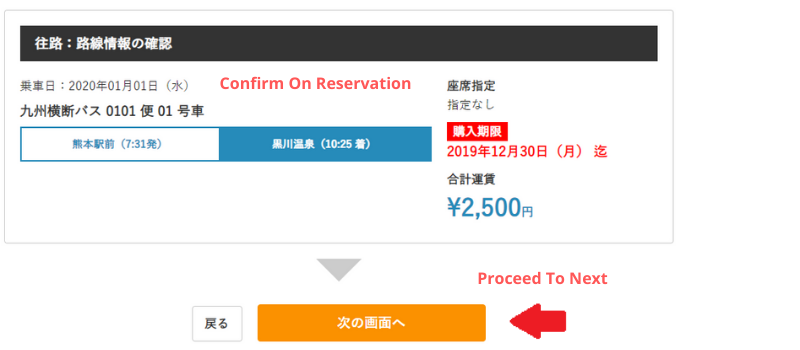 How To Board The Kyushu Odan Bus
Kyushu Odan bus allows passenger boarding even without reservation. But priority will be given for those who make the seat reservation. We had using Kyushu Odan bus a few times during our visit and there are pretty of seat available. The most popular route is the Kumamoto to Kurokawa onsen.
Unlike other highway buses, no seat confirmation ticket required. We had double confirm on highway bus counter at Fukuoka airport and Kumamoto. Both informed us that we can just show the reservation number and board the bus. If you do not plan to get the SunQ Pass, just take the fare counting ticket once boarding and pay the correct amount of bus fare at your destination. For SunQ Pass holder, just show the pass and you are ready to go.
Another useful transport guide: How to reserve highway bus ticket in Kyushu Japan
I hope this little guide on how to reserve a seat on the Kyushu Odan bus is helpful. Any further information and inquiry can email to use. We try our best to answer. Added, if you are interested continue read on our travel guide to other attractions in Kyushu. Happy travel!