Last updated on September 23rd, 2023
If you're interested in Hakata city's regional specialties, then you can start with the best Fukuoka ramen from our top 6 recommendation Hakata tonkotsu ramen.
Ramen is the most favorite and famous Japanese dishes. The noodles soup is made with wheat noodles in a tasty broth served with sliced pork, boiled egg, scallions, dried seaweed, and other ingredients.
Many regions offer their own version of ramen and it tastes different for every city. Among them, tonkotsu ramen is one of the most beloved ramens. But did you know, Hakata Fukuoka is the birthplace for this flavorful ramen? Eating a bowl of tonkotsu ramen is a must-do when visiting Fukuoka. The Hakata tonkotsu ramen can be overwhelming rich after a few slurps. You'll either love it or hate it.
Top 6 Best Fukuoka Ramen
I am a lover of Hakata tonkotsu ramen and truly enjoy my ramen hunt when visiting Fukuoka. From the renowned chain store Ichiran ramen, Ippudo, local ramen restaurant to yatai, there are lots of ramen specialties shops to choose from. A hearty bowl of ramen really makes your days after a tiring trip.
Here is my pick of the best Fukuoka ramen that we ate during our visit:
Ichiran Ramen
Shin Shin Ramen
Shodai Hidechan
Hakata Ikkousha
Hakata Issou
Kurume Taiho Ramen
Let's start with our food trip for the best Fukuoka ramen in Hakata.
What is Fukuoka style Ramen?
Fukuoka aka Hakata style ramen is tonkotsu broth cooked at a rolling boil and served with thin, sturdy noodles. The flavorful porky soup is the heart of this Hakata ramen. The creamy broth is simmered by pork bones for more than 10 hours, packed with fat globules floating on top.
Where can I eat Hakata Ramen in Fukuoka?
You can be sure you will be absolutely spoiled for choice when it comes to looking for where to eat Hakata ramen in Fukuoka. Try the Hakata ramen at renowned chain stores, local ramen shops, or Yatai stalls in Fukuoka city.
What is most popular tonkotsu ramen in Fukuoka?
The top 6 most popular Tonkotsu Ramen from Fukuoka City loved by the locals is Hakata Ikkousha, Ichiran ramen, Hakata Issou, Shin Shin Ramen, Shodai Hidechan, and Kurume Taiho Ramen.
Ichiran Ramen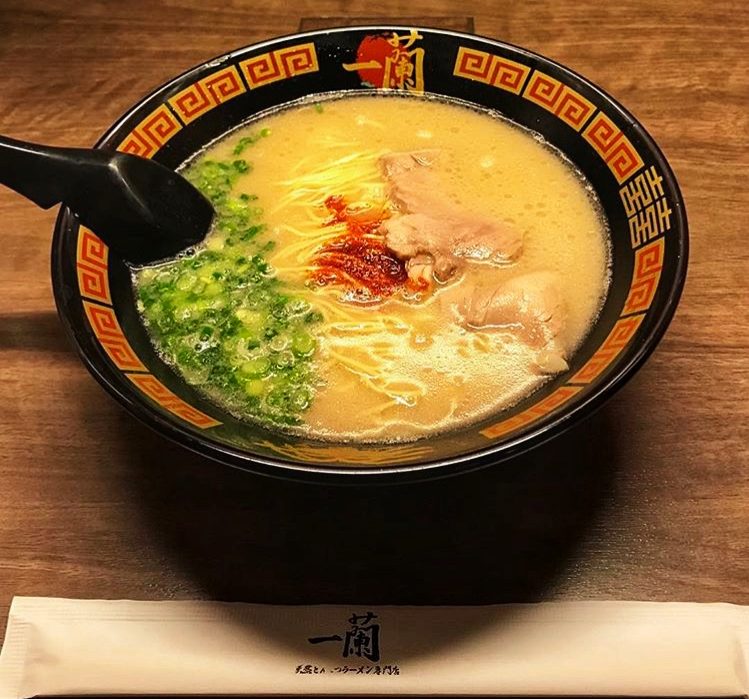 The most popular and famous Hakata tonkotsu ramen for sure is Ichiran ramen. It might also where the tonkotsu ramen begin to spread all across Japan and worldwide. This is no one who can visit Japan without a taste of Ichiran ramen with a kaedama. It won't go wrong with this famous ramen chain in Japan. In fact, you can try the Ichiran ramen in other cities, but I wouldn't miss the opportunity to visit the Ichiran ramen main shop in Fukuoka.
I personally love the buttered porky broth from Ichiran ramen. The strong, bold flavor is cooked to perfection by Ichiran's secret sauce. You can also customize your Ichiran ramen from mild, normal, strong to extra-strong flavor and choose your level of dashi, chili, richness, the type of onions, with or without pork and the noodle texture. Just tailor your Ichiran ramen with their custom form and order your ramen at the vending machine at the entrance.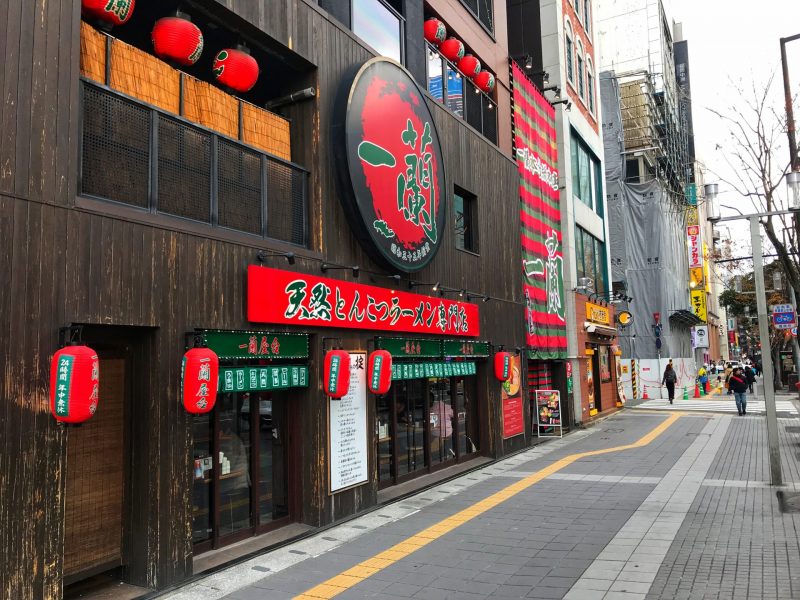 You couldn't possibly miss the multi-story building festooned with bright red lanterns. But what's so special for Ichiran ramen in Fukuoka's main shop is its yatai design dining area on the ground floor and rectangular bowls which something special compared with other branches. Added, the unique dining experience in private individual counter seats, set apart from other ramen restaurants while enjoying for this traditional ramen
There are always long queues by locals and visitors, waiting to savor for a satisfying bowl of Ichiran ramen. A bowl of Ichiran ramen costs about ¥890 and you can get the refill noodles at a low price at ¥300.
Ichiran Main Shop Nakasu
Address: 5-3-2, Nakasu, Hakata, Fukuoka 810-0801 Fukuoka Prefecture
Opening Hours: Daily 24 hours!
Getting there: Three minutes walk from Nakasu Kawabata Subway (Exit 2)
Shin Shin Ramen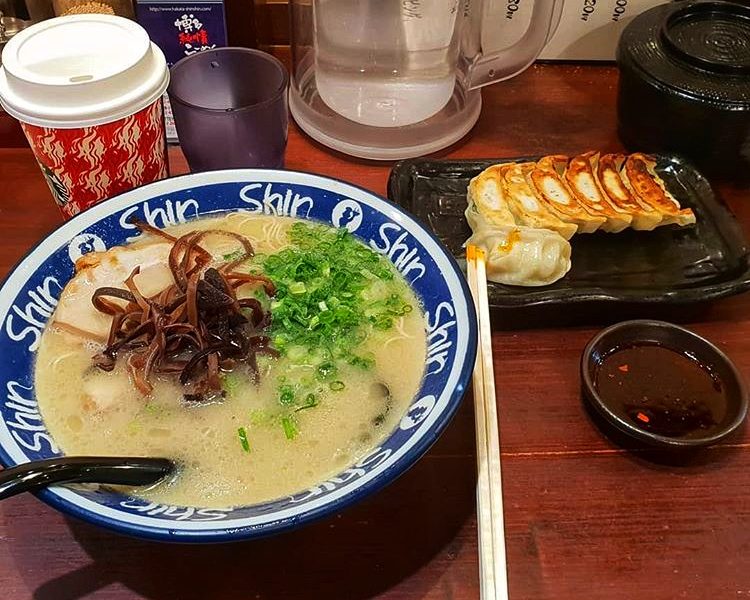 There is a reason why people stand in line to get a bowl of Shin Shin ramen. It is one of the popular best Hakata ramens in Fukuoka and highly recommended by locals for a better taste of ramen. It got a unique taste compared with the normal creamy rich pork broth, dissimulated by the sesame oil, sesame seeds, and pickled ginger.
The Shin Shin Ramen is cooked to perfection. The broth is creamy but not as heavy and greasy as other tonkatsu that I've had. The short-cooked noodle is the thinner type and firm with a nice springy texture. It went well with the flavorful broth. Moreover, the pork slices in my ramen were so tender and perfectly seasoned. Everything was superb.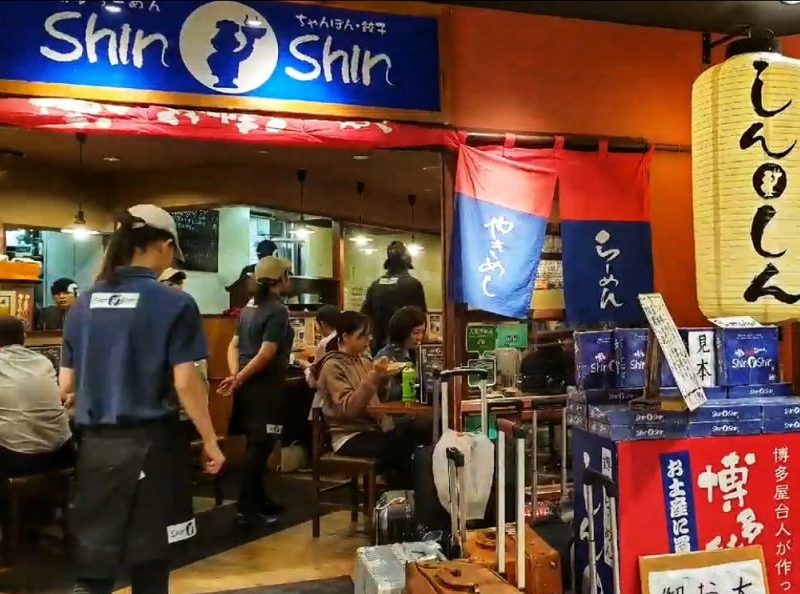 Our ramen food hunt on Shin Shin Ramen on the second floor of the "ramen street" above the JR station. You can smell it from around the corner. Depending on the line, you might need to wait at least 30 minutes to get the seat in the shop. We waited for about 20 minutes at a non-peak hour.
A bowl of Shin Shin Ramen is at a much cheaper price compare with other ramen chain shops. A bowl of ramen with half boiled egg was about ¥700. Besides, it also offers lunch special meals with fried rice and gyoza for a complete meal.
Shin Shin Hakata Deitos (シンシン)
Address: 1-1 Hakataeki Chuogai, Hakata, Fukuoka 812-0012 Fukuoka Prefecture
Opening Hours: From 10:00 am to 12:00 am
Shodai Hidechan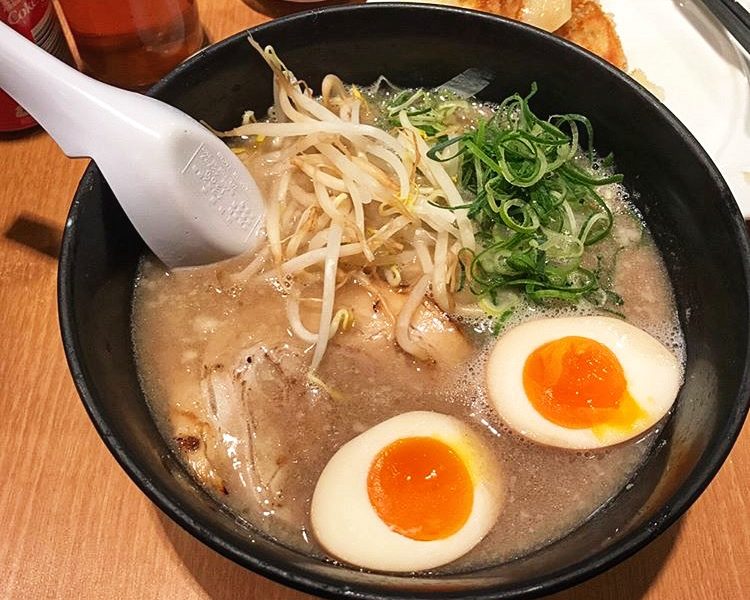 On the 5th floor of Canal City shopping sits a Ramen Stadium. It has a total of eight different ramen restaurants to choose from in this complex. Each of the ramen shops is loved by locals and has its own supporter. Among all, Shodai Hidechan probably is the most popular tonkatsu at the Ramen Stadium.
Shodai Hidechan specializes in pork neck broth. Their signature ramen was flavorful with thin noodles with the porky broth. It was truly decent but not as creamy as another tonkatsu ramen I've had. The pork slices were divine and the added sprouts give the freshness for the ramen. For me, it is good ramen but nothing outstanding.
In short, Shodai Hidechan ramen is highly recommended is you are looking for a bowl of good ramen at a reasonable price
Shodai Hidechan (初代 秀ちゃん)
Address: 1-2-25 Sumiyoshi Ramen Studium 5F, Hakata, Fukuoka 812-0018 Fukuoka Prefecture
Opening Hours: From 11:00 am to 11:00 pm
Hakata Issou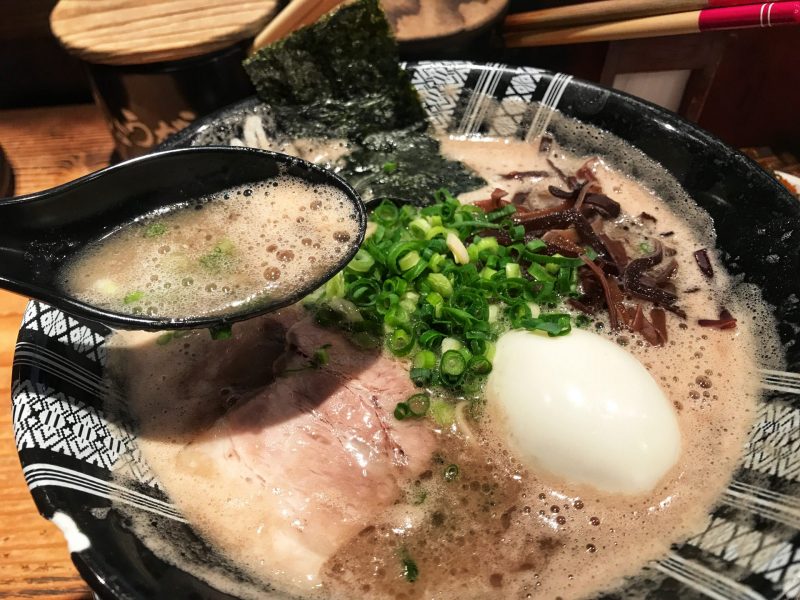 The local favorite Hakata Issou is one of the most popular Hakata ramens in Fukuoka. It is often listed in the best tonkotsu ramen in Fukuoka by various publications. The best part for Hakata Issou is it uses premium local pork, simmered into an ultra-rich pork-based soup. Together with firm noodles, this flavorful ramen is topped with green onion, seaweed, and delicious pork slides.
Hakata Issou is famous for its signature Fukuoka ramen, which is thick and flavourful. So, be prepared for the creamy hearty pork broth. The price of a bowl of ramen from Hakata Issou costs ¥890, slightly more expensive compare with other ramen restaurants. But it definitely worth the price.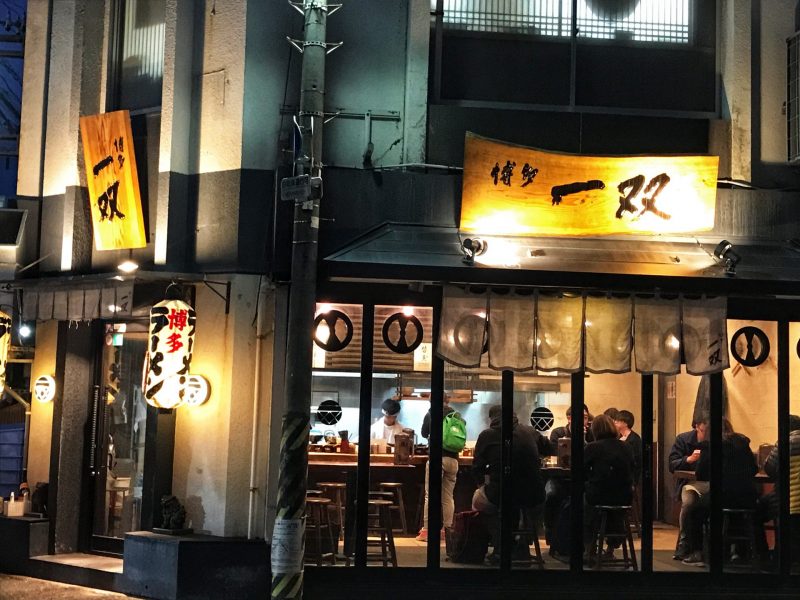 Apparently, Hakata Issou only has two branches in Fukuoka city. We recommended visiting the one in Nakasu which is more accessible by public transport.
Related Food Review: Hakata Issou: Local Favorite Best Ramen in Fukuoka
Hakata Issou (博多一双)
Address: 3 Chome-1-6 Hakataekihigashi, Hakata Ward, Fukuoka, 812-0013, Japan
Opening Hours: From 11:00 am to 12:00 am
Getting there: 6 minutes walk from Hakata Station
Hakata Issou Nakasu
Address: 2-6-6 Nakasu, Hakata-ku, Nakasu, Hakata, Fukuoka 810-0801, Fukuoka Prefecture
Opening Hours: From 11:00 am to 12:00 am
Getting there: 5 minutes walk from Nakasukawabata Subway Station
Hakata Ikkousha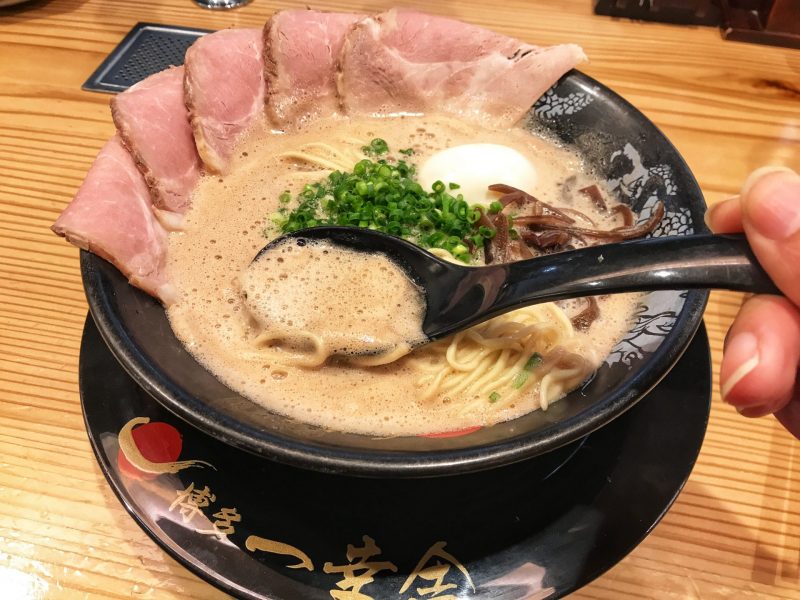 Another world-famous ramen chain that origin from Fukuoka. Hakata Ikkousha rated as one of the best ramens in Fukuoka and has many branches around Japan and worldwide.
We tried the best ramen from Hakata Ikkousha for supper after a tiring trip. It was still full of locals even after 9 pm. I ordered the hot item with Ikkousha's specially prepared extra pork slices topped on the noodle bowl. WOW. We were amazed by its extra pork slides that served across the ramen bowl. It was still slightly under raw when it was served. It was slowly heating up by the hot broth so that it will not overcook. Amazing!
The noodles have prominent wheat favor. It was firm and thin, just like the traditional Hakata style. While the pork broth is very creamy and tasty, but not too heavy. There was free garlic, ginger, and pepper to add according to your preference. Great quality at a reasonable price. One of the best ramen I've tasted.
Related Food Review: Hakata Ikkousha Fukuoka: Must Eat Ramen Shop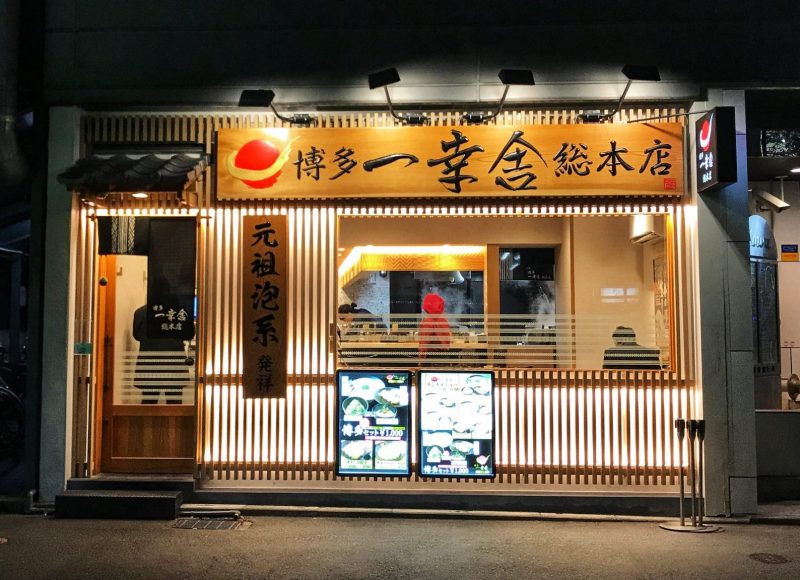 Hakata Ikkousha Hakata Main Branch (博多一幸舎 博多本店)
Address: 103 Kowa Building, 3-23-12 Hakataeki-mae, Hakata-ku, Fukuoka-shi, Fukuoka-ken
Opening Hours: Daily from 11:00 am to 24:00 am and 11:00 am to 21:00 pm on Sunday.
Kurume Taiho Ramen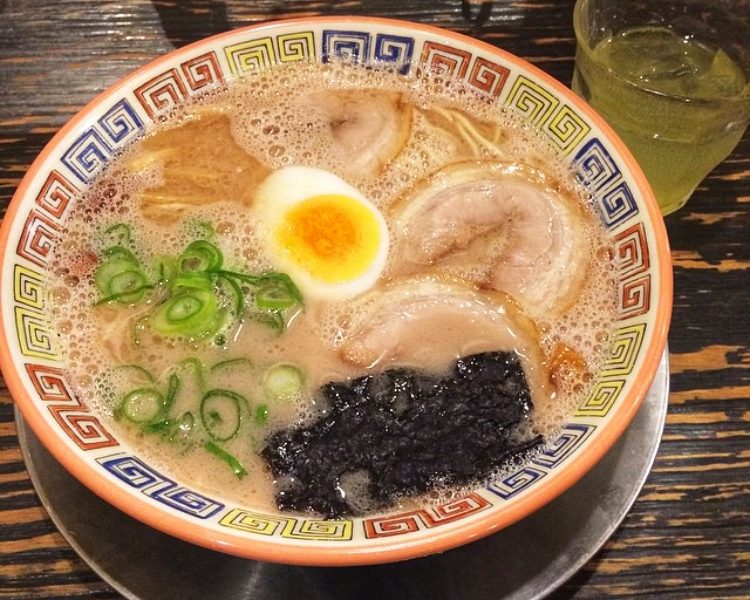 The Kurume Taiho Ramen is a traditional style of ramen compared to the flavorful Hakata ramen. It is an authentic ramen shop in Fukuoka that love by locals.
The noodle is standard Fukuoka's style, which is thin and firm. But the star of Kurume Taiho was definitely its pork broth. Its iron pot was never empty to continue simmered over time, from the past to the present. So no surprise the broth is full of history with satisfying flavor. It definitely can give you a breathtaking taste by its thicken broth. Rich in flavor but not too salty.
The Mukashi-Chaa-Shuu-Men is their chef's favorite at the price of ¥900.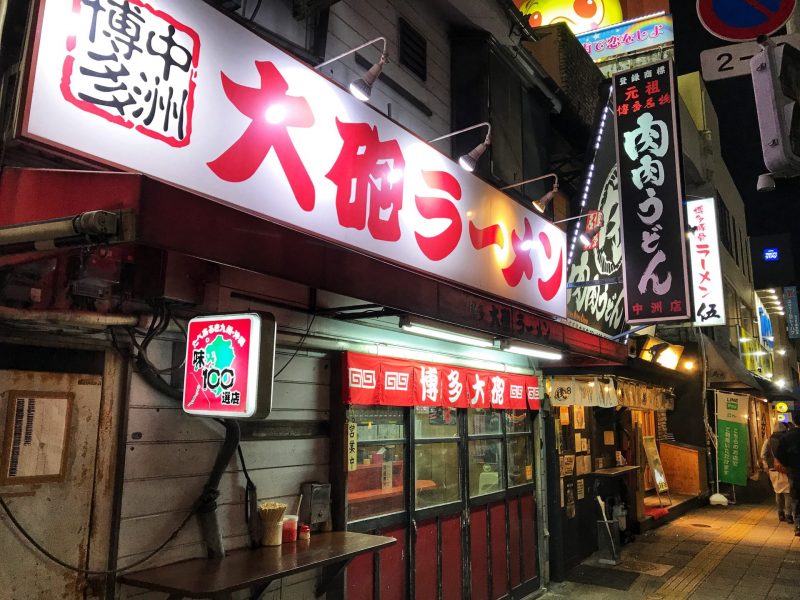 Overall, Kurume Taiho Ramen is above average as it does not give me the overwhelming taste. But, if you're just looking for a classic Kyushu style tonkatsu ramen, Kurume Taihi Ramen is a good choice.
Kurume Taiho Ramen (久留米 大砲ラーメン)
Address: 1-23-8 Imaizumi Chie Bldg. 1F, Chuo, Fukuoka 810-0021 Fukuoka Prefecture
Opening Hours: From 10:30 am to 10:00 pm
Overview: The Best Fukuoka Ramen
So, what's your vote for the best Fukuoka ramen? For sure everyone will have their own liking when it comes to the thickness of noodles, flavorful broth, and topping. We truly enjoy our food review on this best Fukuoka ramen food tour. But, there are so many good hidden ramen shops scattered around Fukuoka city, and we only have a chance to taste a few of it during our visit to Kyushu. Let us know if you have other good recommendations so that I can plan for my next Fukuoka ramen food hunt trip.
Lastly, this Fukuoka best ramen review is part of our Kyushu food trip when visiting Fukuoka. If you are interested, continue to read our travel story for amazing attractions and the best food in Kyushu.
Travel to Kyushu Onsen paradise: Yufuin, Kurokawa Onsen and Beppu