Last updated on September 23rd, 2023
Wondering where and what to eat in Kumamoto? Our Kumamoto food guide has the best place to try on the must eat local dishes when visiting Kumamoto.
Located in the Kyushu region, Kumamoto is a historical-cultural town, known for its stunning castle. Many visitors are coming all the way to visit the Kumamoto castle. However, do you know Kumamoto is also famous for its food? The city offered many delicious cuisines, from traditional sweet treats to a variety of local dishes and specialties. We listed down the popular restaurant in Kumamoto if you are not sure where to eat in Kumamoto. Don't miss the chance to try on Kumamoto's food when visiting here.
Here is Kumamoto Food Guide: Top 5 Best Food To Eat in Kumamoto.
Basashi (Horse Meat Sashimi)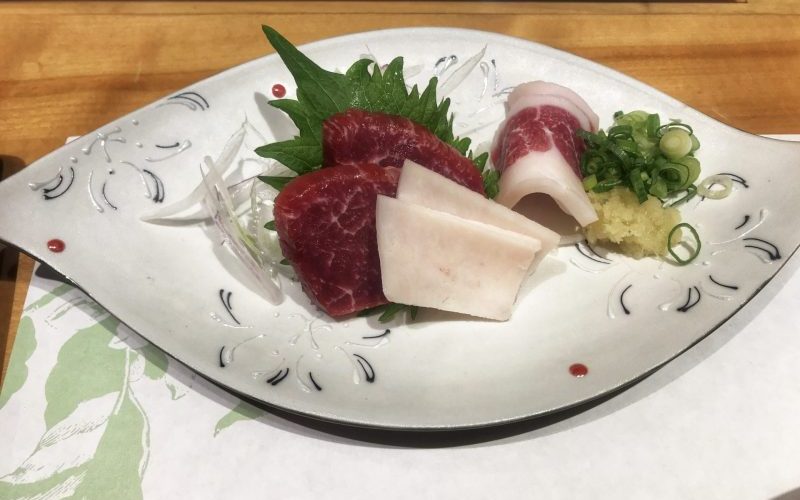 Basashi or horse meat sashimi is a must-try food in Kumamoto. It is a popular local dish that is hard to find in most other prefectures. For foreign visitors, you might be afraid of eating horse meat. It is not so scary as what you think. Horse meat is a culinary tradition of Japan, especially in Kumamoto and Nagano prefecture. It can be served raw as sashimi (basashi) or cooked in various methods such as grill, shabu-shabu, or skewer.
Horse meat has high protein and nutrition with less fat. It is getting popular among locals especially ladies in Japan. It taste like beef but had a different touch of sweetness. A must-try unique culinary in Kumamoto.
Best place to try the horse meat in Kumamoto:
Many restaurants especially izakaya in Kumamoto serve horse meat cuisine. But no one can beat the Suganoya (菅乃屋). It has many branches in Kumamoto even Tokyo. We recommended tasting on the horse meat cuisine in Suganoya Kamidori (菅乃屋 上通店) as it is their flagship store, which started to serve the horse meat cuisine in 1789 during the Kansei period. A full course of horse meat kaiseki is not cheap. Budget lovers consider visiting during lunchtime as they also served the lunch menu at a cheap price.
Address: 2F, 2-12 Jōtōmachi, Chūō-ku, Kumamoto, Kumamoto Prefecture 860-0846, Japan
Getting there: 1-minute walk from Kumamoto City Tram Torichosuji Station (通町筋駅)
Price range: from ¥6,000 to ¥12,000
Tonkatsu (Pork Cutlet)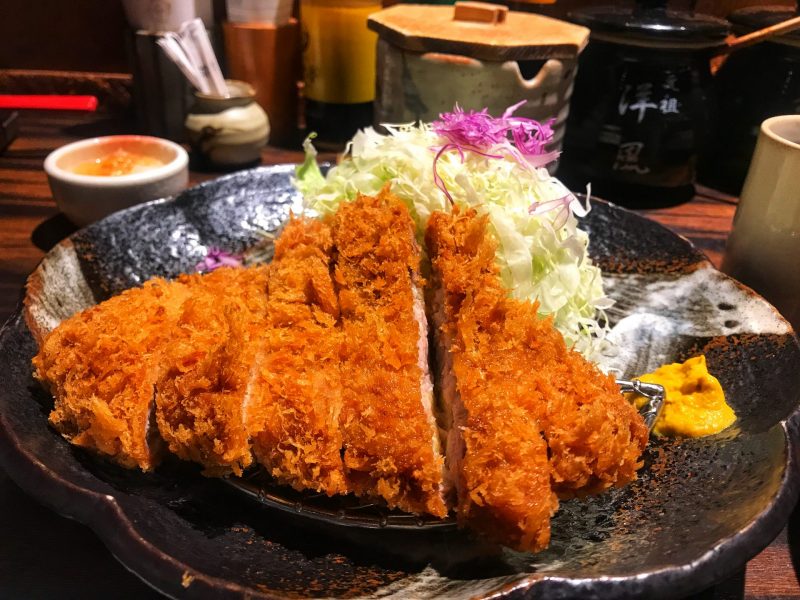 The Tonkatsu (豚カツ) is a Japanese fried pork cutlet, normally fillet or loin. It is coated with Japanese panko breadcrumbs and deep-fried in hot oil. Tonkatsu is often served with rice, shredded cabbage, and miso soup.
Katsuretsutei Shinshigai Honten (勝烈亭) is probably the best restaurant that served the tonkatsu in Kumamoto. Their tonkatsu is so succulent and made to perfection. It is juicy inside yet crispy on the outside. The portion is so big and comes with unlimited refills of shredded cabbage, miso soup, and rice. One of the best food in Kumamoto.
Taipien (Vermicelli Soup)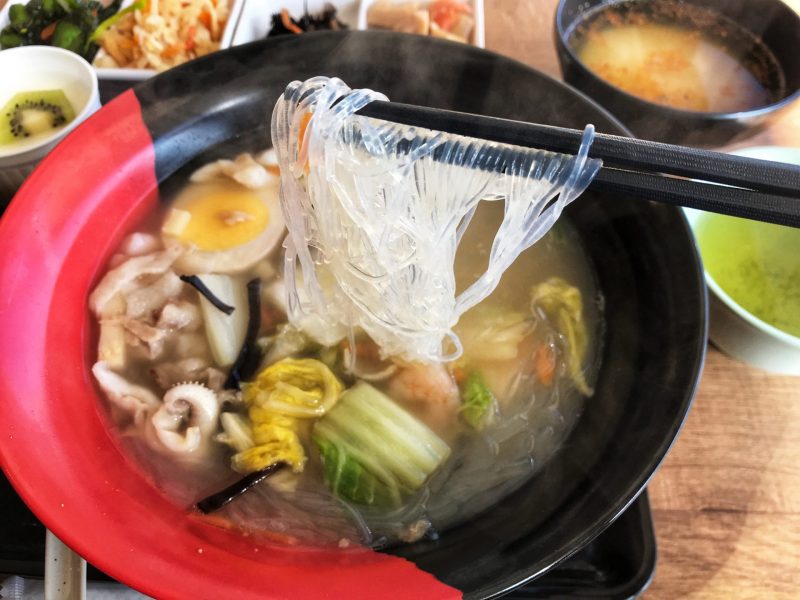 Another local food from Kumamoto is the Taipien, a Kumamoto and China fusion dish. Originated from Fuzhou, China, and introduced during the Meiji Era. It is now perfectly transformed into Kumamoto's local dish. Kumamoto served taipeien with lots of vegetables, sliced pork, squid, and prawns. The transparent noodles (bean starch-based) are perfectly matched with the flavorful pork bone soup.
Many Chinas restaurants in Kamitori and Shimotori shopping arcades are serving the taipien. While Korantei (紅蘭亭) is the most famous restaurant serving the taipien in Kumamoto.
Price: A bowl of taipien normally costs less than ¥1000.
Kumamoto Ramen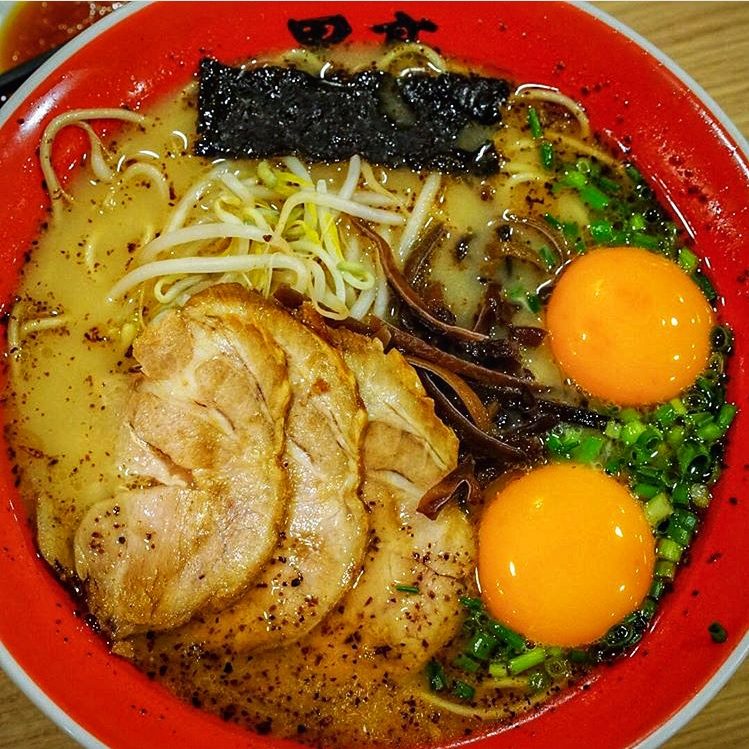 Next on, Kumamoto Ramen. Kyushu is famous and the origin of tonkatsu ramen. The soup broth is based on pork bones and is rich in flavor. While Kumamoto ramen also consists of pork bone broth but is topped with plenty of roasted garlic which creates an excellent taste. The broth is milky but the garlic-infused creates a mouth-watering smell. Besides, the noodles are straight and thin. But you are opted to adjust the thickness of your noodle.
Best Place for Kumamoto Ramen:
Operating since 1957, Kokutei (黒亭) probably is one of the most popular ramen shops in Kumamoto. The restaurant serves several types of ramen with roasted garlic oil. But their ramen with egg perhaps comes across as their signature style. A satisfying cuisine for noodle lovers especially in strong taste.
Next, Akagumi Ramen serves decent of Kumamoto ramen. It is a simple and traditional ramen shop. Located Kamitori Shopping Street and nearby Kumamoto Castle. Many locals are visiting this shop and can be crowded during meal hours.
Last but not least, Tengaiten (天外天). It is a typical Japanese ramen stall with about 10 counter seats available. Tengaiten ramen serve the classic Kumamoto ramen. It comes with strong rich pork broth and a lot of garlic in its ramen.
Price: A bowl of ramen costs about ¥700 to ¥1000.
Kumamoto Horaku Manju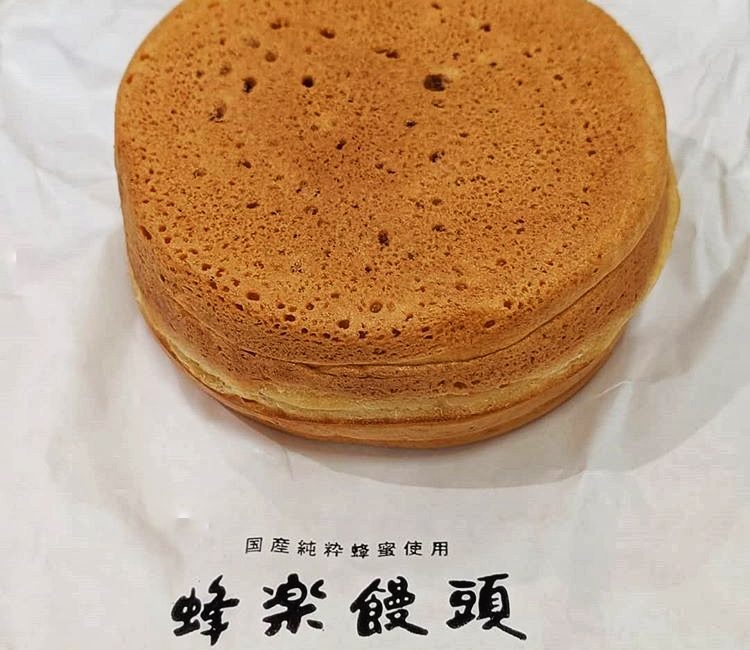 The Horaku Manju (Japanese cake) is one of the local Kumamoto sweets. It is a type of bun that is made filled with red bean or white bean paste. The shop was established and sold Horaju Manju about 50 years ago. Many locals will stop by the shop and get some snacks. You can either take it back or enjoy the Manju on the spot with free tea served.
A Manju is relatively cheap and cost less than 100 yen. Worth giving it a try while passing the shop in Kamitori Arcade. A local sweet that is full of traditional flavor.
Kumamoto Food Guide
Hopefully, the above Kumamoto food guide can give you some idea if you are looking for what to eat in Kumamoto. Most of the best food is located in the downtown area. As per usual, it is best to stay nearby the bus station. We stayed in the Nest Hotel Kumamoto less than 2-mins walking distance from the bus stop. So it is very easy for us to travel around, and of course, have the best food in Kumamoto.
We also recommended the Dormy Inn Kumamoto Natural Hot Spring strategically located just in front of the Kumamoto Bus Terminal. It has an in-house Onsen public bath provided for hotel guests. A popular pick hotel in Kumamoto.
What is the must-eat food in Kumamoto?
The must eat foods in Kumamoto are Kumamoto ramen, basashi, tonkatsu and taipien.
What is the famous Kumamoto food?
The basashi, or "cherry blossom meat" is an unusual specialty that incorporates thin slices of raw horse meat. Kumamoto is rated as the favorite place to try this delicacy in Japan.
Lastly, don't forget to read our Kumamoto travel blog and food review on those amazing places in Kumamoto. Happy travel and food hunting in Kumamoto.
Traveling to nearby Kumamoto attraction? Here are a few suggestions to plan for your trip to Kumamoto.