Last updated on September 23rd, 2023
It is such a wonderful experience to try the best Hakata ramen at its original flagship shop, Ikkousha Fukuoka (博多一幸舎総本店). We were more than happy to share our food dining experience in Hakata Ikkousha Fukuoka. Check it out!
Hakata ramen is magical! You absolutely can't leave Kyushu without tasting the Hakata ramen when visiting Fukuoka. There are so many ramen shops in Fukuoka and some of them are even spreading their special type of ramen around the world. Discovering the Hakata ramen is one of the food adventures when looking for what is the best food in Fukuoka. We taste various Hakata ramen in order to find a good one. This time let us introduce one of the best ramens in Fukuoka, Ikkousha Fukuoka.
The first Hakata Ikkousha is open in 2004 in the local Hakata area by three local ramen enthusiasm. Since then, this was followed by rapid expansion and gaining popularity in Fukuoka before spreading to other parts of Japan and worldwide. Today, Hakata Ikkousha has established about 51 stores worldwide and keep expanding inside and outside Japan, including China, Singapore, Austria, Brazil, and other countries.
Fukuoka Travel Tips:
We recommended to stay nearby Subway Station for easy getting around and food hunting. The
Hotel WBF Grande Hakata
is located in the central location with walking distance from Hakata Station. Open air bath, free drink, spacious room and great value for money. Popular pick in Fukuoka.
Hakata Ikkousha Fukuoka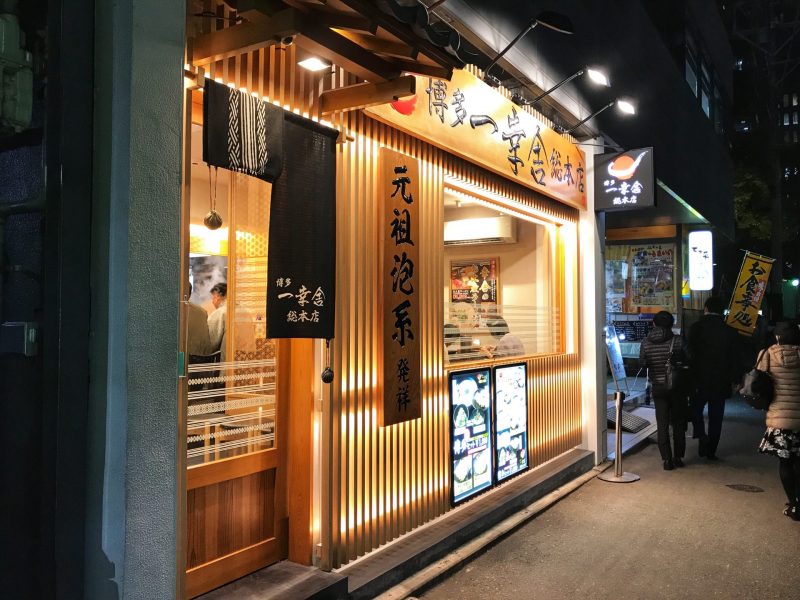 The popular Hakata Ikkousha Fukuoka (博多一幸舎総本店) is about 5 to 7 minutes walk from Hakata Station. So, it always recommended staying nearby the Hakata station for itinerary planning and food hunting. Hotel WBF Grande Hakata, Miyako Hotel Hakata, The B Hakata are the popular pick in Fukuoka located nearby the Hakata station. In fact, there's an Ikkousha shop at the Hakata station's Ramen Street. But we keen to walk along the way to try the tonkotsu ramen at the original flagship store.
Hakata Ikkousha Hakata Main Branch (博多一幸舎 博多本店)
Address: 103 Kowa Building, 3-23-12 Hakataeki-mae, Hakata-ku, Fukuoka-shi, Fukuoka-ken
Opening Hours: Daily from 11:00 am to 24:00 am and 11:00 am to 21:00 pm on Sunday.
It was a tiring trip after exploring Kitakyushu and we love to had hot ramen as our late dinner. We walked to the Hakata Ikkousha from Hakata station. It is the brightness liting shop along the street and full of locals to enjoy their ramen even at about 9 pm.
We waited for about 5 minutes before seated at the counter. It was a good idea as we had the opportunity to set the whole operation of how's the tonkotsu ramen is cook.
How To Order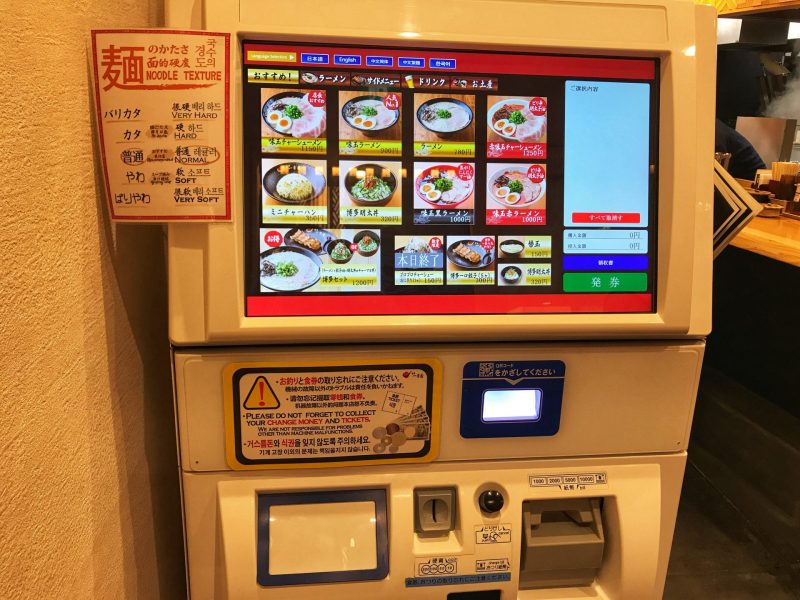 Before this, we ordered our bowl of tonkotsu ramen at the vending machine. You had to find out how and what to order at the machine at the door. But it is not too difficult and the staff was ready to help you. But we still face some difficulty as we were not sure what to order due to the variety.
The ordering process was simple. Just decide what you want to order, enter the banknote as credit card payment was not available, pressed on the button, and take the food coupon. Next, pass the food coupon to the staff and you just need to ready for your Hakata tonkotsu ramen. That's it!
Waiting For The Best Hakata Ramen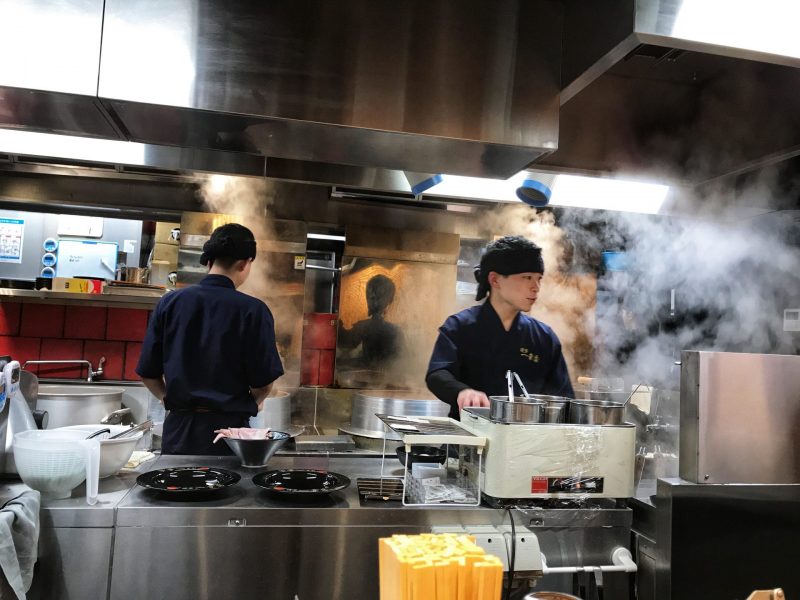 In the end, we decided to order the Hakata Ikkousha's best seller with extra pork slides, served with Ikkousha's specially prepared extra pork slices topped on the noodle bowl.
While waiting for our order to arrive, we can enjoy and see the master chefs busy preparing the ramen. They were happy and love what they do.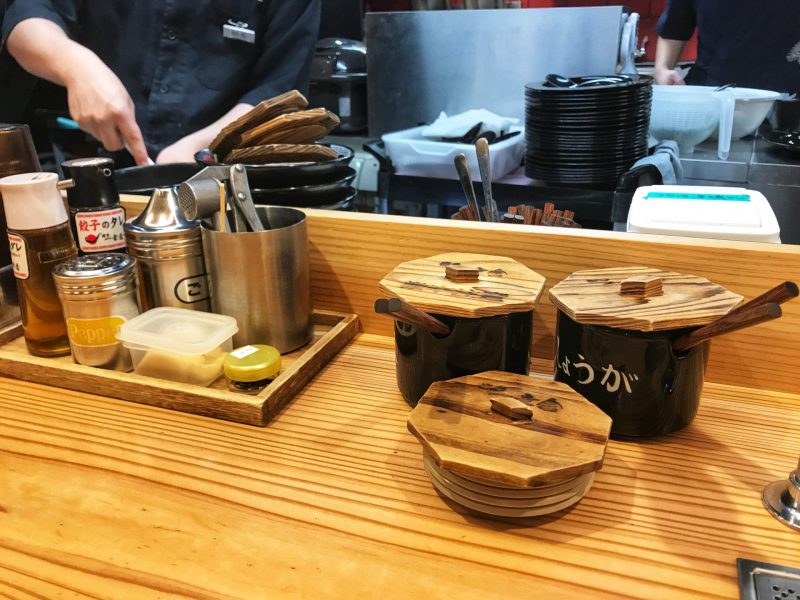 There was garlic, Takana, and ginger ready on the table. You may customize the flavor if you think the pork broth is too strong for you. For me, I prefer to add extra garlic into my ramen.
The Taste of Hakata Ikkousha Ramen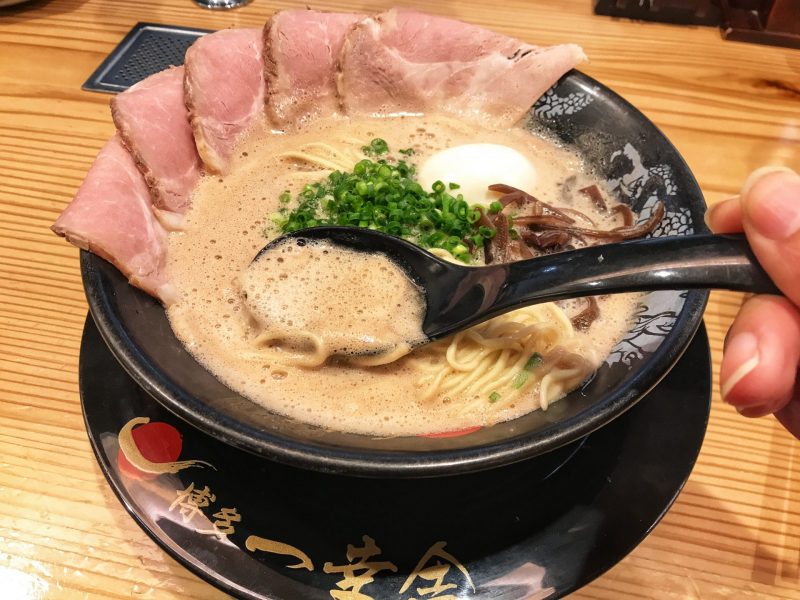 Without a long wait, our bowl of Hakata Ikkousha ramen was served. Take the first sip of the pork broth. Amazing! It was thick and creamy pork bone broth with microfoam bubbles of rendered pork fat. It was seasoned with Fukuoka's soy sauce and fish stock, which adding some sweetness taste to the tasty broth. Truly heaven in a bow!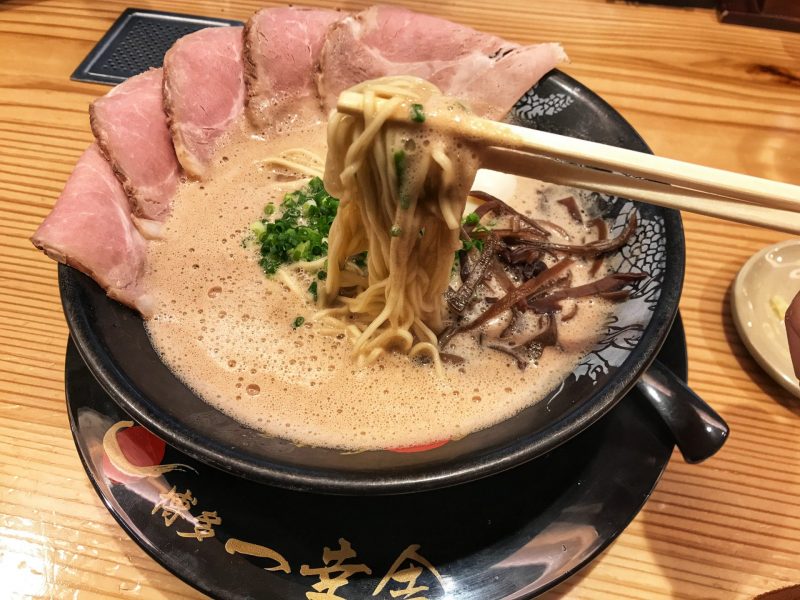 Next, for the ramen, it was thin, firm, and perfectly cooked. You can also order extra noodles and they will serve separately in a small bowl. Just add to your hot broth when you are ready.
Not forget to mention the soft-boiled egg. It was perfectly cooked and absolutely delicious.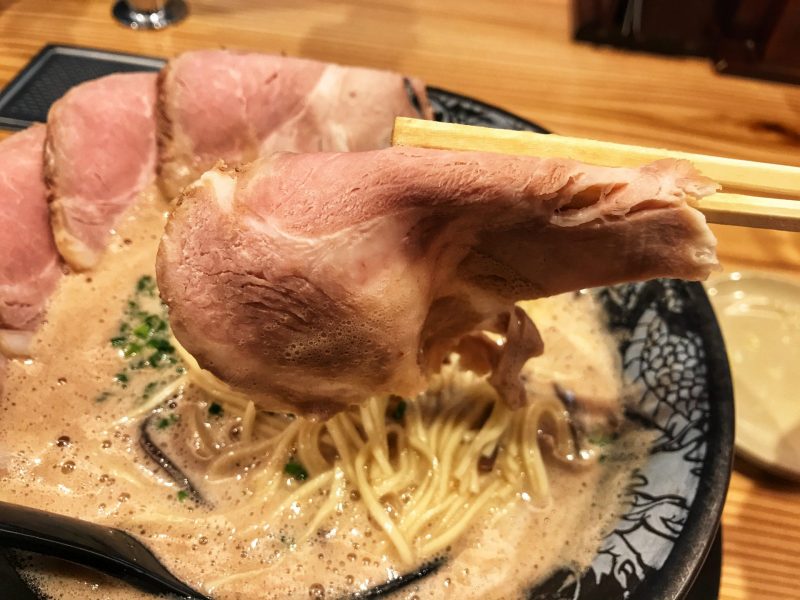 While the thinly sliced pork slides were excellent with a fresh strong flavor. You wouldn't regret it if ordered the extra pork slides. The meat was generously topped on the bowl by paying an additional extra. You will be impressed by the extra pork slides that served across the ramen bowl. It was still slightly under raw when it was served and slowly heating up by the hot broth so that it will not overcook. Amazing!
The Best Fukuoka Ramen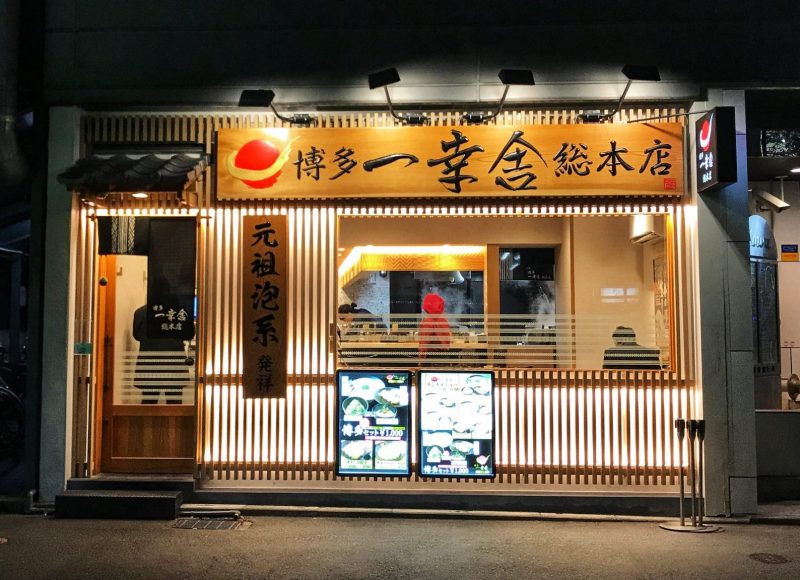 Overall, it was satisfying dining in Hakata Ikkousha Fukuoka. We love the food quality, dining environment, service, and price tag. There are an enormous variety of qualities of Tonkotsu Ramen available in Fukuoka, Hakata Ikkousha Fukuoka probably one of the ramens that give the authentic taste of tonkotsu ramen. Unlike the famous Ichiran chain store, Hakata Ikkousha doesn't have many tourists where you can try the food like a local. We would recommend Hakata Ikkousha if you are looking for the authentic Fukuoka best ramen.
If you are still not sure where to look for the best ramen in Fukuoka, check out our ramen food blog below:
Lastly, this Fukuoka food blog is part of my Fukuoka travel blog post. Read on my Fukuoka travel blog below if you need some idea to plan on your itinerary, things to do and see, best food to eat. Happy travel to Fukuoka.
How To Plan Your Kyushu Itinerary: Ultimate Guide
For Kumamoto and Mt Aso travel blog:
Onsen paradise Kurokawa Onsen, Yufuin, Beppu travel blog: