Last updated on September 23rd, 2023
Here are all the tips and travel guide you'll need to know for your first visit to Mount Aso. We listed the top things to do to plan for your Aso itinerary to appreciate the magnificent Asosan and surrounding area.
Aso (阿蘇) is worth visiting if you come to Kyushu. It is also known as nature sightseeing and popular among the local and foreign travelers. The must-visit attraction, Mount Aso (阿蘇山, Asosan) is the largest open active volcano in Japan and a few crater that open for tour in the world. Aso has a group of mountains consists of five peaks; Mt Neko, Mt Taka, Mt Eboshi, Mt Kishima and lastly Mt Naka (Nakadate). The Nakadate is the center of the caldera and accessible to tourists.
However, the Nakadate crater is not always open and will be closed off after reviewing the volcano activities. It had been closed for some things due to increasing of volcano eruption. We were in dilemma whether we should visit anyway. So glad we eventually did it. The Kusasenri was so beautiful and we enjoy our walk along the plain grass.
Hope this little travel guide will help you in traveling to Aso and how to visit there.
Getting There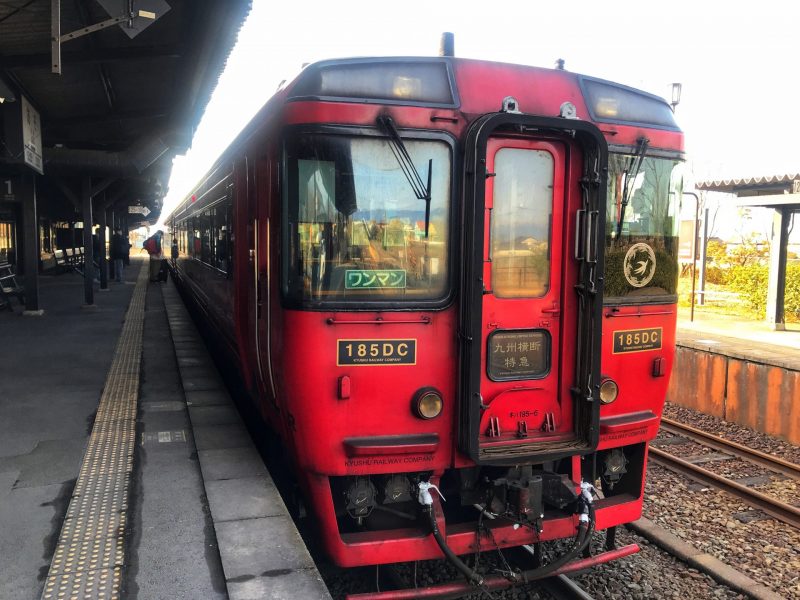 From Beppu to Aso, express train (Kyushu Odan Tokkyu and Limited Express Aso Boy) running between Beppu, Oita, and Aso with one train per day. The train journey takes about 120 minutes at ¥3100. Local train take about the same traveling time but not as comfortable as an express train. Alternatively, buses take about 210 minutes at ¥3500.
Travel Tips: Valid for foreign visitors only. Traveling around Kyushu by train is very expensive. We recommended purchasing the Kyushu JR Pass (3-Days/5-Days) which greatly saves on the transport fee. . (Check on price on Kyushu JR Pass at Klook)
While from Kumamoto to Aso, the bus is the only public transport due to the train system was badly damaged by the earthquake. The traveling time takes 120 minutes with ¥1500.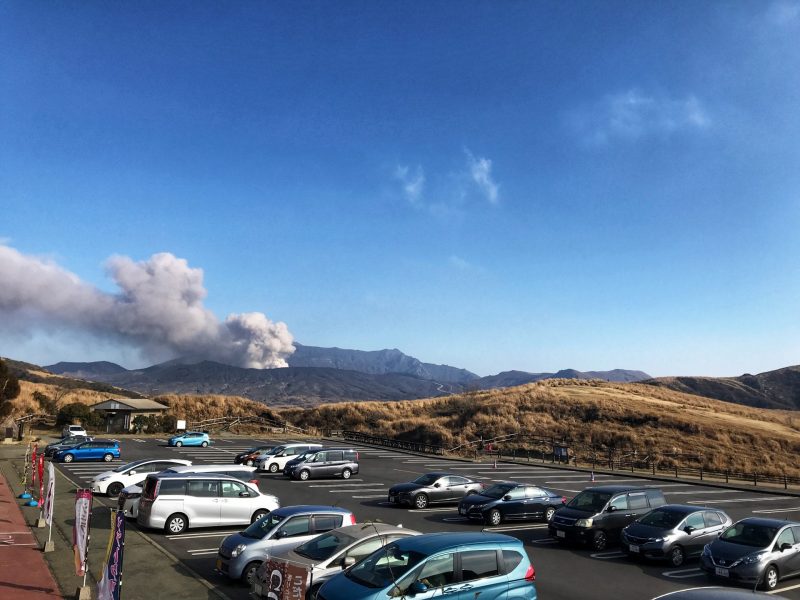 Aso is not easily accessed by public transport. The best way is to rent a rental car for self-driving if you wish to travel at your own pace. There are many beautiful attraction can be coupled up together for your trip in Kumamoto prefecture. Ample of parking space with small fee at attraction spot. Check your rental car in RentalCars.com with best price guarantee.
Include our Aso Travel Guide with transportation tips including schedule, fare and how to getting around.
Top Things To Do in Aso
There are many things to do in Aso to plan on travel itinerary. For sure, 1-day is not enough to explore this place. It is best to stay at least one night at Aso. There are many accommodation and local available in Aso. However, if you only have limited time, it is advisable to choose from the must-visit attraction in Aso. We recommended to visit the Nakadake Crater and walk around Kusasenri. These two attractions are located nearby and best to couple together into your Aso visit.
Top three things to do in Aso for 1-Day Aso itinerary:
Take a closer View on Mt. Aso
Enjoy the Magnificent View on Kusasenri
Scenic View on mountain range at Daikanbo
Take a Closer View on Mount Aso
Not doubt, Mount Aso (阿蘇山, Asosan) is the top attraction and must-visit in Aso. Located in the center of Kyushu in Kumamoto prefecture, Asosan is the largest active volcano in Japan. The peak is 1,592 m from the sea level and measuring 18 km east-west and 25 km north-south. Added, the mountain's caldera is created by multiple gigantic eruptions during past years. It is very amazing to get so close with an active volcano to brave a glimpse of the steaming crater.
Visitors can access and view the active Nakadate crater by riding ropeway. However, due to the 2016 earthquake, the ropeway was badly damaged. So, Asosan loop shuttle bus is replaced and operated by helping visitors from Asosan Nishi-Eki station to Nakadate crater.
However, please make sure to check on the volcano's status before your visit. The crater will be close for visit if increasing of eruption level. During this time, all the access regardless of bus, car or walking are forbidden within a certain limit.
Official Website: http://www.aso.ne.jp/~volcano/eng/
Enjoy the Magnificent View on Kusasenri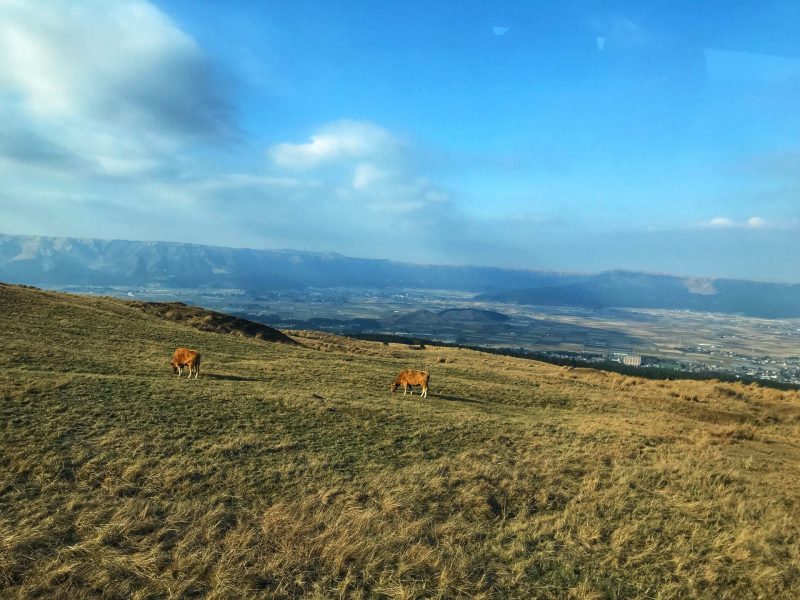 Not far from the Nakadake crater is the breathtaking Kusasenri (or Kusasenri-ga-hama). It is a greenery grassland with grazing cows and horses. The best place to experience Japan's nature and country life. It is also one of the best places to see the smokey volcano with the background of Mt Naka.
There is a big pond at the center and grazing horses make an idyllic scene. Horse riding is possible to enjoy the amazing landscape from early March to mid-December. Added, there is the Aso Volcano Museum to watch the visual effects and trace the history and geographic conditions of Mount Aso.
Scenic View on Mountain Range at Daikanbo
Another Aso popular attraction is Daikanbo, which literally means big observatory peak. It is the perfect spot to view on the five peaks of Mount Aso. Visitors can see its conical shape from the observation site. It is also one of the best views for caldera and stunning mountain range at Daikanbo.
Access to Daikanbo takes about 20 minutes by local bus or taxi. However, please take note that the observation deck is about 2km from the bus stop.
Around Aso Day Tour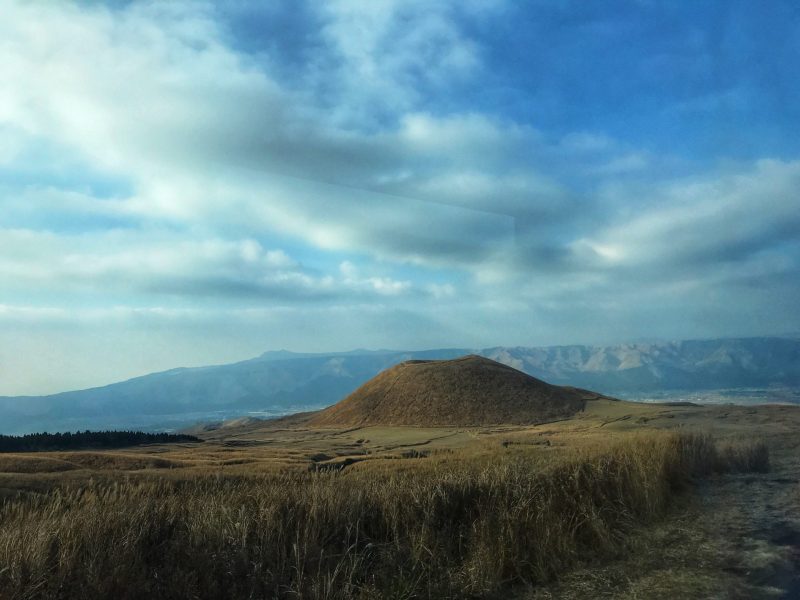 For sure one day is not enough to visit all the beautiful nature in Aso especially for those traveling by public transport. If you wish to have more detail volcano exploration, consider taking the Aso day tour. A well arrange itinerary with English spoken guide help to explore Aso in detail. The tour even introduces some particularly beautiful private attractions. The secret shrine is one of the highlights for the Aso day tour.
Take a look if you wish to enjoy the breathtaking Aso with well arrangement.
Aso Itinerary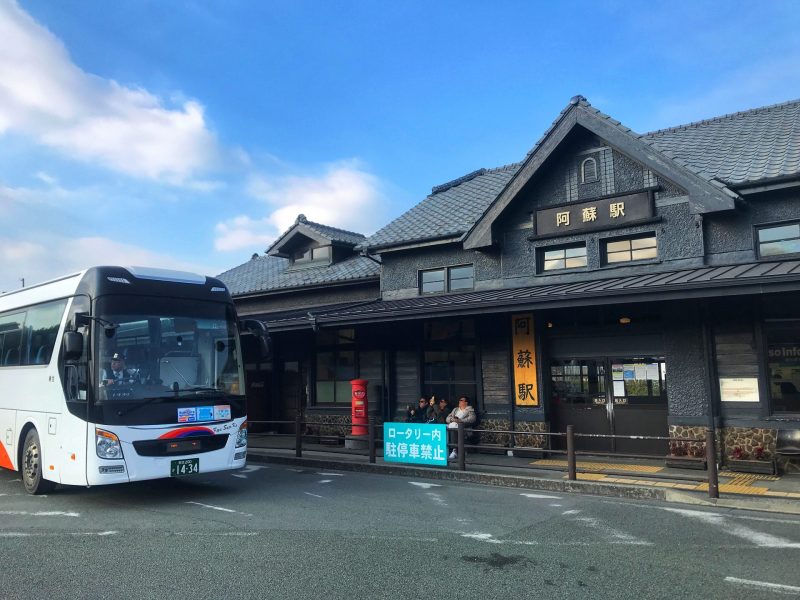 The magnificent Aso Geopark is always one of our must-visit attractions in Kyushu. There are not many opportunities to get so close to volcano activities. Unfortunately, Mt Aso crater is close at 2km off-limit due to volcanic activity. So we will focus and mainly spend our time roaming around in Kusasenri grassland.
After study on bus route and schedule, we actually can spend about 10 minutes at Asosan Nishi-Eki station (the entrance to Mt Aso). Although we can't get closer to the Nakadate crater, but it is still worth to spend a little time to take a view on Mt Aso.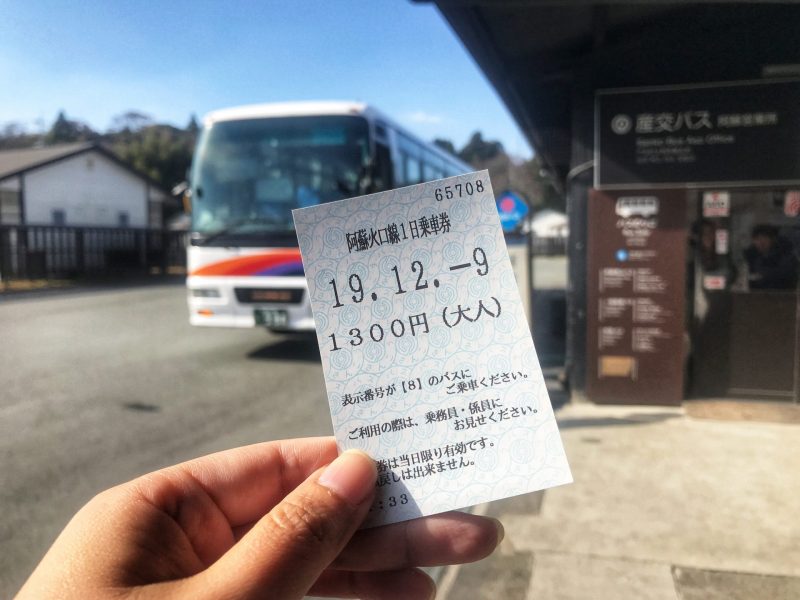 We arrived at Aso station in the morning. Done purchased on our one-day Aso route bus pass, we boarded the 11:45 am bus to Asosan Nishi-Eki station. Enjoy the breathtaking mountain range and maiden grass all around along the bus journey.
Volcano Activities at Asosan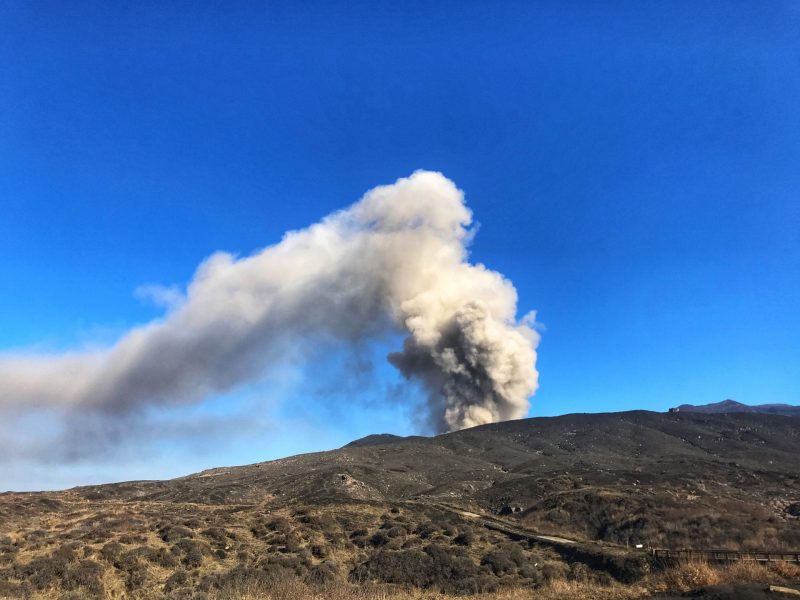 The whole area is full of ash due to volcano activities. It is still amazing to see the open active volcano and feel the natural power. We spend the limited time to take some photo and had a quick visit to Asosan Nishi-Eki station. You may also get some souvenirs and snack in the station.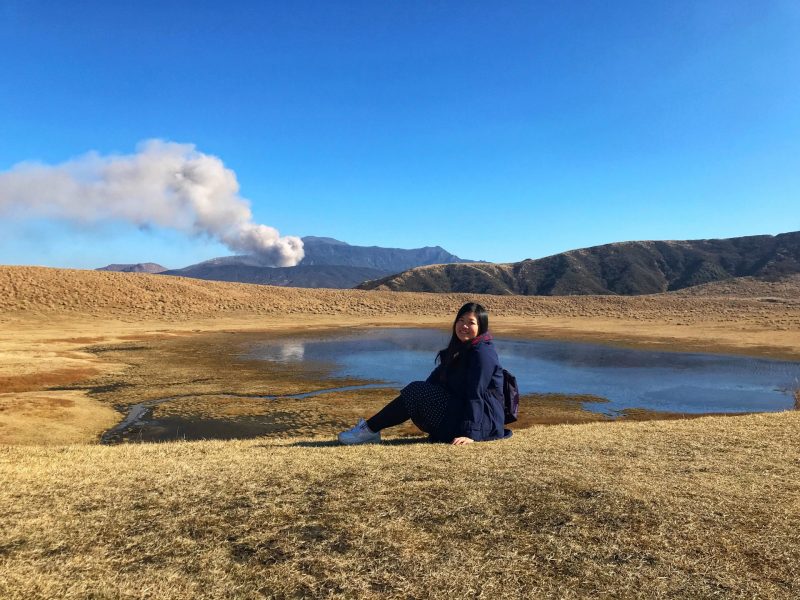 Next, we boarded the same bus proceed to Kusasenri. It probably the highlight of our Aso itinerary. The view was so beautiful with the whole area is covered in yellowed grassland in early December. We didn't plan for what to do in Kusasenri but just freely roaming around. From the distance, it was also able to see smoke coming out of the active Nakadake crater.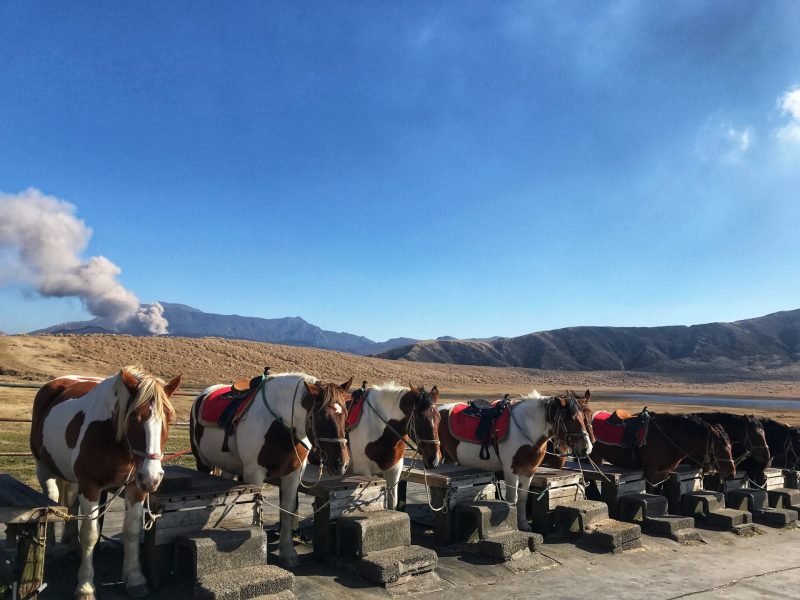 For those who are interested, you can ride the horse to enjoy the magnificent grassland. It cost ¥1500 for 5 minutes of horse riding experience.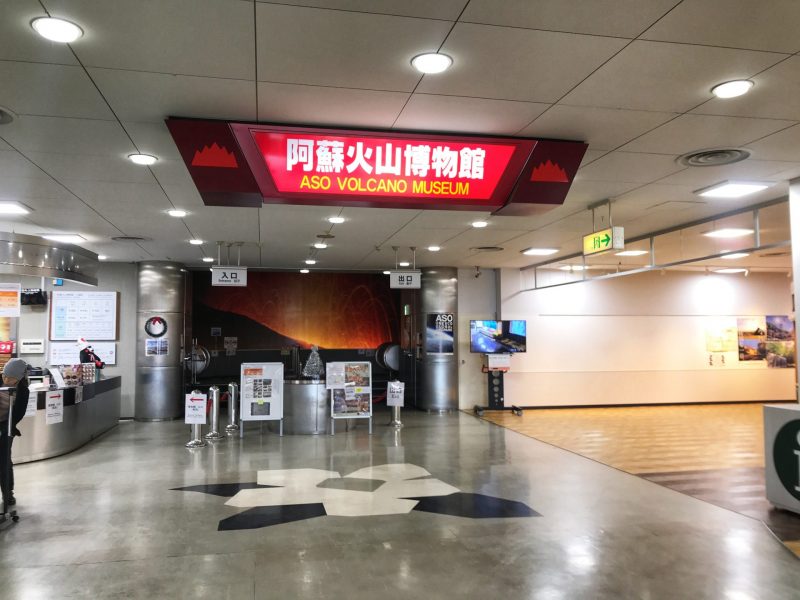 Added, there are also Aso Volcano Museum in Kusasenri that explains volcanoes and caldera. You may visit the museum to learn about the natural or geographical characteristics of the area. Entrance Fee ¥880 for an adult and ¥440 for kid.
It can easily spend about 1-2 hours just wandering the hilly grassland. Opposite the Kusasenri is a row of building which houses shops, museum, and restaurants. We had our lunch at Kusasenri at one of the restaurants.
All in all, we only had about 2-3 hours with such an Aso itinerary planning by public transport. If you ask me, does it worth traveling so far just to see the Asosan. For us, it is worth going. We enjoy our time and highly recommended to enjoy the beautiful scenery. But, probably self-driving is the better choice to travel at own pace.
Note: If Asosan volcano eruption is reduced and re-open for visit, the Kusasenri can be replaced by viewing on the Nakadate crater.
What To Eat
In Kusasenri, we had our lunch at one of the restaurants. There are a row of shops include few restaurant and cafe if you are looking for what to eat in Kusasenri or Aso. Food choice including Indian food, Japanese curry rice at Grassland Cafe, or typical Japanese food at Aso Buono Restaurant.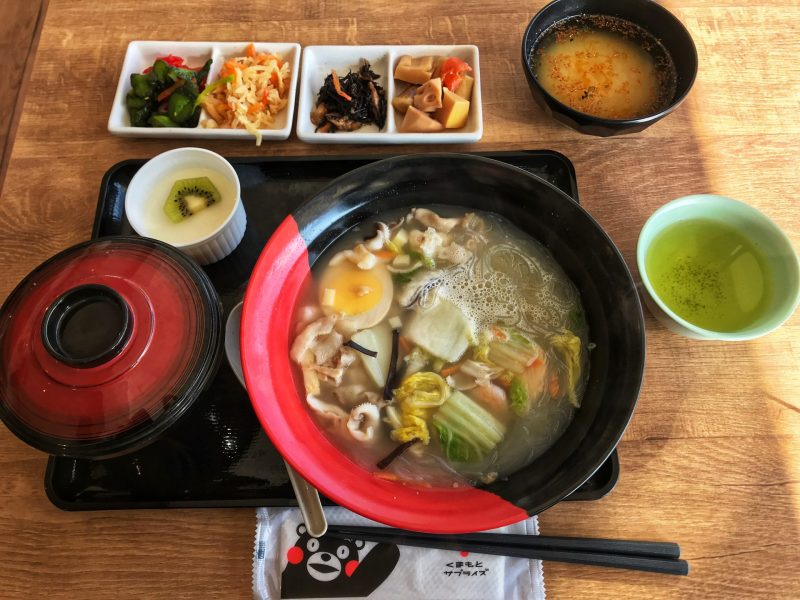 We choose the Buono Restaurant and had Taipeien for our lunch at Kusasenri. This restaurant also has a variety of food such as ramen, pork cutlet rice, champon noodles. Price is reasonable even in the tourist spot. They also served buffet but not available during our visit.
Surprisingly the food served taste so good. We enjoy our lunch with an amazing view through the big lookout window.
Where To Stay in Mount Aso
We didn't stay in Aso due to the tight schedule. However, it worth spending one night in Aso to enjoy the beautiful view and onsen. Aso Resort Grandvrio Hotel is a great choice for those plans for self-driving. Fabulous location near Mt. Aso with views on the golf course and caldera. Guests can enjoy the outdoor bath. But it is best to book your dinner and breakfast together with your stay.
Alternatively, consider the Aso Plaza Hotel with 15 minutes from JR Aso Train Station on the free shuttle. The rooftop onsen is another great plus. Enjoy the great views of Mount Aso with a steaming volcano for your one-night stay in Aso.
Aso Travel Vlog
At the end of the Aso travel guide, take a 7-minutes video tour of how we spend 4-days in Kumamoto prefecture to Kumamoto city, Takachiho Gorge (Miyazaki), Aso, and Kurokawa Onsen. Hope this is helpful on how to plan your itinerary to Aso.
If you like our video, don't forget to give us a like and subscribe to us on youtube. Thanks!
The 1-day Aso itinerary is part of a travel blog to Kyushu. We visited Kumamoto prefecture and had a great time here. Continue reading our travel stories here. Let us know if you need further information on your trip. Happy travel!
Aso Travel Guide: How To Get There and Visiting Attraction Around
Related Kumamoto travel blog:
Traveling to Kyushu? Here are more Kyushu travel stories for your trip inspiration: