Last updated on September 23rd, 2023
Read on how we planned on Kitakyushu itinerary to Mojiko, Kokura, and Shimonoseki within one day. A day trip from Fukuoka that full of mouthwatering food, historical monuments, and fun experience.
Kitakyushu (北九州) is located in the northernmost city in Kyushu. It was formed by the merging of five independent cities, namely, Kokura, Moji, Yahata, Tobata, and Wakamatsu. Kitakyushu is an important hub for international trade since the Meiji period and connected between Honshu and Kyushu. Thanks to the well-connected rail system in Japan, it is very ideal to plan for the Kitakyushu itinerary from Fukuoka to Mojiko and Kokura by using the JR train. You can even further your visit to Shimonoseki at Honshu Island with a short journey of ferry or bus.
In below Kitakyushu travel guide blog, let us explore the Kyushu's hidden gem to Mojiko, Kokura, and Shimonoseki with an easy day trip from Fukuoka.
Planning On Kitakyushu Itinerary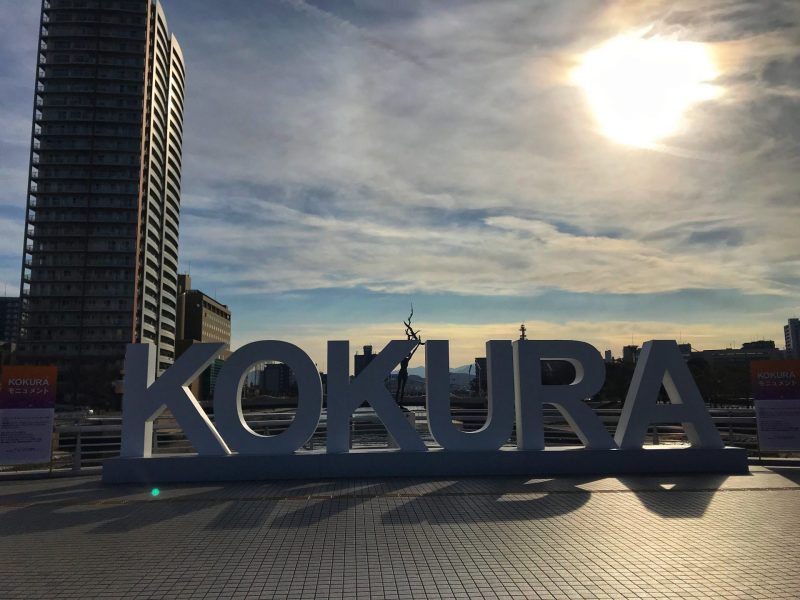 During our visit to Fukuoka, we headed Kitakyushu to Mojiko, Kokura, and Shimonoseki for a day trip. It was a fun Kitakyushu itinerary full of interesting places and mouthwatering food to eat within one day. Although we took various transport within one day, it is superbly easy to plan for one day Kitakyushu itinerary.
Kitakyushu itinerary (What To Do and Eat in Kitakyushu):
Seafood Feast in Karato Market, Shimonoseki.
Walk across the Kanmon Underwater Pedestrian Tunnel
Wandering at Mojiko Retro
Taste The Yaki Curry in Mojiko
Visit Kokura Castle
Food hunting in Tanga Ichiba Market
Flower Tunnel at Kawachi Wisteria Garden (Seasonal Trip)
Make sure to follow us to tour around in this Kitakyushu travel guide blog that full of scrumptious local delicacies, historical monuments building, and exciting activities.
From Fukuoka To Karato Market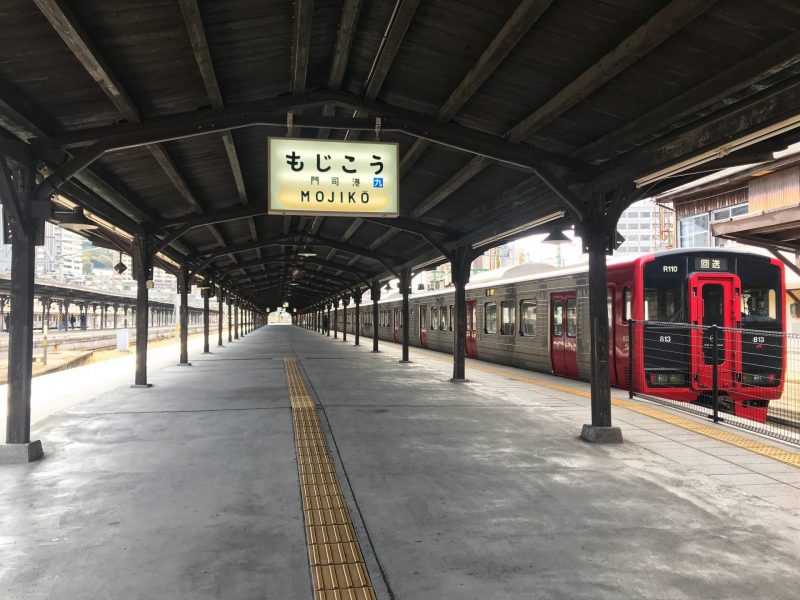 From Hakata Station (Fukuoka), we boarded the express train to Mojiko Station with one transfer at Kokura Station. The train ride took about 50 minutes and covered under JR Kyushu Pass.
Do note that shinkansen rides between Hakata station and Kokura are not covered by the JR Kyushu Pass.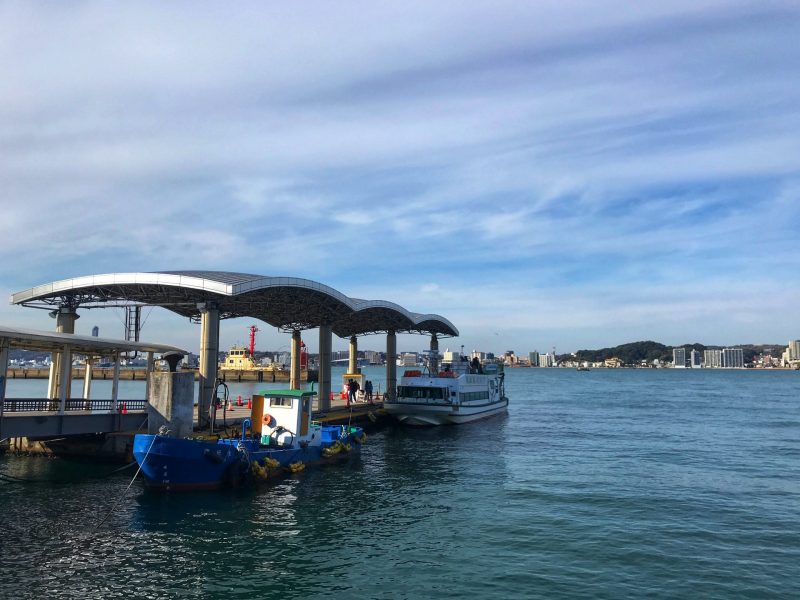 Next, from Mojiko Station, we then continued by taking a ferry to across to Shimonoseki from Moji Ferry Terminal. The Kanmon Kisen Ferry Terminal (関門汽船 門司港乗り場) is located just opposite the Mojiko Station within 3 minutes walk. You can easily spot it when getting out of the Mojiko Station.
The ferry ride cost ¥400 per person for the short 5 minutes ride. It was a short journey of ferry ride with a beautiful view on Japan sea across the Kanmon Straits.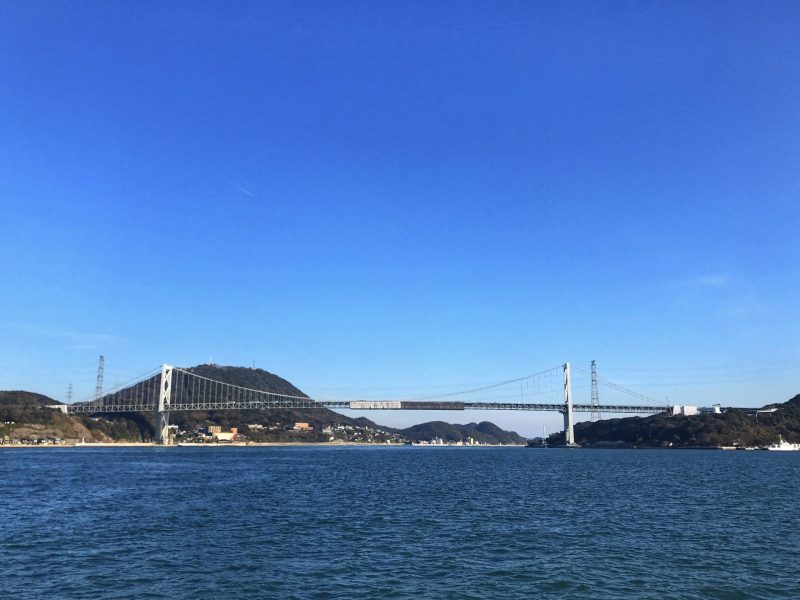 The ferry ride cost ¥400 per person for the short 5 minutes ride. It was a short journey of ferry ride with beautiful view on Japan sea across the Kanmon Straits.
Seafood Feast in Karato Market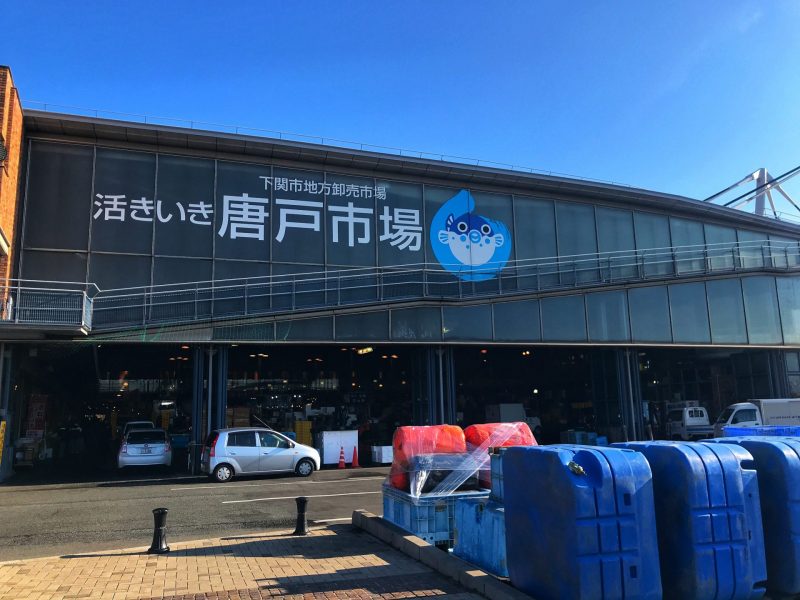 Our first destination was Karato Market (唐戸市場). Located in Shimonoseki of Yamaguchi Prefecture, Karato Market is a lively fresh market and popular among locals. It is well known for freshly caught seafood especially the extraordinary Japan blowfish (fugu). The best place to try the fresh blowfish/pufferfish.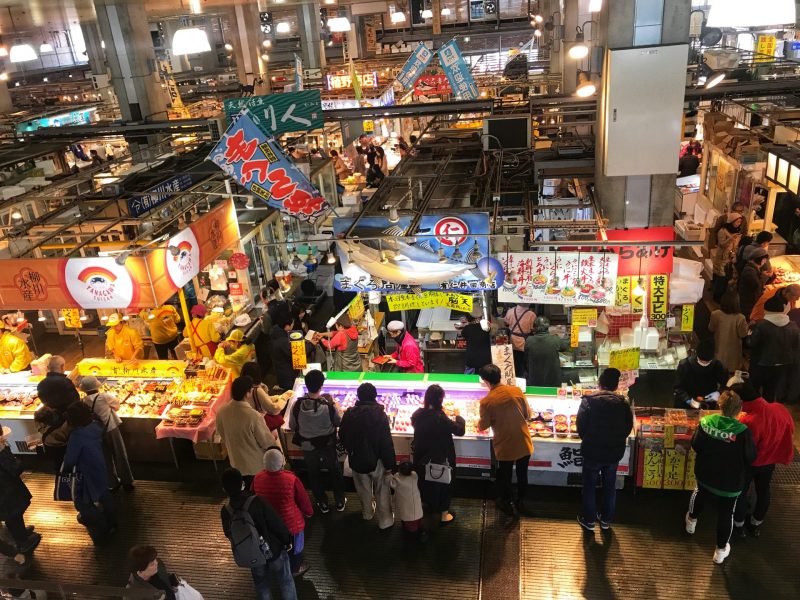 Moreover, Karato Market will host a sushi battle event during Friday, Saturday, Sunday and Japan public holidays. During that time, many fish stalls will participate in the event by selling various raw and cooked seafood dishes.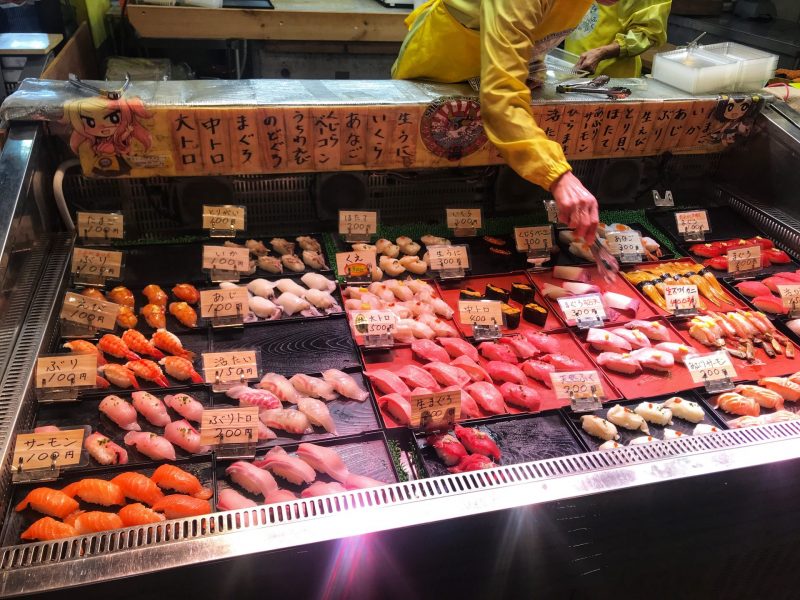 Mouthwatering sushi, raw sashimi, seafood don, fried food at an unbeatable price. The nigiri sushi was started from as low as ¥100 with a generous portion of sashimi on top. It is also the best place to try the expensive fugu fish in the Karato market. A fugu fish meal in Tokyo and Osaka can easily cost more than ¥3,000 and above. Can't believe we manage to try on it with ¥800 at the Karato market. What a good bargain!
Generous Portion of Seafood in Cheap Price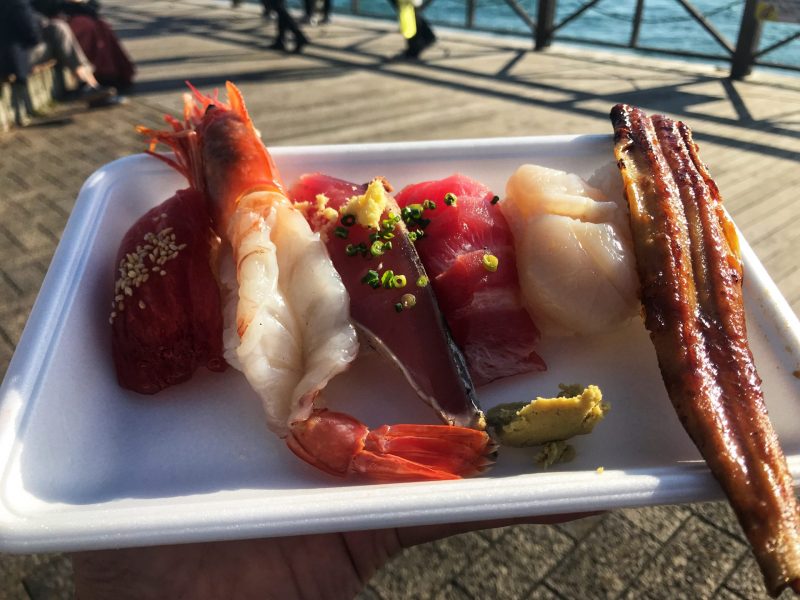 We enjoyed our time wandering around in Karato Market and choosing on our breakfast. All the sushi were so fresh and big portion. We also tried the fugu sashimi and soup here. It was truly a seafood feast in Karato Market. Highly recommended seafood lover heading to Karato Market during the weekend to join the sushi battle event. It can be crowded with locals and tourists. Come early to grab your seafood meal at Karato Market.
Further Read More: Karato Market: Sushi Battle Event in Shimonoseki
Besides, if you are unable to make it during the weekend, there are restaurants located on the second floor serving the seafood meal.
Getting to Karato Market:
Take the JR Express train from Hakata Station (Fukuoka) to Mojiko with a one-time transfer in Kokura Station. Free with JR Kyushu Pass. Next, board the 5 minutes ferry ride from Moji to Shimonoseki Ferry Terminal.
Walk Across The Kanmon Underwater Pedestrian Tunnel
After the wonderful seafood feast, we proceeded with our Kitakyushu itinerary at Shimonoseki. You can choose to board the ferry back to Mojiko retro and spend your time there. But we decided to walk across the Kanmon Underwater Pedestrian Tunnel which connected between Mojiko at Kyushu and Shimonoseki at Honshu island.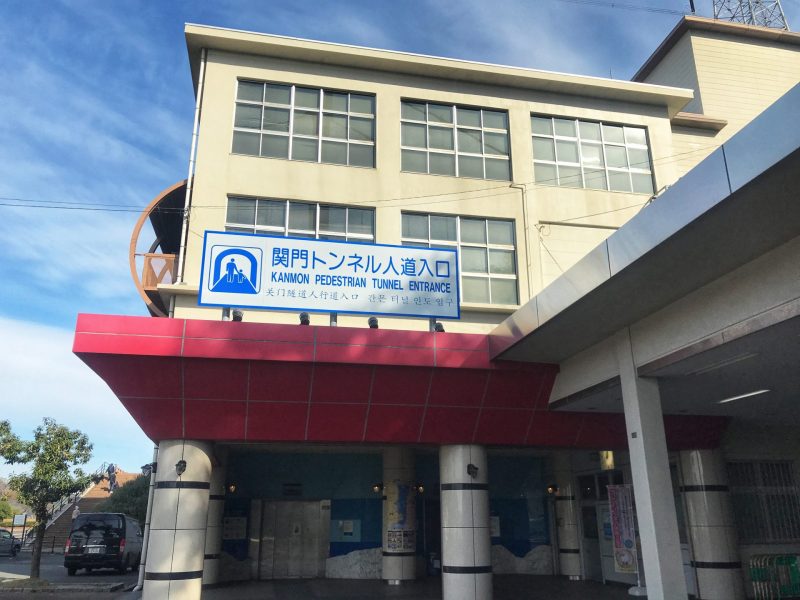 Kanmon Pedestrian Tunnel is the first Japan undersea tunnel that goes underneath the Kanmon Straits with a length of 780 meters. The upper level is used for cars but the lower level is used for bikes, bicycles, and pedestrians.
There are clear instructions on how to walk across the Kanmon Underwater Pedestrian Tunnel at the entrance.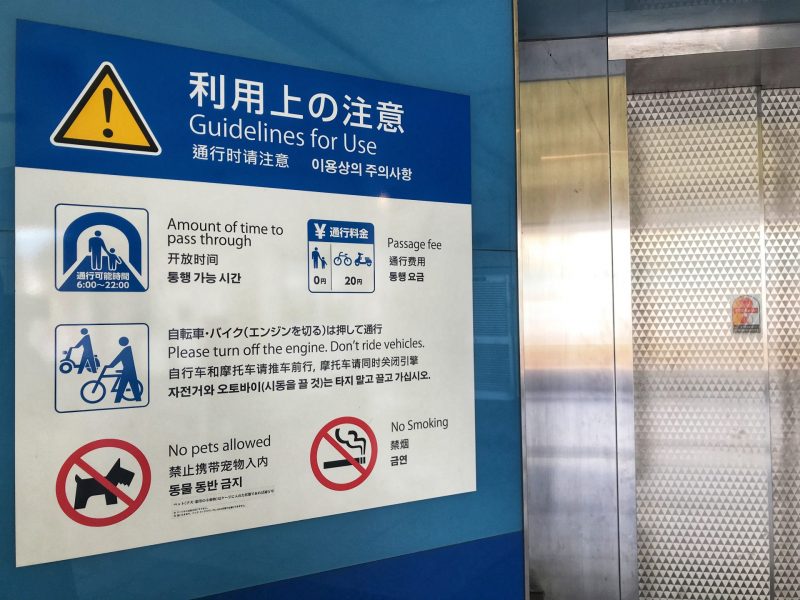 Took the elevator down to 60 meters underground of the pedestrian tunnel walkway. Passing through the Kanmon Tunnel by foot is free of charge but you need to pay for ¥20 for bike and bicycles. Take note that you can't ride the bike or bicycles, and need to push it along the walkway.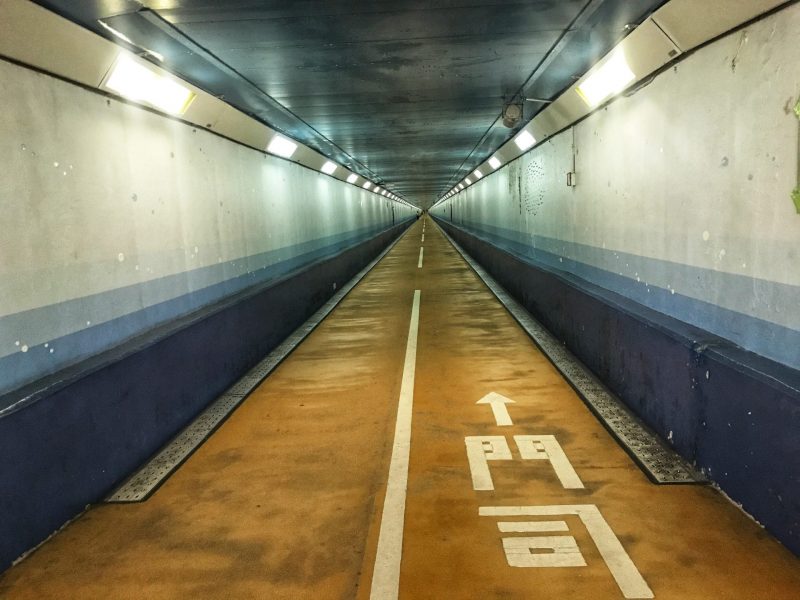 There was no much people during our visit with locals were jogging along the Kanmon tunnel. Think it is fun experience jogging in the underwater walkway every day.
The Border Point Between Kyushu and Honshu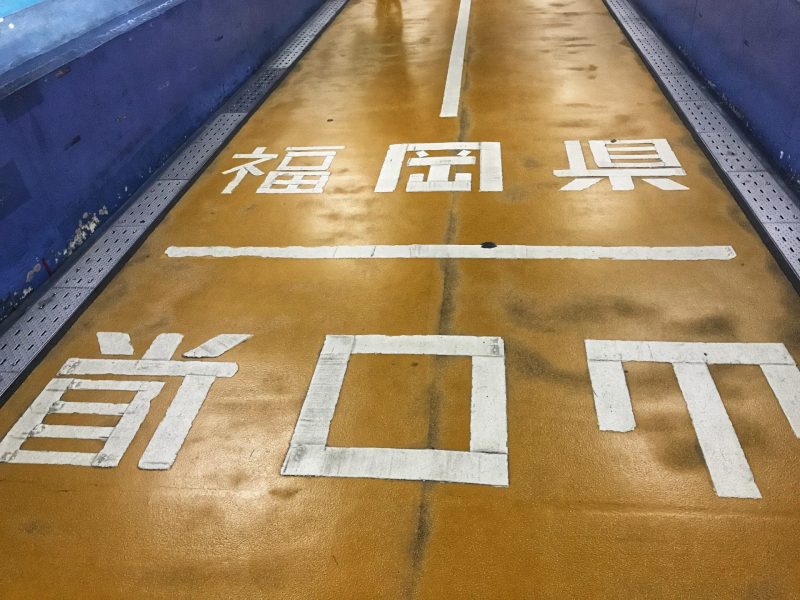 The border point between Fukuoka Prefecture, Kyushu and Yamaguchi Prefecture, Honshu. People standing on the border to take some photos.
The whole journey took us less than 30 minutes to walk across the Kanmon Underwater Pedestrian walkway. Not a bad idea walking across the two Japan's islands with an underwater tunnel.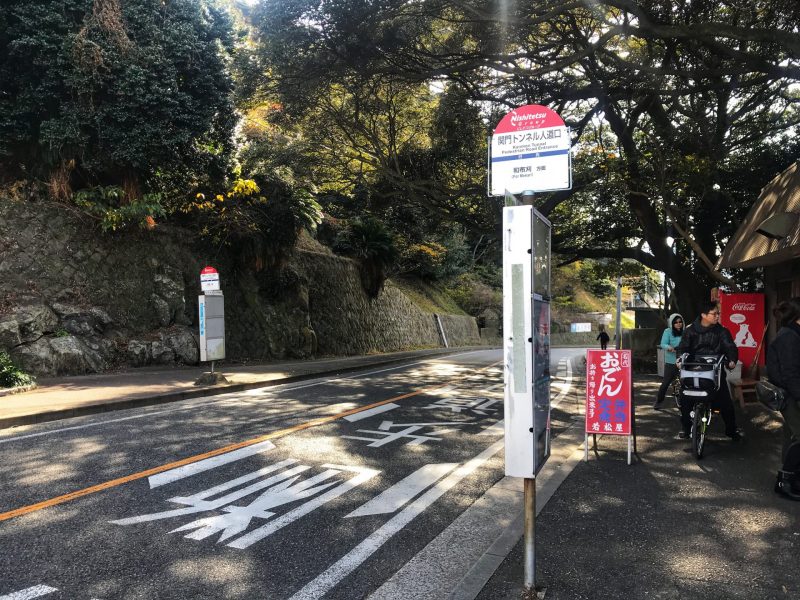 Getting there: Both sides of Kanmon Pedestrian can be accessed by bus from JR Mojiko and Shimonoseki station. Just get off at Jindō-guchi (関門トンネル人道口) at Mojiko side entrance or Mimosusogawa (御裳川) at Shimonoseki entrance.
Alternatively, both entrance is walkable with about 20 to 30 minutes on foot.
Wandering at Mojiko Retro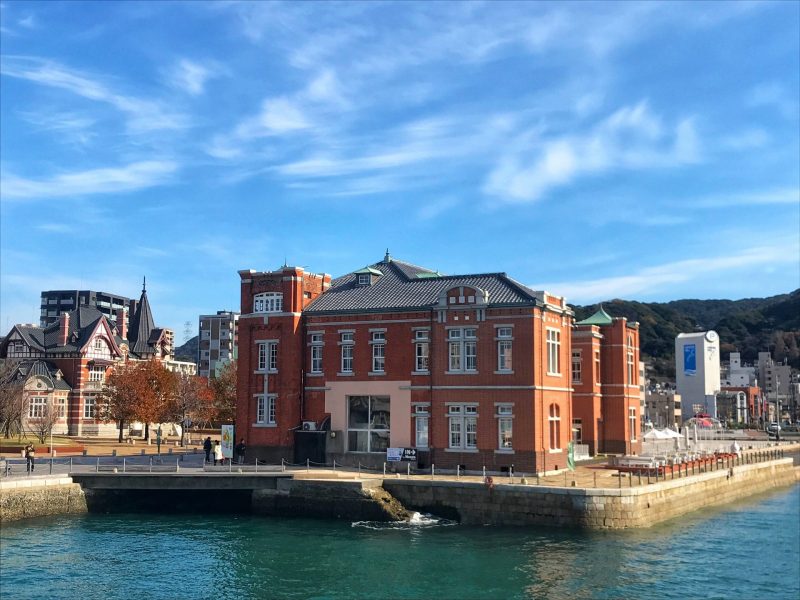 We next back to Moji in Kitakyushu, a port city that facing the Kanmon strait in Fukuoka prefecture. Mojiko or Moji Port has been prominent as an international trading port since the late 19th date. So there are several number of well-preserved old Western-style building near the port area. It is very ideal to spend some time in Mojiko Retro to experience the nostalgic atmosphere of old Japan.
Mojiko Station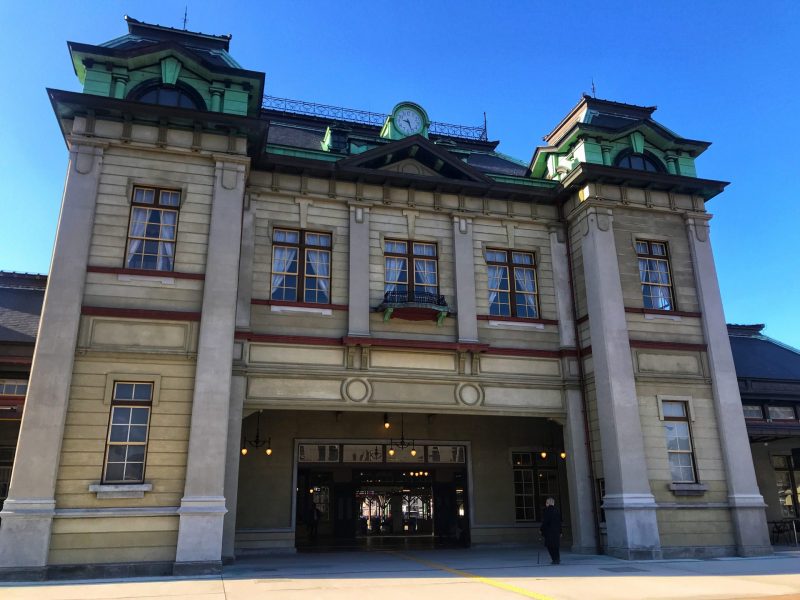 Build-in 1891, Mojiko Station is one of the few remaining wooden stations in Japan. The building is the perfect example of Western influence in Japan with Neo-Renaissance style appearance. Some of the historical facilities are still well kept at its original appearance.
Kitakyushu International Friendship Memorial Library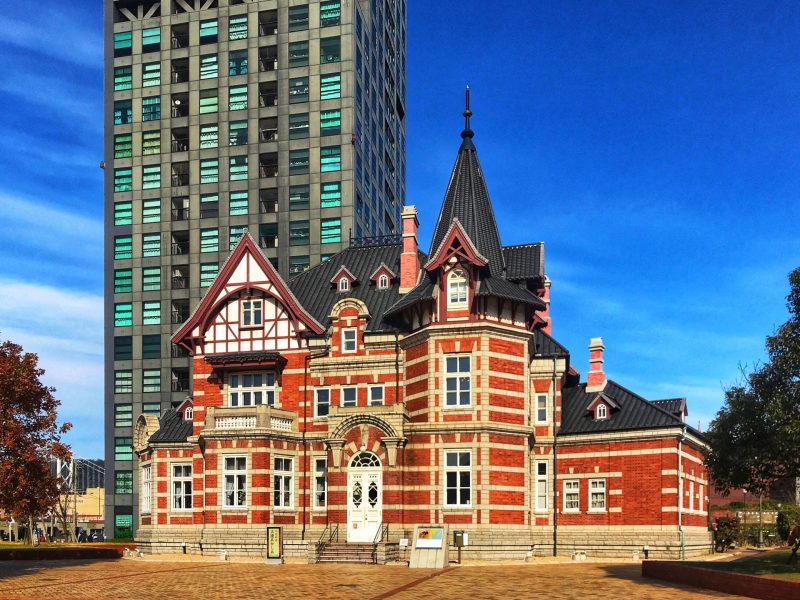 The Kitakyushu International Friendship Memorial Library is probably the prettiest and most photogenic building in Mojiko Retro Town. It is the memorial building between Moji and Dalian, China. Standing alone in the Mojiko Retro Central Square, the building can be viewed and admired from many directions and it is a building that looks equally good when viewed on any facade.
Former Moji Customs Building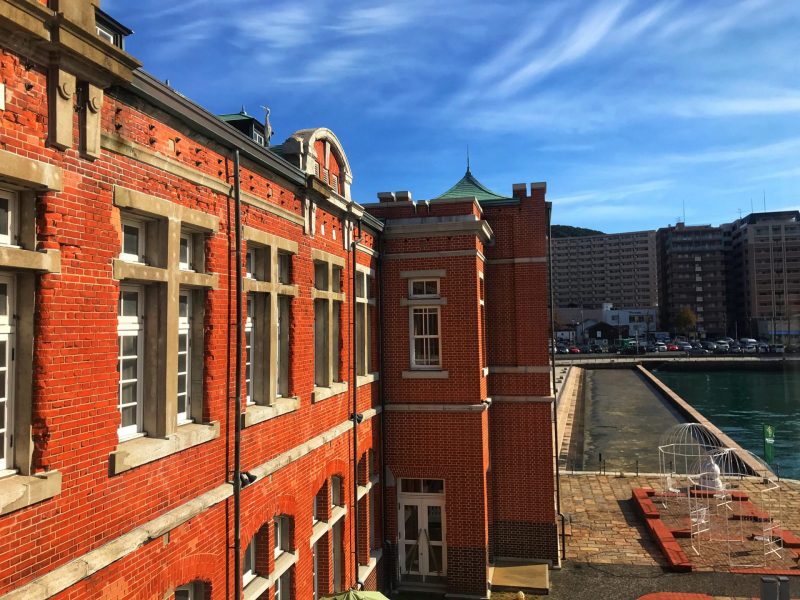 Another worth recommended building is the eye-catching red brick building. It is the former Moji Customs Building up until 1920. Now it is the house of art gallery and rest area for visitors with free to enter.
Blue Wing Moji Bridge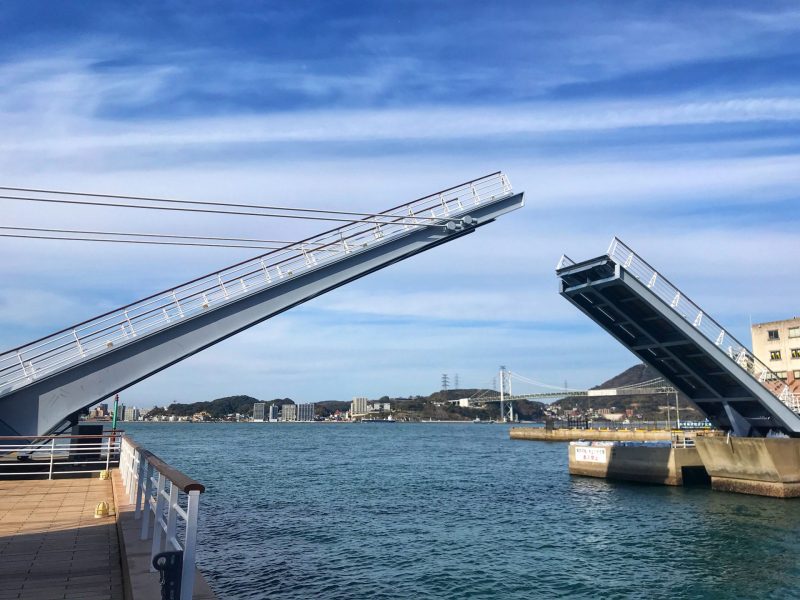 Walked along the promenade by the sea and you will see the Blue Wing Moji Bridge. This pedestrian-only bridge will be raised several times per day from 10:00 to 16:00 for about 20 minutes to let the boats passing it.
Bridges raised: 10:00, 11:00, 13:00, 14:00, 15:00 and 16:00
Bridges lowered: 10:20, 11:20, 13:20, 14:20, 15:20 and 16:20
Getting to Mojiko Retro: 2 minutes walk from JR Mojiko Station.
Taste The Yaki Curry in Mojiko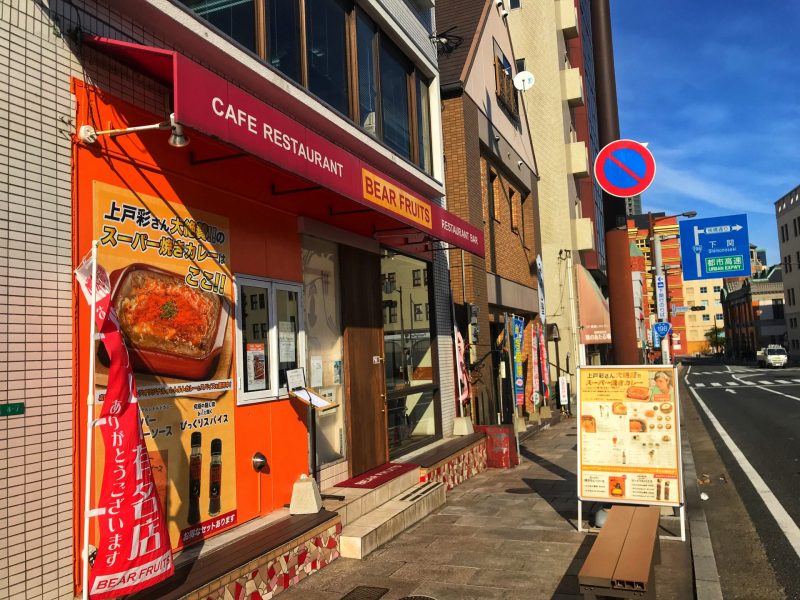 What To Eat in Mojiko: If the seafood feast in Karato Market does not satisfy your stomach, please don't hesitate to try the yaki curry in Mojiko. It is the popular local delicacy and must-try food in Mojiko. The yaki curry is baked curry topped with cheese and eggs on rice.
Bear Fruit is the most well-known yaki curry restaurant, located nearby the JR Mojiko Station. The aroma of curry together with yummy cheese and eggs truly heaven. Very popular among locals and queues can be long during lunch hours.
Visit Kokura Castle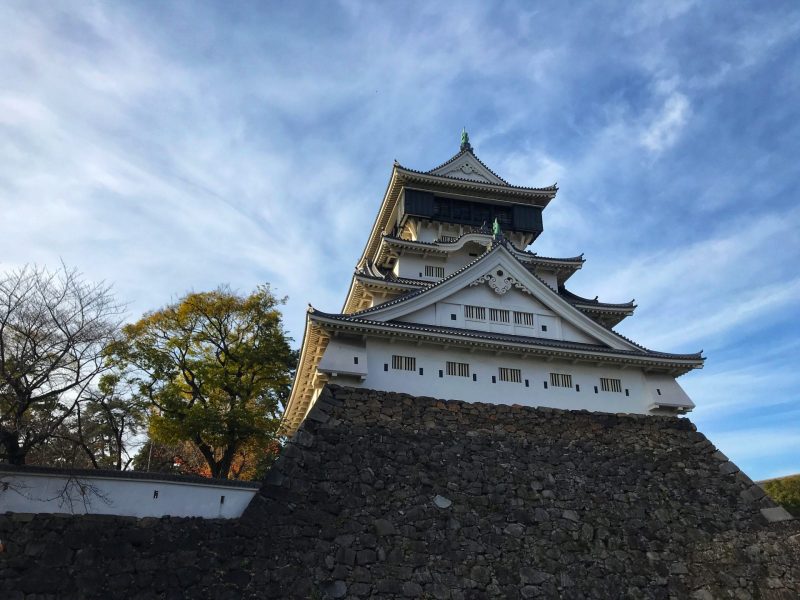 After spending time Mojiko Retro, we proceed to Kokura with a short journey of the train ride. The Kokura Castle (小倉城) is one of the well-known castles and landmarks in Kitakyushu. Build-in year 1602, the construction of Kokura Castle took about 7 years to complete. Kokura Castle is the only castle in Fukuoka prefecture.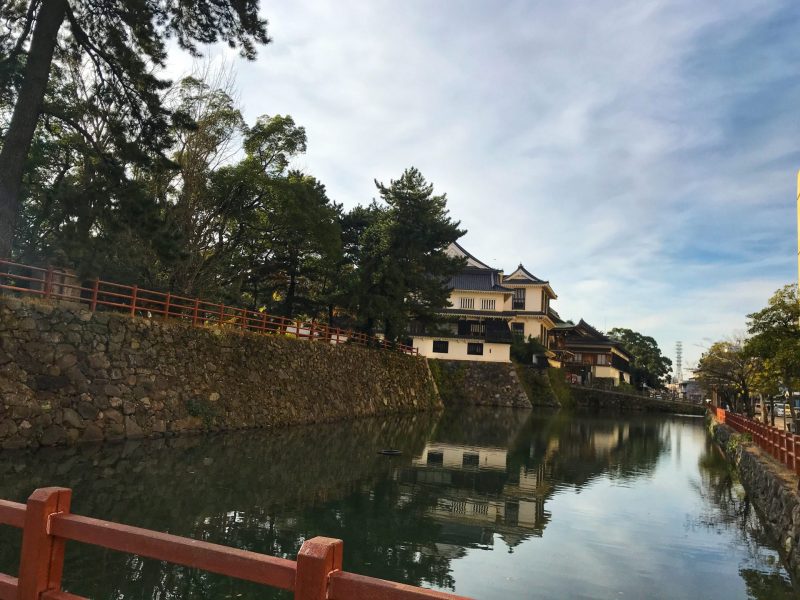 Although it is not the Premier Castle and might not as grand as Kumamoto castle, it is still worth to spend some time to view on the traditional architecture. This area is also one of the popular sakura viewing spots in Kyushu.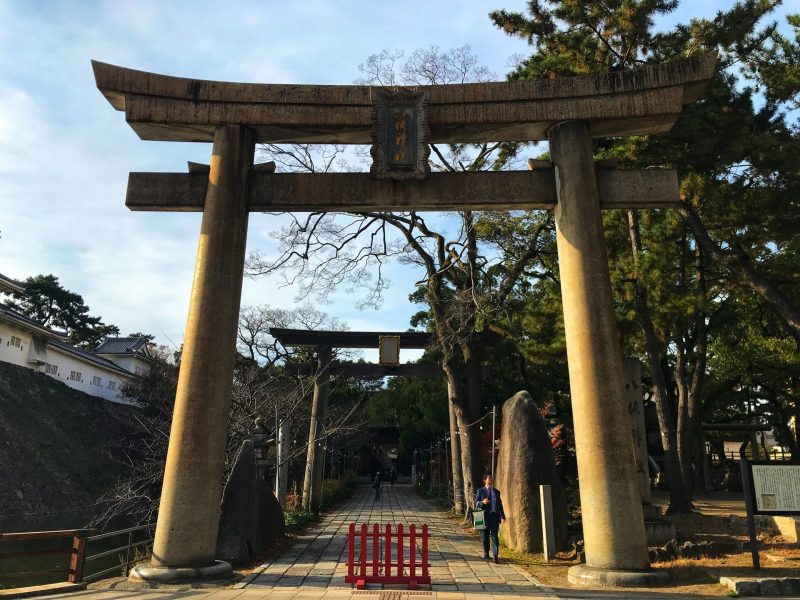 The entrance fee cost ¥350. But we choose not to went up to Kokura Castle and took a short visit to the castle ground with free.
Kokura Castle
Opening Hours: 9:00-18:00 (April to October) and 9:00-17:00 (November to March)
Entrance Fee: ¥350 for adult and ¥250 for junior and high school student
Address: 2-1 Jōnai, Kokurakita-ku, Kitakyūshū-shi, Fukuoka-ken 803-0813, Japan
Getting There: 15 to 20 minutes walk from JR Kokura Station.
Food Hunting in Tanga Ichiba Market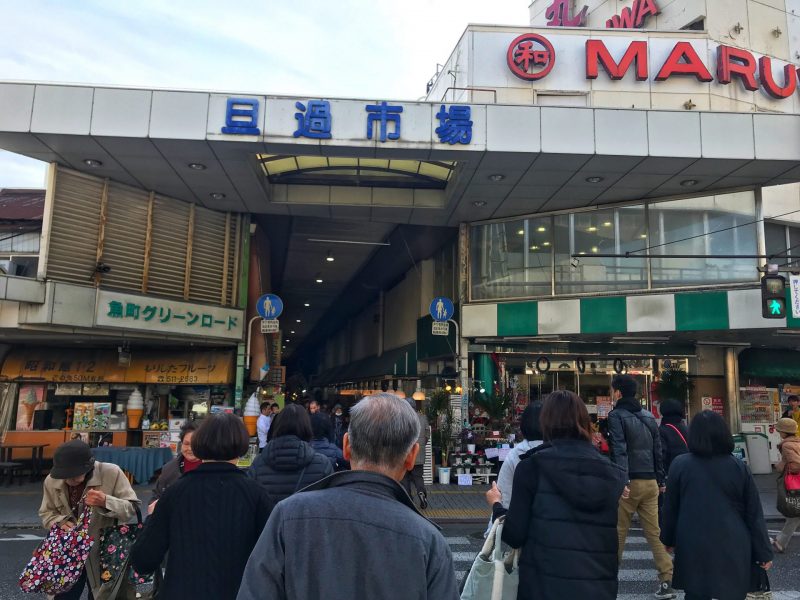 Lastly, we walked to the nearby Tanga Ichiba Market (旦過市場), the kitchen of Kitakyushu. There are about 120 stalls lined in the narrow little street in Kokura. Locals come to Tanga Ichiban market to get their daily fresh local produce such as seafood, vegetables, fruits and also food.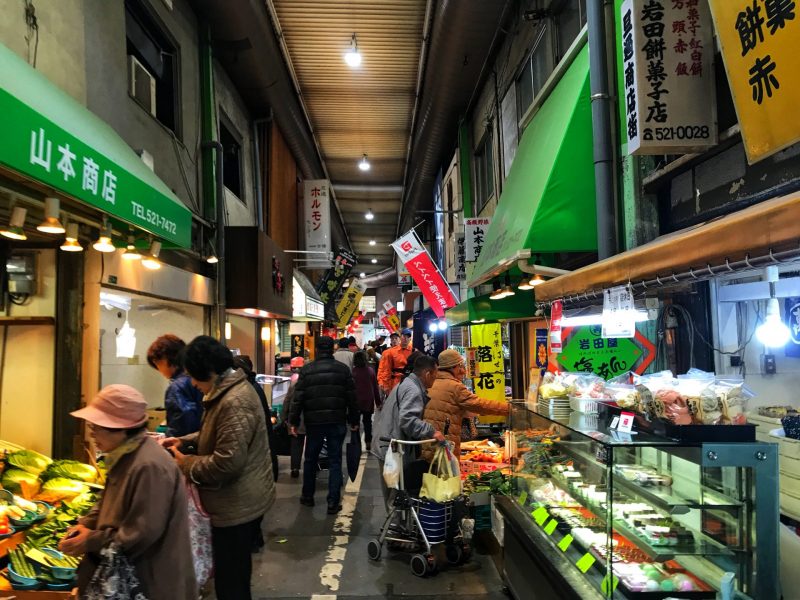 In recent years, the Tanga Ichiba market caught people's attractions by its Daigaku don, a type of rice bowl that unique in Kitakyushu. Visitors can buy a bowl of rice at ¥200, Daigaku don from Daigakudo (大學堂) which located in the middle street of the market.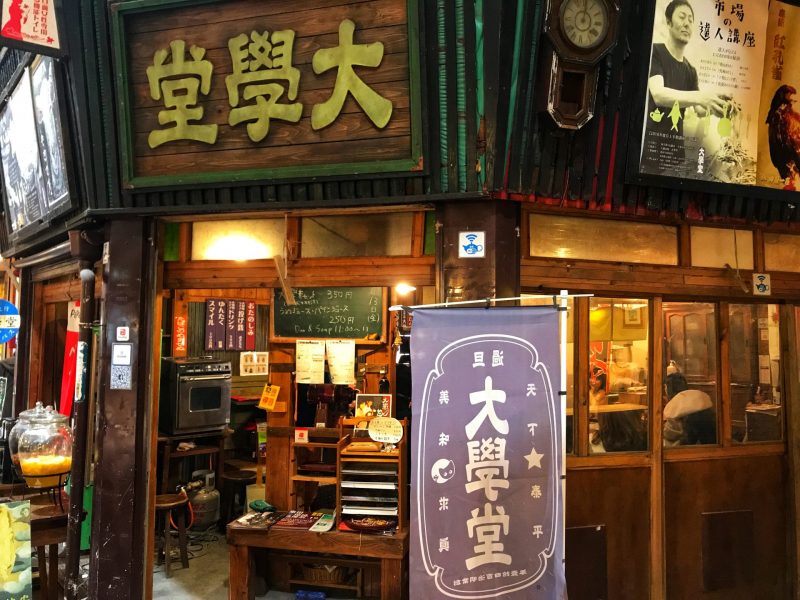 Next, you can stroll along the Tanga Ichiba market, buy the food you want to top on your rice, return to Daigakudo and enjoy it.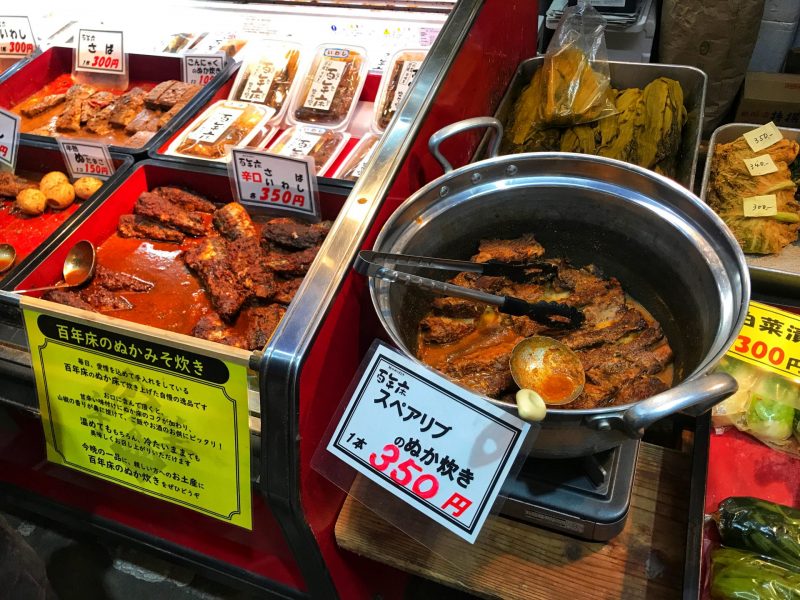 There are a wide variety of local specialties and food to top into your Daigaku don. For example, karashi mentaiko (spicy salted roe), nukadaki (fish simmered in miso), sashimi, yakitori and many more. Create your version of Daigaku don is a fun experience in your Kitakyushu itinerary.
Kokura Tanga Ichiba Market
Opening Hours: Daily 10:00-18:00
Address: 4 Chome-2-18 Uomachi, Kokurakita Ward, Kitakyushu, Fukuoka 802-0006, Japan
Getting there: 10 minutes walk from JR Kokura Station. You can choose to visit Tango Ichiba Market before or after the Kokura Castle.
Flower Tunnel at Kawachi Wisteria Garden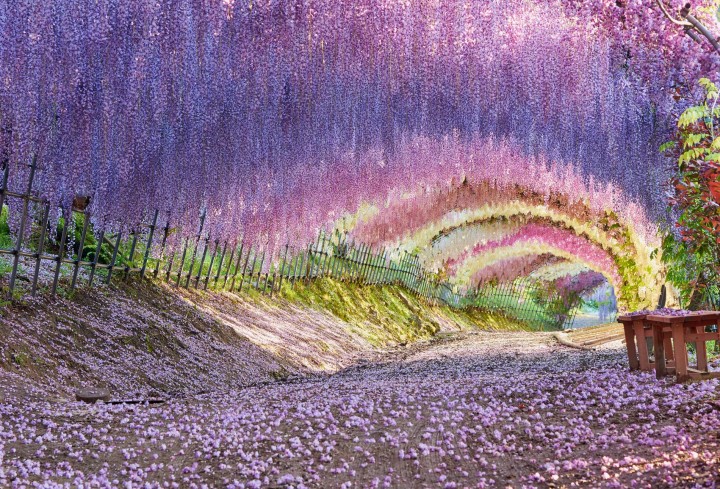 Another worth recommended when planning on Kitakyushu itinerary is the flower tunnel at Kawachi Wisteria Garden. It is rated as 10 Beautiful Places in the World That Exist and on the list of Japan's 31 Most Beautiful Places broadcasted by American CNN in the year 2015.
The Kawachi Wisteria Garden is extremely amazing with beautiful wisteria trellis welcoming visitors started from mid-April to mid-May. However, due to the overwhelming of visitors, advanced reservation is required to visit Kawachi Wisteria Garden in peak season.
Take note that there are no public transport and shuttle to get to the Kawachi Wisteria Garden. The only option to get there is by taxi with one way of taxi ride cost about ¥3,000. Alternatively, consider getting the rental car from RentalCars.com to visit the Kawachi Wisteria Garden leisurely.
For more detail please check on the official website: https://kawachi-fujien.com/.
Overview: 1-Day Kitakyushu Itinerary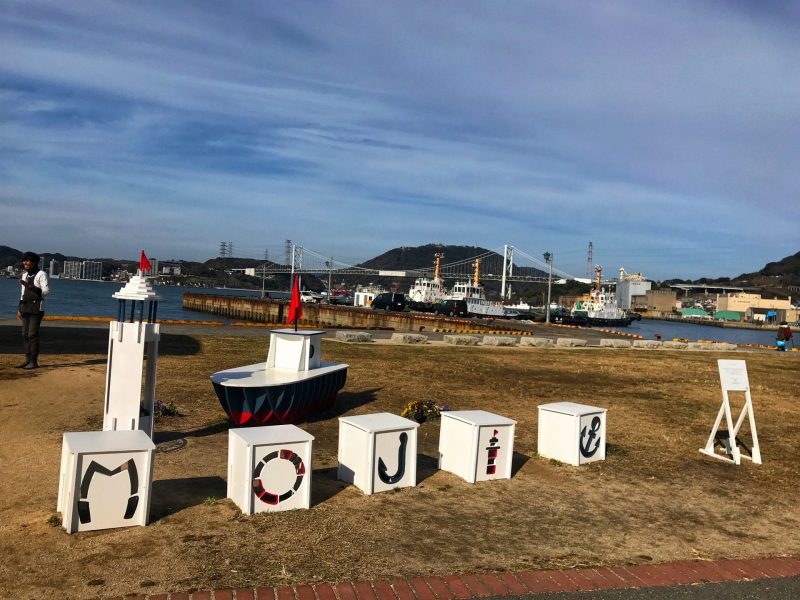 All in all, we spend about 5 to 6 hours in this one day Kitakyushu itinerary. The Kitakyushu is truly a unique cultural and historical places in Japan. It might not full of WOW attractions and must-visit on your Kitakyushu trip. But we enjoyed our visit to Kitakyushu and spend time wandering in the old Japanese cities. An easy day trip from Fukuoka to Shimonoseki, Mojiko, Kokura.
Here is the quick summary of various of transportation on above Kitakyushu itinerary:
From Hakata Station (Fukuoka) to Mojiko Station with JR express train with a one-time transfer required at Kokura. Free with JR Kyushu Pass.
From Moji Ferry Terminal, board the ferry to across Kanmon strait to Karato Market in Shimonoseki. One ride of ferry cost ¥400 per adult.
Take a bus or walk to Kanmon Underwater Pedestrian Tunnel.
From Mojiko Station to Kokura Station by JR express train.
Lastly, hopefully, our Kitakyushu travel blog is helpful. Free feel to contact us if you need further help with planning on your Kitakyushu itinerary. Happy travel to Kitakyushu, Mojiko, Kokura, and Shimonoseki.
Planning on a trip to Fukuoka? The following posts provide more in-depth information about Fukuoka travel. Including transportation, foodie guide, travel tips and tours in Fukuoka. Be sure to check out our travel guide below if you are looking for little inspiration.