Last updated on December 11th, 2023
Looking for an accommodation guide to decide where to stay in Fukuoka? We have the best pick the best place to stay in Fukuoka with a great hotel list in Hakata and Tenjin.
Fukuoka is one of the lively city to stay in Japan. It is the capital of the Fukuoka prefecture and the largest city in Kyushu Japan. The modern city is famous for its mouth-watering unique local cuisine, as well as world-class shopping and popular attractions. You could easily spend a few days exploring Fukuoka.
Being the busiest city in Kyushu, Fukuoka is the important hub when getting around in Kyushu. Fukuoka International Airport welcomes millions of visitors every day. Not counting the Shinkansen and JR train which frequently bring in thousands of visitors from other places in Japan. But what most first-time visitors were surprised to find out is that Kyushu is huge. There are so many things to do and see in Fukuoka. Whether you're staying for 3 days or a week in this amazing city, you'll never run out of things to do.
Added, thanks to its well-connected railway system, Fukuoka also a great base for traveling to nearby neighborhood prefectures. You can even plan for a day trip from Fukuoka and return within one day. To ease your Fukuoka trip, it is important to figure out where to stay in Fukuoka.
To learn the best place to stay in Fukuoka, read below the Fukuoka accommodation guide for more information. Here is our in-depth guide for where to stay in Fukuoka, Japan.
Quick Tip: Where To Stay in Fukuoka
With so many hotels and guest houses to choose from, deciding where to stay in Fukuoka can be a challenge. Whether you're looking for a luxurious stay or simple sleep in the cheapest bed, we've got exactly what you're looking for.
Where To Stay in Fukuoka?
The top three best places to stay in Fukuoka is Hakata, Tenjin, and Nakasu Kawabata. Hakata is easy to access for transportation, Tenjin is the busiest downtown with various shops and restaurant. Nakasu Kawabata is the best place to stay for budget travelers with many cheap accommodations available.
How Many Days Should I Stay in Fukuoka?
At least two days if you're just planning for sightseeing within Fukuoka city. But Fukuoka is a great base to visit the nearby attractions for easy day trips such as Kitakyushu, Oita, or even Nagasaki. Just allocate more days and stay longer in Fukuoka.
Should I Stay in Hakata or Tenjin?
It is recommended stay in Hakata if you're planning to traveling in Fukuoka and nearby by using JR train.
Fukuoka Hotel Tips:
When looking for the best price and biggest selection of hotels in Fukuoka check prices for
Fukuoka Best Hotel from Booking.com
. We found they are the best option and have a great cancelation policy.
Hakata or Tenjin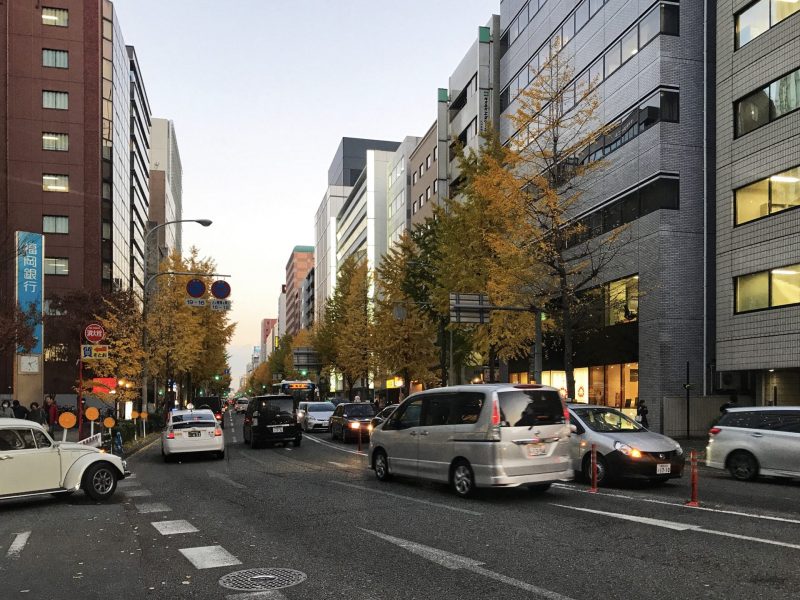 There are several areas to stay in Fukuoka with great accommodation. Looking for the best hotel in Fukuoka? We recommended staying in Hakata and Tenjin. Both places are great for exploring and offer the best food, shopping, and lively nightly.
For a budget traveler, take a look at the Nakasu Kawabata area. Located slightly away from Tenjin, Nakasu is the buzzing and vibrant neighborhood. It was once the red light and entertainment district in Fukuoka. But now it is home to thousands of delicious food and a good restaurant. There is a lot of good value accommodation and the best hotel deal in the Nakasu Kawabata area.
Fukuoka Accommodation Tips: Fukuoka is particularly busy especially during the weekend. So popular hotels can be easily fully booked one or two months ahead. The room rate will be getting higher during the weekend and continue increasing when the room running fast. So it is advisable to book your accommodation earlier once your Kyushu itinerary is finalized.
Still not sure where to stay in Fukuoka? Don't worry, continue to read at our best hotel in Fukuoka.
Fukuoka Best Hotel Tips
Staying nearby Hakata station which means somewhere central and convenient to access to transportation.
Tenjin is Fukuoka's busy downtown. Easily access to hundreds of shops, malls, restaurants, and food markets.
Fukuoka Budget Stay: Look for a budget accommodation near the subway line. The Nakasu Kawabata has many best value hostels and hotels.
Nearby Hakata Station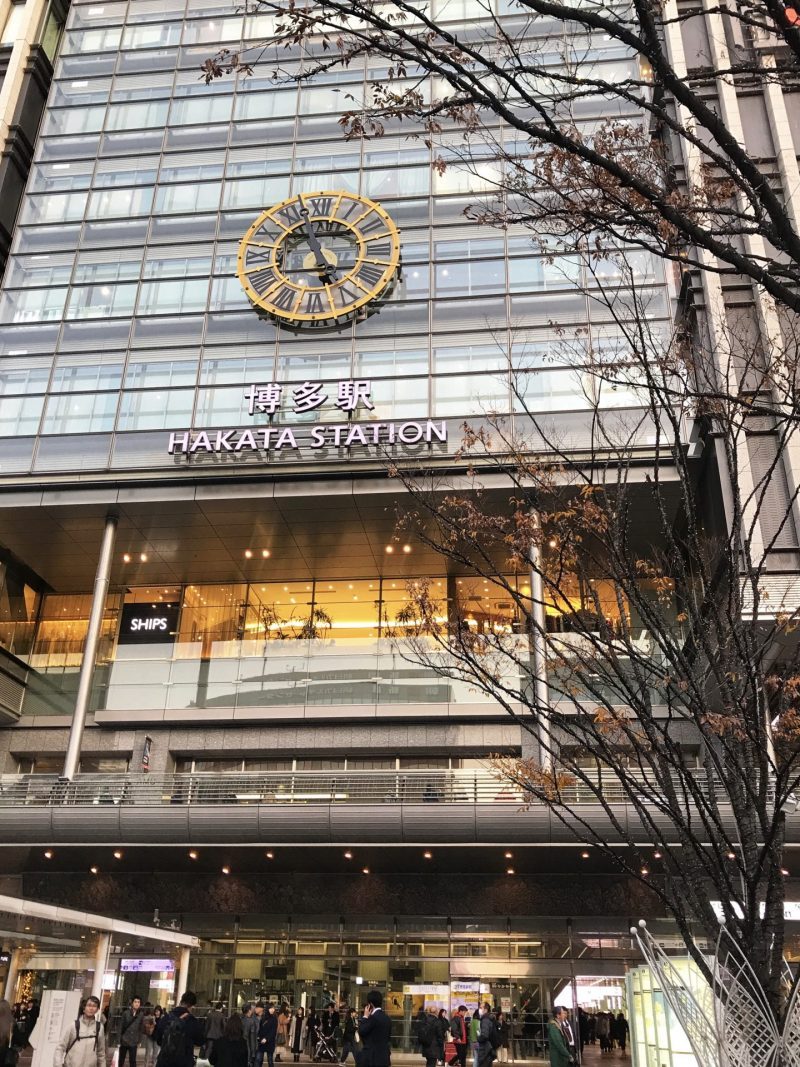 Staying nearby Hakata Station is the most popular area to stay in Fukuoka for visitors. It is the main transportation hub with Shinkansen, JR Train, subway and bus coverage. These offer quick access to other areas in the Fukuoka downtown area and Kyushu. My personal favorite is staying nearby Hakata Station, especially you are planning to get around by train to other attractions in Kyushu. Although the subway is pretty convenient but it can be very packed and full during rush hour.
Here is the best place to stay in Fukuoka within walking distance from Hakata Station.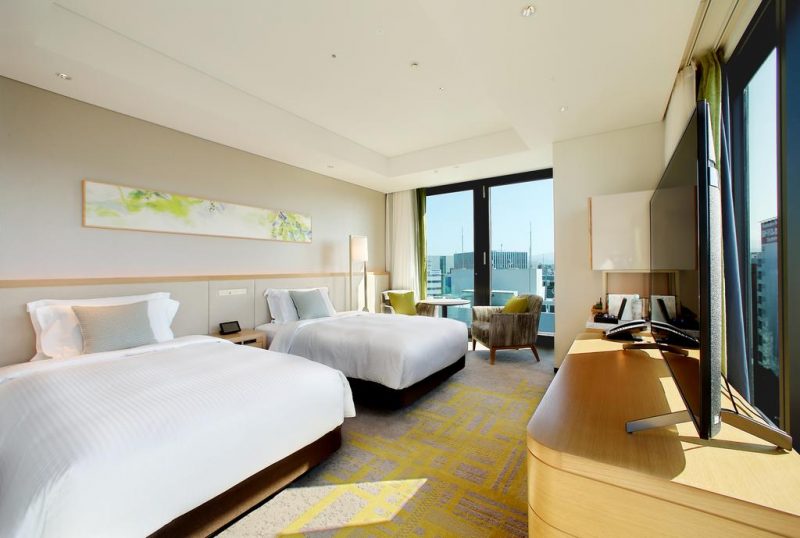 The elegance and sophistication of Miyako Hotel Hakata is truly one of the best picks for where to stay in Fukuoka. Open in September 2019, Miyako Hotel Hakata offers spacious, comfortable, new and clean facilities. It is located right next to JR Hakata station which is very convenient. Added, a direct connection to the Hakata Subway Station with direct lift makes getting around the city super easy. The public bath on the top floor is also another great plus.
Your best stay in Miyako Hotel Hakata starts at USD $170. Check your room rates in Booking.com.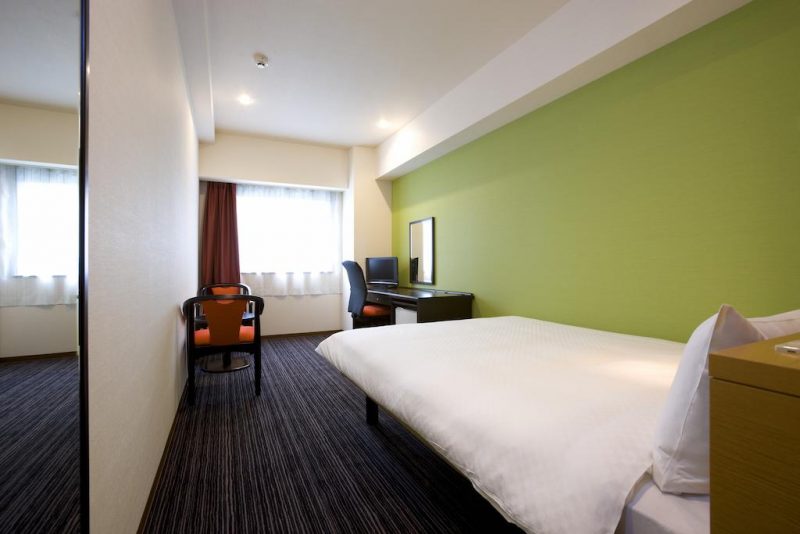 The B Hakata is an excellent boutique hotel located within 5 minutes walk from Hakata Station. The simply designed rooms are spacious (by Japanese standard), clean and well equipped with a flat-screen TV, air-con, free Wifi, and a fridge. Good breakfast and a variety of options.
Double rooms start at USD $70. Check your stay in The B Hakata.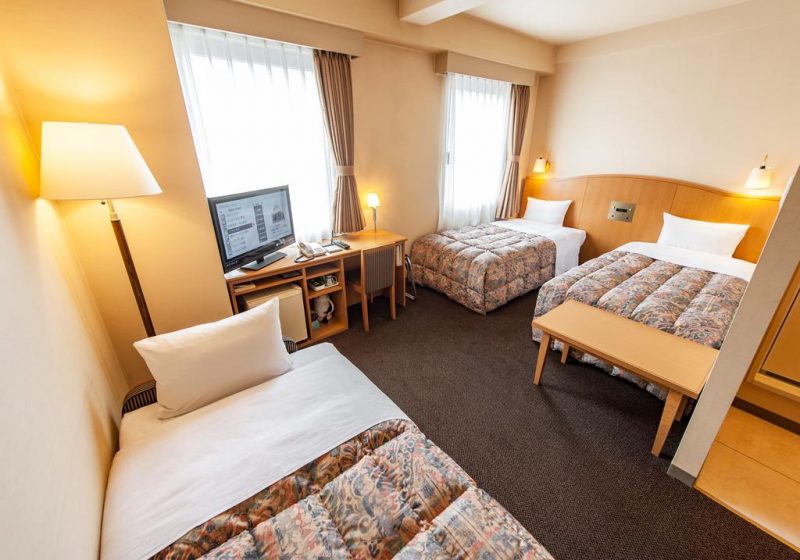 The Hakata Green Hotel (No#2) is the best option for those to look for a convenient stay in Hakata in the budget. Although the hotel is slightly dated, it offers an excellent location with about 3 minutes walk from the Hakata Station. It is easy and convenient to get to everywhere. Many good restaurants, eateries and convenient stores nearby. A great option who look for a convenient yet budget hotel stay in Fukuoka.
Double rooms start at USD $70. Check your room availability here.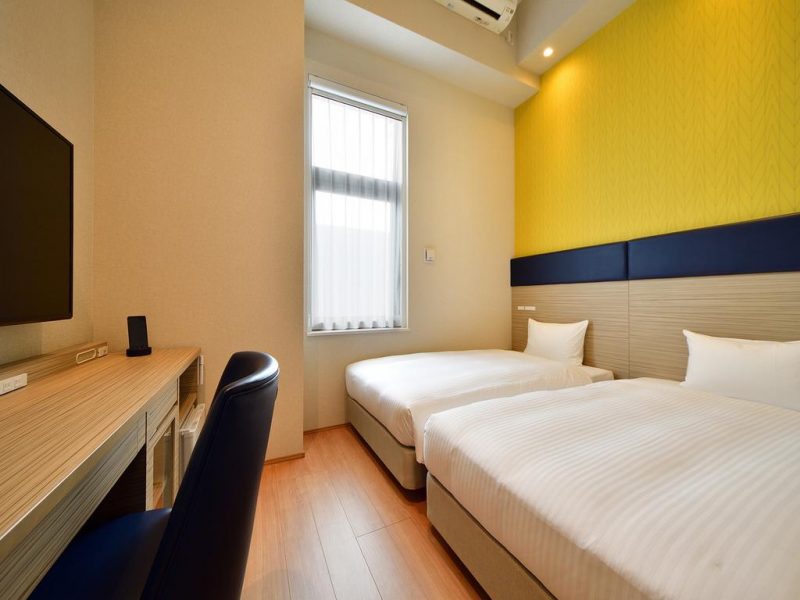 Located 8 minutes of walking distance from Hakata Station, Hotel WBF Grande Hakata is one of the popular pick among travelers. It is reopening after renovation, so everything is very clean and new. The staffs are polite and helpful with English speaking. Rooftop public onsen and complimentary drinks are great plus for hotel guests. While the room is slightly small but very reasonable with the price payable for a nice room in Fukuoka.
Rooms start at USD $85. Easy get full during the weekend. Check your room availability here.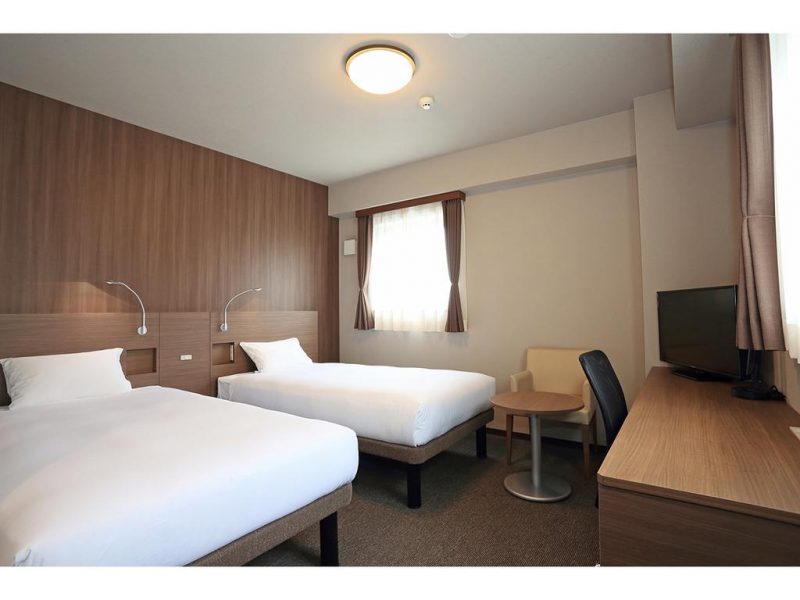 Opening in April 2017, Smile Hotel Hakataekimae gain its popularity among travelers. It is the standard 3-star hotel chain in Japan, provides a comfortable stay with a reasonable price tag. The location is about 5 minutes walk from Hakata Station. The room is spacious with a clean and comfortable bed.
Double rooms start at USD $90. Check your room rates in Booking.com.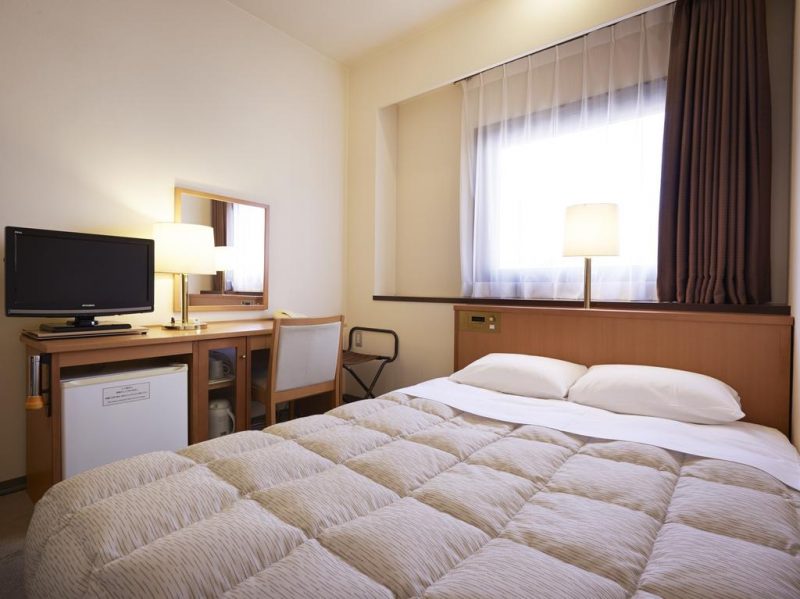 Located right in front of JR Station, Sunlife Hotel is one of the best hotels in Fukuoka offers a convenient stay. So it is very easy access to the metro, JR train, and bus for traveling around. Sunlife Hotel is a standard 3-star hotel with nothing to wow about. But its strategic location, clean room, and polite staff are what you need when looking for the best place to stay in Fukuoka.
Double rooms start at USD $80. Click here to check room availability.
Tenjin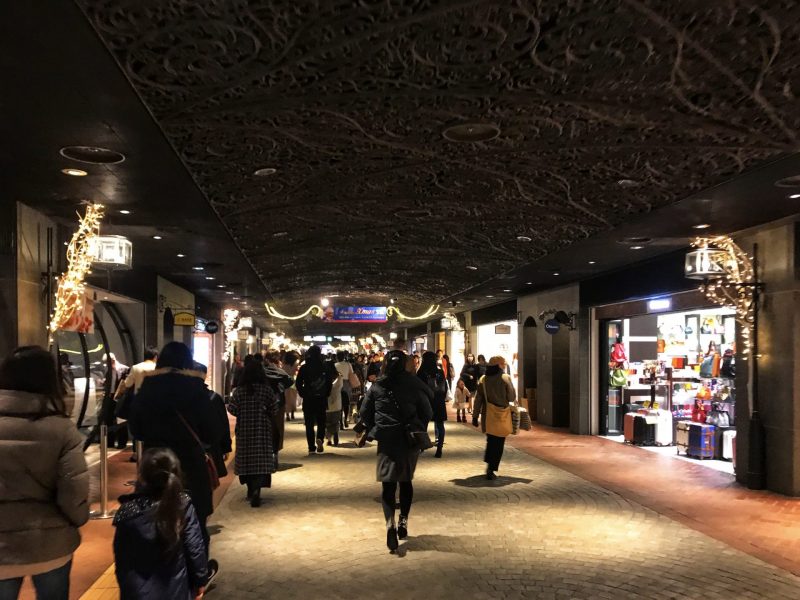 Most visitors to Fukuoka choose to stay in Tenjin for good reasons. There are many nice hotels in Tenjin with a wide range of budget in Tenjin. It is also easy access to hundreds of shops, malls, restaurants, bars, food markets, and excellent nightlife. Tenjin is very suitable for travelers who want to experience the true vibe of Fukuoka if you're visiting for the first time.
Added, the Tenjin Underground Shopping Center is the largest underground shopping area in Kyushu which stretches approximately 1 kilometer long. Shop till you drop!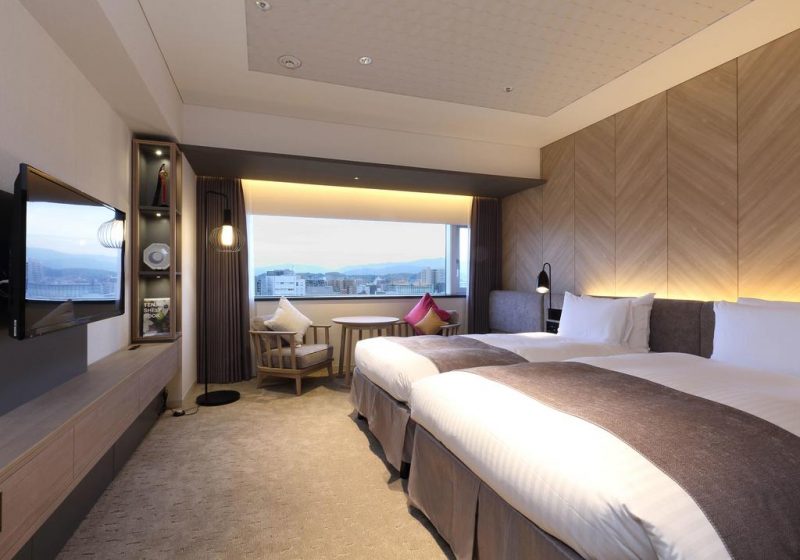 A lovely hotel centrally located nearby Tenjin shopping district and easy 3-minutes walking distance from Tenjin subway station. Easy getting around in Fukuoka city. The room with modern and nice interior design. There is dry cleaning and currency exchange at 24-hour front desk service.
Moderate Double rooms start at USD $150. Click here for latest prices.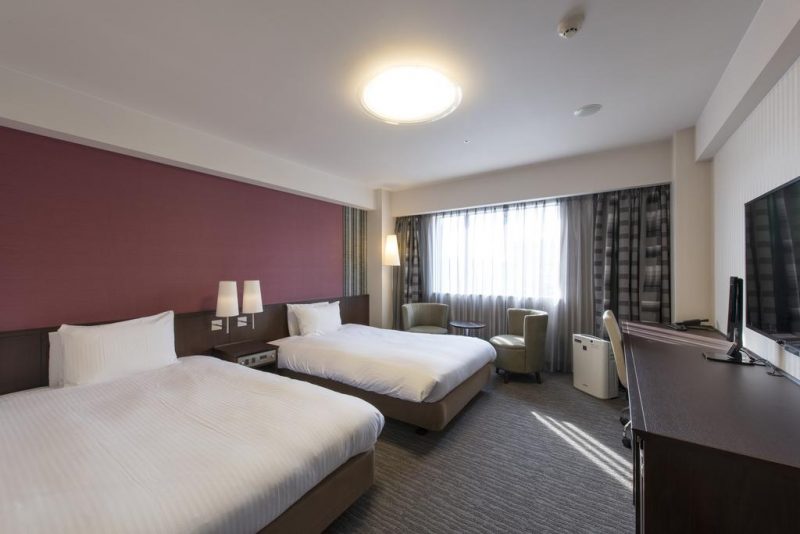 A popular mid-range hotel located with merely 3 minutes stroll from Tenjin Subway station. It's a simple hotel with a spectacular lobby and excellent service. The rooms are comfortable and clean with wonderful amenities. Easy walk to nearby shopping districts, restaurants and eateries nearby.
Double rooms start at USD $105. Check your room rates in Booking.com.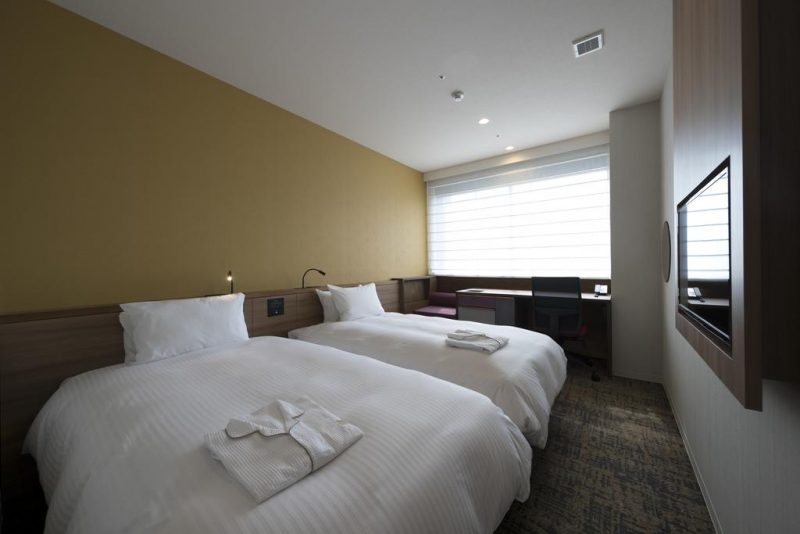 Another worth recommended boutique located nearby Tenjin, Fukuoka. The B Tenjin is a new modern style and classy hotel that is surprisingly affordable. The rooms are spacious, comfortable, elegantly furnished. Friendly helpful staff and can communicate in English. Added, walking distance to the shopping center, restaurants, and public transport.
Rooms start at USD $90. Check room rate for The B Tenjin.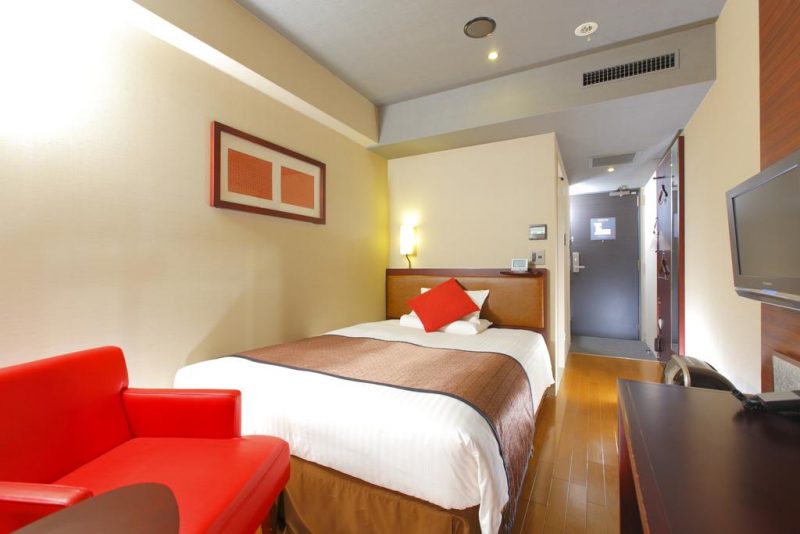 The Hotel Mystays is a famous business hotel chain in Japan. Although the rooms are not the biggest but they have everything you need. It is close to Tenjin station and bus station. Surrounded by shopping malls and a good selection of restaurants nearby. There is a laundry room with washing machines and dryers with free coffee all day long.
Double rooms start at USD $75. Click here for latest prices.
Best Budget Stay in Fukuoka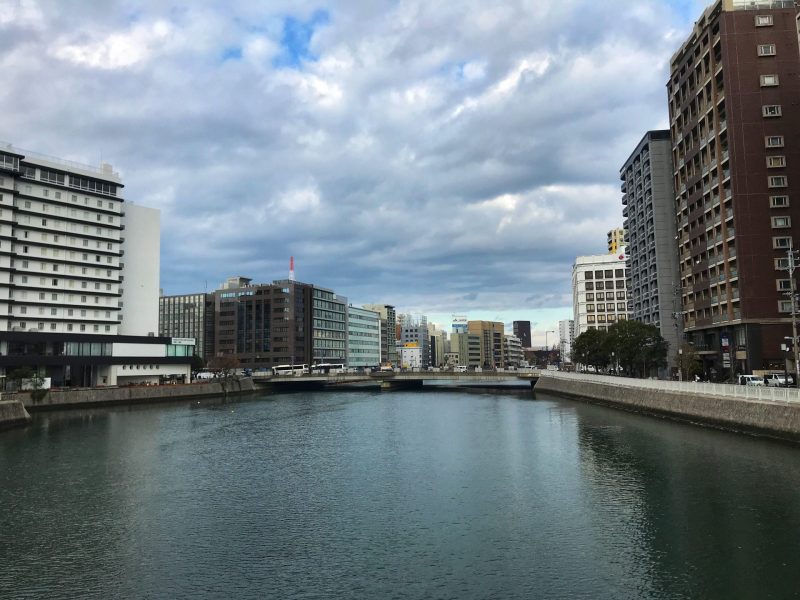 Looking for a budget place to stay in Fukuoka? Just like Tokyo, Fukuoka is well covered by the subway which can get you anywhere easily and efficiently. We recommended staying nearby the Fukuoka subway line for easy getting around.
These are our highest recommendations for places to stay with budget concerns. Some are great options for a solo traveler with a capsule room or dormitory room. Added, if you don't mind for slightly away from busy Hakata and Tenjin, the Nakasu Kawabata is has a lot of cheaper and best value accommodation.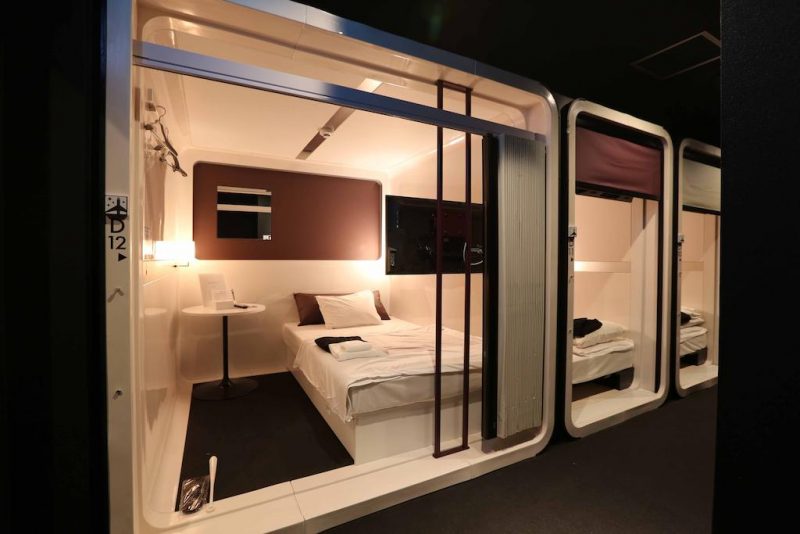 This capsule hostel is centrally located in the Hakata Ward. The spacious sleeping capsules are placed side by side in shared rooms, separate by gender. It is modern, clean, tidy and a great shared bathing area. Easy access to shopping areas, eateries, and transportation options. The nearest Nakasukawabata Station is only a 1-minute walk and 3 stop away from Fukuoka Airport.
A standard Capsule start at USD $40. Check for availability from Booking.com.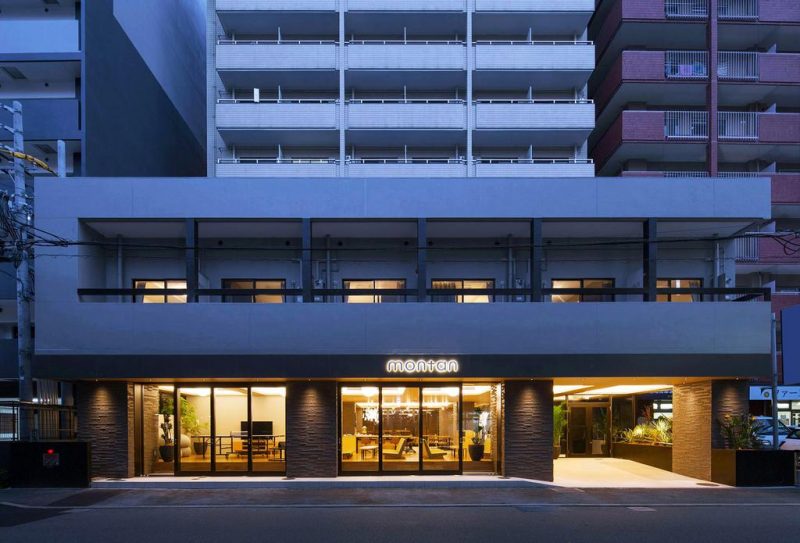 The montan Hakata is more than the budget stay in Fukuoka. This impeccably designed hostel is located in a quiet neighborhood about 800 meters away with 10 minutes walk from Hakata station. Alternatively, you can walk from Higashi-Hie subway station with 5 minutes. The private rooms are spacious and clean with comfortable beds and private bathrooms. It also offers the mix or female dormitory room for a solo traveler. This is our pick for the best hostel in Fukuoka.
Double rooms start at USD $90 and bunk bed starts from USD $30. Check on your best room here.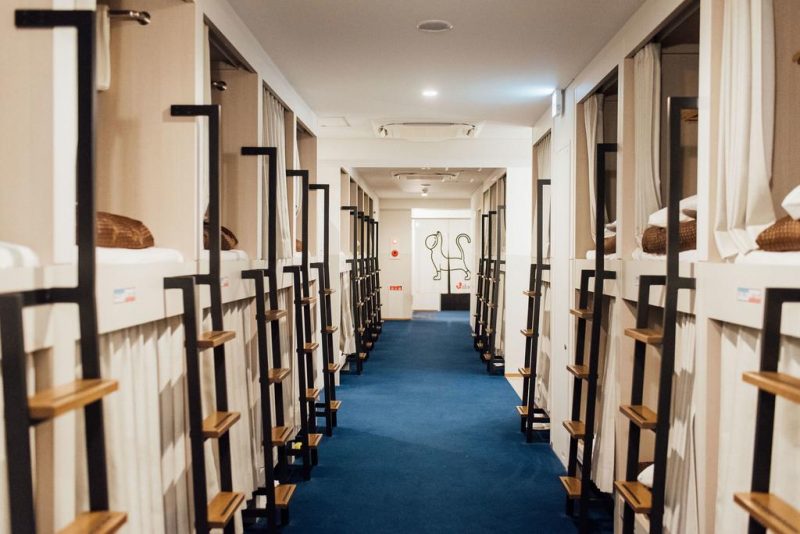 Situated just a 3-minute walk from Nakasu Kawabata Subway Station or 5 minutes walk to Tenjin Subway Station, WeBase Hakata Hostel is particularly popular among the solo and budget travelers. It offers a bunk bed for female-only or mix dormitory room for a solo traveler. You can also choose to stay in a double, twin, triple or quadruple room if coming in a group. Free Wifi, huge resting lounge, and kitchenette, as well as a washing machine, are available.
Bunk bed starts from USD $30 with simple breakfast included. Click here to check for availability.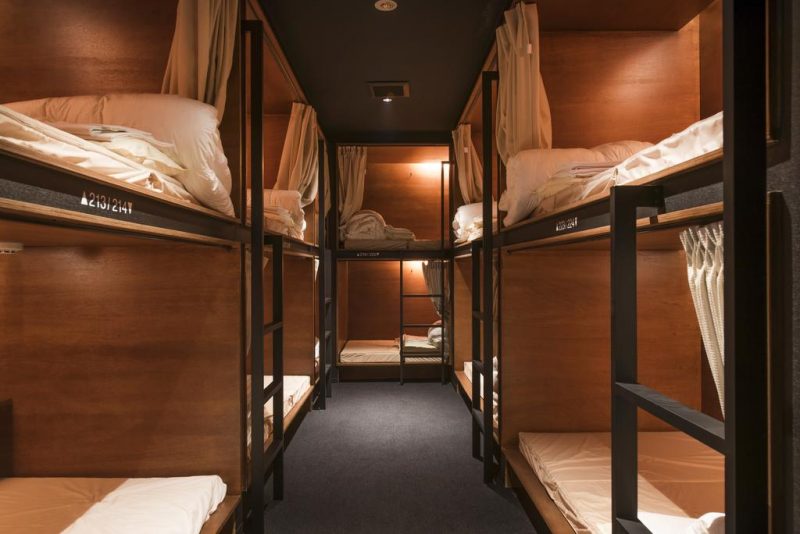 A great budget hotel that offers excellent value for your money. Hatago Tenjin is located a 5-minute walk from Tenjin Station. It is easily accessible to Tenjin department stores as well as the Nishitetsu railway and highway bus station. Choose from bunk bed from female, male or mix gender dormitory room.
Bunk bed starts from USD $25. Click here to check room availability.
Overview: Where to Stay in Fukuoka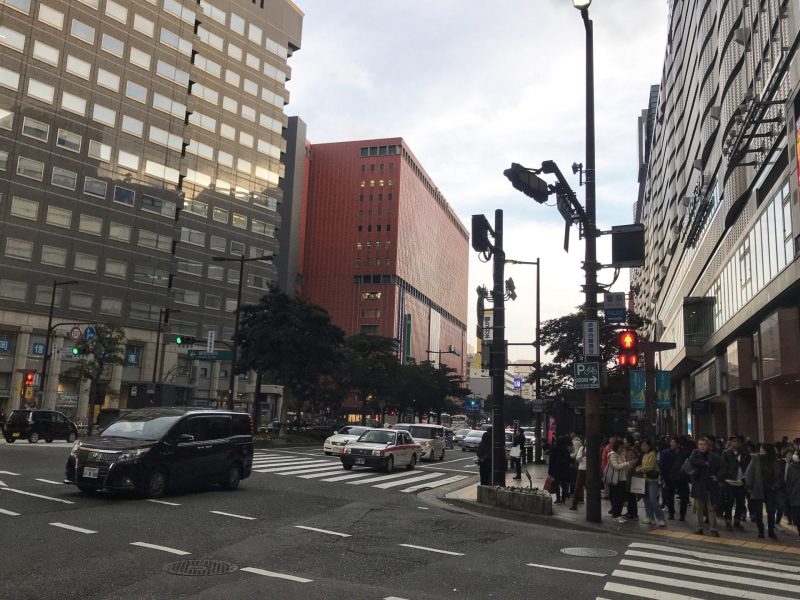 Last but not least, I hope this accommodation guide helps you plan your trip much easier! Fukuoka is an incredible city that rich in history, mouth-watering food, and incredible sights. Remember, in terms of the number of tourists, it's not as busy as Tokyo, Osaka, or Kyoto. But Fukuoka does get its share of tourists. So make sure to book your accommodations ahead of time.
Lastly, if you have any questions about your trip to Kyushu, get in touch, and I'll do my best to help you out. If you want some inspiration for what to do in Kyushu then be sure to read our Kyushu Itinerary. We will be constantly adding and updating, so please let us know if you have any travel tips for the best hotel in Fukuoka that we should check out!
Related Fukuoka travel post and food blog:
A complete Kyushu Travel Guide: How To Plan Your Kyushu itinerary