Last updated on September 26th, 2023
Takachiho Gorge travel guide with itinerary planning, what to do, and eat in the spectacular gorge. A must-visit attraction when getting to Kyushu Japan.
Located over the border in Miyazaki Prefecture, Takachiho Gorge (高千穂峡, Takachiho-kyō) is the most popular geological attraction among locals and travelers from many countries. It is known as a spiritual spot and natural beauty. This stunning gorge is renowned as one of the most uniquely, beautiful scenic spots in Kyushu. It was formed when the Mount Aso volcano erupted over 90,000 years ago. The pyroclastic flow, spreading through the Gokase River were deposited and abruptly cooled down. It resulted in the dramatic columnar rock formations with characteristic organ pipe features.
Moreover, the tranquil blue-green Gokase river cutting its path through the gorge with water cascade falls from the edge. It formed a magnificent view and nature experience. Walk along the path or rowing a rental boat is the best way to enjoy the best sights. Imaging lazily rowing the boat, look up directly to the Manai Falls and the columnar shaped valley. You might possibly see the rainbow, formed by the mist around you.
Can't wait to know more? Read on our Takachiho Gorge itinerary travel guide included our itinerary planning, things to do if you looking for what to do, and eat during the visit.
Best Time To Visit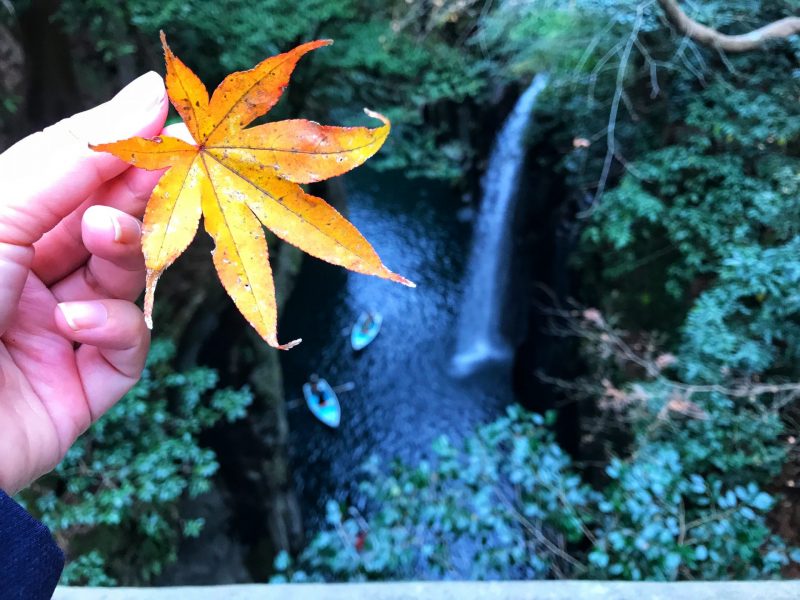 Takachiho Gorge is open for visitors all year round. The different season gives the different look on the beautiful gorge and surrounding even at a different angle. From April to October, the leaves are green along the gorge and this is also the typical shot that you see for Takachiho Gorge.
It is not a popular spot during spring for sakura viewing. However, Takachiho Gorge is popular during the summer and can be crowded especially weekends and holidays. During night time, special spotlights lit up the waterfalls and the footpath. The illumination gives u a mysterious ambiance with serenity.
The best time to visit Takachiho Gorge is during autumn. When the fall begins, Takachiho Gorge is filled with orange and red leaves. It is best to plan your trip to Takachiho Gorge from mid-November to early December. The fall foliage, the mist from the waterfall together with beautiful rock formation creates a magical combination atmosphere. During winter, Takachiho gorge is less crowded, quiet, and rather beautiful.
Getting To Takachiho Gorge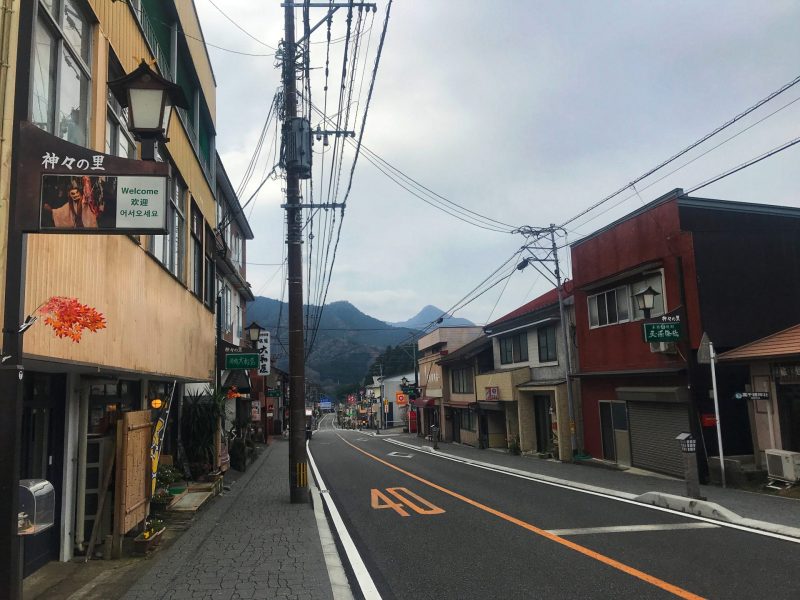 Getting to Takachiho gorge is difficult to reach by public transport. As this is a long and detail transport guide, we have listed how to get to Takachiho Gorge. Check it out if you are looking for a bus schedule, fare, option from Kumamoto, Miyazaki, Fukuoka or even for self-driving.
Related Article: How To Get To Takachiho Gorge From Kumamoto, Miyazaki and Fukuoka
Added, if you wish to visit beautiful Takachiho Gorge and know more about its shrine and history, consider getting the Day Tour to Takachiho Gorge from Kumamoto (Not available now). Experience English guided tour with well explanation along the travel journey. The meetup location is at Higo-Ozu Station (肥後大津駅), 30 minutes train ride from Kumamoto station.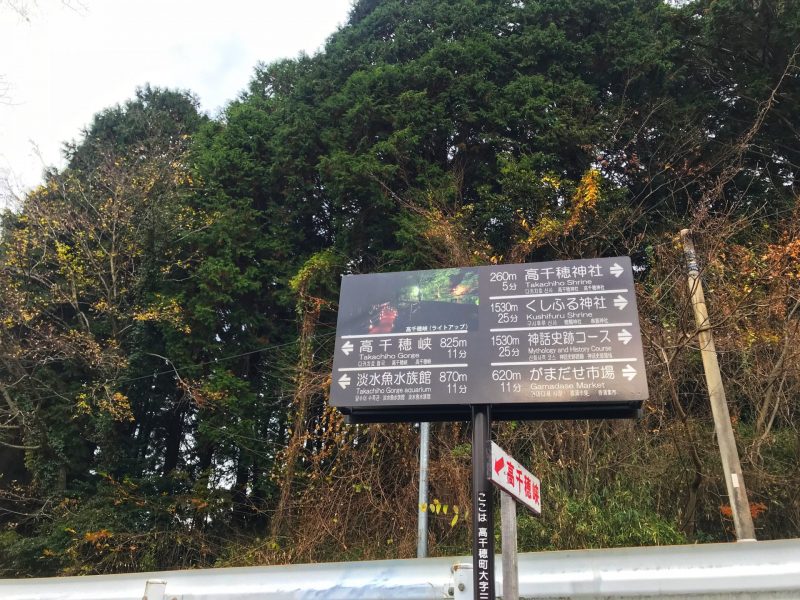 Assuming you already get to Takachiho bus center, there are few options to get to the gorge. We choose to walk from the bus center to Takahiro Gorge. The journey takes about 30 minutes on foot. The road keeps on going down slightly to the shrine with road sight along the journey. A data plan is highly recommended to guide you to the gorge.
Friendly reminder, Machinaka Tourist Information Center is located opposite the Takachiho Bus Center. Don't forget to grab some useful information or brochure before went on your way.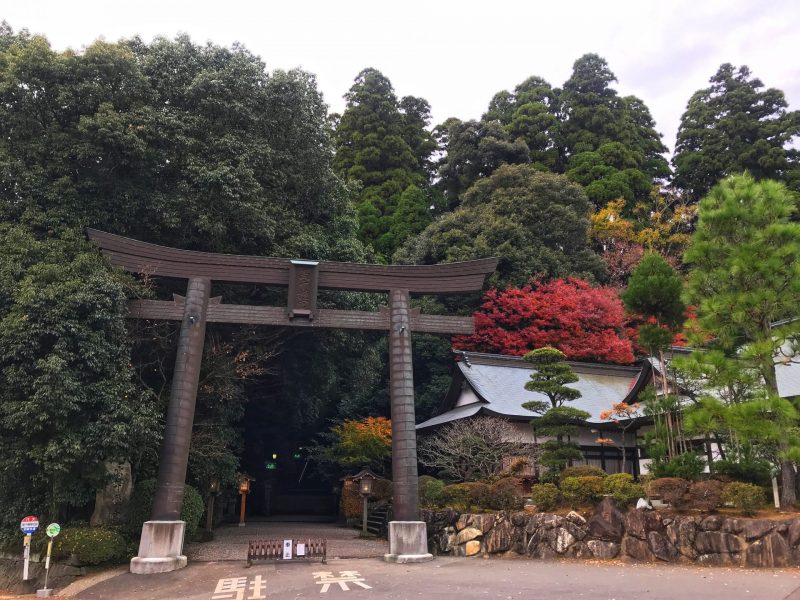 We passed through the long busy street, walked down to the long winding road to the gorge. Along the journey, you will also be passing the Takachiho Shrine. It takes about 15 minutes to walk to get to Takachiho Shrine with signs along the way and how far more to go. We decided to come back after our visit to Takachiho Gorge.
After going down some winding road, you'll reach Takachiho Gorge. The walking route from Takachiho Bus Center to Takachiho Gorge took us about 30 minutes.
Day Tour To Takachiho Gorge
From Kumamoto: If you are worried about transport arrangements, consider taking the Day Tour to Takachiho Gorge from Kumamoto (Not available now) for a hassle-free arrangement. It is running by reputation and an English speaking guide. This one day tour will bring you to all the must-do attractions in Takachiho including boat rowing earlier to beat the crowd, Amano Iwato Shrine which hard to reach without self-driving, and many more.
The meetup point is Higo-Ozu Station, 30 minutes by train from Kumamoto. Take a look if you need to know more.
From Fukuoka: Another option for travelers for Takachiho Gorge at Fukuoka for hassle-free arrangement. The meetup point is in front of the Lawson convenience store, at Exit Chikushi, JR Hakata Station. Earlier booking is required for the transport arrangement.
Private Day Tour to Takachiho Gorge from Fukuoka
Takachiho Gorge Itinerary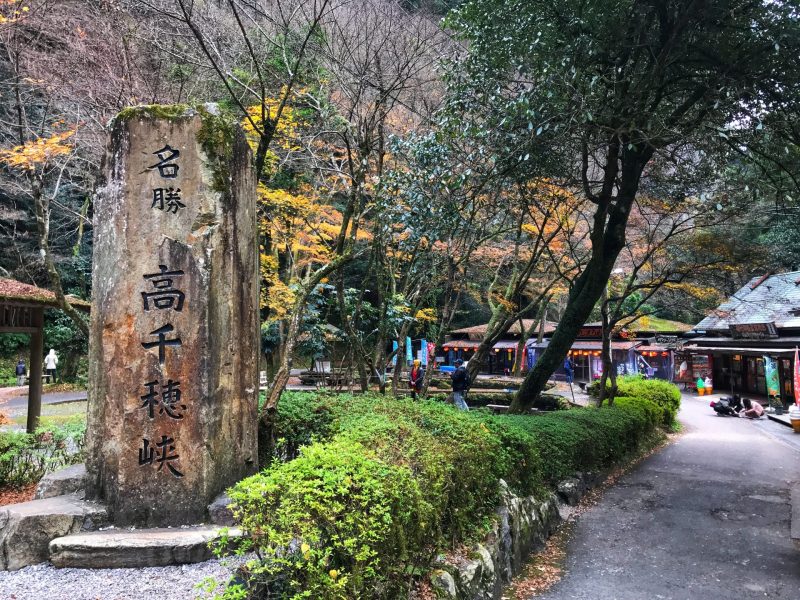 Takachiho Gorge is a must-see attraction in the Kyushu region, Japan. There are many things to do in the Takachiho Gorge itinerary. For those who visiting Takachiho with limited time and public transport, it is advisable to read through our travel guide before getting there. So that you can fully enjoy the beautiful scenery even with limited time.
Takachiho Gorge itinerary:
Arrived Takachiho Gorge. Discover the Manai Waterfall
Boating in Takachiho Gorge (30 minutes)
Catch the Flowing Water Noodle For Lunch (40 minutes)
Walk along the Takachiho Promenade (30 minutes)
Hike into Kyushu Nature Trail (30 minutes)
Pray at Takachiro Shrine (30 minutes)
Please note that the above Takachiho Gorge itinerary is depending on how long you can spend there. For self-drive to Takachoho Gorge, visitors can spend more time and relax while visiting here. However, for travelers visiting Takachiho Gorge by public transport, make sure to allocate time wisely and go back to Takachiho Station.
Below are the things to do, start from walking from the edge of boat renting until the end of our Takachiho Gorge itinerary.
Discover Manai Falls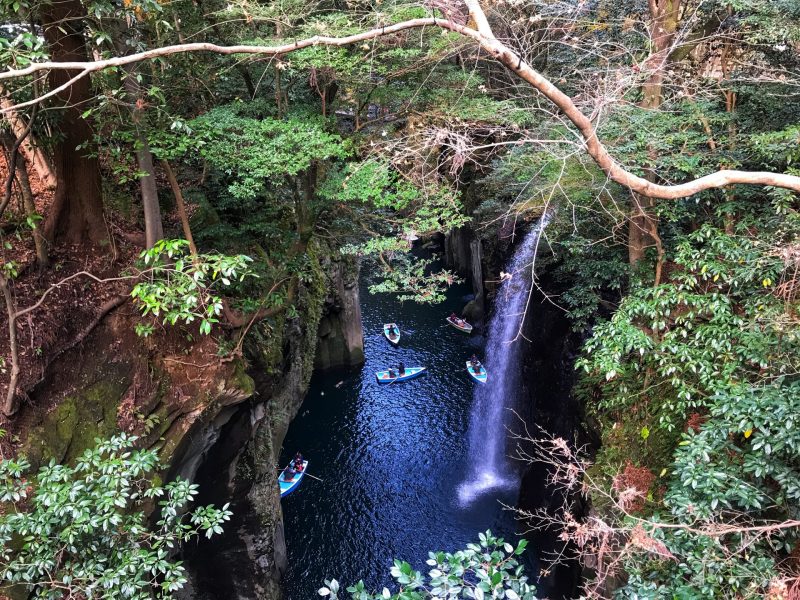 Firstly, you'll discover the iconic Manai Falls once you get inside the gorge. The powerful 17-meter wall of water gushing down into the deep chasm is exactly as seen in photographs. The beautiful stretch with beautiful water cascade falls over the gorge edge. The fall sparkled in the sunshine adding charm to the pristine surroundings. It has make the picturesque scene and designated as one of Japan's 100 Most Beautiful Waterfalls. Stunning. It was very beautiful indeed when waterfalls coming down the sides of the gorge.
There are a few scenic viewing spot to appreciate the flow of falls in the gorge area. But the best way to get to the Manai Falls is by renting a rowing boat. You can even feel the water splashing down when you get closer.
Boating in Takachiho Gorge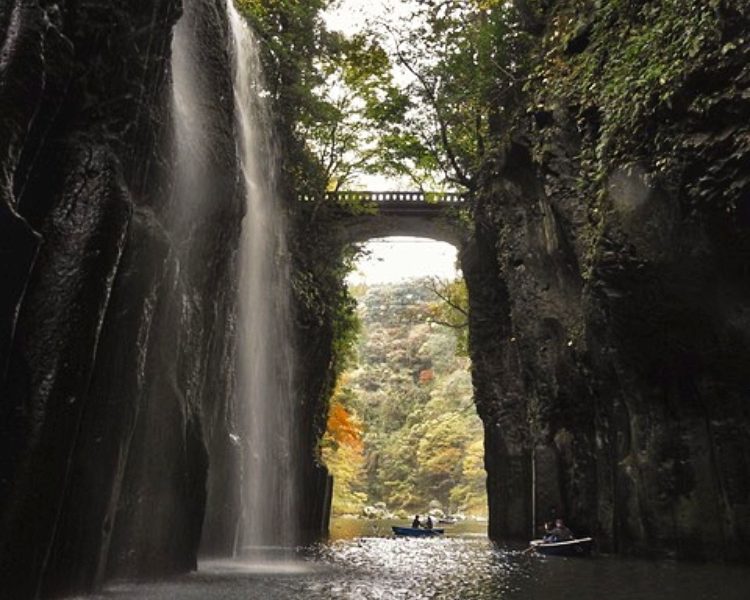 One of the must-do things in Takachiho Gorge is rowing boat through a deep volcanic gorge. This boat ride has to be the best way to appreciate the volcanic canyon by a waterfall. You will get a completely different perspective of the Gorge. Truly an amazing and memorable boat ride.
The boat rental is very reasonable at ¥2,000 for 30 minutes. Three adults can ride on one boat or it can up to four people if two of the passengers are under 6 years old. The boat is easy to navigate even for the person don't familiar with boat riding (ME!). Take some time to familiar to row the boat and you are ready to go. Most of the boats will be scattered around the waterfall area. Beware don't get too close to the waterfall, else you might get splash by the water on you.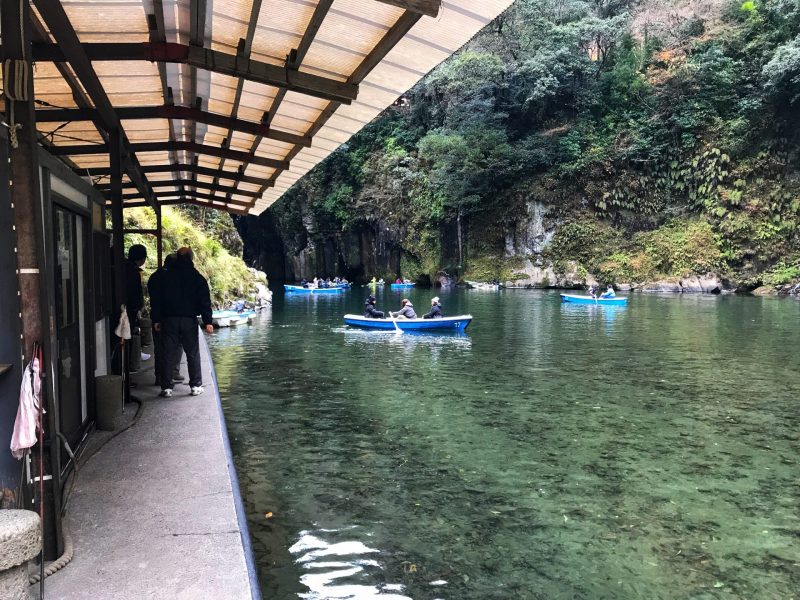 The queue can be long especially during the weekend, golden week and public holiday. We were lucky and only waited for 15 minutes before the crowd comes in. Recommend to come early and straight go for boat riding once you get to the Takachiho Gorge. Added, the boat ride will not operate during high water level or not meet the safety check. Please double-check on river condition from the official website.
Takachiho Gorge Boat Rental
Address: Miyazaki, Nishiusuki, Takachiho, Mitai Oshioi
Cost per boat: ¥2,000 for 30 minutes (for 3 person)
Operating Hours: 8:30 to 17:00 (last reception at 16:30)
Official Webpage: https://takachiho-kanko.info/en/
Catch the Flowing Water Noodle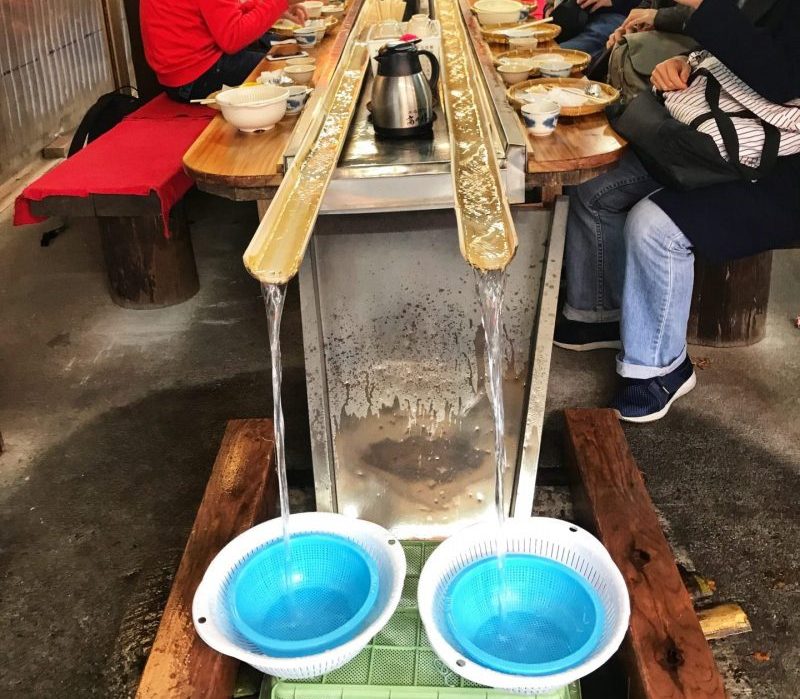 After the boat ride, we were heading for lunch. There are few restaurants to choose from in the Takachiho Gorge area. But the most famous and popular dish is the Nagashi Soumen Noodles (そめん流し). This signature local dishes are invented from Chiho no le Teahouse (千穂の家) in the 1950s and it is the best place to sample the somen noodles all year round.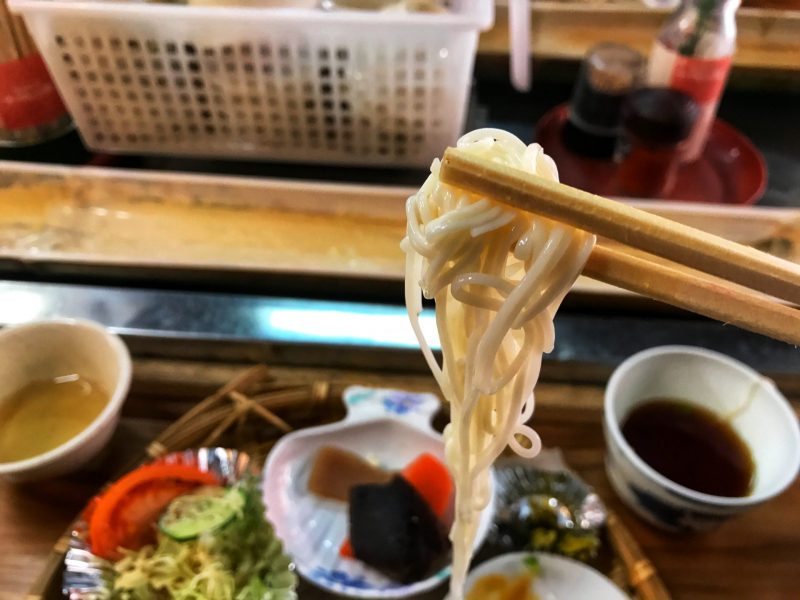 We tried on the fire ramen in Kyoto and always wanted to try on nagashi somen. So its time for us to have on the flowing water noodles in Chino no le. It's fun trying to catch the somen as it flows though by a bamboo filled with cold water. The taste was just nice but it is fun to try on the unique local dishes in a different way. A must-try food in Takachiho Gorge.
Read on our food blog: Takachiho Gorge Must Try Food, Flowing Water Noodles
Short Stroll Along the Takachiho Promenade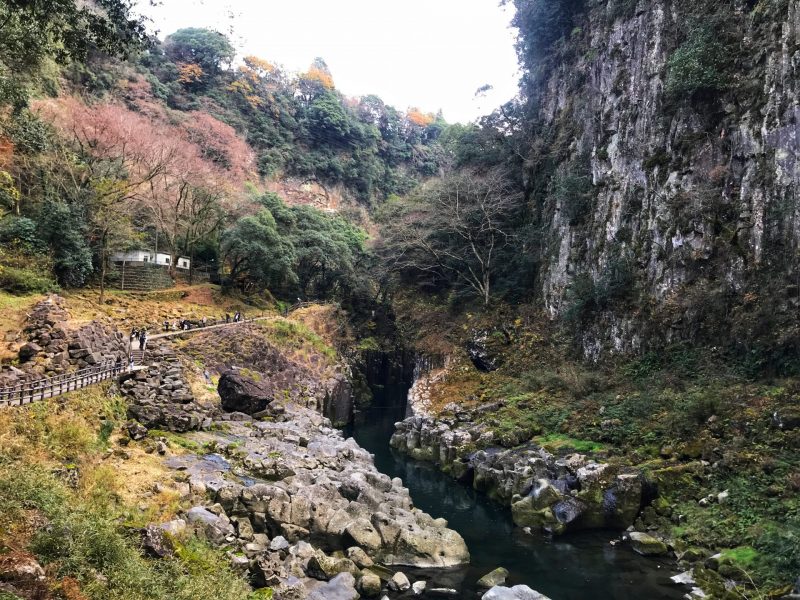 Next, we slowly walk down and took a short stroll to the Takachiho Promenade. It is a kilometer-long promenade with steps alongside the Gokase River and leads to more greenery. This paved path is a National Natural Treasure and has been attracting visitors for centuries.
Along the walkway, there is a vantage point to see the rowboat and flow of the falls straight down to the river. This wooden observation spot is another best spot you can perch into the fascinating rock formations and the famed views of the Manai. The view is simply breathtaking. There are a few interesting spots that you hardly can miss along the walkway.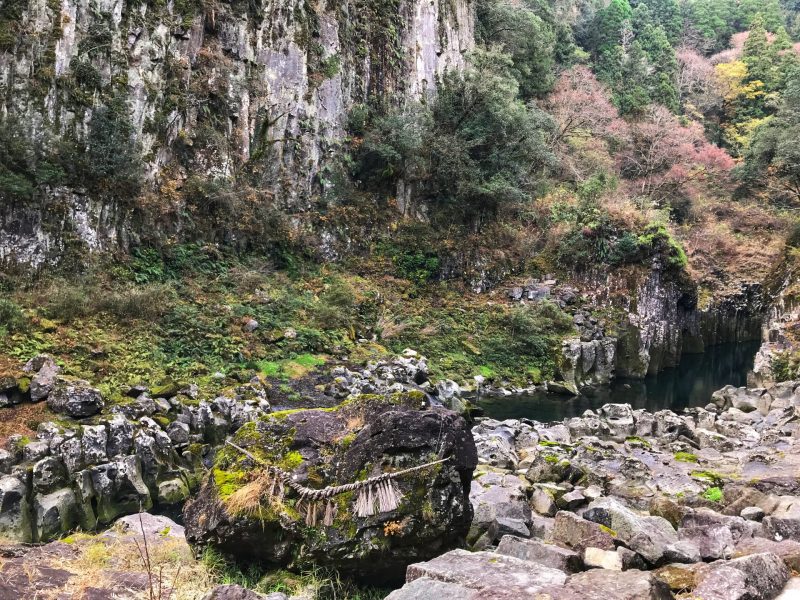 Kihachi no Chikaraishi, a gigantic rock estimated to be large as 3 meters high and as heavy as 200 tons. According to legend, Kihachi was a demon who was known as evil deeds. This heavy stone was thrown by Kahachi when ancient gods in Japan came after him.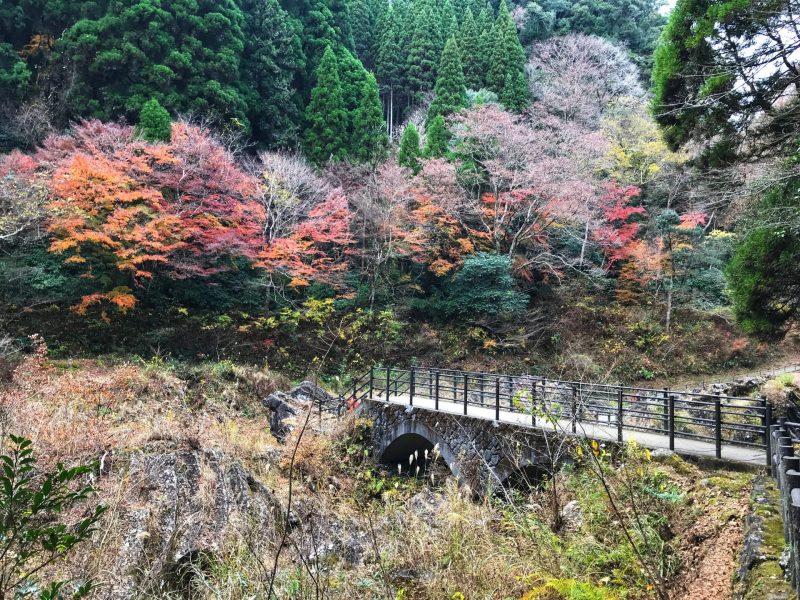 Yaritobi Bridge which spread across the narrowest part of the Gokase River.
From one end to the other end it can be end in probably 20 minutes. The short popular trail (with steps) is pretty small and not that strenuous. But take your time to appreciate the change of scenery at every corner.
Hike into Kyushu Nature Trail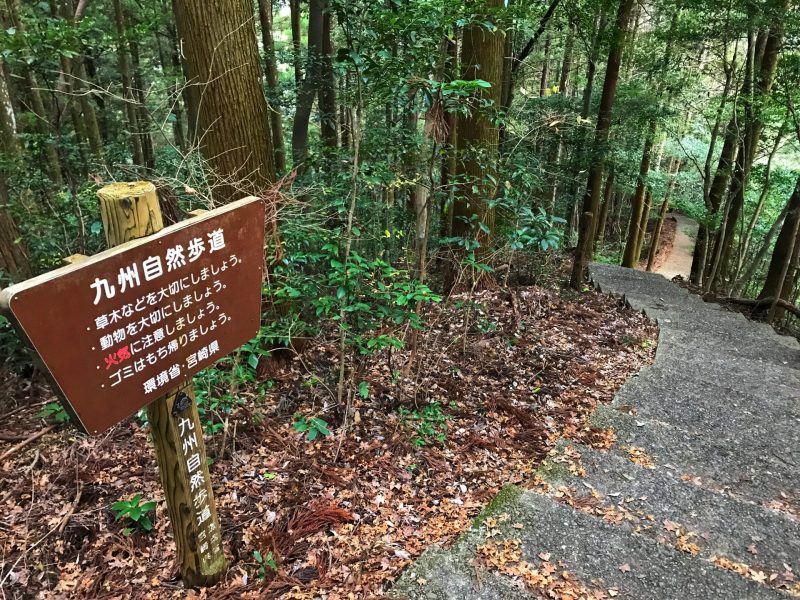 We spend time wandering around the Takachiho Gorge. At about the time, we continue the pathway and walked into the Kyushu Nature Trail. This is the longer trail that lead to Takachaho Shrine from Takachiho Gorge. You can choose to hike through this nature walking trail instead of paving road when get to Takachiho Gorge. But we decided to visit Takachiho Shrine as we were too excited for the stunning gorge.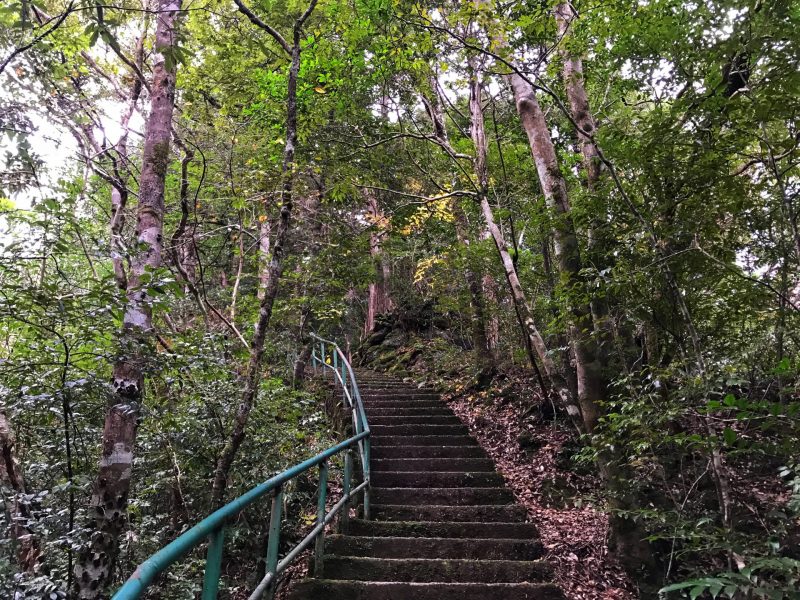 The trail can be quite challenging on a steep hill. It went continuously uphill with approximately 200 steps through a beautiful forest and finally come the Takachiho Shrine in the end. There was a well-marked sign and easy to follow point you to the destination along the trail. If you enjoy nature and hiking, we recommended you to take the nature hike. If you're rushing, take a break or just grab a taxi.
Pray at Takachiho Shrine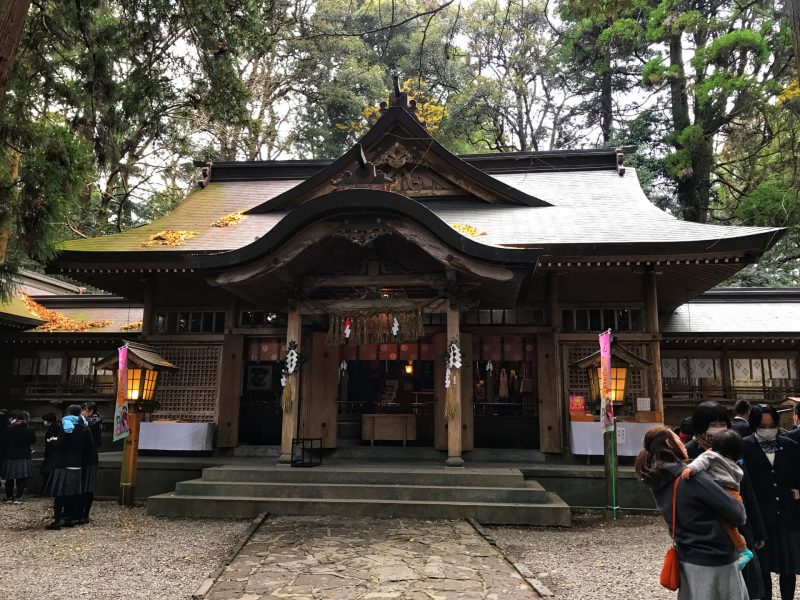 Lastly, Takachiho Shrine is the last visit attraction in our one-day Takachiho Gorge itinerary. Build almost 1900 years ago, Takachiho Shrine represents the main shrine and deities of all other 88 shrines in Takachiho region. It is a tranquil shrine with a history dating back the old Japanese history culture.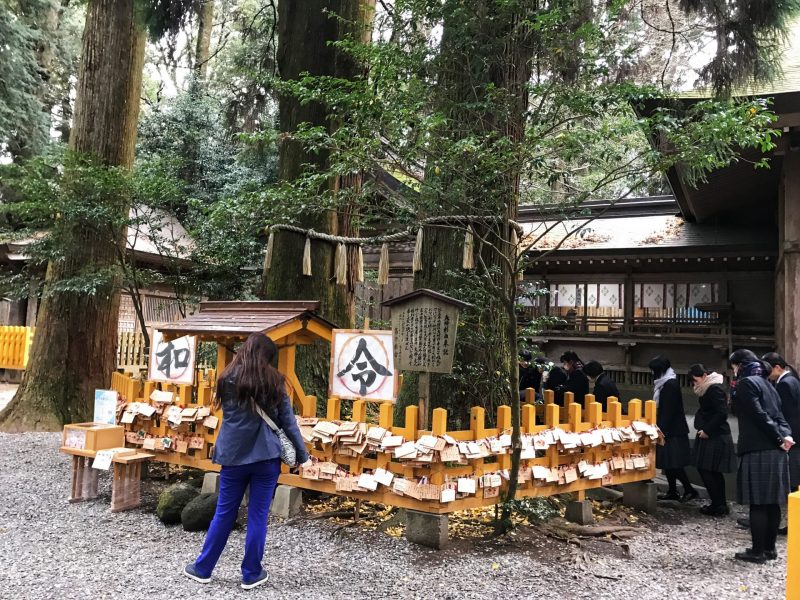 The shrine is dwarfed by a grove of tall cedar trees, the oldest said to be around 1000 years old. The most famous is the 'Meoto Sugi' couple tree which growing side by side. According to myth, couples or families who walk around the trees clockwise three times will stay together forever. It's a small shrine but it's still worthwhile for a stop along the trail. We take the short visit and walked back to the bus center.
Side note, if you are staying overnight in Takachiho, don't miss the nightly Yakagura. The Kagura ritual dances (¥700 admission) is taking place at 8 pm daily in the theater next to the shrine. It is a highly popular Japanese cultural dance among Japanese locals. Although the performance is in Japanese but there are briefly explaining the mysterious story of God in another language. A one-hour performance gives a good taste of Japanese culture.
Access: about 15 minutes on foot from Takachiho bus center
Nearby Attraction in Takachiho
Due to limited time, we ended our one-day Takachiho Gorge itinerary. However, there are few interesting attraction in Takachiho area and worth to spend time to visit. Here are some of the recommendation attractions that we wish to put into our itinerary.
Takachiho Amaterasu Railway Grand Super Cart 
The 30 minutes, 5-km round-trip ride is gaining its popularity since the debut in March 2017. They make use of a former railway track which stopped operating due to damage from a typhoon in 2005. It connected Takachiho Station to Takachiho Iron Bridge, allowing passengers to enjoy the magnificent views from the 105-meter high railway bridge.
Access: about 10 minutes on foot from Takachiho bus center 
Operating Hour: 9:40 to 15:40  (¥1,300 with no reservation required)
Official Website: https://amaterasu-railway.jp/
Amano Yasugawara and Amano Iwato Shrine 
A famed spot to visit and can be coupled together as both located close together. The Amano Yasugawara is said is where the goddess Amaterasu has hidden from her pursuers. A spiritual magical cave shrine, flowing rivers with mysterious stacks of rocks boasted the serene fairy tales setting. It required 15 minutes drive with bus routes available from town. Added, little hike to get for this full cultural experience.
Access: about 15 minutes by car from Takachiho bus center 
Sea Clouds at Kunimigaoka
This attraction is more suitable for self-driving to Takachiko. The Kunimigaoka Viewing Platform is located about 15 minutes by car from the town center. This 513 meters high platform above the sea level and known as the beautiful sea of clouds. It is best to come during the early morning in Autumn for this magnificent view. Kunimigaoka was once listed in Michelin Green Guide Japan in 2011.
Access: about 15 minutes by car from Takachiho bus center 
Where To Stay in Takachiho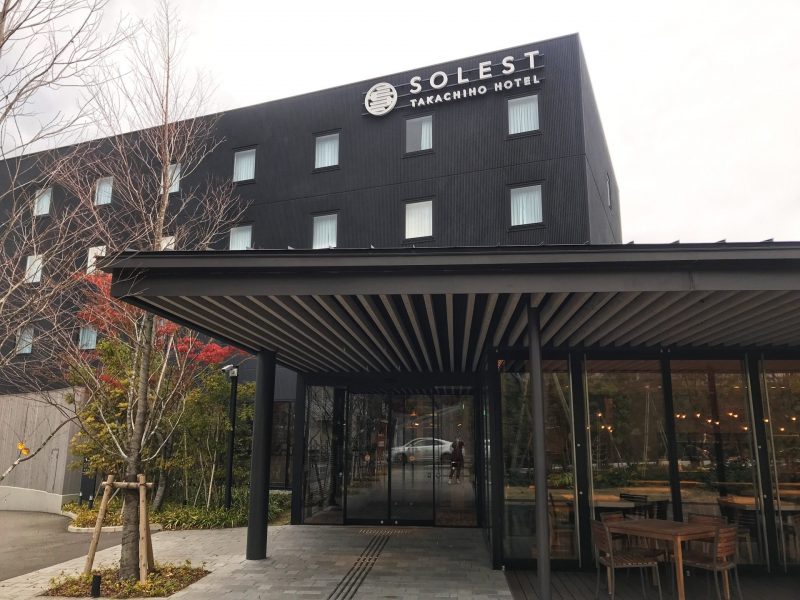 Staying overnight is advisable to stay a night to enjoy this picturesque town. If you're looking for some of the best places to stay in Takachiho, there are traditional Japanese inns, ryokan, and hotels close to the gorge. Best hotel in Takachiho and you can't go wrong with any of the following top hotel picks.
Here are our best pick on where to stay in Takachiho Gorge:
Solest Takachiho Hotel: Located in the main street of Takachiho town, this gorgeously designed hotel, featuring Japanese and Western-style accommodations. It is immensely popular and you'll need to book your rooms early. Many of the highlights of this Takachiho itinerary are located within walking distance.
Hotel Takachiho is another recommended accommodation in the area. It is a Japanese style with onsen facilities in the area. Walking distance to most of the attractions and very close to Takachiho Gorge.
Takachiho B&B Ukigumo: A lovely guest house with budget price but featured with a beautiful mountain view. It is a traditional Japanese ryokan with tatami and futon. Very accommodating host and willing to help if need any information.
Imakuni Ryokan: The location is excellent which located just in front of the Takachiho bus terminal. Walking distance to most of the attraction such as Takachiho Gorge and Takachiho Shrine. The rooms are spacious and decidedly contemporary. It also featured with a large public bath with mountain views.
Overview: Day Trip To Takachiho Gorge
All in all, words can't describe how beautiful the Takachiho Gorge. It's very interesting volcanic rock formations and magical. Try to allocate at least 3 hours if you're walking to and from the gorge. Simply breathtaking attraction and worth the long traveling journey. Probably one of the most memorable and beautiful trips to Kyushu Japan.
In short, this Takachiho Gorge travel blog is part of our visit to Kyushu Japan. If you are interested, continue to read on our visit and itinerary to other remaining beautiful attractions in Kyushu. Added, don't hesitate to drop us an email if you need any information and help on the Takachiho travel guide. We will try our best to answer. Happy travel and enjoy your visit to Takachiho gorge.
Planning on the Kyushu itinerary? Free feel to read on our travel blog to Fukuoka, Kumamoto, Mt Aso, Kurokawa Onsen, and more.
How To Plan Your Kyushu Itinerary: Ultimate Guide
Ultimate Fukuoka itinerary and Food Guide:
Kumamoto Prefecture (Kumamoto, Mount Aso, Kurokawa Onsen):
Oita Prefecture (Beppu, Yufuin):