Last updated on September 23rd, 2023
Don't hesitate to try the satisfying breakfast in Tanya Hakata if you are looking for what to eat in Fukuoka. It served the beef tongue meal and best value of money.
Tanya Hakata (たんや) is a beef tongue specialty restaurant in Fukuoka. It serves breakfast, lunch, and dinner with their best value beef tongue meal. But their breakfast menu is the most popular order and ranked as the most favorite breakfast in Japan. Many locals and travelers love to stop by this tiny shop in Hakata Station for their beef tongue meal.
Read on my food review with a beef tongue meal in Tanya Hakata.
Getting There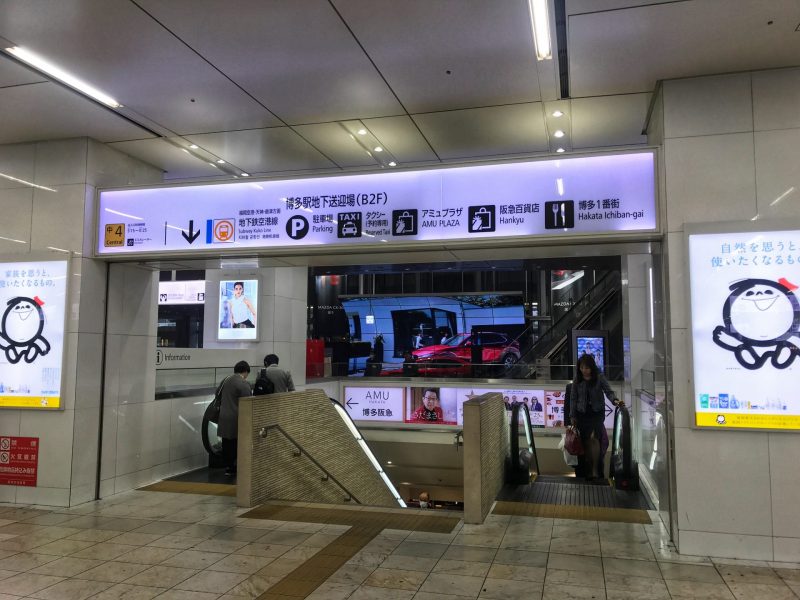 Located in the basement level of Hakata Station, Tanya Hakata lined in Hakata Ichiban Street. Getting to Tanya Hakata is plenty easy. Just follow the well-marked sight to Level B1 of Hakata Ichiban street in Hakata Station. There are many restaurants in Hakata Ichiban Street but Tanya Hakata is the most popular restaurant. So no worry to find the Tanya Hakata.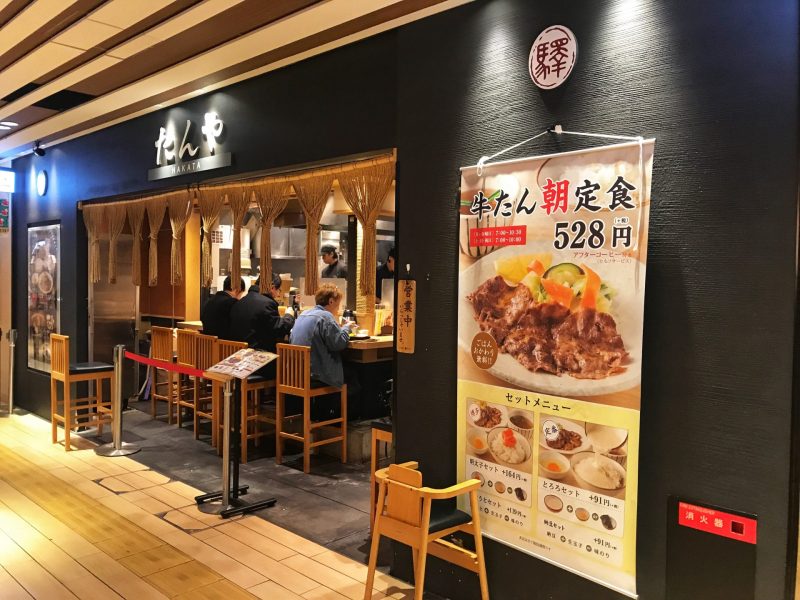 We reached Hakata Tanya for breakfast at about 8:00 morning to catch the later train for sightseeing. We were lucky as there is no line in the early morning. Locals seem like having their quick breakfast a Hakata Tanya before working.
Inside Tanya Hakata is an L-shaped dining area with limited space. While the left side is a bar counter with an open kitchen. There were also table seating at the left side if you come with a group of friends and family.
Breakfast Menu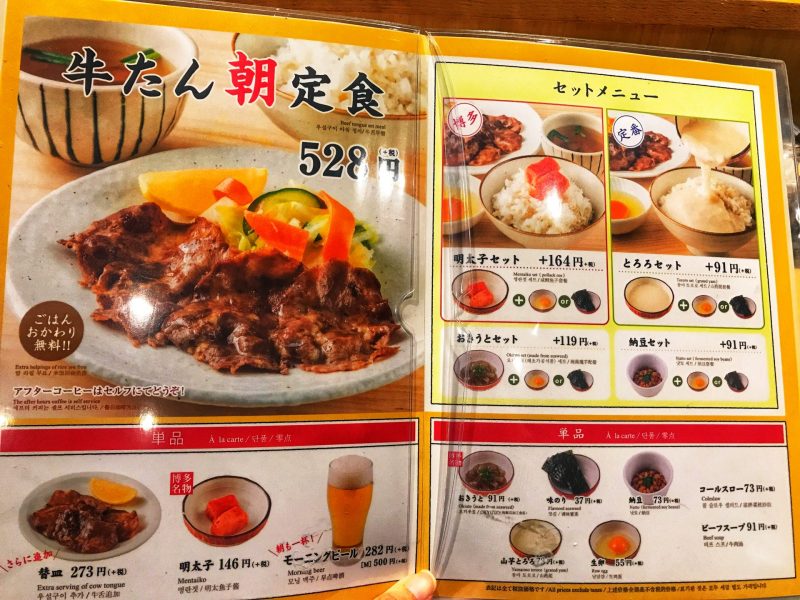 There are four different seal meal for breakfast in Hakata Tanya. The regular set meal served with starting price at about ¥500. You can also choose the set by adding some extra like Mentaiko, Okiuto (product made from seaweed), Tororo set (grated mountain yam) and Natto set (fermented soybean) with additional cost. Each set comes with your choice of egg (saw) and seaweed.
Beef Tongue Meal From Tanya Hakata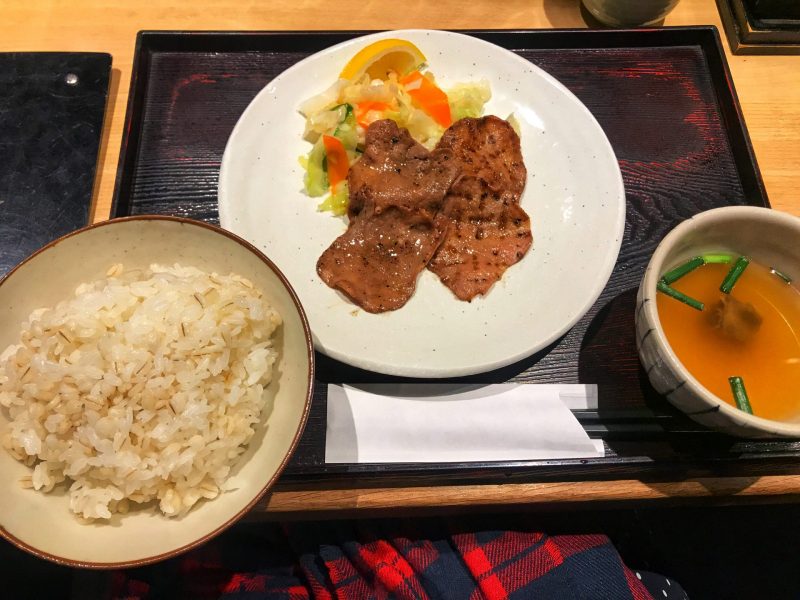 I ordered the regular beef tongue set which comes with 4 pieces of beef tongue, wheat rice, beef tongue soup, and some vegetable. Although the serving size of beef tongue was not many, it was really happy to enjoy such a delicious breakfast in the morning.
The rice in Tanya Hakata was cooked with oat wheat. A healthier breakfast in Fukuoka. Most importantly, rice in Tanya Hakata can be an unlimited refill. You can get a second serving of rice for free.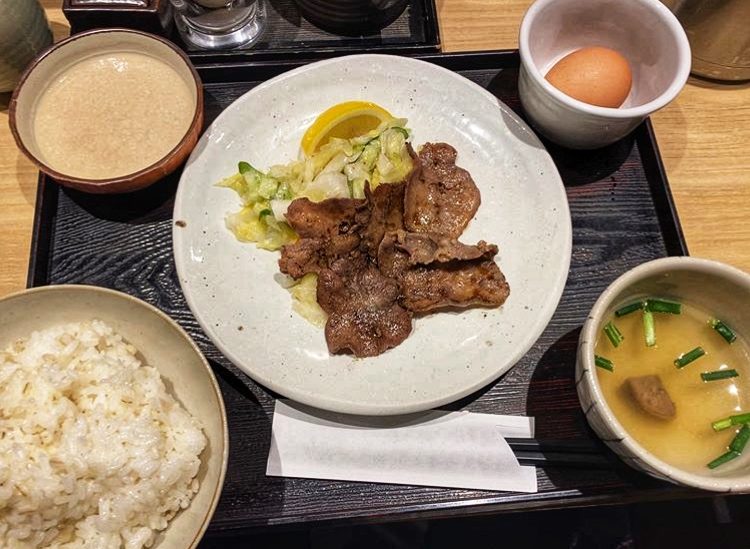 While my friend got the Tororo set at additional charge. It was still very reasonable. By top up less than 100, your meal came with grated mountain yam, raw egg, and seaweed. What a bargain!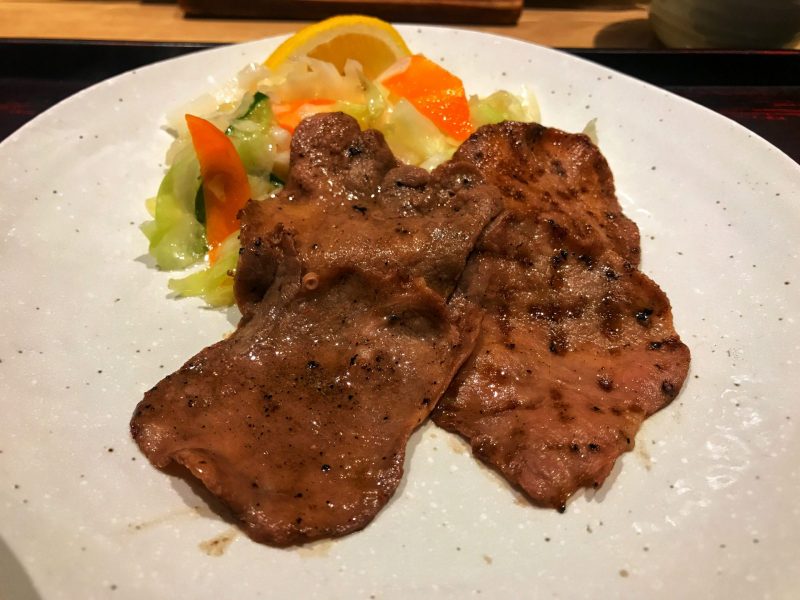 Overall, the thin cut charcoal-grilled beef tongue from Tanya Hakata was not too bad. It was chewy, tender with slight of charcoal grill taste. It can be eaten alone, squeezed with lemon or dipping sauce.
Although the beef tongue tastes a little bit greasy by eating alone. By adding few drops of lemon, it tastes refreshing.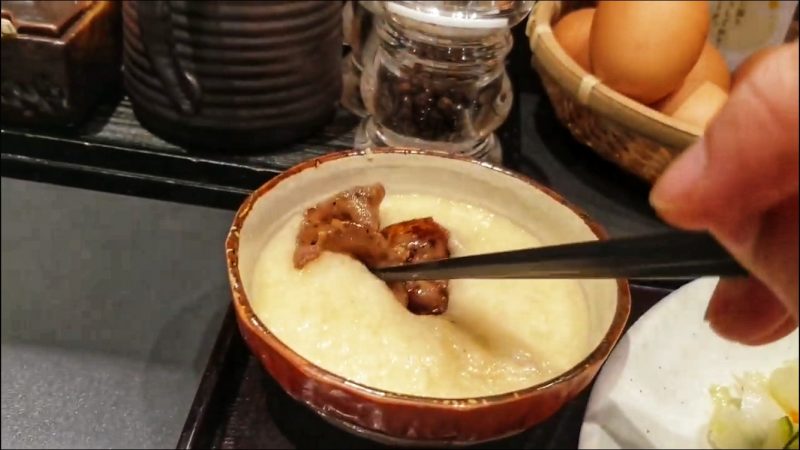 Besides, we love the taste when dipped it with the grated mountain yam. It taste slightly refreshing compare by eating the beef tongue alone. Next, pour the grated mountain yam and raw egg into rice. Adding a little soy sauce and then stir well. My friend finished the whole bowl of rice.
Besides the hot barley tea, there was also complimentary coffee by the counter with self-serve. Get a cup of coffee if you need to fix your caffeine in the morning. We ended our best breakfast in Fukuoka with a happy tummy. There was a long line by the time we left the restaurant.
Tanya Hakata Breakfast: Best Value Of Money
All in all, the beef tongue breakfast from Tanya Hakata is the best value of money. With about ¥600, you get a full healthy breakfast which is super cheap. It's almost the same price to buy a sandwich and drink at a convenience store. A local breakfast in Fukuoka is much better than Starbucks and other chain cafes. Although it is not a high-grade beef tongue, it is undoubtedly the best budget food at a very affordable price. It is still recommended to try the beef tongue in Tanya Hakata at the morning.
Sometimes, it can be a long queue with a long line in front of Tanya Hakata. So we advise going there for early breakfast in Tanya Hakata. In short, Tanya Hakata is the best place for local breakfast in Fukuoka. High recommended.
Fukuoka Food Guide if you are looking for the best food to eat in Fukuoka:
Related Fukuoka travel blog and itinerary: