Last updated on September 23rd, 2023
Planning a trip to Kyushu but wondering what is the best food in Kyushu? Here is the Kyushu food guide if you are looking for what and where to eat in Kyushu.
Kyushu might not be a famous place to visit in Japan. But this little gem gains its popularity in recent years for its historical shrine, stunning natural beauty, lively bustling city vibe, and also a wide range of classic Japanese food. There's so much delicious food to try in Kyushu. A visit to Kyushu would not be complete without experiencing any of the best food in Kyushu. It will never fail to satisfy your heart and tummy to the fullest. From the mouthwatering Hakata ramen, freshly caught seafood, and various local classic dishes. If you are curious about what to eat in Kyushu, read on for more details on what to eat in Kyushu during our trip to Kyushu.
In this Kyushu food guide blog, I'm going to share with you the best food to eat in Kyushu. Most importantly, the best restaurants where you can try them in Kyushu.
Kyushu Food Guide: What To Eat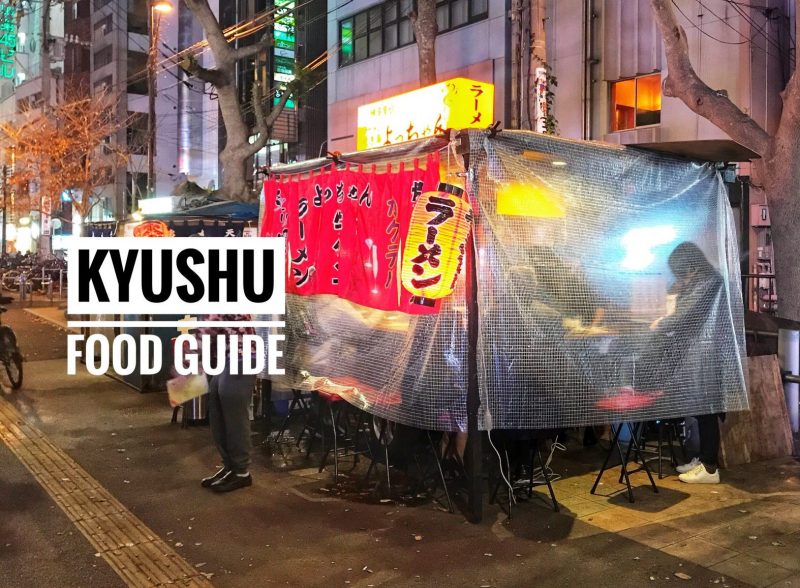 Kyushu consists of seven prefectures, which are Fukuoka, Saga, Nagasaki, Oita, Kumamoto for North Kyushu, and Miyazaki, Kagoshima for South Kyushu. Each of these seven prefectures has many local food ingredients and unique dishes. It is home to a wide range of delicious foods that will not disappoint your taste buds.
There are so much food and little time to eat it. The culinary delights of Kyushu will be a big part of your vacation in Kyushu. That's why we listed down the must-eat food in each prefecture that you should try if given the chance.
Kyushu Food Guide (What To Eat in Kyushu and Where to Find Them):
Hakata Ramen (Fukuoka)
Mizutaki (Fukuoka)
Motsunabe (Fukuoka)
Basashi (Kumamoto)
Champon Noodles (Nagasaki)
Sasebo Burger (Nagasaki)
Toriten (Oita)
Jigokumushi (Oita)
Bungo Beef (Oita)
Charcoal Grilled Chicken (Miyazaki)
Chicken Nanban (Miyazaki)
Tonkatsu (Kagoshima)
What are the top five must-eat foods in Kyushu?
The top 5 must eat foods in Kyushu are Fukuoka Ramen, Motsunabe, mizutaki, tonkatsu, Champon noodles.
What is the famous Kyushu food?
Tonkotsu ramen is Kyushu's most famous dish, which originated in the Hakata district of Fukuoka. It is rated as must-eat food in Kyushu.
Travel Tips:
When looking for the best price and biggest selection of hotels in Kyushu check prices for
Kyushu Best Hotel from Booking.com
. We found they are the best option and have a great cancelation policy. We recommended staying nearby Subway Station for easy getting around and food hunting in Fukuoka. The
Hotel WBF Grande Hakata
is located in the central location with walking distance from Hakata Station. Open-air bath, free drink, spacious room, and great value for money. A popular pick in Fukuoka.
Hakata Ramen (Fukuoka)
First of all, we're starting with the must-eat food in Fukuoka in this Kyushu food guide. Fukuoka is located on the North shore of Kyushu. It is the birthplace of many famous specialty dishes. The food is not only famous within Kyushu but also throughout Japan. Although you can try these dishes in other places in Japan, for sure worth giving it a try when visiting the origin place of the mouthwatering dishes.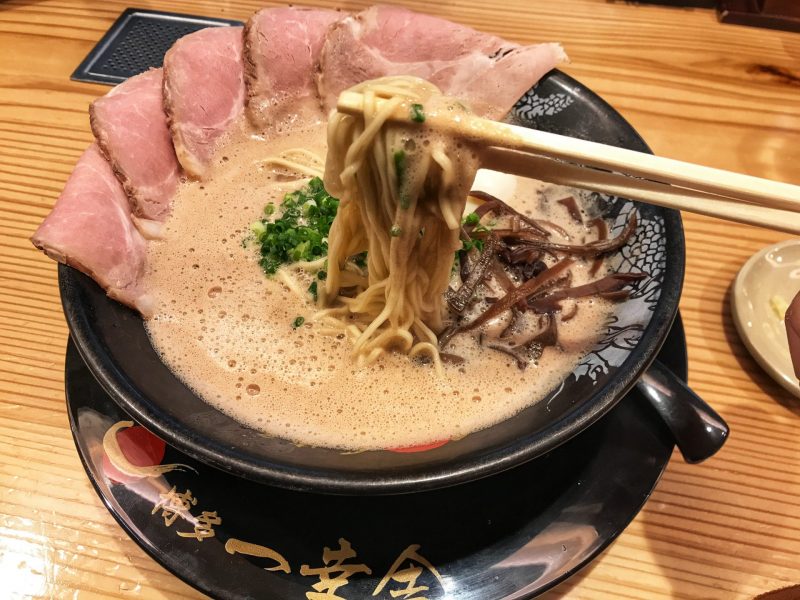 Tonkotsu ramen is extremely popular and rated as must eat food in Kyushu. It is often referred to as Hakata ramen as it is origin in the Hakata district of Fukuoka. The thick, nutritious, and creamy white pork broth took long hours of simmering until they become geratin. Each ramen shop has its recipe to prepare its super-rich broth. The soup is topped with chopped scallions, seaweed, pickled ginger, and tender slices of char-siu pork.
Hakata ramen is not a fancy dish. A bowl of ramen comes with thin straight noodles and the fairy simple topping. But the rich broth fills your senses on the first sip. Don't miss a bowl while you are in their birthplace in Fukuoka.
Where to eat Hakata ramen in Fukuoka (Kyushu):
Ichiran ramen (一蘭拉麺) is the most well-known ramen restaurant brand in Japan.
Hakata Issou (博多一双) is the local's favorite ramen in Fukuoka. Further, read on my food review in Hakata Issou.
Shin Shin Ramen: Fukuoka style Hakata ramen but also well-accepted for foreigners' stomachs.
Related Article: Top 6 Must-Try Best Fukuoka Ramen (Where To Eat)
Motsunabe (Fukuoka)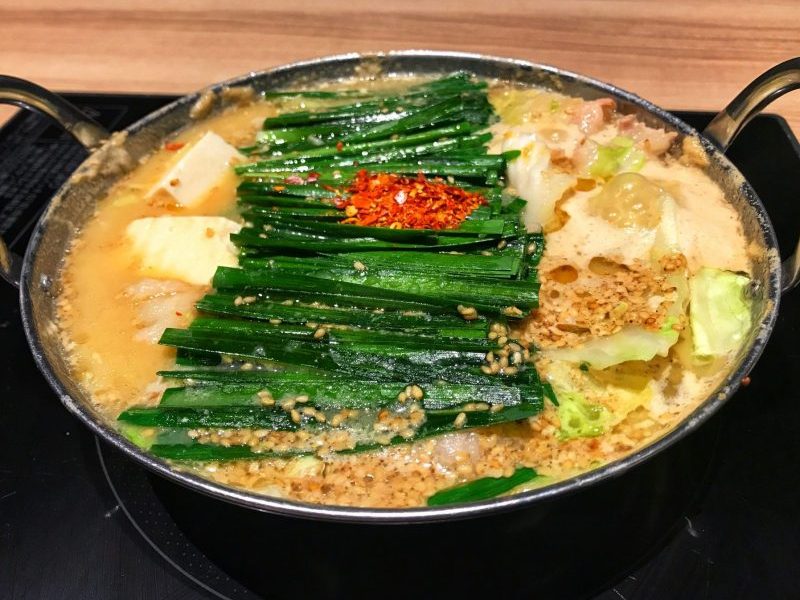 Motsunabe is another popular dish in Japan that originated from Hakata, Fukuoka. It is typically a stew served in a hot pot with beef or pork tripe. Although motsunabe doesn't sound great it tastes delicious and healthy. It is high in protein, vitamins, collagen, and low in calories. The Japanese especially female diners extremely love it. It is always packed on Friday and Saturday after work for gathering. It is also one of the popular dishes, especially in the winter that helps keep away from the cold.
Choose from the different flavors which include soy sauce, miso, or salt which is beautifully seasoned with lots of garlic and sprinkled with red chili pepper. The flavorful stew will cook together with tripe, cabbage, and vegetables. With just one taste you will know why motsunabe is so popular in Kyushu.
Best Place for Motsunabe in Fukuoka (Kyushu):
Hakata Motsunabe Ooyama is popular for its flavorful miso-based motsunabe. (Food Review)
Hakata Showraku served motsunabe for solo traveler during lunch and dinner. (Food Review)
Mizutaki (Fukuoka)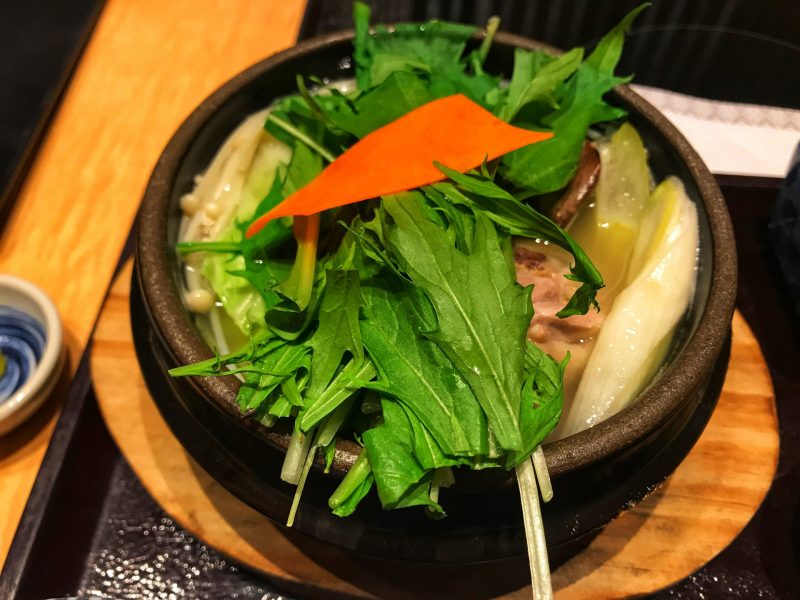 If motsunabe is not your cup of tea, consider trying the Mizutaki. It is a similar hotpot dish made with chicken instead of beef or pork offal. Typically, the clear broth is made with long hours of simmering with upscale free-range chicken. The chicken meat and bones were boiled in a pot with added green onion, mushroom, and other seasonal vegetables.
Unlike the motsunabe, mizutaki is considerably milder and more delicate in flavor. Taste is subjective so it's all a matter of personal preference. The chicken is best eaten with a light ponzu sauce.
Read my mizutaki experience in Hakata Hanamidori: Hakata Hanamidori Mizutaki: Fukuoka Best Chicken Delicacy
Basashi (Kumamoto)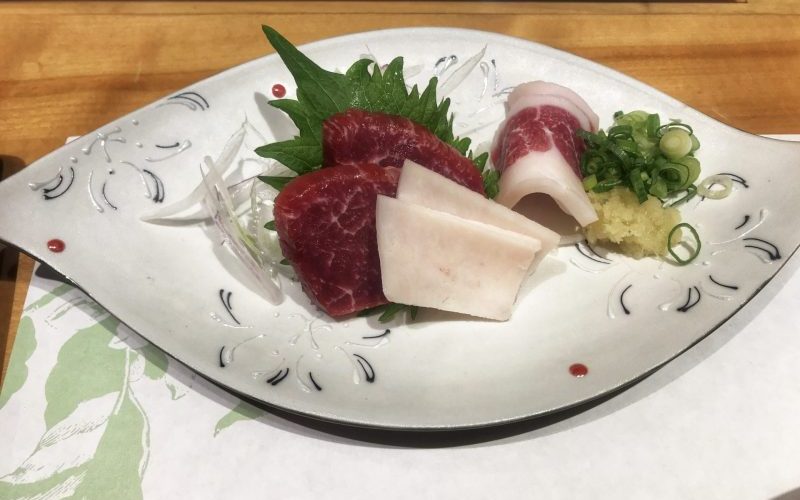 Horse meat sushi. basashi is popular in certain regions of Japan. This unique Japanese delicacy is particularly popular in Kumamoto prefecture and is rated as the favorite place to try the delicacy in Japan. The basashi, or "cherry blossom meat" is an unusual specialty that incorporates thin slices of raw horse meat. It is normally served as sashimi or nigiri.
Kumamoto is lined with restaurants specializing in horse meat on almost every corner. Suganoya is the most famous horse restaurant in Kumamoto. It has its farms to make sure that you get fresh and local products. Almost every imaginable part of an edible horse is served here. There are three main types of basashi: fatty meat, marbled meat, and lean meat. It was served in sliced raw cuts along with soy sauce, garlic, and wasabi. Try your basashi in sashimi, nigiri, yakiniku, shabu-shabu, or steak.
Further read more: Suganoya Kumamoto: Must Try Food in Kumamoto
Champon Noodles (Nagasaki)
Located on the northwestern coast of Kyushu, the Nagasaki food culture is a result of its historical connections with China and Western country. Most of the Nagasaki dishes are perfectly mixed with Japanese and foreign cultures and developed their distinct flavor.
The Champon noodles are a specialty dish from the Nagasaki region and are made for Chinese students who were studying in Nagasaki during the Meiji Era. It then becomes one of the most common as it is a low-cost, highly nutritious dish. Champion noodles are packed with vegetables, meat, fishcake, and seafood. It is one of the hearty, filling, and affordable meals with a true taste of Nagasaki. Nowadays, champon noodles are widely common in Kyushu and served as a complete meal in a bowl of motsunabe. These noodles dishes are just like how people in the Kanto region eat Ramen, Udon, and Soba.
The Yokohama Shianbashi Branch and Horaiken Bekkan is the best place where you can eat the best Champon noodles in Nagasaki.
Sasebo Burger (Nagasaki)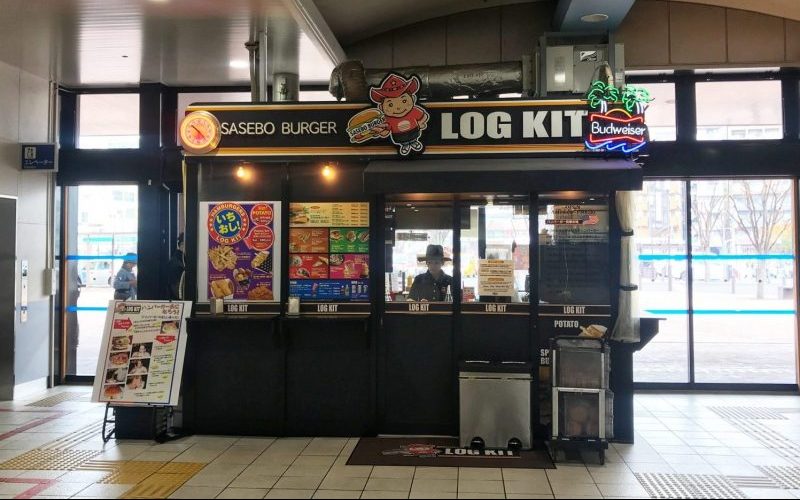 The Sasebo burger is another worth recommended food in Nagasaki. Being a seaside city and US Naval base, there is no surprise that locals have adopted the American burger into local flavor and created their style of burger. This American-Japanese fusion burger is a product of generations of reworking and remodeling by Japanese chefs. It is always served with a generously huge patty and layered with several ingredients such as eggs, bacon, cheese, lettuce, onions, and mayonnaise.
The best place to try the Sasebo burger is Log Kit, BigMan, and Hikari.
Toriten (Oita)
Oita is a largely rural prefecture on the northeast tip of Kyushu. It is rich in the natural, mountain, and seafood with lots of local dishes to try in Oita. When in Oita, one must try its chicken dishes as Oita is famous for fried chicken. It is so common and Oita is consumed more chicken compare with other cities in Japan.
Besides, the Jigokumushi (hot spring steam food) is also one of the unique food that can be found in Beppu. It is the cooking method where you can taste the most original flavor of food healthily. While the Bungo beef is the premium wagyu beef that is raised on the fertile lands of Oita.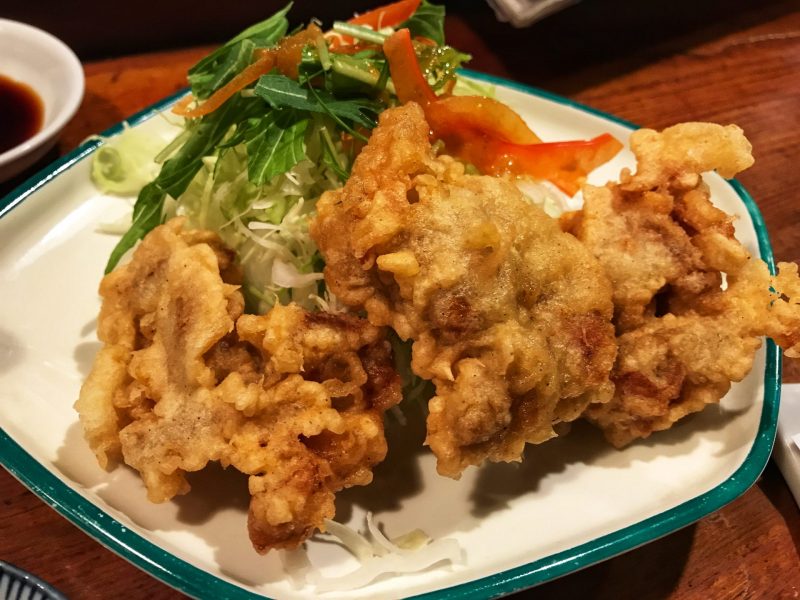 Chicken Tempura or Toriten is widely available through Oita prefecture. It is similar to standard dishes with a homemade flavor to them. The random cut chicken is chunked into large pieces and buttered with tempura coating. It is then deep-fried into a crunchy structure with a fantastic aroma. The succulent toriten is served in sizzling hot, straight from the flyer. Enjoy your toriten with homemade ponzu or mustard sauce. One of the popular local specialties and must eat in Oita, Kyushu.
Where to eat Toriten:
This Oita must-eat food, Toriten can be found on the menus of restaurants, izakaya Pubs, bento shops, and other eating and drinking establishments. We try the toriten in Kotsukotsuan, Oita. One of the best places to sample all the local cuisine in Oita.
Jigokumushi (Oita)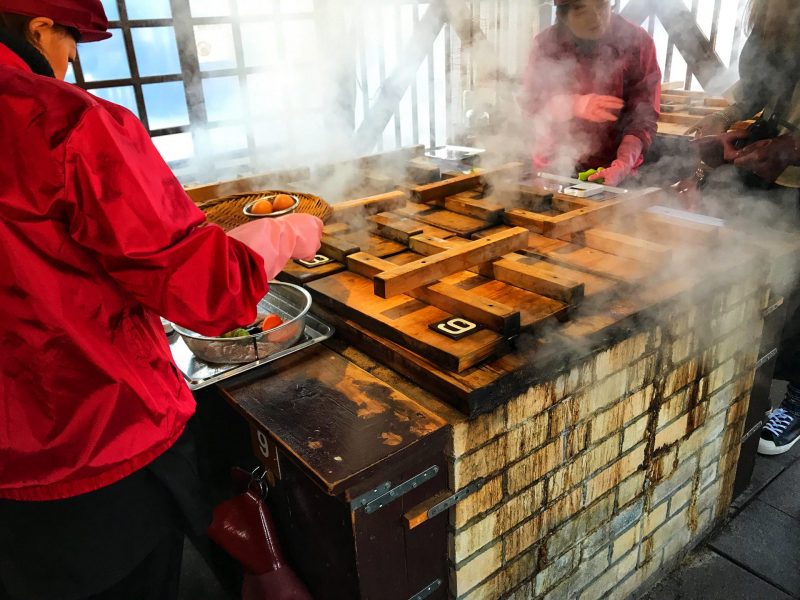 Beppu city in Oita prefecture is a gift with thousand of hot spring spots throughout the city. Locals have fully used the hot spring gushing steam stouts to cook food. This ancient cooking method is especially popular in Kannawa with serving this unique food in Beppu.
Seasonal vegetables, meat, and fish are cooked with hot steam jetting out directly from the ground. This simple cooking method can bring out the most original flavor of food with hot spring nutrients added to food. Despite the food, you can also find Jigokumushi egg, pork buns, and pudding if you are looking for a unique snack while wandering in town.
Best place to try Jigokumushi food:
The most popular Jigoku Mushi Kobo (地獄蒸し工房鉄輪) in Kannawa. It is a self-service restaurant run by local volunteers. That means you have the opportunity to try and prepare the hot steam food on your own.
Try the Jigoku-Mushi Pudding from Okamotoya (岡本屋売店)

. It is the first restaurant to invent the hot spring steamed pudding in Beppu.
Bungo Beef (Oita)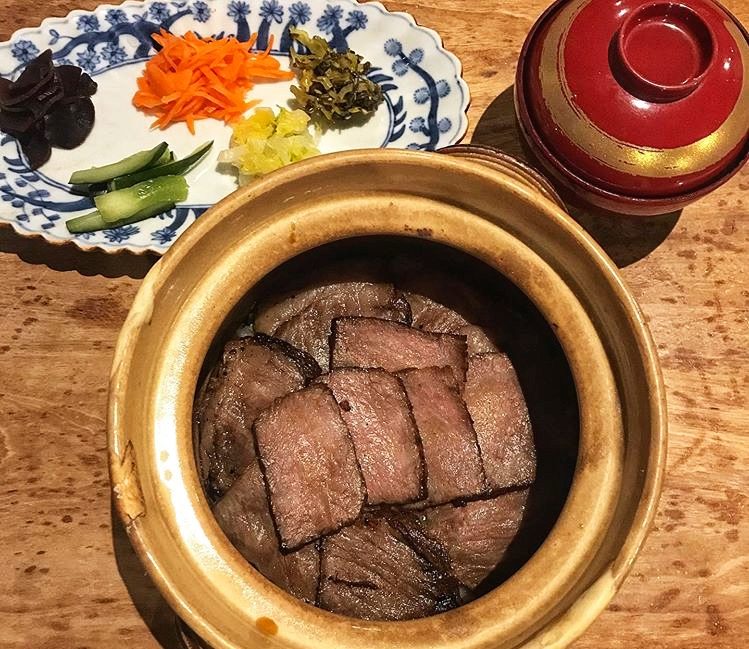 Bungo beef is the common name for Wagyu beef in Oita. It is raised in the rich natural environment of Oita with a premium selection of the highest quality beef that had been selected. The main characteristics of Bungo Beef include its tenderness, marked by a rich taste and high unsaturated fat content. It almost melts in your mouth, with the signature of premium wagyu beef.
There are many ways to eat Bungo beef with no shortage of restaurants in Oita. Bungo beef can be served in steak form, yakiniki (Japanese barbecue), shabu-shabu (Japanese hot pork), or even various snacks. It is very popular to enjoy the Bungo beef at a barbeque establishment with your friend and family.
One of the most popular ways to try Bungo beef is mabushi style in multiple ways. We taste the mouthwatering Bungo beef in Yufumabushi Shin while visiting Yufuin. You can enjoy your Bungo mabushi on its own, adding with Yakumi, or eat as ochazuke by pouring the stock (dashi-shiro) together with rice. That means you can enjoy three different tastes.
Charcoal Grilled Chicken (Miyazaki)
Miyazaki Prefecture is located in southeast Kyushu bordered by Oita, Kumamoto, and Kagoshima prefectures. Thanks to its tropical weather, Miyazaki has a wide range of delicious food to try on. It is known as Miyazaki beef and its flavorful chicken dishes. Much care and attention are paid how to chickens is bred and raised. These locally raised chickens are widely recognized as of superior quality. So, it is no surprise that Miyazaki is famous fr its chicken specialties.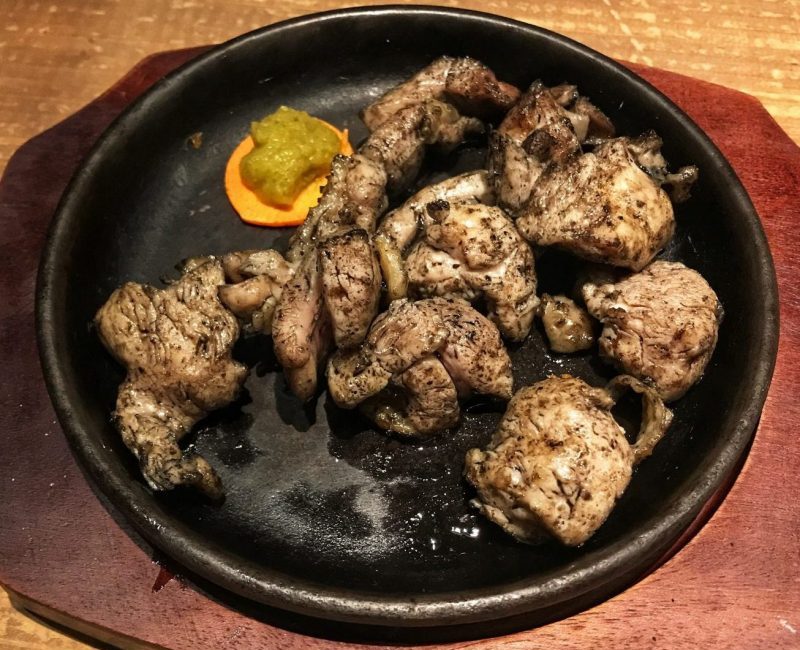 The Charcoal grilled chicken (Jidori no Sumibiyaki) is a popular, must-try regional dish. The bite-sized pieces cut of chicken are salted and grilled over a charcoal fire. The meat is rich in flavor with a chewy texture in a slight charcoal burn smell. The appearance might not look so appealing. But trust me, it is extremely delicious and full of juiciness.
Nanban Chicken (Miyazaki)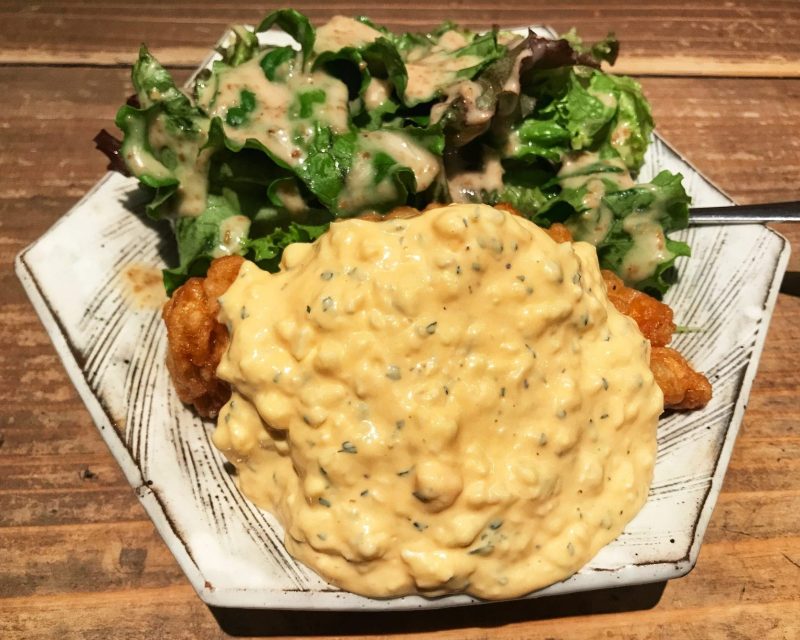 Next, Nanban chicken. It is another deep-fried chicken dish that can be found all over Japan. And Miyazaki claims for the originator of Nanban chicken. The chicken is marinated with sweet vinegar and deep-fried to perfection, topped with tartar sauce when serving. The succulent crispy fried chicken is a great combination with in-house original tartar sauce.
Tonkatsu (Kagoshima)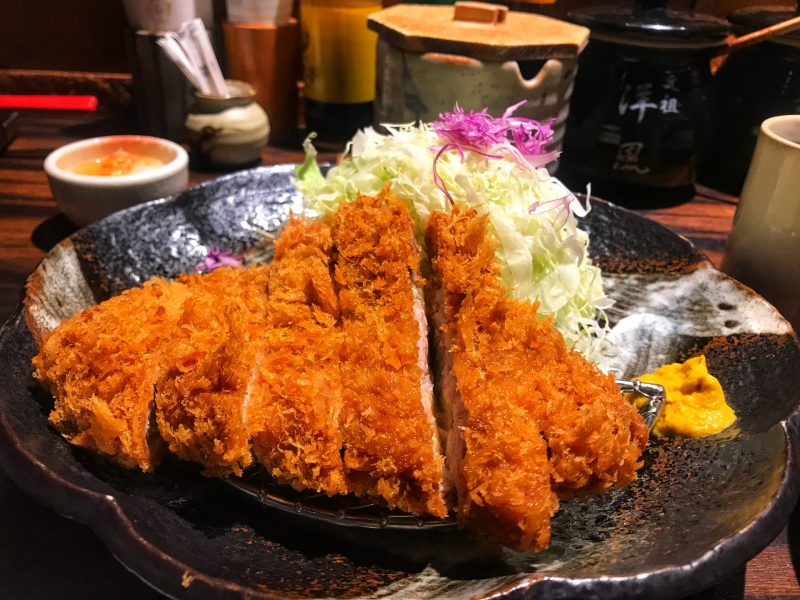 Lastly the Kyushu food guide is the best food from Kagoshima. The Kagoshima is located on the southwestern tip of Kyushu. This region is famous for producing Kyushu's kurobuta, the black Berkshire pork that is raised in Kagoshima prefecture.
It is famed throughout Japan for its richly marbled texture that is clean in flavor. Kurobuta is often eaten as tonkatsu pork cutlets. The succulent bites of pork cutlet is coated in crispy bread crumbs and deep-fried in hot oil. It is best to enjoy with refreshing shredded cabbage and dipped it with yellow mustard or in-house tonkatsu sauce.
We try the mouthwatering tonkatsu in Katsuretsutei Shinshigai Honten (勝烈亭) in Kumamoto. It is one of the popular restaurants serving the best tonkatsu in Kyushu. The thick-cut premium tonkatsu is made from premium Berkshire pork from Kagoshima. One of the best restaurants to enjoy the tonkatsu from Kagoshima.
Overview: Kyushu Best Food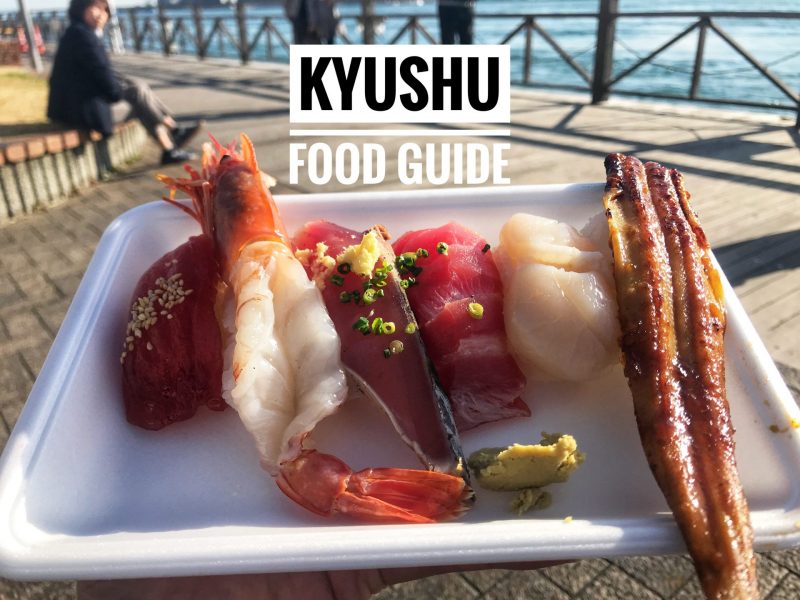 All in all, no trip to Japan can ever be complete without trying on their Japanese food. No matter how many times we visited Japan, we were all still impressed by its culture, building, and food. While most people are flocking to Tokyo or Osaka when visiting Japan. Kyushu food is truly amazing with the various kinds of foods that they have offered. It is worth visiting just in search of the best food in Kyushu.
Last but not least, there is still much more food that is worth recommending that does not include in this Kyushu food guide. Free feel to read through below separate food guide with more detail. Hopefully, my Kyushu food guide has inspired your coming visit to Kyushu. Enjoy your food trip to Kyushu.
Fukuoka Food Guide: Best Must Eat Food in Fukuoka
Kumamoto Food Guide: What To Eat in Kumamoto
Miyazaki Food Guide: What To Eat in Miyazaki
Oita, Beppu, Yufuin Food Guide: What To Eat in Oita, Beppu and Yufuin