Last updated on September 23rd, 2023
The complete transport guide on how to get to Takachiho Gorge from Fukuoka, Kumamoto and Miyazaki. The best way to get there by bus, train and self driving.
Takachiho Gorge (高千穂峡, Takachiho-kyō) is the most popular attraction in Kyushu Japan. It is renowned by its wonderful nature and beautiful view, formed from lava from Mount Aso. Getting to Takachiho Gorge from Fukuoka, Kumamoto and Miyazaki can seem confusing at first glance but is pretty easy and cheap if you know what to do. Bus is the easiest and cheaper public transport assuming you don't have a rental car. However, getting there by public transport is one of the challenging tasks for travelers. Most importantly, public transportation is rather infrequent and inconvenient.
We explain all of the options and routes on the best ways to get to Takachiho Gorge by bus, train, and driving a rental car in detail below. There are also some of the useful tips for self-driving travelers.
Getting To Takachiho Gorge Overview
Located in Central Kyushu Japan, Takachiho Gorge lies in the mountains of northern Miyazaki prefecture and situated at the border of Kumamoto Prefecture. While most of the Miyazaki's attraction and Miyazaki station are concentrated at the Southern end. So Takachiho is closer to the Kumamoto city compare with Miyazaki by distance.
The easiest way to Takachiho Gorge is to get to the closest transportation hub, such as Fukuoka, Kumamoto, and Miyazaki via Shinkansen, train or plane. From there, take the direct buses to the Takachiho area. The one-way Shinkansen from Fukuoka to Kumamoto take about ¥4,700 at 30 minutes. Consider getting the JR Kyushu Pass if the Shinkansen ride is part of your travel plan.
While the traveling time from Miyazaki and Kumamoto to Takachiho Gorge by bus is about the same. Many visitors are visiting Takachiho Gorge as part of the trip to Miyazaki and Kumamoto. Read on and find out the best transport to Takachiho Gorge that suit on your travel itinerary.
For hassle-free, consider getting the day tour to Takachiho Gorge:
From Fukuoka: Private Day Tour to Takachiho Gorge – Explore the nature of Takachiho with a professional English-speaking guide!
From Kumamoto (not available now): Experience English guided tour with well explanation along the travel journey. The meetup location is at Higo-Ozu Station (肥後大津駅), 30 minutes train ride from Kumamoto station.
Takachiho Gorge Travel Tips (Only for Foreign Visitor:
If you are planning to get to Takachigo Gorge by bus, consider to get the SunQ Pass from Klook with further discounted. It is much cheaper compare with purchase in Japan. Choose from
All, Northern or Southern SunQ Pass
as per your itinerary. Easy redeem at Fukuoka Airport.
How To Get To Takachiho From Kumamoto By Bus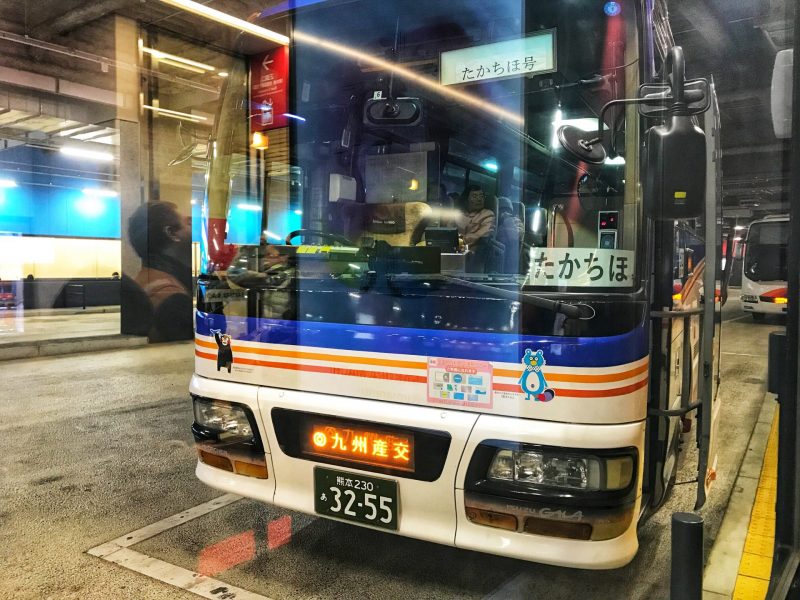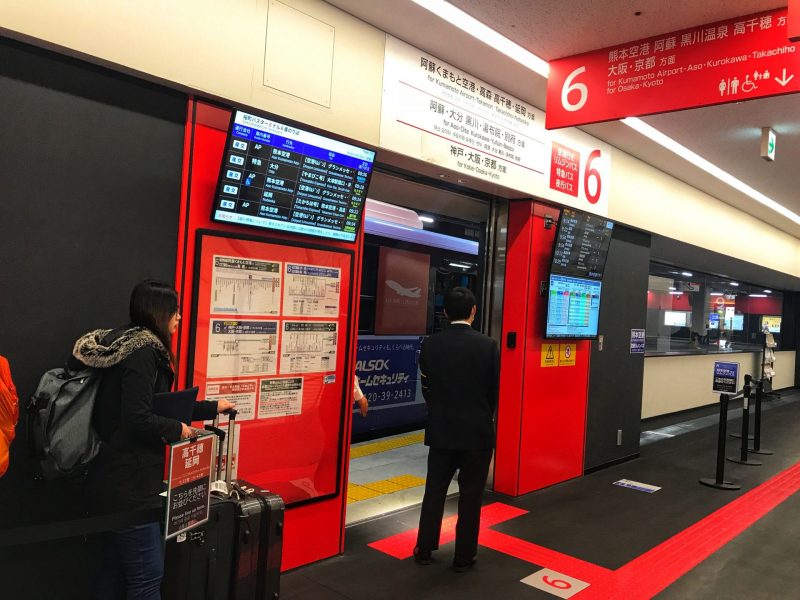 From Kumamoto To Takachiho by Bus: It takes about 2 hours running for this route, operated by Kyushu Sanko and Miyazaki Kotsu (Miyakoh). The bus will continues through Takachiho to Nobeoka. But most passengers will get off at Takachiho Bus Center.
Bus Timetables: Express bus run between Kumamoto and Takachiho with only two buses per day. Keep in mind that there are two main stations in Kumamoto. Kumamoto Station (熊本駅前) connected with Shinkansen and train. While the Kumamoto Sakuramachi Bus Station (熊本桜町 BT) is the main hub for bus which located at the city center. Buses leave Kumamoto station (9:11 and 15:31) and Kumamoto Sakuramachi Bus Station (9:22 and 15:42) to Takachiho Bus Center (高千穂BC). Bus platform from Kumamoto Sakuramachi Bus Station located at Number#6.
Bus Ticket Cost and Reservation: You can buy your bus tickets at the Kumamoto Bus station or directly from the driver. But it is advised to reserved your bus ticket ahead of time. Please take note that the reserve ticket is not the bus ticket. You need to exchange the seat ticket at any bus station before boarding the bus. Passengers with seat tickets have priority to board the bus first, with seats allocated during booking. The driver will arrange the remaining seat for passengers without reservation. One way costs ¥2,410 per person. SunQ Pass is included for this route. However, please make sure to get the SunQ Pass All Kyushu as it crosses the Southern and Northern region Kyushu.
Travel Tips: We reserved the bus ticket from Kumamoto to Takachiho upfront and redeemed the SunQ Pass All Kyushu upon arrived at Fukuoka Airport. It is worth getting the SunQ Pass if you are planning to visit nearby attractions such as Aso, Kurokawa Onsen by bus. Most important, it is more convenient and skips the step by paying the bus fare whenever you get on/get off from the bus. Just show the SunQ Pass to the driver, that's it! You can calculate bus fare and check on your travel itinerary whether worth getting one. The SunQ Pass All Kyushu (3-Days at ¥11,000/4-Days at ¥14,000).
Related Post: How To Reserve Kyushu Highway Bus Ticket, Explained
How To Get To Takachiho From Miyazaki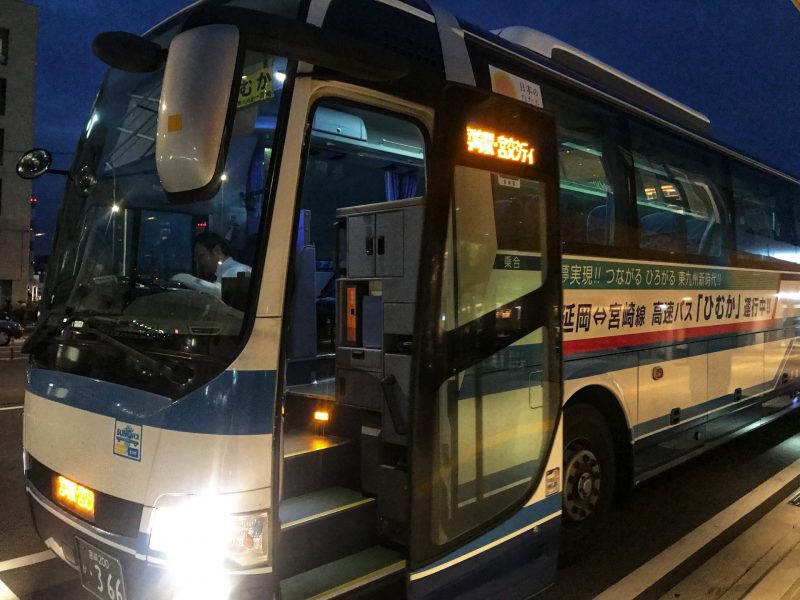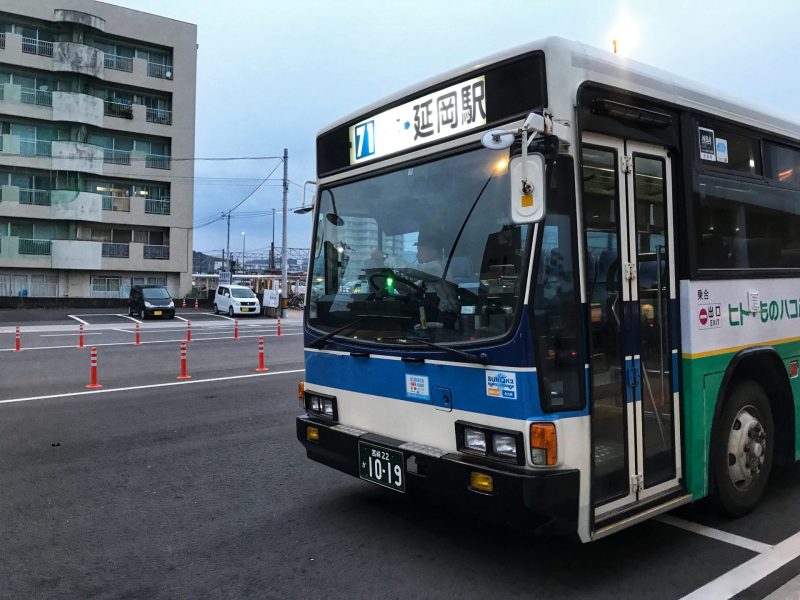 Route Overview: Getting to Takachiho Gorge from Miyazaki has more transport options but also more complicated due to the infrequent transport arrangement. From Miyazaki, you can take either bus or train to Nobeoka. From then, you'll need to transfer to the local bus to Takachiho Bus Center. The Direct bus only operates with one bus per day during peak season.
Bus Tickets Cost & Reservation: No reservation required for the bus running between Miyazaki, Nobeoka, and Takachiho. However, reservation required for express bus running from Miyazaki to Takachiho. For train info, please visit the Hyperdia website or YahooTransit website. Overall the bus fare take ¥2,550 for direct bus and about ¥3,350 (¥1,820 + ¥1,530) for transit option.
Travel Tips: Again, it is best to get the SunQ Pass to save on transportation fee especially you are planning for a day trip. You can get the SunQ Pass South Kyushu (3-Days at ¥8,000) if you are planning to get to Takachiho from Miyazaki by bus.
Bus Schedule Between Miyazaki, Nobeoka and Takachiho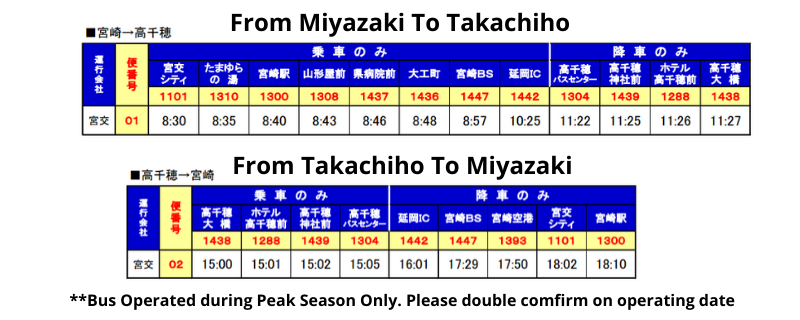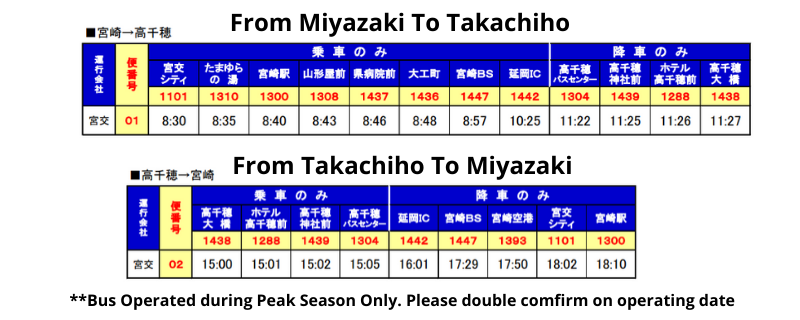 Direct Bus from Miyazaki to Takachiho: Direct buses are running from Miyazaki to Takachiho (Going: 8:30 and Return: 15:00). However, please take note of only one bus per day and it might not operate every day. Normally it will operate during weekends, peak season and Japan Public Holiday. Reservation required. Added, please double-check on operating schedule if you plan for this option. (Bus Schedule)
You can get off at the last stop (高千穂大橋/Takachiho Ohashi) which is much more closer to Takachiho Gorge.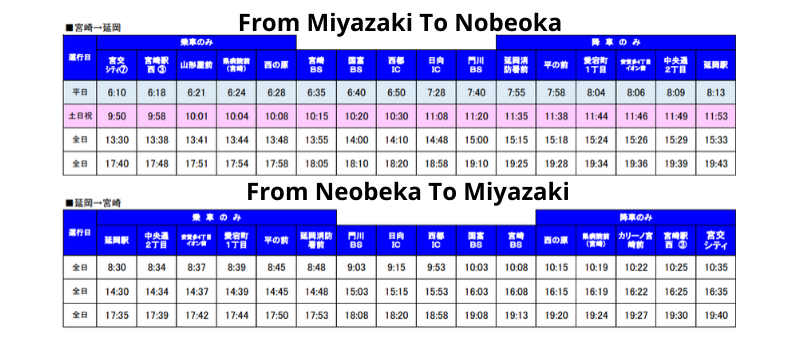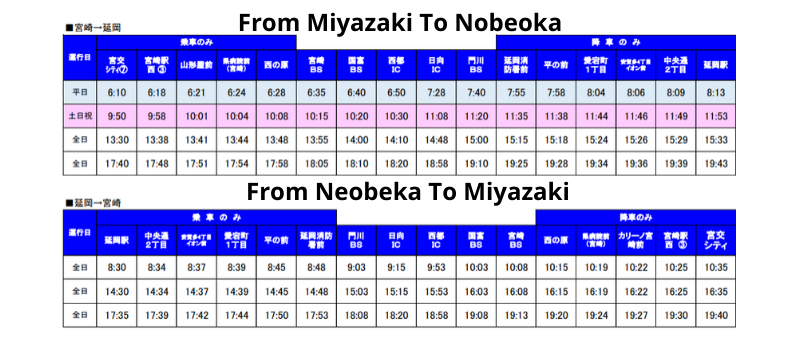 By Bus from Miyazaki to Nobeoka (Not available anymore!): There are only three bus running during Weekday (6:10, 13:30, 17:40) and Weekend (9:50, 13:30, 17:40) from Miyazaki Bus Center, along to Miyazaki Station. While return bus from Nobeoka to Miyazaki depart at 8:30, 14:30, 17:35.
By Train from Miyazaki to Nobeoka: There is at least one train per hour and peak hour can up to three trains. The Express Train (64 minutes, ¥2,630) and local train (93 minutes, ¥1,680) is faster and more frequent compare with the bus.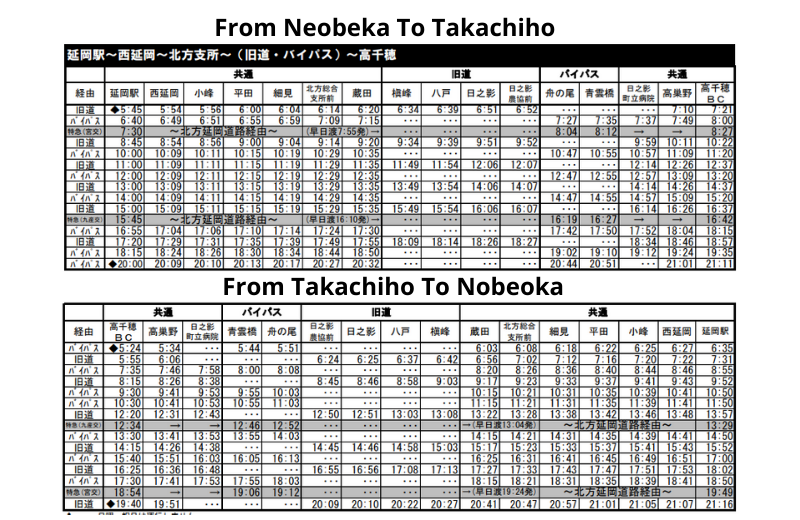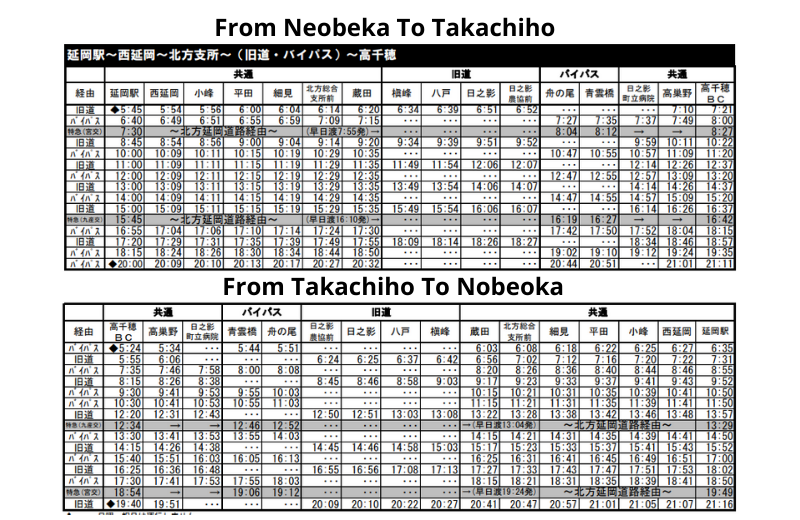 By Local Bus from Nobeoka to Takachiho: It takes about 90 minutes to Takachiho Bus Center. The bus is a normal commuter bus for local. It might not comfortable compare highway bus. There is about one bus per hour, starting from 5am to 8pm.
How To Get To Takachiho From Fukuoka By Bus
Route Overview: Some travelers choose to get to Takachiho from Fukuoka By bus. 4 buses are running per day with two buses in the morning (8:05, 10:05) and two buses in the afternoon (15:30, 17:30). Buses run from Tenjin Bus Terminal, along to Hakata Bus Station and Fukuoka International Airport. Detail bus schedule please check on Highway Bus website. One journey takes about 220 minutes at ¥4,100.
Bus Tickets Cost & Reservation: Reservation is a must for highway buses in Japan. One journey takes about 160 minutes and costs ¥4,100.
Travel Tips: You can get the return bus ticket at ¥7,330 which is slightly cheaper compare with one way. While the SunQ Pass All Kyushu (3-Days at ¥11,000/4-Days at ¥14,000) required if you plan to get one for this bus route. Do your smart calculation and get the SunQ Pass. The traveling journey takes about 4 hours for one way.
Getting Around To Takachiho Gorge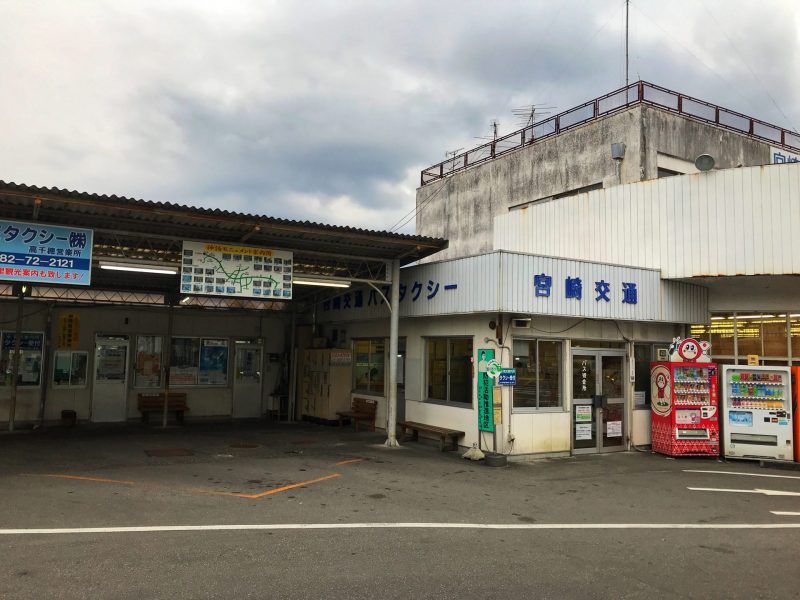 Once you get to Takachiho Bus Center, you can get to anywhere in Takachiho area. However, most of the attraction especially the Takachiho Gorge is located outside the town center. There are few options to get to Takachiro Gorge from the bus station.
Transport Option To Takachiho Gorge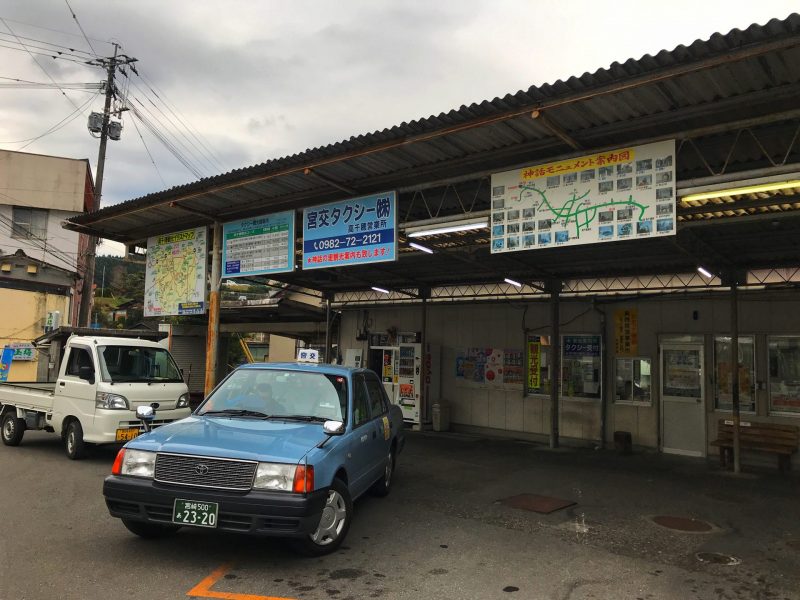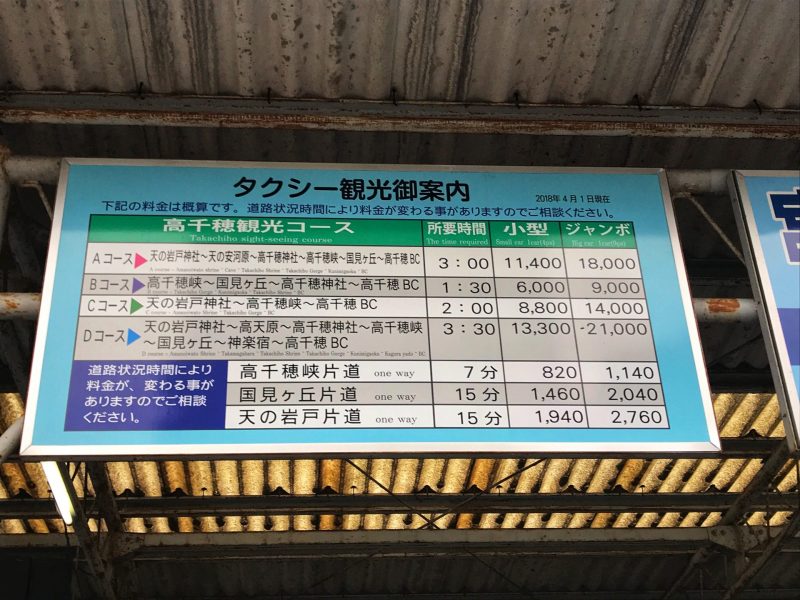 By Taxi: There are taxi ready to pick up customer once you get off from Takachiho Bus Station. Depend on your destination and party, the taxi fare varies from ¥800 to ¥3,000. They can also arrange for a taxi ride to bring you to visit all the attractions with a certain fare amount. Detail refer to attachment.
By Shuttle Bus: connecting major attractions such as Takachiho Gorge, Amanoiwato and Takachiho Shrine, and other sites. One ride at ¥200 with only cash accepted. However, there is no bus on a regular weekday. Bus only operate during busy season, mostly during the weekend and public holiday from April to November. (Bus Schedule)
By electric bicycles: Another transport option for getting around in Takachiho area. You can get the rental bike at Takachiho Tourist information at ¥300 for one hour or ¥1,500 per day. Please take note that it is an uphill road for the return journey.
By walking: Except for the Amano Iwato Shrine, travelers can be accessed to most of the Takachiho's attractions on foot by good walkers. The Takachiho Gorge is about 30 minutes walk from the bus station. You can couple your visit with Takachiho Shrine together. However, the narrow trail return to the bus station is an uphill journey and it can be very tiring especially for the elderly.
Takachiho Tourist Information Center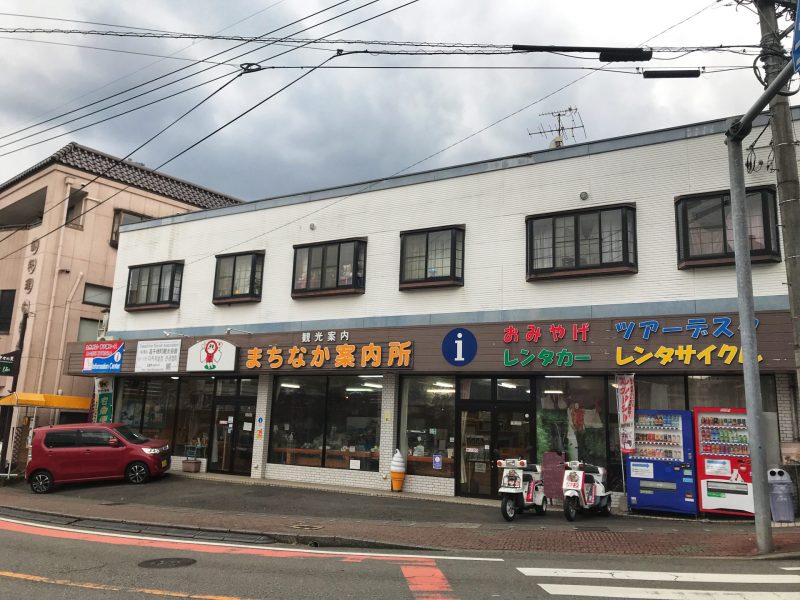 If you need any further help, please don't hesitate to ask the Machinaka Tourist Information Center, which located just opposite the Takachiho Bus Center. They are very helpful and can speak English. We get some useful information from the helpful staff. Inside, you can get all the information and brochure to attractions in Takachiho area. Resting area, washroom, bicycles rental, bike rental, luggage service also available inside.
Getting To Takachiho Gorge By Car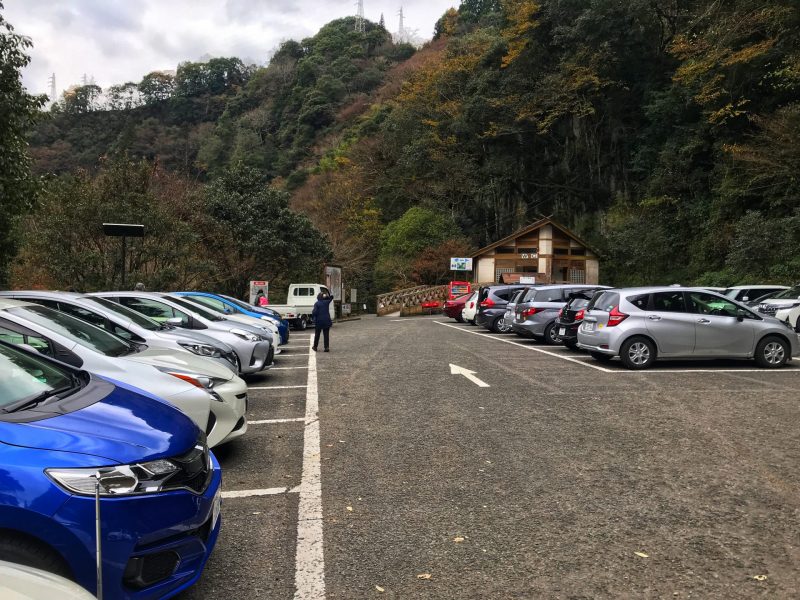 As you can see, public transportation is rather infrequent and inconvenient. So it is best for self driving to Takachiho Gorge. Renting a rental car for self driving is very convenient to get around town. Rental Company can be found in nearby Nobeoka City, around Mount Aso and at Kumamoto and Miyazaki Airports.
1. Driving From Kumamoto (~2 Hours):
Driving Route Overview: If you already have a rental car, you will want to consider driving to Takachiho from Kumamoto. The journey takes about it only takes 2 hours with magnificent scenery along the road. It is also best to couple your trip to Aso, Kurokawa Onsen and explore the secret place of the mountain to Takachiho. The driving route is very easy with rolling hills as you weave through the stunning Mount Aso region. For sure, it is an unforgettable self- driving trip.
2. Driving From Miyazaki (~3 Hours):
Driving Route Overview: Driving from Miyazaki is more practical compare by bus. It's about 140 kilometers from Miyazaki and takes about 2.5 hours if you use the toll road. All road signs are marked to the Takachiho.
3. Parking in Takachiho Gorge:
There are 3 main parking lots available in the Takachiho Gorge area. We recommended parking at the car park (御塩井 おしおい), which is closest to the rental boat ride. Parking Fee ¥500. Limited parking lot available and easily full during peak hours. If this full, you may need to park at the Araragi Car park at ¥300. It required some minor walk and close to the scenic walkway. The last option is at the Ohashi parking lot which can fit about 30 cars for free. It is also where the tour buses park and took the 1-km trail. There is also a large parking lot right beside the Takachiho Visitor Center for 200 cars.
Travel Tips: Don't forget to compare your rental car at RentalCars.com. There are various car companies operated in Kyushu Japan. For example Budget Cars, Times Car Rental, Nissan Ren-A-Car, Orix Renta-A-Car. Make sure to get the best rental car at the best deal. Most importantly, RentalCars.com has a high reputation with best price guarantee.
Luggage Locker at Takachiho Bus Station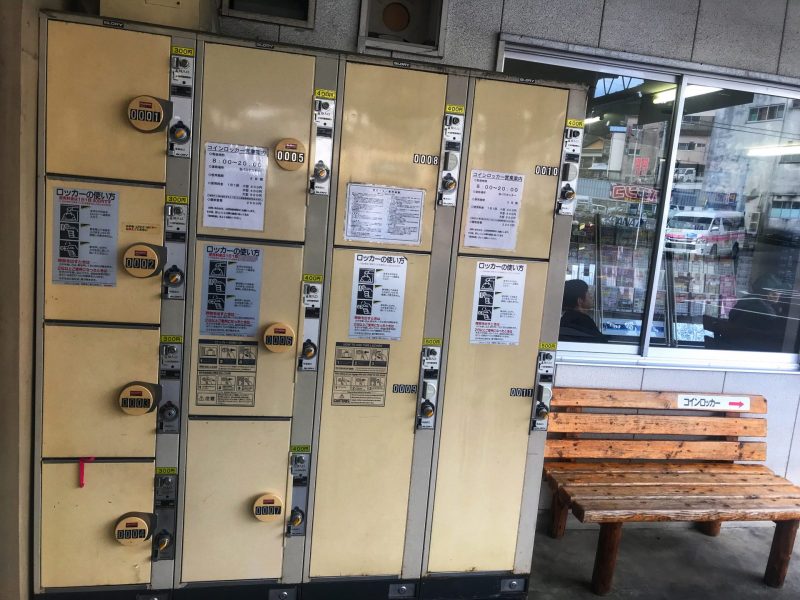 If you are stopping at Takachiho on your way in between Miyazaki or Kumamoto, you will need to plan to store your luggage during your visit. Similar to most of the bus stations, you can store your luggage at the coin luggage locker which available outside Takachiho Bus Station. There are limited lockers available at the Takachiho Bus Station. Price range from ¥300, ¥400 to ¥500 depend on the storage size.
Alternatively, you can drop your bags at Takachiho Visitor Center during the short layover. But take note, you will need to pick up your luggage before the visitor center is close (5pm).
My Transport Arrangement To Takachiho
We visited Takachiho gorge as part of our Kyushu trip to the Northern and Southern regions. We choose the easiest and hassle-free bus from Kumamoto to Takachiho. Instead of a return to Kumamoto from Takachiho, we choose to take the bus from Takachiho to Miyazaki during return and continue our visit to Miyazaki. The bus journey to Takachiho took a long time but worth it.
How to travel to Takachiho Gorge from Kumamoto and Miyazaki in 1-Day:
Bus departs from Kumamoto Sakuramachi Bus Station to Takachiho Bus Center at 9:22 (reservation is recommended)
Visit Takachiho Gorge, boat riding, Takachiho Shrine (~3 hours)
From Takachiho Bus Center to Nobeoka Station by bus at 15:40 (to catch the last bus to Miyazaki)
Take the Highway Bus From Nobeoka to Miyazaki Station at 17:35. Note: The highway bus is no longer available. An alternative option, take the JR train from Nobeoka to Miyazaki.
If you choose to return from Takachiho to Kumamoto, there is an additional one hour to spare in that area. Our visit is during weekdays and less crowded without waiting in queue for food and boat. Alternatively, consider spending one night in Takachiho or Nobeoka if you prefer to spend more time in Takachiho Gorge. Last bus running from Takachiho to Nobeoka Station at around 7pm. You can take the later bus, and then transfer to the train to Miyazaki station. While the SunQ Pass is covered for the whole bus ride, we choose to save the money and traveling within one day.
Our backup plan is taking the train to Miyazaki if miss the bus schedule. While three hours in Takachiho can be quite a rush but we manage to visit all the attractions as per plan. Just make sure you need to be careful about the time allocation.
Worth Going?
All in all, the whole traveling journey took us about 6 to 7 hours and we only have 3 hours to explore the beautiful gorge. If you ask me, worth the effort? My answer is Yes. It is amazing to see the natural wonder of the world. Do not hesitate to go to Takachiho Gorge as everything is very impressive.
Access to Takachiho Bus schedule: Miyakoh Bus 
Join Local Guided Tour: Takachiho Gorge Day Tour
Valuable Train Pass from Klook: JR Kyushu Pass
Get the Unlimited Bus Pass from Klook: SunQ Pass
Lastly, this Takachiho transport guide is part of the travel post to Kyushu. If you are interested, continue to read on my travel blog to other amazing places in Kyushu.