Last updated on September 23rd, 2023
Heading to Yufuin but wondering what should do and eat? Join us on the Yufuin travel guide on things to do, feasted on mouth-watering must eat food on Yufuin itinerary.
Yufuin (由布院/湯布院) is a renowned onsen town in Oita prefecture, not too far from two other popular onsen paradise that is Kurokawa onsen and Beppu. However, each of them has its charm and couldn't be any more different. Surrounded by mountains, the little onsen town Yufuin is renowned for its hot spring. (of course!) However, there are many boutiques, art museums, antique toy, restaurants, and shops can easily spend your time discovering.
Strolling aimlessly, surprised by the handmade artisan, try some good food and enjoying the idyllic atmosphere in town. That's exactly what we did during our Yufuin itinerary. It was always short of time when you appreciate a place.
In this impressive Yufuin travel guide blog, you can find some useful tips on transportation, the best things to do, what to eat, best stay in Yufuin and more. Ready to follow us on to tour around Yufuin? Let's go.
Getting There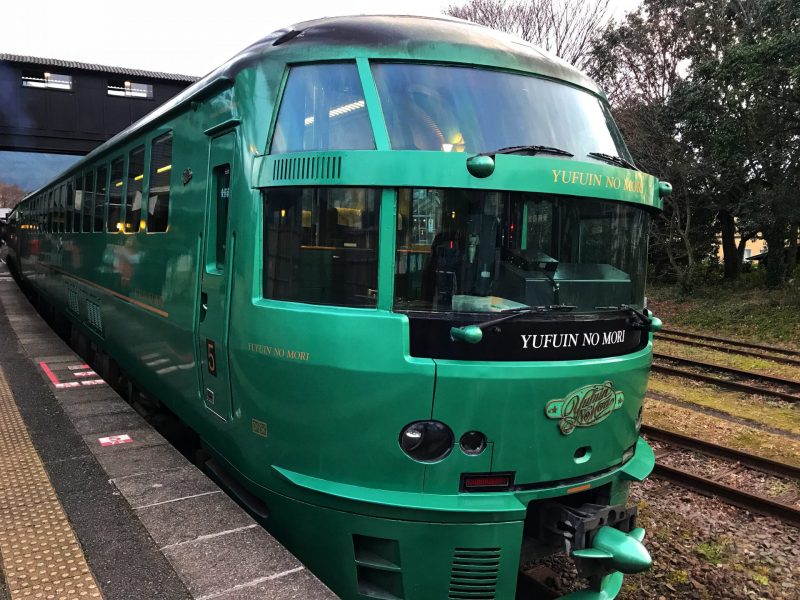 Before we go further on the Yufuin travel guide, let us have a quick view on how to get to Yufuin. Being a popular onsen town, Yufuin is well connected with buses and trains from Fukuoka, Beppu, Kumamoto. Both ride rewarded with breathtaking scenery and very therapeutic with forest and mountain views along the journey.
The train ride is fully covered by the Japan Rail Pass and JR Kyushu Rail Pass. While Kyushu SunQ Pass is covered on the bus ride. Both bus and train stations in Yufuin are just a step away from each other.
From Fukuoka to Yufuin
By Train: There are about six daily limited express trains running between Fukuoka (Hakata station) and Yufuin station (150 minutes, ¥4500). The Yufuin no mori (ゆふいんの森) is the popular scenic train with reservation is the must for the ride.
By Bus: Direct highway bus departed from Hakata station, Tenjin Bus Center and Fukuoka Airport to Yufuin with once per bus per hour. One way trip takes 120 minutes at costs ¥3000.
From Beppu/Oita to Yufuin
By Train: From Beppu, it required a transfer at Oita station to Yufuin. The one-way train journey takes about 90 minutes at ¥1,200 with local train.
By Bus: The Yufuin is located not too far from Beppu and it takes about 50 minutes by car. For visitors traveling with public transport, the bus running with one to two buses per hour between Beppu and Yufuin Stations. The one-way trip takes 50 minutes and costs about ¥1,000.
From Kumamoto to Yufuin
By Train: No direct train connection between Yufuin and Kumamoto as the railway track was damaged due to the earthquake in 2016. The fastest route is transferred at Kurume if you wish to travel between Kumamoto and Yufuin.
By Bus: Kyushu Odan Bus connects Kumamoto and Yufuin with about 5 hours at ¥4,500. This bus will run along the Kumamoto, Aso, Kurokawa onsen to Yufuin and Beppu.
What To Do in Yufuin Itinerary
Once you have arrived in Yufuin station, everything is walkable and easily explored on foot. Yufuin is surrounded by mountains and one can see Mount Yufu as the backdrop along Yufuin's main street.
There aren't that many activities to do in Yufuin except following the walking path to Kinrin Lake. However, we found it was so difficult to finish it without stopping along the journey. We had an amazing food tour!
Read on the Yufuin itinerary below to know what to do and eat in Yufuin.
Stroll along the Yunotsubo Kaido
Visit The Handmade Artisan Shops
Lovely Yufuin Cafe
Hunting Adorable Decoration
Lingering Around Kinrin Lake
Visit Yufuin Floral Village
Stroll along the Yunotsubo Kaido
As you exit Yufuin station, you can walk straight ahead to the Yufuin main street (湯の坪街道) which lined with shops, restaurants and souvenir shops. If you stroll through the path, it'll reward you with quaint Kinrin Lake (金鱗湖). There are no tall buildings except traditional houses with snow-capped mountains surrounded.
Further walked in, the shops will change into a variety of artisan boutiques, cute shops and food stalls along the path. Plenty of shops selling local specialties, souvenirs, and snacks.
Visit The Handmade Artisan Shops
As you walked along the path, there are many handmade shops that you can browse around. You can just walk in to know more and discover those artisan local products.
This can be an enjoyable activity in Yufuin. One of the handmade jam shop caught our attention.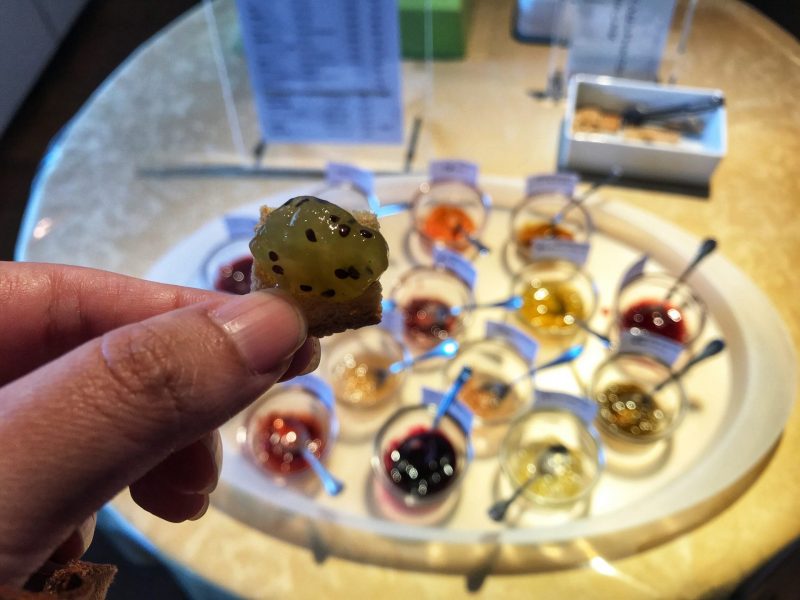 Variety of handmade jam and free taste testing in shop. It tastes so good and I wish I can bring some back.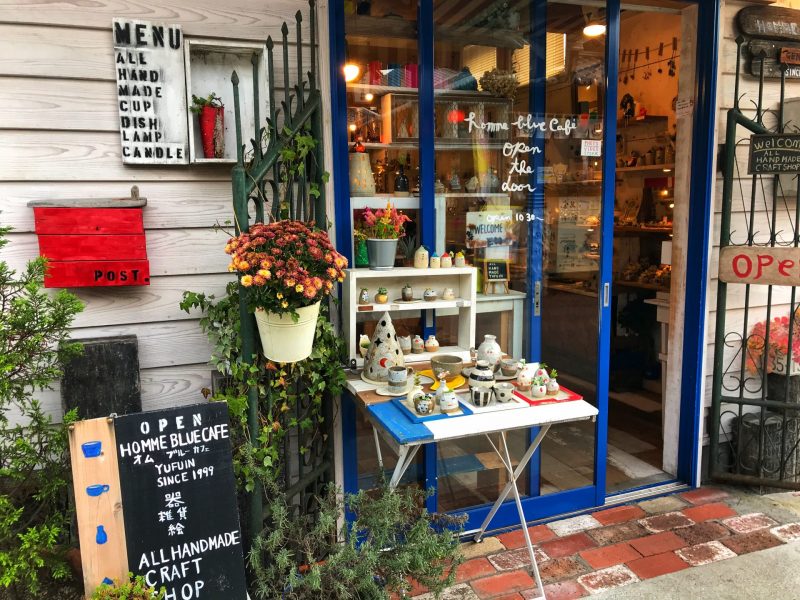 This Homme Blue Cafe is full of handmade craft cups, dishes, candles, and lamps.
Lovely Yufuin Cafe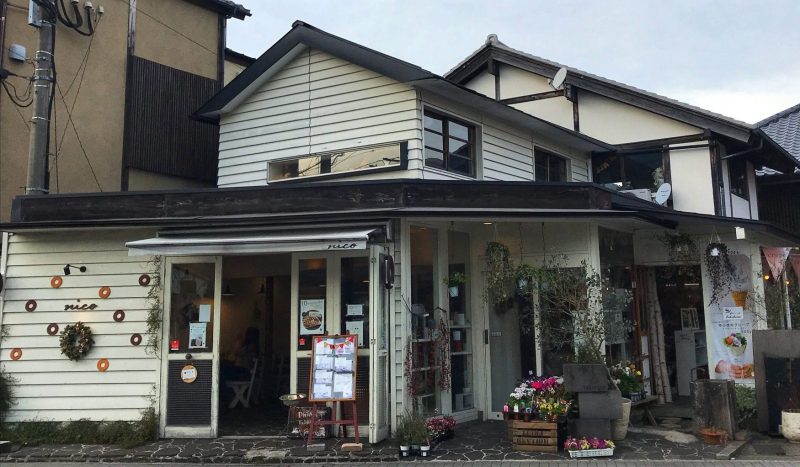 There are many lovely cafes and each cafe is not alike. Enjoy a cup of coffee or dessert if you are tired.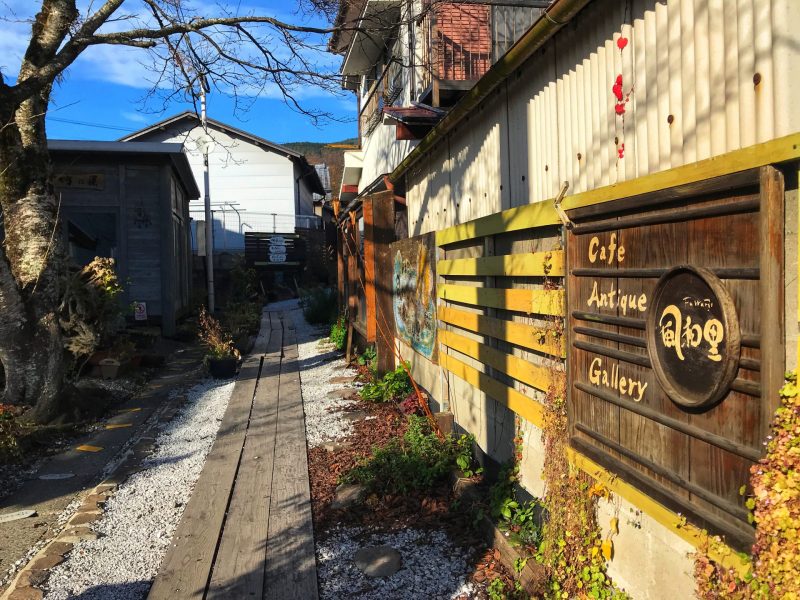 Each cafe has its design and unique in its way. Sometimes, the best things are hidden somewhere and off the main road. Follow the hidden path and you might find a surprise.
Maybe, Snoopy Themed Cafe in Yufuin is your choice? There are several tables and chairs for guests to try on their ice caved dessert.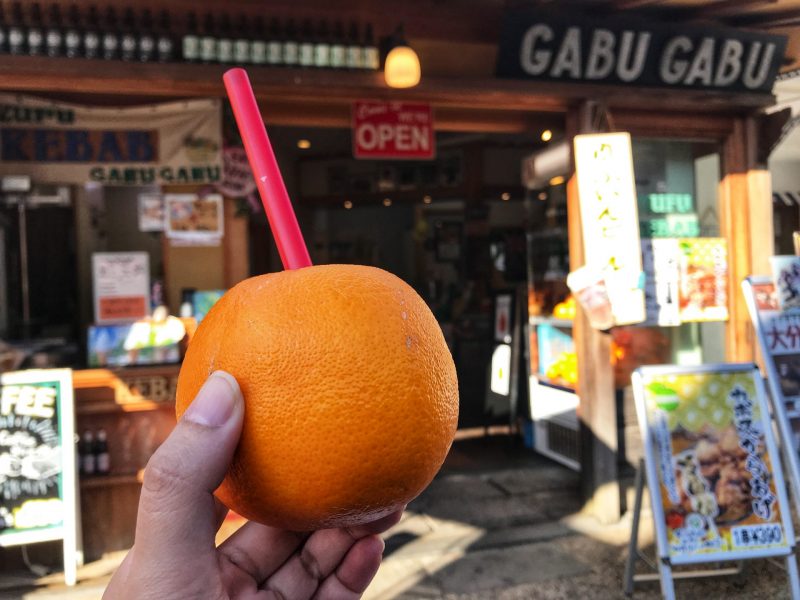 We had our unique way to enjoy the truly fresh juice drink while wandering under the hot sun.
Hunting Adorable Decoration
Cute and adorable decorations are everywhere. See what we found? A teddy bear driving a car in the street. Look around and you would see interesting photo spots.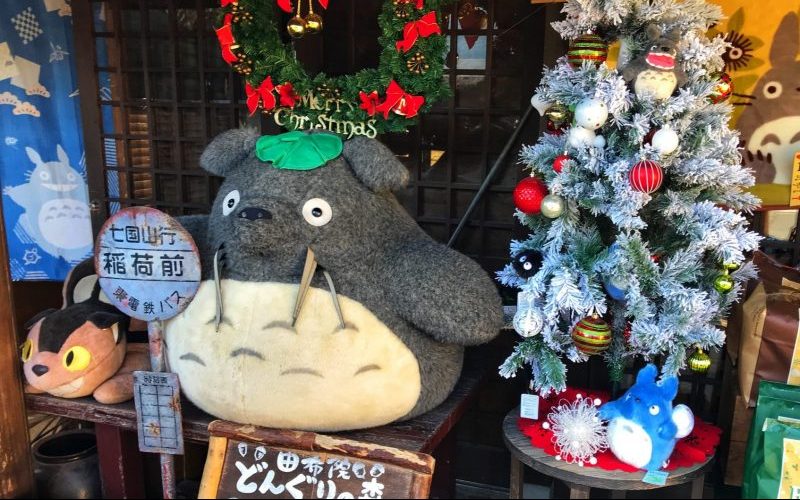 The Totoro is decorated with a Christmas theme during our visit at year-end.
Every corner in Yufuin is adorable and interesting. Even I'm not a professional photographer, but every photo in Yufuin is Instagrammable. You'll fall in love with this charming street especially for ladies.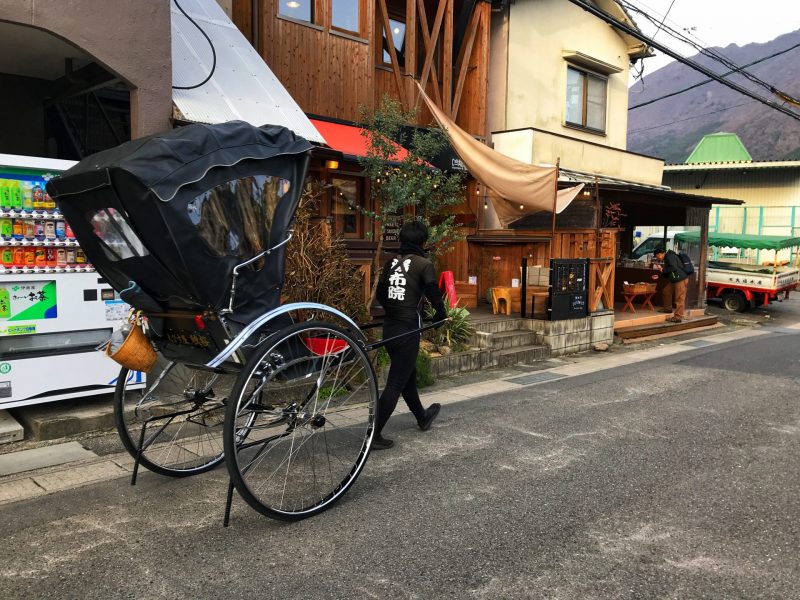 Spotted the rickshaw puller while wandering in Yufuin. You can hire rickshaw if you want to visit this charming town without a long walk. They will even explain and cheer you up along the journey.
Lingering Around Kinrin Lake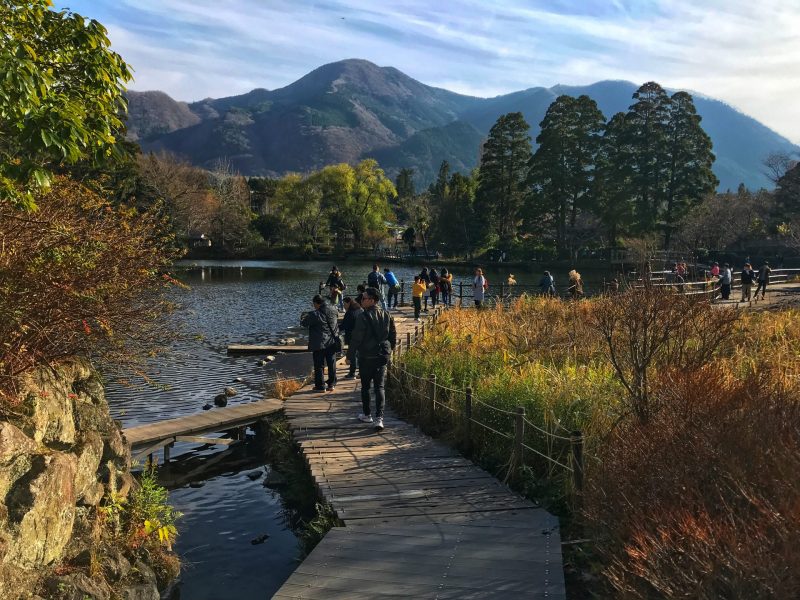 After about 30 min stroll on Yunotsubo Kaido, the path led us to a scenic Kinrin lake (金鱗湖, Kirinko). You possibly may take a longer time if stopped too many times by along the street. Kinrin Lake was a perfect end after exploring.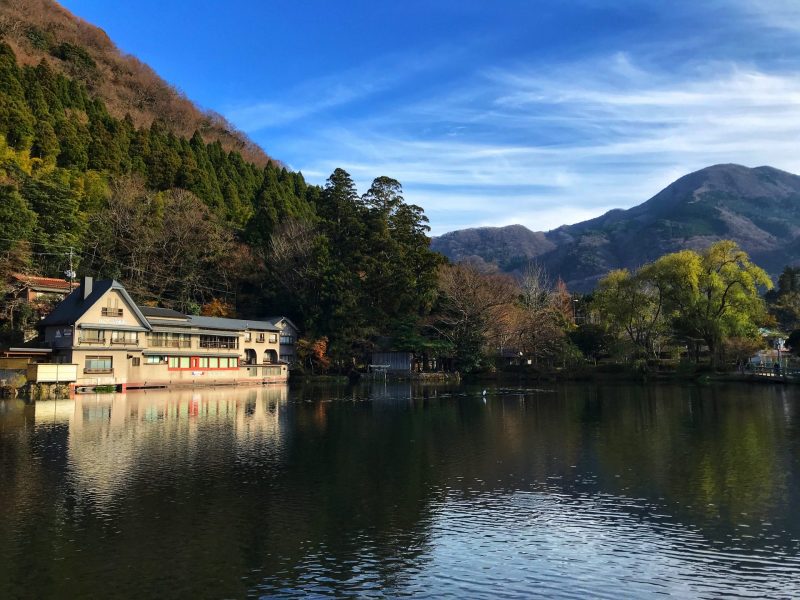 Kinrin Lake is the most popular landmark and listed as a must-visit in every Yufuin travel guide. The best time to visit Kinrin Lake is during the morning when the whole lake is covered under the morning mists, created from the two spring sources at the lake's bottom. The misty view of the Kinrin lake is even more breathtaking during autumn and winter.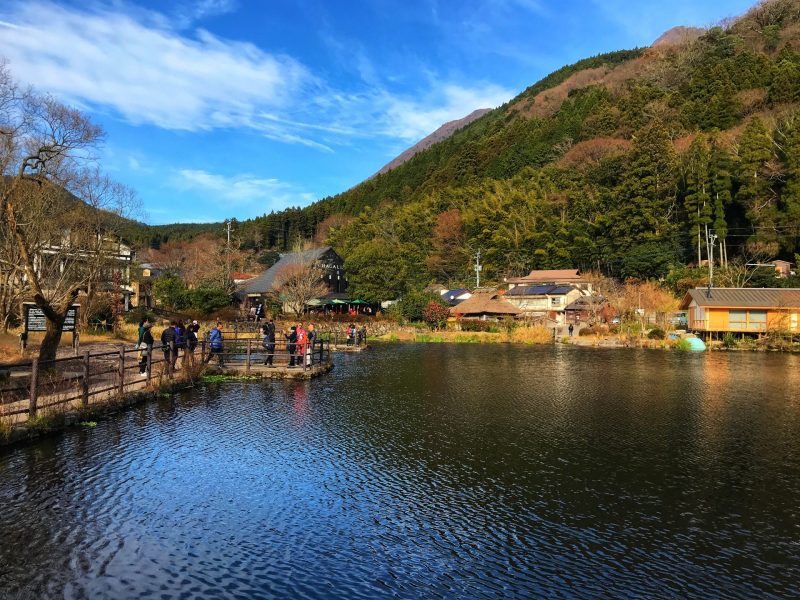 Follow the walking paths and lingering around the lake for great views of the surroundings. Take a look at the small shrine by the side of the river. We enjoyed our time unwind the beauty of surroundings, get up closer with the flora and fauna, and taking multiple photos here. Such a quiet and lovely atmosphere.
You can also the hot spring bath in Shitanyu at cost ¥200 per entrance on a day visit.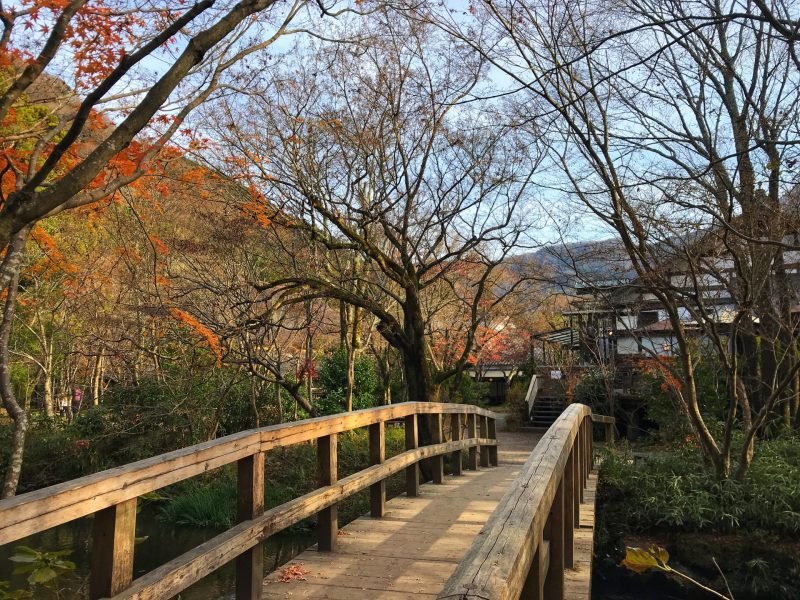 Once finished, we followed the direction to the Yufuin Floral Village. We found the view from Kinrin Lake to Yufuin Floral Village very beautiful. Most of the areas are occupied by the eateries and ryokan stay nearby.
There are also a few famous ryokans if you are looking for where to stay in Yufuin.
Visit Yufuin Floral Village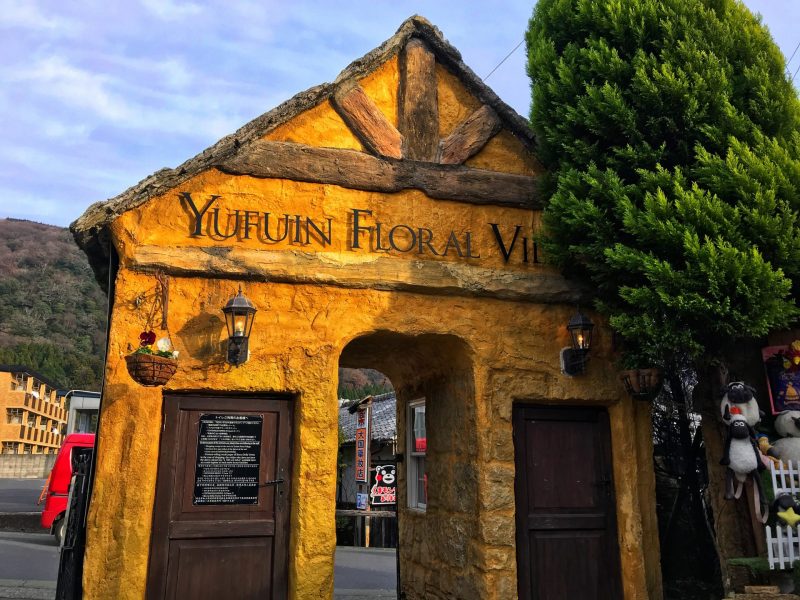 Next, we arrived at Yufuin Floral Village, a European settling of Japanese fairyland in the middle of Yufuin onsen town. It is another best place for taking photos and a nice stroll in town.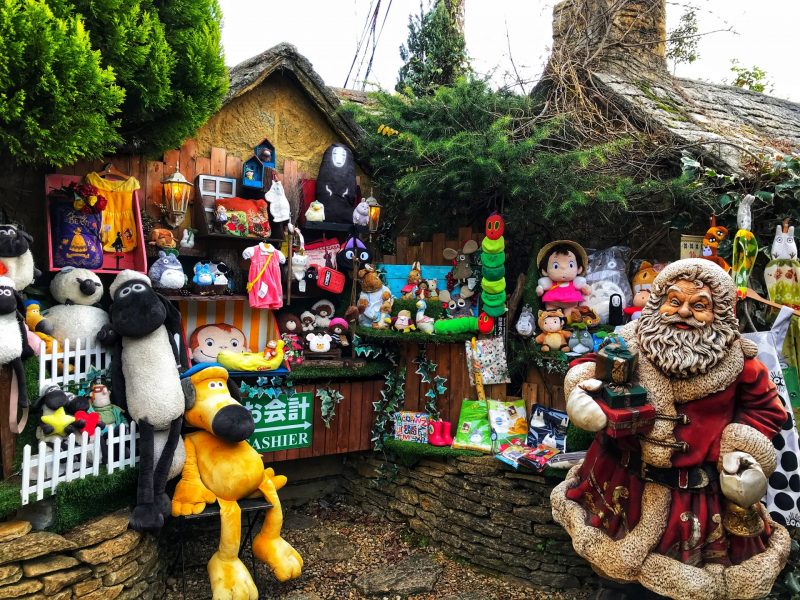 Cute decoration is everywhere!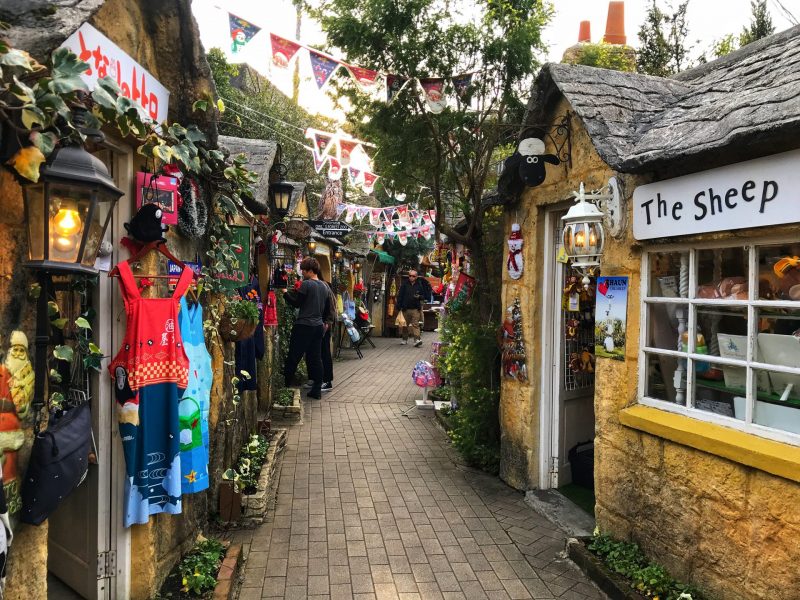 The village is quite small. From one end to another end, you can finish the walkthrough within 15 minutes. Again, you might need a longer time if you stopped by the adorable store. Plenty of good photo opportunities.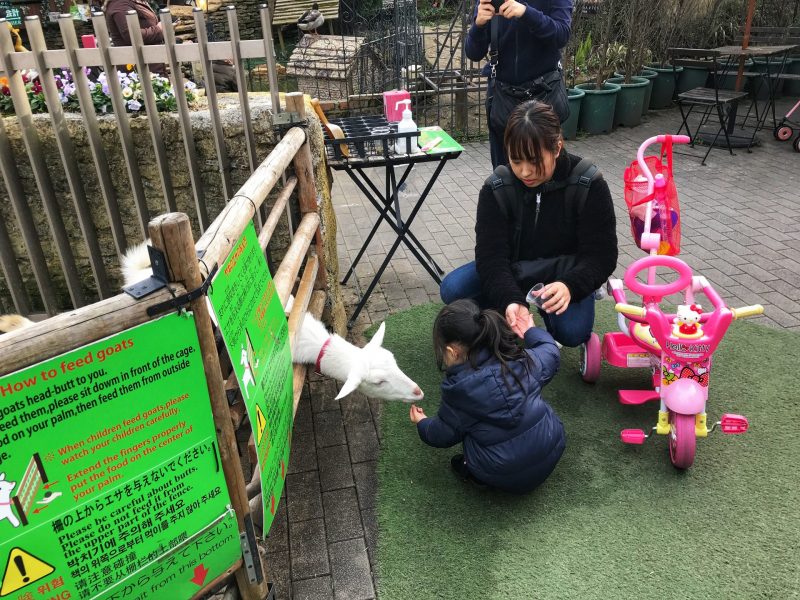 By paying a small fee at ¥100, you can buy the little globes of food that you can feed to the little animal. Kids seem like having their fun time here.
Added, The owl forest and cat cafe are another attraction in Yufuin Floral Village. You can buy a cup of coffee and playing with pussies all day in the cafe. Cat lover don't miss it. Same to enter the owl forest museum for owl encounter, but we decided to skip for it.
What To Eat in Yufuin
A perfect Yufuin travel guide is incomplete without listed on the best food in Yufuin. While wandering around, don't forget to try the small bite and snack. We enjoyed trying food from store to store while strolling around the street, and this is what Japanese called "Tabi aruki".
There are plenty of options and many stores here selling small bites, snacks, drinks, and dairy products. There are a few popular food and must try in Yufuin. We sampled some delicious snacks and had a satisfying food tour in Yufuin.
Here are our recommendations in the Yufuin food guide.
Milch, The Best Cheesecake Shop in Yufuin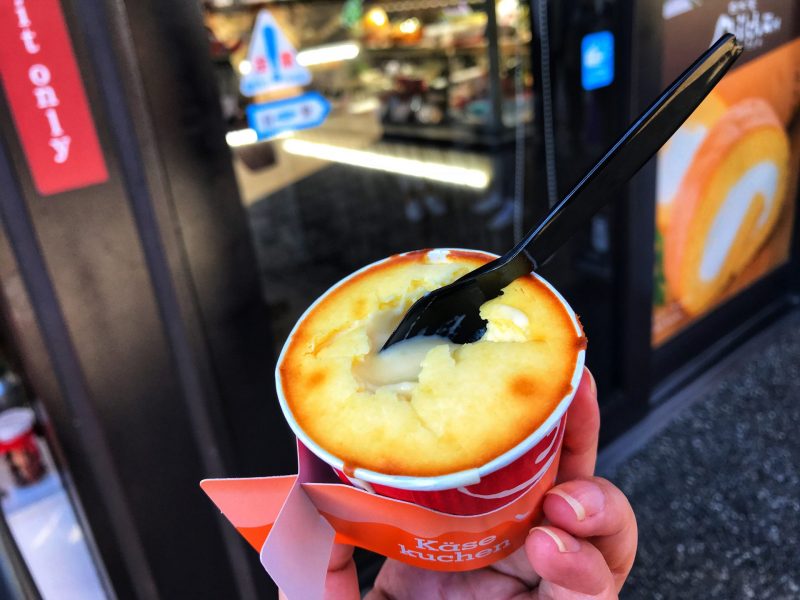 One of the must-try food in Yufuin is the best cheesecake from Milch. We stopped by at Milch which full of tastiest cheesecake scent. With only ¥150, we purchased a small cup of melted cheesecake from Milch. It tastes extremely good, rich and creamy. One of the best cheesecakes I've ever had.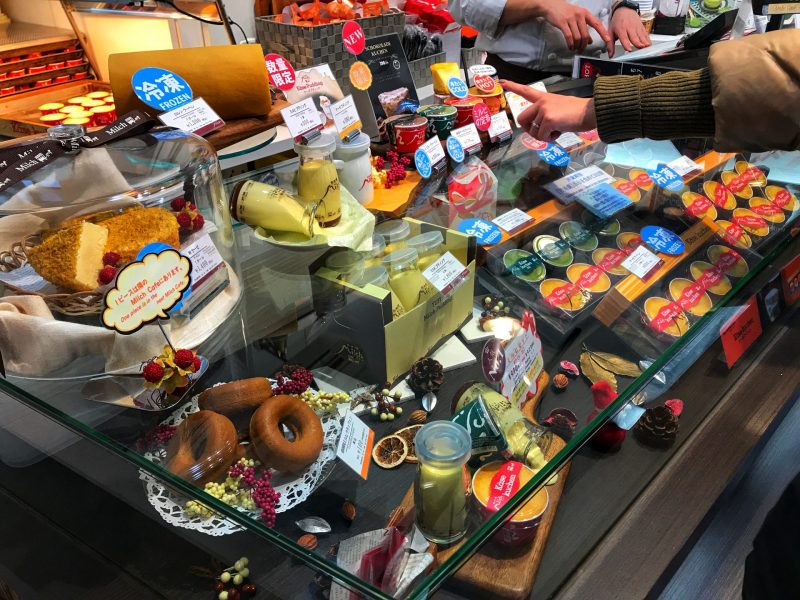 There is plenty of cheese product selling in Milch including hot and cold dessert. Cheese lovers will go crazy for it. Besides the melted cheesecake, cheese pudding also another hot selling item in Milch. Highly recommended.
Famous Korokke from Yufuin Kinshou Store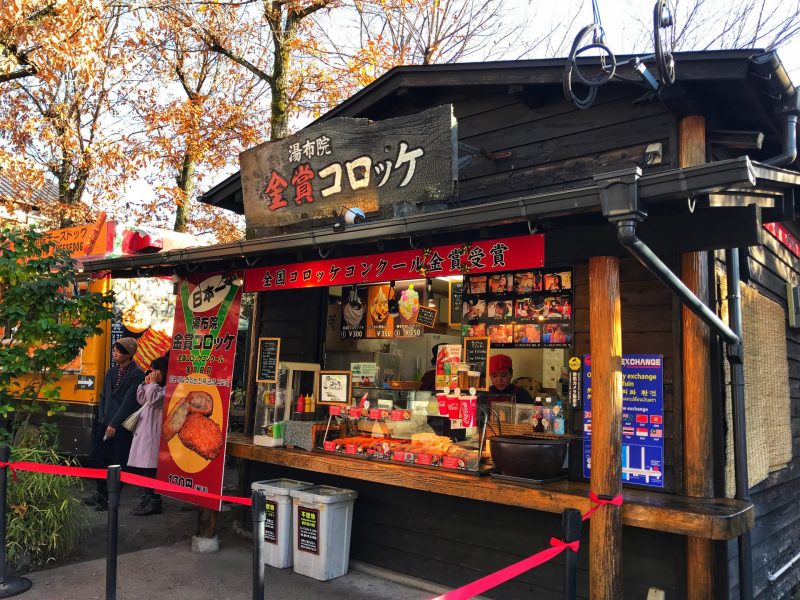 Next, try the freshly fried curry korokke (Japanese croquette) in the Yufuin Kinshou Korokke (金賞コロッケ). It's impossible to miss this food stand, cause there's always a long line waiting to buy this famous korokke. However, the line was clear very fast.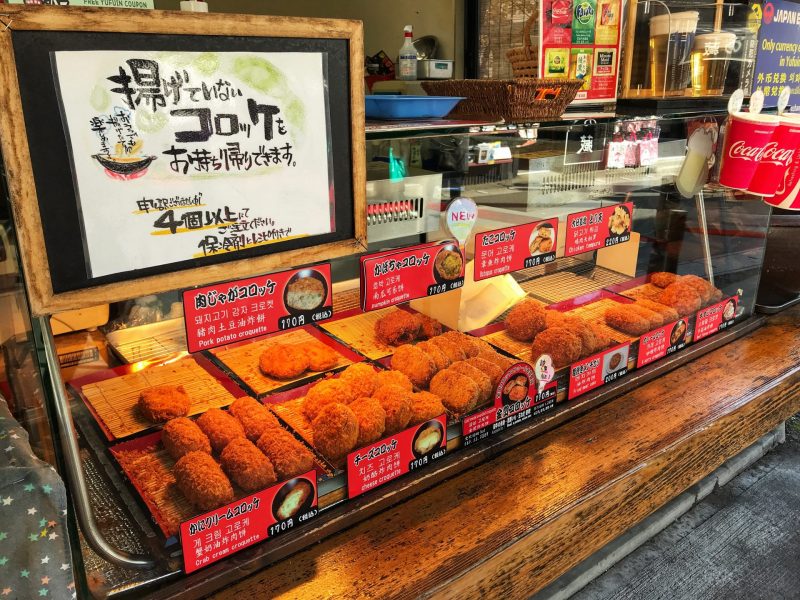 They have many different types of korokke to choose from and each cost less than ¥170. We were head-ache when choosing from different types of korokke. Finally, we bought the beef korokke, highly recommended by friendly staff.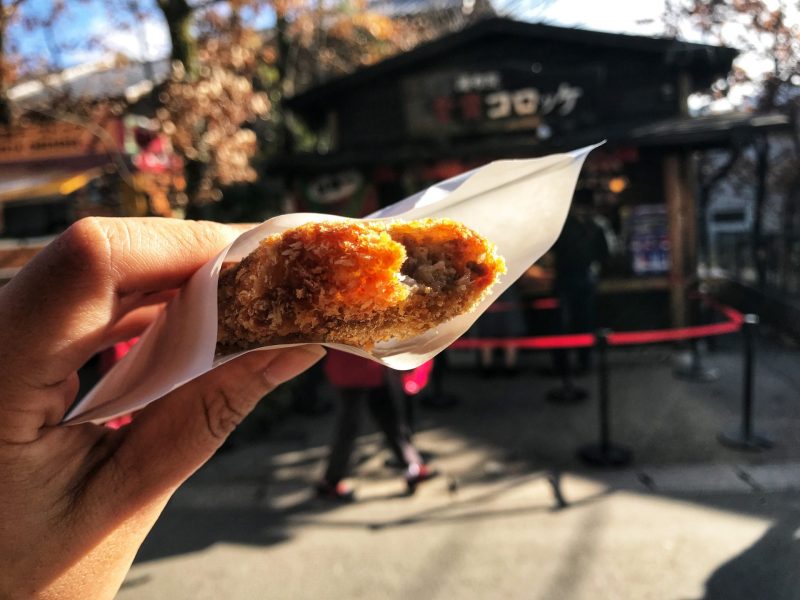 The hot and crispy korokke was made from mix chopped meat, vegetables with mashed potatoes. It does warm up our hearts in cold weather in Yufuin.
Purin Dora from Kikuya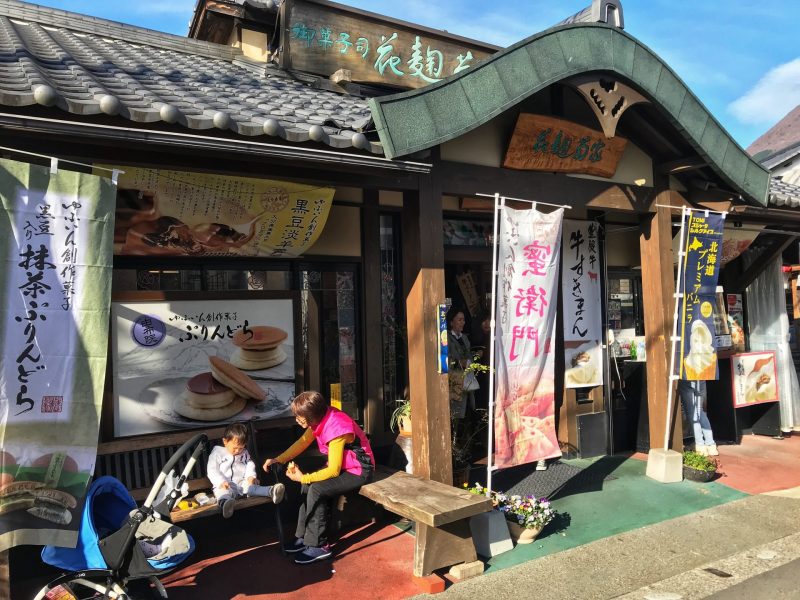 Japan is also very creative when making sweet treats. Another popular snack in Yufuin is the Purin Dora (ぷりんどら) from Kikuya (花麹菊家). The purin dora is made from Japanese custard pudding (purin), sandwiched between two sweet dorayaki. It cost ¥200 for this sweet treat.
If you have a sweet tooth, you will be delighted by this. The buttery caramel puffin is perfectly matching with the fluffy pancake.
Swiss Roll from B-Speak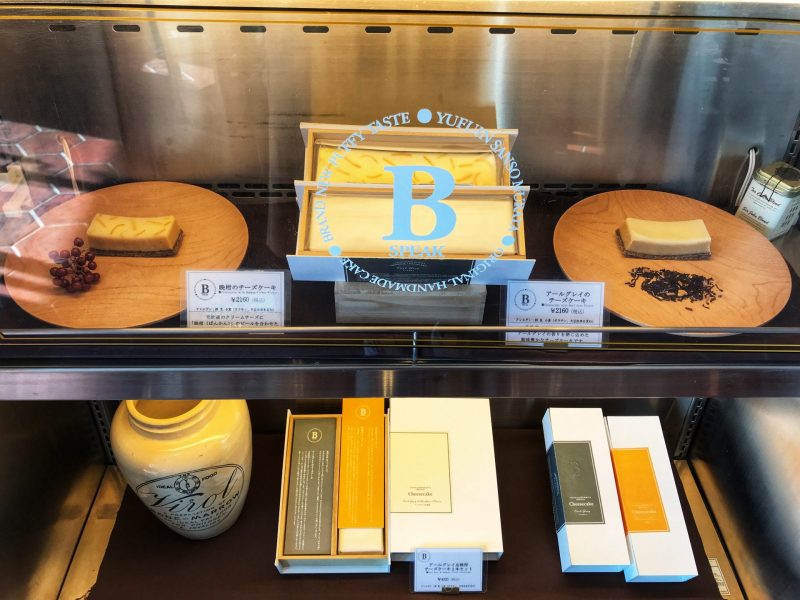 We tried on almost everything in our food list but not the famous Swiss roll cake from B-Speak. This is a very popular dessert shop in Yufuin and their Swiss roll always running fast.
The small pieces usually finish in the early morning once the shop opens. You can opt for the whole cake if you want to try on this popular dessert. We had to give it a miss as we don't want to get the whole cake. There are too many food awaiting us to try on.
Bungo Beef Mabushi From Yufumabushi Shin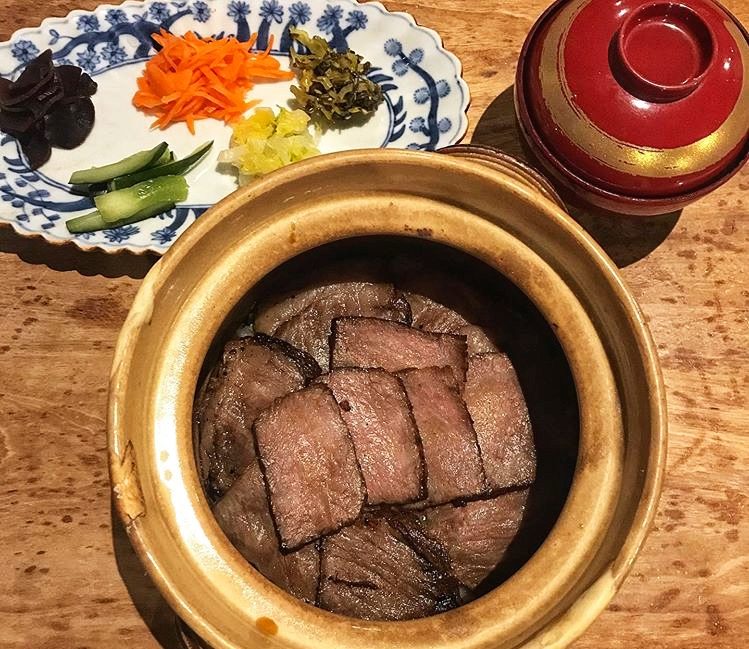 Lastly, on our must eat food in Yufuin is the Yufumabushi Shin (布まぶし 心). The restaurant is popular in Yufuin with a long line always. They served only three types of food, rice topped with chicken, unagi or Bungo beef in ceramic clay pot.
Enjoy your hearty meal in three ways and all very delicious. One of the best meals we tried in Kyushu. There are two branches in Yufuin, one located near Yufuin Station and another nearby Kinrin Lake.
Further reading: Yufumabushi Shin Food Blog, Must Eat Food in Yufuin
Where To Stay
While many visitors are coming to town just to stroll along the street for a day trip in Yufuin. It is even the best idea to spend one night in Yufuin for a leisure trip. Most of the ryokans are hidden from the busy main street and you need to find them out by staying one night in Yufuin.
If you are looking for where to stay in Yufuin, below are the best ryokan and highly rated from visitors:
Yamanohotel Musouen (山のホテル夢想園) probably one of the best ryokan stay in Yufuin. Situated in the hills south of Yufuin Station, Musouen featured with the most beautiful rotenburo (outdoor) in a woman bath where bathers can enjoy the breathtaking Mt Yufu view. However, it located slightly away from town. But you can easily reach there by self-driving or look for a cab from Yufuin station to get there. The rustic and charming ryokan will bring you a lovely experience.
Yufuin Onsen Hinoharu Ryokan (日の春旅館) is another guest's favorite when looking for where to stay in Yufuin. It is Japanese-style accommodations with tatami floor and futon bedding. Situated at the center of Yufuin town with about 15 minutes from the JR Station. The public hot spring and private in house bath are superb. Your stay is welcome by friendly staffs and their kaiseki dinner is truly awesome. Highly recommended by travelers.
Ryokan Yufusan is another great pick for the best stay in Yufuin. The stay will feature with a stunning mountain directly with a private onsen bath from the room. Enjoy your hot spring bath with an amazing view surrounded is priceless. Most importable, the hotel rate is very reasonable with a private bath in the room. The location is slightly away from town but free shuttle bus service provided.
Luggage Storage in Yufuin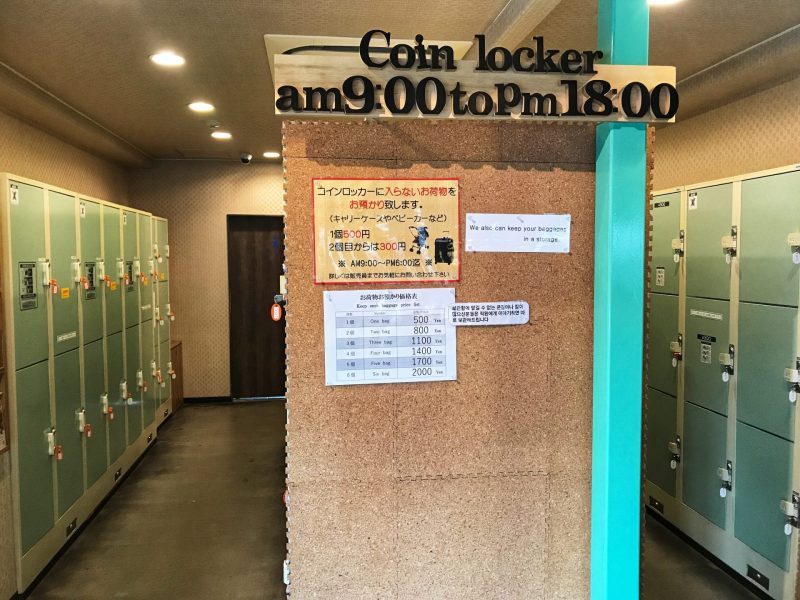 As a popular day-tripper attraction, there are plenty of luggage locket in Yufuin JR Station. You can easily find out the coin luggage inside and outside of the station. We deposited our luggage inside the station once we exited from the train. There is still plenty of it available during our visit. Even if this full, there is also a luggage storage service shop available opposite the station. They even have a luggage delivery service to your accommodation if you want to visit the town before check-in.
Travel Tips For Your Yufuin Itinerary
Last but not least, make sure to read through our quick tips on Yufuin travel guide for your Yufuin itinerary:
The best season to visit Yufuin is during autumn with pleasant weather and sunshine.
Visit early to avoid the crowd. Tour buses and day-tripper arrives in the middle of the day.
Yufuin tends to get quite crowded from noon but return peacefully in the late evening.
Sometimes, the best thing hidden inside the alley.
Book your stay in Yufuin to experience the laid back and idyllic atmosphere in Yufuin.
Make sure your camera is full charges!!!
Yufuin Travel Vlog
At the end of the Yufuin travel guide, feel free to take a 10-minutes video tour of how we spend 3-days in Oita prefecture to Oita, Beppu, Kokonoe and Yufuin. Hope this is helpful on how to plan your itinerary to Yufuin.
If you like our video, don't forget to give us a like and subscribe to us on youtube. Thanks!
Continue Read on:
So that's all for our Yufuin travel blog. We hope this Yufuin travel guide blog helps you plan your trip to Yufuin much easier! This charming town is great to slow down your pace, take a restful walk along the walkway of quaint souvenir shop. We truly enjoyed the moment and food that we tasted in Yufuin. Not the only beautiful place in Kyushu Japan but surely you can find its unique charm in Yufuin. 
If you are are interested in our Kyushu Travel Blogs, you can view them here.