Last updated on September 23rd, 2023
A complete travel guide with things to do in Kumamoto city. My 1-Day Kumamoto itinerary includes what to do and the best food to eat while visiting here.
Situated at the central part on Kyushu island, Kumamoto (熊本) is one of Japan's city known for its stunning historical castle. Although the Kumamoto was hit by an earthquake in 2016, and many of its famous sightseeing attraction was damaged due to the natural disaster. We still decided to plan for a 1-day trip to Kumamoto and make it our first stop when we first arrived in Kyushu. The city is still undergoing extensive repair work especially the castle area. But it is so lovely and worth planning on your itinerary when visiting Kyushu.
If you are planning for the Kumamoto itinerary, this Kumamoto travel blog will help you. You'll find all the best things to do, what to eat and all the useful information you need to know. These useful Kumamoto travel guides include a transportation guide, must eat Kumamto food guide, and best places to stay if you are visiting Kumamoto. Read on my Kumamoto travel blog.
How To Get To Kumamoto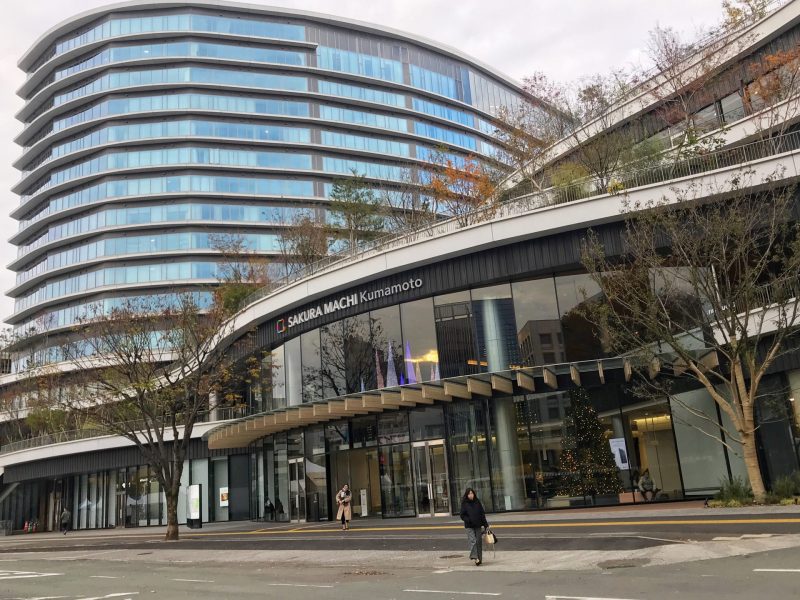 Firstly, depending on what type of transport you choose to get there, Kumamoto is easy to access by flight, shinkansen, train, or even by bus. There are two main stations in the city area. If you are getting to Kumamoto by train, Kumamoto station is your destination. While most highway bus will end their service at Kumamoto Kotsu Cente / Kumamoto Sakuramachi Bus Terminal (熊本桜町バスターミナル) in the city center.
The nearest airport is Kumamoto Airport which located 40 minutes bus ride from the city center. While most of the international travelers are visiting Kumamoto as part of their Kyushu trip from Fukuoka airport. Direct bus service running between Fukuoka airport to Kumamoto. The journey takes about 2 hours at ¥2,280.
Getting to Kumamoto from Fukuoka city (Hakata Station) is the most common traveling route. There are a few ways to get to Kumamoto:
Bullet train Kyushu Shinkansen to Kumamoto Station takes only 47 minutes at ¥4,700
JR train to Kumamoto Station takes about 2 hours at ¥2,800
The highway bus to Kumamoto Sakuramachi Bus Terminal takes about 2 hours at ¥2,280
If you are planning to travel to Kumamoto and nearby by train, consider getting the Kyushu JR Pass (3-Days/5-Days) which will greatly save on the transportation pass. This money-saving transportation pass is valid for foreign visitors only.
Kumamoto Travel Tips:
We recommended to stay nearby Kumamoto Sakuramachi Bus Terminal for easy getting around if you are planning to travel by bus to attractions nearby such as Mt Aso, Takachiho Gorge. The
Dormy Inn Kumamoto Natural Hot Spring
is located in the strategy location with walking distance from Kumamoto Bus Station. In-house public bath, complementary ramen for supper, excellent service and great value for money. Popular pick in Kumamoto.
Getting Around in Kumamoto City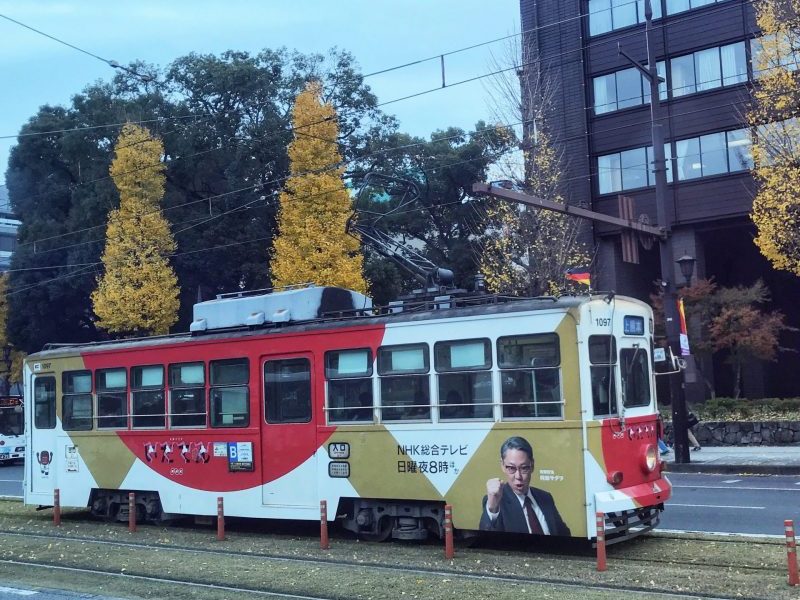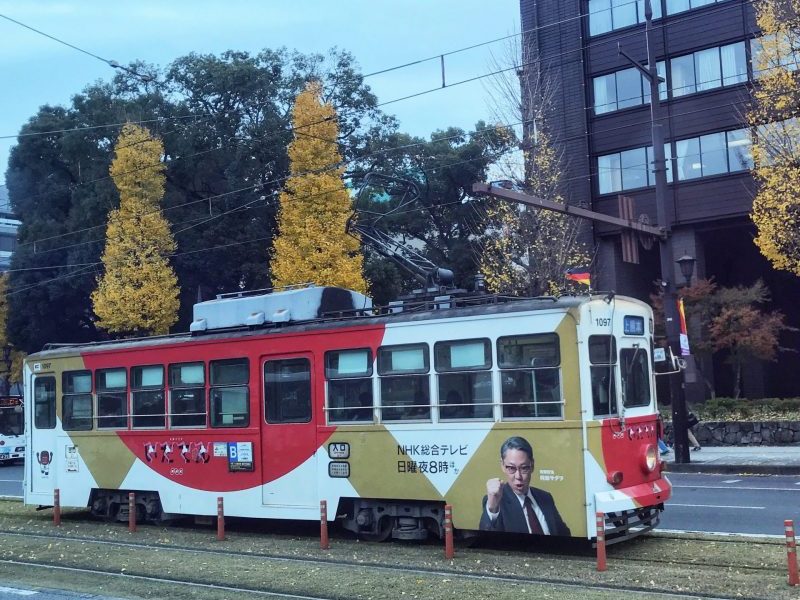 There are two tram lines and city buses running in Kumamoto. A single ride on the tram cost at flat ¥170 while one day pass costs 500 yen. If your Kumamoto itinerary use for at least 3 rides, consider purchasing the one day tram pass for easy getting around. Otherwise, it is also very convenient to use the SUICA, ICOCA, and other Japanese transportation IC cards or even cash when getting to the tram.
From Kumamoto station to the city center required about 10 minutes by tram or bus. Once you are in the central area, most of the things to do and must-visit attraction can be access by walking.
1-Day Kumamoto Itinerary
During our 1-Day Kumamoto itinerary, we visited Kumamoto castle and explore it for an entire day in the city area. We spend time exploring the Kumamoto Castle, meet the national character Kumamon, and taste the mouth-watering must eat famous food in Kumamoto.
1-Day Kumamoto itinerary:
Arrive Kumamoto. Taste the Kumamoto local Specialties (1-2 hours)
Visit Kumamoto Castle (1-2 hours)
Wandering around in Sakuranobaba Johsaien (1 hour)
Ride the Kumamoto Shiden
Meet the iconic Kumamon in alive (1 hour)
Aerial view on Kumamoto city at City Hall (30 minutes to 1 hour)
Shopping in Shimotori Shopping Arcade (1-2 hours)
Taste the Kumamoto Local Specialties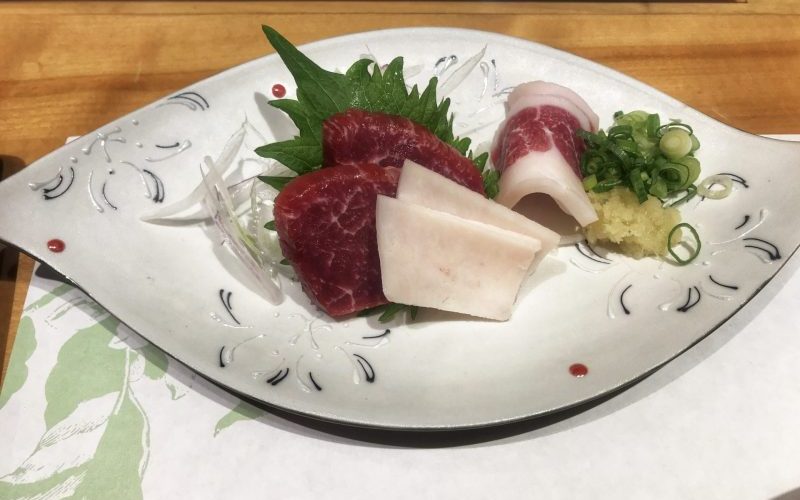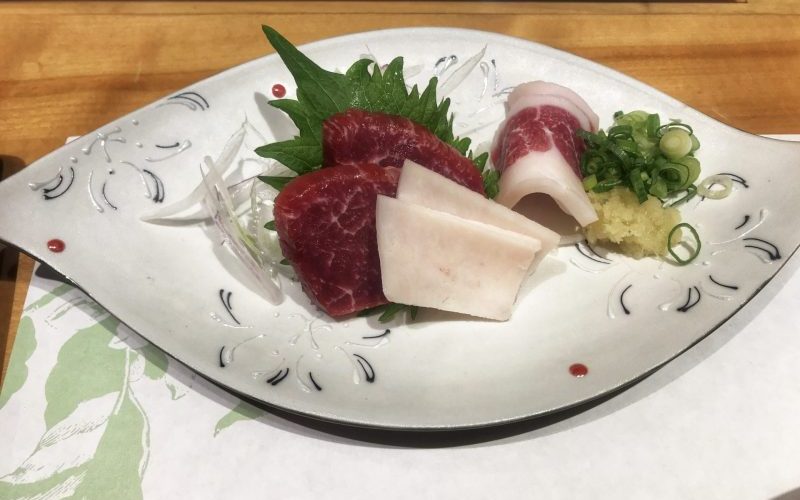 We first headed for lunch once check-in to our accommodation in Kumamoto. The Kumamoto Nest Hotel located just beside the Sakuramachi Bus Terminal. The strategic location will greatly save us a lot of time and energy as we will traveling to nearby attractions by bus.
Basashi so-called the horse meat sashimi is one of the local specialties in Kumamoto. We visited the Suganoya, best restaurant in Kumamoto serving the delicious basashi. It is also one of the must-try food in Kumamamoto and highly recommended by locals.
Suganoya (菅乃屋) provides a variety of horse meat dishes such as sashimi, sushi, pot dishes, roasted horse meat, and lunch course meal. They serve different cut of parts in various cooking methods. And the best-processed meat is served in sashimi. We ordered the lunch course meal to taste on the delicious horse meat. Surprisingly, horse meat is juicy and tender. It taste good and delicious. We highly recommended tasting on this local specialties in Kumamoto.
Visit Kumamoto Castle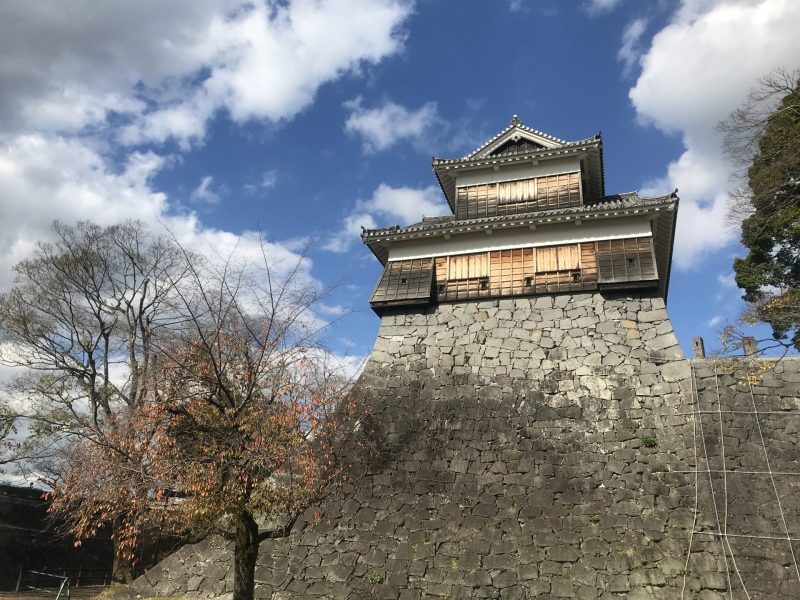 The Kumamoto Castle (熊本城, Kumamotojō) is one of the three most impressive and extremely well-fortified castle complex in Japan. Build since the early 1600s and took about 7 years to construct the castle building. The Kumamoto castle features a variety of historical buildings with large castle grounds and surroundings.
The castle consists of two towers: a six stories main tower and a smaller four stories tower. One of the unique attractions of Kumamoto Castle is the reconstruction of Honmaru Goten Palace by using original material and methods. Visitors can view on its glamour building and display. The whole castle surrounding also features with impressive stone walls and moats, as well as several turrets and storehouses.
umamoto Castle probably the top attraction in the Kumamoto. Sadly is the castle encounter severely damaged due to earthquakes in 2016. Most of the building are badly impacted. It required many years of repairing work to reconstruct back to its original. During the renovated period, no entrance ticket required to view on the spectacular Kumamoto Castle.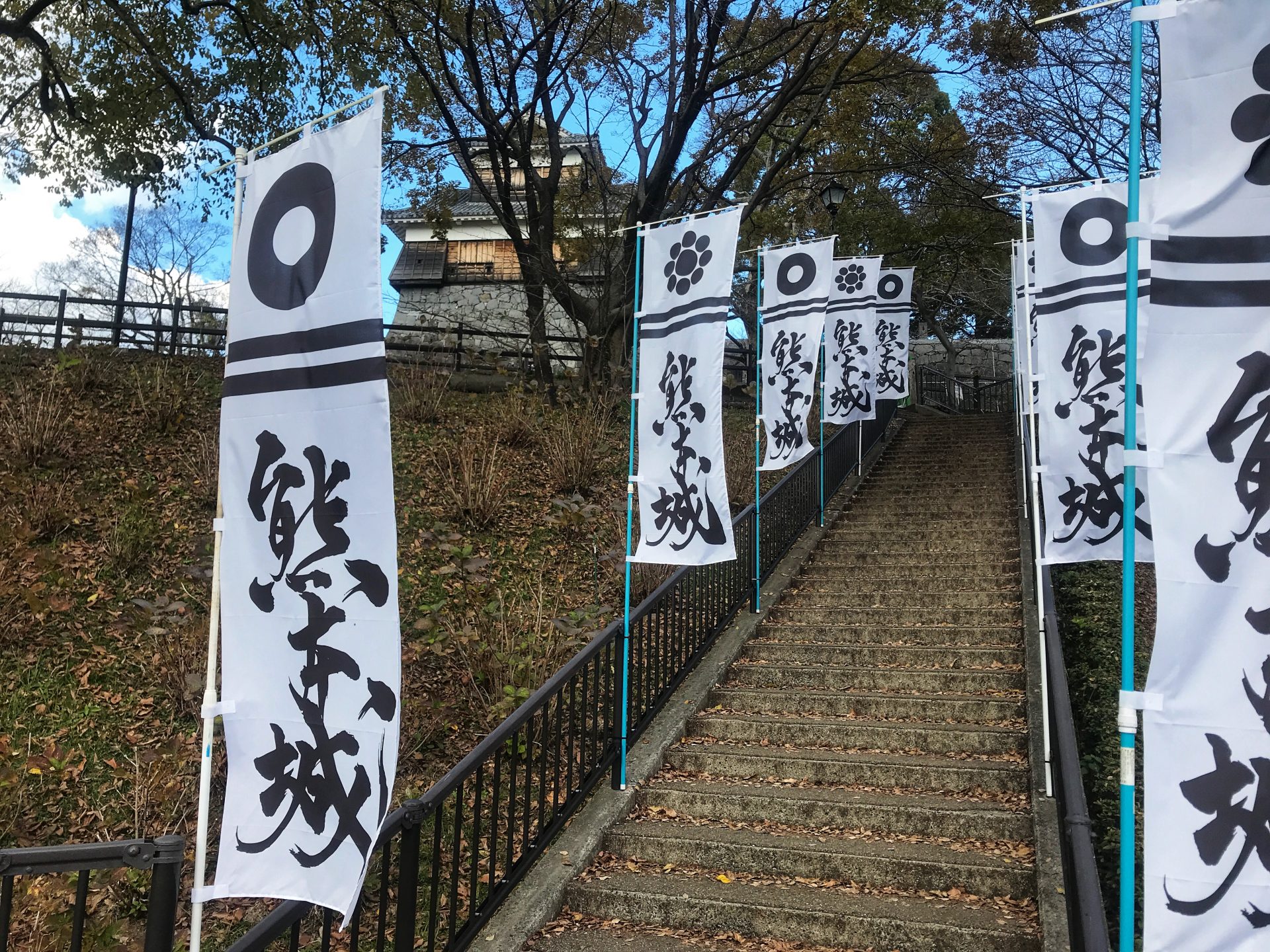 During our visit, we were so lucky to join the Kumamoto Castle's Grand Unveiling since October 2019. Many areas are still close for repairing and most of the building are close for visit. But the inner ground is now partly open for visitors after partial of repairing work completed. We were able to get closer and take the photographs of this impressive castle building. Don't miss the chance to view on the re-open Kumamoto Castle if you are visiting here. The whole castle complex is very big. Estimate to spend about 2 hours to visit the castle area.
Wandering Around Sakuranobaba Johsaien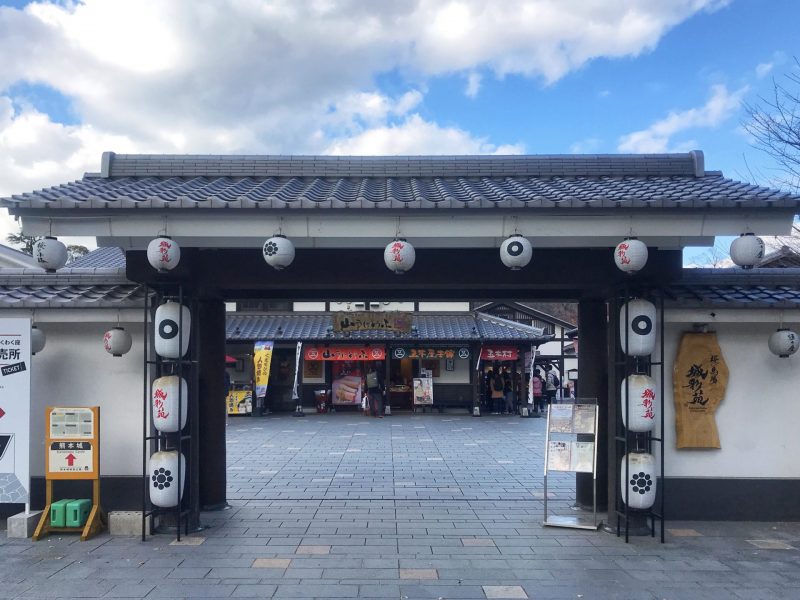 Located just 200 meters from the castle entrance, Sakuranobaba Johsaien (桜の馬場城彩苑) is a street revived of old castle town. It is full of the traditional atmosphere of the old streets of Japan. Visitors can experience the Kumamoto's history and culture while walking along the street. More than 20 shops, selling local specialties and souvenirs of Kumamon.
There is a place called Wakuwakuza, a little mini-museum where you learn about Kumamoto's history and try some unique costumes. If you are coming at the right time, there are also Samurai performance show to entertain visitors. Too bad we did not come at the right time.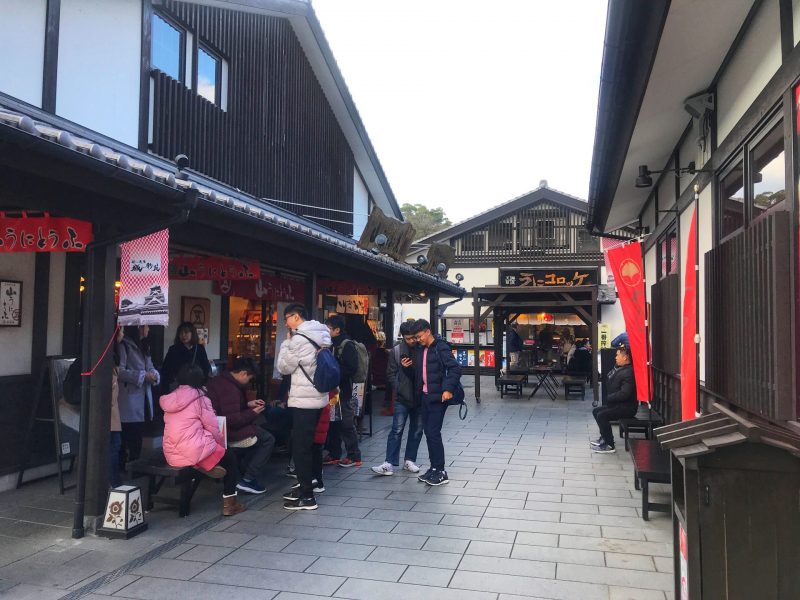 It's a very interesting place if you want to take a look at the old Japanese Edo period. Take some rest and snack before or after the castle visit. We just simply wandering around after back from the castle area. Free shuttle bus service provided that goes around the castle ground.
Sakuranobaba Johsaien
Address: 1-1-1 Ninomaru, Chuo Ward, Kumamoto
Opening hours: Weekday from 0900 to 1900 while weekend from 0900 to 2000
Ride The Kumamoto Shiden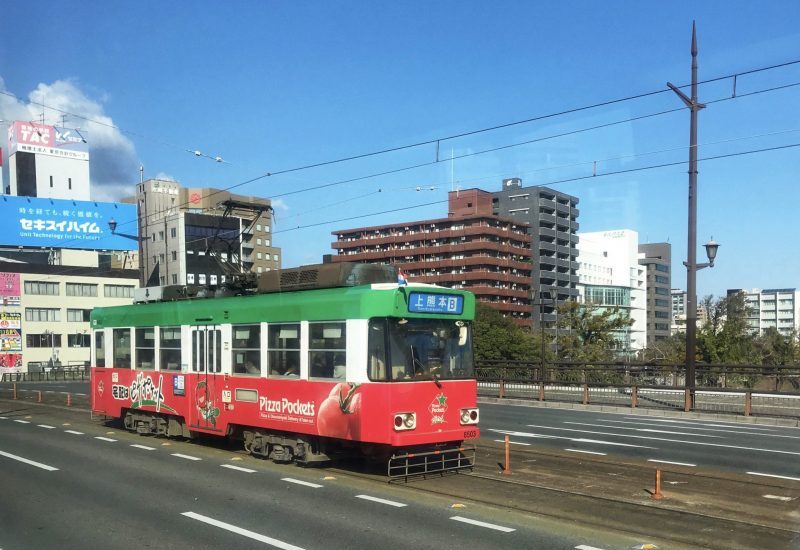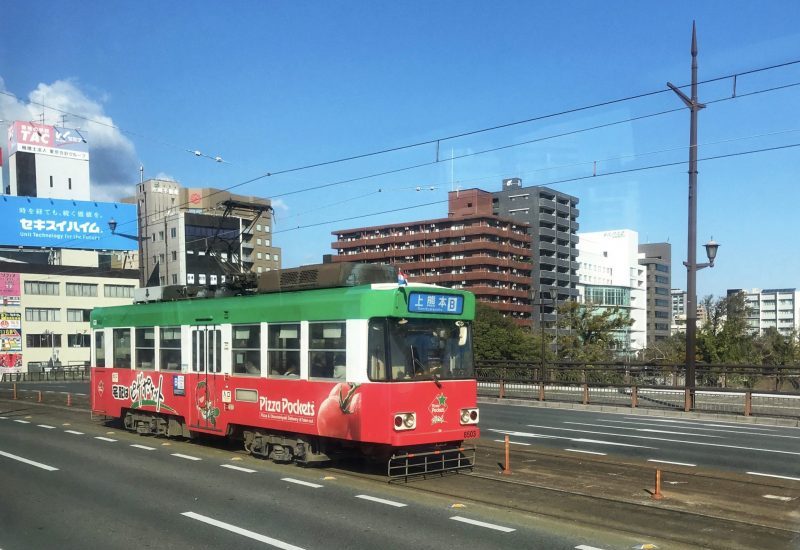 One of the most convenient ways to travel from Kumamoto station to the downtown area. The tram stops almost every point of interest in the city area. A good experience for riding on Kumamoto Shiden to see the locals, street scenes and surrounding area.
All the streetcar are in different models, age and color schemes. It costs just ¥ 170 for each ride regardless of distance. And you plan to take more than 3 rides, getting a day pass is more sensible. Simply get on and off anytime that you want. The best way to traveling around the city area.
Meet The Kumamon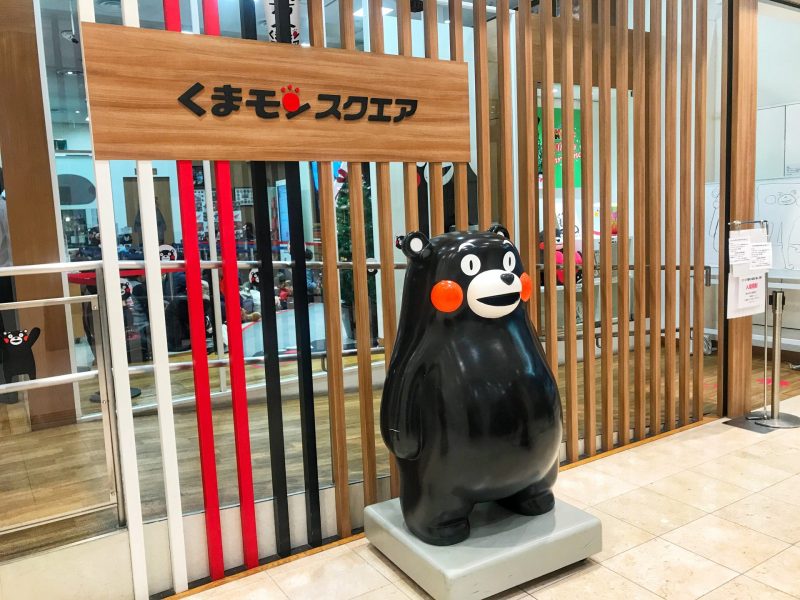 One of the popular family activities when visiting Kumamoto is to meet the famous iconic mascot, Kumamon in alive. The real Kumamon will come to appear on the square with dance and performance. For sure kids will thoroughly enjoy the show.
We pay a visit to Kumamon's office located on the ground floor of the Tsuraya Department store. It consists of a small souvenir store, a mini auditorium and an office. You may spot Kumamon with performance if coming at the right time. So remember to check his schedule online to find out what time will he be in the office. It is a great experience to see Kumamon performing for 30 minutes in person.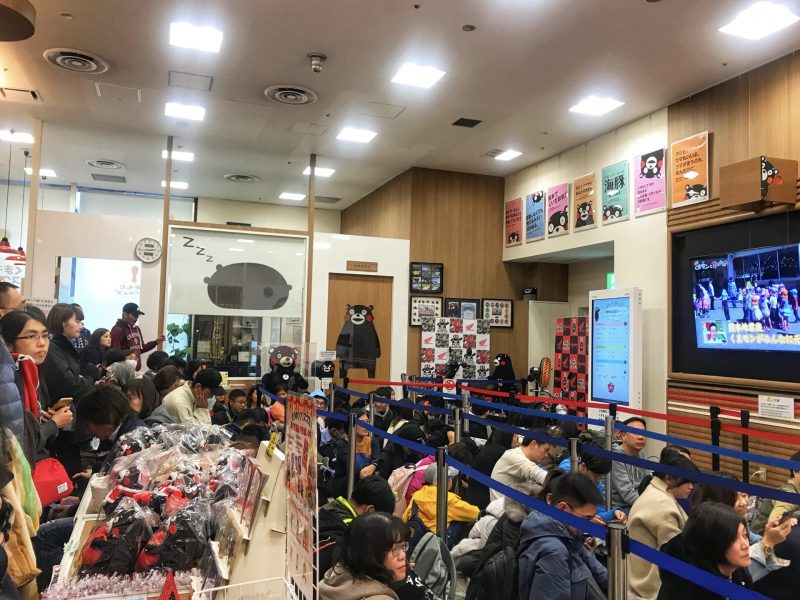 We were not fans of Kumamon but went there out of curiosity since Kumamon seems to be popular. We arrived 30 minutes before the show. Surprisingly the Kumamon Square was packed with tourists and kids even at weekday. The entrance was close when the seat was full. So remember to come early if you want to watch the show.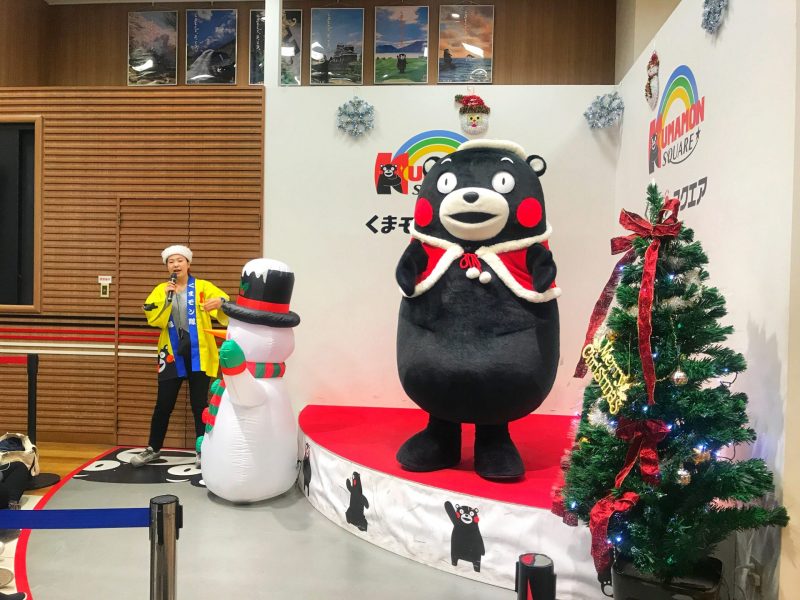 We were sort of fantasized when entered. Lots of Kumamon related merchandise were sold there. The Kumamon is coming for performance on time. He is full of energy with lots of personality. It is a funny scene when Kumamon was performing. Although the show is speaking in Japanese, you still can feel the atmosphere and everyone's enthusiasm during performance. At the end of the show, we all fall in love with this cute mascot.
Kumamon's Office
Address: 8-2 Tetorihoncho, Chuo-ku ( 1F of Tsuraya Department Store)
Opening hours: Daily from 1000 to 1900
Website: http://www.kumamon-sq.jp/
Aerial View on Kumamoto City from City Hall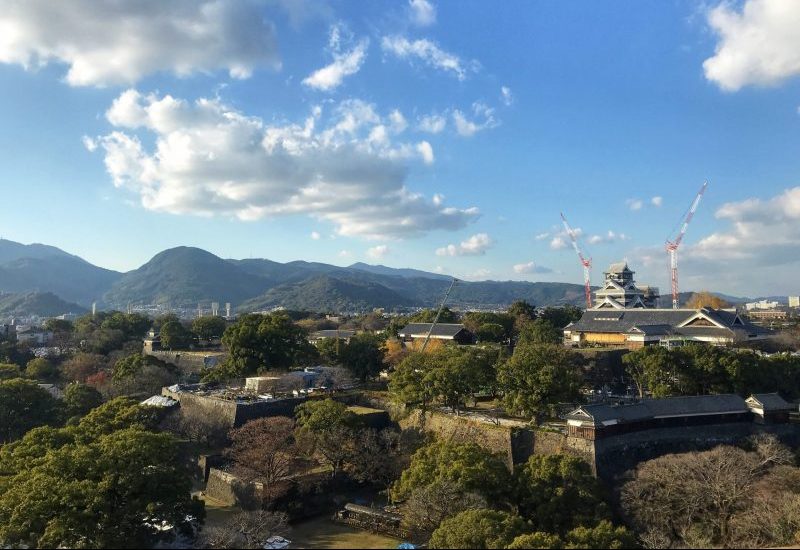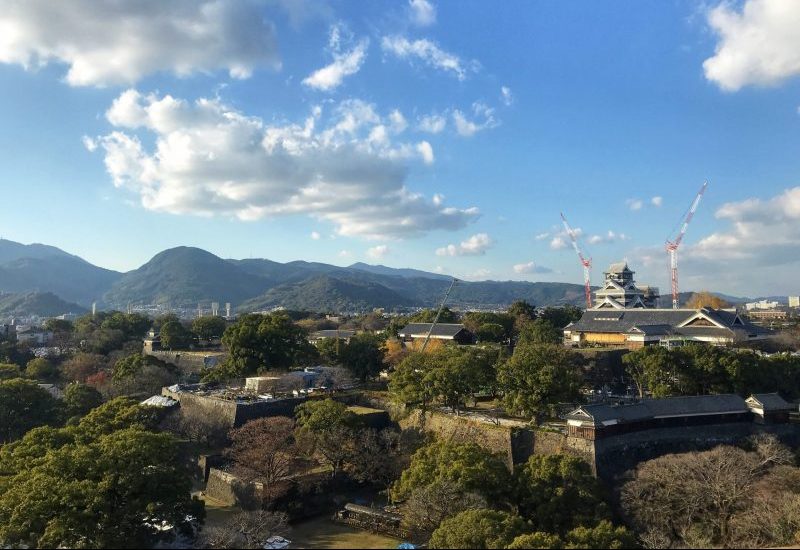 Next, we proceeded to Kumamoto City Hall to get some aerial views. This City Hall is a government building and not a tourist spot. But, it is free to enter and the best place for photo opportunities. We get to the observation deck on the 14th floor. From there, we take a lookout over the castle and downtown area for spectacular views on the city.
We spend about 30 minutes to have a full view of the city before proceed to the next destination.
Kumamoto City Hall
Address: 1-1, Tetorihon-cho, Chuo-ku, Kumamoto-shi
Opening hours: Weekday from 0830 to 2200 while weekend and holiday from 0900 to 2200
Shopping at Shimotori Shopping Arcade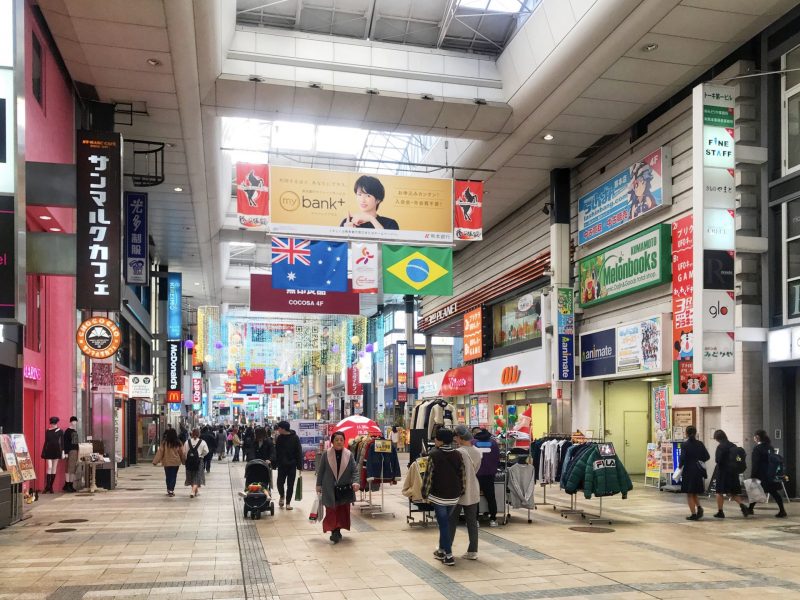 Next, we spend the rest of our day wandering around in Shimotori shopping street. It is the most lively area in Kumamoto with countless shops and restaurants in the busy shopping street. Here you can find discount pharmacies, cosmetics, souvenirs, electronics and household shops along the street. The popular Japan's brand such as MUJI, GU, Uniqlo can be also found in the department store. Besides, there are also sushi bars, izakaya, ramen shops and Japanese-styled restaurants for food and drink.
Alternatively, you can also enjoy a cup of coffee and dessert at one of the cafes in Shimotori street.
Kumamoto Food Guide: What To Eat in Kumamoto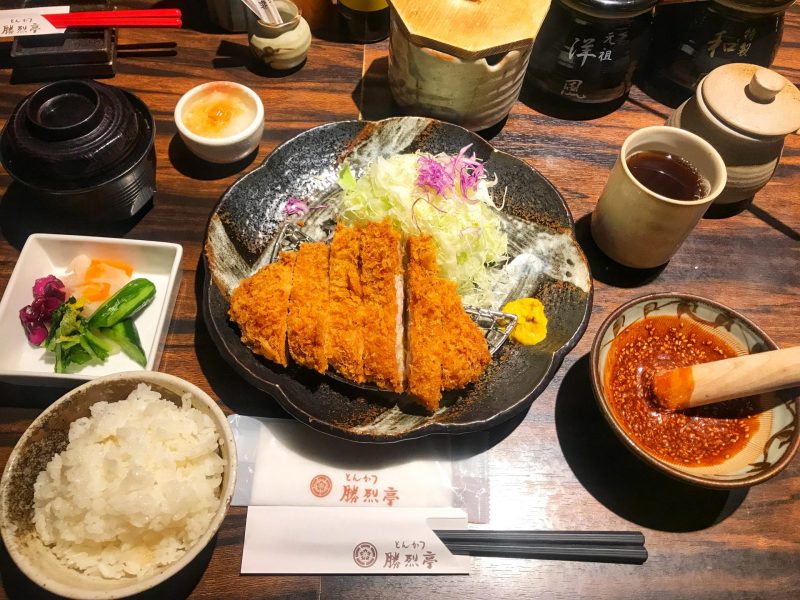 Most of the best food in Kumamoto is located at the Shimotori shopping street which nearby the Kumamoto Castle. There are many famous food and local specialties to eat in Kumamoto. If you are looking for what to eat in Kumamoto, here are a few recommendation food to try on.
Kumamoto Ramen
Basashi, or horse meat sashimi
Extra Thick Tonkatsu
Taipiien (Vermicelli Soup)
Local snack food: Horaku manju (Japanese cake)
Besides, we have listed the Kumamoto Food Guide: What To Eat in Kumamoto for all the best food that we try during our visit. Read on if you are looking at what to eat in Kumamoto. We tried the horse meal in Suganoya Kumamoto and had the best tonkatsu ever at Katsuretsutei. Read on our Kumamoto food review here:
Accommodation Guide: Where To Stay in Kumamoto
Looking for the best hotel and area for where to stay in Kumamoto? Due to its strategic location and transport accessibility, Kumamoto is a great base for visitors to plan for a day trip to Aso, Takachiho Gorge, or Kurokawa Onsen. If you are planning for traveling attractions mentioned, the best place to stay in Kumamoto is nearby the train or bus station. Our major transportation to Kumamoto is by bus. So we decided to stay nearby the Kumamoto Sakuramachi Bus Terminal. It is also a lively urban area with good food and sightseeing attraction within walking distance.
Dormy Inn Kumamoto Natural Hot Spring strategic located just in front of the Kumamoto Bus Terminal. The Kumamoto castle and shopping street are located nearby within walking distance. The in-hotel onsen with a public bath can be enjoyed for hotel guests. Complimentary ramen and free beer at night which is great. Added, there is a free shuttle service from Kumamoto Station to the hotel with reservation required. One of the best picks for where to stay in Kumamoto.
Next, Nest Hotel is another great choice for the traveler who stays nearby the Sakuramachi Bus Terminal with only 1 minutes walk. So it is a great choice for travelers who plan to travel by bus to nearby attractions. The room is all your need with a comfortable bed with friendly staff supported.
While Mitsui Garden Hotel is another top pick for travelers when visiting Kumamoto. It is is a 5-minute walk from Sakuramachi Bus Terminal and centrally located at the city center. Easy access to top attractions in the city and the best food nearby. A clean and tiny room with all the amenities you need. Free parking also provided for hotel guests.
Besides, for budget travelers, consider taking a look at the Hotel The Gate Kumamoto which located nearby the JR train station. It featured a single room and dormitory bed for a solo traveler, a twin and a double room for a couple, and even a triple room. Everything is well organized with attentive staff ready to help.
Kumamoto Travel Tips
What is Kumamoto known for?
Kumamoto is famous for Kumamoto Castle, the top three premier castles in Japan, and also Suizenji Park, one of the three most famous gardens in Japan.
How do you get around Kumamoto?
The easiest way to get around Kumamoto City is by streetcar which provides convenient access between Kumamoto station and major attractions. Two tram lines running through the city with ¥170 flat rate per ride
What To Do in Kumamoto For 1 Day?
If you only have limited time to plan for a 1-Day Kumamoto itinerary, we recommended visiting the Kumamoto Castle, go for a stroll at Suizenji-jojuen, wandering around Sakuranobaba Johsaien and Shimotori Shopping Arcade.
What To Do in Kumamoto For 2 Day?
If you have more time, it is best to plan to visit the nearby attraction from Kumamoto such as Mt Aso, Kurokawa Onsen and even Takachiho Gorge in Miyazaki.
Kumamoto Travel Guide Vlog
For a quick idea on how to plan for your Kumamoto itinerary, take a 7-minutes video tour of how we spend 4-days in Kumamoto prefecture to Kumamoto city, Takachiho Gorge (Miyazaki), Aso, and Kurokawa Onsen.
If you like our video, don't forget to give us a like and subscribe to us on youtube. Thanks!
Overview: Planning on Kumamoto Itinerary
In short, Kumamoto is an amazing place to visit if you are planning for your Kyushu itinerary. We only spend the entire for 1-Day Kumamoto itinerary and visited the city area. But there are still many wonderful things to do in Kumamoto Prefecture. We spend time and visited Aso, Kurokawa Onsen which located 2 hours of traveling time from Kumamoto. Added, Takachiho George also can be convenient access by highway bus from Kumamoto.
Lastly, don't forget to continue read on our travel blog after visiting those amazing places in Kumamoto. Happy travel and enjoy your trip!
A complete Kyushu Travel Guide: How To Plan Your Kyushu itinerary