Last updated on September 23rd, 2023
Having spent an amazing time to Kumamoto, Mount Aso, Kurokawa Onsen, Takachiho Gorge, Miyazaki, and Beppu. My Kyushu SunQ Pass itinerary to central and Southern region Kyushu with bus included.
Being the third-largest island of Japan, Kyushu has many interesting places and top attractions awaiting to explore. Nowadays, Kyushu gain its popularity with many direct international flights from various of budget airline. Moreover, domestic and shinkansen also very convenient to get to Kyushu from other cities in Japan. Thanks to the low-cost carrier airline, we managed to grab the cheap flight ticket to Fukuoka.
This Kyushu SunQ Pass itinerary will focus on the quaint scenery in the central and southern region of Kyushu. We visited Kumamoto, Mount Aso, Kurokawa onsen in Kumamoto prefecture. Added, we further our trip to Takachiho gorge and Miyazaki for the mystic methodology sightseeing attractions. Next, we spend time in Beppu for the wonderful hot spring attractions before get back to Fukuoka.
Want to know more? Continue read on our Kyushu itinerary.
Planning on Kyushu SunQ Pass Itinerary By Bus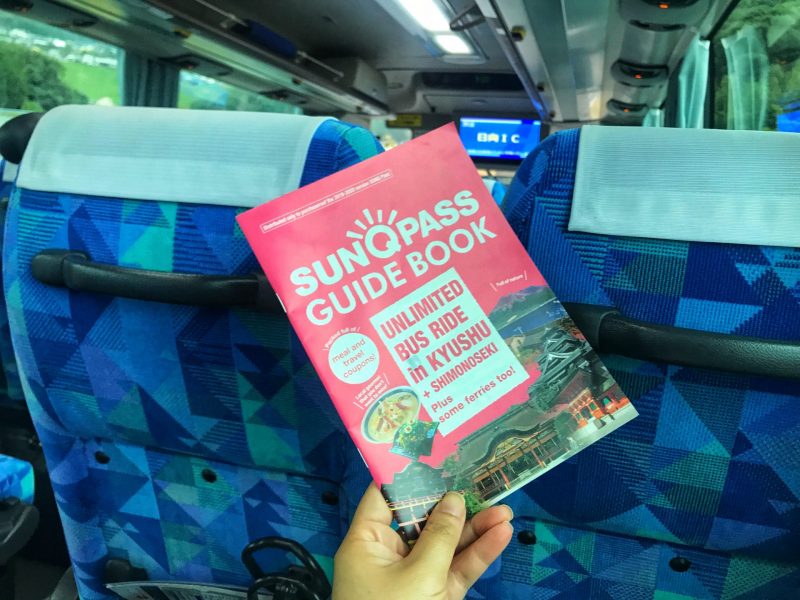 Again, Kyushu is huge and major cities are well connected with rail systems. But this time, my friend and I decided to visit the central region of Kyushu. Most of these hidden gems are located in the forested area and only can access by self-driving or buses. We original plan for self-driving Kyushu itinerary and everything was well plan. Unfortunately, we had some issues before the trip. So end up our trip was re-arrange by using a public bus. But we found out traveling in Kyushu by bus is very easy and convenient. Moreover, we have fully utilized the SunQ Pass which greatly save on a lot of transport fees.
We had covered many exciting places within the Kyushu itinerary. But we had to sacrifice visiting Kagoshima since it isn't convenient as we planned to visited the central part of Kyushu by bus using SunQ Pass. Feel free to read through our Kyushu itinerary and adjust based on your interest.
SunQ Unlimited Bus Pass (Check for usage from Official SunQ Website)
All Kyushu 3-Days (¥11,000) and 4-Days Pass (¥14,000)
Northern Kyushu 3-Days Pass (¥9,000)
Southern Kyushu 3-Days Pass (¥8,000)
Almost 99% of Kyushu buses are covered with SunQ Pass. The only note is to select either Northern, Southern or All Kyushu SunQ Pass for your traveling route.
Take note that the highway bus is required for booking. We have also documented how to reserve your seat ticket by bus. Check it out if you need more information.
7-Days Kyushu SunQ Pass Itinerary
Here is my Kyushu SunQ Pass itinerary, focusing on the central and southern region in Kyushu:
Day 1: Arrive Kyushu via Fukuoka International Airport. Kumamoto
Day 2: Aso (Mount Aso and Kusasenri)
Day 3: Kurokawa Onsen
Day 4: Takachiho Gorge
Day 5: Miyazaki (Aoshima Island, Udo Jingu Shrine, Sun Messe Nichinan, Obi castle Town)
Day 6: Beppu (Umi Jigoku, Chinoike Jigoku, Myoban Onsen)
Day 7: Beppu – Fukuoka. Goodbye to Kyushu.
Take note that Kumamoto, Aso, Kurokawa onsen and Beppu actually belong to Northern Kyushu. While Miyazaki and Takachiho Gorge belongs to Southern Kyushu.
Day 1: Arrive at Kyushu – Kumamoto
When getting to Kyushu by air, it is important to have an idea on the airport and surroundings. Fukuoka Airport has two terminal which is domestic and international building. The domestic terminal is connected to the city with less than 10 minutes of subway. While free shuttle bus service will connect between international and domestic buildings frequently.
We did not went to Fukuoka city. Instead, we choose to take the highway bus from Fukuoka Airport to Kumamoto directly.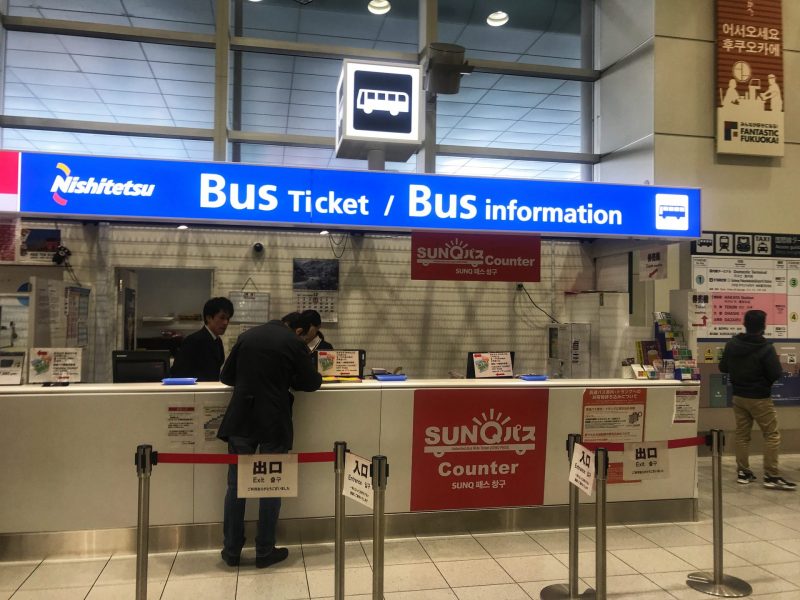 Fukuoka International Airport is not too big. You can pick up all the travel essentials in the airport. We advise you to pre-book and get your travel essential once arrival.
Stay connected with WiFi/4G: Pre-order and picked up the unlimited Wifi router or 4G Sim Card at the airport. This will help you stay connected with your travel buddies and let you navigate easily. It is also cheaper if you booked it in advance.
If you are planning for self-driving, the rental car counter is located at the same floor. Book your rental car before the trip and pick up at Fukuoka Airport. Remember to compare various rental car companies for the best deal from RentalCars.com.
Transport Pass: Pick up SunQ unlimited Bus Pass and activate it. You can also take your seat ticket at the bus service counter.
Once everything ready, we were good to go!
The Reconstruction of Kumamoto Castle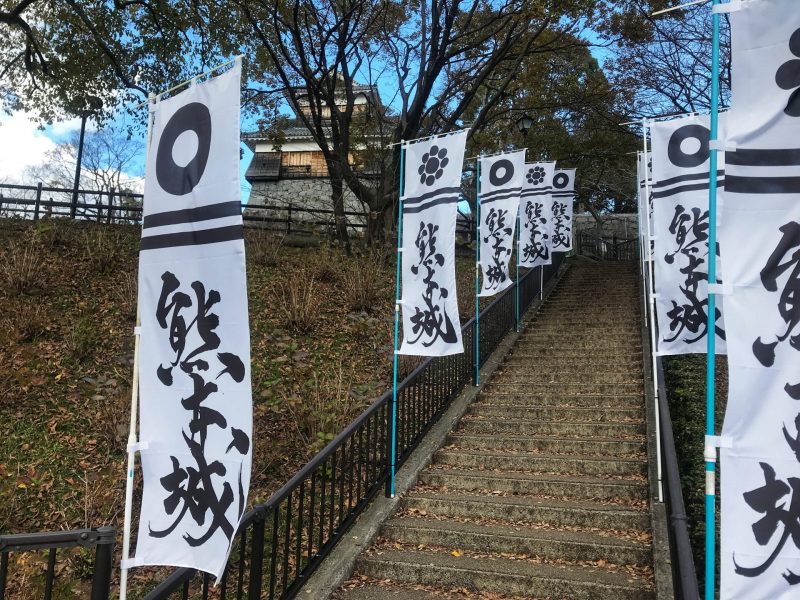 From Fukuoka Airport, we headed to Kumamoto by highway bus. The journey took us about 2 hours to reach the Sakuramachi Bus Terminal, the main bus hub in Kumamoto. We dropped our luggage at the Nest Hotel Kumamoto which located just beside the Sakuramachi Bus Terminal. The strategic location will ease our transport arrangement for the coming few days.
Next, we spend time getting acquainted with Kumamoto city. One of the must-visit attraction in Kumamoto is the Kumamoto Castle (熊本城, Kumamotojō). Unfortunately, Kumamoto was hit by the earthquake in 2016 and causing heavy damage in the natural disaster. The main attraction, Kumamoto Castle also badly damaged and the reconstruction work may take 20 years to rebuild to its original. But some of the areas are open for viewing. It is still worth spending some time to take a look at the surrounded castle without a ticket.
The Sakuranobaba Johsaien, located 200 meters from the castle, consists of plenty of shops selling souvenirs, snacks, desserts and more. Take some rest after the castle visit.
Kumamon Performance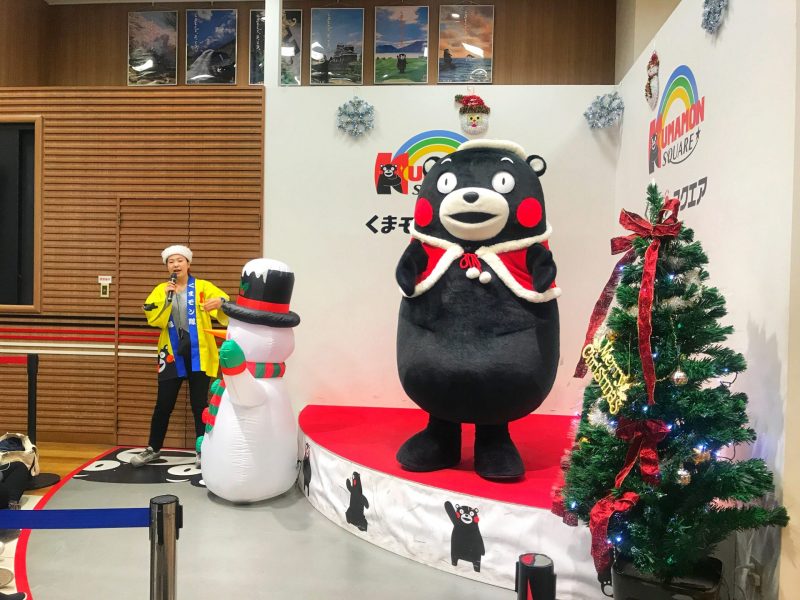 Next, we walked to the Tsuraya department store to meet with Kumamon, the famous iconic Kumamoto mascot. If you are coming to his office hour, you may see the Kumamon in alive with dance performance. Many kids and even adults have enjoyed the show and entertained by its funny performance.
In the late afternoon, we also went to Kumamoto city hall to get an aerial view of the entire city. And then we spend our time in the Shimotori Shopping Arcade.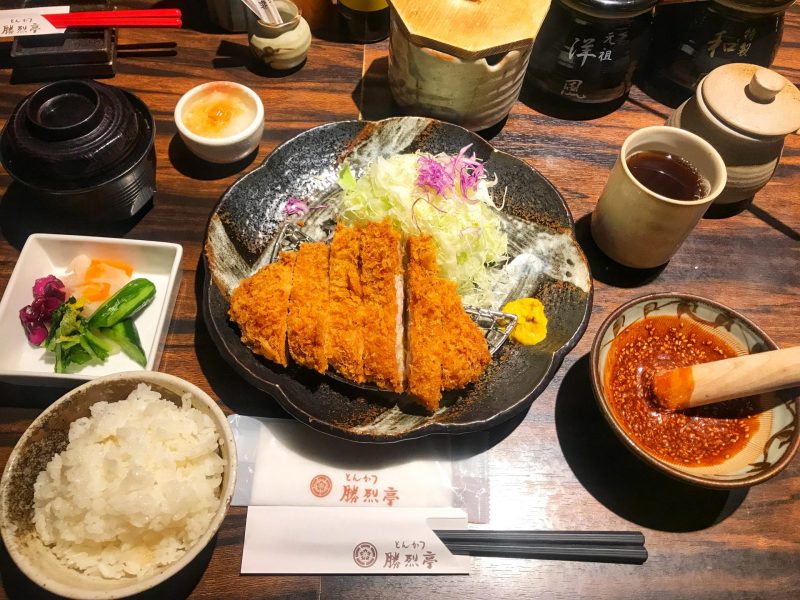 When visiting Kumamoto, don't forget to taste delicious local food in Kumamoto. The popular Kumamoto ramen, basashi (horse meat sashimi) and extra thick Tonkatsu are must eat food in Kumamoto.
Kumamoto city is not too big and doable for a day trip from Fukuoka. The bullet train, shinkansen take only 30 minutes from Hakata station to the JR station. Added, it is also a good base to plan for road trip tour to Mount Aso, Kurokawa Onsen, and Takachiho Gorge.
We did not pack too many things to do for our first day. We spend more time wandering around and have a good rest after the tiring flight. Depend on your Kyushu itinerary, you can best pick what you want to see and then adjust to your planning.
Where To Eat: We had basashi at Suganoya for lunch and tonkatsu from Katsuretsutei for dinner.
Where We Stayed: Nest Hotel Kumamoto. Approximate 2-mins walk from the Sakuramachi Bus Stop (central bus station in downtown). The strategic location greatly helps us when planning on the coming trip to Kurokawa onsen and Takachiho gorge by bus.
Check this accommodation guide if you are looking for Where to Stay in Kumamoto: Best hotel and areas.
Day 2: Aso (Mount Aso and Kusasenri)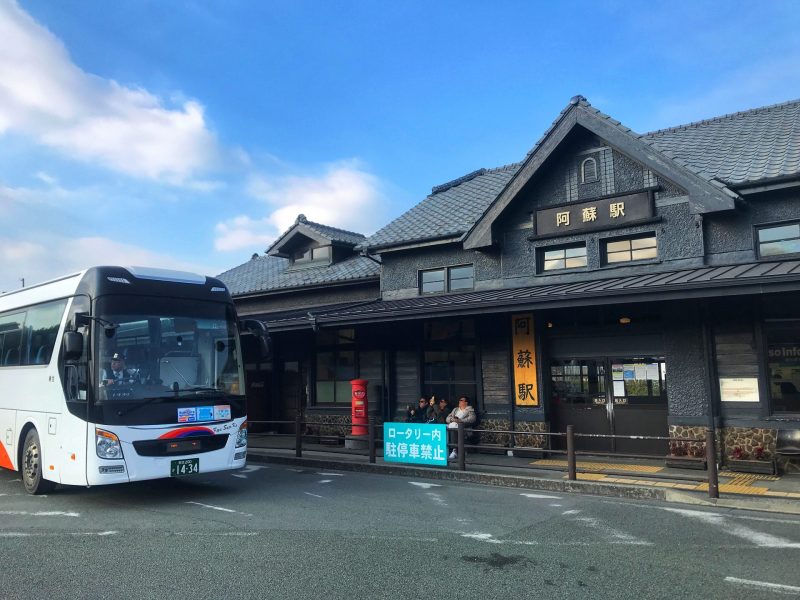 The next morning, we stored our heavy luggage in the hotel and travel light for the coming 2 days. We visited the Mount Aso and Kusasenri in the morning. In the late afternoon, we took the bus to Kurokawa onsen and spend one night in the rustic onsen town.
From Kumamoto, we took the early bus from Kumamoto Sakuramachi Bus Terminal to Aso. Please take note that the main attraction such as Mount Aso and Kusasenri is located about 20 to 30 minutes away from town. You can get the one-day bus pass at ¥1,300 for an unlimited bus ride in Aso. For SunQ Pass holder, all the bus ride are included.
The Largest Active Volcano in Japan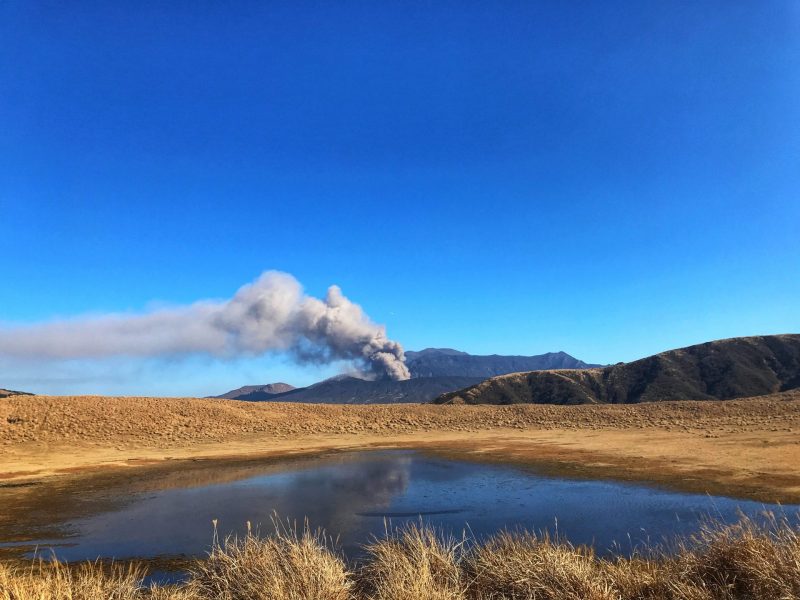 Aso is best known for Mount Aso (阿蘇山, Asosan), the largest active volcano in Japan. It is open for viewing and get closer to the crater by using the ropeway. Again, the ropeway was badly damaged due to the earthquake and has been replaced with a shuttle bus. But still, Mount Aso will be close if the volcanic activities are too active. We took a short visit to the Asosan Nishi-Eki station and boarded the same bus to Kusasenri. We spend time and have a leisure walk in the magnificent grassland. You can also spot the smokey volcano from Nakadate crater from not far away.
We spend about 2 hours in Kusasenri. Next, we boarded the bus back to Aso station and then transfer to Sanko bus to Kurokawa Onsen.
Getting There:
From Kumamoto to Aso Station by Sanko Bus (120 minutes, ¥1,530)
Aso Sanko Bus from Aso station to Asosan and Kusasenri (¥1,300)
Further read on transport arrangement to Aso:
Day 3: Kurokawa Onsen
Hot spring lover don't miss your visit to Kurokawa Onsen. Located in the mountainous area in Kumamoto, Kurokawa Onsen is renowned for its rustic and traditional ryokan and unique hot spring. It is the "Japan Top 100 Secret Onsen" and famous for its authentic and natural open air-bath (Roten buro).
Enjoy your time wandering in an ancient wooden building, grab some Japanese snack and unwind from city life.
Kurokawa Onsen Hopping
One should NOT leave Kurokawa onsen without experiencing an onsen. There are various unique hot springs that you can try here. Just get the Nyuto Tegata (onsen hopping pass, 入湯手形) to access up to three different onsen of your choice at only ¥1,300.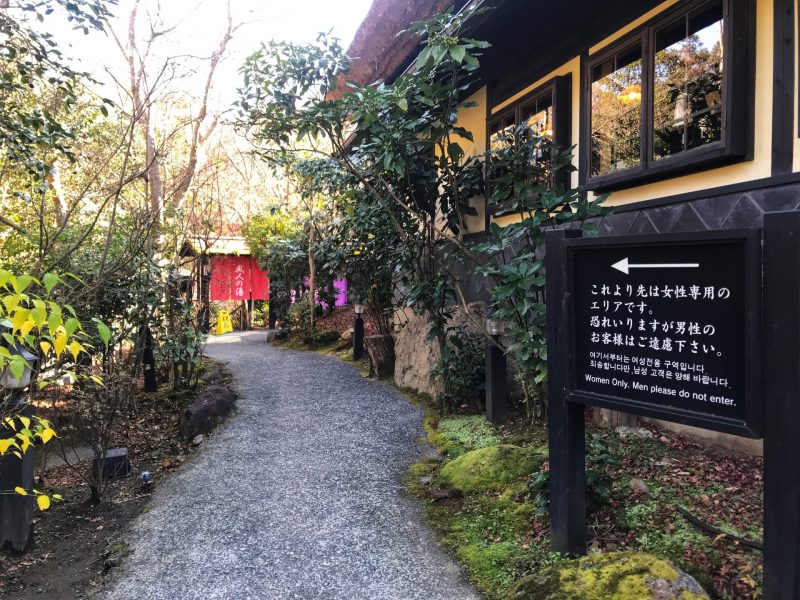 There are up to 20 retro ryokan to do the Kurokawa onsen hopping. We particular love the onsen bath at Yamamizuki (山水木日式旅館), surrounded with traditional and natural settling. If you have enough budget, consider staying in Kurokawa onsen and soaking in the hot spring bath. Else, Kurokawa onsen can be doable by day trip from Kumamoto.
Rustic Traditional Ryokan Stay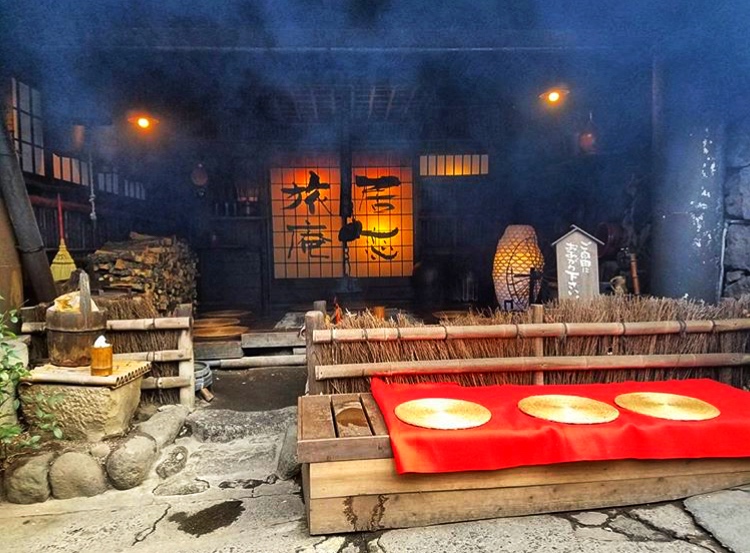 We stayed in Ryokan Ikoi for one night and truly enjoy its tranquil traditional atmosphere. The next morning, we bought the Kurokawa onsen hopping pass and explore the remaining three different hot spring baths in town. We have listed down the best ryokan and hot spring that we experience during our visit. Check it out if you need some idea on where to stay, what to do and eat in Kurokawa onsen.
Where We Stayed: Ryokan Ikoi is a wonderful traditional old Japanese-style hotel with long wood corridor, ash-fireplace and hot spring bath with a thatched roof. It featured up to 13 type hot spring baths including mixed-gender, female only, several private and family bath for hotel guests. Limited room available and reservation is highly recommended. (Check rate from Agoda.com)
Kurokawa Onsen Transport Arrangement:
From Aso Station to Kurokawa Onsen by Sanko Bus (70 minutes, ¥1,200)
From Kurokawa Onsen to Kumamoto by Sanko Bus (170 minutes, ¥2,500)
Day 4: Takachiho Gorge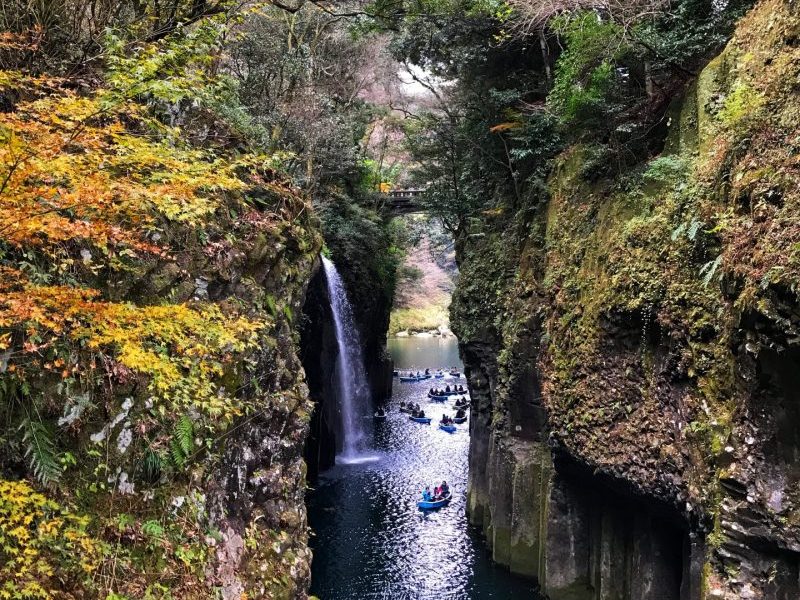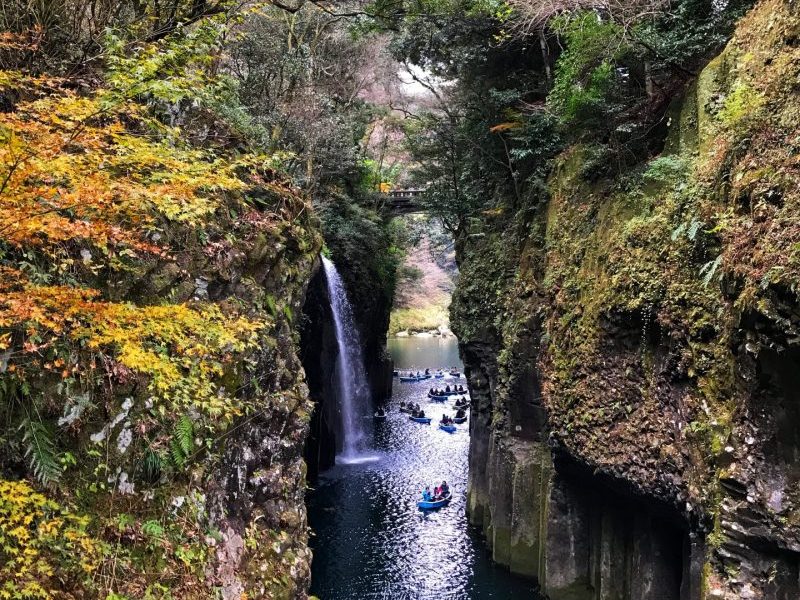 tart early of the day, we were headed to Takachiho, the home of Japan mythology. The most popular and beautiful geological attraction in Kyushu, Takachiho Gorge (高千穂峡, Takachiho-kyō). It was formed by Mount Aso volcano lava, erupted over 90,000 years ago and spreading through the Gokase River.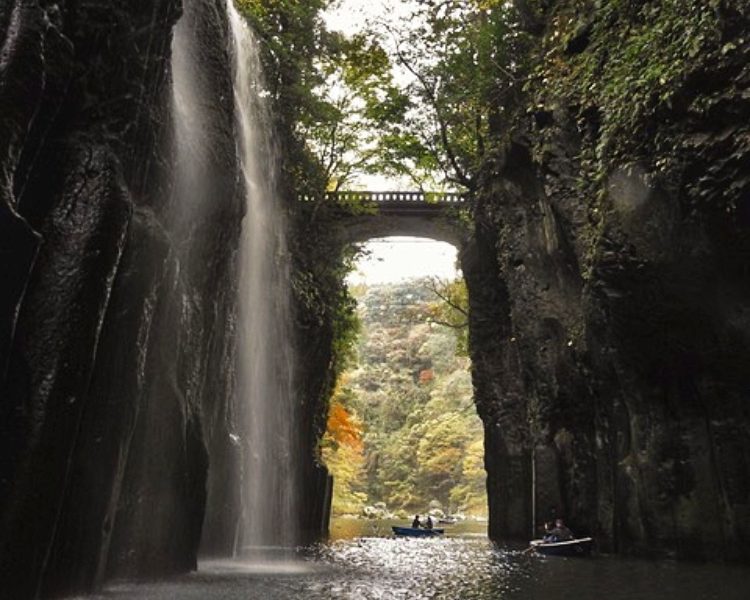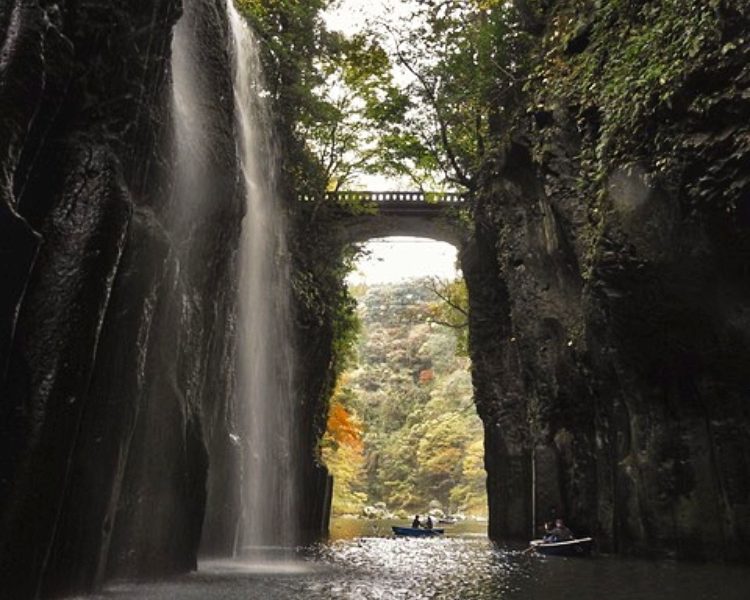 One of the most popular activities in Takachiho Gorge is rowing boat through a deep volcanic gorge and view on the Manai waterfall from below. But don't get too close as you might splash by the water. Then, took the relaxing stroll along the Takachiho Promenade walkway, try the flowing noodle (Nagashi Soumen Noodles) in Chino no le. If you have more time, plan your visit to Takachiho Shrine or even Amano Yasugawara and Amano Iwato Shrine.
Flowing Bamboo Noodles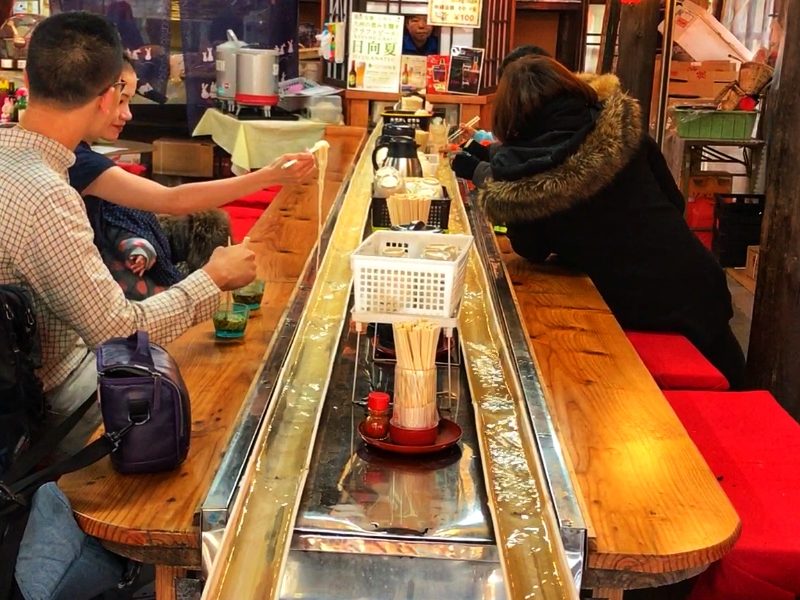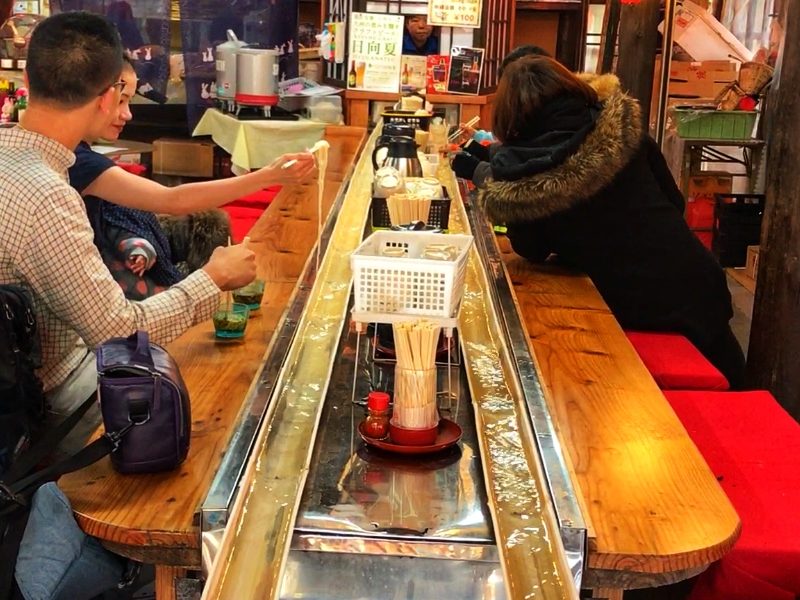 Due to its remote location, Takachiho Gorge is hardly access by public transport. But, there are plenty of options to get there. We have document our visit to Takachiho Gorge travel blog below. Take a look if you want to know more.
Important Travel Tips: If you are getting the Takachiho Gorge from Kumamoto please remember to use the All Kyushu SunQ Pass. The bus route is crossing the Southern and Northern region Kyushu.
Day 5: Miyazaki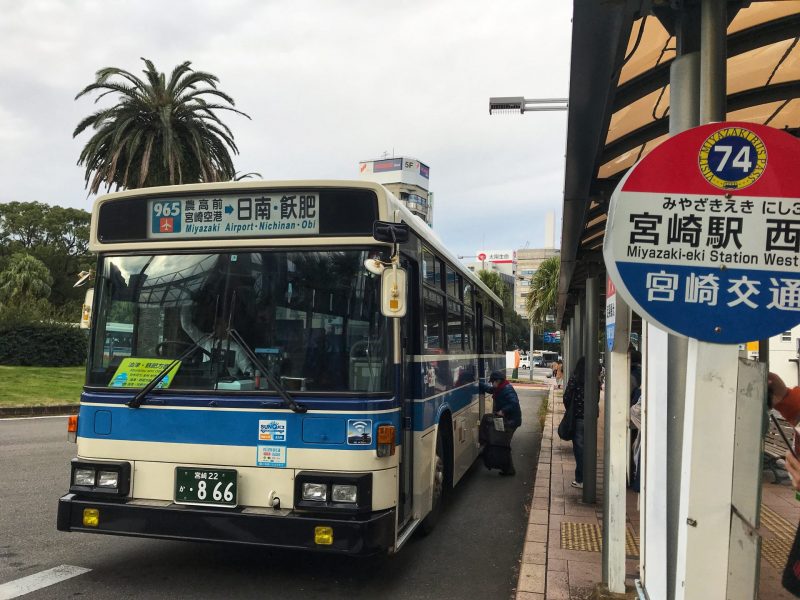 We make a detour to Miyazaki. From Takachiho gorge, we took the long hours bus to Miyazaki for one day visit. The reason is we had one more day and we want to explore more on the natural scenery. So we have slot in the Miyazaki one day trip as part of our Southern Kyushu itinerary. The more ideal route is from Kumamoto, Takachiho Gorge (day trip with Kumamoto as base), Aso, Kurokawa Onsen and then lastly end at Yufuin or Beppu. Forgive us for the greedy to visit all the must-see attractions in Southern Kyushu in limited time.
Most of the must-visit attractions in Miyazaki are located along the Nichinan Coast. It can be access by self-driving and bus. Again, SunQ Pass is covered for the unlimited bus ride. Alternatively, you can get the Miyazaki One Day Bus Pass at ¥1,500.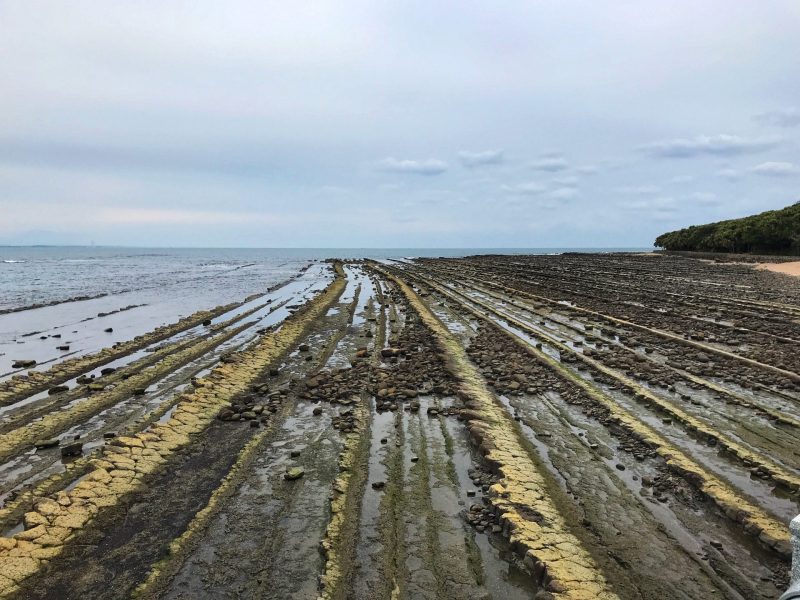 ocated at Southern Kyushu, Miyazaki is a charming city full of tropical atmosphere. It was once the best destination for honeymoon among Japanese and best to visit during summer for water activities. But our visit to Miyazaki was focusing on its historical mythic sights and unique landmark attractions.
From Miyazaki city, we boarded the bus and spend a day trip along the coast. Firstly, we take a look at the Devil's washboard (鬼の洗濯板, Oni no Sentakuita), a geological phenomenon made up of rock layers in the shallow sea.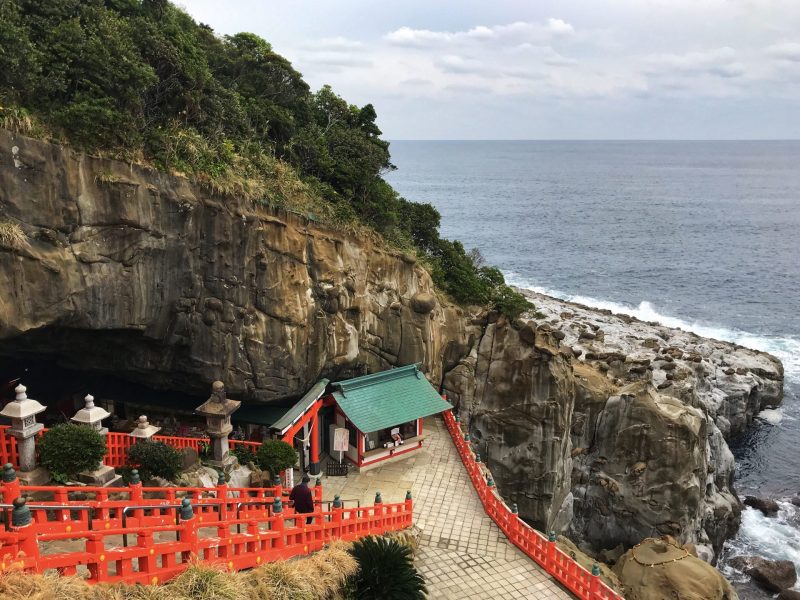 Next, Udo Jingu Shrine, dramatic settling in the seaside of the Nichinan coast. Touch the Moai Statues at Sun Messe Nichinan, the only replicas permitted in the entire world. We also slot in some time and have an amazing lunch in Obi Castle town.
Miyazaki Local Specialty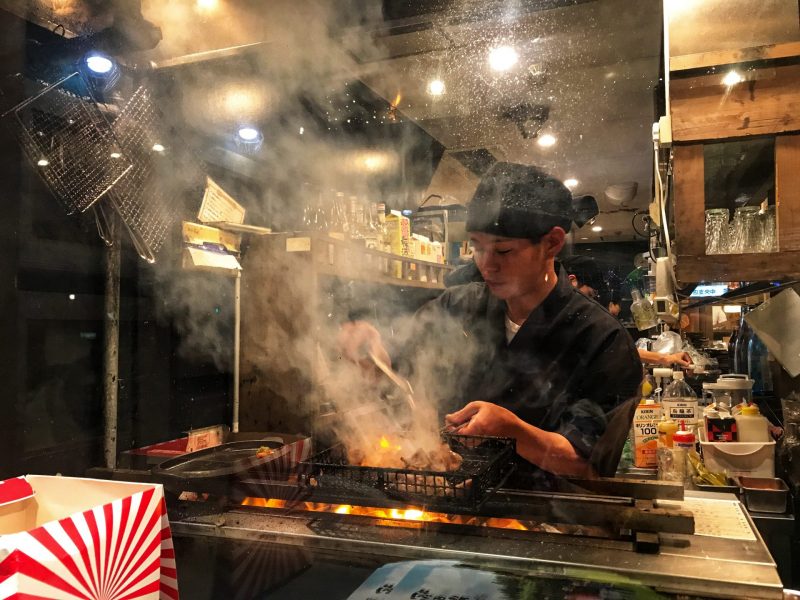 Aside from that, Miyazaki is also well known for its food, especially for its chicken specialties. We sample the Miyazaki must eat food such as Namba chicken, charcoal grill chicken, and various chicken dishes in town. In short, my day trip to Miyazaki was truly a fulfilling visit.
Where To Eat: Lunch with Nichinan Best Food, Bonito Fish in Multiple Way. Dinner with mouthwatering chicken feast in Tsukada Nojo Miyazaki.
Related Miyazaki travel blog post:
Day 6: Beppu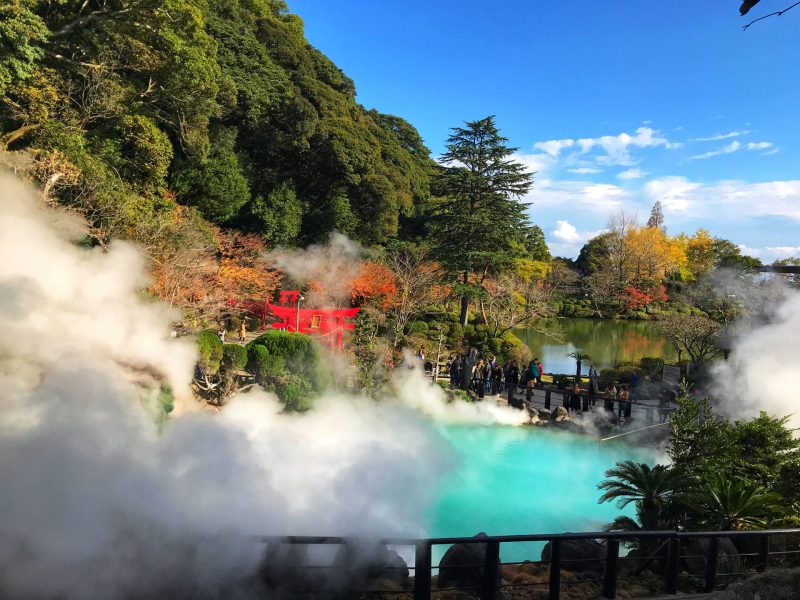 Located in the northeast of Kyushu, Oita prefecture is one of the must-visit places for almost all visitors to Kyushu. There are few attractions in Oita and worth to spend days to visit around.
From Miyazaki, we took the morning highway bus to Beppu. The journey took us about 4 hours and we reached Beppu station before noon. After deposited our luggage into the hotel, we started our half-day tour to the Jigoku Meguri (地獄めぐり).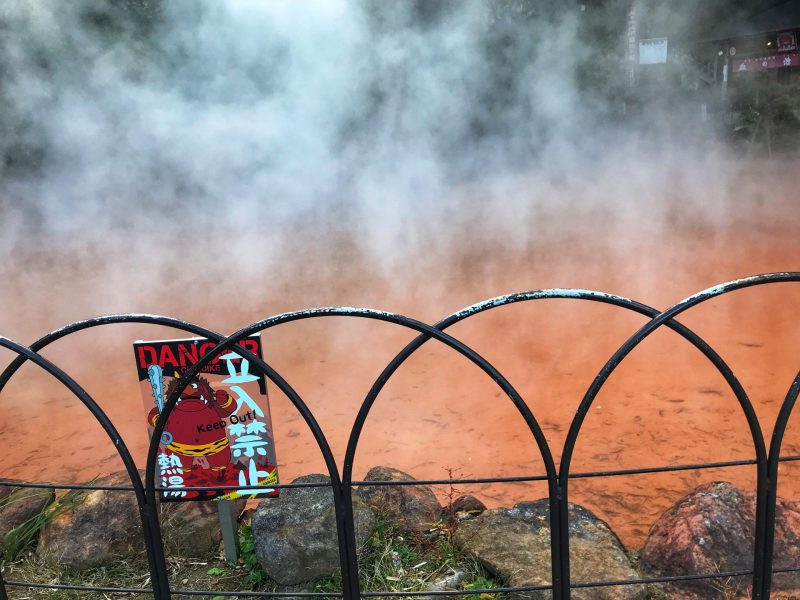 Beppu is an onsen spa resort with more than two thousand of hot spring spot. There are up to 8 unique thermal hot spring for viewing. Unlike hot spring spot for onsen bath, Jigoku are exceptionally hot and only for viewing purpose. Among them, we choose to visit the two most beautiful and sophisticated Jigoku. From Beppu station, it was about 30 minutes of bus ride to hot spring attraction in Kannawa and Shibaseki district:
Umi-Jigoku (海地獄 Sea Hell): Hot spring with bright blue color due to the large amount of iron sulfate.
Chinoike-Jigoku (血の池地獄 Blood Pond Hell): Reddish and orange thermal mud lake at high temperature that includes iron oxide and magnesium oxide.
In the late afternoon, we took the 5 minutes bus from Kannawa bus station to Myoban Onsen (明礬温泉). We went to Yunohana Goya for a leisure walk and taste the signature Jigoku-mushi Pudding at Okamotoya restaurant. The whole day in Beppu was filled with fun and excitement.
Hot Spring Steam Food: Jigokumushi Kobo Kannawa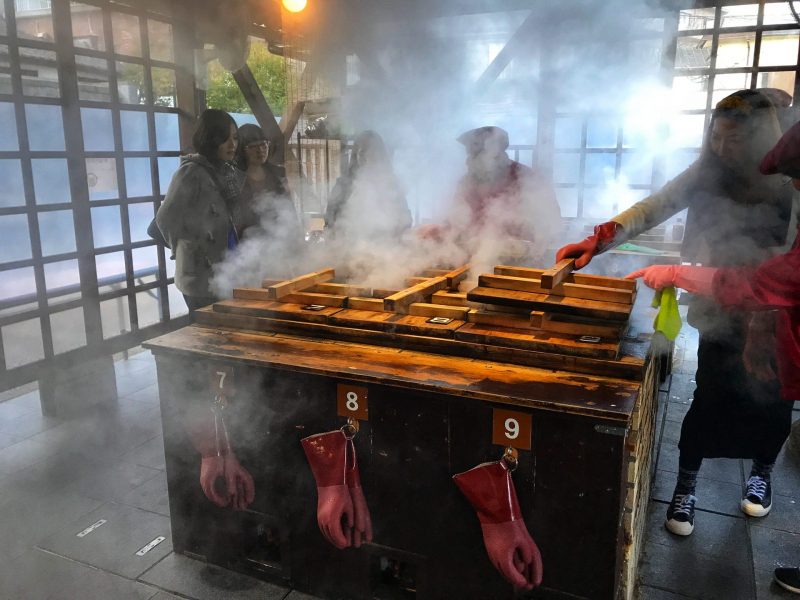 Don't forget to try the hot spring steam food at Jigokumushi Kobo Kannawa. It is the place where you can DIY your meal by steaming it using natural hot spring heat directly from the ground. The food was truly original without adding any seasoning. One of the unique dining experiences in Kyushu.
Where We Stayed: Nogami Honkan is a traditional ryokan with modern facilities in Beppu. Located with 8 minutes walk from Beppu Station. The accommodations in Beppu are cheaper compare with Yufuin and Kurokawa Onsen.
Day 7: Beppu – Fukuoka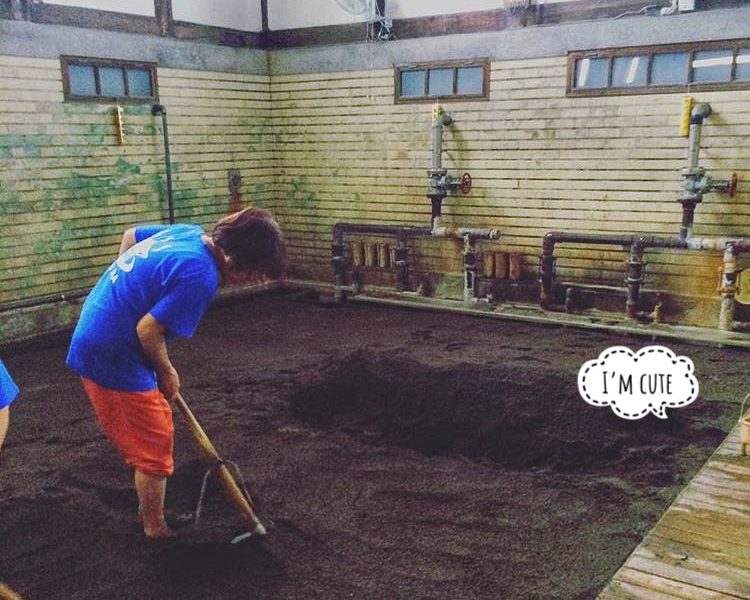 The next morning, we experience the sand bath in Takegawara Onsen, a retro public bath facility located within a 2-minutes walk from Nogami Honkan. It was a unique and fun experience with thermal sand buried you for a short time. It is said that the sand bath is very efficient for release toxic, muscle pain and clean out our body.
The Shoningahama Beach Sand Bath is another unique sand bath in Beppu with sea view while steaming in hot sand. But it is slightly away and we decided to skip it for this round.
Kyushu Travel Tips: Bring your towel to the sand bath from buying a new one.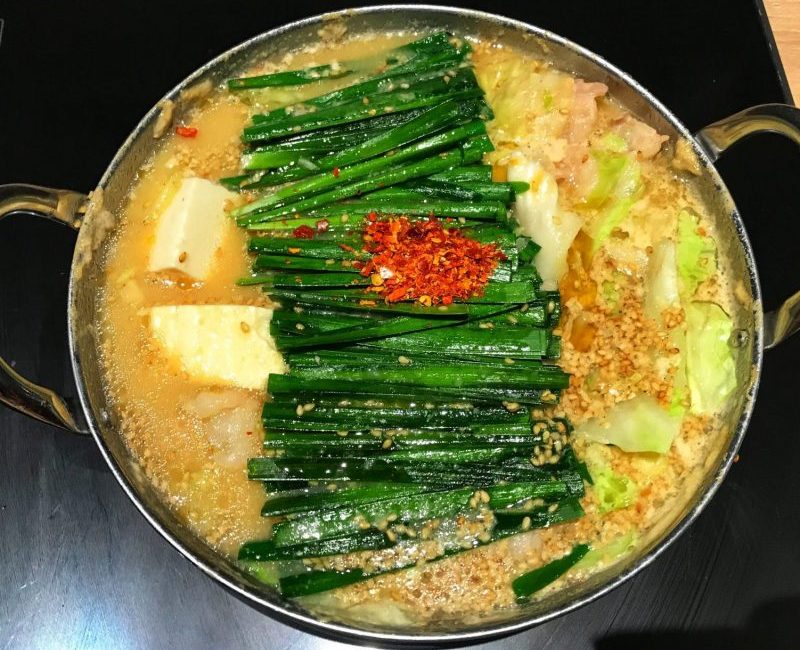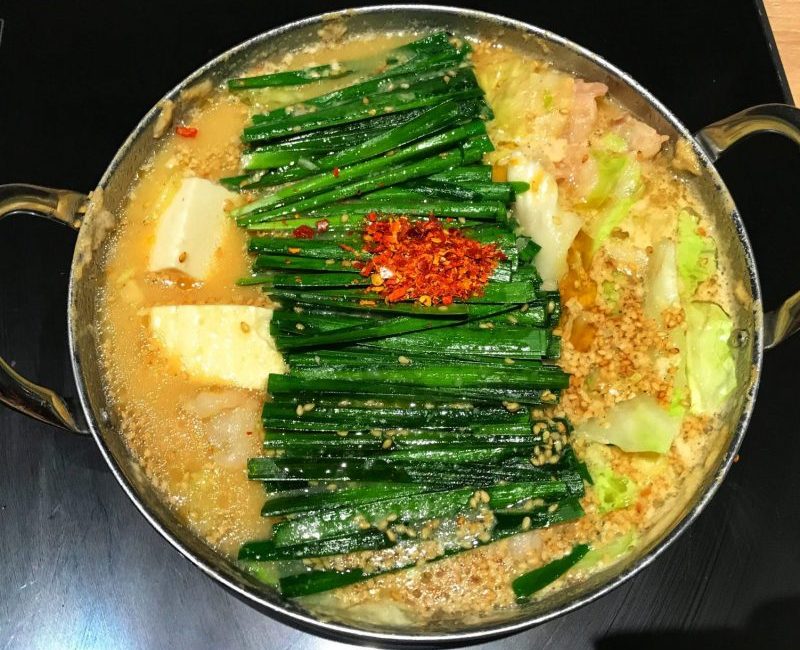 Next, we packed our luggage and back to Fukuoka by bus. We reached Fukuoka at about late evening. While this is not our time in Fukuoka, we only allocated about half a day and wandered in town for food and do some shopping. If you have more time and would like to know more about things to do in Fukuoka city, we have another travel post for more detail (5-Days Fukuoka itinerary)
Some of the Fukuoka best food that we taste for the past trip to Fukuoka:
Where We Stayed: This time, we stayed in Hakata Green Hotel, a standard Japanese 3-star business hotel. The location is ideal with 5 minutes walk from Hakata Station. It greatly help us from the next morning flight. Clean and comfortable bed. Reasonable price and nothing to complain about price pay.
Useful Tips When Planning Kyushu SunQ Pass Itinerary
1) Best Food in Kyushu
No doubt, food is cheaper in Kyushu compare with Tokyo, Osaka, Kyoto. But don't get me wrong. There are numerous of must-try local dishes that originate from Kyushu such as Tonkotsu ramen, motsunabe, mizutaki, toriten and more. Try budget for at least ¥1,000 for noodles dishes and ¥3,000 for some great food in restaurants.
2) Getting Around in Kyushu
If you are planning to visit the central and southern Kyushu itinerary like us, self-driving is the best way to get around. Alternatively, please consider fully utilized the Kyushu SunQ Pass which offered the special discounted rate for foreign visitors. It saves us a lot of transport fees by using the money-saving pass.
Travel Tips:
The above Southern Kyushu itinerary is fully covered with 3-Days Northern Kyushu (Kumamoto, Aso, Kurokawa Onsen) and 4-Days All Kyushu SunQ Pass (Takachiho Gorge, Miyazaki, Beppu, Fukuoka). Do your smart calculation! Take note that purchase SunQ Pass outside from Japan such as Klook is always is cheaper compare with onsite purchase.
For self-driving, there are various car companies operated in Kyushu Japan. Budget Cars, Times Car Rental, Nissan Ren-A-Car, Orix Renta-A-Car. Remember to compare and get the best price from RentalCars.com.
3) Kyushu Accommodation
The cities in Kyushu are far apart with at least two to three hours away. While Kyushu is famous for onsen. So most of the accommodation for this Southern Kyushu itinerary are came with a hot spring bath. We love to soak into the hot spring after the tiring trip. However, take note that accommodation in Kyushu is limited and can be easily fully booked especially weekends and public holidays. So please plan and book your best stay in advance. The hotel rate will keep increasing when room running fast. The weekend rate also more expensive than weekday.
Overview: My Trip To Kumamoto, Miyazaki, Oita Prefecture
All in all, our Kyushu SunQ Pass itinerary was full of fun and had an amazing time. We truly enjoy this relaxing trip to many hidden gem in Japan and highly recommended. We've shared this Kyushu itinerary for the top attraction we visited. If you missed out on our travel post for Kumamoto, Miyazaki, and Beppu, here is the quick link to the list of travel blog posts that we documented.
Read next – planning your trip to Kyushu?
Now that you've read through our Kyushu SunQ Pass itinerary. So, it's time to plan your trip. Our full list of day-by-day itinerary as above. Let us know if you need any help for your trip. Lastly, Happy travel to Kyushu.