Last updated on September 23rd, 2023
Here is the good food to eat that we would like to introduce in Miyazaki food guide. Don't forget to sample any of must eat food when visiting Miyazaki.
Similar to other regions in Japan, Miyazaki offers a wide variety of wonderful food to eat. Boasted with mild temperature and tropical atmosphere, Miyazaki food has its vibe and taste. There are a lot of local specialties such as Jidori no Sumibiyaki (charcoal grill chicken), Namban chicken, Miyazaki beef and various of Miyazaki gourmet that worth to try on. Each restaurant has their version, please find one to taste on it when visiting here.
Below are some of the best food that we ate during our visit to Miyazaki. Of course, there are many more local specialties and a wide variety of Miyazaki cuisines. But if you only have limited time, take a look at our Miyazaki food guide, includes with what to eat and where to find the best food in Miyazaki.
Charcoal Grill Chicken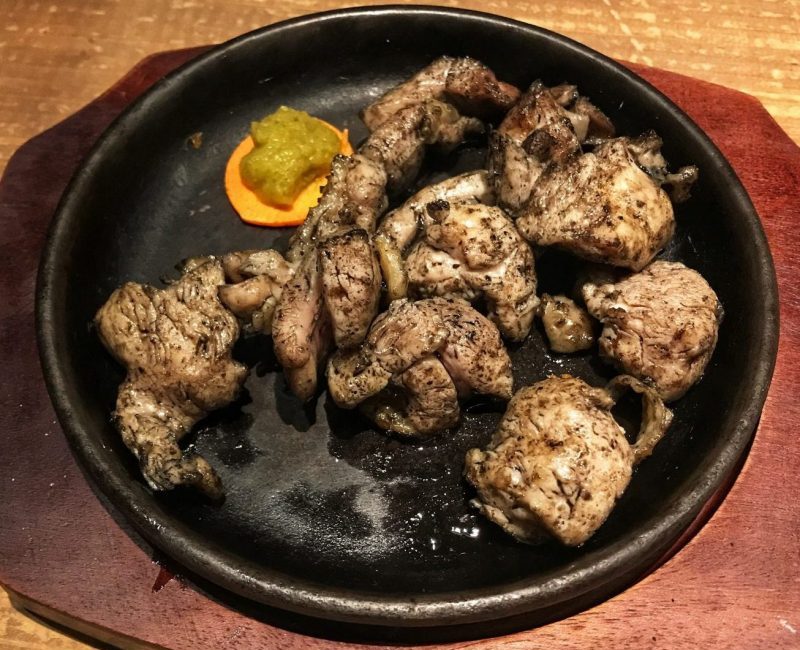 Miyazaki is known as the birthplace of the charcoal-grilled chicken thigh, also called jidori no sumibiyaki in Japanese. Bitch size chunks of top quality domestic chicken are seasoned with salt and pepper, then grilled on the high heat charcoal to perfection. The dark charcoaled skin has a smoky and flavorful aroma, resulted from high heat charcoal grill. Perfectly match with the juicy and exquisite softness meat. Must eat food in Miyazaki.
Best place to eat charcoal grill chicken: Many restaurants and izakaya are serving for this delicious local food. We love the charcoal grill chicken from Tsukada Nojo Miyazaki Honten. It tastes so delicious and juicy. One of the best food that we ate during our trip to Miyazaki. Alternatively, visit the Maruman yakitori hoten for some extraordinarily tasty charcoal chicken.
Nanban Chicken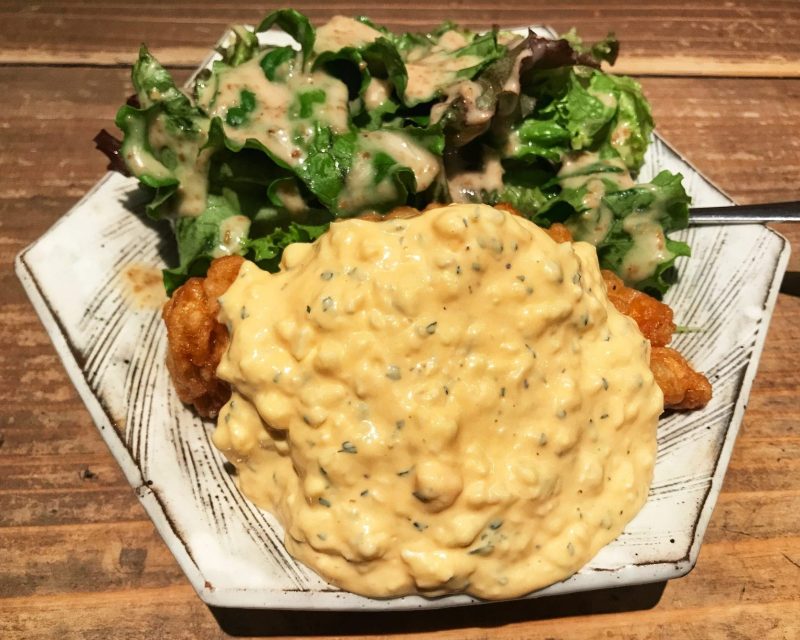 While Nanban chicken can be found all over Japan, Miyazaki claim for the originator of Nanban chicken. The chicken is marinated with sweet vinegar and deep-fried to perfection, topped with tartar sauce when serving. When sample it, the succulent crispy fried chicken is a great combination with in house original tartar sauce, comprised of mayonnaise and diced onions.
Where To eat Nanban chicken: Visit the Ogura Honten for the best Nanban chicken in Miyazaki. This local delicacy was said to have originated from Ogura in the 1960s. It is an old fashioned western-style restaurant with 10 minutes walk from Miyazaki station. Alternatively, most of the restaurants in Miyazaki are serving this delicious chicken Nanban dishes. The restaurant in Sunmesse also famous for this dishes. Many visitors are having Nanban chicken during their visit to Sunmesse Nichinan.
Miyazaki Beef
Another particularly famous Miyazaki delicacy is Miyazaki beef. It is a name only given to beef that raise in Miyazaki which meet strict quality standard. The flavorful brand of beef is graded as high and proud of Miyazaki.
In Miyazaki, many restaurants serve Miyazaki beef and the good news is in a much more reasonable price. But, it is still very expensive for premium beef. You can eat the Miyazaki beef at Hitotsuba Miyachiku or Oyodo Kahan Miyachiku. The price range can be easily from at least ¥5,000 for the finest part of Miyazaki beef. Alternatively, for budget way, try the Teppanyaki Miyazaki Beef for about ¥3,000.
Tropical Fruit Hyuganatsu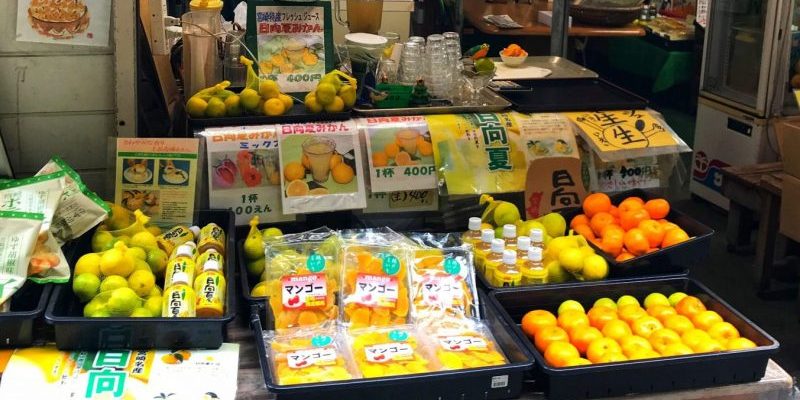 Thanks to the temperate climate, Miyazaki is famous for many kinds of fruit. The hyuganatsu (日向夏) is a yellow citrus fruit that has basked under the sun of Miyazaki. It was first in Miyazaki prefecture and widely cultivated throughout the region.
This light yellow hyuganatsu has freshness and invigorating tanginess. Spring is the harvesting season. During this, you can be easily seeing hyuganatsu sold along the roadside. It has has a distinct sweet-sour flavor with a pleasant acid bite, made it popular among lady. The fruit can also be used to make sorbets, ice cream, drink or dessert.
Udon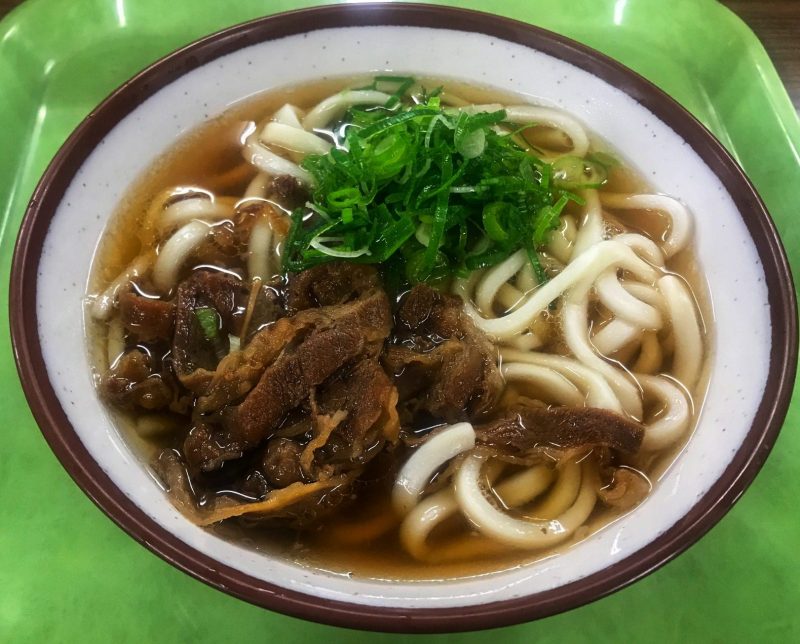 No doubt, udon is the best local dishes in all prefecture of Japan and widely served across Japan. There are various types of Udon dishes but the most common is served in a hot or cold dish. The thick, wheat-flour noodle is perfectly cooked in a lightly flavored broth, made from soy sauce, vegetable or fish. Normally, a bowl of udon cost less than ¥800. This best cheap eat is the best food for breakfast or a quick bite in Miyazaki.
Where to eat udon in Miyazaki: We had our Udon in Sankaku Chaya Toyokichi udon (三角茶屋 豊吉うどん) located in Miyazaki station. Their long-established main shop was first founded 87 years ago. It is a simple yet satisfying meal after a tiring day. If you would like to try on some Miyazaki's Udon, Shigenoi is your choice. Shigenoi is famous for Kamaage udon. The hand-cut udon noodles are accompanied by a seasonings dipping sauce with lots of fried tempura batter on top. You can even drink the remaining broth together with dipping sauce.
Bonito Fish in Multiple Way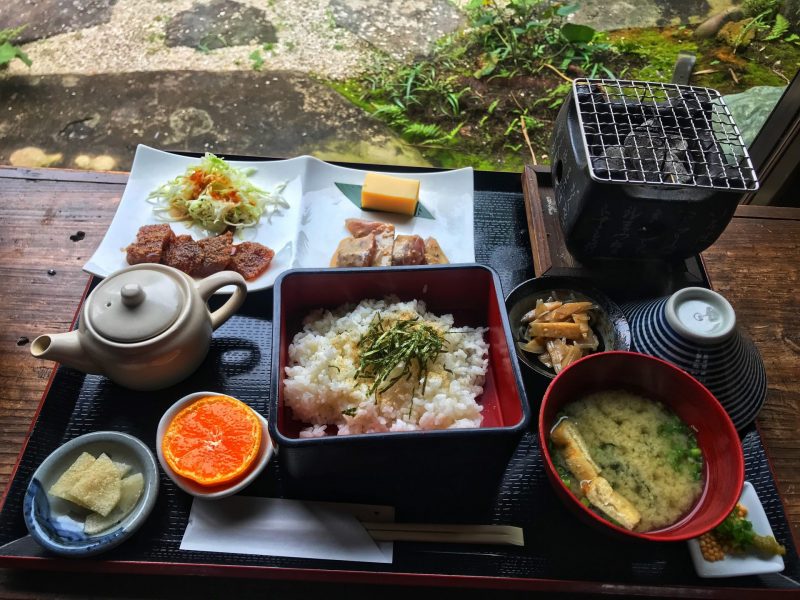 Located about one hours drive from Miyazaki city, Nichinan is popular with local specialty dishes made from high-grade bonito fish. The fresh bonito fish (Katsuo) are caught with single line pole fishing method (Ippon-zuri, 一本釣り) and marinated in an in-house special sauce. Nichinan served bonito fish in its unique and multiple way to enjoy it. Fresh bonito can be eaten raw as sashimi, grilled over the hibachi or pouring hot broth over it together with rice.
Where to eat bonito fish: Gallery Kodama in Obi town, Nichinan served the bonito in a set meal. This katsuoaburi-ju is the best way to enjoy the best local food in Miyazaki. Try it and choose the best way to enjoy the bonito fish.
Continue reading: Nichinan Best Food: Bonito Fish in Multiple Way
Nagashi Somen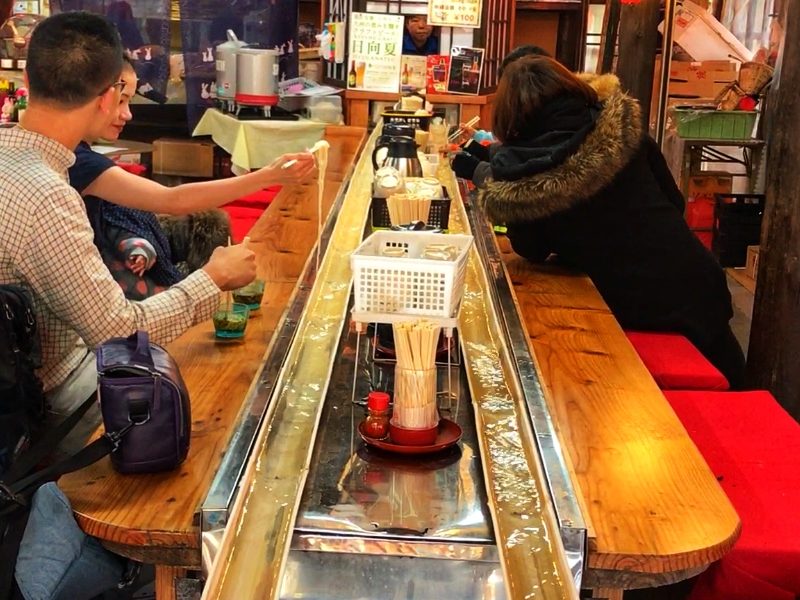 When you are visiting Takachiho Gorge, make you lead to the restaurant nearby for Nagashi somen (そめん流し). The somen is released in the water flowing bamboo and you need to catch it using the chopstick before it flowing away. Next, dipped the somen noodles into the special sauce provided and continue to catch the coming one. If you miss it, the leftover somen will be collected at the end of the water bamboo slide.
The flowing somen noodles is a fun eating experience. We tried this traditional yet entertaining nagashi somen in Chiho no Ie Teahouse.
Where to eat Nagashi Somen in Takachiho: Chiho no Ie Teahouse (千穂の家) invented and served this signature food since the 1950s. Although it is a popular summer dish in Japan, nagashi somen is served all year around here.
Overview: Miyazaki Food Guide
Lastly, hopeful you enjoy reading on our Miyazaki food guide. Of course, there is much more best food in Miyazaki awaiting you to discover. While we only have limited time, this is what we ate during our visit. Hope you enjoy it. Thanks for reading.
If you are interested, continue read on our Miyazaki travel blog along to Nichinan coast: