Last updated on December 11th, 2023
San Francisco is a city for everyone that worth takes a lifetime to slowly discover. Here we have put together a three days San Francisco itinerary with all the best things to do in San Francisco. Feel free to adjust the schedule, and create your own two or three days San Francisco itinerary.
Home to the majestic Golden Gate Bridge, San Francisco (SF) is one of my favorite cities in the world. The city's history is rich and filled with California Gold Rush lore and colorful immigrant stories. It has all sorts of excellent museums, Victorian architecture, and the oldest and biggest Chinatown in the country. All this makes San Francisco one of the unique American destinations on many travelers' lists.
However, planning a trip to a big city like San Francisco is not easy. There are so many iconic sights and places to visit that hard to squeeze it into a few days of visit. Ideally, I think you should plan on spending at least three days in San Francisco in order to see the bare minimum of what the city has to offer. It makes a great city break with 2 days in the city and another 1 day to the nearby attractions. You can explore it beyond the typical tourist attractions if you have additional days.
To help you plan your trip to San Francisco, I've put together the perfect San Francisco itinerary. In this San Francisco travel guide blog, you'll learn to figure out what to see, what to do, where to stay, where to eat, and the suggested San Francisco itinerary to fit them all within 2 to 3 days of the visit.
San Francisco Pre-Trip Essential
In this section of the San Francisco travel guide, I like starting with a few quick travel tips and some of the essential travel information for your San Francisco itinerary.
Best Time To Visit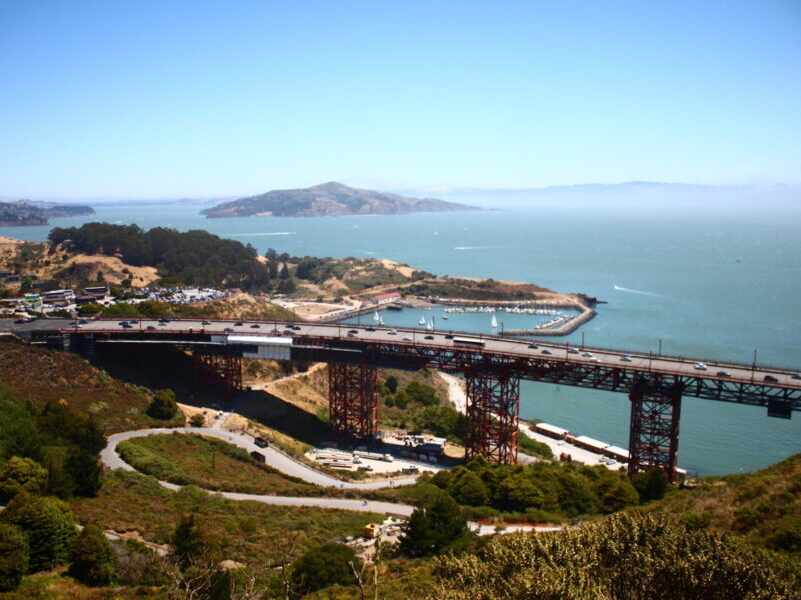 San Francisco is a year-round travel destination. But the weather is unpredictable! The city is famous for the fog that suddenly rolls in on a sunny day. That being said, it is important to know what is the best time to visit San Francisco if you want to avoid 'Karl the Fog' and have the blue sky and perfect weather.
The best time to visit San Francisco is during the fall from September to November. At these times of the year, San Francisco is less fog and the temperature is warmer. It is also fewer crowds compared to summer. Spring is another good time to visit San Francisco, thanks to its mild temperature.
While the rainy season typically runs from late November through April, so expect some rainfall and cloudy mornings around the bay.
Getting Around in San Francisco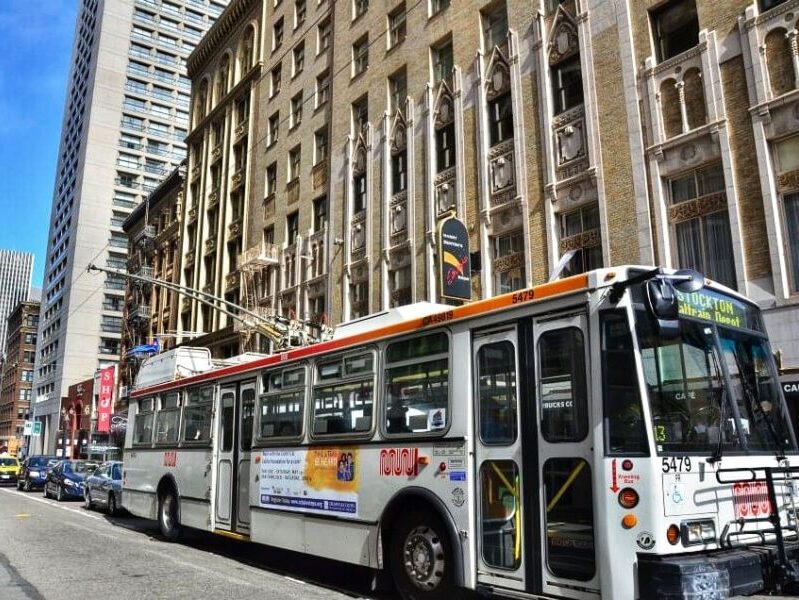 When visiting San Francisco you're going to be moving all around the city as you sightsee. This means that it's in your best interest to know your options for getting around in the city. While San Francisco is pretty compact, it is still too big and not easy for visitors if they choose to walk to visit all the major attractions.
Public transportation in San Francisco runs on the BART and Muni system. BART includes the underground subway system and MUNI includes streetcars, cable cars, and buses. As a visitor, mostly you will use Muni for getting around in the city. You can rely on San Francisco's public transport network, and mix with walking and Lyft or Uber for your visit to SF.
You can also take the San Francisco Hop-On Hop-Off Bus Tour as it includes all the major stops at San Francisco's must-see attractions such as Union Square, Fisherman's Wharf, and Pier 39.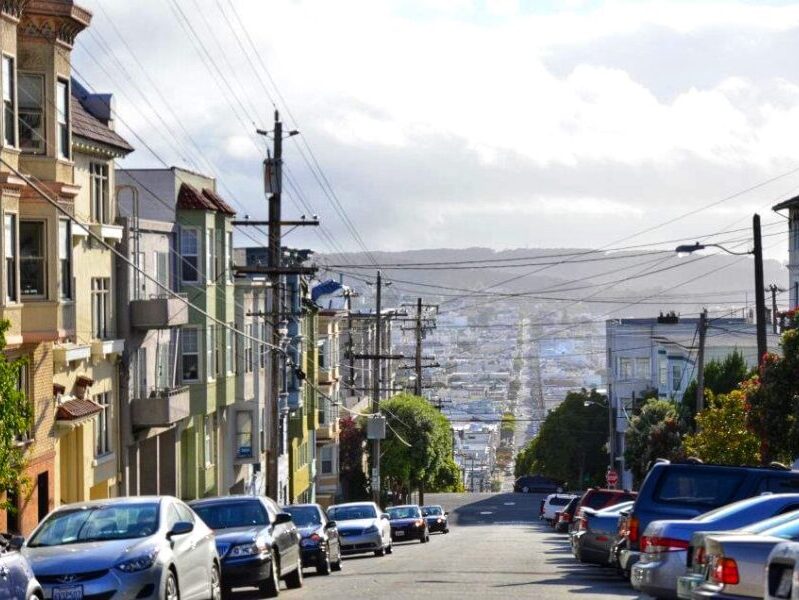 Driving in San Francisco is a great option as it is more flexible and convenient. But you will need to be extra careful. San Francisco is a hilly city and some roads are small and hilly. It can be challenging and difficult to drive with steep hills and slopes. Besides, parking is limited and you will need to be patient when looking for a parking lot especially when getting to the popular attraction.
We rented a car and drove to San Francisco as part of our California East Coast trip. We always use Rentalcars.com as it always offers the best rental car prices and is reliable – Check Prices Now!
Best Place To Stay
The best place to stay in San Francisco is Union Square. We believe Union Square is the most convenient location to stay in San Francisco, especially for a relatively shorter trip. It is a great base for exploring the city and is perfectly linked with public transportation. It also has the best selection of accommodation, from luxury to budget options.
Below we share some of the best options to help you decide what works best for you.
Mid-Range: Handlery Union Square Hotel is a very nice hotel, as central as possible. It has a perfect location, with a 5-minute walk from the Powell Street cable car line. The rooms are classically designed and very clean.
Mid-Range: The Chancellor Hotel on Union Square is one of our favorite picks for staying in San Francisco. It is located just half a block away from union square and within walking distance of the Powell Street cable car line. There is a wide range of room types, from single rooms to family suites for your stay in San Francisco. Prices are in the mid-range for the quality of the accommodation.
Luxury: Hotel Nikko San Francisco combines a modern, trendy, and comfortable interior with an outstanding location for your trip to San Francisco. It offers good facilities like a gym, pool, and spa for hotel guests. Upscale toiletries and rainfall showers are a lovely bonus and the room rate includes breakfast. Located within walking distance of bustling Union Square. Also, directly opposite the hotel is a stop for the hop-on and hop-off bus.
3 Days in San Francisco
Here is the suggested San Francisco itinerary, and how I'd fit everything in 3 days. You can follow this exactly, or use it as inspiration.
Day 1 in San Francisco Itinerary:
View on Golden Gate Bridge (1-2 hours)
Walking over the Golden Gate Bridge from Welcome Center (1 hour)
Visit the Palace of Fine Arts (2 hours)
Half-Day Tour to Alcatraz (3-4 hours)
Day 2 in San Francisco Itinerary:
Ride The Iconic Cable Car (1-2 hours)
Union Square (1-2 hours)
San Francisco's Chinatown (2-3 hours)
Lombard Street (1 hour)
Wandering at Fisherman's Wharf (2-3 hours)
Watch the sea lions at Pier 39 (1 hour)
Day 3 in San Francisco Itinerary:
Take the scenic route along iconic Highway 1.
DAY 1: San Francisco Itinerary
Golden Gate Bridge
No trip to San Francisco is complete without seeing the Golden Gate Bridge. We recommended kicking start your 3 days San Francisco itinerary with one of the city's most iconic sights. This 1.7-mile red suspension bridge spans the Golden Gate strait in California and connects San Francisco Bay with the Pacific Ocean.
Golden Gate Bridge is an engineering marvel that draws your eye no matter where you view it from. The bridge can be enjoyed from many points throughout San Francisco and Marin County. No matter where you stand, this iconic bridge is one of the most beautiful and awe-inspiring sites in San Francisco.
Battery Spacer East Trail – Best View of Golden Gate Bridge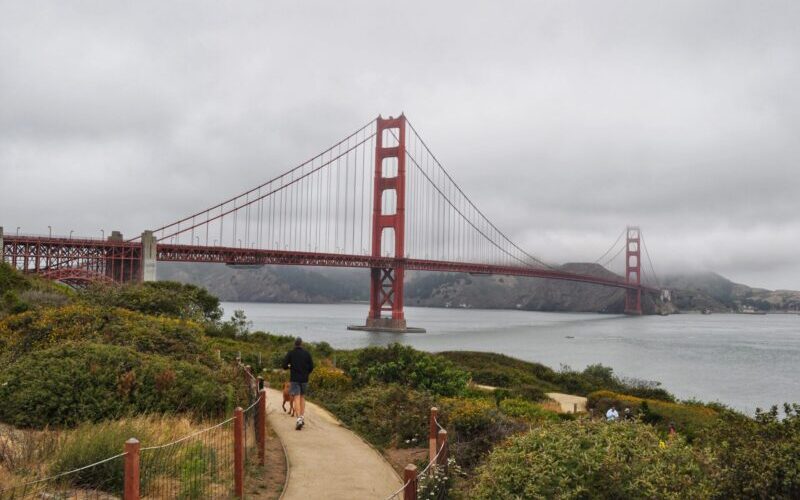 For a first-time visitor to San Francisco, the best way to experience the Golden Gate Bridge is to head to Battery Spacer. It is a great spot to view the Golden Gate where you can have a stunning view of the bridge stretching far into the distance.
We arrived there in the late morning but it was cloudy and the fog obscured the view of the top of the bridge. The parking lot is almost full, so come early.
Several bicycles and footpaths run along the east side of the bridge at different levels, making it a pleasant stroll. We enjoyed the great view while strolling from the Battery East Trail to the Visitor Center.
San Francisco Travel Guide Tips: Parking is extremely limited and tricky. We parked at the East Battery Parking Lot where the Parking fee is $1.20/hour or $7.00 for all-day from 10:00 to 17:00. Be sure not to leave any valuable items in your car.
Golden Gate Bridge Welcome Center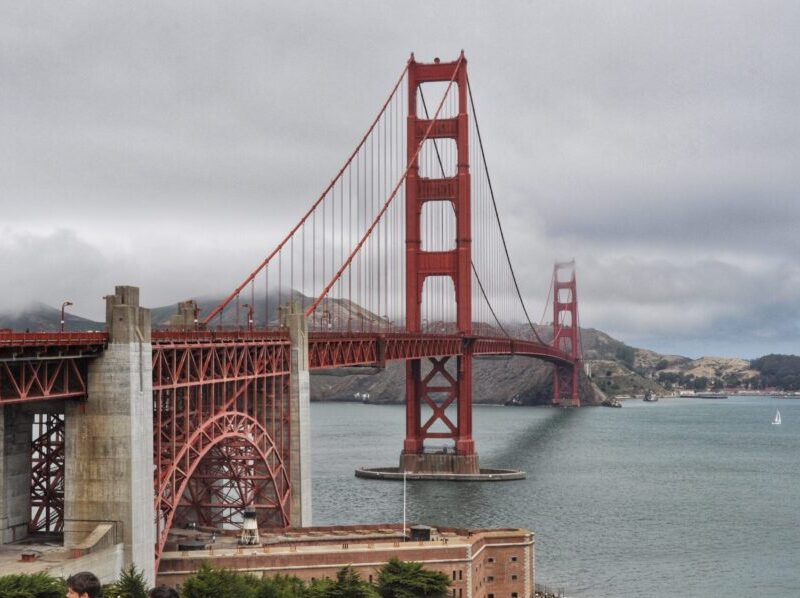 From Battery East Trail, it took us only a 3-minute walk to the Golden Gate Bridge Welcome Center.
The Welcome Center offers merchandise and historical information. This is where you can learn information about the history, architecture, and construction of the bridge. You can also buy souvenirs including postcards, t-shirts, magnets, and wonderful collections about Golden Gate Bridge. Some of them which are worth considering buying.
Besides, this welcome center is also the starting point on the Southeastern end for pedestrians walking over the bridge. You can choose to walk the bridge to admire it up close.
It is an easy walk to different good vantage points of the bridge. The bridge is about 2 miles long but you can walk as far as you want. We took multiple photoshoots and enjoyed the stunning close-up view of the Golden Gate Bridge!
Expected to spend 2-3 hours exploring the Golden Gate Bridge
Palace of Fine Arts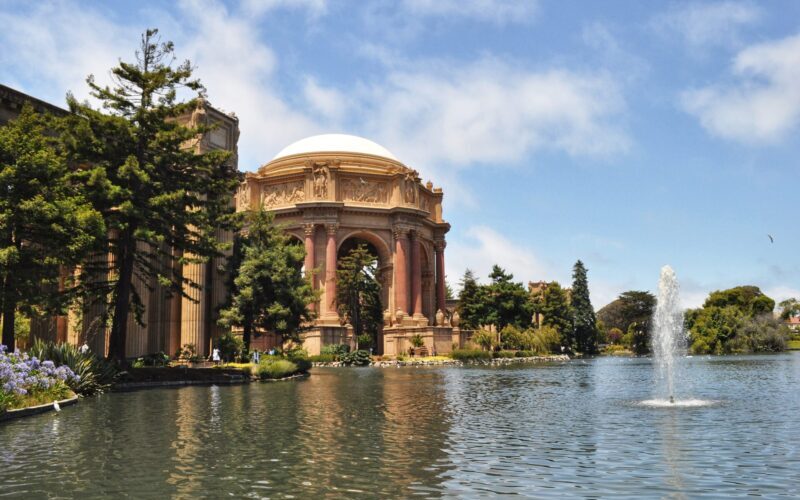 If you find yourself in the city and you have some time to wander, be sure to stop at the Palace of Fine Arts in the Marina district of San Francisco. It is an iconic site visible from many parts of the bay area and well worth your time to visit this beautiful location.
The Palace of the Fine Arts was built in 1915 for the Panama Pacific Exposition in order to exhibit works of art presented there. You'll find a classic Roman structure complete with rows of Corinthian columns, ornamental urns, friezes, and carved decorations. It is one of the most beautiful spots in the city and popular with both tourists and locals. The gorgeous work of architecture and building make for amazing photos, especially when you have nice weather.
We spent some time walking through the palace garden admiring the beautiful craftsmanship. Walking around looking up at the massive architecture and archways is breathtaking. The gardens, the lagoon, the fountains, and the trees are all so peaceful. It took us about an hour to explore it from all sides.
Half-Day Tour to Alcatraz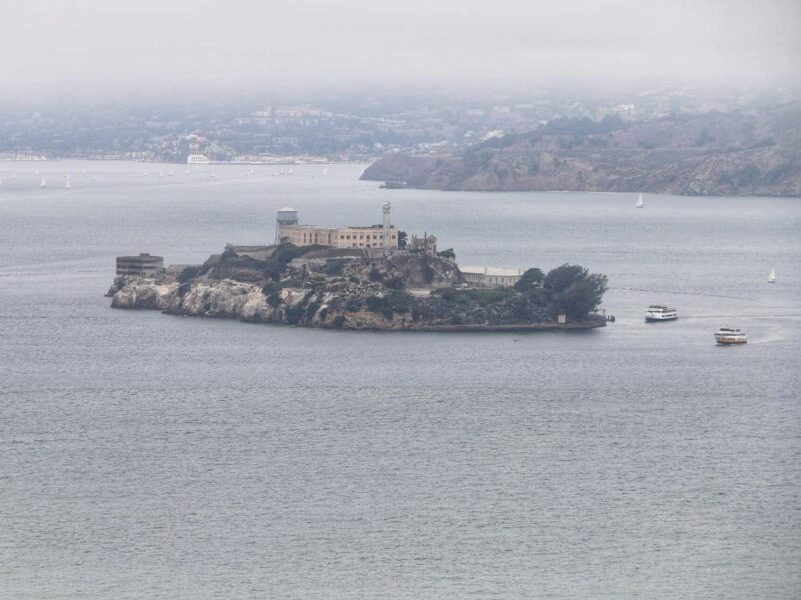 Located on a lonely island in the middle of the San Francisco Bay, Alcatraz is a popular quirky tourism attraction in San Francisco. This former prison is the most famous federal high-security prison and home to some of the worst criminals in the US. Famous inmates were al Capone, machine gun kelly, the birdman of Alcatraz, and Mickey Cohen. It was shut down in the 1970s and has since become a national landmark people can explore.
The trip to Alcatraz was the first time we get up close to the prison in the USA. The place is full of history, stories, facts, and interesting information. The audio guide is included and it is very detailed. It's very interesting to be there on a ferry and see the Prison.
Visiting Alcatraz is also a half-day activity and we spent almost 3 hours wandering the island. There's so much to see and do, it's a place to spend a half-day trip. You can take a ferry from the Embarcadero to Alcatraz and spend time exploring the cell blocks and grounds.
San Francisco Travel Guide Tips: Our Alzatraz ticket was booked last minute at the San Franciso and it is likely to sell out for the day we joined. Make sure to get your tickets early before your visit because this is an extremely popular attraction. We recommended booking the Alcatraz Tour a few weeks ahead of your trip. You may consider coupling it with the San Franciso Grand City Tour from Viator with a high reputation among customers.
Check the tour information: Alcatraz Island and San Francisco Grand City Tour
DAY 2: San Francisco Itinerary
Ride the Iconic Cable Car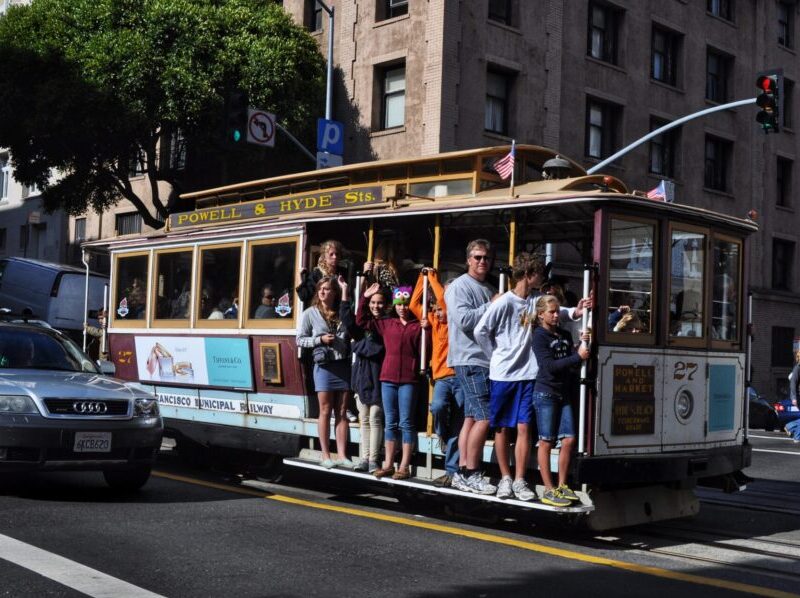 With San Francisco full of hills and valleys, the ride on the cable cars presents amazing vistas. Nothing is more recognizable than the iconic Cable Cars and every visitor should take a ride on the city's famous Cable Cars. It is a great way to get around the city and take in the experience.
The San Francisco Cable Car has three routes:
California Line (Red Line) provides a great downtown view and Grace Cathedral.
Powell-Hyde Line (Blue line) goes through Union Square, Chinatown, Lombard Street, and Fisherman's Wharf.
Powell-Mason Line (Green line) goes through Union Squares, Chinatown, Nob Hill, Cable Museum, and Fisherman's Wharf.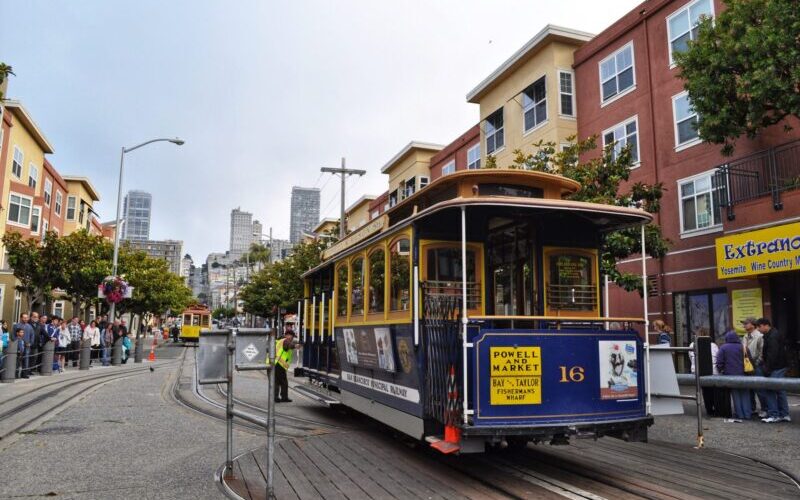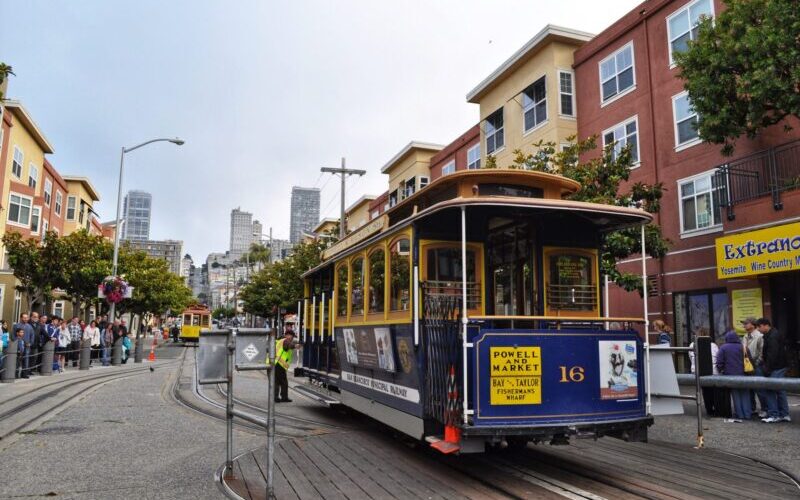 The most popular San Fran Cable Car route is hopping on the Powell Hyde Line from Powell & Market station, which goes through Russian Hill, Lombard Street, with the final descent opening to a grand view of the bay to Fisherman's Wharf.
At $8 a ride, it's probably not the most economical transport in San Fran. But you can download the Muni apps and buy a day ticket for $13 or 3 days for $31. Make two trips minimum each day (there and back) and you make money as well have a thrill.
Riding Journey with Cable Car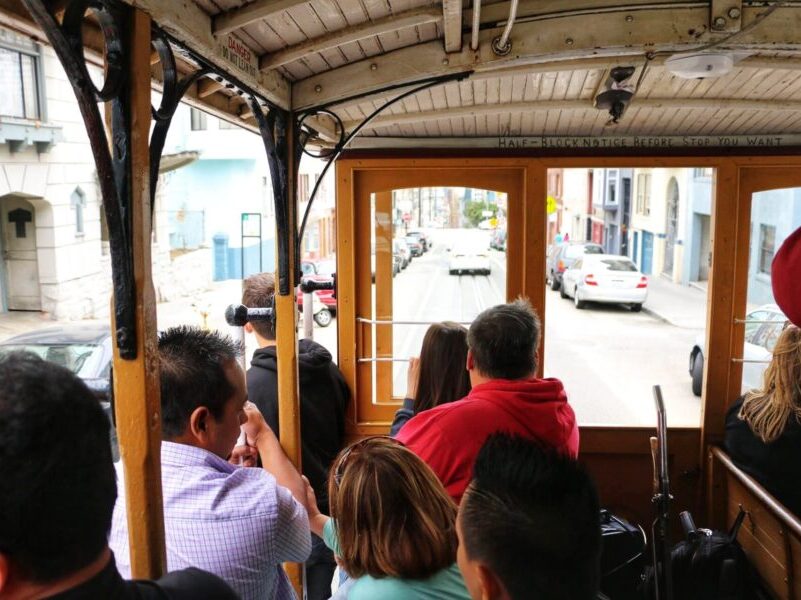 As a visitor to San Francisco, we decided for getting around in San Francisco using the cable car on our second day in San Francisco itinerary. But you opt to experience the cable car for a single trip to experience this most exciting city.
The cable car is controlled in a masterly manner. But it can dangerous, especially most people enjoy hanging off the side of the cable car. Prepare for a bumpy hilly ride when inside the cable car along the journey. We enjoyed our riding journey with the San Francisco Cable Car. You can feel the enthusiasm when the moment you queued up until you finish the ride. Strongly recommended!
San Francisco Travel Tips: The queues get super long for the cable car ride. So try to go as early as possible. And if you want to take the perfect photo with the iconic cable car, there are some empty cable cars parked at Francisco & Taylor (near Fisherman's Wharf). You can hop on for free and get the shot from as many angles as you'd like!
Union Square
The bustling Union Square is the center point for San Francisco's theater and shopping district and is always busy with locals and tourists. The surrounding area has department stores such as Macy's and Neiman Marcus, boutiques, art galleries, restaurants, bars, hotels, and much more.
You can go shopping and dine in Union Square. Or you can also enjoy soaking in the sunshine; watching people come and go or just grabbing a cup of coffee sitting down and relaxing.
Union Square is also the transportation hub for San Francisco. The San Francisco cable car (Powell Mason & Powell Hyde) is a couple of minutes' walk from here. Besides, you can also consider taking the Hop on Hop off sightseeing bus that embarks from Union Square.
San Francisco Chinatown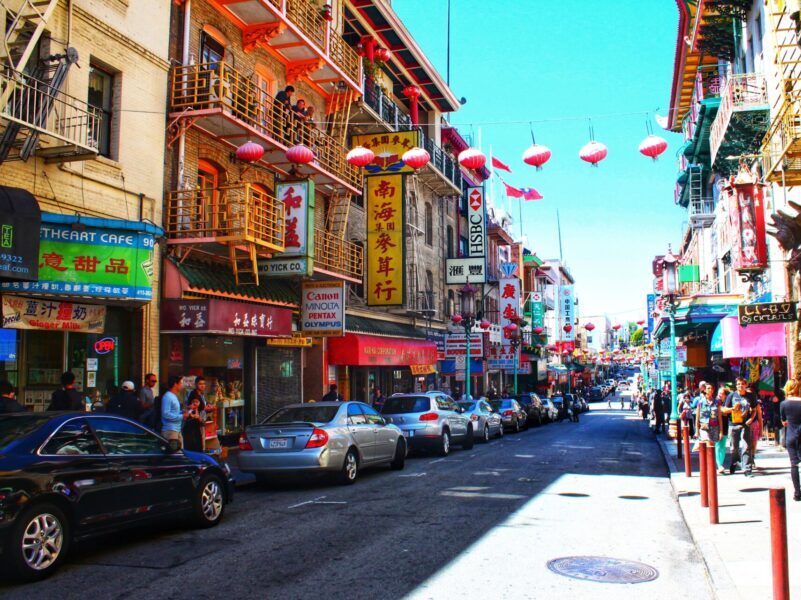 Every visitor to San Francisco should visit Chinatown. Located near the financial district downtown, Chinatown is the most densely populated area in the entire U.S, mostly the Chinese community. You will find all sorts of Chinese restaurants, bakeries, cafes, food stands, and shops. It is always busy with people doing their daily business, shopping for food, socializing, and meeting friends.
We then headed to Chinatown from Union Square. In this historical neighborhood, we walked past the first fortune cookie factory and went to the oldest temple, Tin How Temple. It's fun strolling along the streets and stopping by any shop that catches your attention.
Don't forget to check out the Golden Gate Fortune Cookie Factory to watch them hand-make fortune cookies. You can also take the sample to try your fortune!
Popular Golden Gate Bakery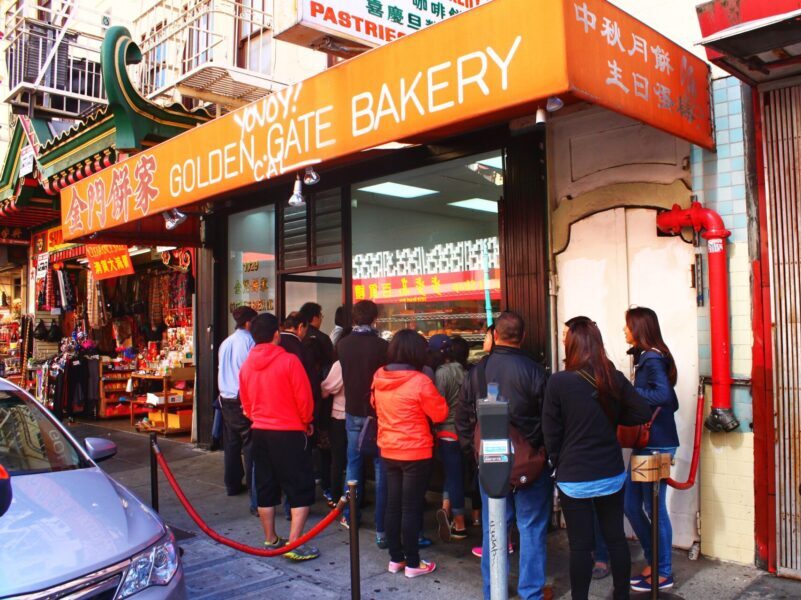 Most people who visit Chinatown come here in search of great eats. Many eateries are excelling at dumplings, pork buns, Peking duck, dim sum, and many more delicious cuisines. The most crowded and popular eatery is the Golden Gate Bakery. Their Hong Kong's style egg custard tart is a sweet, creamy pastry that often gets sold out within hours of opening the bakery.
We enjoy strolling down Grant Street, shopping for local products, or picking up some souvenirs. Besides, we also had dim sum for our lunch at Chinatown.
It's impossible not visiting Chinatown in 3 days in San Francisco. There are many interesting things to see and worth exploring. It is an experience not to miss, so make sure you add a visit to your San Francisco itinerary.
Lombard Street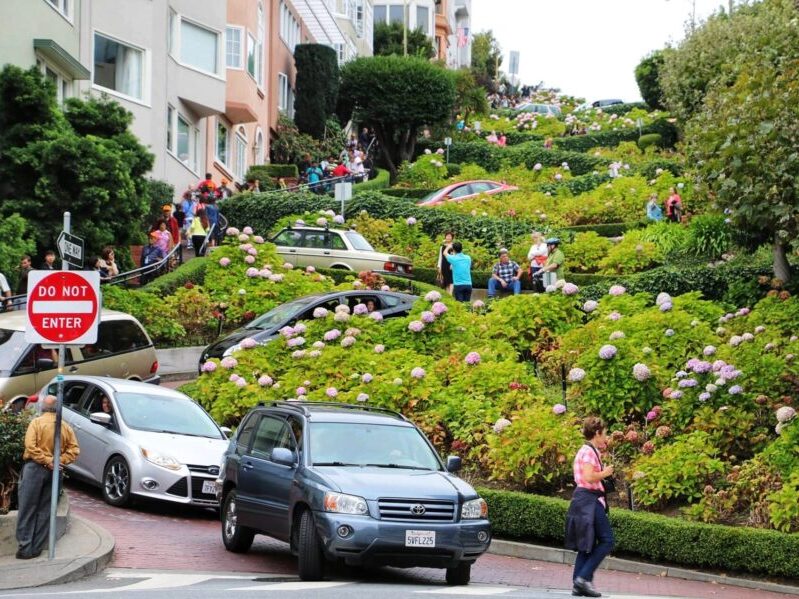 The "most crooked" Lombard Street is one of the popular to-dos lists in any of the San Francisco itineraries. It's the famous street with 8 zigzag sharp turns but with its 27 degrees angle. Many visitors flock to Lombard Street and drive down this windy street. There is always a big crowd, both driving and walking.
In fact, Lombard Street is not the most crooked street in the country. But the people that live on this road of go out of their way to make it beautiful especially in the spring. The steepness of the windy cobbled street is fantastic to see when visiting.
Driving down this winding street on a hillside is great fun. It is a fun experience for the first-timer to drive down the hill. But even if you are not driving, watching from the bottom from some of these longer cars that try to attempt the drive down is fun! We were amazed to see cars driving down this beautiful one-way street, lined with stunning flower beds with its 8 unique hairpin bends. It was spectacular and unique!
Fisherman's Wharf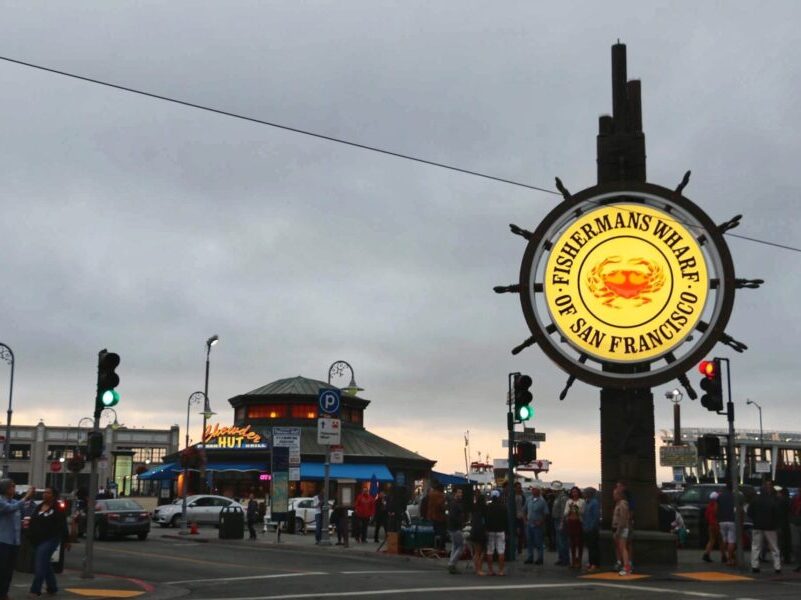 The Fisherman's Wharf is another must-visit in the San Francisco itinerary. Almost all people will visit this popular waterfront attraction on any given trip to San Francisco. It is always had excitement no matter what hour you visited. There are lots of shops, restaurants, marinas, entertainment, and museums. It is always busy and crowded with tourists and locals.
Besides, Fisherman's Wharf is also where the tours leave for Alcatraz, along with other bay ferries for sightseeing or specific destinations on the bay.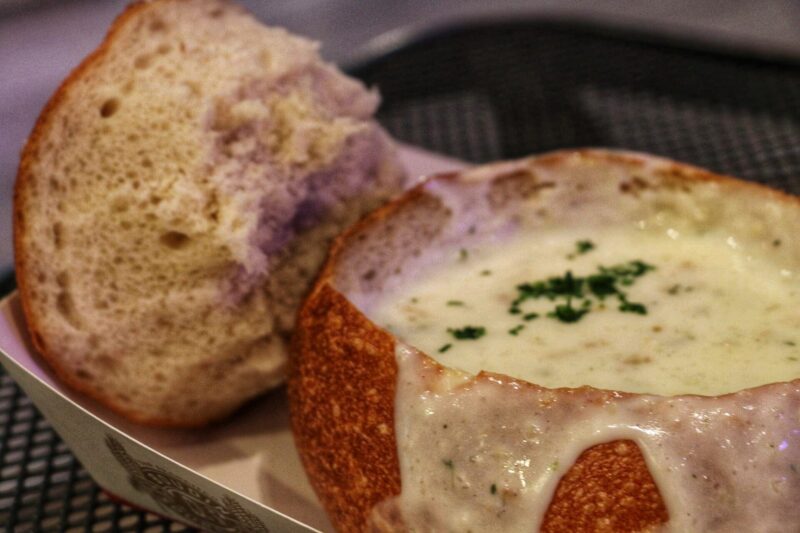 Come to Fisherman's Wharf if you are looking for what to eat in San Francisco. There are plenty of dining options, from street foods to varying quality seafood. You must have the Clam chowder in a sourdough bowl of bread. It is very tasty and filling. San Francisco must-try food!
It's worth a visit to Fisherman's Wharf just to get the tourist experience in San Francisco.
Pier 39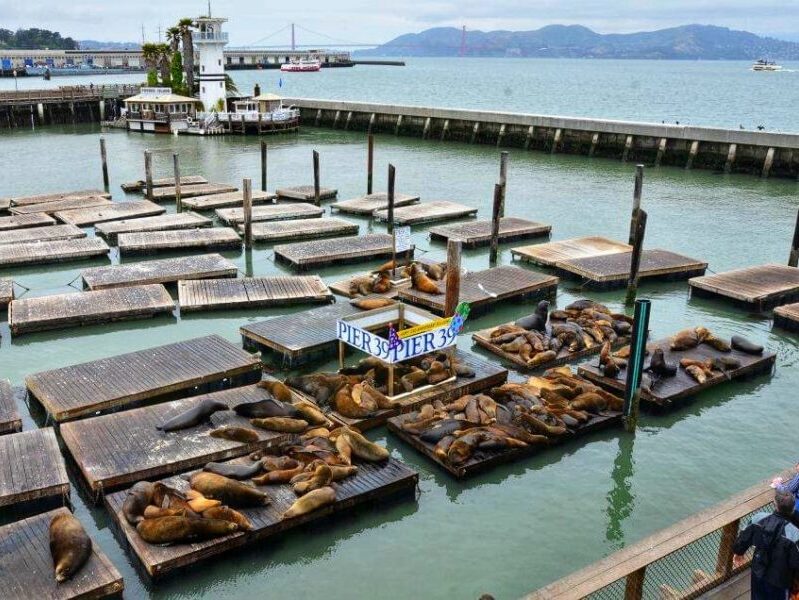 A day of shopping and watching the sunset is always a great activity at Pier 39. It is an attractive place to wander, with a fantastic view and great atmosphere. Once you've walked here, you can stroll down the street lined with more stores and restaurants. There are a few pretty good street performers.
But the fun is in watching the protected seals that have taken over a big chunk of the pier. You'll spot a huge group of sea lions on the docks which have been living at Pier 39 for decades. It is also one of my favorite things to do in San Francisco.
We all fall in love when watching the sea lions hang out, swim, bark, and play around the dock. It is so wonderful to see them so close. Don't feed them and they're protected!
DAY 3: San Francisco Itinerary
On the last day of your San Francisco itinerary, I recommend getting out of the city and heading for a scenic road trip or wine tasting in Napa Valley.
Scenic Route along Highway 1
Napa Valley is California's most famous wine region. It is also one of the most popular day trip destinations from San Francisco with a relatively easy 60-90 minute drive north from the city. You could easily take a day trip to this wine country to sip on some of the best wines in the world. If you don't have a car, you can also join the tour departed from the city to explore some of the best wines in California.
Tour Recommend: Napa Valley and Sonoma Full Day Wine Tour from San Francisco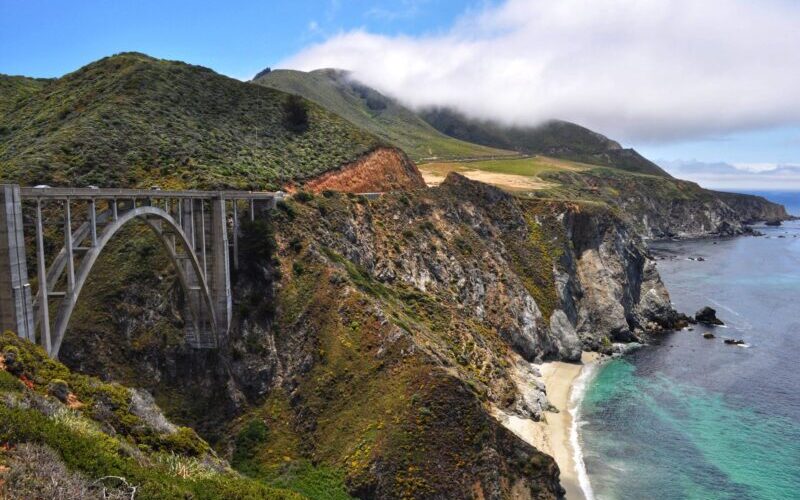 Another worth recommendation is iconic California's Highway 1 for a scenic Pacific Coast Highway road trip. Named one of America's most scenic drives, the route from San Francisco to Big Sur is the most scenic stretch of the Pacific Coast Highway.
The road trip has many vista points with great views and attractions along the way. You will see rugged coastal, majestic views, unique hikes, and unforgettable beaches along the journey.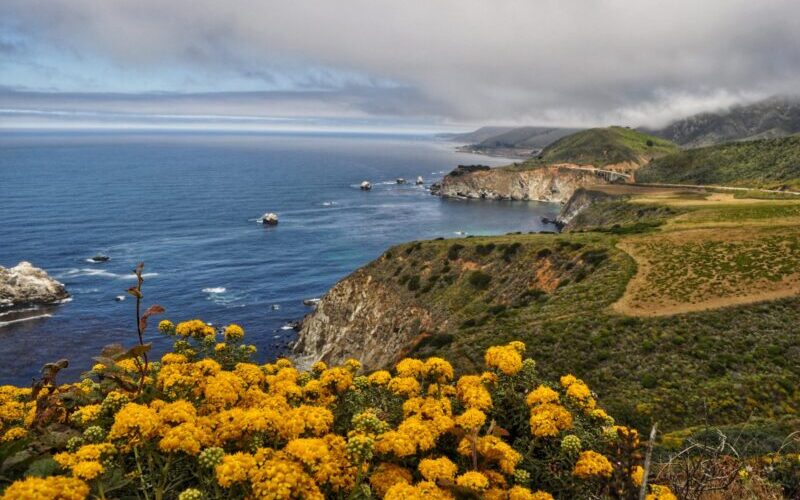 We started from San Francisco, drive south to Big Sur, and ended in Los Angeles. It was a long driving journey but definitely worth it. We documented our Pacific Coast Highway Road Trip from San Francisco to Big Sur. Feel free to take a look if you are planning for a scenic Highway 1 route.
Further Read: Big Sur Itinerary: Highway 1 Road Trip Travel Guide Blog
More San Francisco Travel Tips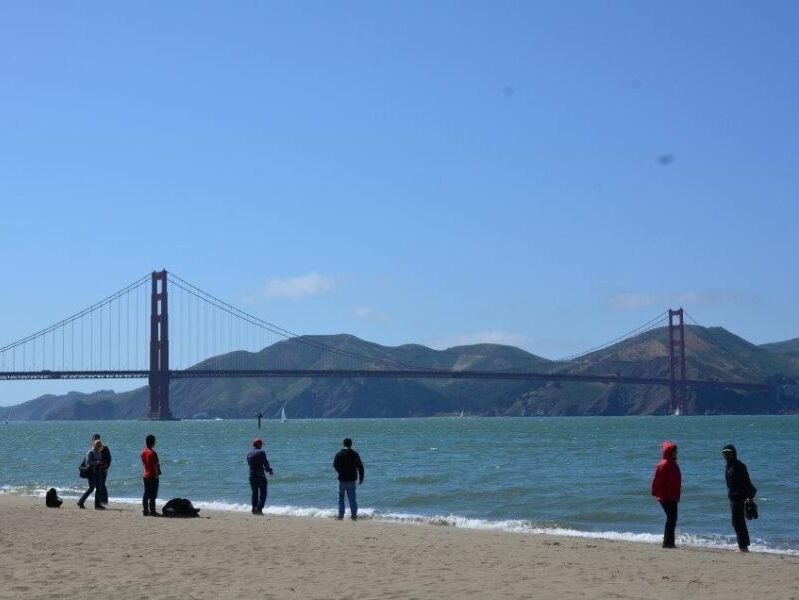 Here are the San Francisco travel tips to help you make the most of your travel time in the city:
Know the weather before you're out. The wind and frog keep SF weather on the chilly side. We recommended dressing in layers with a windbreaker or hoodie to protect from strong wind.
Wear comfortable shoes. San Francisco is a city for walkers, and you're going to be doing a lot of hill climbing during your visit.
The Golden Gate is amazing and you can view it from a different perspective other than the popular vantage point. We love the Golden Gate view from Baker Beach!
If you plan to tour Alcatraz Island, remember to make reservations for at least two weeks ahead. The tour is extremely popular and fills up fast!
Parking is notoriously bad in San Francisco. The parking fee is expensive and very limited.
Lyft share rides or Uber are convenient and budget-friendly. If you're taking this, you'll no need to worry about the outrageous parking fee in the city.
Car break-ins are quite common, especially in touristy areas. Be sure to leave NOTHING valuable in your car.
Overview: Planning For San Francisco Itinerary
There you have it – the San Francisco itinerary for 3 days! You should now see the iconic Golden Gate, natural scenery, a bustling downtown, unique prison tours, and so much more. There's certainly a lot more to do in San Francisco than I could ever fit into a few days of the visit. Use this suggested San Francisco itinerary as your starting point and see where your trip takes you. I promise it won't disappoint!
Are you planning a trip to San Francisco or other interesting places in California? Feel free to read more on our California travel guide blog posts below:
Travel in Arizona: