Last updated on September 23rd, 2023
If you want to get a glimpse of wonderful chickens delicacy in Fukuoka, definitely worth checking out the best mizutaki from Hakata Hanamidori. A must try food when looking for what to eat in Fukuoka.
Mizutaki (みずだき, 水炊鶏) is a popular traditional local delicacy in Hakata, Fukuoka region. Origin in the Keiou period, this chicken soup hotpot dishes has elevated into a delicacy and spread to all over Japan from Hakata. The mizutaki is not as simple as just simmering chicken and soup. The nutritious chicken broth was prepared by using domestic farm fresh chicken and slowly boiling for long hours and effort. For sure, the broth is full of flavorful and delectable taste.
While Hakata Hanamidori (博多華味鳥) is one of the famous restaurant for best mizutaki in Fukuoka. It has its special recipe by preparing the flavorful broth that draws from the chicken, without adding any seasoning. A full course meal of authentic mizutaki is not cheap and can easily range from ¥3,000 to ¥10,000 per person. Considering this, we decided to try the lunch menu from Hakata Hanamidori. It is the best budget way to sample the best mizutaki in Fukuoka without breaking your bank.
Read on my food sharing blog for Hakata Hanamidori mizutaki during my Fukuoka trip.
Hakata Hanamidori Hakata Station Chikushi Gate
The famous Hakata Hanamidori has a total of 11 branches in Fukuoka with three shops located nearby Hakata Station. Among them, Hakata Hanamidori Hakata Station Chikushi Gate (博多華味鳥 博多駅筑紫口店) served the valuable lunch menu. Extremely popular among office worker and easily get full during lunch hour.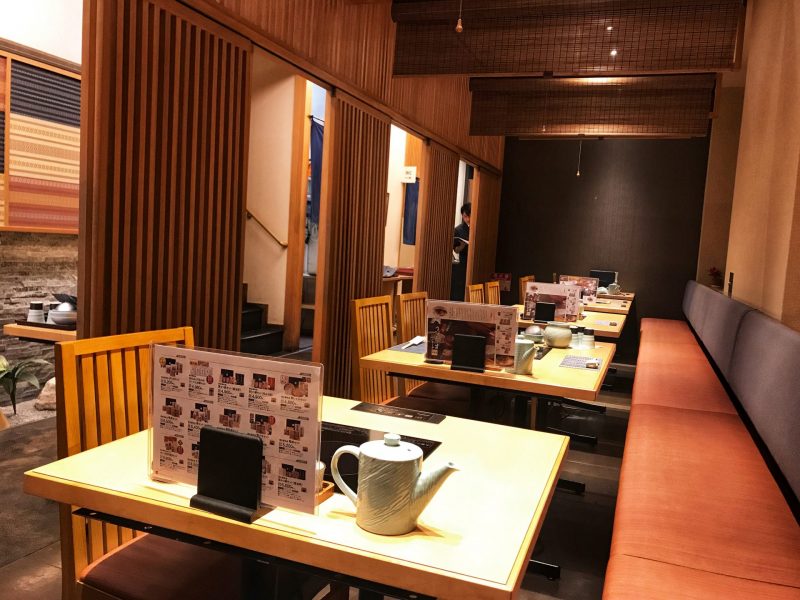 From Hakata Station, it required about 5 minutes walk to get there. But it was easily found thanks to google maps. When we arrived in the store, we were greeted by friendly staff and lead us to the table seating. The dining environment inside was very cozy. There were also private room crater for a larger group. While it was still early, there were still plenty of seats inside the restaurant. It gets fully seated during we enjoy our meal.
Weekday Lunch Menu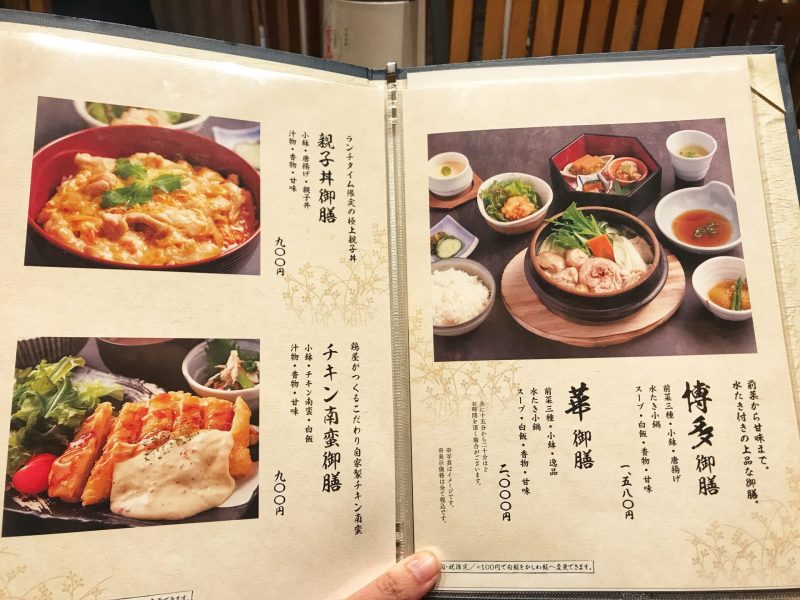 Once seated, the waiter served us a cup of hot tea to warm up before the meal. We also got the present lunch menu which included their famous mizutaki hot pot and several other courses. Menu is available in Japanese, English, and Mandarin.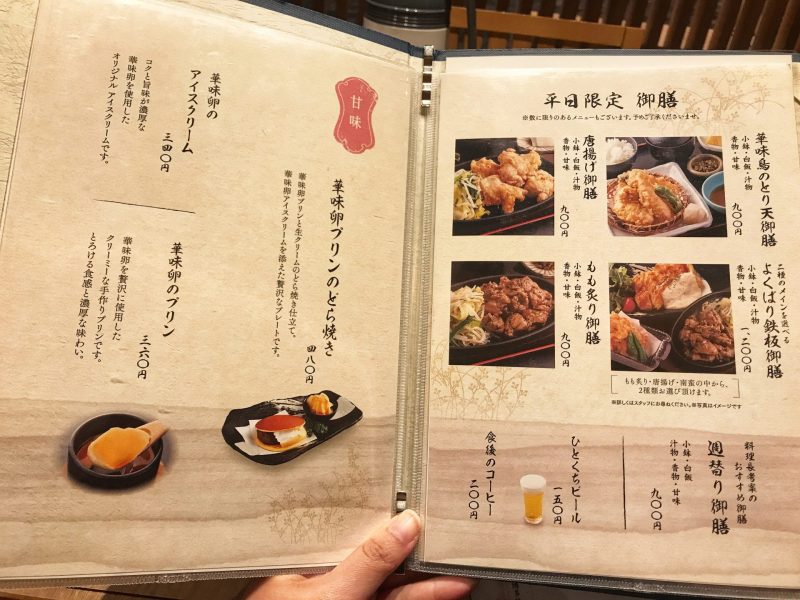 Besides the mizutaki set, you can also opt for Namba chicken, karaage set, charcoal grill chicken or other set lunch with chicken. All sets come in a very reasonable price tag.
We had a glance on the Hanamidori's course and decided to go for the Hakata lunch course at ¥1,580. The set menu will come together with popular mizutaki, three small bowl of appetizer, karaage, rice, and wide range side dishes.
Appetizer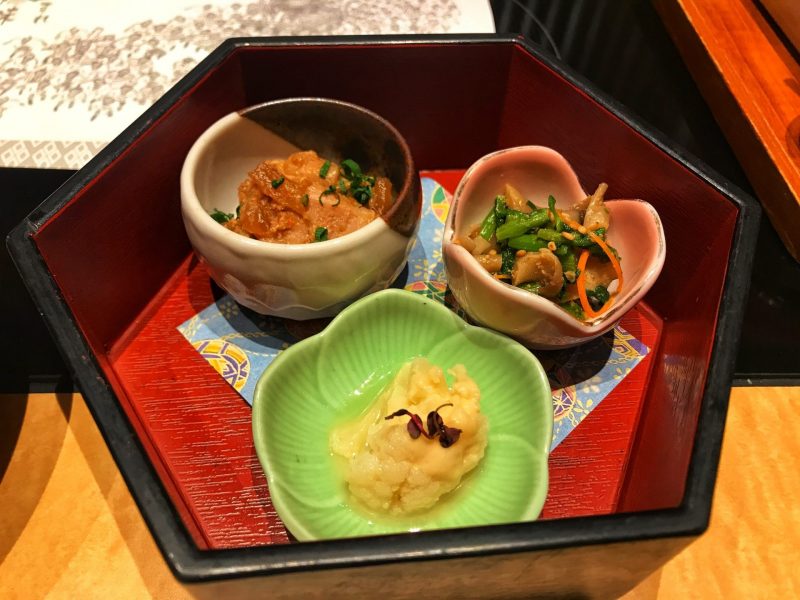 Firstly, the course started with three assorted appetizers which beautifully served with seasonal vegetables such as asparagus, and cauliflower. Simple and fresh.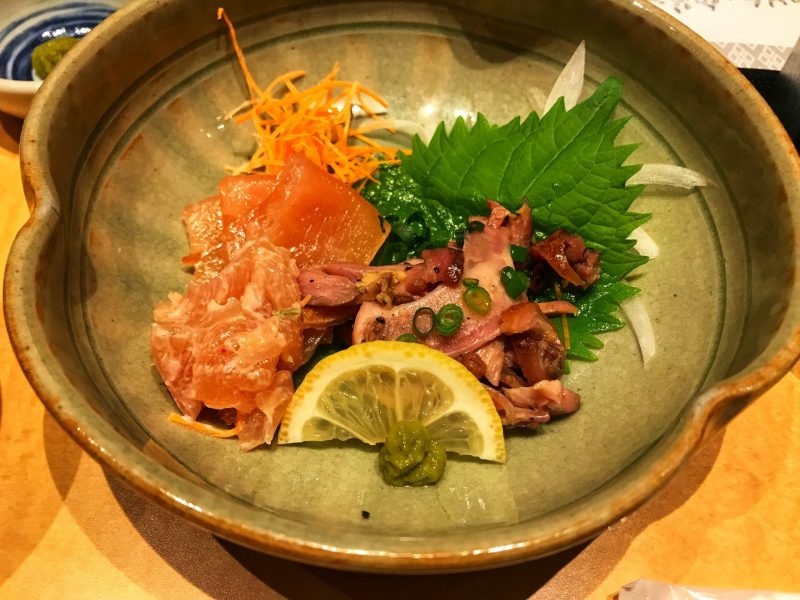 The next round of appetizers came up. The Hanamidori chicken sashimi and lightly roasted chicken ham. I was slightly excited as this was my first trial on chicken sashimi. The taste was not too bad. It was creamy with a soft texture on it. We like to enjoy it together with roasted chicken which had a scallop-like texture and flavor. The flavors together were fantastic.
Mizutaki Chicken Broth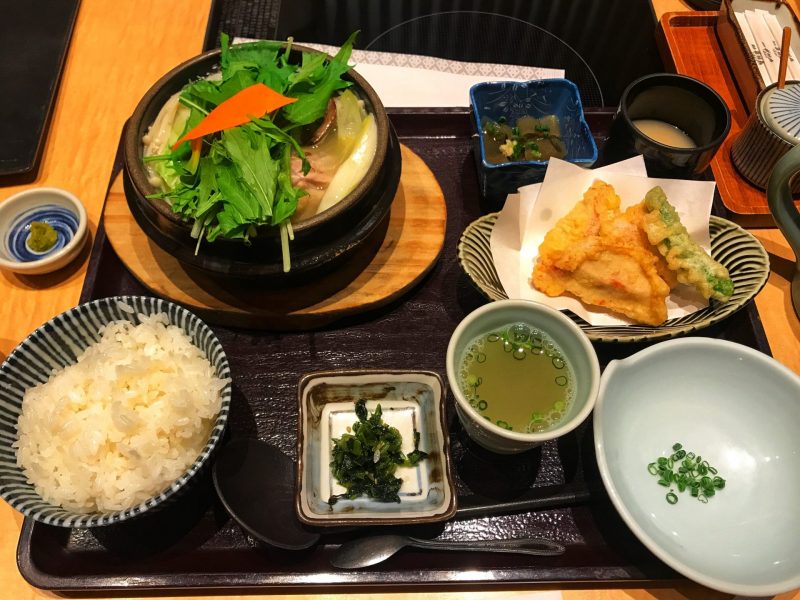 Next was about the most exciting moment of the meal. The servant brought out the mizutaki course in a bowl of chicken broth together with other side dishes.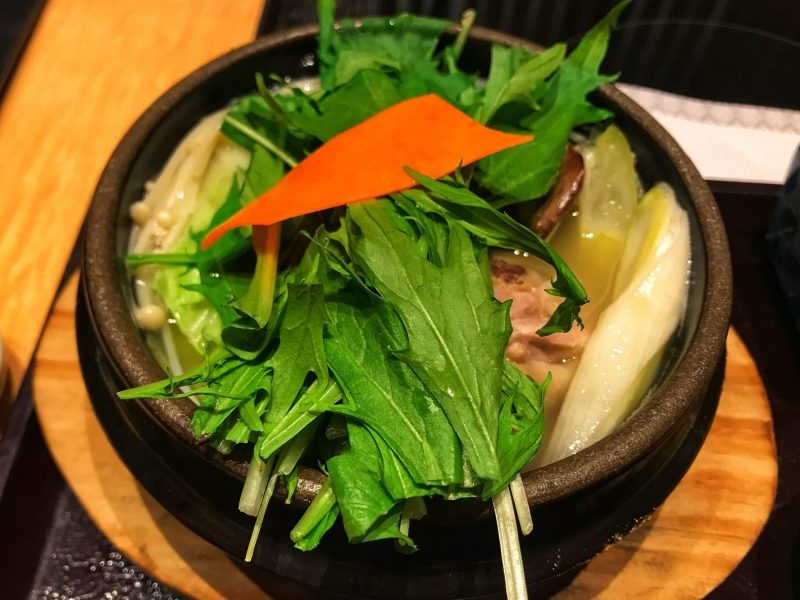 Chicken, meatball, veggies, mushroom, smooth tofu and other fresh ingredient were being cooked in the small pot and aromas were starting to get quite incredible. All the dishes were well prepared and look so delicious.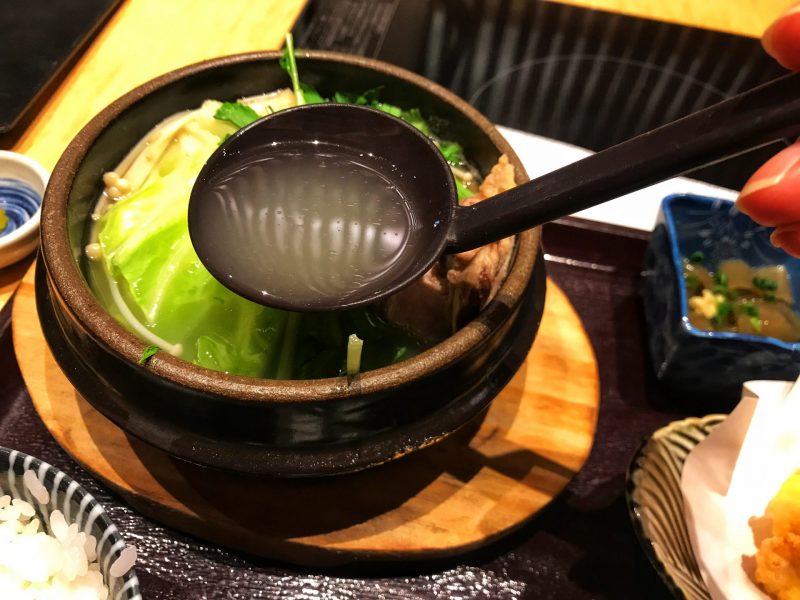 We can't wait for the first try of the best mizutaki in Fukuoka. To enjoy the mizutaki, firstly start with a sip of the soup before eating anything else. There was a little ceramic cup of soup to let us try out the most original and freshness of the chicken broth. The clear chicken soup was what to die for. It was flavorful, tasty but not greasy at all. This is the best soup with subtly sweet chicken flavor. Not too overpowering or salty. Alternatively, you can also opt by adding a bit of salt or green onion before scooping in more soup.
Perfectly Flavored Boned Chicken Thigh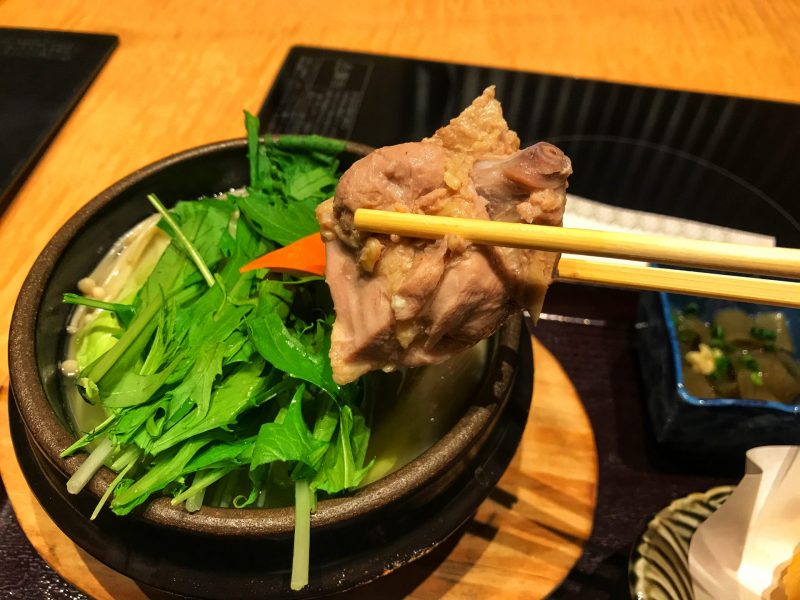 The next step is to eat the tender chicken that had been stewing in it. We have the perfectly flavored boned chicken thighs. It was incredibly tender, juicy and succulent. The best-tasting chicken I have ever tried. We love to dip it into ponzu sauce which adds such a refreshing kick to the chicken. A perfect match! But there were only a few pieces in the pot. Can I ask for more?
While the meatball and vegetables are also very nice. The vegetables were so fresh and perfectly balanced the meats. It was an enjoyable experience eating them with the chicken. Even with no rice or noodles, it was an enjoyable experience eating them with the chicken. But we feel it taste extremely wonderful with the ponzu sauce.
Besides, the broth tasted even more amazing at the end. We finished everything until the single last drop of the hot pot.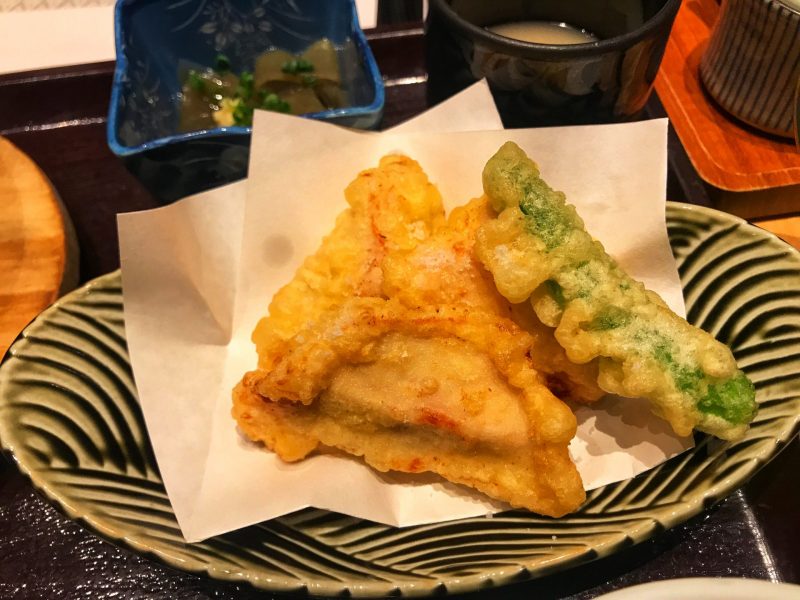 The set also comes with some chicken tempura. The juicy marinated chicken was coated in an ultra-light batter crisp shell and deep-fried to crispy perfection. It was full of chicken's natural flavor and very tasty.
We ended the satisfying meal in Hakata Hanamidori and walked out with a happy tummy. Given the quality and price, it was fantastic and value for money. I would come back if I was in Fukuoka again.
The Best Hakata Mizutaki
Overall, it was a delightful lunch in Hakata Hanamidori. The mizutaki broth was original and flavorful. It might not rich in ingredient, but the broth itself worth a try. If budget is not a concern, we recommended trying the full course meal at dinner. If you have the budget for it, a lunch course menu in Hakata Hanamidori is your choice. It also serve mizutaki for solo traveler.
The quality of ingredient, art like approach of dishes, a taste for flavorful soup will blow you away by the wonderful meal here. If you are visiting Fukuoka, please allocate some time to try the mizutaki to appreciate this traditional cuisine. Another must eat food in Fukuoka.
Hakata Hanamidori Hakata Station Chikushi Gate (博多華味鳥 博多駅筑紫口店)
Address: 〒812-0013 福岡県福岡市博多区博多駅東1-13-31 駅東サンシティビル1F
Operating Hours: Daily from 11:30 to 15:00 and 17:00 to 00:00 (Last Order 30 minutes before closing)
Getting there: 4 minutes walk from JR Hakata Station
Expected to Pay: Lunch from ¥1,000 and Dinner from ¥3,000
Lastly, this Hakata Hanamidori Mizutaki: Fukuoka Best Chicken Delicacy is part of my Fukuoka food guide. If you are interested, continue to read on my remaining Fukuoka food blog for all the best food and must eat in Fukuoka. Enjoy your food hunting in Kyushu.
Related Fukuoka travel blog and itinerary: