Last updated on June 3rd, 2023
An ultimate travel guide to plan on Fukuoka itinerary including things to do, where to stay, and what to eat during your trip to Fukuoka. Make sure to read on for some ideal and money-saving tips when getting around in Fukuoka.
Fukuoka (福岡) is the biggest and busiest city in Kyushu. Thanks to the frequent domestic and international flights to Fukuoka Airport, Fukuoka offers a great gateway to the Kyushu region and other interesting prefectures in Kyushu. The well-connected railway system makes it a great base for starting and ending your trip when visiting the Kyushu region. Moreover, the amazing Fukuoka city has lots of things to offer. It is also the birthplace of many wonderful Japanese cuisines such as Hakata ramen, motsunabe, mizutaki, and even yatai culture. It turns out that Fukuoka is one of the amazing cities to plan for your trip here.
This Fukuoka itinerary and travel guide blog will suggest some of the transportation arrangements, things to do, and a day trip that you can partake for a wonderful stay in Fukuoka city. You can even extend your trip to the Southern Kyushu area if you have more days for your Fukuoka itinerary. Some of the attractions are visited when we traveled back from a day trip from other places in Kyushu. That means you are free to squeeze more activities in between during your stay in Fukuoka.
This Fukuoka travel guide blog will give you some idea when planning your Fukuoka itinerary. So make sure to read on.
Fukuoka Travel Tips:
We recommended to stay nearby Subway Station for easy getting around and food hunting. The
Hotel WBF Grande Hakata
is located in the central location with walking distance from Hakata Station. Open air bath, free drink, spacious room and great value for money. Popular pick in Fukuoka. When looking for the best prices and the biggest selection of hotels in Fukuoka, always check from
Fukuoka best Hotels from booking.com
. We found they are the best option with a great cancellation policy.
Best Time To Visit Fukuoka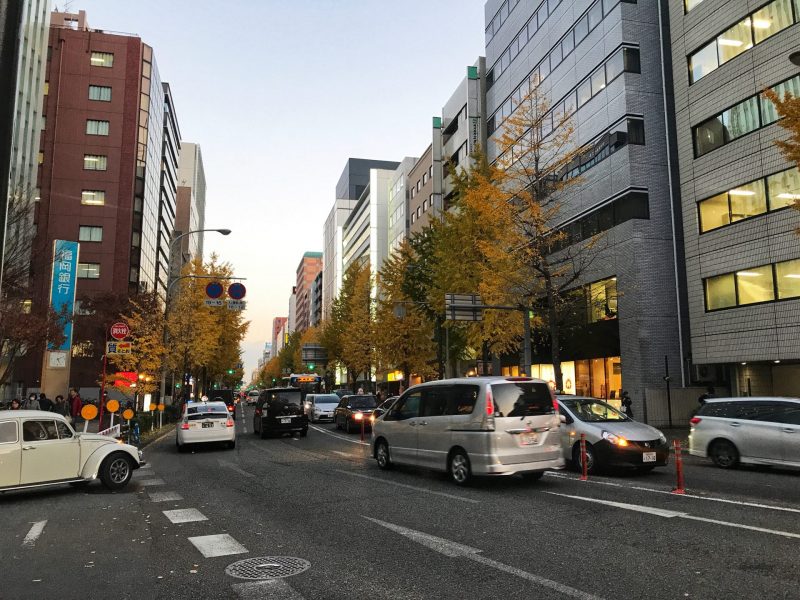 Fukuoka can be visited all year round. This lively city quickly recovers from the cold winter month and welcomes spring earlier. It is also one of the earliest locations that welcome cherry blossom in Japan. While Summer (June to August) is the busiest, hottest, and also the most expensive period for visiting Fukuoka. Fall is a great time for sightseeing as the weather is gentle, not too hot or cold.
The temperature started to drop during December. But Fukuoka experiences mild winter compared with other Northern regions of Japan city. It rarely drops below freezing and almost no snowfall. But the weather can be very cold due to the strong wind. So remember to bring warmer clothes if you are visiting Fukuoka in winter. Generally speaking, Spring and Autumn is the best time to visit Fukuoka for travelers.
How To Get To Fukuoka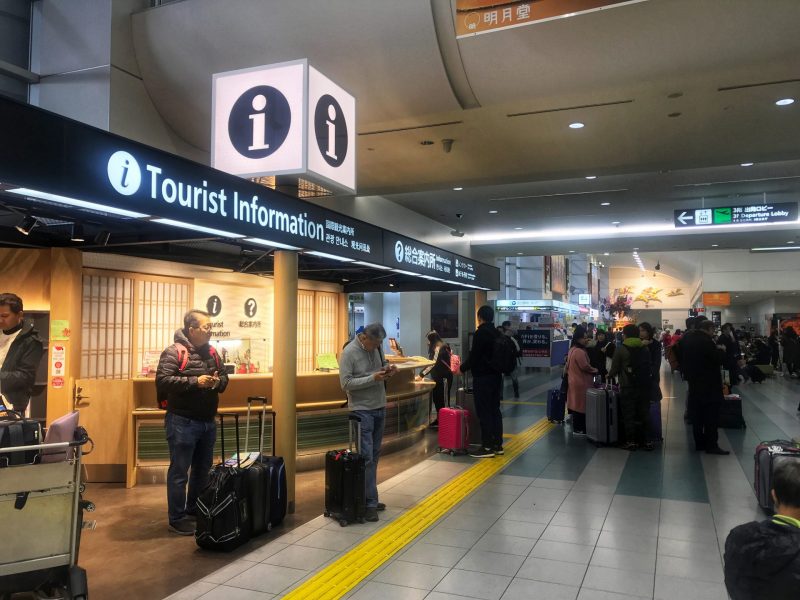 Fukuoka is the largest city in Kyushu and can be accessed by either flight or shinkansen (bullet train). If you coming by flight, Fukuoka Airport is your primary gateway to Fukuoka and Kyushu region in general. Many international and domestic flights are connecting Fukuoka and other cities in Japan and foreign countries.
From Fukuoka Airport To City Central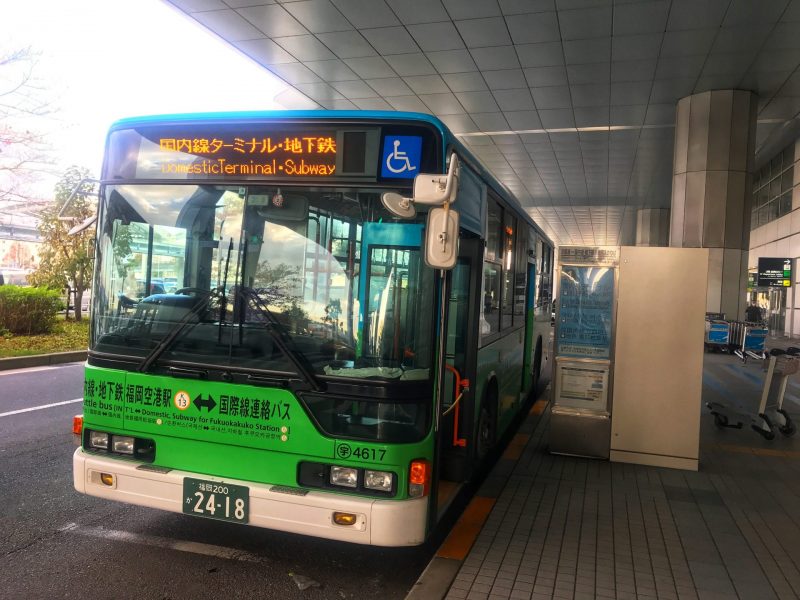 From Fukuoka Airport, it is pretty easy to get to the Fukuoka downtown by subway. The airport is located in Hakata Ward and is only about 2 stops or 2.6 km from the Hakata subway station. Take note that there are two terminals in Fukuoka Airport (International and Domestic Terminal) in separate buildings. The subway station is connected to the domestic terminal. But the good news is that a FREE shuttle service provides for travelers between international and domestic terminals.
There is various transport that you can get to the downtown area from Fukuoka Airport:
By subway to Hakata Subway Station: Can't imagine we can get to the Fukuoka city with just 3 stops of a subway ride. It normally takes less than 30 minutes including the transfer from the international to the domestic terminal at ¥260 of a subway ride. From then, you can transfer to your hotel in Fukuoka city. If you are getting more than 3 subway rides per day, get the Fukuoka Subway Unlimited Pass (1-Day/2-Days) for touring around conveniently.
By taxi to hotel doorstep: Depending on the distance, the general price ranges from ¥1,000 to ¥3,000 within the downtown area. A great choice for a group of three without luggage in tow.
Private shuttle service to hotel doorstep: Another great option for hassle-free from Fukuoka Airport to Fukuoka or nearby cities. There are up to 7 to 10 seats for a private transfer. Check price from Klook.
Getting Around in Fukuoka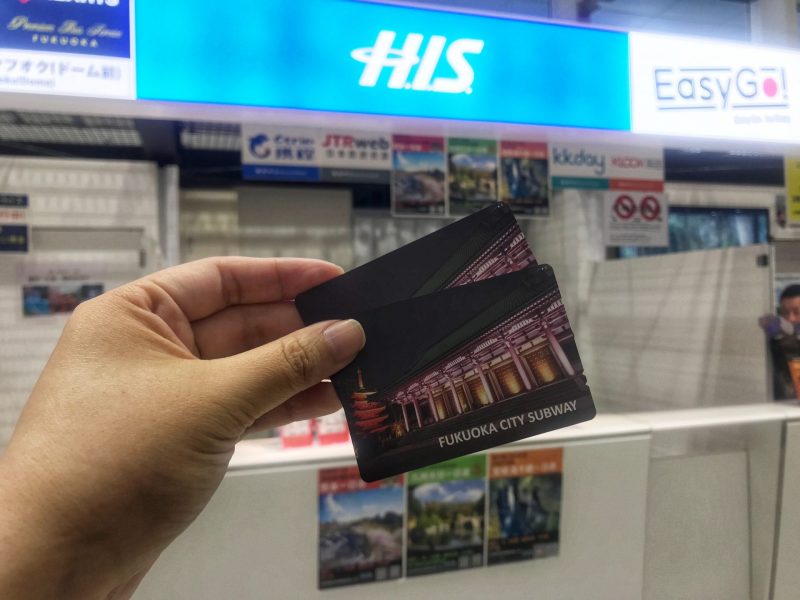 Once you are in town, Fukuoka city is easily getting around with foot or public transport. Most of the attractions are connected with frequent subways and buses. The subway system has three lines: Airport Line, Hakozaki Line, and Nanakuma Line which well connected the Fukuoka city area. It almost can bring you to the top attraction in town. You are also advised to stay nearby the subway line to ease getting around.
The single ride on the subway is starting from ¥210. If you are taking more than three subway rides per day, consider getting the Fukuoka subway unlimited pass. The unlimited Subway Pass for 1-Day at ¥620 and 2-Days ¥740 for consecutive usage. Half price for kids from 6 to 11 years old.
Fukuoka Travel Tips
You can also get your travel essentials at the airport before starting your Fukuoka itinerary:
Stay connected with unlimited Wifi router (good for group travelers) and 4G Sim Card. Reserve early and pick it up at the airport as it can be sold out easily.
If you are planning to self-driving, the car rental counter is also located in the arrival hall. You can check your rental car price from RentalCars.com for various companies. The Budget Rent-A-Car and Nissan Rent-A-Car offer a great deal for your best car rental. Reserve early to get the best car of your choice.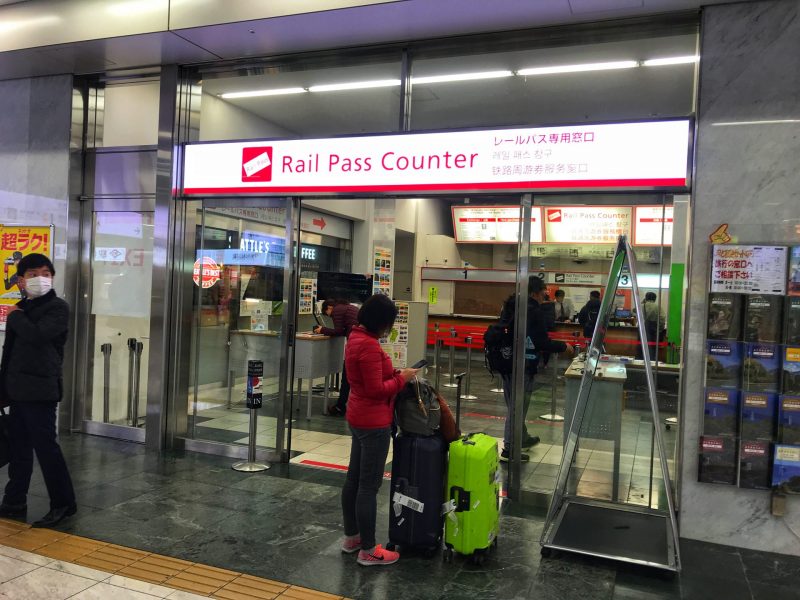 If you are planning your Fukuoka itinerary and other cities in Kyushu, there are many transport passes that are suitable for your trip. Take note that transportation in Japan can be very costly. Making good use of a transport pass that is only offered for foreign visitors can greatly save you a lot of money.
Kyushu JR Pass
All Kyushu Area 3-Days (¥15,280) and 5-Days Pass (¥18,330)
Northern Kyushu Area 3-Days Pass (¥8,660) and 5-Days Pass (¥10,190)
Southern Kyushu Area 3-Days Pass (¥7,5000)
SunQ Unlimited Bus Pass
All Kyushu 3-Days (¥11,000) and 4-Days Pass (¥14,000)
Northern Kyushu 3-Days Pass (¥9,000) and Southern Kyushu 3-Days Pass (¥8,000)
Fukuoka Itinerary
Being the largest city in Kyushu, Fukuoka is an important hub for travelers for starting on and before leaving Kyushu. Here are some of the things to do that can be put into your Fukuoka itinerary. Please note that these itineraries are not meant to be done chronologically so you can mix and adjust your Fukuoka itinerary based on your travel plan.
Fukuoka itinerary – What To Do in Fukuoka:
Pray at Dazaifu Tenmangu Shrine (3-4 hours).
Riverboat ride in Yanagawa River Cruise (3-4 hours).
Shopping in Canal City Hakata (1-2 hours)
Visit Fukuoka Castle and Ohori Park (1-2 hours)
Kushida Shrine (1 hour)
Fukuoka Tower (1-2 hours)
Try the Yatai Food Stalls. (1 hour)
Enjoy Fukuoka local delicacy: Hakata ramen, motsunabe, mizutaki and more.
Day trip to Fukuoka nearby cities: Kitakyushu, Nagasaki, Sasebo or Huis Ten Bosch.
Dazaifu Tenmangu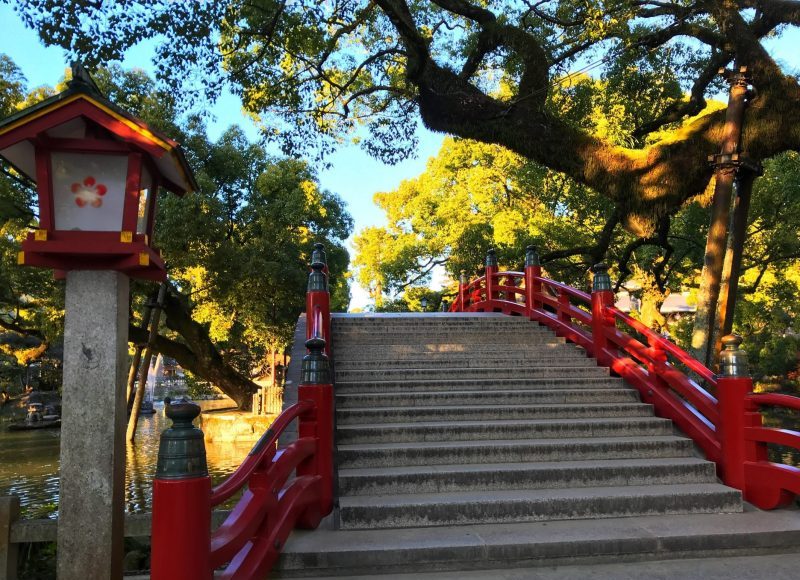 Probably the must-visit attraction in your Fukuoka itinerary. The Dazaifu Tenmangu Shrine (大宰府天満宮, Dazaifu Tenmangū) is one of the important Tenmangu Shrines throughout Japan. It retains the traditional and gorgeous Shinto architecture.
Pray at Dazaifu Tenmangu Shrine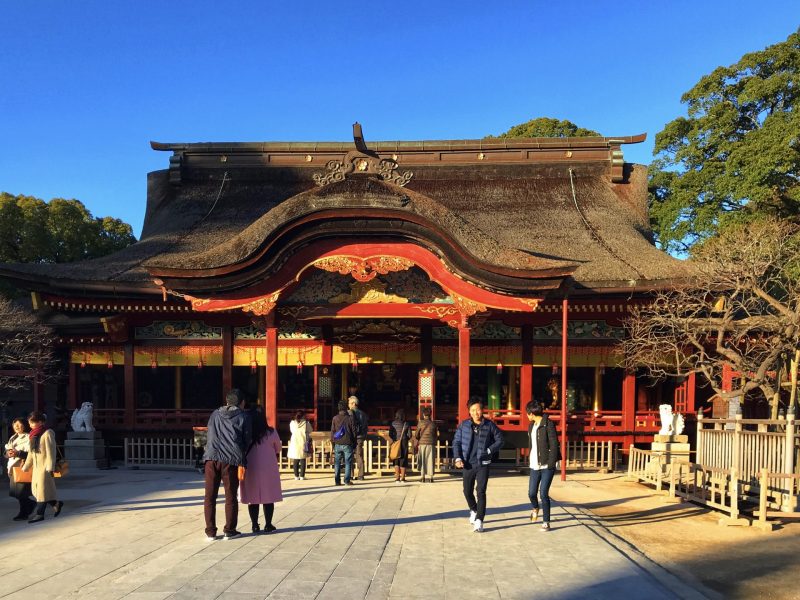 Dazaifu is dedicated to the spirit of Sugawara Michizane, an important scholar and politician of the Heian Period. So it is popular among Japanese students to pray for good results during an examination. Don't forget to get the Umegaemochi (red bean mochi), a local specialty when visiting Dazaifu.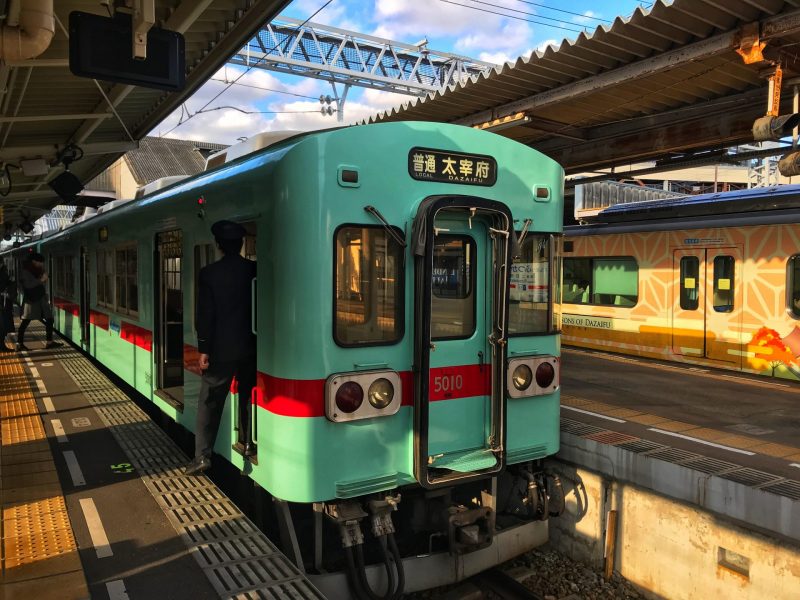 From Fukuoka To Dazaifu:
By Nishitetsu Train: From Nishitetsu-Tenjin Station to Nishitetsu-Futsukaichi Station, and then transfer to Dazaifu Station. The journey takes about 50 minutes with ¥400.
By JR Train: Take the train to JR Futsukaichi Station and walk for about 20 minutes on foot to Nishitetsu-Futsukaichi Station. From there, transfer to Dazaifu Station by train. It takes about 90 minutes for a complete journey at ¥420 (JR train ¥270 and Nishitetsu train at ¥150).
By Bus: From the Hakata bus terminal to Daizaifu by Nishitetsu bus with 40 minutes at ¥600.
Take note that Nishitetsu-Futsukaichi and JR Futsukaichi Station are not adjacent to about 20 minutes walking distance.
Yanagawa Riverboat Cruise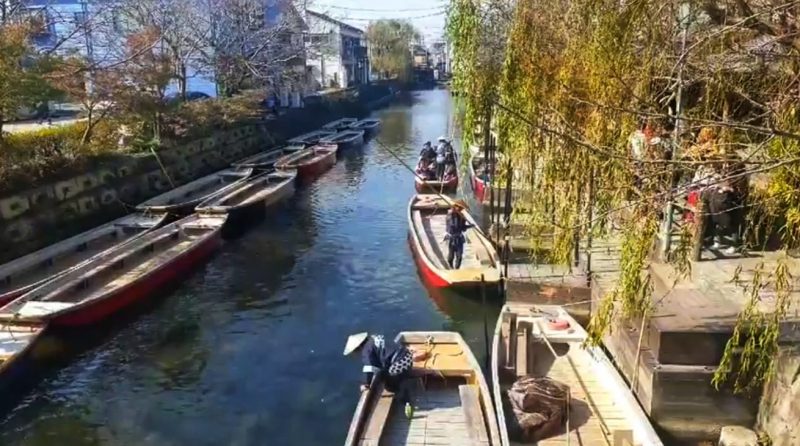 Build in 1588, Yanagawa (柳川市, Yanagawa-shi) is a nostalgic castle town with water-filled moats crisscrossing the town. It is like a Japanese version of Venice and best to enjoy the serene place with a riverboat ride. Experience the traditional Japanese culture by cruising through the Yanagawa River on a donkobun (traditional boat), wearing the bamboo hat, and accompanied by traditional Japanese trot songs from a professional helmsman. A great place to spend a relaxing evening.
Yanagawa is a great place for cherry blossoms with lined sakura trees along the river. It is spectacular when sakura is in full bloom. Enjoy your day by wearing traditional kimono in town.
Getting There: From Nishitetsu Tenjin Station, take the Nishitetsu train (Nishi-Tenjin Oedo Line) and get off at the Nishitetsu Yanagawa Station. Then, transfer to the bus and get off at Minjomachiat Station.
Canal City Hakata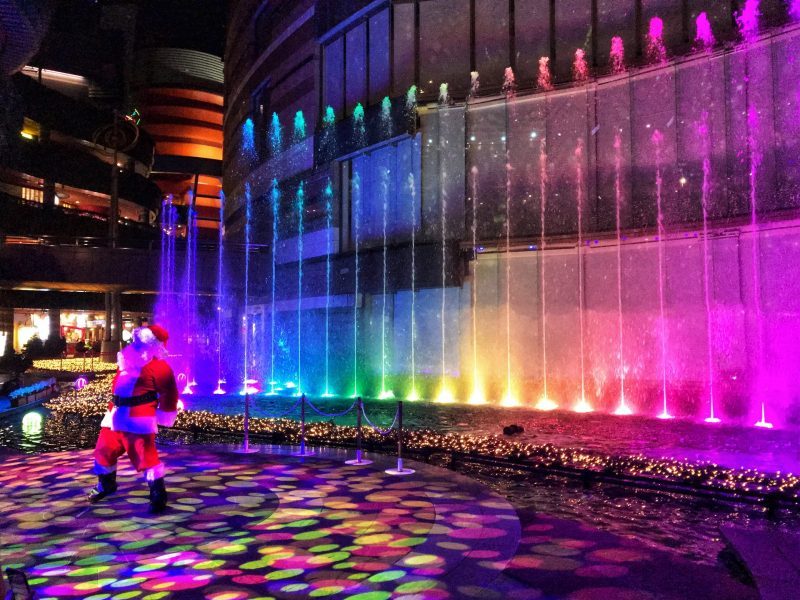 The largest shopping complex and one of the most iconic buildings in Fukuoka city. The Canal City Hakata is home to over 200 shops, cafes, and restaurants, and can easily spend your time here. There is also a dynamic colorful water fountain with regular shows and attractive lighting and visual effects. Best place to visit if you love shopping and grab some food to keep you entertained.
Getting There: 15 minutes walk from Hakata Station.
Fukuoka Castle and Ohori Park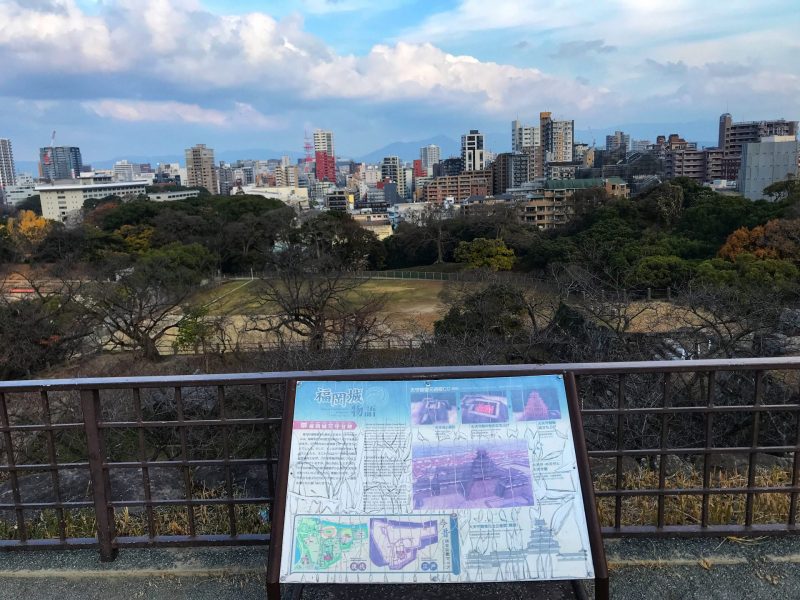 The ruins of Fukuoka Castle (福岡城跡, Fukuokajōato) were once the Kyushu's great castles but were completely torn down after the Meiji Restoration. Nowadays, there are few turrets and ruined walls remain. Fukuoka Castle also has a few lookout points that offer a great view of and city.
Next, walked to the nearby Ohori Park. The Ohori Park (大濠公園, Ōhori-kōen) is a lovely spacious park with flowers, trees, and a beautiful lake. It is the best place to tuck away from the hustle and bustle of Fukuoka city. Many locals love to spend their time with family, jogging around, and enjoying the leisure walk around the park. Enjoy the relaxing stroll in Ohori Park.
If you are in Fukuoka during cherry blossom, make sure to visit this area to mesmerize the beauty of sakura. It is the best place for hanami viewing in Fukuoka.
Getting there: 10 to 15-minute walk from Ohori Koen Subway Station.
Kushida Shrine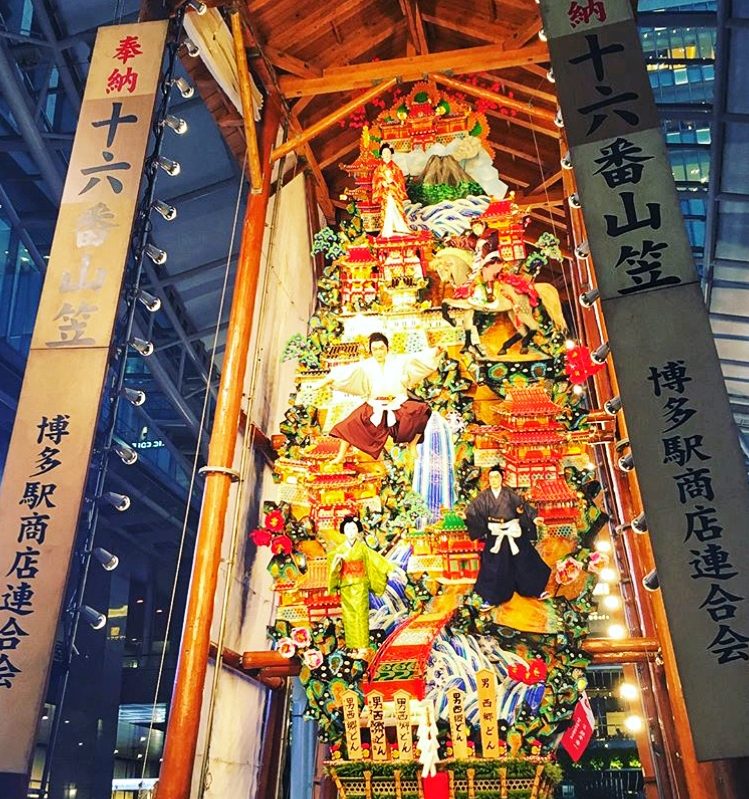 Located in the central of Fukuoka city, Kushida Shrine (櫛田神社, Kushida-jinja) is one of the important shrines among locals and is dedicated to an obscure deity from the annals of Buddhism. The history can be dated back to early as 757 when Hakata was flourishing as a port city in China and Korea.
The Hakata Gion Yamakasa (博多祇園山笠) is one of the most interesting festivals in Japan which is held during summer from 1st to 15th July. During the festival, all the neighborhoods of Fukuoka's Hakata district pushed the giant, lavishly festival floats, named Kazari Yamakasa against each other throughout the city. The Kazari Yamakasa is beautifully decorated with samurai warriors, Japanese fairy tales, and anime. It will rebuild and then be stationed in Kushida Shrine after the festival for one year.
Getting there: The nearest station is Nakasukawabata and Gion subway station with an 8-minute walk to the Kushida Shrine.
Fukuoka Tower
If you have more time, you may put the Fukuoka Tower into your itinerary. At Fukuoka tower, you can enjoy a panoramic view of the entire city of Fukuoka from Japan's tallest seaside tower. The views from a whopping 234m above and illumination at night were fantastic!
Besides, many couples love to spend time visiting the Fukuoka landmark and purchasing a love lock to leave their mark on this magnificent tower. One of the creative ways to commemorate your visit to the tower.
You can get the Fukuoka Tower E-ticket and enter directly by showing the mobile or printed voucher. One of the popular sightseeing places for night view in Fukuoka.
Yatai Food Stalls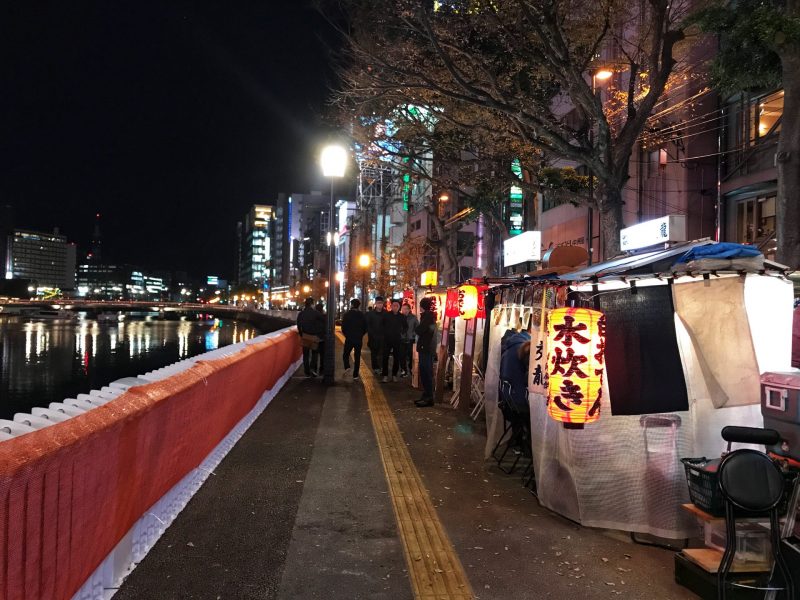 Fukuoka is the birthplace of many local delicacies such as tonkatsu ramen, motsunabe, and more. One of the most unique food cultures in Fukuoka is the yatai (屋台). It is a type of mobile food cart stationed on the sidewalk and formed the unique Yatai culture in Fukuoka.
There are over two hundred yatai food stalls are spread out through the Tenjin, Nakasu, and Nagahama areas. You can sample various Hakata specialties such as ramen, gyoza, motsunabe, yakitori skewers, oden, and even western delicacies. Enjoy your meal, chit-chat with locals, and experience the unique food culture in Fukuoka.
Have Some Extra Time in Fukuoka?
If you're even up for more fun with extra time to spend in Fukuoka, be sure to check out our suggestion below. There are tons of places to enjoy and can be freely included in your Fukuoka itinerary.
[New!] Check out the teamLab's new museum, "teamLab Forest" inside the "Boss E.ZO FUKUOKA" complex on the grounds of the Fukuoka PayPay Dome! Get the FUKUOKA teamLab Forest Admission Ticket via Klook.
Day Trip From Fukuoka
Thanks to the well-connected railway system in Kyushu, Fukuoka is a great base to stay and plan for a day trip. Some travelers even make good use of the Kyushu JR Pass and travel to nearby prefectures for round trips within 1 day. Below are a few top attractions within 2 hours of the JR train journey to the nearby prefecture.
From Fukuoka To Yufuin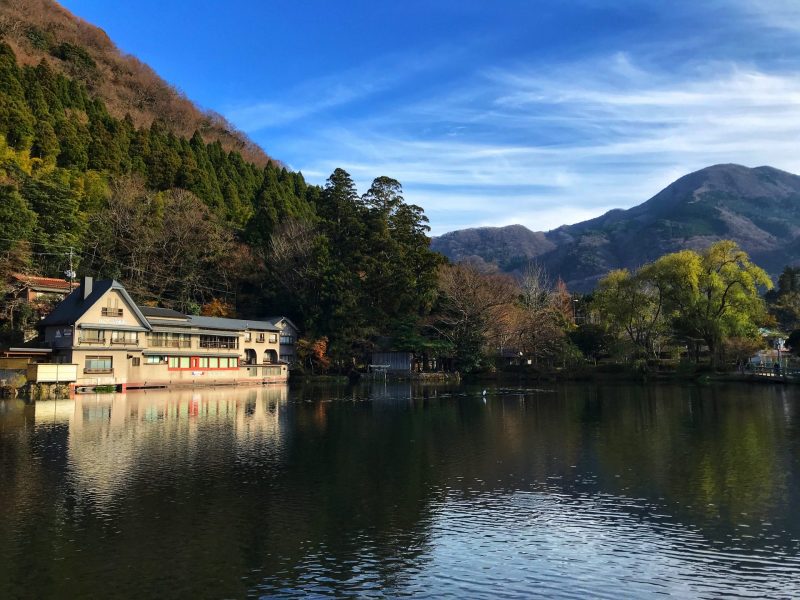 Yufuin: Ride with the most popular scenic train, Yufuin no mori (ゆふいんの森) from Fukuoka to Yufuin. It is a forest theme sightseeing train with a reservation is a MUST for the ride. The scenic onsen town is famous for its hot spring and a variety of artisan boutiques, cute shops, and food stalls. Wandering in town is very relaxing in an idyllic atmosphere. If you are love for relaxing stroll, consider spending one night in the scenic town and soaking in the hot spring bath.
From Fukuoka To Nagasaki, Sasebo
Nagasaki prefecture is worth spending more than a day trip. But if you are only limited in time, Nagasaki can be visited within one day for only one attraction per day. From Fukuoka to Nagasaki take about 2 hours train ride. Nagasaki city offers extensive insight into Japan during the World War II period.
Get Discounted Ticket for Huis Ten Bosch
Huis Ten Bosch amuse park is a replicated theme park with the ambiance of a 17th-century Dutch town. And Sasebo is famous for its Kujukushima Sightseeing Cruise at Ninety Nine Islands. I vote for the Sasebo and took an amazing time for the Kujukushima Sightseeing Cruise.
Further read on: [Nagasaki] Sasebo Itinerary: Kujukushima Sightseeing Cruise
From Fukuoka To Kitakyushu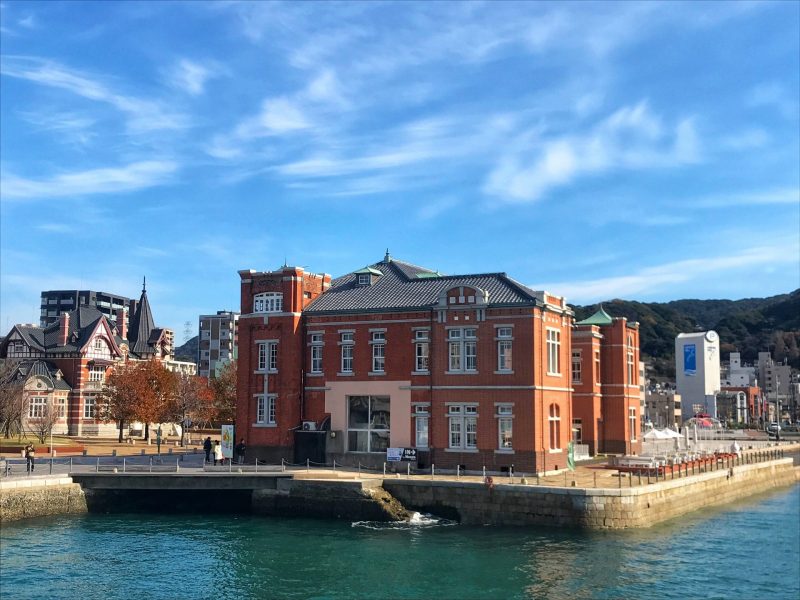 Kitakyushu (Mojiko, Kokura): Plan for a day trip to the Northernmost city in Fukuoka about 2 hours away by train or bus. It is also the gateway between Honshu and Kyushu. Mojiko is home to an interesting mix of traditional Japan and modern culture. It is a stunning city full of historical buildings over 100 years old. Or check out the historical city and visit the Kokura Castle.
Further read on:
What To Eat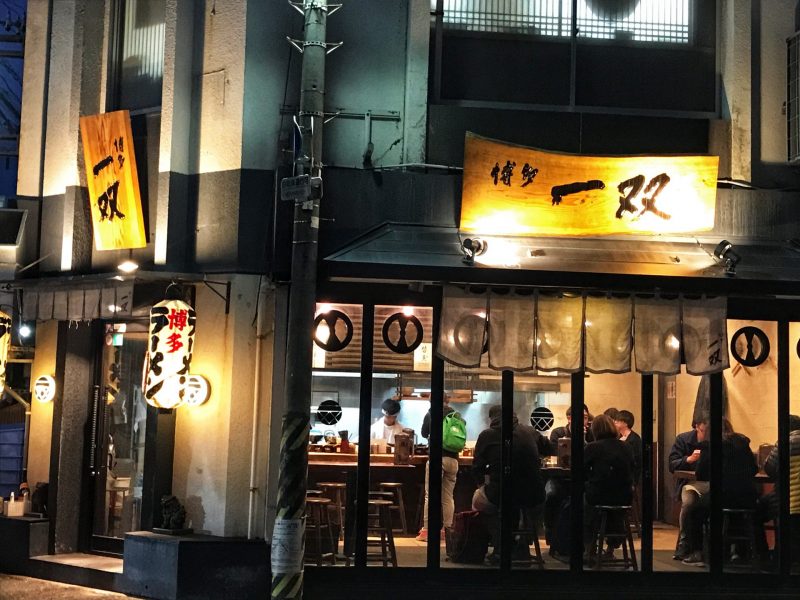 Besides the Yatai food stall culture that we recommended previously, Fukuoka is truly a paradise for the food lover. It is the birthplace of many famous Japanese foods with a wide range of good food to choose from. Below are the must-eat food in Fukuoka if you are in town.
Hakata ramen or tonkatsu ramen is a must-try food in Fukuoka. The milky white pork broth is slowly cooked for a long period and perfectly matches with thin noodles. Besides the world-famous Ichiran ramen, Fukuoka also has many local ramen shops such as Hakata Issou, Ikkousha Fukuoka, Ippundo ramen awaiting you to discover.
Motsunabe is Japanese hot pot dish made from beef or pork tripe or other offal. It is popular among locals and served with different flavors such as salt, miso, or soy sauce. This mouth-watering hotpot is delicious and great to enjoy with a group of friends.
Mizutaki is a kind of chicken hotpot, gentle slow-cooked with long hours and effort. Together with vegetables, mushroom, and local ingredient, the mizutaki bring out a flavorful and delectable taste.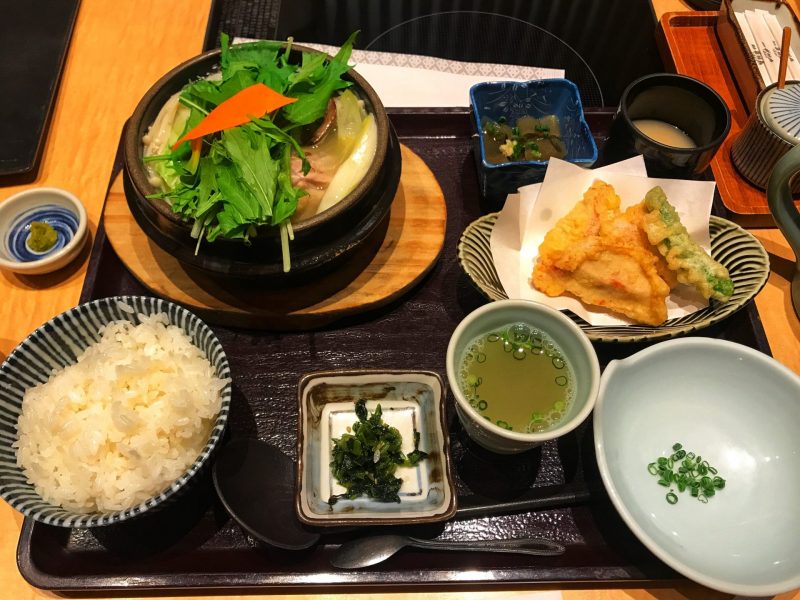 We have an amazing food tour in Fukuoka. If you are still not sure what to eat in Fukuoka, check out our food review below:
Fukuoka Food Guide: Best Must Eat Food in Fukuoka
Where To Stay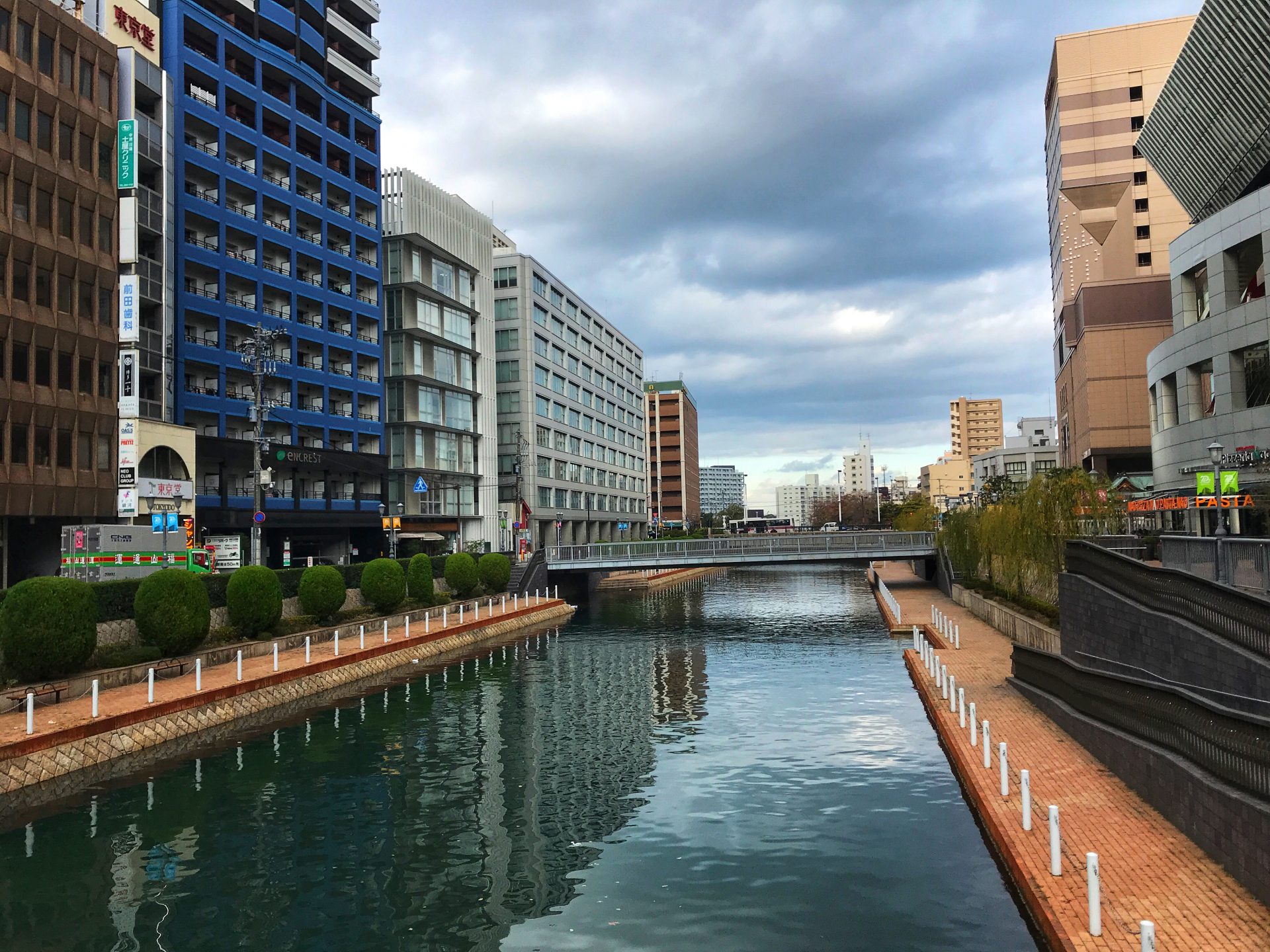 Fukuoka consists of two main wards in the city center which are Hakata and Tenjin. We highly recommended staying nearby Hakata Station or the Tenjin area. Both places are adjacent and divided by a river.
The Hakata and Tenjin are the main hubs for doing some shopping, sightseeing, and food hunting with many restaurants, shopping malls, and accommodations. For budget travelers, consider choosing nearby the Nakasu Kawabata area where lots of cheaper hostels and budget stays are available.
Best Hotel To Stay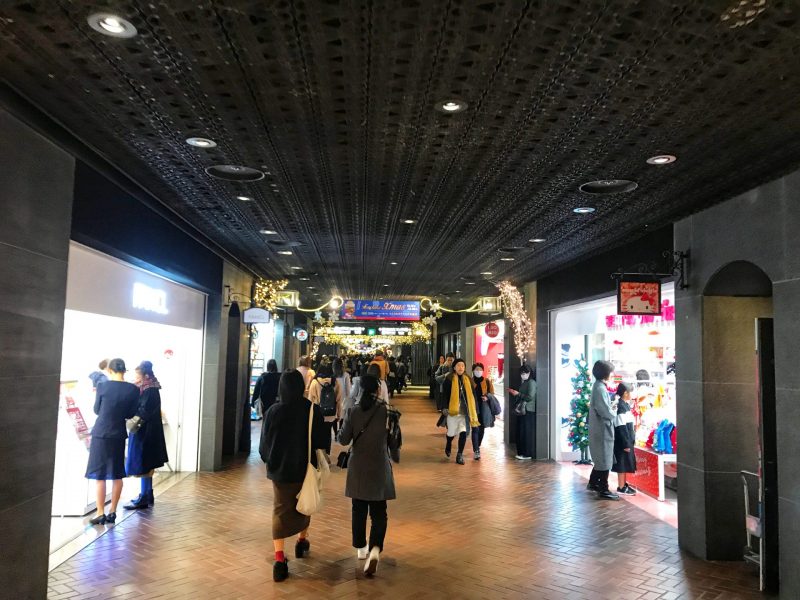 Many locals and foreign travelers are flocking to Fukuoka every day. While the weekend is the busiest and packed with thousands of locals and visitors from remain prefectures. So make sure to reserve your best hotel early. The room rate can hike up during the weekend and peak season.
Below are our best picks if you are looking for where to stay in Fukuoka:
Lastly, if the above recommendation does not meet your requirement, check out our Accommodation Guide: Where To Stay in Fukuoka.
Overview: Fukuoka Travel Guide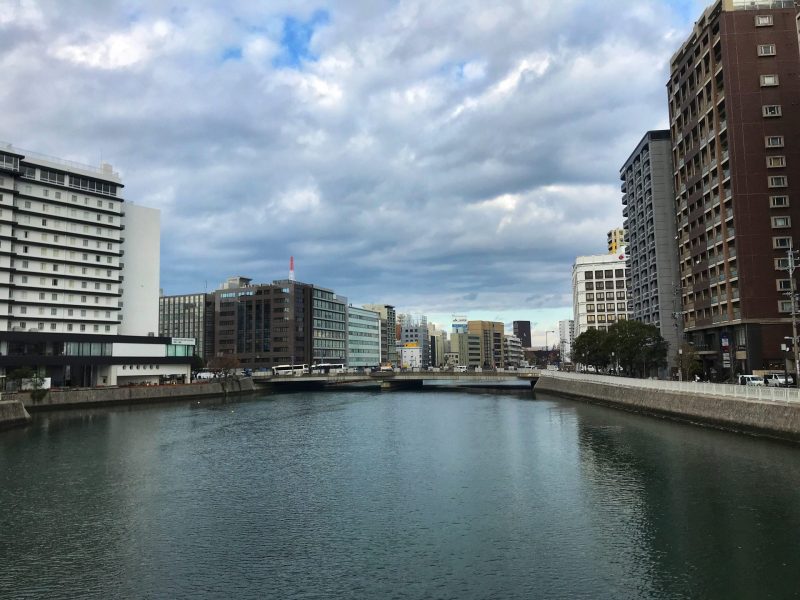 It is pretty easy to plan for 1-Day, 3-days, or even 5 days of Fukuoka itinerary. Fukuoka city is good for one to two days of visit and plan for trips to other interesting places nearby. We recommended you get the JR Kyushu Pass if you're planning to travel around by JR train from Fukuoka.
Last but not least, hopefully, our Fukuoka itinerary travel guide blog can give you some inspiration for planning your trip. If you are having more days, you can even plan further your trip to Kumamoto, Kurokawa Onsen, Takachiho gorge, or even Beppu. Free feel to read our travel blog below if you need more ideas for traveling around.