Last updated on December 11th, 2023
Ultimate Las Vegas itinerary with a detailed travel guide blog to visit the Nevada city, and with so many options for entertainment, food, shows, and activities at this crazy, non-stop destination.
A trip to Las Vegas is one of the quintessential American experiences with bright lights and non-stop entertainment. The iconic casinos, clubs and bars, nightlife, dancing fountains, free shows, animal habitats, and more in the 4-miles long Las Vegas Stripe. Having said that, you should go to Las Vegas at least once!
Being in Las Vegas is a great adventure of illusions, lights, shopping, people, drinks, and bets. This city can be overwhelming for first-time visitors when planning on what to do and eat in Las Vegas. To be honest, we weren't quite sure what to expect on our first trip to Las Vegas except for the casino and entertainment. But our visit made me more in love with this city even without spending too much budget on it.
If you're visiting Las Vegas for the first time, then this Las Vegas travel guide blog for a 1 to 2 days itinerary will tell you all you need to know to plan your trip to Las Vegas. We didn't spend too much budget when navigating all the attractions but still have a great visit to the city. Just follow this travel guide and search for interesting landmarks to see the better chunk of Las Vegas efficiently and effectively.
Ready to hit the highlights of Las Vegas? Let's start exploring Las Vegas, including where to stay, what to do, how to get there, money-saving tips, and more!
Las Vegas, Nevada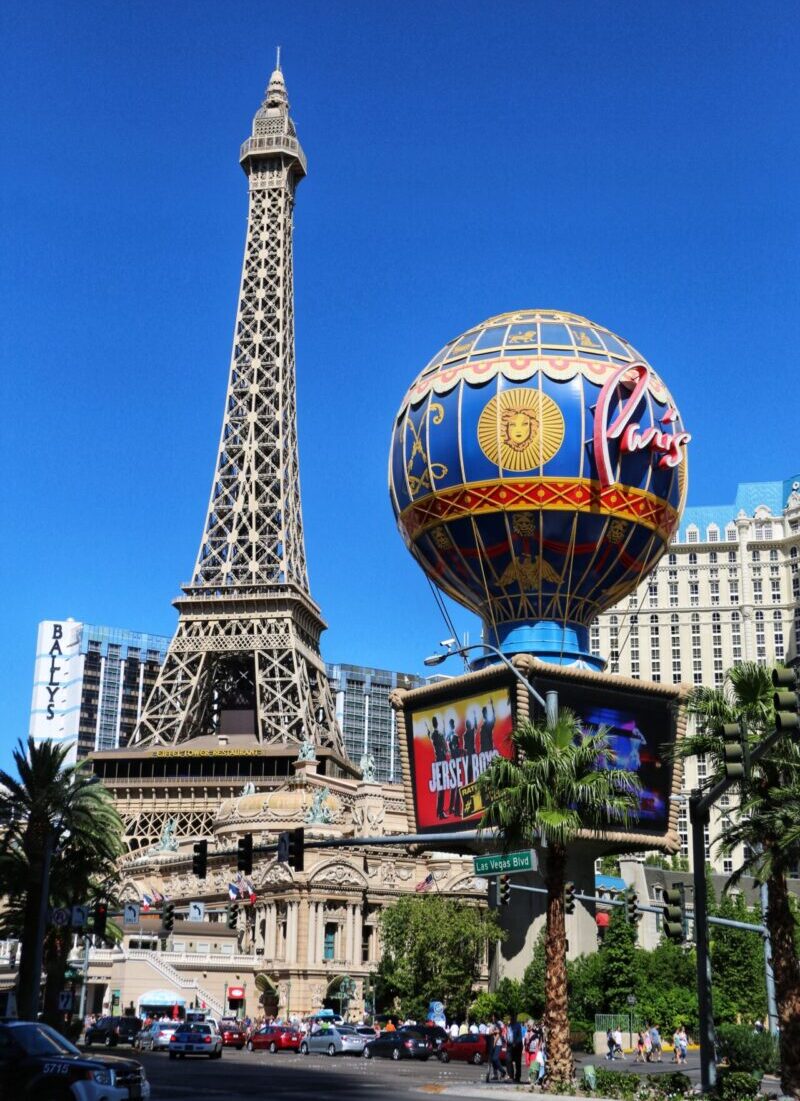 When talking about Las Vegas, most people will be thinking about the 4-miles long Las Vegas Strip. Official known as Las Vegas Boulevard, the Las Vegas Strip (The Strip) is the most iconic street and most visited avenue in the world. Here you can find a variety of hotels and casinos, dining, cruising, shopping, outdoor events, and entertainment. It is home to many of the world's largest and most famous casino-resort-hotels in the city and probably the world.
Just north of Las Vegas is downtown Las Vegas. The Downtown Vegas by Fremont is where the original casinos started and it is the historic area before the development of the Las Vegas Strip. Many famous, or once-famous casinos, are located on Fremont Street. The venerable casino, Golden Nugget is located in this bustling downtown. The street still retains the classic Las Vegas charm with neon lighting and without being garish. It had a great atmosphere and lots of characters. But beware of the drunker and homeless that make you slightly consider your safety.
Best Time To Visit Las Vegas
The best time to visit Las Vegas is Spring and Fall. These two seasons are a pleasant time for a lovely visit to Las Vegas. The weather is wonderful because it is not too hot and not too cold. While summer is a scorcher and the temperature is often over 100C. It can get very hot during the daytime but you can get into a casino fairly quickly to cool off.
Las Vegas is never slept and is open 24 hours a day. This sin city is busy all year round regardless of any season. The week between Christmas and New Year and the holiday seasons are the super peak season in Las Vegas with visitors flocking into the town. Expect a rise in accommodation and food. Those with lower budgets, definitely don't come during these times.
Where To Stay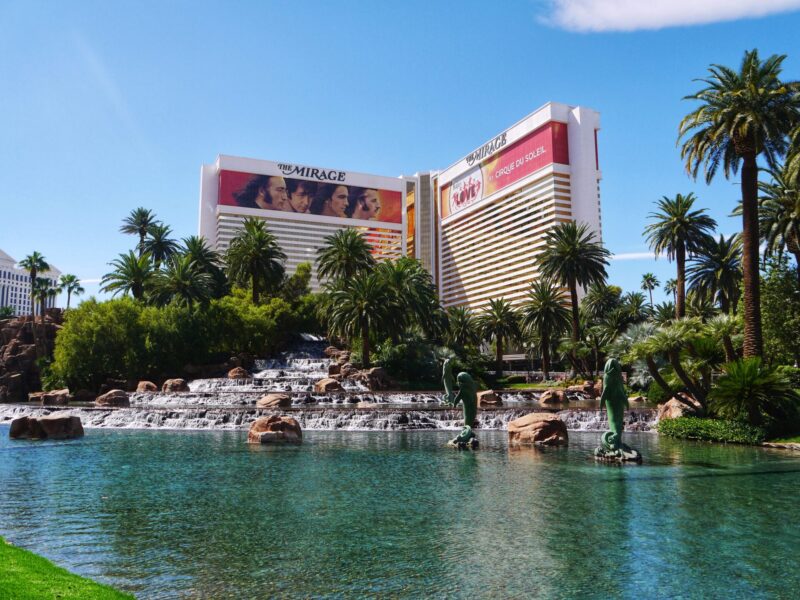 There are countless nice places to stay around the Strip if you are having a good budget. For first-timer, we highly recommended staying in the center of the Las Vegas Strip. Staying in these areas while easy for you to access most of the attractions and save your traveling time. You won't go wrong by staying in the below hotels.
Bellagio Las Vegas – Definitely a first-class property if you are looking for where to stay in Las Vegas. It is the most elegant of all with the ultimate five-star experience. From their accommodations, amenities, pools, casino, atrium garden, and shopping to their fabulous restaurants. The location is superb excellent and superb convenient for everything. The view of the fountain from the room was phenomenal and fabulous!
Other great options for higher-end accommodations: The Venetian Resort Las Vegas and TI – Treasure Island Hotel & Casino.
For mid-budget options, we would recommend staying in Flamingo Hotel, Excalibur, Paris Las Vegas Hotel & Casino. The location is centrally located in the Strip at a reasonable price. The room is rather spacious and worth every penny.
Circus Circus Hotel, Casino & Theme Park is one of the popular picks for travelers who looking for slightly cheaper accommodation. The property is slightly outdated but the prices are reasonable with free self-parking for guests. Rooms are spacious and very suitable for families with kids. Staffs are very polite, welcoming, knowledgeable, and helpful.
Beware of the hidden resort fees when staying in Las Vegas. This is a common charge when you are staying in Las Vegas where the daily fee will be added and charged to your rooms. We recommended booking your stay via Booking.com as it will fine print all the charges to avoid any unpleasant experience during your trip to Las Vegas. Check your room availability for your stay in Las Vegas here!
Getting Around in Las Vegas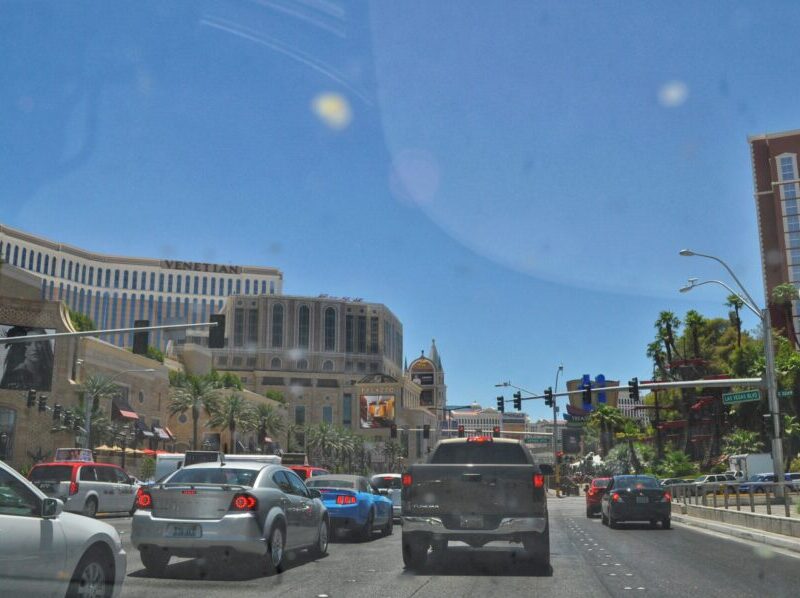 The nearest airport is McCarran airport and it normally costs you around $25 to get from McCarran airport to downtown. For a surprise, you can book the Las Vegas Luxury Limousine from Airport to your Las Vegas Strip hotel. Besides, you can also look for car rentals by renting a car for getting around in Las Vegas and nearby. The car rental price can go as low as $35 per day and we recommended comparing the price from RentalCars.com to get the best price for your rental car.
Las Vegas Luxury Limousine from Airport
While taxis in Las Vegas start at $3.50 with the normal tariff being $3.25 per additional mile. Nearly every hotel will have a taxi stand and there is usually a taxi waiting to serve you. Ridesharing options are also available and cheaper than taxis.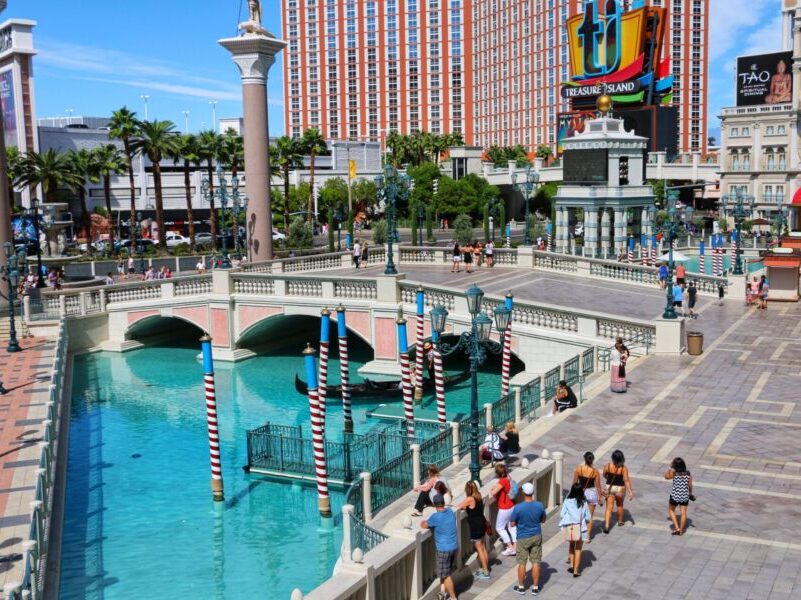 Once you are on Las Vegas Strip, there is only one way to live the full experience in Las Vegas and that is to put on comfortable shoes and walk. The traffic here can be a pain and it's best to just skip the driving if you can. In general, walking is probably the best option and faster than trying to drive on Las Vegas Strip. But if you are planning to get to some location, you'll still need the transport for getting around in Las Vegas.
You can also save your feet and use public transportation. The bus system in Vegas with two types. The double-decker buses are known as "The Deuce" and the articulated buses are known as the "Strip and Downtown Express (SDX). The all-day pass is $8 USD and you can use it to get downtown from the Strip.
Another option is the monorail and tram. Not to be confusing about the monorail and tram on Las Vegas Strip. The monorail is on the east side of the Strip and it runs behind MGM Hotel all the way to the Sahara Hotel with 7 stops in between. The price is reasonable with a one-way ride is $5 USD, while a day pass is $13 USD. Multiple days pass also available.
While the tram is on the west side of the Strip and it's free. The only downside is it is segmented and you have to find your way to get on and off between each stop. We will share more detail on how to make sure of the free tram in below Las Vegas travel guide blog.
Things To Do in Las Vegas Itinerary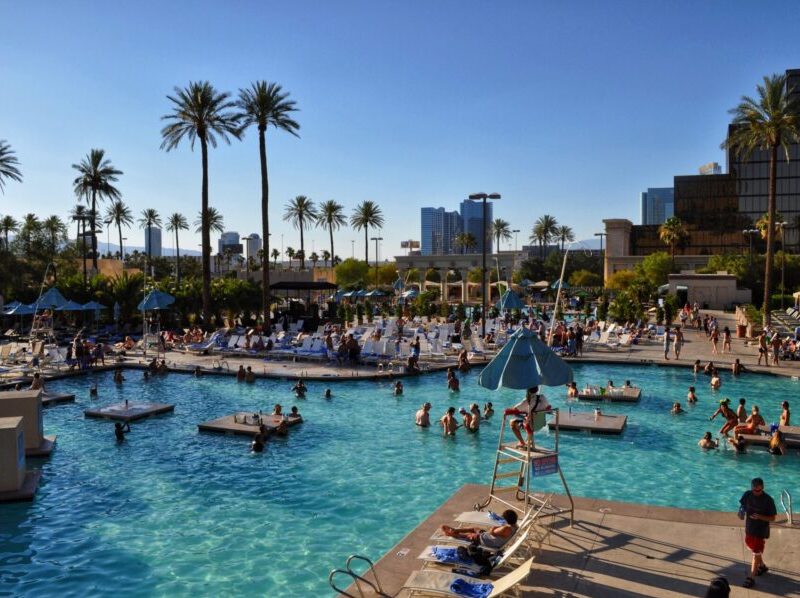 The Las Vegas strip is just a fun way to spend time and see so many amazing features and people-watching. The casinos, shops, malls, and hotels, all have interesting things to see and different activities either free or for a fee. You could spend a week exploring the strip and never get bored.
Here are the Things To Do in the Las Vegas itinerary for first-time visitors:
Welcome To Fabulous Las Vegas Sign
Strolling along the Strip during daytime
Walk into the hotels
Enjoy Nighttime in Las Vegas
See a Show in Las Vegas
Free Shows in Las Vegas
Best Food and Restaurant
Visiting the Casinos in Las Vegas
Shopping in Las Vegas
Make a Trip To Las Vegas Downtown
Let's follow us to know more about our trip to Las Vegas below!
Welcome to Fabulous Las Vegas Sign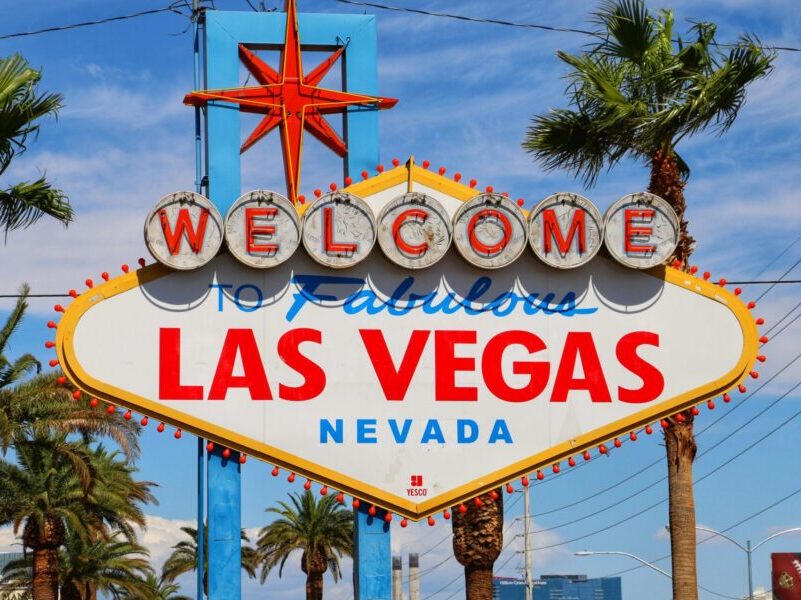 First of all, your first stop on your Las Vegas itinerary has to be the Welcome to Fabulous Las Vegas Sign! It's an iconic landmark of Vegas so definitely a quick must-do while in town. The sign is located just south of the Mandalay Bay Casino & Resort. But it is not a short walking distance so you are still advisable to drive here.
At the Las Vegas Welcome Sign, you can take unlimited selfies here. Get here early if you want pictures without a big crowd or waiting in a long line. The queue can get very long so we suggested early morning or late night when everyone is at the casinos.
The spot has about 20 stops for parking but fills up quickly. But most people will spend less than 20 minutes for a photoshoot and go.
Strolling Along the Strip at Daytime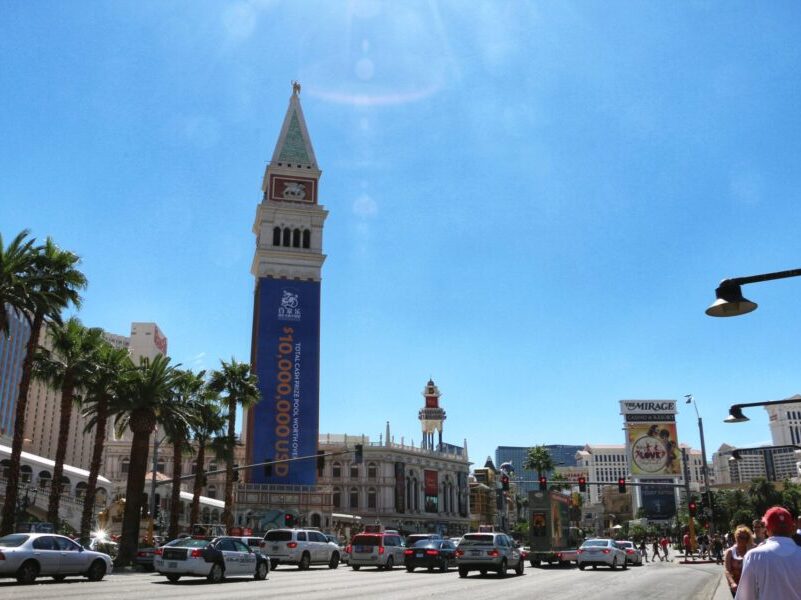 Walking along the strip allows for leisurely strolling. It can be a long walk, and we recommended you options to stop along the way for refreshments and bites.
Depending on your starting point, we recommended starting your walking journey from the South to the North. Along the journey, you will see the Excaliber, MGM, Caesar's Palace, Mirage, New York, Paris Eiffel Tower, Bellagio Fountains, Cosmopolitan, Venetian, and ending at North is a fashion shopping mall, Circus Circus, and Stratosphere.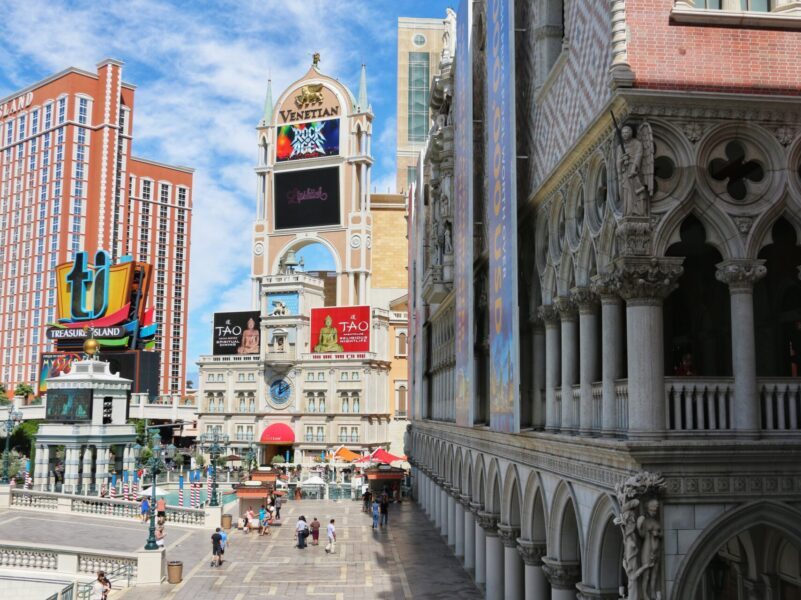 Take note the buildings are massive and each building is far apart and within a lot of walking distance. There are also several elevated crosswalks located up and down the strip to get from side to side at various points. Most of the time, you will be walking the strip numerous times between the MGM and Venetian and it is the most happening area.
It's nice to watch the Burlesque dancers, street performers, people in costumes and others walk up and down the strip. It's super easy and makes for a good stroll. Plus, it's free!
Walk into The Hotels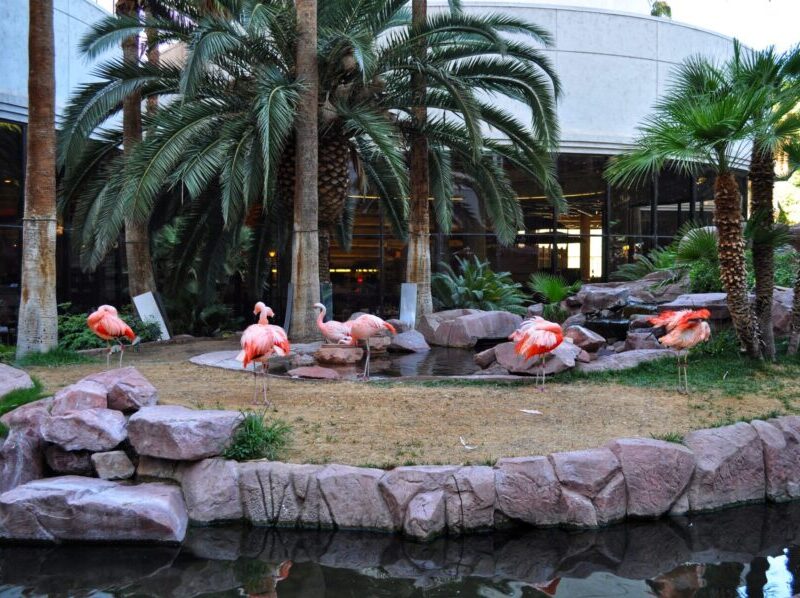 When strolling along the strip, we recommended stopping in at the various hotels along the way, taking pictures in iconic spots, and looking inside the decoration. Each hotel has different themes and their decoration are different so it is almost like stepping into different worlds with each one you walk into.
We had a great time at those famous hotels and their beautifully decorated attractions are awesome to see though. We took many lovely postcard shots outside and inside of the hotels.
The Eiffel tower near Paris Las Vegas is quite an iconic photo. We also walked past the Caesars Palace and saw the Trevi Fountain. It's so fancy and luxurious! During your stroll, you can also visit Flamingo which has a habitat garden that is very nice and free.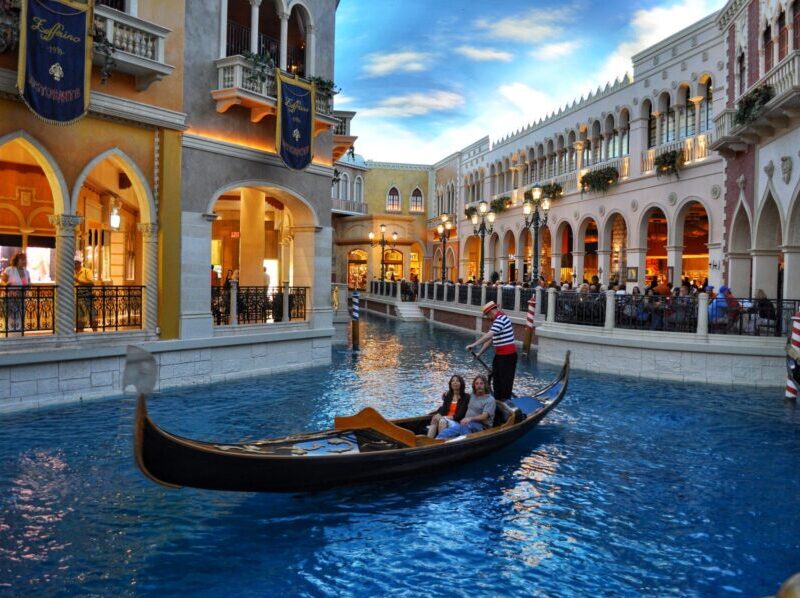 While in the Venetian Las Vegas, you can see the beautifully painted ceilings and Grand Canal. The gondola rides in Venetian Las Vegas are overpriced but the architecture and construction are magnificent. It's probably one of the best on the Vegas Strip.
Enjoy Nighttime in Las Vegas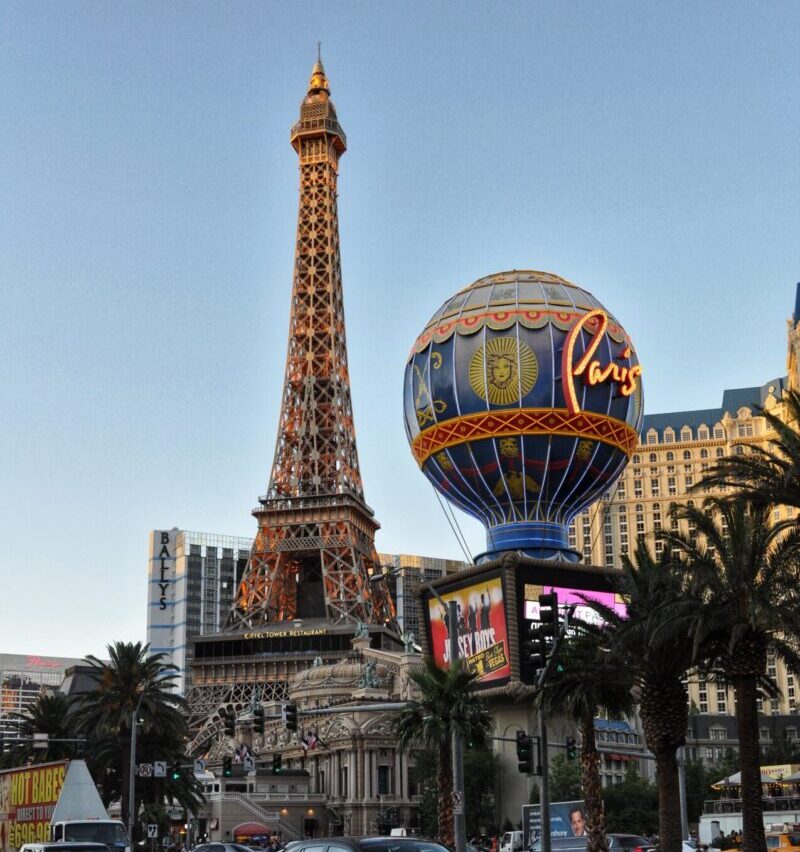 Las Vegas at night is like no other city you've ever seen. The strip is just too crowded and chaotic when the night started. I recommend walking the strip both during the day and coming back again at night for the glamour and light. It is a totally different experience for Las Vegas during daytime and nighttime.
The nighttime in Las Vegas is a marvelous spectacle that you must see and experience for yourself. It has impounded an impression on millions of people worldwide. With the glitz, the lights, the LED billboards, and the vibe, Las Vegas is a great area for entertainment, people-watching, and nightlife.
Las Vegas Travel Tips: Go to see the Las Vegas Nighttime at its finest with The Big Bus Las Vegas Open Top Night Tour. This tour will bring you from Vegas Strip to the heart of downtown on a double-decker bus through the Strip to enjoy the Fremont Street Experience.
Check the Big Bus Las Vegas Tour for more detail!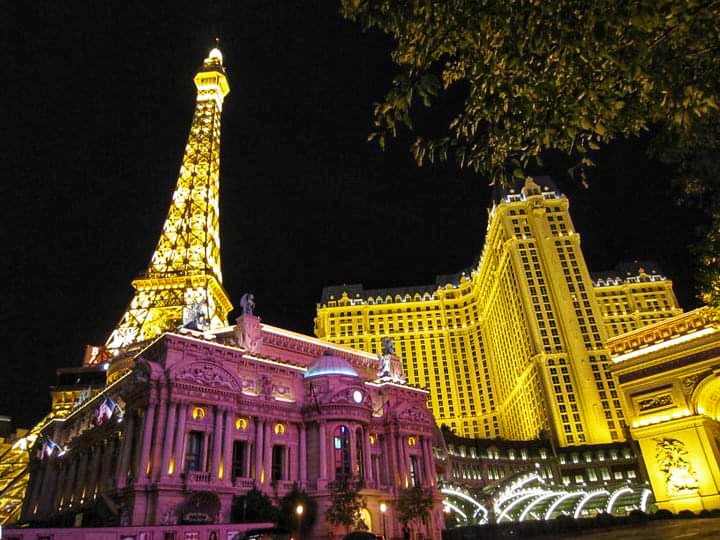 See a Live Show
You can't go to Vegas without hitting at least one show. There's such an incredibly diverse array of theatrical shows that will keep you busy. You can also find many choices of a live concerts by world-famous singers, such as Celine Dion, Rod Stewart. and many more. Here are my all-time favorite and interesting things to do in Las Vegas if you need some recommendations:
Cirque du Soleil at the Bellagio Hotel has different 5 shows running continuously at various venues. Their shows are incredible and stunning. A visit to Cirque du Soleil will set you back $90 – $250 per person if you can't find a discount. Click here to check the availability show for Cirque du Soleil in Las Vegas.
Absinthe at Caesars Palace is rated as one of the Best Shows in the history of Las Vegas. Absinthe is such a fun and intimate show. It's a bit of raunchy humor but the skills of the performers are top-notch. You definitely don't want to miss this one.
David Copperfield at the MGM Grand Hotel – The greatest illusionist of all time and the illusions were top-notch and mind-blowing. Audience participation makes things interesting, and it's a great show for the family as well.
Las Vegas Travel Guide: Beware of solicitors handing out discount cards for shows and activities when you walking along the Strip. Some of the offers are sponsored by Timeshare vendors and their offers of free tickets come with the requirement to sit through the tedious sales pitch sessions.
Free Show at Las Vegas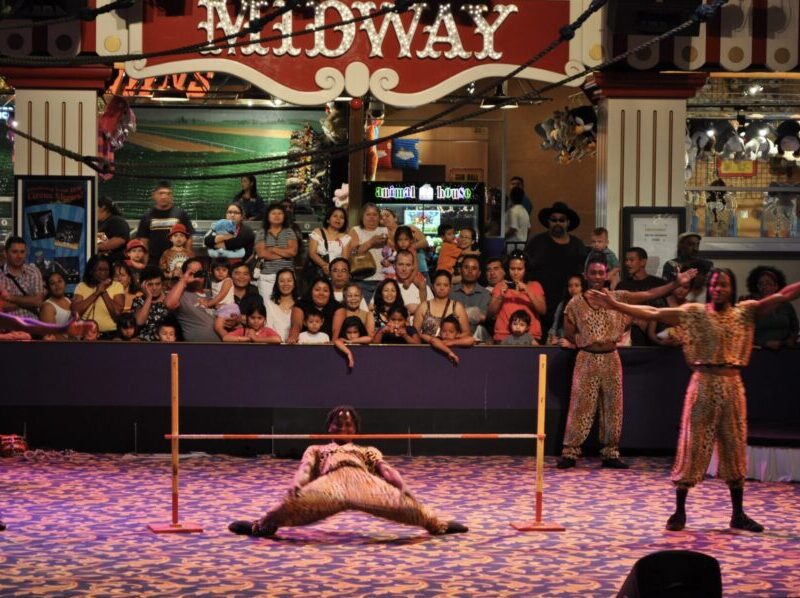 When you strolling along the Strip, don't forget to stop by for the free shows in Las Vegas. Among them, the Pirate Show at Treasure Island, Volcano Eruption Show with its fireball-shooters and waterfalls outside the Mirage, and the Fountains of Bellagio dancing and musical water show are a couple of the bigger strip attractions.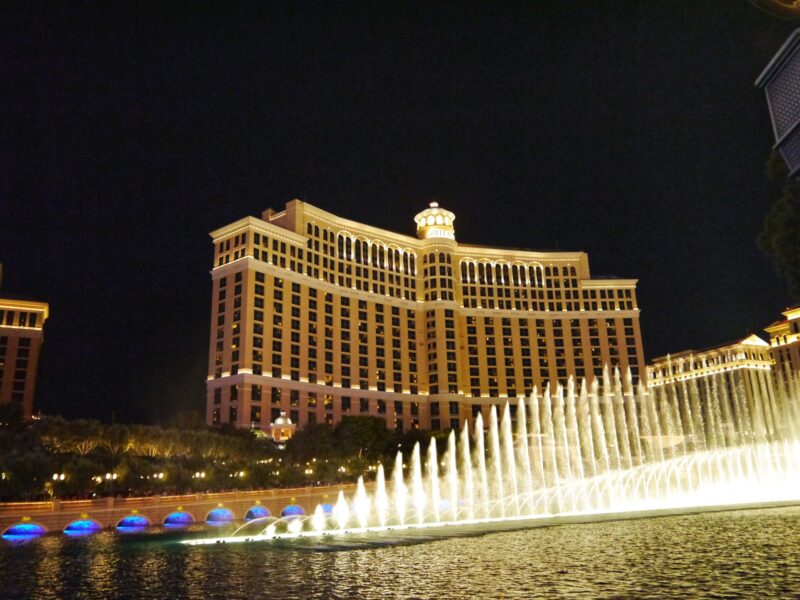 We love the Bellagio Fountain show and it definitely is a must-see while you're in Vegas. We had a great show in the day times and come back for water and lights at night. The water can soar as high as 460ft and it offers a magnificent light and water display set to music. It happens every fifteen or thirty minutes and we watch it more than 3 times during our trip to Las Vegas. Absolutely gorgeous!
Take note that all the shows with showtimes, depending on the day and time of year. But it's easy to find time for it and please check the respective hotel website.
Best Food and Restaurant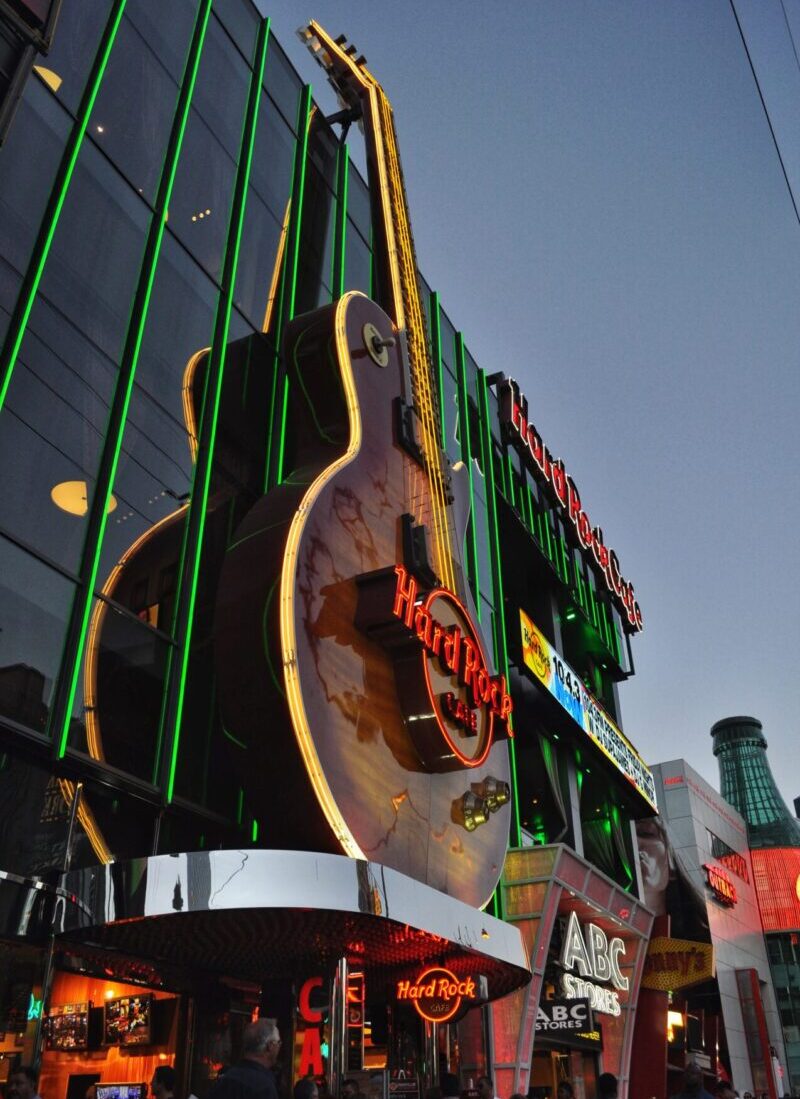 Las Vegas has millions of different bars, restaurants, and fast food to go in and out of. With all that money flowing in, Las Vegas has some of the best food in the world. But everything is really expensive so be prepared for overpriced food and drinks no matter where you go.
For fine-dining options. we recommended the Yellowtail (Bellagio), Lemongrass (Aria), The Peppermill, and Firefly and those are the popular picks for travelers when looking for the best food in Las Vegas. Take a hefty wallet tho as some eateries on the strip are very expensive. Also, the restaurants are all almost reservation only or if they allow walk-ins, please allow at least 30 minutes to one hour of waiting time.
If you are on a budget, choose wisely although there are tons of cheap eating places. There are many places where you can get a relatively inexpensive good meal. The places out of the hotels and restaurants on the backstreet will be almost half compared to those eats in hotels. We had Starbucks for breakfast where prices are almost 40% less.
Doing a buffet lunch is another great option for saving a few bucks for your expenses in Las Vegas. The buffet at the Las Vegas costs about $50 – $100 depending on the hotel.
Visiting the Casinos in Las Vegas
You can't go to Las Vegas without trying your odds. All the casinos have their own themes and decoration but mostly are the same. It's fun to look at even if you're not a gamer. The table games seem to start from $10 minimum and there are a million spots to throw your change.
We did pop in a few of the casinos along the way to try our luck. Even though we are not big gamblers but we enjoying played the slot machines when we are in Las Vegas.
Las Vegas Travel Tips: If you are going to the game, please know your limit and play within it.
Shopping in Las Vegas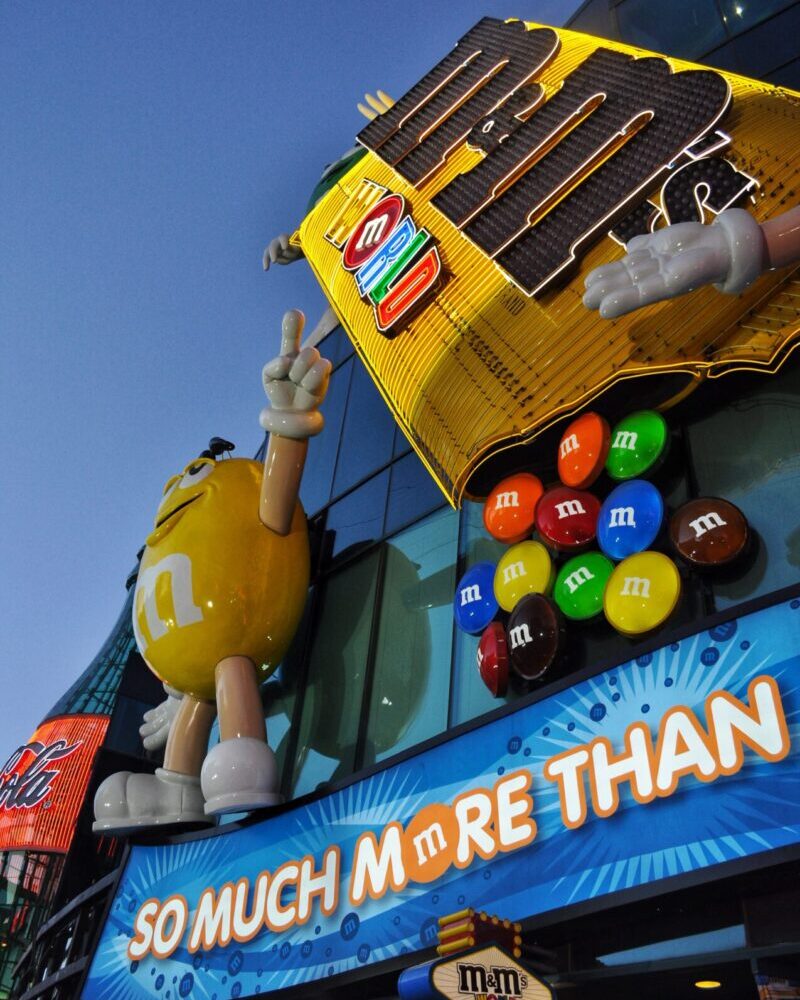 Las Vegas has some of the best shopping experiences that you'll ever encounter. The shopping area is almost exclusively high-end with a cool vibe and modern architecture. Most of the major designers have shops along the Strip. If shopping's your thing, you won't be disappointed.
But there are some fun shops like Coke A Cola and Pepsi stores, M&M's World, and Hershey's that are good to visit. I love going into the M&M's World for the sweet treats, gotta have chocolate!
Make a Trip To Las Vegas Downtown
You cannot visit Las Vegas and not go to the Las Vegas downtown for the Fremont Street Experience. It is different from the Strip and like getting into old-style Vegas with the oldest, smelliest casinos. The downtown areas featuring with great bars, nice restaurants, casinos, street vendors and actors, ziplines, and great places for people-watching. You also will see the multiple small wedding chapels Vegas is known for.
We also recommended taking a look into the dark side of Las Vegas history by visiting the Mob Museum. It is amazing and run by volunteers.
Check the Big Bus Las Vegas Tour which will bring you from the Vegas Strip to the heart of downtown on a double-decker bus through the Strip to enjoy the Fremont Street Experience.
Click here for more detail on the Big Bus Las Vegas Tour arrangement.
How To Take the Free Tram in Las Vegas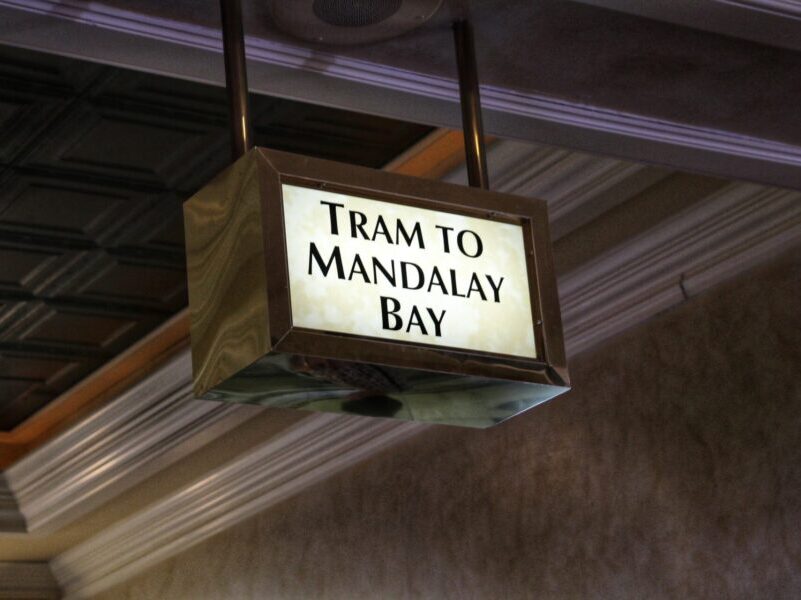 There are three free tram services in Las Vegas that cover about half of the Strip. It can be a real-life saver when your feet are running for the whole day. The best part is these tram services are absolutely free and without additional cost and condition. However, it is run by separate teams and not interconnected.
Mandalay Bay – Excalibur Tram: This free tram runs between Excalibur, Luxor, and Mandalay Bay. From Excalibur station, it's a 4-minutes express tram direct to Mandalay Bay without stopping at Luxor. While from Mandalay Bay, it's a 7-minutes ride with an additional stop at Luxor and ended at Excalibur. Tram services are in operation from 11:00 until 22:30 during weekdays and extended until 00:30 during weekends. Well-signs in all the casinos help you find the tram stations and it can help to save about 45 minutes of walking journey.
Aria Express Tram: A three-stop route that runs from Aria/Park MGM (formerly the Monte Carlo), Crystals, and Bellagio. The trams run every 10 minutes for a total 7 minutes ride from 10:00 to 4:00. You can access it easily from Monte Carlo's Street of Dreams retail area to Crystals, the shopping mall at the heart of the city center with a 3 minutes ride, and take another four-minute trip to Bellagio.
Mirage – Treasure Island Tram: A 5 minutes tram that can save you about 30 minutes of walking time. It runs every 10 to 15-minutes from 9:00 to 1:00 every day and is extended to 3:00 on Friday and Saturday,
The Ideal Free Tram Route in Vegas
Here is the ideal way to use the free tram service in Las Vegas. Depending on where you started.
Start at Mandalay Bay to take the tram and exit at Excalibur. Follow the walkway and take the pedestrian overpass across Tropicana Hotel, walk past the New York-New York Hotel, and catch the next tram at Park MGM. Next, ride the Aria Express Tram to Bellagio. Enjoy the stroll and walk across Flamingo Road and Caesars Hotel. Lastly, catch the Mirage to Treasure Island Tram to the farthest point of the free tram service.
Above free tram service in the Las Vegas itinerary are on the west side of the Strip. You can continue the ride by using the monorail service on the east side.
Other Exclusive Things To Do in Las Vegas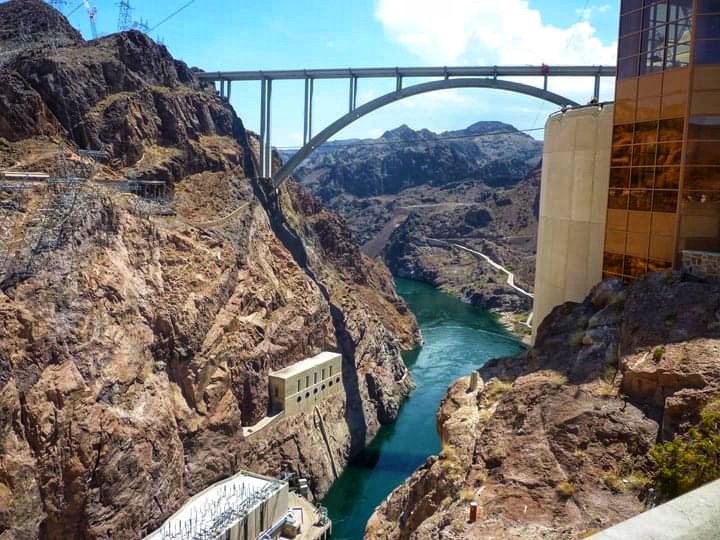 Las Vegas Helicopter Night Flight with Optional VIP Transportation: See the bright lights of the Las Vegas Strip and the surrounding region during the nighttime with a helicopter flight. You can soar over this famous stretch of Las Vegas Boulevard with an exclusive sightseeing tour of Sin City's downtown skyline and beyond.
The Hoover Dam is a short drive from Las Vegas and I highly recommend taking the time to visit it when you're in Las Vegas. The engineering marvel is truly amazing with a spectacular view of the Hoover Dam and the Colorado River. It is the second-highest bridge in the USA and very breathtaking when looking down to the Colorado river below. A visit to Hoover Dam is free if you are self-driving to the site with parking lots available. But the visitor center will cost you about $10. Guided tours are available from Las Vegas to Hoover dam at a reasonable price.
Here are the popular Hoover Dam Tour options from Las Vegas (Click to check for prices and detail):
Besides, you can couple the Hoover Dam with a trip Grand Canyon. We recommended spending at least staying 1 night at Grand Canyon as the journey easily takes up to 14 hours. If possible, get a rental car and spend for few days in Arizona. You can even further your trip to Antelope Canyon which is another must-visit attraction that can be planned from Las Vegas.
Read more:
More travel Tips on Las Vegas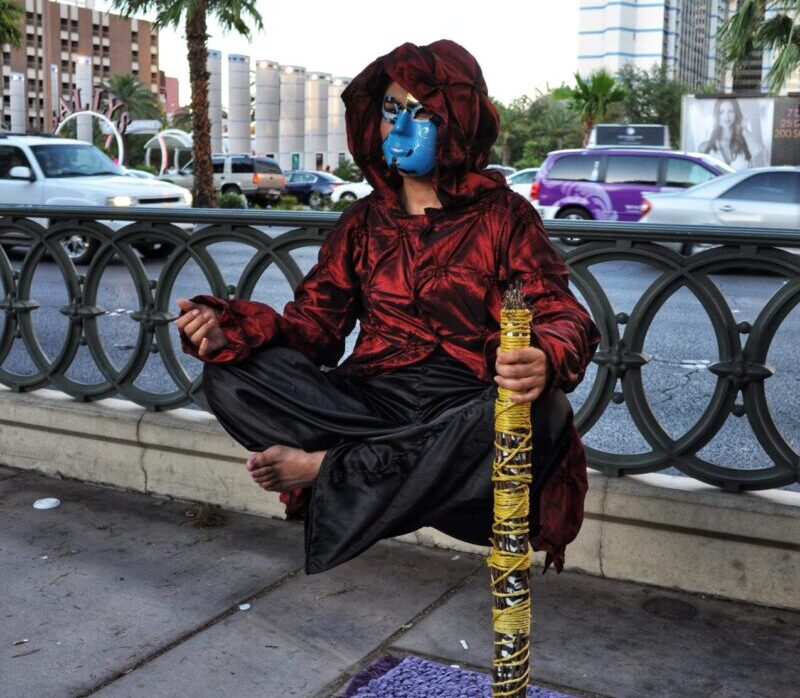 Bring your best walking shoes because you will need them. There are also a few stairway areas to reach certain venues. Be ready to walk the walk when you're visiting the Strip.
Like all big cities, crime is always possible so keep your wallet and valuables safe at all times. Watch your surroundings and never leave anything unattended, especially leaving money in your machine, and walk away. 
You should never buy tickets, casino chips, or passes off from someone on the street because most are fake and scams.
Keep an open mind when visiting Las Vegas. There are many street performers and people dressed in costumes along the street. Don't stop for photography unless you want to pay. If you really want to take pictures, please make sure to ask for the tips to be given to the photo characters to post and pay. 
Please be safe when crossing the streets. It is best to use pedestrian overpasses or other designated crossways.
Last but not least, the strip can be enjoyed for very little money if you like to walk and people-watching. But you can spend a lot if you enjoy and eat in the hotels or casinos.
Overall: A Trip to Las Vegas
All in all, we hope you enjoy this Las Vegas travel blog with a detailed guide and itinerary planning. Las Vegas has many cool experiences and so many things to do and see. It's fun to walk and visit the strip during the day or night, and you never know what you'll see! But it is NOT for everyone, especially for kids at night. The city is the constant smell of weed and cigarettes, and the sheer number of homeless people. Certainly not suitable for children.
But still, Las Vegas is a must-visit attraction for everyone once in a lifetime! We enjoy the beautiful resorts, shows and entertainment, the lights, the glitz, and the glamour of it all. The Strip is just a spectacle on its own, and some of the best people-watching in the world. Have a great time in Las Vegas!
Travel in California:
Travel in Arizona: