Last updated on September 23rd, 2023
Chinoike Jigoku is a photogenic reddish color pond that existed for more than 1300 years. One of the popular hell attractions included in Jigoku Meguri, Beppu.
Beppu has many beautiful hot spring for bathing and viewing. The most popular Jigoku Meguri (地獄めぐり) consists of eight hell for viewing purpose. We visited the Chinoike Jigoku (血の池地獄 Blood Pond Hell) for its reddish color hot spring pond. It is one of the oldest natural hot springs in Japan, which has existed for more than 1300 years.
Below is our visit to the Chinoike Jigoku, the reddish bloody pond in Beppu.
From Beppu Station To Chinoike Jigoku
The Chinoike Jigoku and Tatsumaki Jigoku are located in Shibaseki District. It is about 2-km away from the remaining 6 jigoku in Kannawa district. It was about 30 minutes of bus ride to get there.
To ease on transport arrangement, we first headed to Chinoike Jigoku during our day trip to Beppu. From Beppu station, we boarded the #16 bus to Chinoike-Jigoku-mae stop. The journey took us about 30 minutes bus ride.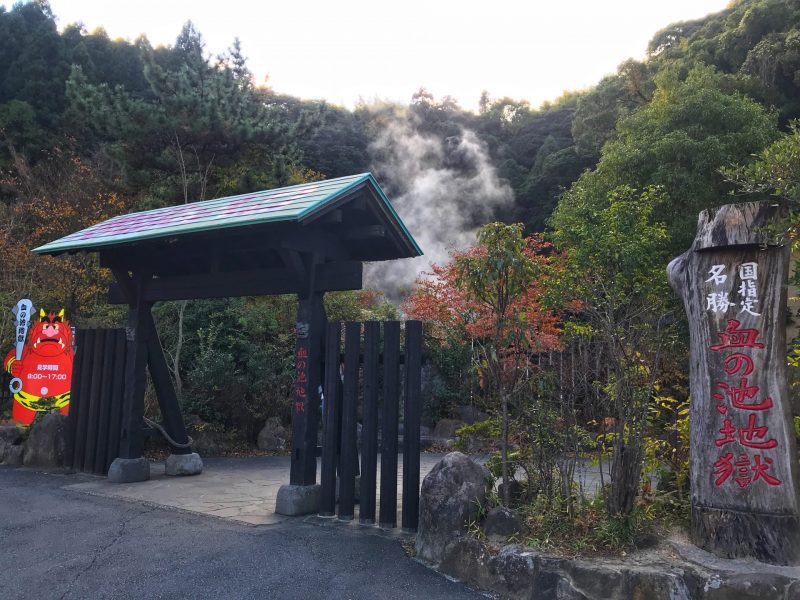 We get off at bus stop and walk across the street to the entrance. The entrance ticket cost 400 yen for adult. If you are planning to visit all the seven hell in Beppu, consider to get the Jigoku Onsen Ticket to access all the jigoku at 2,000 yen. Worth to get it if you are planning to visit at least 5 attraction.
Get The Jigoku Onsen Ticket from Klook (2000 yen to access seven popular jigoku in Beppu)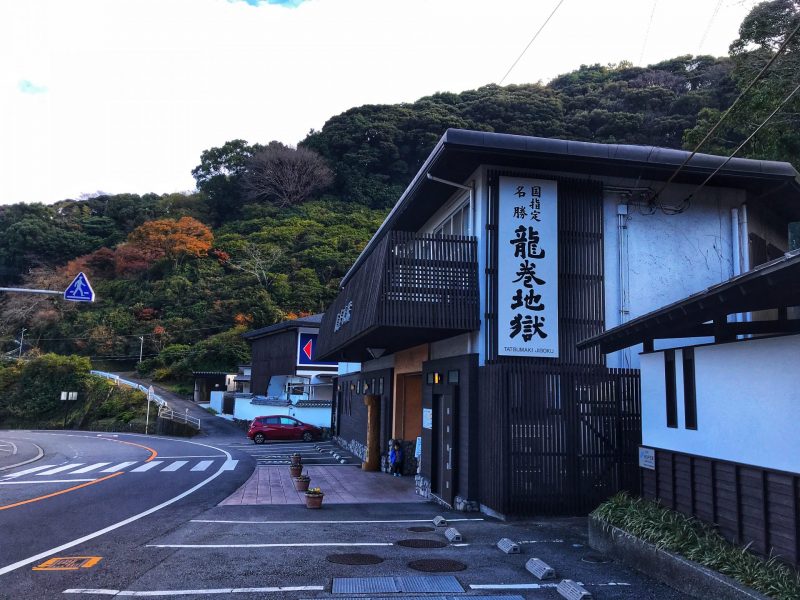 Travel Tips: Tatsumaki Jigoku is a geyser spot which erupted at every 30 to 40 minutes. It is located within 2 minutes from the Chinoike Jigoku. If you plan to visit both attraction, please check on the eruption time at Tatsumaki Jigoku. Spend your time to view on the reddish color pond and free foot spa inside park. Then only come back to Tatsumaki Jigoku to wait for the geyser's eruption.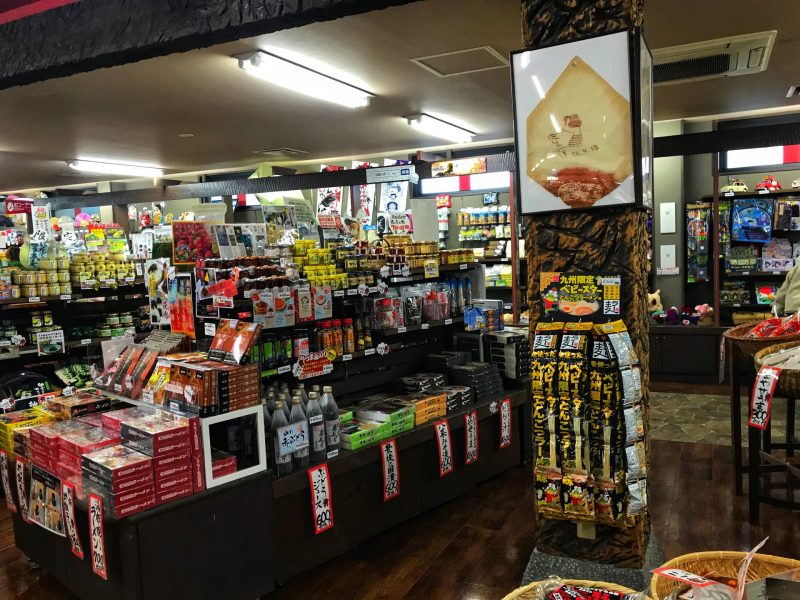 Once entered, there was a small shop selling all type of hot spring souvenir. We did not spend much time inside and headed to the park area.
Chinoike Jigoku (血の池地獄 Blood Pond Hell)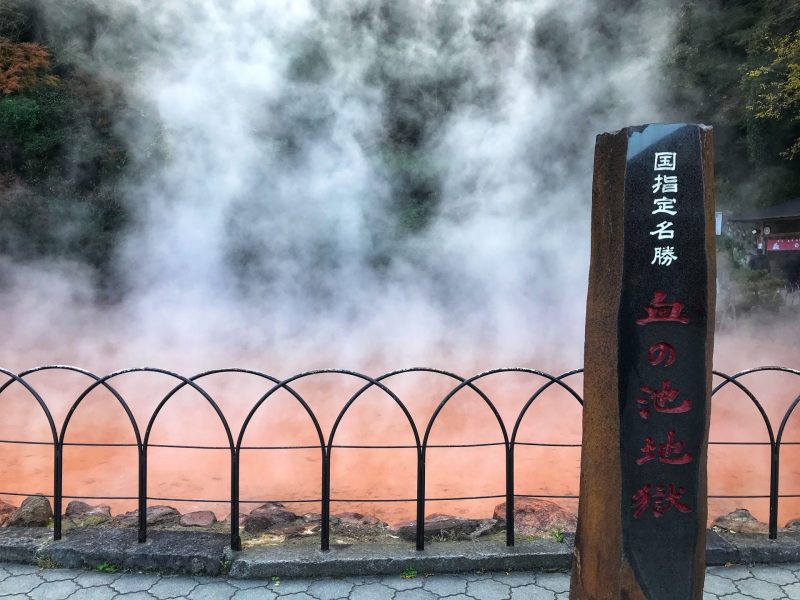 Once entered the park area, the reddish color of hot spring pond give us an unique experience. It is famous for its reddish and orange thermal mud lake that includes iron oxide and magnesium oxide. The composited material gives the pool a vivid reddish color. The striking red appearance looks different compare with others natural hot spring.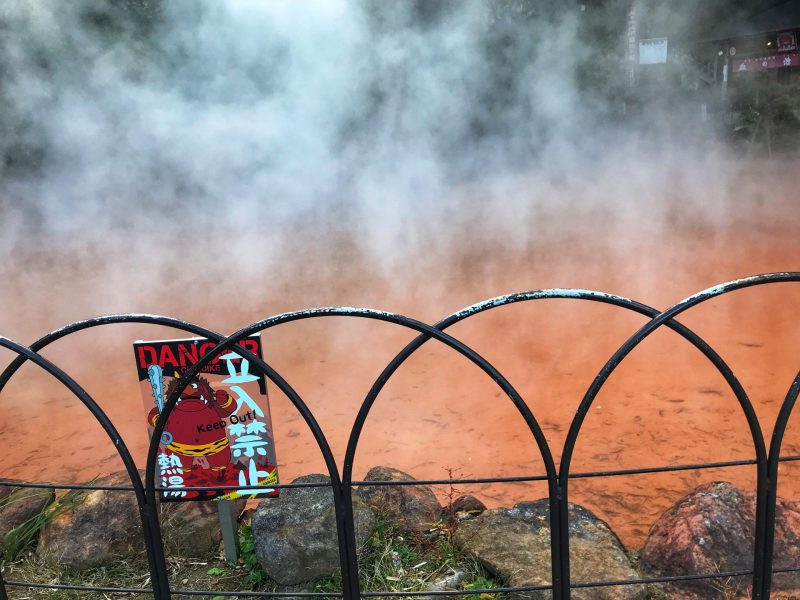 The hot spring pond is extremely hot at 78 degrees Celsius with boiling bubbles and hot steam on the water surface. Due to the high temperature of the hot spring's water, the water is not suitable for bathing. And please be caution for its its outrageous temperature.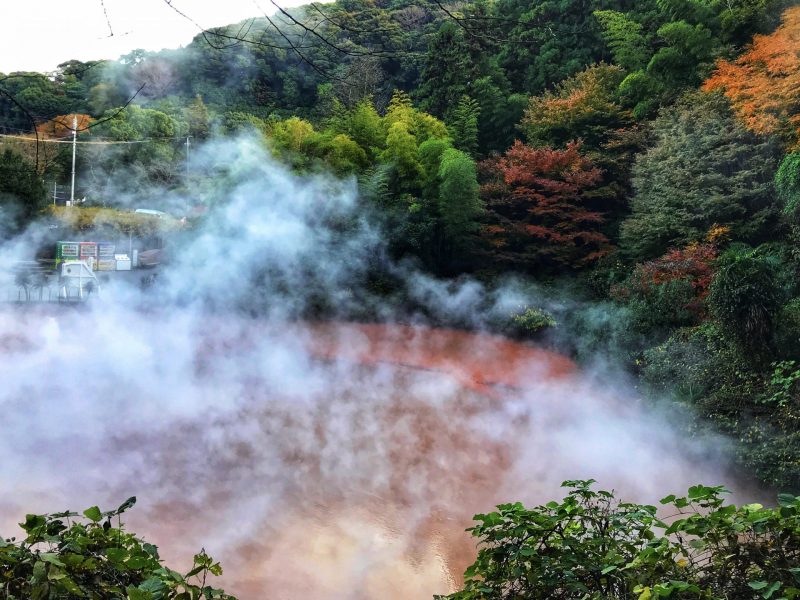 Follow trail to view on the red color hot spring pond. It offer better view on the reddish color pond from above. But, we were we were slightly disappointed. The park was pretty small and one could probably finish walked through the park in less than 15 minutes.
Skin Product Made From Red Mud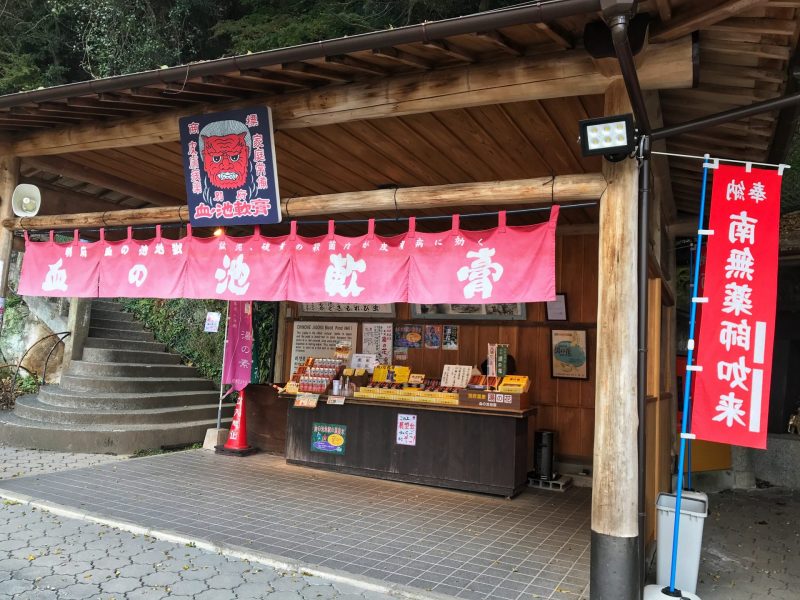 There was a store inside the park selling the skin product made with red mud from hot spring pond. The red mud has been used in medicine since old day and very effective for skin diseases. You can purchase the skin product such as smoothing cream to try on the effectiveness.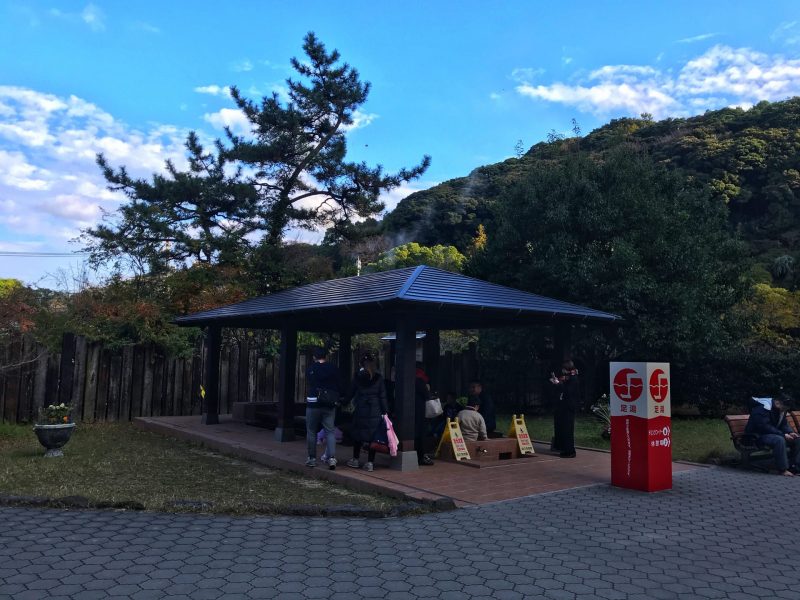 While waiting for bus or visit to Tatsumaki Jigoku, you can enjoy the free foot bath inside the park. The hot water has been cooled down to the right temperature to relax for your tired feet.
All in all, we were slightly disappointed on Chinoike Jigoku. The park is pretty small and nothing special. For the 400 yen entrance fee, this park consider expensive. We can finish the whole park by less than 20 minutes. But it is still worth for the visit of you never see on the reddish color hot spring pond.
Getting There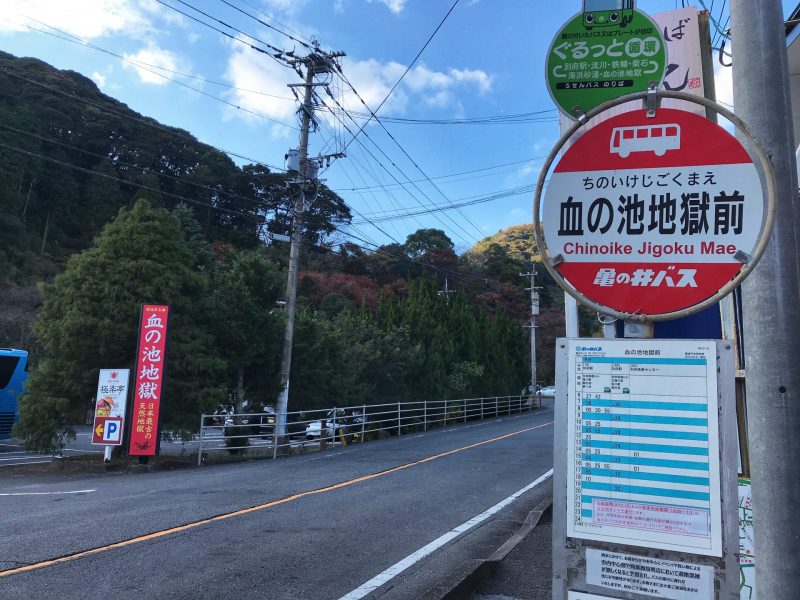 Depend on your Beppu itinerary, Chinoike Jigoku is easy access by bus. To get there, you can board the bus from Beppu Bus Stop (30 minutes) or Kannawa Onsen Bus stop (5 minutes) and get off at Chinoike-Jigoku-mae stop.
To return to Beppu or Kannawa Bus stop, bus number #26 and #26A runs in the opposite direction. There are one to three bus per hour. Just plan your visit time before proceed to next attraction.
From Beppu Bus Station to Chinoike Jigoku: Board the bus number #16 and #16A
From Chinoike Jigoku to Beppu Bus Station: Board the bus number #26 and #26A
Address: 778 Noda, Beppu, Oita 874-0016, Japan
Business hours: From 08: 00 to 17: 00
Entrance Fee: 400 yen or 2,000 yen by Jigoku Onsen Ticket (Buy from Klook)
Official website: http://www.umijigoku.co.jp
Continue Read on:
This Beppu travel blog is part of our Beppu itinerary in Kyushu Japan. Don't forget to read on our visit to Beppu to know more about our travel stories. Enjoy your trip to Beppu.
Oita Prefecture: Travel blog to Yufuin and Kononoe Yume Otsurihashi
Travel to Kyushu soon? Read more on our travel story in Kyushu.