Last updated on September 23rd, 2023
See how we tasted marvelous of fresh sushi, seafood bowl, and even fugu at cheap price at sushi battle event in Karato Market, Shimonoseki. A great short day trip from Fukuoka.
Located in Shimonoseki in Yamaguchi Prefecture, Karato Market (唐戸市場) is a regional center fresh seafood market loved by locals. It is a lively and energetic fresh market selling a variety of freshly caught seafood and particularly famous for blowfish or called pufferfish (fugu). You can try the fresh seafood at the cafeteria on the second floor every day. But make sure to visit Karato Market during Friday, weekend and even Japan public holiday.
During this time, the Karato market is organized a fresh seafood feast called sushi battle event. There are more than 20 food stalls that selling sushi, seafood bowl even blowfish at unbeatable prices. It started from as amazing as ¥100 for a real local cuisine. So it is best to plan your visit to Karato Market on Friday or the weekend.
We joined the crowd and getting to the Karato market for the sushi battle event during our Kyushu trip at the weekend. So read on if you want to know more about how to get there and what to eat in the Karato market.
Getting To Karato Market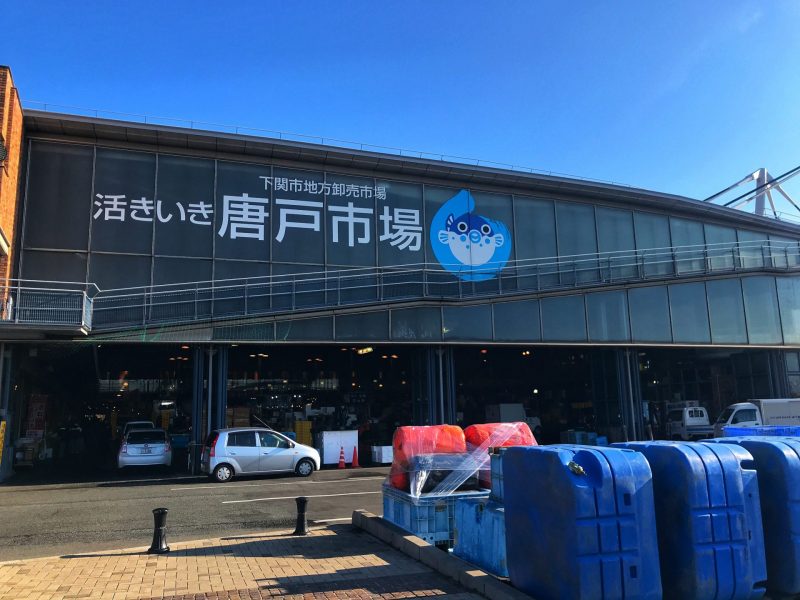 Although the Karato market is located at Honshu island, travelers can go to the Karato market with a short ferry ride from Mojiko. From Hakata Station (Fukuoka), we took the JR train to Mojiko with a one-time transfer at Kokura Station by using our JR Kyushu Pass. This valuable transport pass greatly saved us a lot of money when traveling around with JR train. Frequent trains depart from Fukuoka to Mojiko. However, do take note that Tokaido-Sanyo Shinkansen is not included in the JR Kyushu Pass.
How To Get To Karato Market from Fukuoka (Using Kyushu JR Pass):
From Hakata Station (博多) to Kokura (小倉 福岡県) with JR Express Train (30 minutes, ¥1,830).
From Kokura (小倉 福岡県) to Mojiko (門司港) with JR Express or local train (15 minutes, ¥280).
Take the short ferry ride from Kanmon Kisen to the Shimonoseki ferry terminal (5 minutes, ¥400). Not covered by JR Kyushu Pass.
Click here to check for more information for valuable JR Kyushu Pass.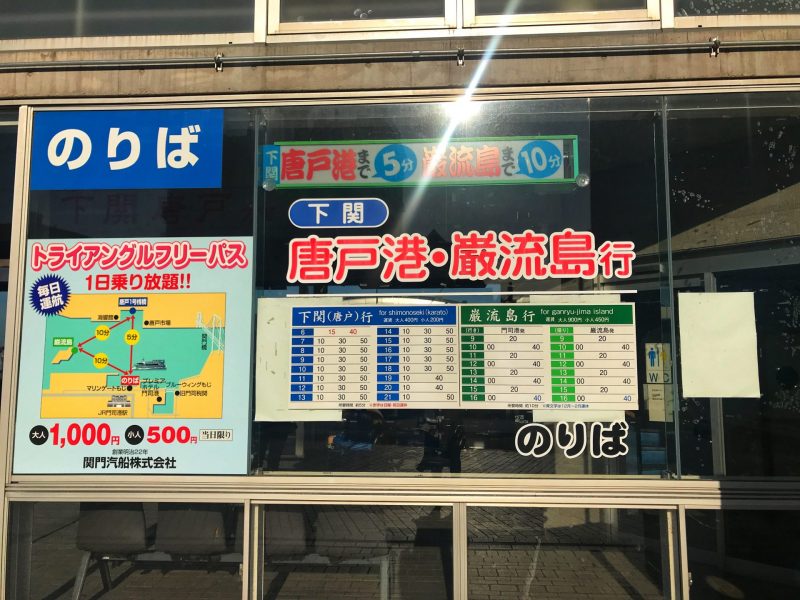 Once we arrived, we walked toward the ferry terminal and took a ferry to Karato Market. The Kanmon Kisen (関門汽船 門司港乗り場) is located just opposite Mojiko Station with 3 minutes walk.
Frequent ferry run between Kanmon Kisen and Shimonoseki ferry terminal with 20 minutes interval. So no need to rush and took your time. We bought the ferry ticket cost ¥400 from the vending machine.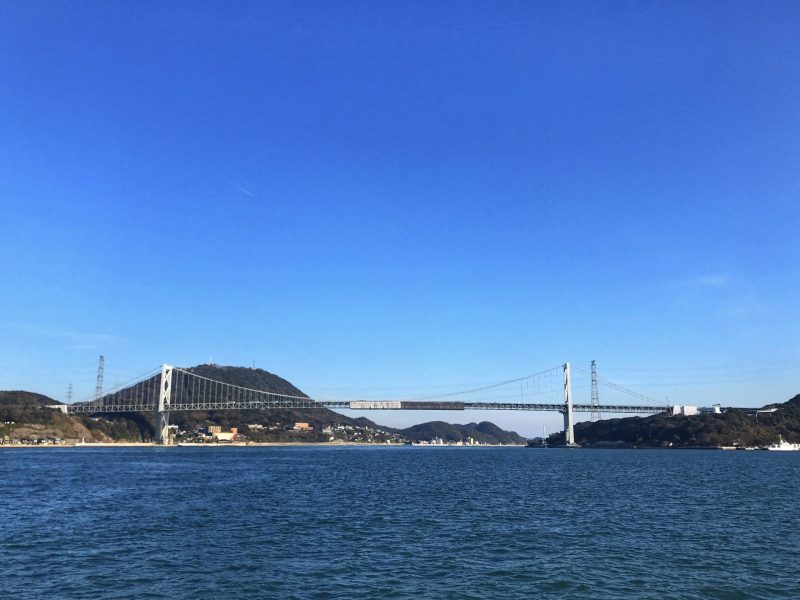 The ferry from Kanmon Kisen to Shimonoseki ferry terminal took about 5 minutes. We enjoyed viewing the sea of Japan with freezing wind during the ferry ride. The Kanmon Straits that separate the main mainland of Honshu and Kyushu island.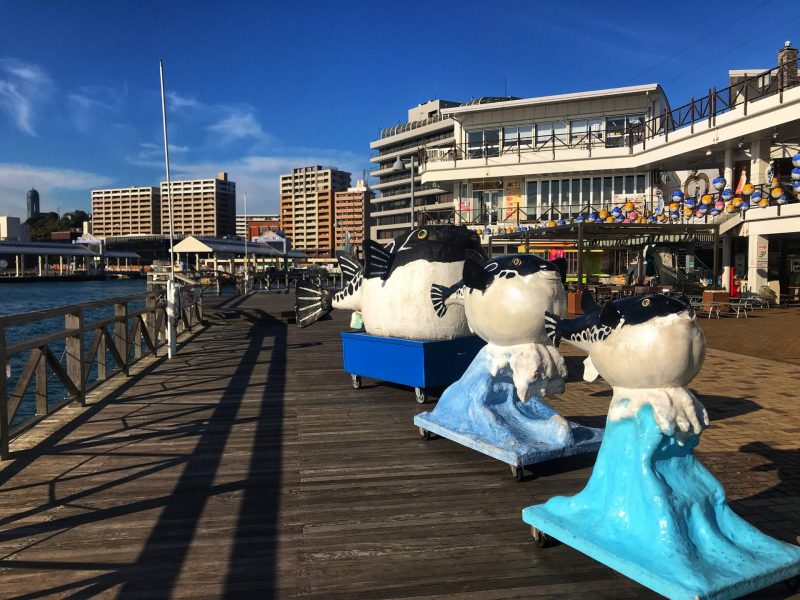 After we exited the Shimonoseki ferry terminal, turn right and walked along the waterside walk. You will see the Karato Market with less than 5 minutes' walk.
Sushi Battle Event in Karato Market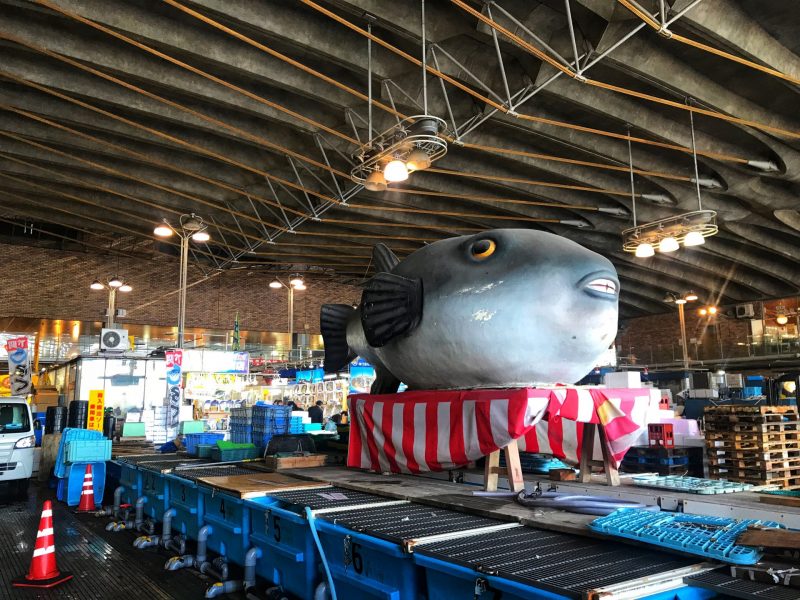 The Karato market is a smaller version of the Tsujiki market and less crowded. We first proceeded to the wholesale section to grab our breakfast. It was full of seafood stalls and people. A variety of fresh seafood served in raw and cooked in bento were sold in the market.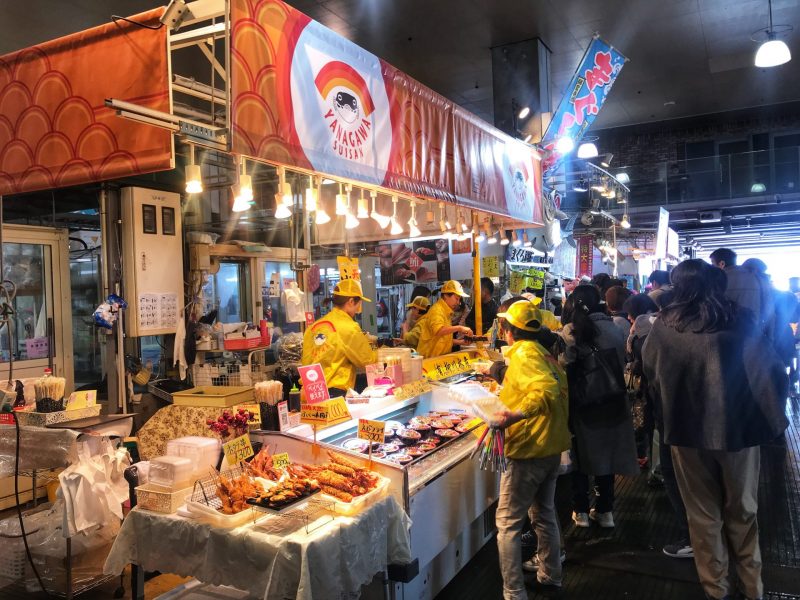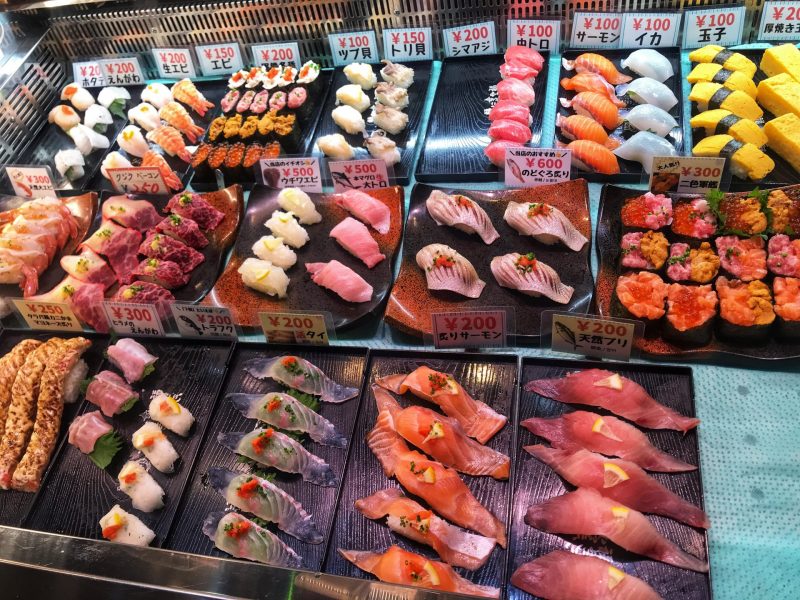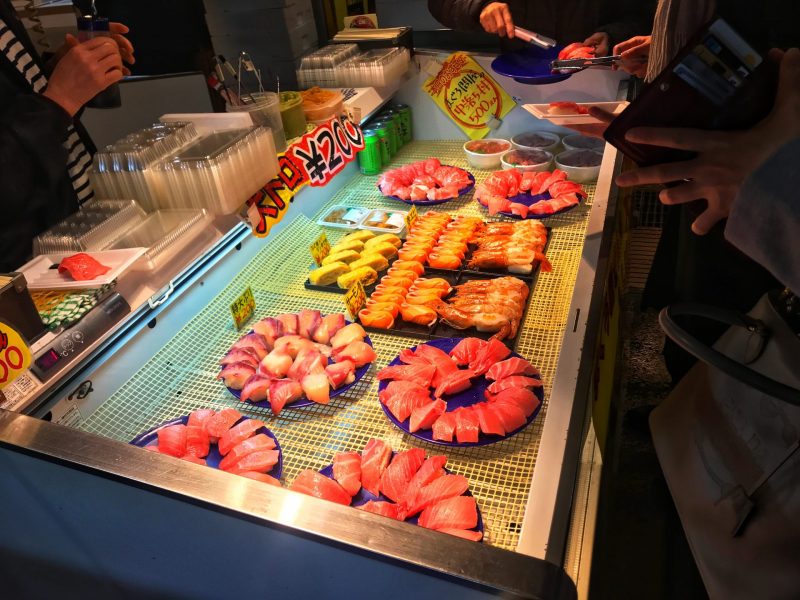 But for sure, the most eye-catching was various of nigiri sold here such as toro, salmon, shrimp, unagi and many more. Most of the nigiri were sold at ¥100 to ¥200 each with a generous portion of sashimi on top. There was also premier sushi such as fugu sushi or mantis shrimp nigiri sushi at a higher price.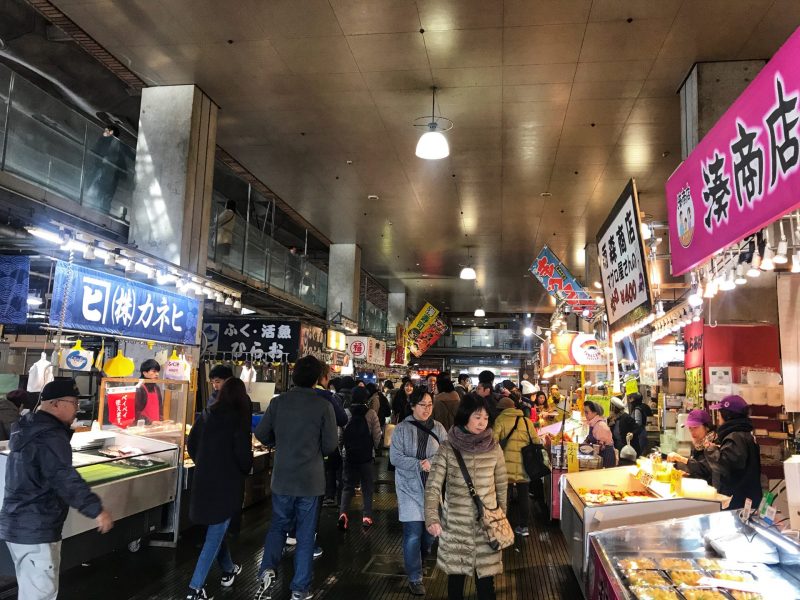 Wandering around on the wet tiles and enjoy time to pick for your seafood feast. The stallholders will pass you a plastic container, pick whichever pieces you want and lastly pay at the counter. All the sushi was on self-served basic with price tag listed. We had a fun time strolling around and looking for our best sushi in Karato Market.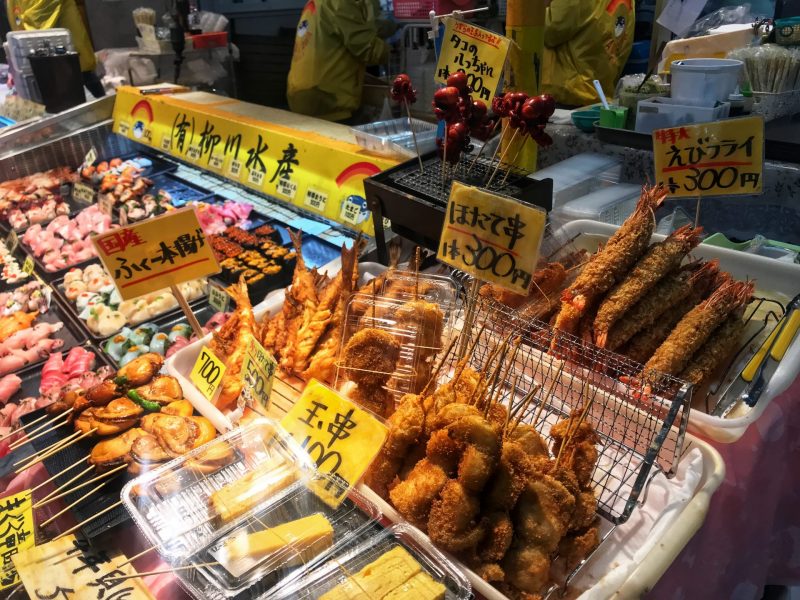 If you not fancy about the raw food, the Karato market also served cooked seafood skewers, deep-fried and soup items. For example fried karaage chicken, grilled oyster in stick, tamagoyaki (Japanese omelet), fried prawn and more.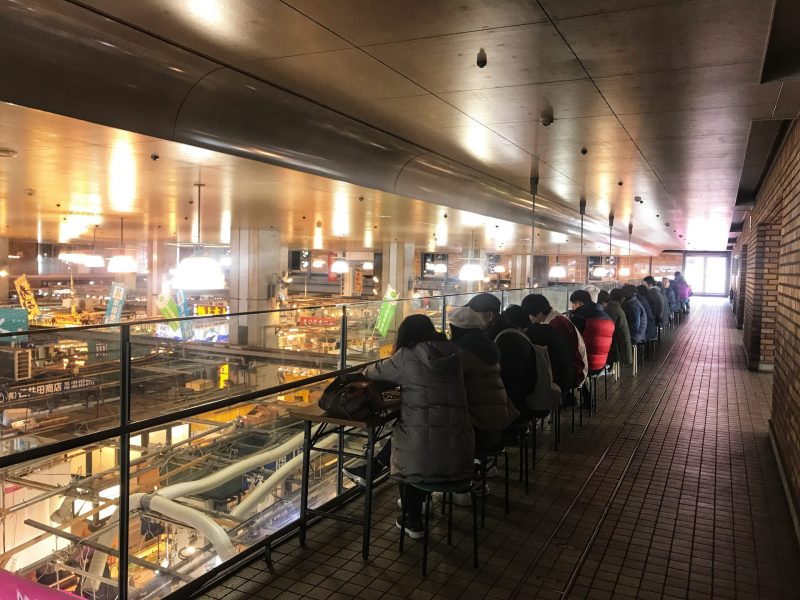 All the food were available to takeout. You can choose to have your food at the seating area on the second floor overlooking the market floor or nearby boardwalk. It was almost full at the seating area. So we decided to bring along our sushi to the broadway. It was a better option as we can savor the sushi while looking out at the ocean.
Japan Famous Blowfish (Fugu)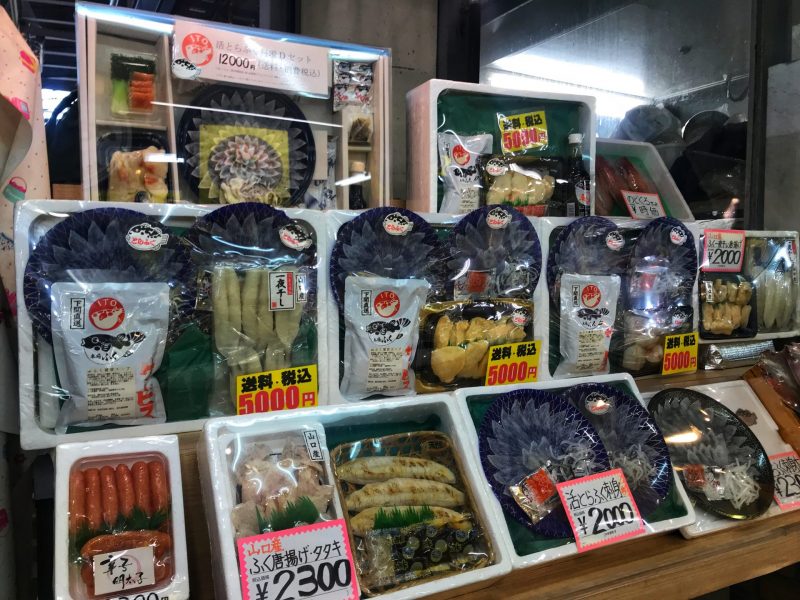 There was so much blowfish, mentaiko on sale here. Blowfish is the most famous regional specialty in Yamaguchi and you can have these unique dishes at cheaper price at Karato Market. Moreover, winter is the best time to taste the famous blowfish.
Blowfish or also called pufferfish contain deadly poison if not handled properly. So, it has to be prepared by a professional and license chef. It is one of the famous Japanese delicacies and very expensive to try on. Fugu can be served as sashimi, in a hotpot with vegetables.
Marvelous Fresh Seafood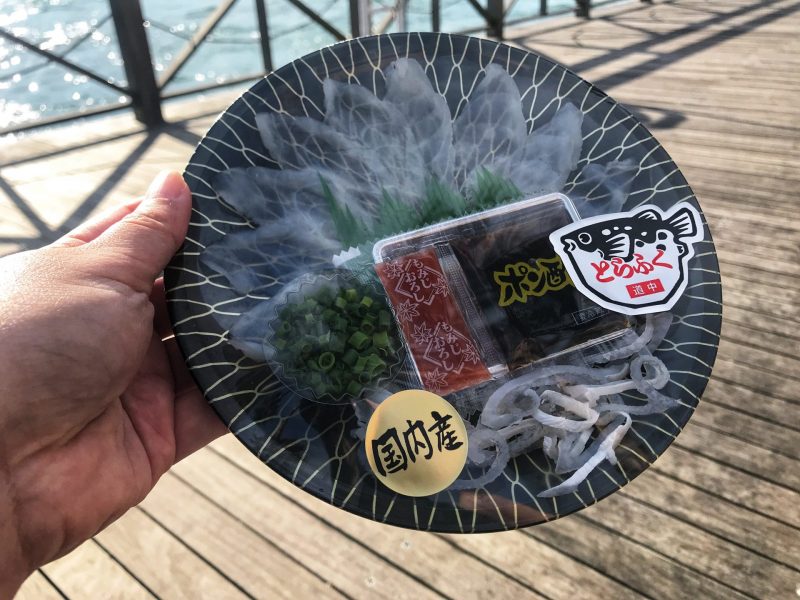 We bought the thin slides of fugu sashimi in beautiful patterned plating and together with free ponzu sauce. Can't believe we can try the fugu with only ¥800. The fugu dishes in Tokyo or Osaka can cost a few thousand at above. Truly a great deal and must-try food in the Karato market.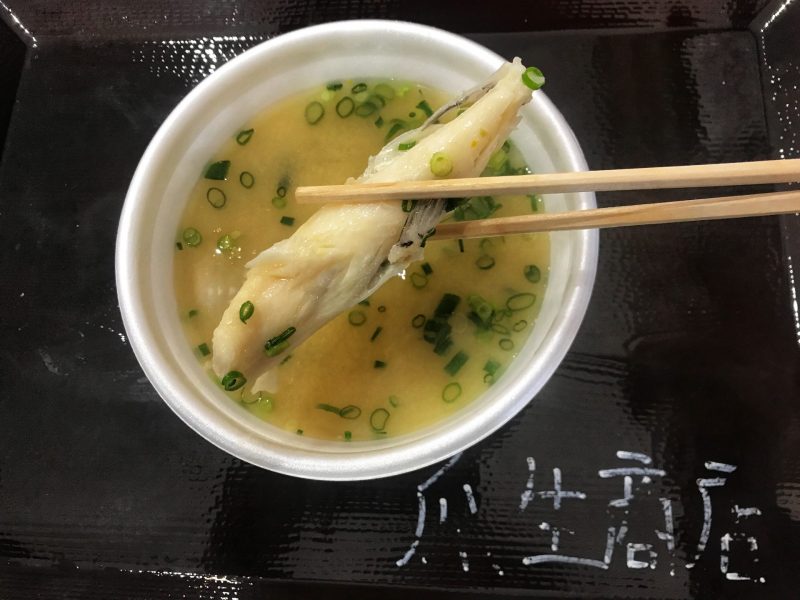 While the fugu fish was lack of flavor and nothing special. But we like the fugu soup as it warmed us in the breezing weather. By the way, you can even get the fugu's sake in the Karako market if you want to try it.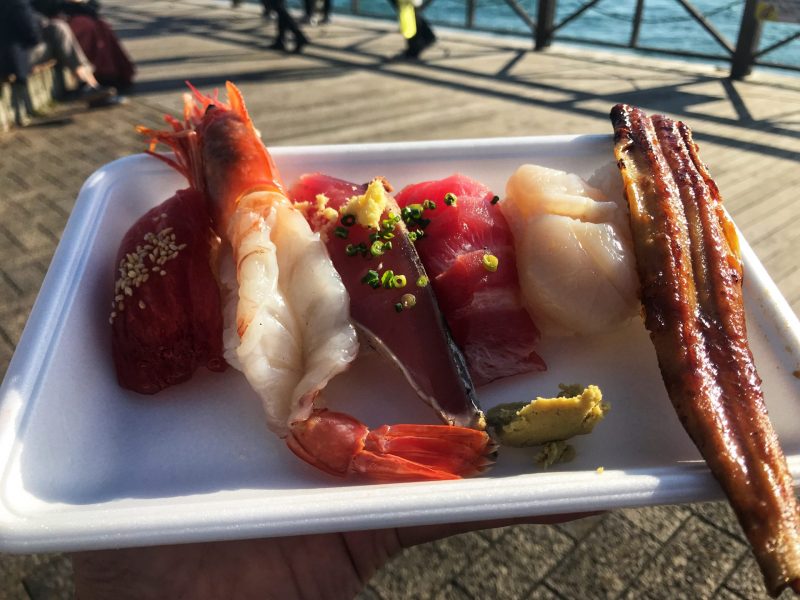 Beside the fugu fish, we also grab a lot of sushi and taste it at the boardwalk outside the market. Sitting by the sea, watching ships pass by and eating the delicious fresh sushi was one of the best experiences.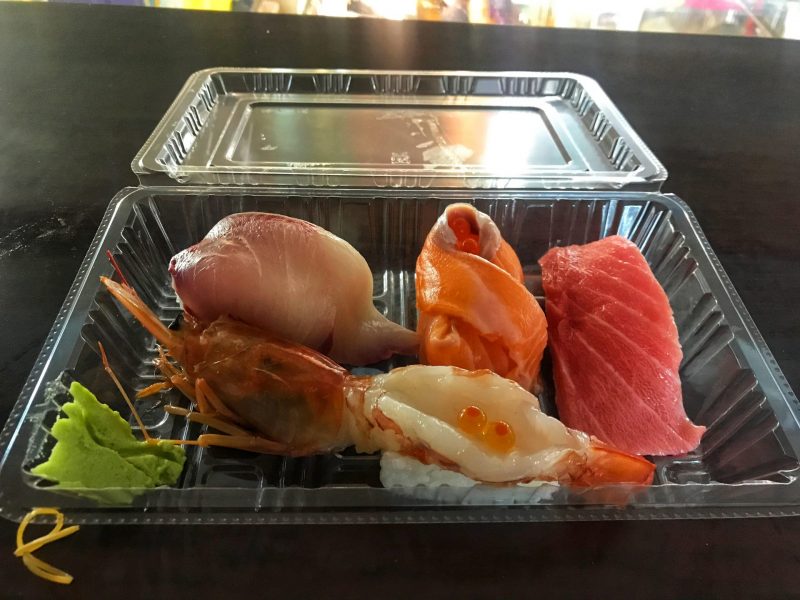 The sushi was so delicious and extremely fresh. We have even gone through a second time to grab some different sushi item. I really can't resist trying more as the price was so cheap for such a quality sushi.
After some rest, we took a bus to Kanmon underwater tunnel and continue our Kitakyushu trip.
Overview: Our Visit To Karato Market
All in all, this was an interesting experience in the Karato market. It was a fun way to try on different sushi especially some of the seafood items such as fugu sushi that might not commonly found elsewhere.
The sushi battle event in the Karato market is a must-visit in Fukuoka. It was truly a fun visit with several hours in the Karato market. We had a happy stomach filled with freshly sushi, fugu fish, and many others. But remember please come early as it can be packed with tourists at peak hours. There were also few restaurants serving teishoku (set meal) that operated on the second floor. You may try their popular pufferfish teishoku even during weekdays.
How to go to Karato Market from Fukuoka?
From Hakata Station (Fukuoka), travelers can take the JR train to Mojiko with a one-time transfer at Kokura Station by using JR Kyushu Pass. Lastly, take a short ferry ride from Kanmon Kisen to the Shimonoseki ferry terminal.
What is the opening time for Karato Market?
Karato market is open daily from 5am to 3pm from Monday to Saturday, and 8am to 3pm at Sunday and National Public Holiday.
What is the opening time for Sushi battle event in Karato Market?
The sushi battle event in Karato market is open from 10am to 3pm during Friday and Saturday, 8am to 3pm at Sunday and National Public Holiday.
Lastly, this Karato Market sushi food blog is part of our food tour when visiting Fukuoka, Kyushu. Free feel to read on our Fukuoka travel blog including itinerary, things to do and what to eat in Fukuoka.
Planning for the food tour in Fukuoka? Check out our Fukuoka Foodie Hunt with food blog post below: