Last updated on September 23rd, 2023
Read on below Kyushu transport guide for sightseeing train in Kyushu, a step-by-step guide for JR Kyushu Pass seat reservation online, and on the spot.
Kyushu is famous for its unique sightseeing train and attract many Japanese and visitors every year. It is a great way to discover the unique charm of Kyushu with spectacular scenery and meet local people along the train ride.
Some ordinary train lover even plans for the train trip (列車の旅) around Kyushu to experience the best scenic rail journeys. This could be practical for foreign visitors who can fully use the JR Pass for an unlimited train ride in cheaper fare and seat reservation with FREE!
Check out below the Kyushu transport guide on how to reserve Kyushu JR Pass online and onsite with a step-by-step guide, tips, and discount.
Travel Tips:
Easy and Convenient to get the
JR Kyushu Pass from Klook
which save you a lot of time, money and energy. Easy redeem at Kyushu JR Station. Make sure click on the link to activate the Promo Code.
Sightseeing Train in Kyushu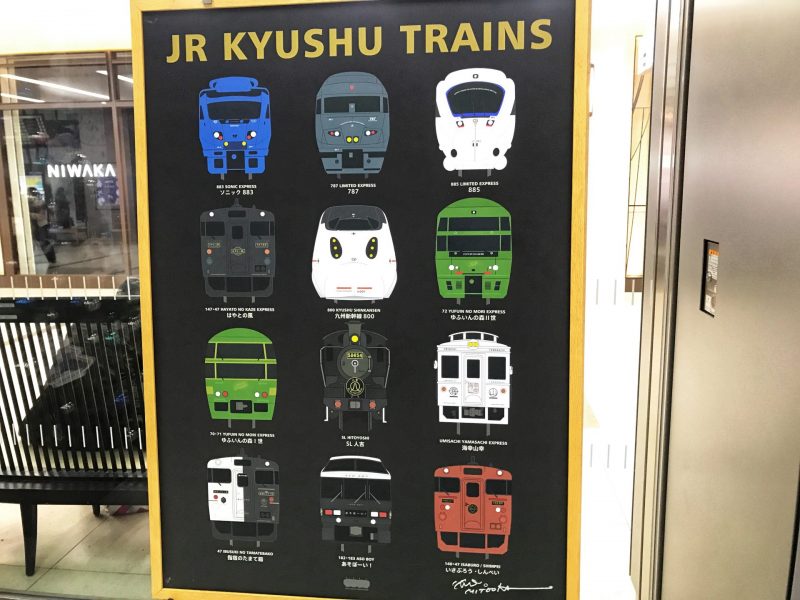 There are up to nine sightseeing train in Kyushu. Each one possesses a unique characteristic, design, and story. This list is not yet including those Seven Stars such as Sonic, Kyushu Odan Tokkyu, and other shinkansen or limited express train
Yufuin no Mori (ゆふいんの森): between Hakata and Yufuin/Beppu
Aso Boy! (あそぼーい!): between Hakata and Kokura/Mojiko (Currently running between Beppu/Oita and Aso due to earthquake)
Isaburo and Shinpei (いさぶろう・しんぺ い): between Kumamoto and Yoshimatsu
SL Hitoyoshi (SL人吉): between Kumamoto and Hitoyoshi
Kawasemi Yamasemi (かわせみ やませみ): between Kumamoto and Hitoyoshi
A-Train / Aru Ressha (A列車で行こう): between Kumamoto and Misumi.
Umisachi Yamasachi (海幸山幸): between Miyazaki and Nango
Ibusuki no Tamatebako (指宿のたまて箱): between Kagoshima Chuo and Ibusuki.
Hayato no Kaze (はやとの風): between Yoshimatsu and Kagoshima Chuo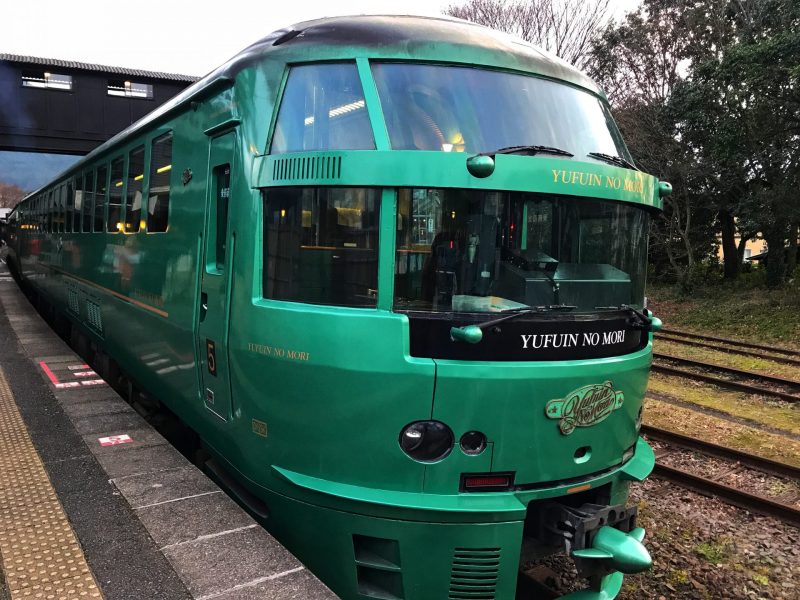 Among them, Yufuin no Mori and Ibusuki no Tamatebako are the most popular sightseeing train in Kyushu. Sometimes, it can be harder to get a train ticket in the peak season. Added, the whole train is reserved seats only without free seating. That's means you need to reserve your seat to ride the train. The reservation is open one month in advance. Moreover, do take note that some of the trains are not operated every day. So make sure to check on the train schedule on the JR Kyushu Rail website.
While train tickets are not cheap in Japan. If you have taken more than two trips or more frequent of JR trains, consider getting the Japan Rail Pass. The best thing is Kyushu even offering Kyushu JR Pass for unlimited train ride within the Kyushu region at Northern, South, or All Kyushu.
Kyushu JR Pass (More info about the validity, price, and coverage)
The electronic voucher and easy redeem at any JR Kyushu station.
Reserve Kyushu JR Pass Online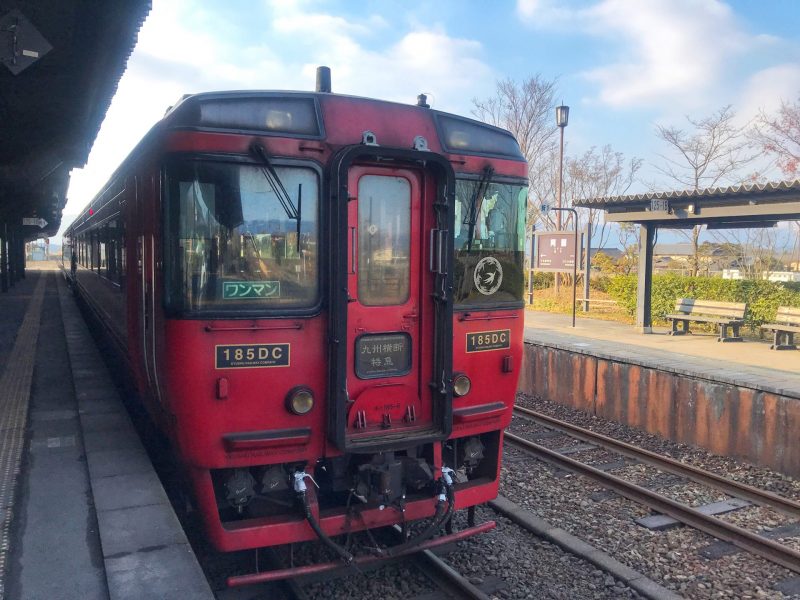 In recent years, JR Kyushu Rail is open for online reservations. Travelers can purchase an electronic voucher for JR Kyushu Rail Pass at JTB, Klook, Hana tour, and other official designated travel agencies. Once bought the JR Kyushu Pass electronic ticket, you can proceed to reserve Kyushu JR pass for the seat reservation.
Including those sightseeing train and shinkansen, there are up to 14 trains are offering JR Kyushu Pass seat reservation online. We advise purchasing the JR Kyushu Rail Pass before for any registration and reservation. You can get the electronic ticket from Klook, an officially designated travel agency from JR Kyushu Rail.
Due to limited frequency, only those popular sightseeing train is advice for reservation online. The reservation fee cost ¥1,000 for adult and ¥500 for children. While remaining JR train ride can be reserved onsite once arrived in Kyushu.
Check the price on JR Kyushu Rail Ticket from Klook.
JR Kyushu Member Registration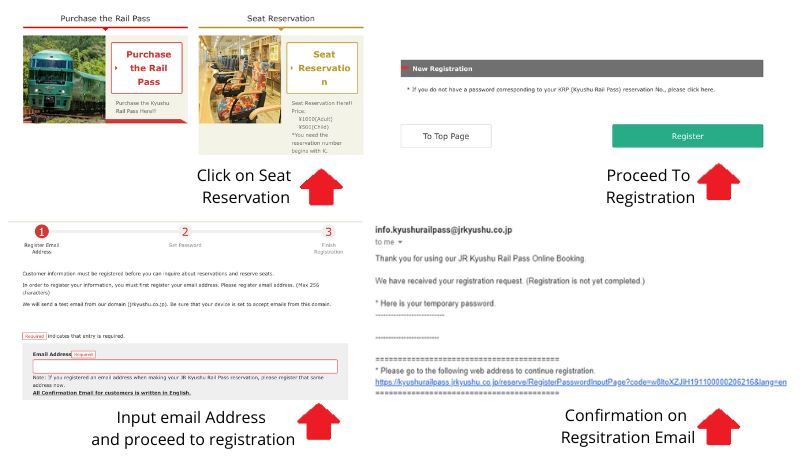 First of all, before we go further, please follow the quick guide to become the JR Kyushu member. Only JR Kyushu member can enjoy their benefit like make seat reservation on JR Kyushu Rail official website.
Click here to official website for JR Kyushu Rail Website.
Next, click on the Seat Reservation on JR Kyushu Rail official website and proceed on the new registration, agree on terms and conditions. You will need to enter your email account and proceed to register. A confirmation email with a temporary password (valid for 3 hours) will be sent to your registered mailbox. Follow the instruction by clicking on the verification link. It will direct you to the JR Kyushu web page further step.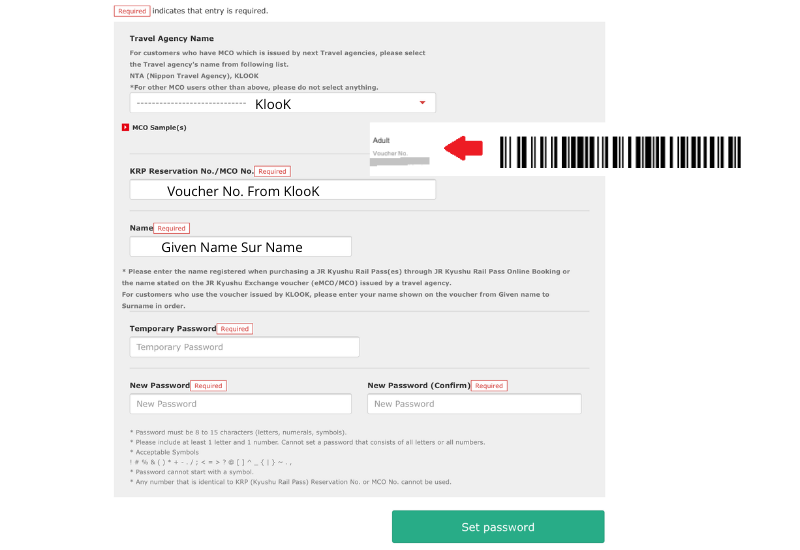 From here, input the necessary information. Example below shown on how we input based on JR Kyushu Rail Pass purchased from Klook.
Travel Agency Name: Klook
KRP Reservation No / MCO No: voucher code as per printed on the purchase order
Name: Given Name + Sir Name (Please input follow by Given Name to Sur Name in order)
Temporary Password: From the verification email
New Password: Your desired Password (Must be 8 to 15 character and mix with number and letter)
Lastly, Click on Set Password. And you are done for the registration.
Travel Tips: For more than one traveler or in the group (up to 7 people), only one person needs to register as JR Kyushu member
Yufuin no mori Seat Reservation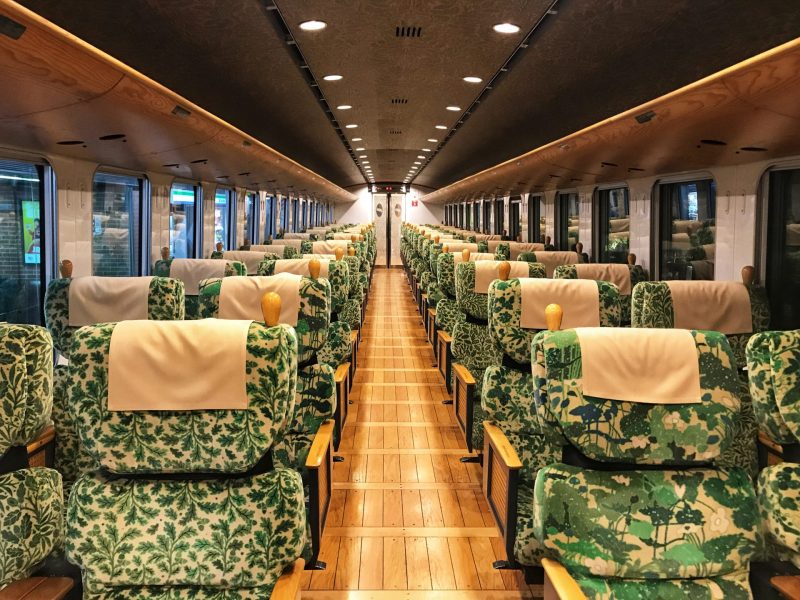 While most of the travelers will looking for how to reserve Yufuin no mori, the most popular train route in Kyushu. The whole Yufuin no mori train is designed as a forest theme for unique train experience. For this case, we will use Yufuin no mori seat reservation for the below guide on JR Kyushu Pass Seat Reservation Online.
Route Search and Train Selection
Firstly, proceed back to the seat reservation page. Select the desired route of the train that you wish to make the seat reservation. Once you done for train selection, the system will automatically update with the latest boarding information. Just select the boarding date, departure station and arrival station from the drop bar. Lastly, input the number of passengers for how many adults or children.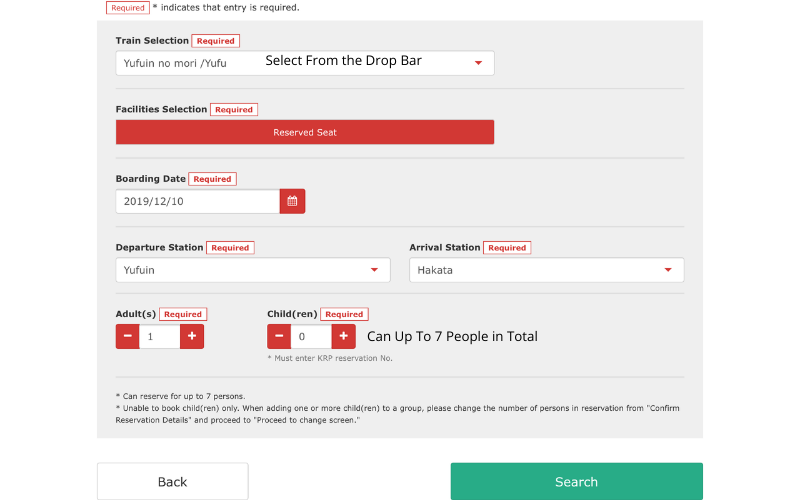 Next, click on the search and the system will summarize your train selection and reservation fee. The reservation fee cost ¥1,000 per adult and ¥500 for children. Between 6 and 11 years old is categorized as children.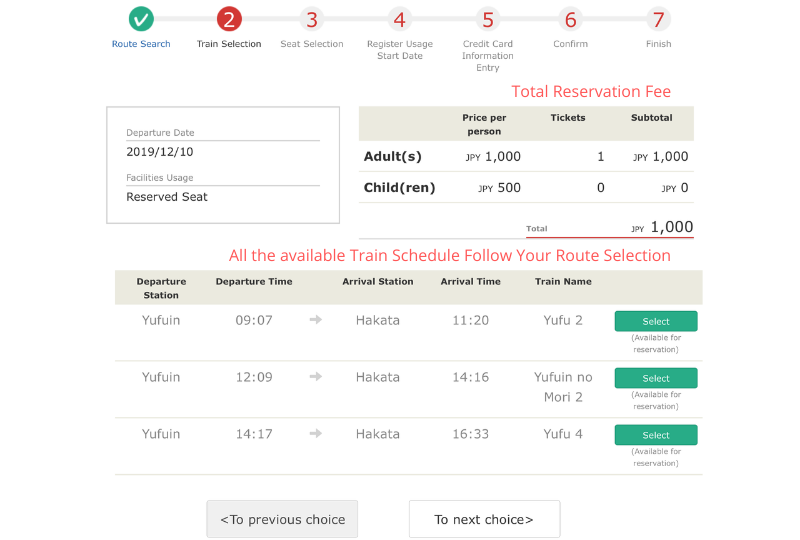 After confirming the relevant information is correct, proceed to the next step. The system will be automatically queried and display all the available train schedules follow your route selection. All the information is displayed. Next, choose a train that you wish to make the seat reservation and click "Select". You will next direct to seat selection for your ride.
Seat Selection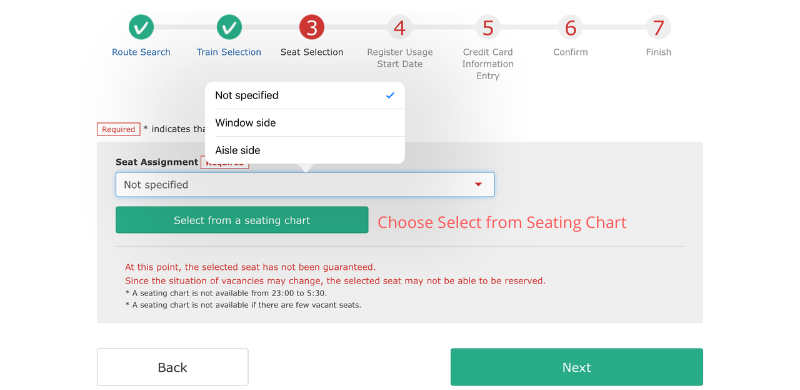 On the page, for a solo traveler, you can select for Window side, Aisle side or directly select from a seating chart. For two people, you can also choose to seat together or separate.
From here, you can freely select the seat from the available seat. There are information indicate that seat selection. At the bottom of the screen is a car that can be selected for reserve. There are also arrow indicate the travel direction. Very informative and well display.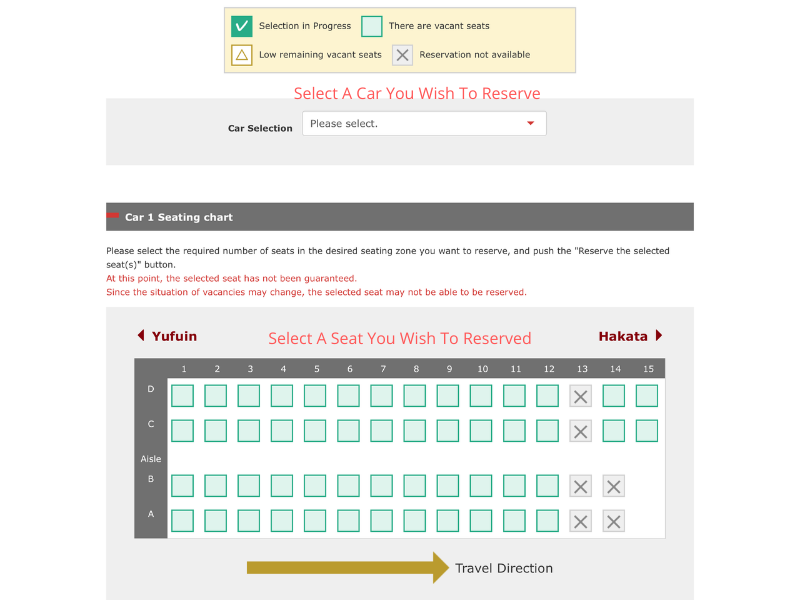 The seat distribution when reserve the JR Kyushu Rail seat online is the same as the information in the JR counter on the spot. If the train is full, you will not be able to board the car. The popular front seat with a wide window normally get booked once the Yufuin No Mori open for seat reservation online.
After selection, click the middle of the bottom of the seat designated. You will need to enter your JR Kyushu Rail Pass activated start date.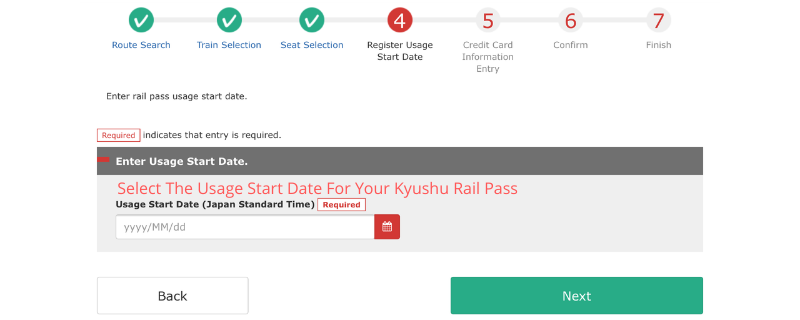 Payment Method For JR Kyushu Seat Reservation Online
Lastly, proceed to the payment page and choose the payment method. Generally, overseas travelers will choose to pay by credit card. If everything is confirmed, just proceed for payment. Please take note that the credit card needs to be own by the person who makes the purchase. Added, please bring the same credit card when collecting the reserved ticket at the JR Kyushu office.
Double-check on your Kyushu JR Rail seat reservation information including the number of passengers, passenger name, reservation fee, train reservation detail. You still can go back to the previous back if anything needs further modification.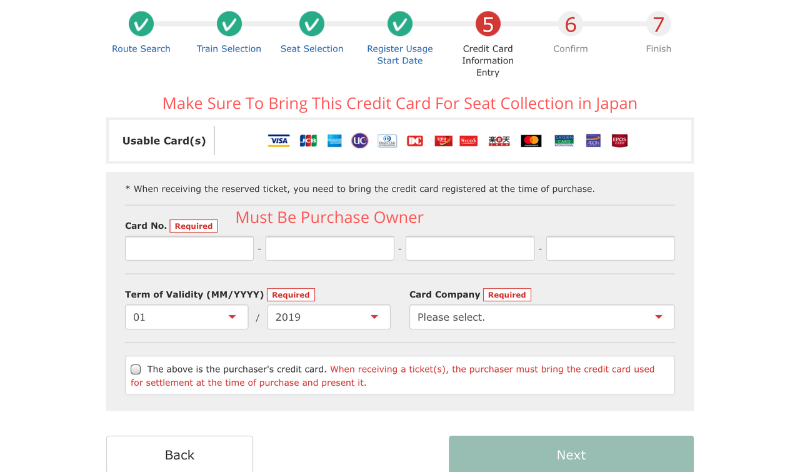 Once you click on the "Pay", your reservation is complete. A confirmation email with a designated seat will send to your email address. Remember to print out the confirmation letter and Kyushu JR Pass for ticket collecting at any of the JR counter in Kyushu Japan.
That's it for how to reserve JR Kyushu Pass seat tickets online. Simple and easy!
JR Kyushu Pass Seat Reservation Onsite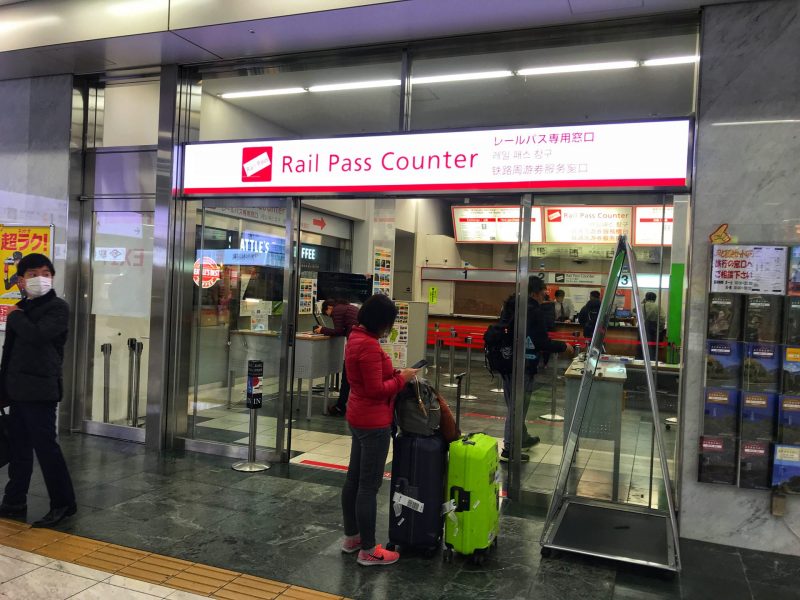 When arrive in Kyushu Japan, you can proceed to exchange physical ticket for Kyushu JR Rail Pass and reserved seat ticket. Added, you can reserve your remaining seat and rail ticket as per your Kyushu itinerary.
Most of the travelers will choose to exchange their Kyushu JR Pass at Hakata Station. There are separate counter for local and foreigner for Rail Pass Counter in Hakata Station, which is very helpful for travelers. Sometimes, it can be quite busy during peak hours. But line clear pretty fast.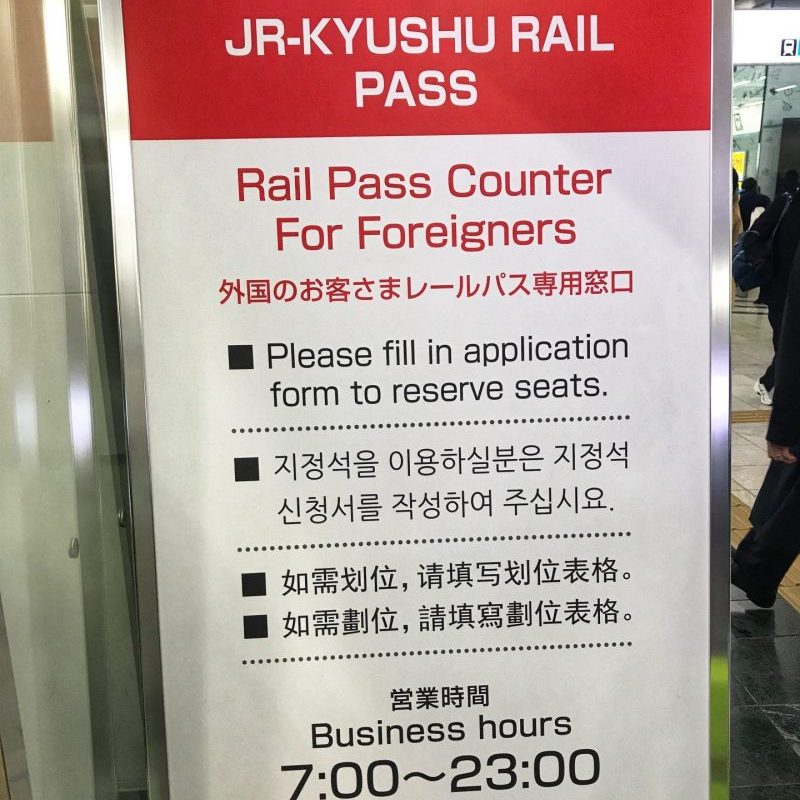 But you can't direct proceed to the counter in the Rail Pass Counter. Due to avoid mistakes and miscommunication, you will need to fill up the application form for seat reservations.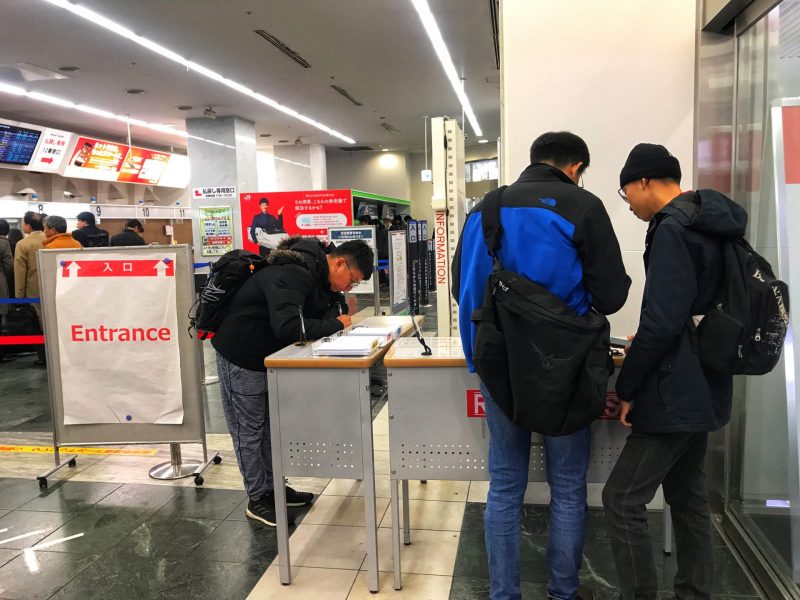 Application form, pen, and counter are allocated for travelers to write down the application form on the spot. Alternatively, you can also download from Kyushu JR Rail Website from here.
Click here for JR Kyushu Rail Pass Reserved Seat Application Form.
Just fill in your JR Kyushu Rail Pass validity, departure date, departure and arrival station, and departure time. An example also shows at the counter for reference. Once every ready, proceed to the JR Rail Counter to exchange the physical ticket.
You will need to bring along your passport with a temporary visa stamp from immigration, reservation email, and credit card when making seat reservations online. That's it. The process might look complicated, but it is pretty easy and fast. So, it's time for you to plan for your Kyushu itinerary!
Don't forget to get the JR Kyushu Pass from Klook which greatly save a lot of transportation fee.
Overview: Kyushu Transport Guide
Hopefully, this transport guide on how to reserve Kyushu JR pass online and on the spot is helpful. We visited North and South Kyushu and had an amazing time there. We've been sharing Kyushu travel guides for places that we visited. If you missed our travel posts, here are the links to visit the beautiful places in Kyushu. Happy travel!