Last updated on June 3rd, 2023
Planning a trip to Antelope Canyon to immerse in the beauty of Mother Nature? This magical place is simply spectacular, and no picture of it can truly do it justice. Keep reading for some tips and facts I learned from our Antelope Canyon travel guide blog!
Just a few miles south and east of Page, Arizona (AZ) is Antelope Canyon. The narrow canyon is one of the most beautiful slot canyons in the world and simply something you can not find anywhere else. Marvel at the natural curves and swirling colors of this sandstone sculpture. The colors, the formation of the rocks, and the scenery are incredibly beautiful that words will not do it justice. You simply have to be here and immerse yourself in the atmosphere.
For years, I've been seeing pictures of Antelope Canyon. This magical place carved out by Mother Nature is the main reason I visited Page. I still can remember the moment I walked through the curvy orange walls with the light beams that shine down between them. It was incredibly amazing and I can't believe that I was able to see it with my own eyes. You will never forget this amazing Mother Nature works for visiting Antelope Canyon.
However, visiting Antelope Canyon isn't as simple and easy. There is something you need to know before your trip. In this Antelope Canyon Travel Guide blog article, we'll tell you everything you need to know so that you can prepare for and make the most of your trip to Antelope Canyon.
Antelope Canyon, AZ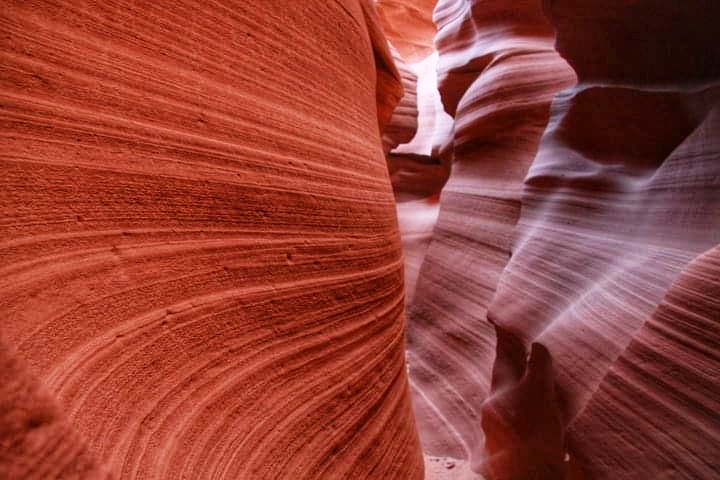 Antelope Canyon is located 10 minutes east of Page near the Arizona-Utah border. It is always ranked as the "10 most beautiful places on earth", "10 most surreal destinations" or "50 most unique landscapes" in many travel guides or blogs. Its otherworldly beauty makes it one of the most highly sought-after destinations in the world. The slot canyon is a popular spot for hikers, photographers, and nature-lovers from around the world.
But, can you imagine that Antelope Canyon was created by flash floods millions of years ago? It is unbelievable to the eyes when you look at these giant stonewalls that are mostly carved by Sand in flash floodwaters and then polished by sand particles in the wind. The glowing red walls and narrow, twisting passageways are the marvels of nature's timeless actions and cycles that repeated over 1000s of years of erosion.
When walking on the wall of these fantastic slot canyons. You can feel the power of Mother Nature. That's an almost unbelievable combination of cause and effect. But time is the factor that makes that cause-effect work.
Things To Know Before Visit
To ease your time and effort, we have put together this quick and easy information in this session of Antelope Canyon Travel Guide here.
What is the best time to visit Antelope Canyon?
The best time to visit Antelope Canyon is from March through October when the light shafts appear. Crowds will be at their peak then, which may make it difficult to snap that perfect shot.
What is the opening time for Antelope Canyon?
Antelope Canyon is open year-round. However, it may close during days of heavy rain or snow, but is uncommon to happen.
How much for a tour to visit Antelope Canyon?
The entrance fee is more at Upper Antelope Canyon compared with Lower Antelope Canyon. It generally costs you around $70 to $90 for upper Antelope Canyon and $40 – $60 for lower Antelope Canyon.
Should You Visit Upper or Lower Antelope Canyon
If you are looking for great photo opportunities, visit the Upper Antelope Canyon as it is more photogenic. Lower Antelope Canyon is more fun and adventurous. It is much tighter inside and required walking up/down and even climbing on the ladder.
What is the prime time for capturing the best photo of Antelope Canyon?
The best photo where the slim ray of light beam shot right to the ground in Antelope Canyon is between 10:00 to 12:00 at Upper Antelope Canyon. This time slot is very popular and more expensive. But you'll get higher chances to capture this priceless photo.
Is the Antelope Canyon worth visiting?
The canyon is absolutely worth a visit! There are no words to describe the breathtaking beauty of the Antelope canyon. You'll see the most beautiful landscape and all the stunning colors in the Antelope canyon.
Guided Tour To Antelope Canyon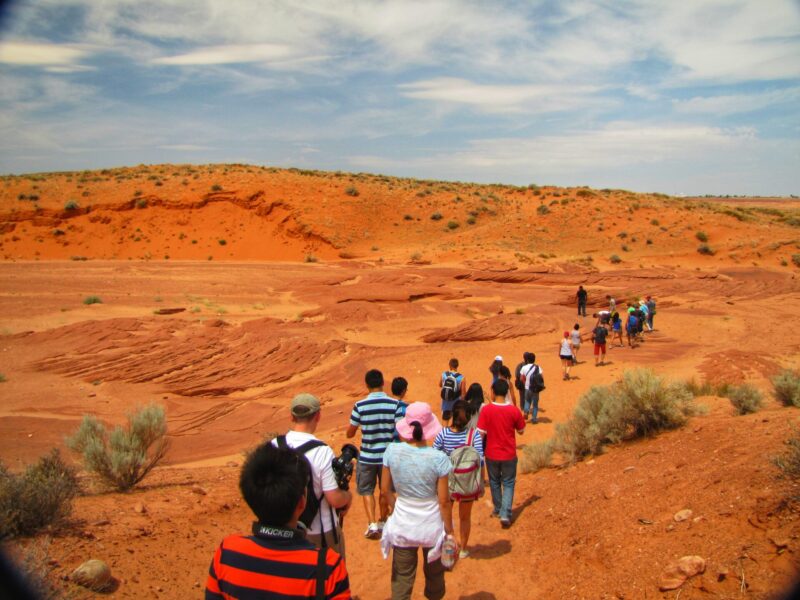 Antelope Canyon is located on private land within the Navajo Nation. You'll need a native Navajo guide to visit Antelope Canyon, no matter if you're visiting the Upper or Lower Antelope Canyon. You can't venture into the canyon on your own and can only access it via an authorized guide. Additionally, a permit is also required, but it is usually covered in your guide's fee. (Check with your tour company if you have any questions about additional fees.)
There are plenty of authorized tour companies that will take you into the canyons. All the tours offer a similar experience and prices.
Lower Antelope Canyon Tour -Two companies are running for lower Antelope Canyon: Ken's Tour and Dixie Ellis. Book the tour here: Lower Antelope Canyon Tour
Upper Antelope Canyon Tour – Four companies are running for upper Antelope Canyon: Adventurous Antelope Canyon Tours, Antelope Canyon Tours, Antelope Canyon Navajo Tours, and Antelope Slot Canyon Tour. Book the tour here: Upper Antelope Canyon Tour
Reservation is suggested since tours can sell out weeks in advance. The price may seem steep but you will think it is a bargain once you begin your tour.
Alternatively, you can also join the Antelope Canyon Tour from Las Vegas. It is a popular tour with pick up from Las Vegas to the canyon. It will also include a stop at the Horseshoe Bend, where you can take snaps of the Colorado River as it loops back on its course to form a dramatic U-shaped curve.
Upper or Lower Antelope Canyon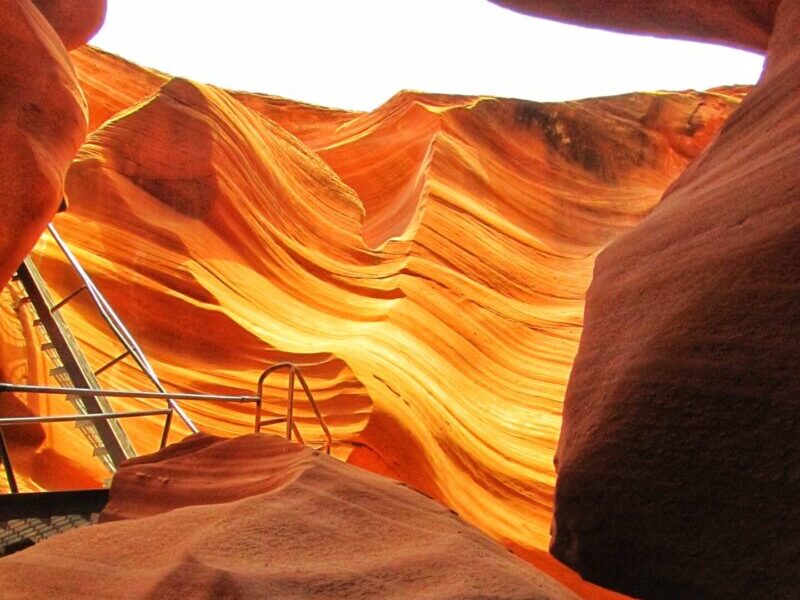 If you're studying any Antelope Canyon Travel guide or blog posts, you'll know there are two different sections that you can visit: Upper Antelope Canyon and Lower Antelope Canyon. These two points are mere 7.5 miles apart and both are equally beautiful. It is hard to say which is better. But, do you know which one to choose and what is the difference?
If you are looking for great photo opportunities, then the Upper Antelope Canyon is the more popular route compared with Lower Antelope Canyon. Most of the Antelope Canyon photos are from here, and it is the best place to capture the famous corkscrew swirls and twists. The canyon shape is wider at the bottom and narrow at the top. It is at ground level with less than a 2% incline, so it is easier to walk through. The sandstone walls can reach up to 120 feet with more sunlight entering the canyon.
If you are looking for a fun and adventurous experience, go for the Lower Canyon Canyon. The canyon shape is narrow at the bottom and wide open at the top. In your tour journey, you'll need to squeeze through the narrow passageway and do some climbing. It is cheaper compared with upper Canyon but you can get a longer time in the canyon.
We went to Lower Antelope Canyon because it is more adventurous and costs slightly less. But, whichever you choose, remember to make your reservation. The Antelope Canyon is extremely popular in recent years. The popular time slots especially during the peak season are selling out a few months ago! Make your reservation in advance to avoid disappointment.
Where To Stay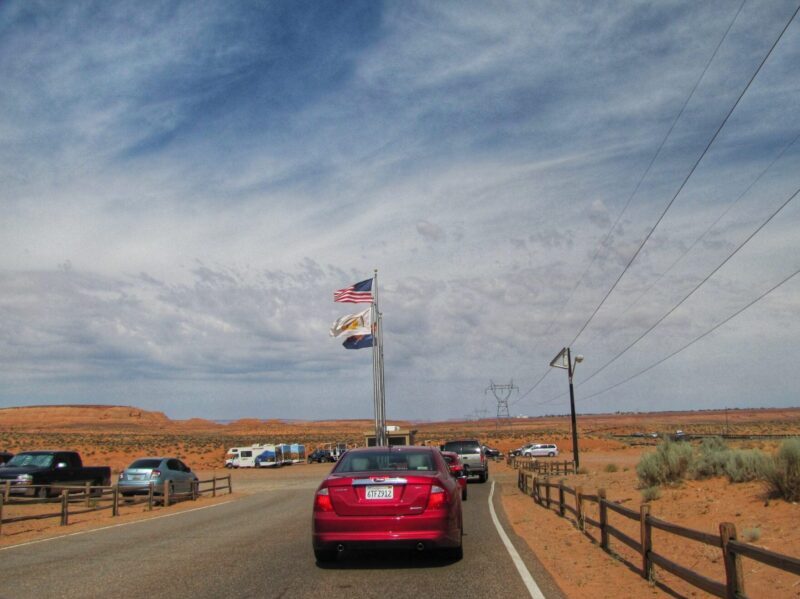 Many people opt to depart from Las Vegas (which required approximately 4 hours of drives to Antelope Canyon) or stay overnight nearby. Together with Grand Canyon and Horseshoe Bend, Antelope Canyon makes a perfect 2 days trip when visiting Arizona.
We recommended staying in Page if you plan to take the morning session of the Antelope Canyon Tour.
Best Western Plus At Lake Powell is a modern hotel, that offers spacious rooms and comfortable beds. Your stay comes with an American breakfast and a few places nearby to grab a bite. The location is great, especially if you're planning to visit Antelope Canyon and Horseshoe bend.
Country Inn & Suites by Radisson Page is another great option. It is about 15km from Antelope Canyon, making it a good base for exploring the Antelope Canyon and its surroundings. The property is nice and clean with friendly staff. It also provides free parking for guests. Perfect for a short visit to Page.
Best Western View of Lake Powell Hotel is conveniently located if you're visiting the Lower Antelope Canyon or the Horseshoe Bend. It is only 15 mins from the Antelope canyon tour, which was amazing. The room was a great size and the bed was comfortable. There was also breakfast provided, which had a great variety of hot and cold items. Free parking is also provided.
A Visit To Antelope Canyon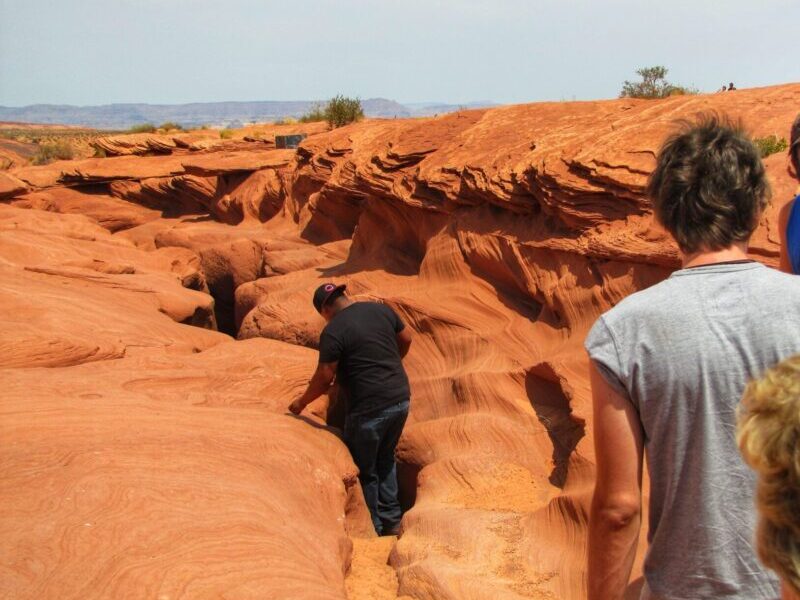 We went on a tour with Ken's Tour to Lower Antelope Canyon as the available time slot is better suited to our Antelope Canyon itinerary. From Grand Canyon, we drove to Page and stayed one night in the town before getting to Lower Antelope Cayon.
We booked the morning tour, so the crowds were not too huge. But when we came out there were lines everywhere. So early is better for sure if you don't want to wait in lines. Take note that even with a reservation, you might still have to wait 30 minutes or longer to enter the canyon. So plan your Antelope Canyon itinerary properly.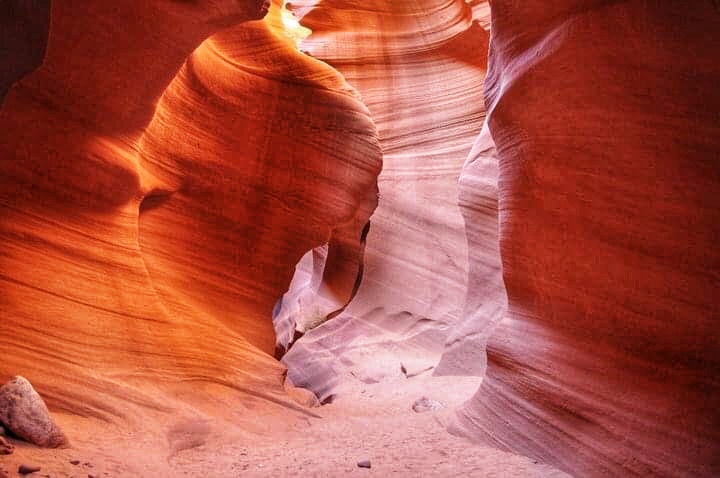 Our visit to Lower Antelope Canyon is during summer. It was pretty hot initially even in the morning and it does cool down when we're inside. But what all the excitement is about is the stunning beauty of the canyon. We were all impressed and become breathless with its beauty. This place is beyond words or pictures and you have to see it in person.
Every few steps into Lower Antelope Canyon reveals a new, starkly beautiful scene created by Mother Nature. The beautiful natural sculptures change as the sun moves through the sky, so nothing you see is the same.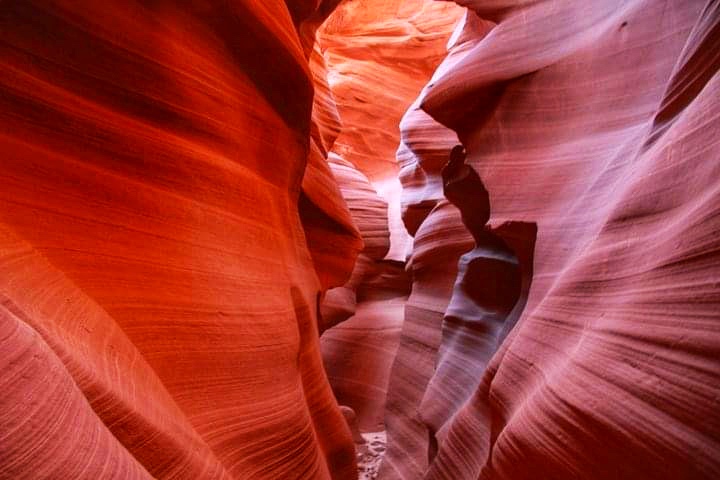 Our guide was very good and fantastic. He told us stories of growing up in the area and about Navajo beliefs. Besides, he also assists us how to capture some unique shots with angles in the canyon. We kept on snapping photo after photo! Every picture we took was a piece of art.
There are some pretty steep steps on the way down and a ladder involved. All were manageable and we found it was more adventurous and fun.
In total, the Antelope Canyon tour took us about an hour and a half. It was an amazing sight and I still can't believe that I was able to see it with my own eyes! I would recommend anyone to experience this once in their lifetime.
More Antelope Canyon Travel Guide Tips
Be prepared for all the basics sunscreen, lip balm, sunglasses, or any other dust protection for the eyes when you are outside.
Bring good walking shoes, especially if visiting Lower Antelope Canyon. Also, bring a jacket as it is cool inside the canyon.
Check the weather before you go, as you walk down to a canyon that can be flooded in minutes when the rain comes. A sunny day is highly recommended to have enough sunlight passing into the canyon!
Both Upper Antelope Canyon and the Lower Antelope Canyon are beautiful in their own right.
Arrive at least 15 minutes early before the tour.
Try to stay in front or at the back because it gives you the greatest chances of amazing photos.
Be sure to toss some sand up into the air and the radiant light and colors are amazing.
There are no trash cans and no bathrooms in the canyon.
Tickets get sold out quickly! Remember to reserve the tour to avoid disappointment.
Overview: Antelope Canyon Travel Guide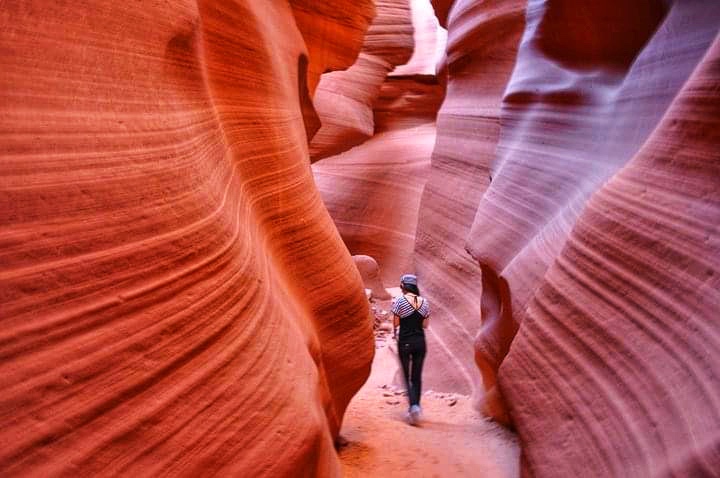 All in all, Antelope Canyon is one of the most majestic places that I have visited in the US. It's truly magnificent and worth visiting for its unique, natural beauty. Do make a stop in Page to see the Antelope Canyons if you are in Arizona. You have to see it in person to get full appreciation and marvel at the beauty of mother nature. But please remember to reserve for the tour and be ready for the crowds.
For those who are wondering whether to go to the Upper or Lower Antelope Canyon, my advice will be to just go for the Lower Canyon. It is more fun and cheaper actually.
Have you ever visited Antelope Canyon? If so, how did you like it?