Last updated on September 23rd, 2023
An interesting visit to Aoshima island Miyazaki including Devil's Dashboard and Aoshima Shrine. One of the must-visit attractions in Miyazaki.
Aoshima Island (青島), literally means "blue island", is a beautiful small island just of the coast of South Miyazaki city. From an aerial view, Aoshima island is surrounded by white sand beaches with a subtropical jungle at the island's center. However, the shallow water around the island has a geological phenomenon and famous by its unique rock formations known as "devil's washboard". One of the must-see attractions in Miyazaki.
We visited Aoshima Island during our day trip to Nishinan Miyazaki by bus. This beautiful attraction is our first stop along the pacific coast journey.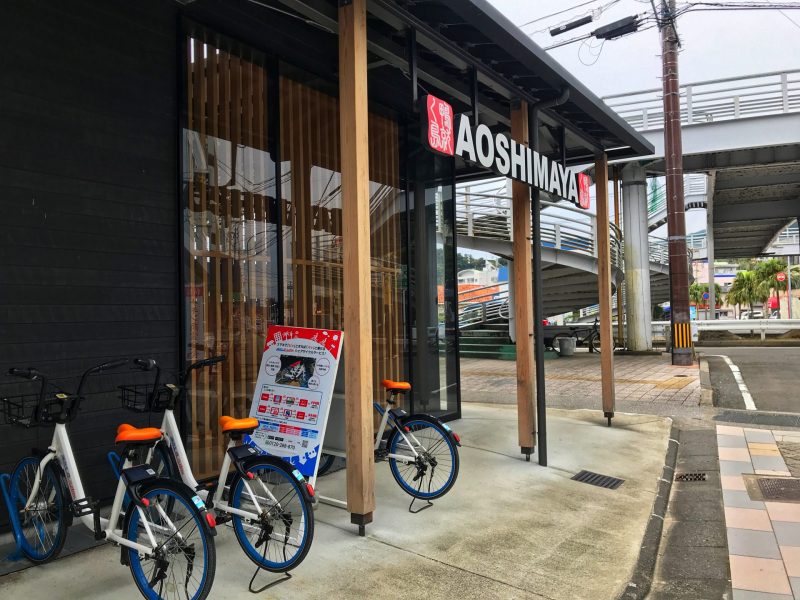 From the bus stop, a short walk will lead you to the bridge which connected the Aoshima island with the mainland. There is a well-established shop, Aoshimaya at the entrance where you can get some food, snack, and souvenir. You can rent a bike at Aoshimaya if you want to spend more time wandering around in Aoshima island. Moreover, few restaurants selling for food and local produce along the walkway to the bridge.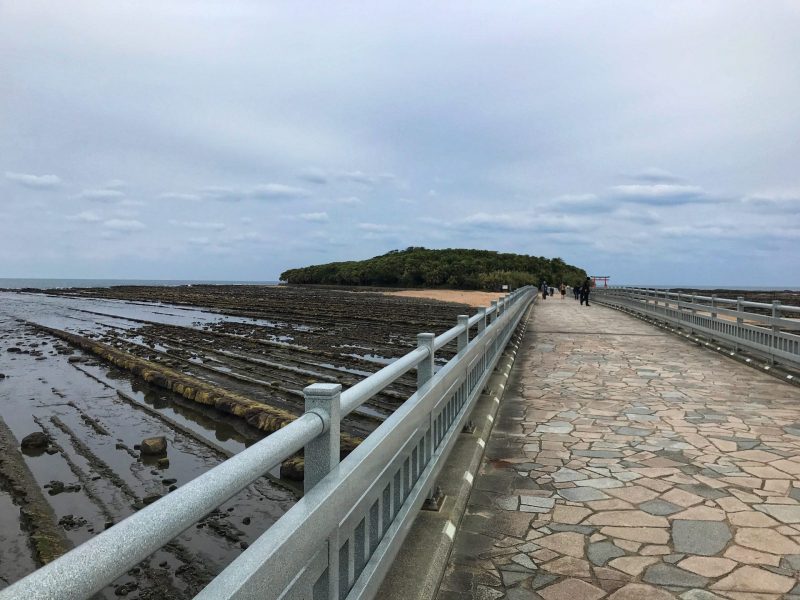 The Devils Washboard and Aoshima Shrine is located on the island. Walk across the bridge, you can choose to walk either side for round island trip. The 1.5-kilometer circular route takes about 15 minutes without inevitably tempted by the photo opportunity along the way.
Close Up Look At Devil's Dashboard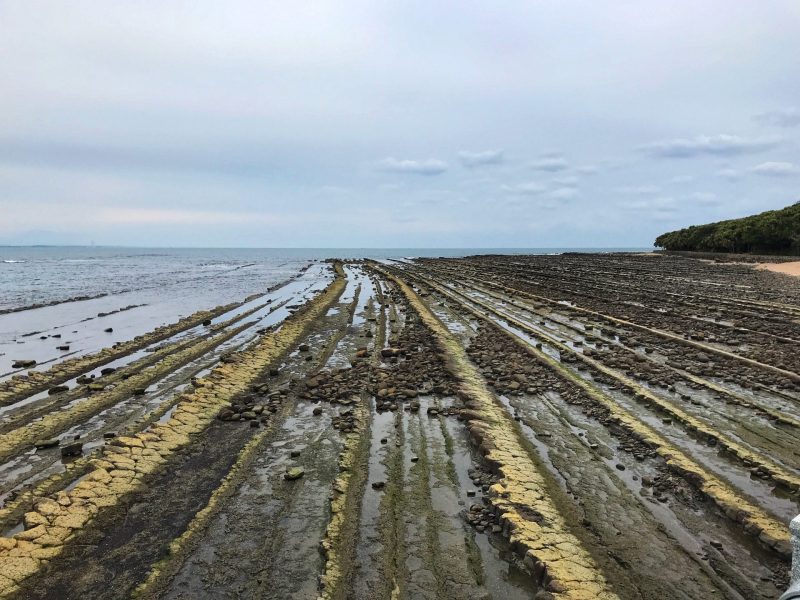 First thing come cross after walking over the bridge is the famous Devil's Dashboard (鬼の洗濯板, Oni no Sentakuita). The path is surrounded by unique rock formation and layered in the shallow sea. It is visible at low tide and just loke like washing board.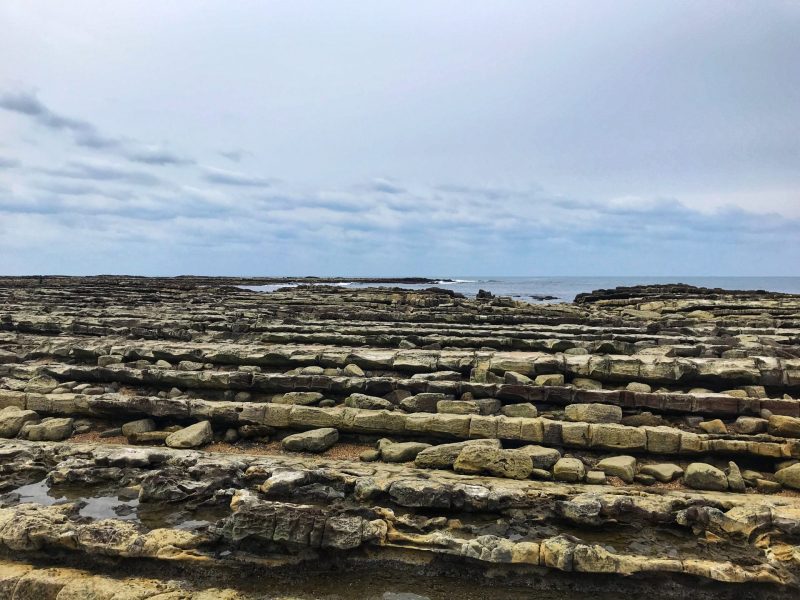 We took a slow walk across to the concrete layers and have a closer view on the natural rock formations. It is an interesting nature shoreline made a stunning vista. Nice spot to take some pictures.
We spent lots of time walking around the Devil Washboard before heading to the shrine. It is fun and interesting to explore the natural wonder.
Pray at Aoshima Shrine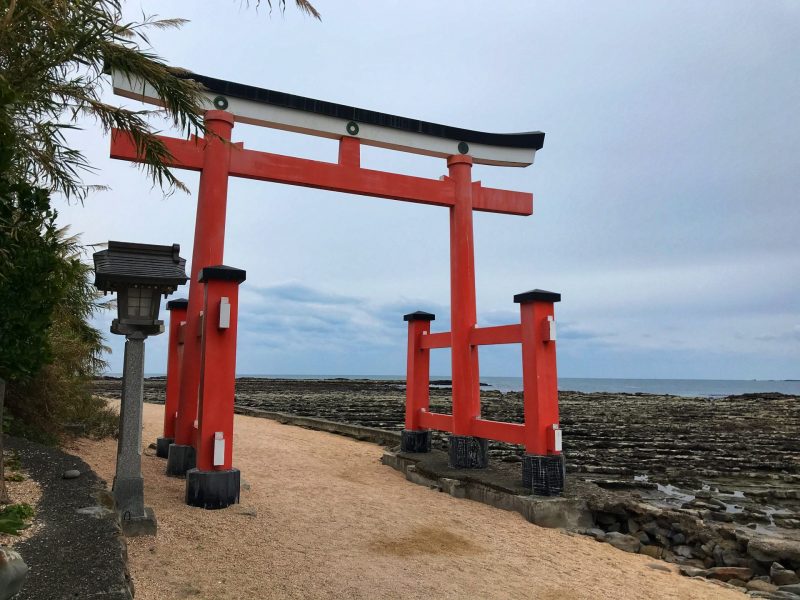 Next, we continue walked further along the coast and pass through the big red Torii gate to Aoshima Shrine. The view is stunning with a red big torii gate stand beside the Devil's dashboard.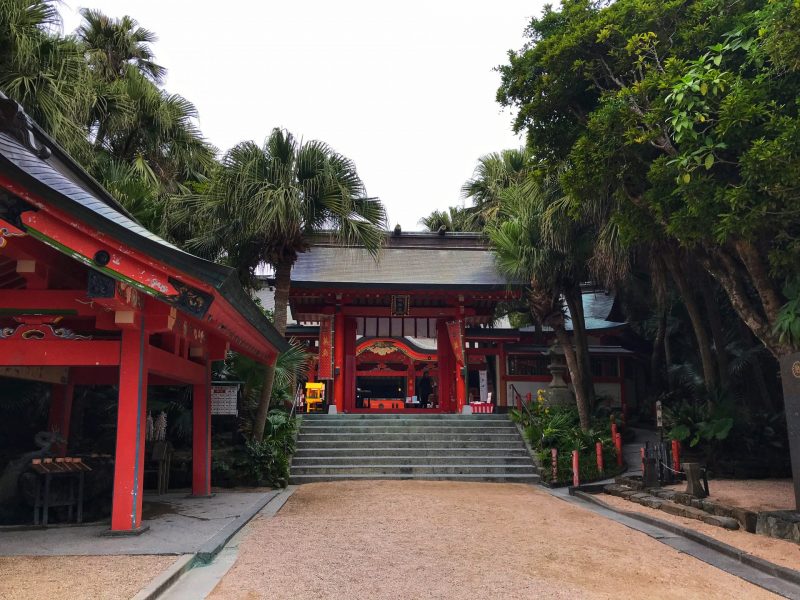 Located at the center of the island is Aoshima Jinja, a typical Japanese shrine. It is a beautiful shrine set among tropical shrubs and trees.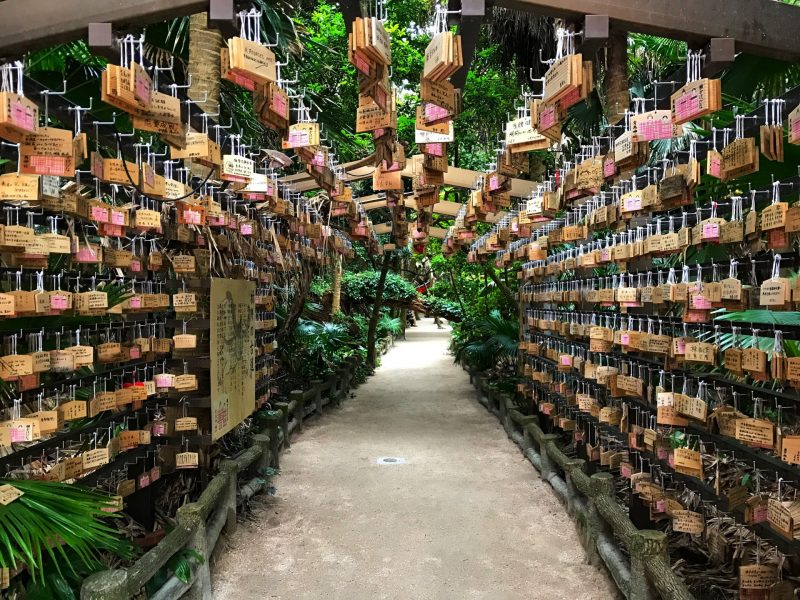 Make sure to follow the narrow path to the right of the shrine through the walkway with Emma hanging. Walking through hundreds of well-wisher plaque can be quite mesmerizing.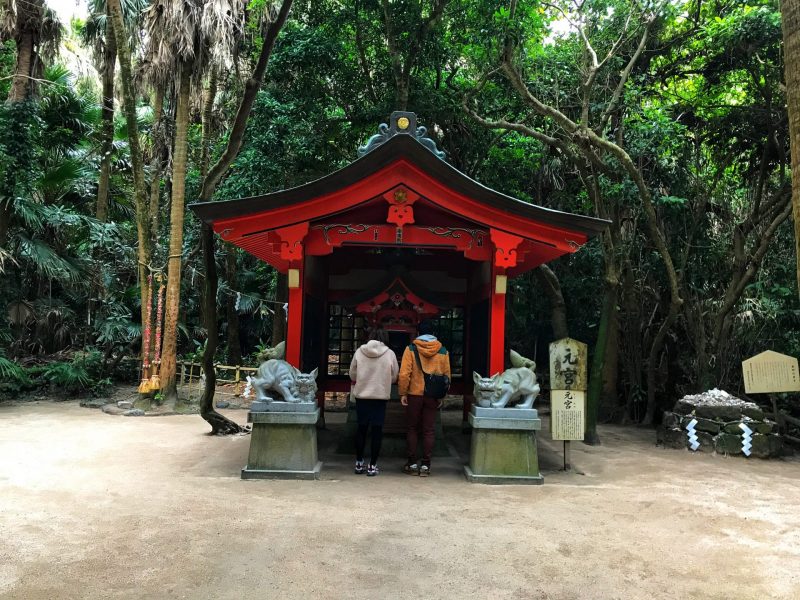 A small shrine located at the end of the path. Aoshima Shrine is a very popular honeymoon place for new marriage. Locals believe visiting Aroshima Shrine will bring luck to married couples.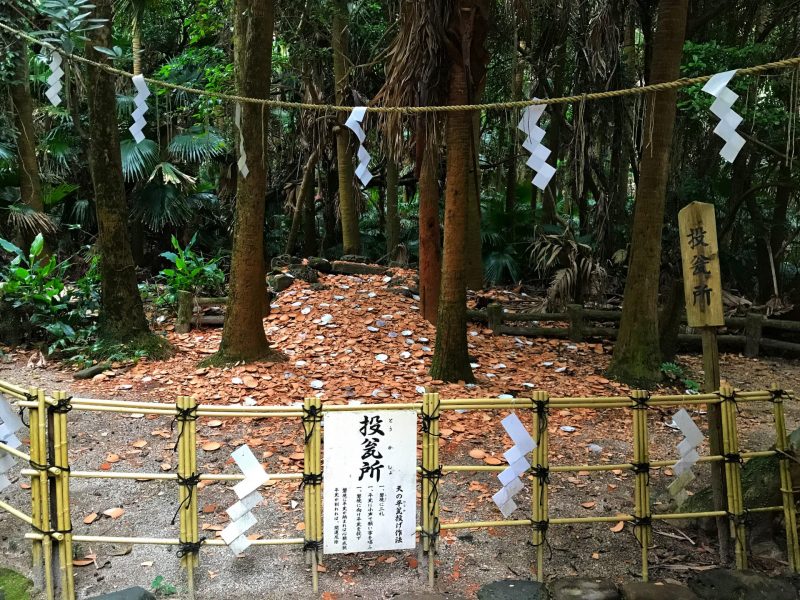 There are lots of fun and beautiful ways to make a wish and pray for a better fortune. One of the unique ways is throwing the clay disks at a desired area for luck. Your wish will come true if you did throw it into the designated center. Alternatively, write down your wish on the Japanese wishing plaque (ema) and hang it at a designated area.
When you are finished, walk the rest of the way around the island.
Short Visit To Aoshima Island Miyazaki
About an hour, we walked back to the bus stop and board the coming bus to Udo Shrine. A very pleasant walk around the Aoshima island Miyazaki can be accomplished in half an hour. But we spend a longer time than what we expected. We enjoyed the ocean, waves, rocks, and shrine. After done exploring the island, we just standing on the bridge, listening to the waves coming towards the shore clashing and foaming.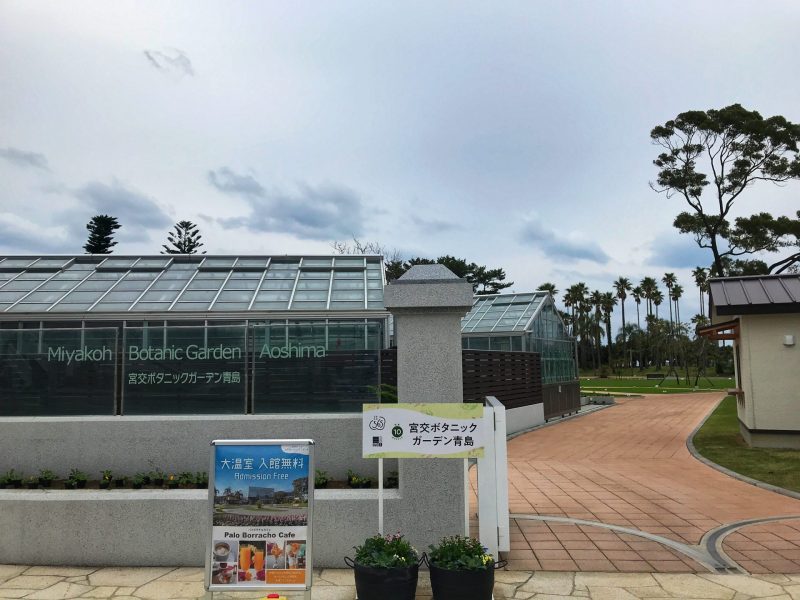 The Miyakoh Botanic Garden Aoshima is located right in front of the bus stop with free entrance. You can take a quick visit if there is time to spare. A nice and peaceful garden to relax.
All in all, Aoshima Island is worth the visit when getting to Miyazaki. We enjoyed our visit to Aoshima island, Devil Dashboard, and Aoshima Shrine.
Getting To Aoshima Island Miyazaki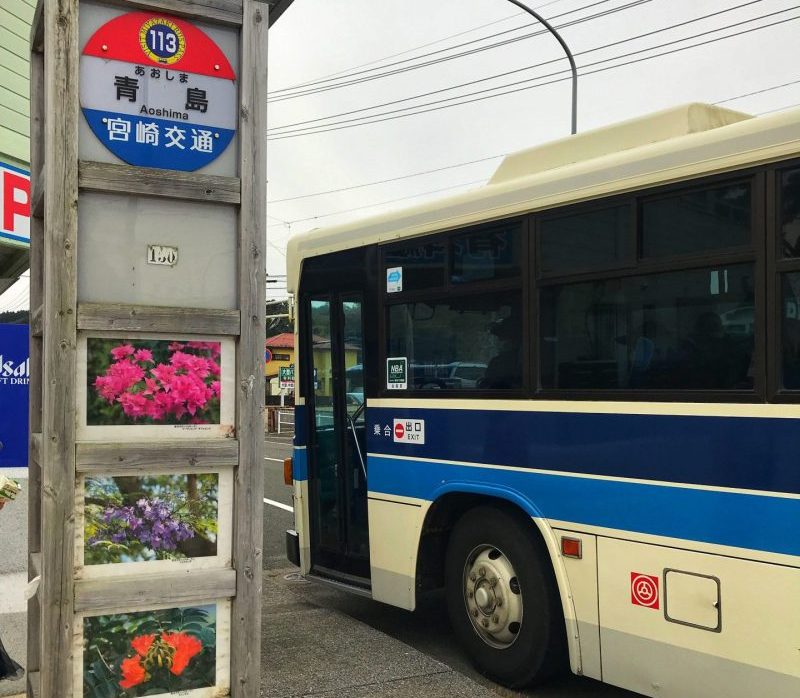 There are a few transport options to get to Aoshima Island from Miyazaki city. Buses and trains run from Miyazaki station to Aoshima Island. However, please be careful on the timetable as there is only one bus or train per hour.
By JR Train
Take a local train on Nichinan Line from Miyazaki Station to Aoshima Station. It takes about 30 minutes and costs 370 yen. Once you get off from the train station, it takes about 5 to 10 minutes to walk from the station to the main bridge. This train ride is covered by JR Kyushu Pass (All Kyushu and South Kyushu) and Japan Rail Pass.
By Bus
Alternatively, the city bus (Nichinan coastal bus) from Miyazaki Station stops at Aoshima on their way to Udo Shrine. The one way trip from Miyazaki station to Aoshima takes about 50 minutes at 720 yen. The bus takes a long time and more expensive compare with the train. However, it is very ideal to coupled the tourist spot along the pacific coast for the Nichinan day trip, just like what we did. The Kyushu SunQ Pass and Miyazaki One Day Pass is covered for the ride.
Self Driving
Lastly, the best way to visit Miyazaki is by renting a rental car and driving to Aoshima Island. There are fee-paying parking area (500 yen) located opposite the entrance to Aoshima Island. Book a rental car from RentalCars.com to travel around in Miyazaki is a great ideal.
Read More on Miyazaki Travel
This Aoshima island Miyazaki travel post is part of our trip to Miyazaki. Looking for what to do and eat in Miyazaki? Continue to read on our visit to the remaining amazing places in Miyazaki.
More detail on the Miyazaki travel blog:
Planning on trip to Takachiho Gorge? Make sure to read on our Takachiho Gorge travel blog below.