Last updated on September 23rd, 2023
Don't miss to try the best motsunabe in Hakata Motsunabe Ooyama when visiting Fukuoka. It was so flavorful and taste extremely good. Must eat food in Fukuoka.
No doubt, Horumon Hot Pot or Motsunabe (もつ鍋) is one of the must-eat food in Fukuoka. This flavorful stew is served in a hot pot with beef or pork intestines as the main ingredient. The soup is flavored by soy sauce, garlic or miso soup base. It is slowly simmered together with vegetables such as leek, chives, and cabbage for ultra-flavorful broth.
We not a big fan of offal or internal organ of an animal. But we decided to give it a try as motsunabe is rated as a must-try local specialty in Fukuoka. We choose to dine in Hakata Motsunabe Ooyama, one of the best motsunabe specialties in Fukuoka. We were amazed at how great this dinner was. End up, this mouth-watering hotpot become my most favorite food in Fukuoka.
Hakata Motsunabe Ooyama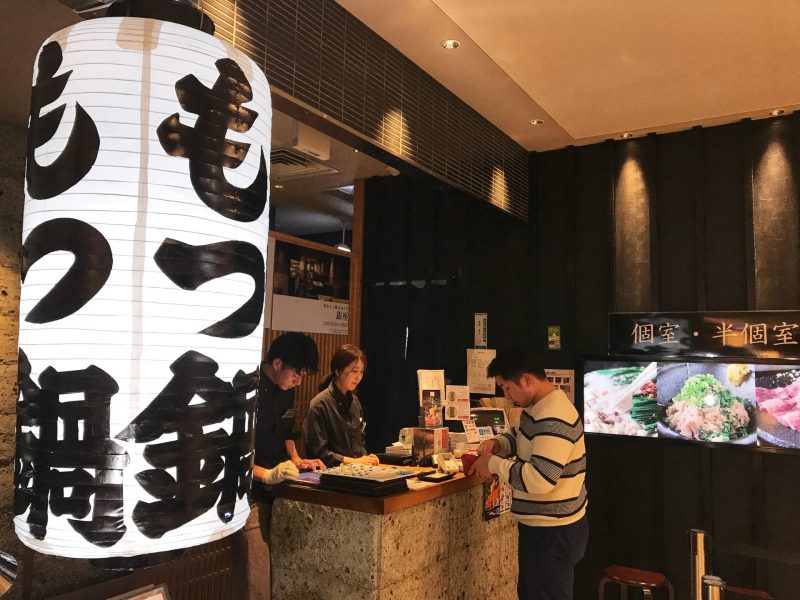 There are numerous of motsunabe specialty shop in Fukuoka. Among all the best motsunabe restaurant in Fukuoka, we choose to dine in Hakata Motsunabe Oyama, the top 5 motsunabe restaurant in Fukuoka. The popular Motsunabe Oyama has 6 restaurants scatter around Hakata Station, Tenjin, and other Fukuoka regions. This is not counting the remaining shops in Osaka or Tokyo. Just choose the one that convenient for you.
We choose to dine in Hakata Motsunabe Ooyama at KITTE Hakata. It is located at the level 7F of KITTE department store, just next to Hakata Station. A great ideal after a tiring day trip in Fukuoka. When we arrived, about two people were queuing up in front of us. We waited for about 10 mins before our turn. So it was not so bad.
What To Eat in Hakata Motsunabe Ooyama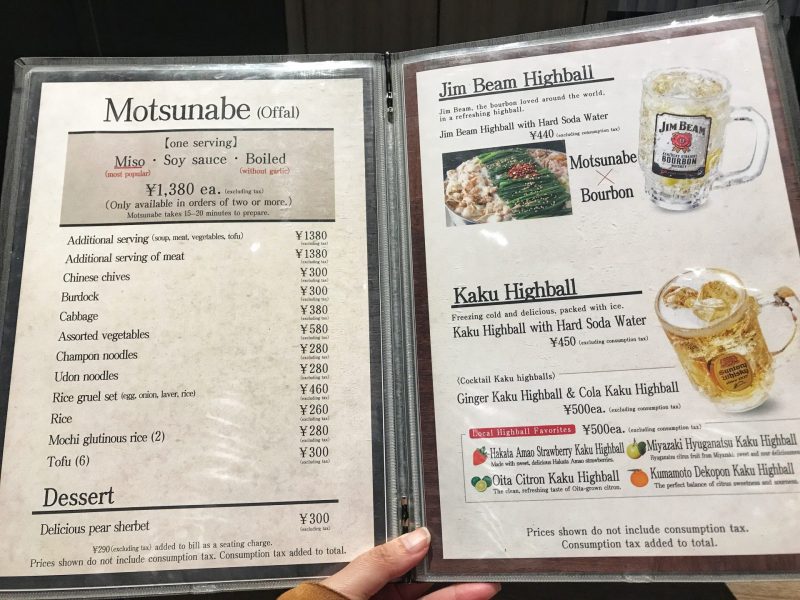 We were direct to a semi-private room. Surprisingly, the dining environment is cozy and comfortable inside the busy Hakata station. A great place for family and friends to hang out during night time in Fukuoka.
There are also English and Chinese menu for foreign travelers if you are worried about how to order. The menu of Oyama has a la carte menus and course menus and a variety of side dishes. You can eat all the Fukuoka specialty in Oyama. For a solo traveler, Oyama also has the motsunabe pot for one person, but it slightly costly compared with the two-person pot.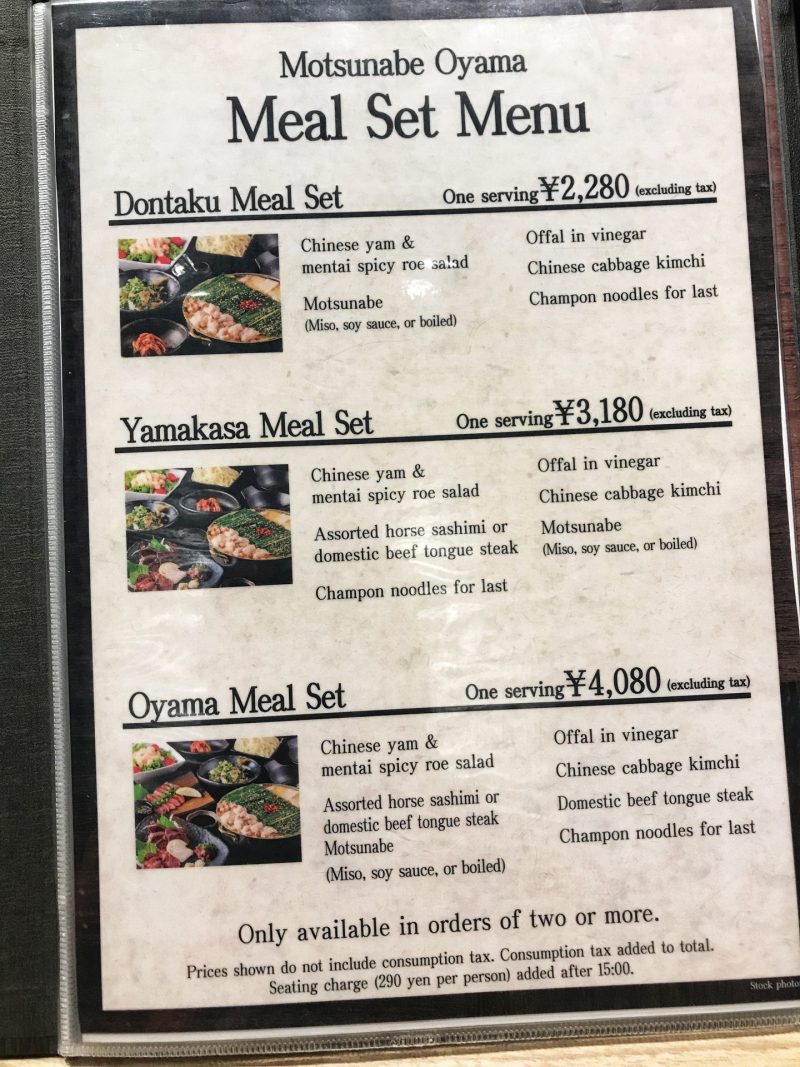 If you don't know what to order, you can try on the course meal that consists of choices of side dishes, including horse sashimi, mentaiko dishes. It is cheaper compare with the order separately. A great way to sample a variety of top pick dishes from Oyama. The cheapest price starts with ¥2280 + tax.
After discussion, we ordered the popular ala carte motsunabe pot with miso soup based, highly recommended by the staff. Added, we also add on ordered the drink, mentaiko, and stewed vinegar beef tendon to try on.
The edamame was firstly served to our table. It was commonly served as an appetizer or cover charge (お 通 し) in Izakaya restaurant in Japan. Together with the drink, it was very refreshing and a great start for the fabulous dinner.
Mentaiko (Spicy Cod Roe)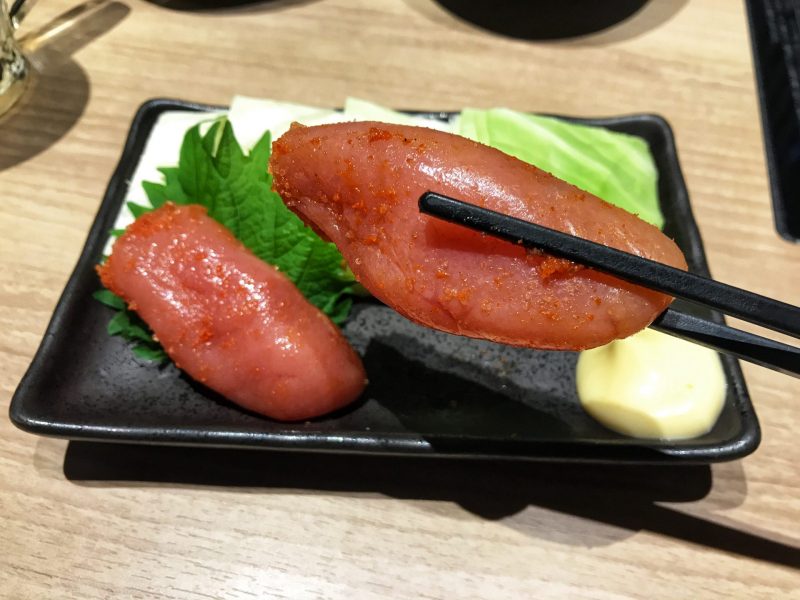 Fukuoka is also popular for Mentaiko (spicy cod roe), another top three must eat specialty in Fukuoka. While the mentaiko served in Hakata Motsunabe Ooyama were so fresh with a gentle spicy taste. Although it looks so awful to taste it. But trust me, it was the best I have ever tasted. The mentaiko were very fresh and unique. One of the must-eat in Motsunabe Ooyama.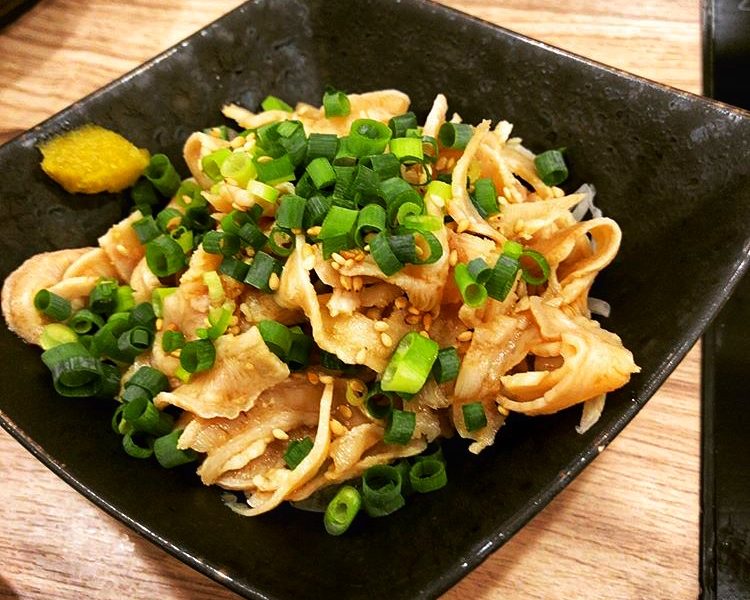 Soon, the remaining side dishes also served to our table. The tender offal in vinegar is the number one side dish in Hakata Motsunabe Ooyama. Firstly try the original flavor by mixing the offal with sweet and sour sauce. The crispy texture with refreshing sauce was very appetizing. Next, dipped with the yuzu sauce on side. The taste became even more flavorful. Thumb up for this side dish.
Motsunabe in Hakata Ooyama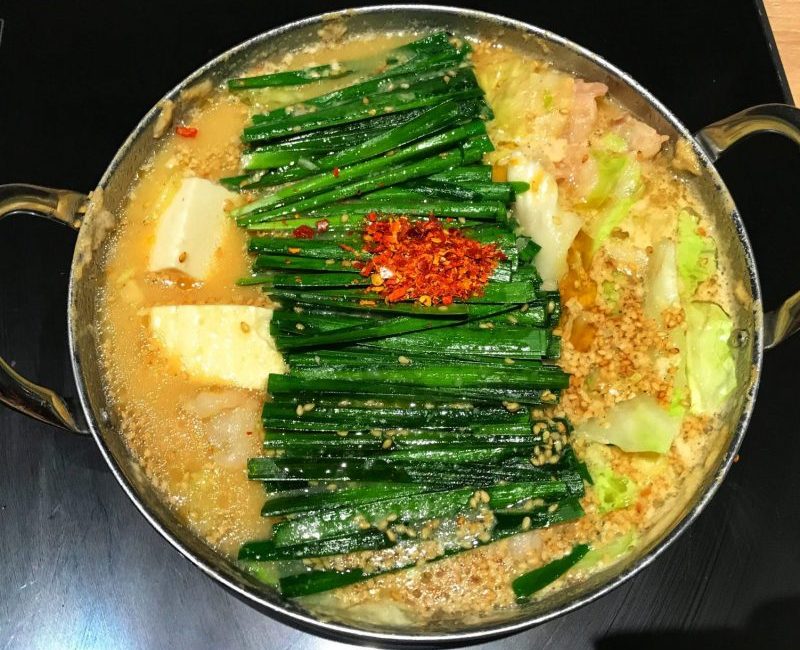 Next, the motsunabe hot pot was served. We choose the most popular miso flavor in the store. Our room was full of aroma as soon as it served on the table. Besides the beef intestine with miso soup, the whole pot was full of cabbage, smooth tofu with top layer of leeks. It was beautifully seasoned with soy sauce, garlic and chili pepper. It looks so tempting.
The staff suggested us to wait for the motsunabe to heat up for about 2 minutes before eating.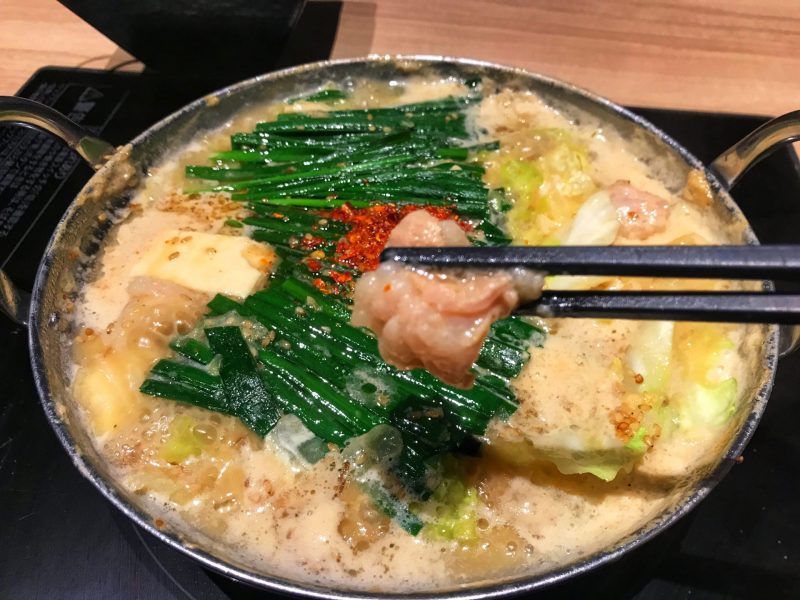 We can't wait and have the first bite. My first bite on motsunabe in Ooyama. Oh my god! It tastes so delicious, chewy and tender.
We also love the remaining all the ingredients. All were very delicious without any dipping sauce. While the broth is rich and tasty. It was so flavorful and full of sesame flavor. But beware, don't finish the soup.
Champion Noodle For Last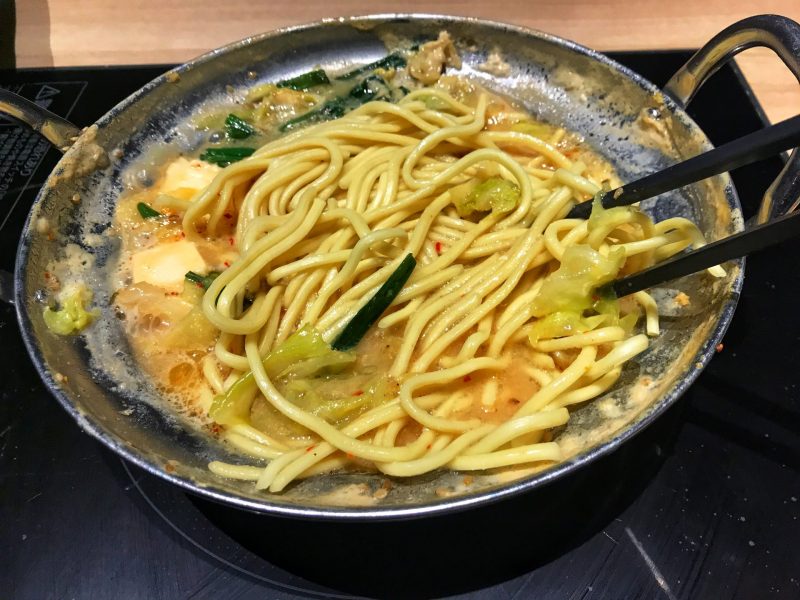 After eating the motsunabe, it is usually paired with rice or champion noodles as a perfect ending. The noodles are cooked and can be eaten after slightly heated. But too bad, we love the soup too much and almost finish it.
The noodles fully absorbed the flavorful taste of miso soup. We were so full and hardly can finish all the noodles. A satisfying ending for our best motsunabe in Hakata Ooyama.
Overview: Best Motsunabe in Fukuoka
All in all, we enjoy our first food experience with motsunabe and highly recommended the Hakata Motsunabe Ooyama. This local specialty is one of the must eat in Fukuoka. Don't be turn off by beef offal or intestine. Try it and you might get addicted to this traditional dish.
Motsunabe Oyama has many branches in Fukuoka. We dine in the Hakata Motsunabe Ooyama in 9F of KITTE Department store. There are have counter bar store in Hakata Ichibangai and KITTE lower floor. It is suitable for solo travelers to try on personal pot. Alternatively, we recommended to try on the best Motsunabe in Oyama Honten. Check on remaining Oyama restaurant here. (Official website)
Hakata Motsunabe OoYAMA in KITTE Department Store (博多もつ鍋おおやま KITTE 博多)
Address: Japan, 〒812-0012 Fukuoka, Hakata Ward, Hakataekichuogai, 9−1 KITTE博多 9F
Operating Hours: Daily from 11:00 to 23:00 (Last Order 22:30)
Getting there: 2 minutes walk from JR Hakata Station
Expected to Pay: Lunch for ¥1,500 and Dinner ¥3,000
Side note: Hakata Motsunabe Oyama served the lunch menu with cheaper price. A great choice for budget and solo travelers.
Lastly, this Fukuoka must eat food blog is part of Kyushu travel post in Fukuoka. Free feel to read also our Fukuoka travel blog and food review.
Fukuoka Food Review: Fukuoka Food Guide: Best Must Eat Food in Fukuoka
Continue read on our travel guide to Kumamoto, Yufuin, Miyazaki and others places in Kyushu.