Last updated on September 23rd, 2023
Here are the top recommendations best Fukuoka breakfast places to let you try on to start your day in Fukuoka.
Breakfast is the most important meal to kick start your day. We tried various breakfast meals in Fukuoka during our visit. Whether traditional Japanese breakfast with a local fresh ingredient, grab-and-go breakfast in a convenient store, or Western-style morning coffee breakfast set in a relaxing cafe, Fukuoka has many breakfast choices to start your day.
We're gathered and listed down what and where we ate for breakfast during our visit to Fukuoka. Check it out!
Fukuoka Travel Tips:
We recommended to stay nearby Subway Station for easy getting around and food hunting. The
Hotel WBF Grande Hakata
is located in the central location with walking distance from Hakata Station. Open air bath, free drink, spacious room and great value for money. Popular pick in Fukuoka.
Bills Fukuoka Suijo Park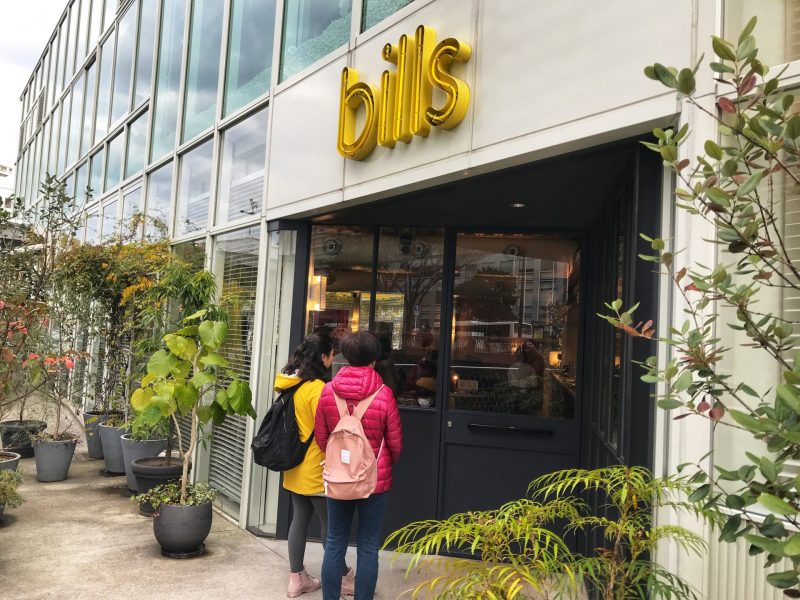 For pancake lovers, don't miss the Bills Fukuoka in Suijo Park for the "The Best Breakfast in the world". Bills is a well-known casual dining restaurant known for delicious classic breakfast and pancake. There are only five Bills Restaurant in total and Fukuoka is one of them!
Fukuoka Bills located alongside Fukuoka's rivers makes the whole dining experience all the more scenic and enjoyable. This newly established area is decorated like Aussie style cafe with lovely decoration.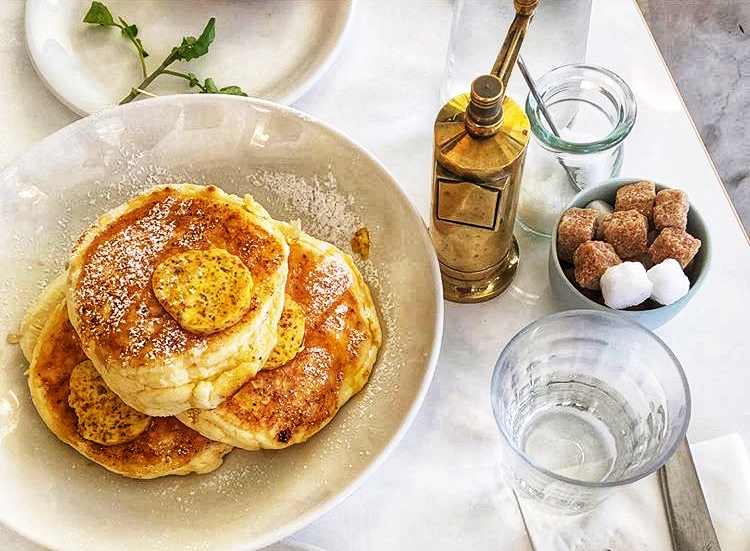 The signature Ricotta Hotcakes (pancakes) is a must-try food in Bills Fukuoka. It was so moist, fluffy but provided sustenance at the same time. It was even more spectacular by adding on the butter, syrup, and fresh bananas. Awesome!
Please take note that Fukuoka Bill is extremely popular with long wait times required especially during weekends. Many celebrities also love the breakfast from Bills. To avoid long wait times, you may consider trying their Popular Breakfast Package from Bills Fukuoka with Reservation from Klook. This reservation is valid with a specific date and time where you can redeem this World's 1 Breakfast in Fukuoka Tenjin.
Getting there: 3 min walk from Hakozaki Line Nakasu-Kawabata Station exit 2 or 3 min walk from Tenjin station exit 12.
Price: Expected about ¥3,000 – ¥4,000 per person.
Reservation Click Here: Bills Fukuoka with Reservation from Klook
Tanya Hakata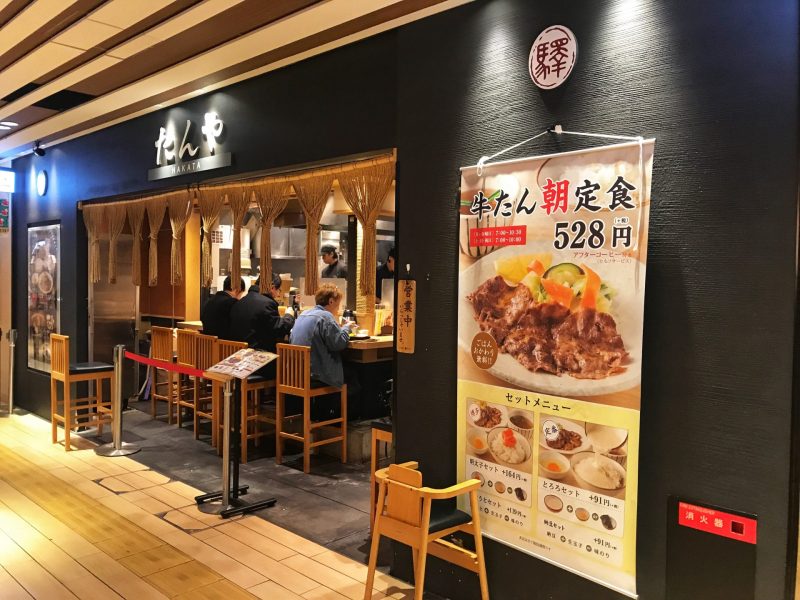 This shop is located in the basement level of Hakata Station, Tanya Hakata is a popular eateries restaurants for locals and even tourists. Many people will stop by Tanya Hakata for their breakfast set, which comes from the beef tongue at a valuable price.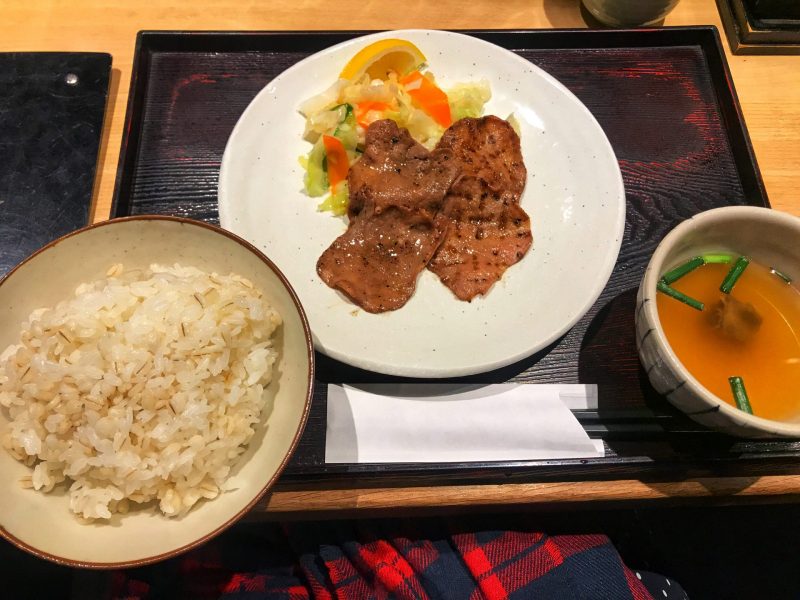 The popular breakfast set comes with 4 pieces of beef tongue with rice, miso soup, and some picked vegetables. The set is about ¥500 with a free flow of rice and drinks when you dine in Tanya Hakata. Can add some extras for a little more cost for a completely satisfying meal. Such a great deal!
Getting there: B1 level of AMU Plaza at Hakata Station (Ichiban Street)
Price: Roughly about ¥600 for a set of breakfast in Tanya Hakata
Related Food Review: Tanya Hakata – Breakfast with Beef Tongue in Fukuoka
Il Forno del Mignon Hakata Station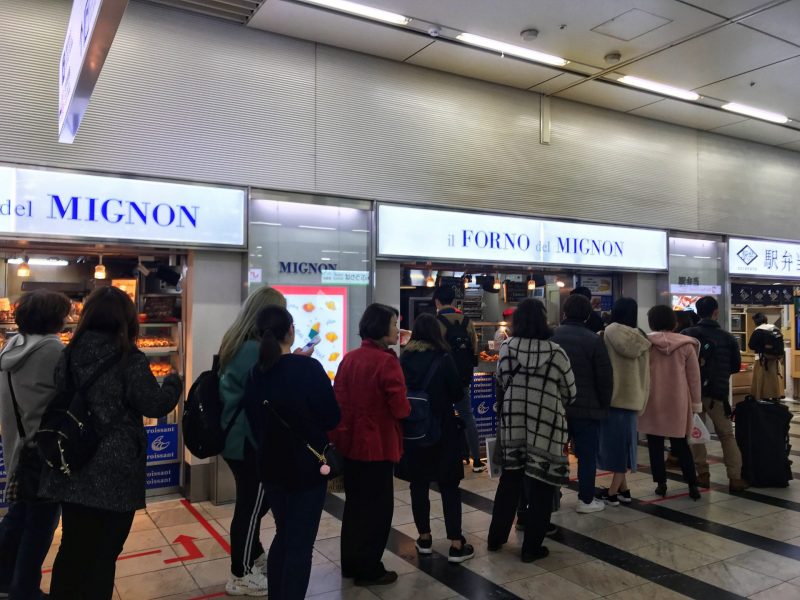 The best grab-and-go place for breakfast onboard the Shinkansen or local train when visiting Fukuoka. Located at the entrance of JR Hakata station, Il Forno del Mignon is a popular pasty shop with a long line always especially peak traveling hours. But don't be afraid by the line. It is moving pretty fast as the staff was efficient and many people just grab and go within a short lead time.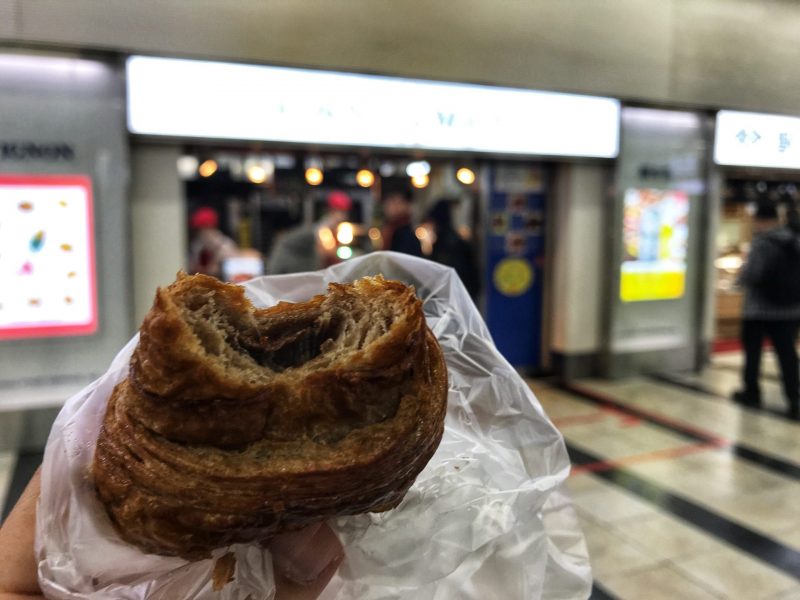 Il Forno del Mignon sells freshly hot baked mini croissants with original, chocolate, and sweet potato varieties. Just eat it hot and warm. The price is very reasonable with 100g with ¥200. It's cheap and super delicious. We ended up buying the mini croissants as a snack whenever we pass by the shop.
Getting there: JR Hakata Station.
Price: Depend on weight with ¥200 for 100g.
Traindor Hakata Station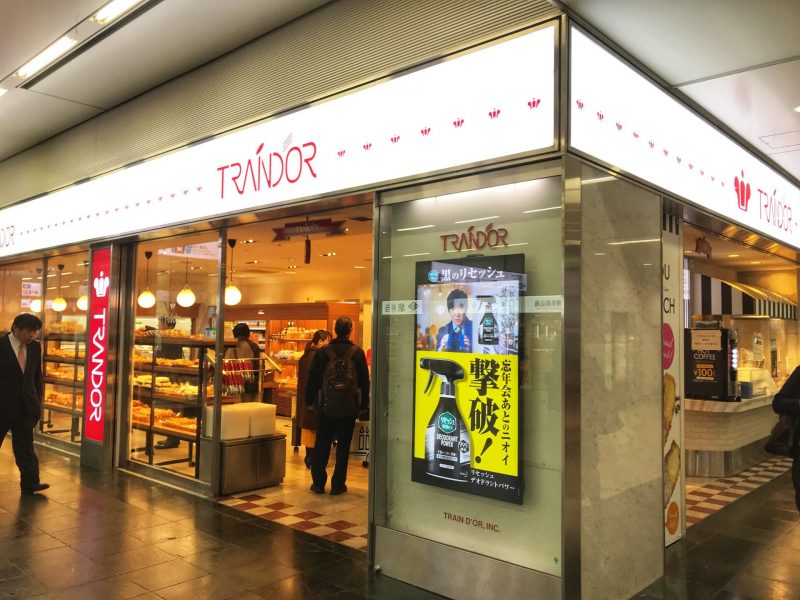 Another popular Japanese pastry shop in Hakata Station where you can smell the fresh bread baking aroma permeates through the Hakata station while going through. How could people resist the delicious smell without buying one of them to try on?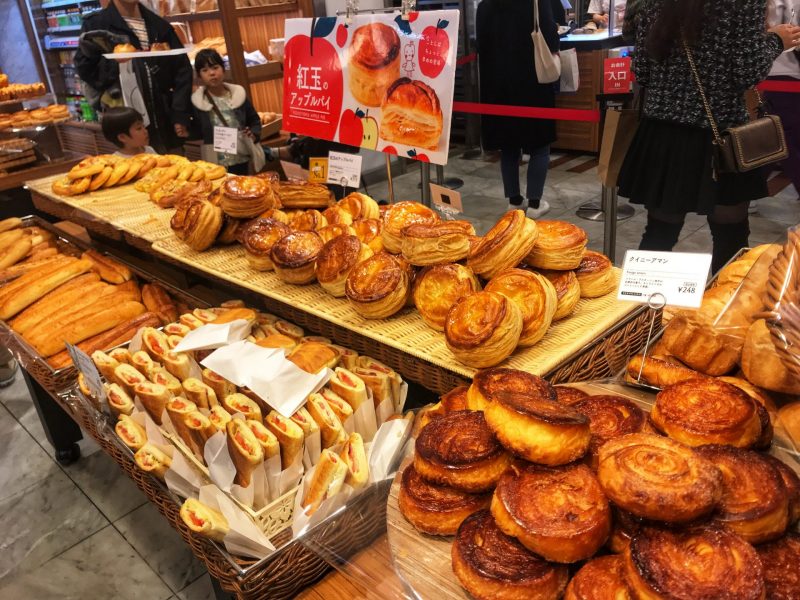 The Traindor Hakata Station has a wide selection of Japanese pastries to choose from. We love their walnut bread and the cream bun is truly delicious. Not overwhelming the buttery pastry.
Getting there: JR Hakata Station.
Price: ¥300 to ¥600 for a delicious Japanese pastry.
Doutor Coffee Shop Fukuoka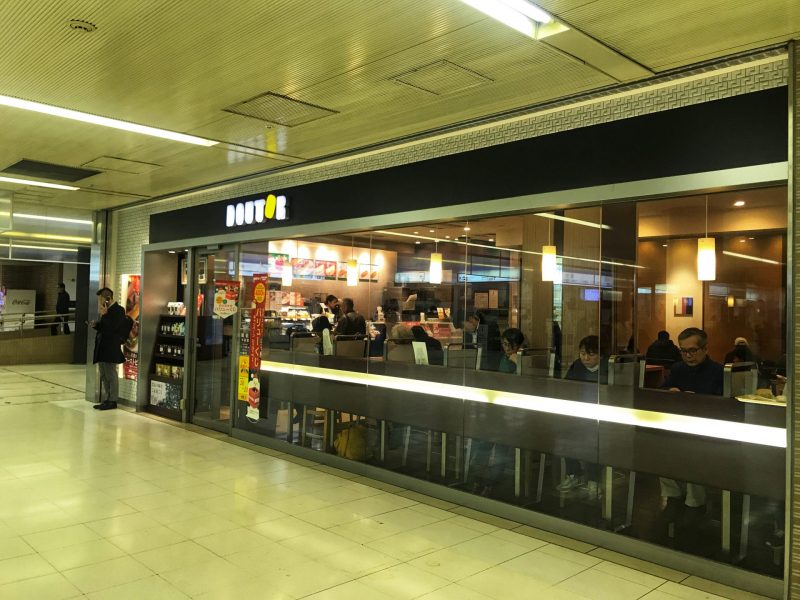 The Doutor Coffee Shop is a very popular chain coffee shop in Japan. There are many branches with more than 1100 shops widely spread across the whole of Japan. It is frequented visit by locals and all types of generation, from young to old people.
Whenever we visit Japan, we love to spend our time for breakfast or afternoon tea break in Doutor Coffee Shop. The reason is simple. Doutor Coffee Shop serves delicious food at an inexpensive price.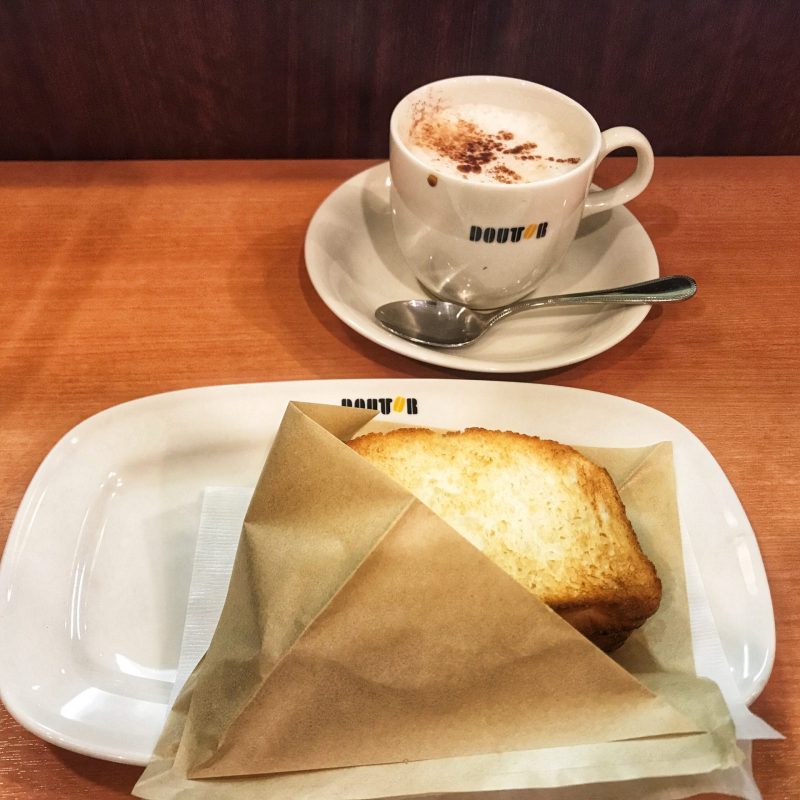 You can get a breakfast set only for about ¥400 that includes your choice of a sandwich and coffee (or tea). The coffee is pretty good, and the sandwiches are a step above the norm. The best Fukuoka breakfast place for a light breakfast meal. Just give it a try and you'll surely like it!
Getting there: There is many Doutor shop in Fukuoka (Hakata and Tenjin). Just visit the one convenient for you. We visited the Doutor Hakata Subway Station Hakata Exit Shop.
Price: About ¥400 for a sandwich and a cup of coffee that includes your choice of a sandwich and coffee (or tea).
Inaba Udon Shop Fukuoka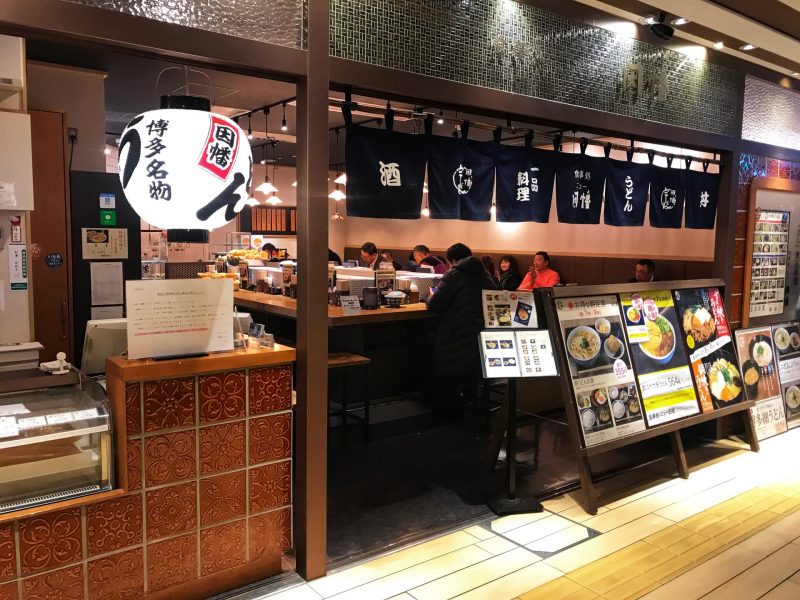 The Inaba Udon shop is one of the Udon specialties shops in Fukuoka. It is an authentic udon restaurant and strives to pass on the Hakata food culture with natural ingredients. There are a total of six Inaba Udon Shop and we visited the one located on Ichiban Street on the basement level of Hakata Station.
We walked in by accident in the morning. In fact, we just wanted to have a Japanese breakfast with hot broth in the cool weather morning but it turned out to be a fantastic meal.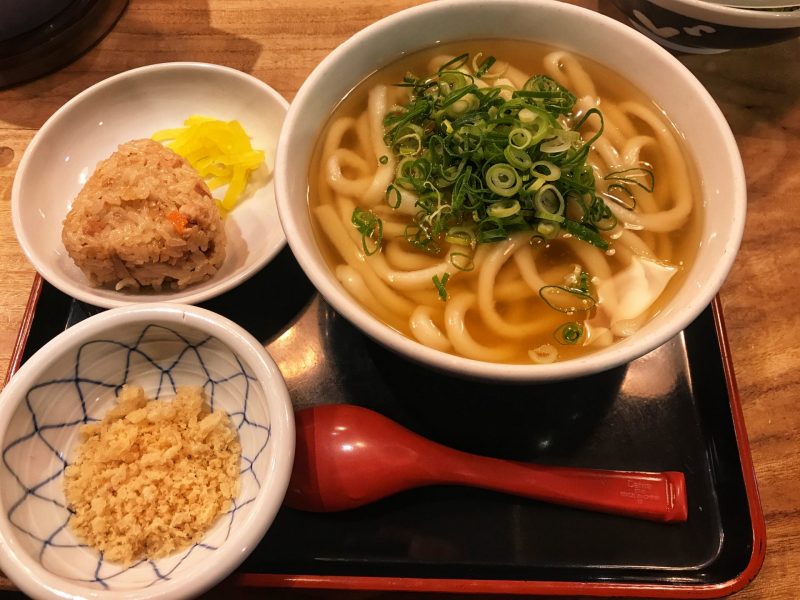 The shop is pretty spacious and locals were having their udon as breakfast. The food menu comes with pictures and prices stated. So it is not a problem to order your food here.
I order the breakfast Udon set with a bowl of Udon and rice set at ¥400. The Udon was soft and really opened my stomach. The dashi (soup stock) made from natural ingredients, which is very delicious.
A simple yet tasty meal.
Getting there: B1 level of AMU Plaza at Hakata Station (Ichiban Street)
Price: ¥400 for a breakfast set at Inaba Udon Shop.
Japanese Convenience Store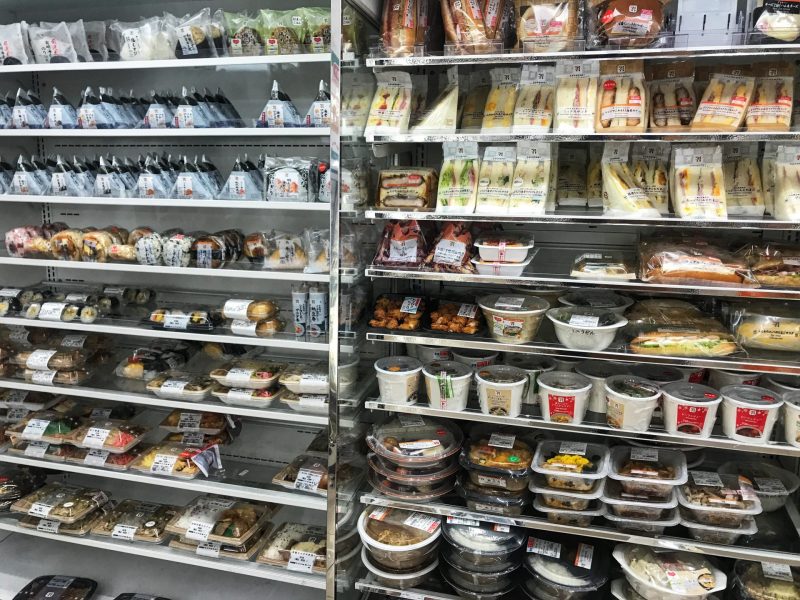 When traveling in Japan, you should at least go to a Japanese convenience store once to grab their food, drink, and even snack. The Japanese Convenience Store such as 7-11, Lawson, Family Mart is a perfect place for a grab-and-go breakfast place.
There are various food options even for breakfast in the Japanese convenience store. It is so convenient to grab some food for visitors before boarding the train or bus. One of the best places for Fukuoka breakfast.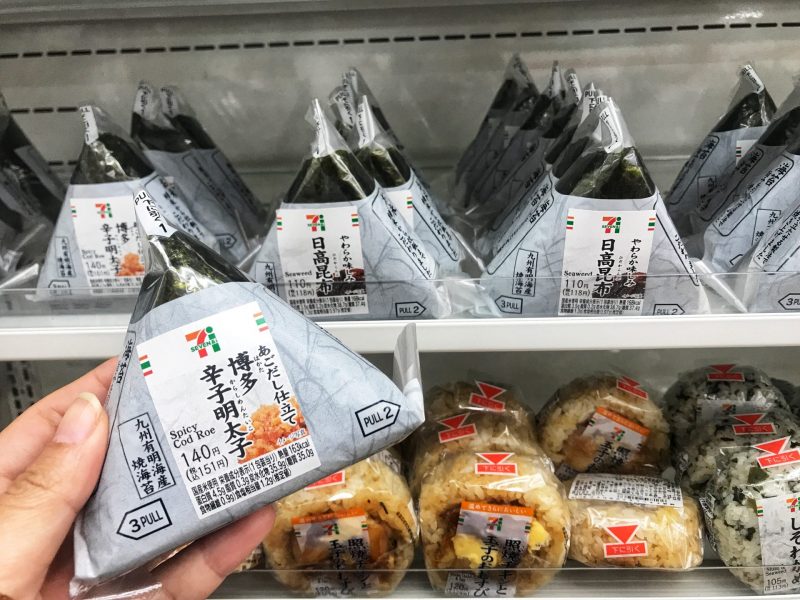 For Japanese style breakfast, just try the onigiri rice ball with tuna, salmon, plum, or other flavors. Next, grab a Japanese coffee, milk, green tea, or fruit juice for a complete meal. There is also various type of bento set if you want to try another breakfast option in Japanese Convenience Store. One of the simple but budget place for Fukuoka breakfast.
Price: Depending on what you grab, approximately ¥500 for a light breakfast in a Japanese convenience store.
Best Place For Fukuoka Breakfast
All in all, the above Fukuoka breakfast restaurants list is just beginning to scratch the surface of Fukuoka's culinary delights to start your food adventure even for breakfast. We spend several days trying their best food in Fukuoka and never feel bored. So, are you ready to put Fukuoka on your Japan travel bucket list?
Lastly, this Fukuoka Food Guide is part of my Fukuoka travel blog post. Read on my Fukuoka travel blog below if you need some idea to plan on your itinerary, things to do and see, best food to eat. Happy travel to Fukuoka.
The Complete Lists of Fukuoka Food Guide for the best food to eat in Fukuoka.
Fukuoka Ramen Recommendation: