Last updated on September 23rd, 2023
For a bowl of rich and creamy Hakata ramen, heading to Hakata Issou. The most popular ramen among the locals and must eat when visiting Fukuoka.
We are a fan of ramen and love to have a bowl of ramen whenever visit Japan. No doubt, ramen is the most popular Japanese local dishes and most of the cities have its version of ramen. We particularly love the tonkotsu ramen with rich creamy pork bone soup, slowly boiled down for a few hours.
Fukuoka is famous for its ramen and origin of tonkotsu ramen in Japan. So this must eat food must be on your Fukuoka food list. Besides, the famous ramen chain restaurant Ichiran ramen, one must try the best ramen from Hakata Issou (博多一双) in Fukuoka. It is the most popular ramen shop among locals and famous its slow cook flavorful tonkotsu ramen. So, we were very excited to check it out during our visit to Fukuoka.
My Food Trip To Hakata Issou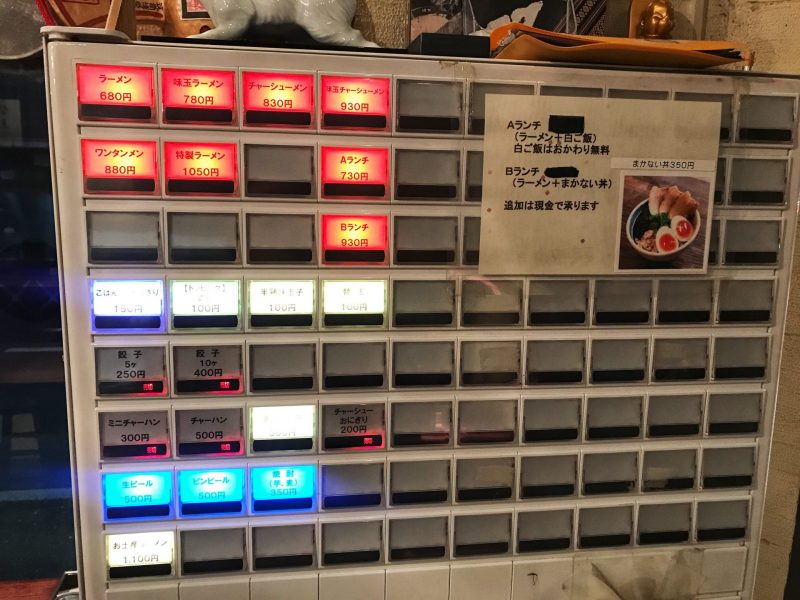 After a day trip to Fukuoka, we decided to have a hot bowl of tonkotsu ramen before back to the hotel. The Hakata Issou Ramen shop was about 6 minutes walk from the Hakata Station. It was still early when we arrived. So there were not too many people and we can have our early dinner without waiting.
Like a standard ramen shop in Japan, we needed to buy the ticket at the vending machine and pass it to staff for food ordering. The vending machine was located inside the shop nearby the entrance. We were a bit surprised as the menu from the vending machine were in Japanese only. Luckily, we barely understood Japanese for the past years of traveling in Japan. So it was not too difficult for us. But no worry. Hakata Issou also has a picture book if you are not sure what and how to order in Hakata Issou.
There are a variety of options to choose from. The ramen is the same and the difference is only an additional order of barbecued pork (char siew), soft boiled egg. While local Japan, particular Fukuoka are love to order the dumpling and fried rice for a complete meal.
We ordered the tonkatsu ramen with an additional soft boiled egg at ¥780. Reasonable price for a hearty bowl of ramen in Japan.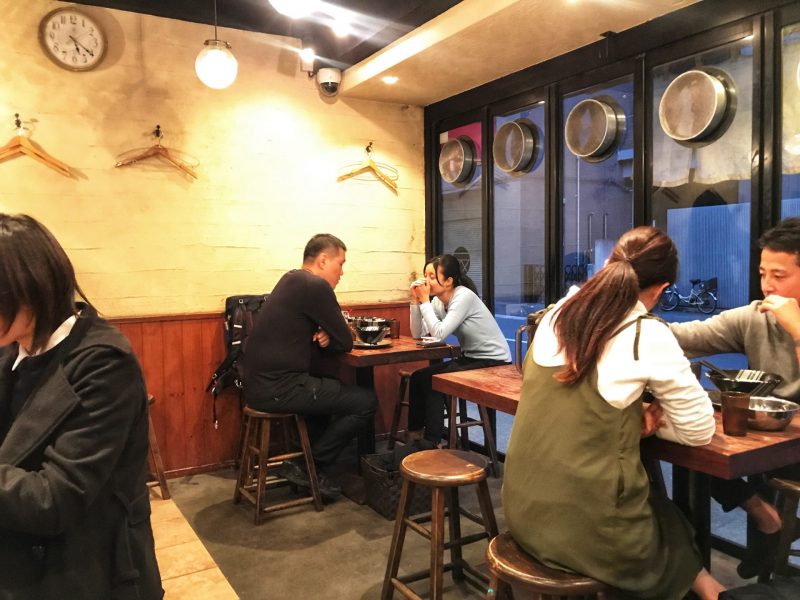 After passed the food coupons to the staff, we choose to seat in the bar counter. The Hakata Issou was not too big and probably can fit for 20 to 30 people. There are two to three table seating for a group and also bar counter seating for solo traveler. Overall, the dining environment inside was cozy and comfortable.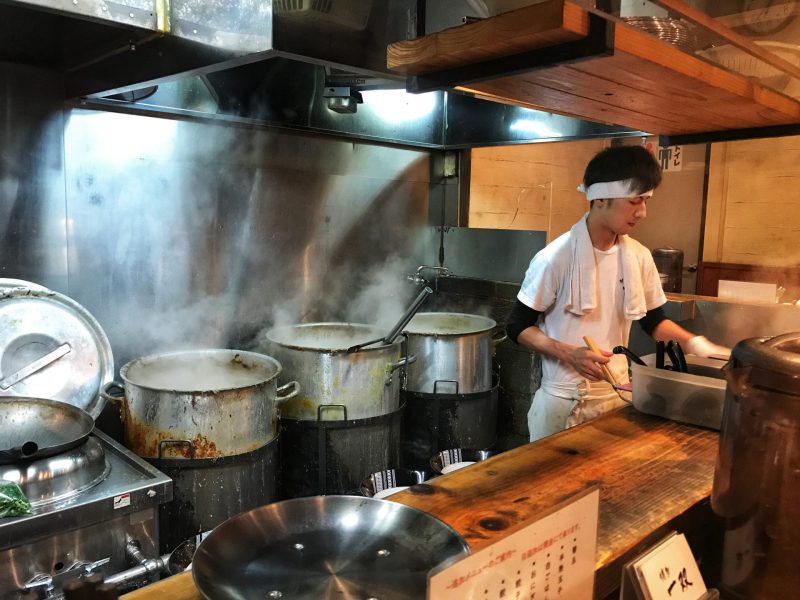 We choose to seat at the bar counter. So we had a front-row view of how they made the ramen. It was always awesome and fun to watch people preparing your meal right in front of you.
Variety of Seasoning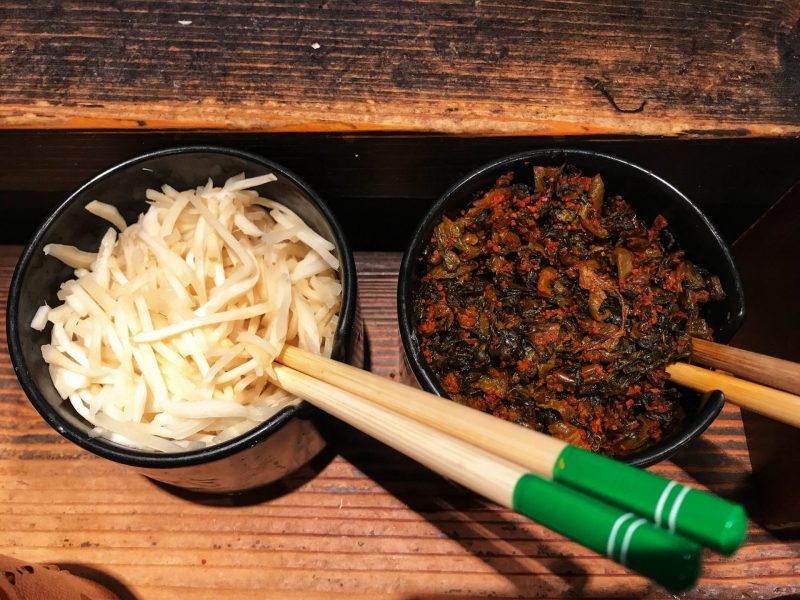 On the table, there were many seasonings and you are free to add in some sweet ginger shreds or spicy pickled mustard into your ramen. This is the common condiment in most of the ramen shop in Kyushu. Feel free to add some into your ramen to adjust your favorite taste.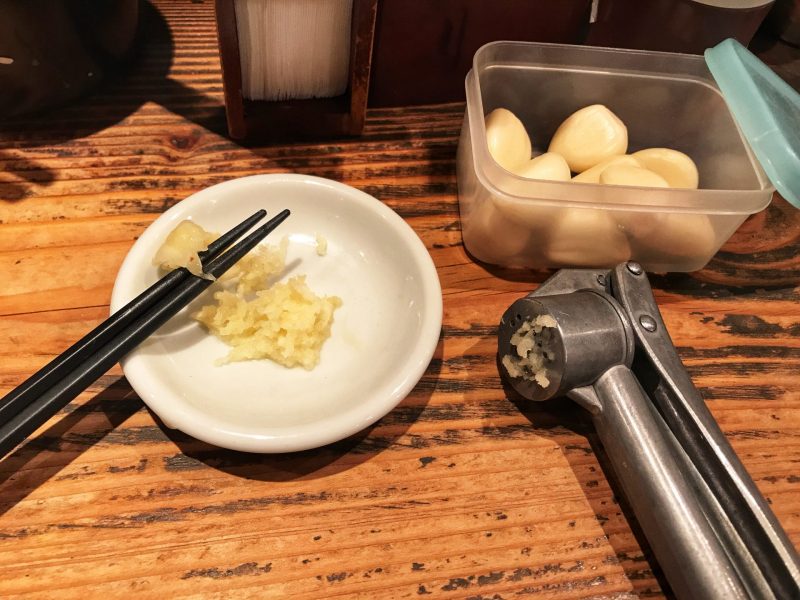 Added, you can use the garlic press on the side to squeeze out the freshest garlic. I love to add extra more fresh garlic into my ramen. It goes well with noodles and soup.
Flavorful Rich Tonkatsu Ramen
Without a long wait, our bowl of tonkatsu ramen was served. My bowl of hearty broth ramen was comprised of incredible ingredients such as slices of meat, soft boiled egg, spring onions, and seasoning.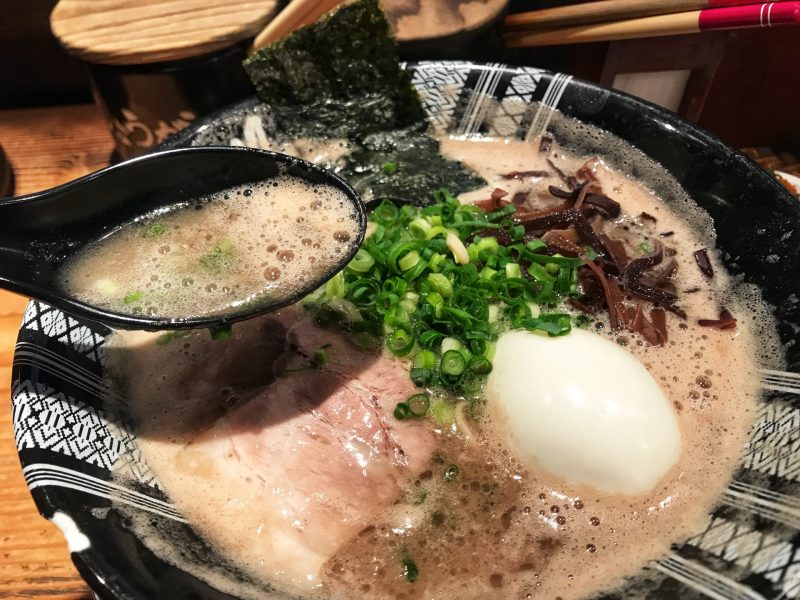 My first sip on the flavorful broth. It was Hakata style ramen with heavily loaded with strong flavorful pork broth. The taste was so rich, creamy and full of porky smell.
You might question why so many bubbles for the tonkatsu ramen from Fukuoka. The more bubble means the rich taste of pork bone broth. If you found it was too strong, you can make good use of the garlic or spice to change the richness taste.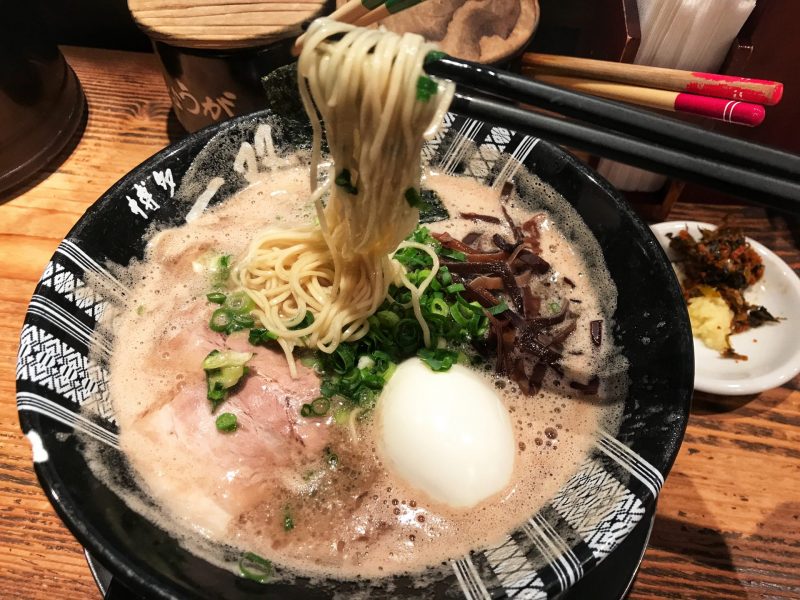 The thin-cut noodles have a slightly soft texture. It perfectly absorbed the broth and taste very good.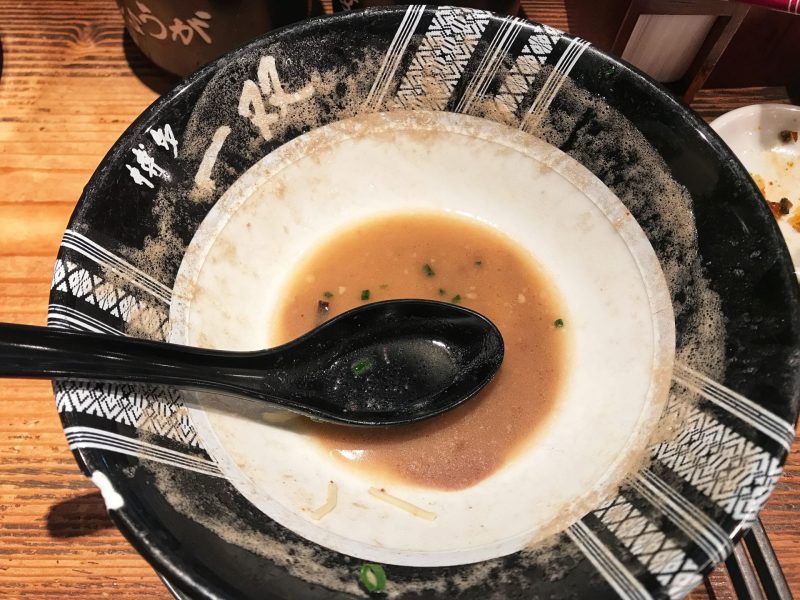 For a bowl of authentic Fukuoka ramen, come to Hakata Issou for flavorful tonkatsu ramen. Hakata Issou is famous for its ultra-thick tonkotsu broth. No doubt one of the best ramen that we ever had in Japan. We truly enjoy the rich taste of the pork broth together with the soft-boiled egg. A must-try ramen in Fukuoka.
How To Get To Hakata Issou
This must-try local favorite ramen shop, Hakata Issou is run by Yamada brothers. Hakata Issou has two branches in Fukuoka, located nearby Hakata Station and Gion.
1) Hakata Issou
Address: 3 Chome-1-6 Hakataekihigashi, Hakata Ward, Fukuoka, 812-0013, Japan
Access: 6 minutes walk from Hakata Station
2) Hakata Issou Nakasu
Address: 2-6-6 Nakasu, Hakata-ku, Nakasu, Hakata, Fukuoka 810-0801, Fukuoka Prefecture
Access: 5 minutes walk from Nakasukawabata Subway Station
Looking for other best food to eat in Fukuoka? Continue to read on our Fukuoka food guide on some of the must-eat food that we tasted so far. Enjoy your food hunt in Fukuoka.