Last updated on September 23rd, 2023
The tonkatsu from Katsuretsutei Kumamoto is delightful and made perfectly. A must eat food in Kumamoto and highly recommend to anyone visiting here.
There are a few must-eat local specialties that hardly can't miss in Kumamoto. Among them, Katsuretsutei Shinshigai Honten (勝烈亭) is one of the must-try restaurants in Kumamoto. It served the juicy and tender tonkatsu (Pork cutlet) in town. It awarded with 1 star Michelin, with a high rating in Tabelog and TripAdvisor.
We keep on debating for what to eat during our visit to Kumamoto. So glad that we make the right decision and try on the tonkatsu from Katsuretsutei. It is probably the best tonkatsu we have eaten so far.
Continue reading on our food review in Katsuretsutei Kumamoto.
Katsuretsutei Shinshigai Kumamoto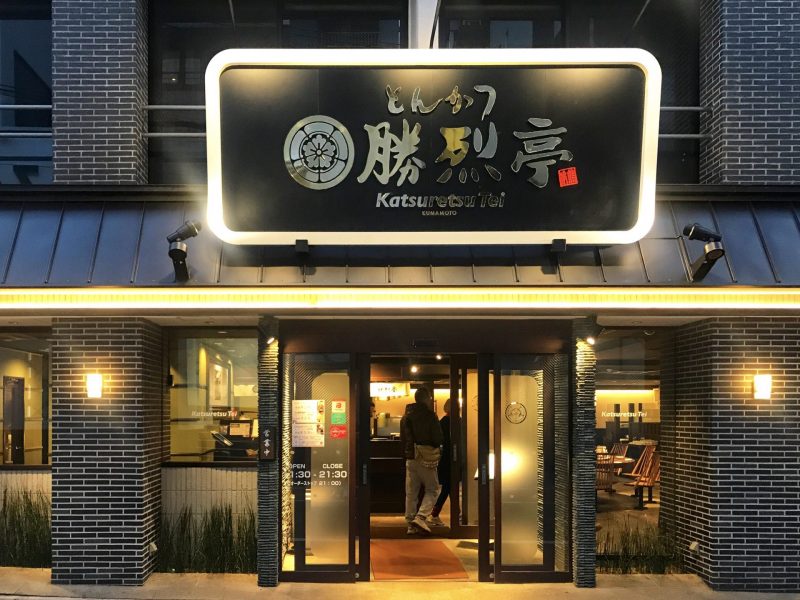 After complete on our 1-day Kumamoto itinerary, we were looking for Katsuretsutei for our dinner. The popular Katsuretsutei Shinshigai is located on the side street from the Shinshigai shopping arcade. It is within walking distance from my hotel, Nest Hotel Kumamoto.
We arrived at around 6 pm as heard there are always long queues to taste on this famous tonkatsu on Kumamoto. At the time of our visit, there were still not many people and we got our table right away.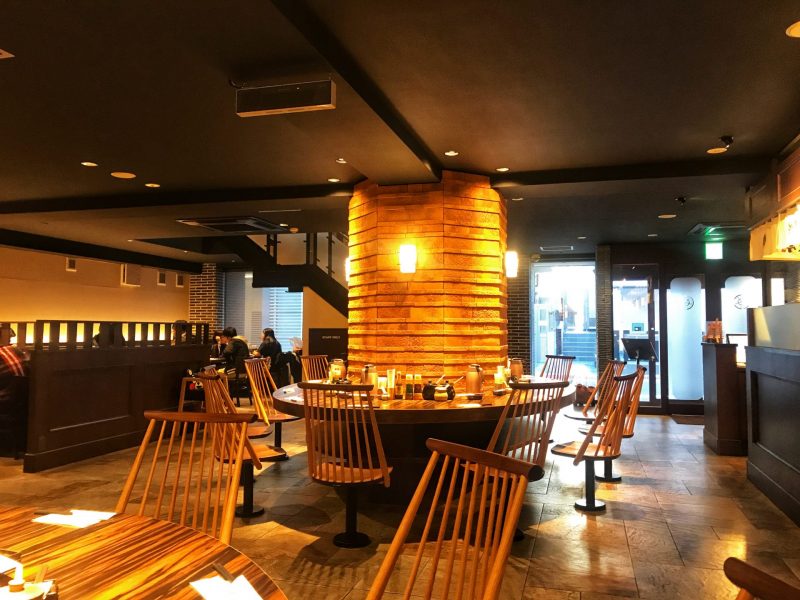 Inside Katsuretsutei Kumamoto, it is a large seating area with a table and tatami seating area for guests. We choose to seat at the table.
The service is prompt and excellent. We had our warm towel and hot tea served once seated. The staff asked on our preferred language menu and we had our English menu.
Katsuretsutei Menu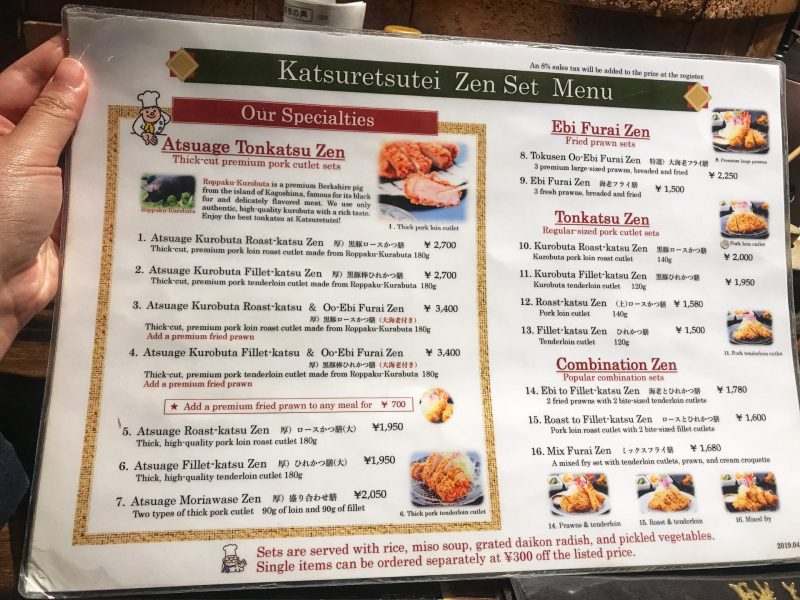 The Katsuretsutei menu came with an image, making it easier to order food. So it is straight forward and easy to understand. The recommended menu is Atsuage Kurobuta Roast-katsu Zen (thick roppaku-kurobuta pork loin cutlet), the premium Berkshire pork from Kagoshima.
Understand there's a set lunch menu in cheaper price. A money-saving tips if you are want to save some money yet having delicious food in Kumamoto. But we choose having lunch in Suganoya, which also offer a cheaper lunch menu during weekday.
Related Kumamoto food blog: Suganoya Kumamoto: Must Try Food in Kumamoto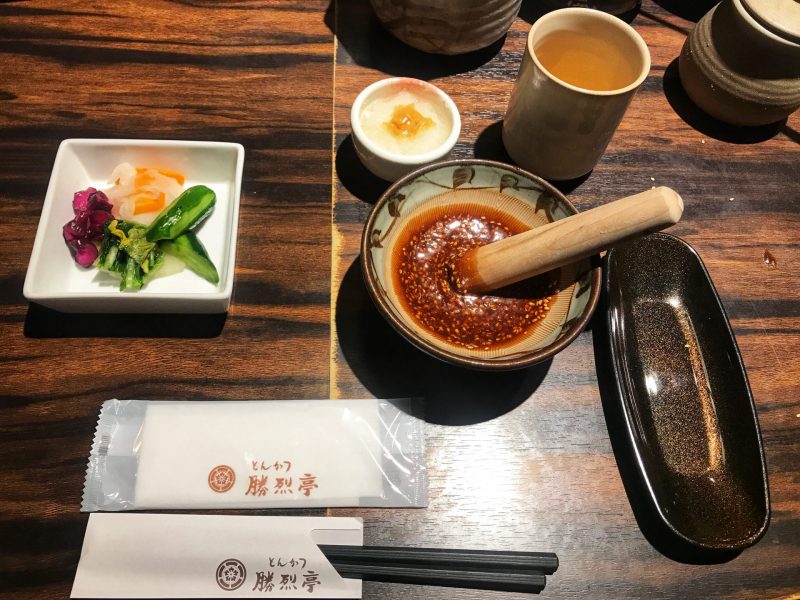 We ordered the cheaper version Atsuage Roast-katsu Zen (thick fresh pork loin cut) 180g and Fillet-katsu Zen (thick fresh tenderloin cutlet) 180g to tried on. The set will served with shredded cabbage, a side of rice, tsukemono (pickles) and hojicha (roasted tea). All can be refilled upon request.
While waiting for our meal, we enjoy our time to make our dipping sauce. There are two sauces to choose from; traditional and spicy. The fresh sesame seed (goma suri) was grinding with a wooden pestles in little grooved ceramic bowls before mixing in tonkatsu sauce.
I prefer for the traditional sauce. The spicy sauce taste like traditional sauce with wasabi.
Juicy and Succulent Pork Loin Cutlet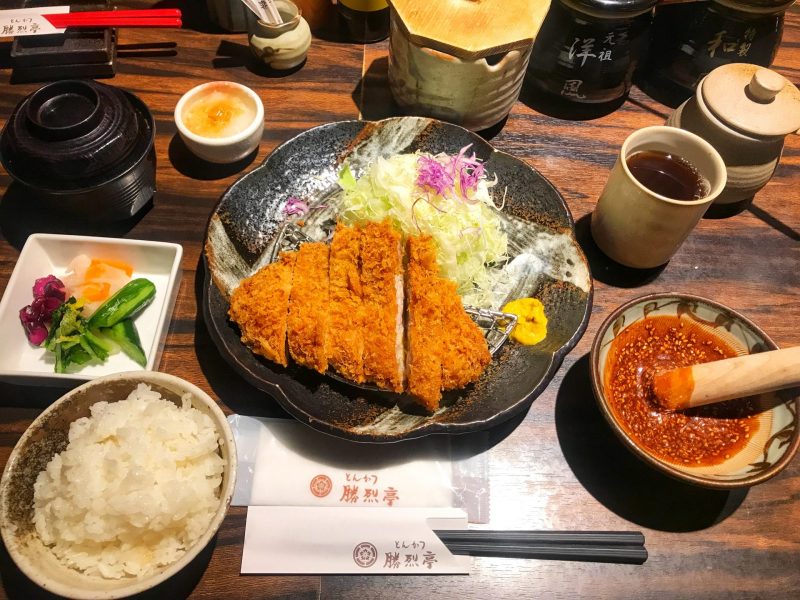 Without a long wait, our tonkatsu was served. The portion was so big. It was a full meal with shredded cabbage, pickles, miso soup and a bowl of Japanese rice.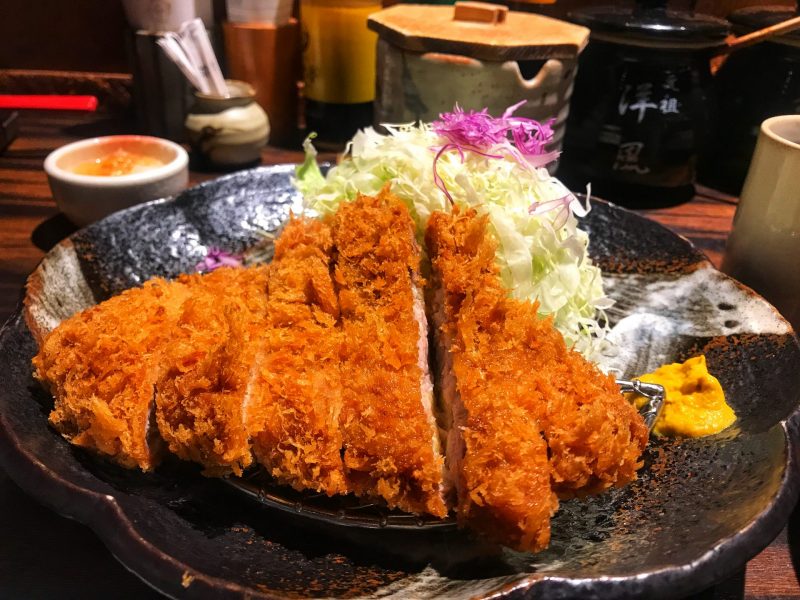 Look at the tonkatsu served from Katsuretsutei. The pork cutlet was very succulent and made to perfection. It was crisp on the outside, yet juicy and tender on inside.
We have eaten tonkatsu many times even in Japan. Honestly, this is one of the best we had so far. The meat was so juicy and delicious without feeling fatty or oily. No greasy taste at all. Love it. I always prefer the loin over fillet for the fattiness. Go for the fillet if you prefer less fat and more tender meat.
My favorite side dish was shredded cabbage. Try it with different kinds of dressing and I preferred the sesame one. We refilled the shredded cabbage once as it was so refreshing, perfectly match with the pork cutlet. We would love to have more, but too bad we were so full after finish on what we had.
You can also have a cup of coffee after the filling meal.
Best Tonkatsu From Katsuretsutei Kumamoto
All in all, it was an impressive and surprising meal from Katsuretsutei. We didn't expect tonkatsu can be made with such perfection. For sure you will also agree that this is the best tonkatsu ever once try on it. The food was so unbelievably delicious, flavor and volume.
I will come back again if we are here. A must eat food in Kumamoto.
Related Kumamoto travel and food blog:
Lastly, if you are looking for inspiration on how to plan your trip to Kyushu? Continue reading on our travel stories in Kyushu to Fukuoka, Yufuin, Miyazaki, and more.
How To Plan Your Kyushu Itinerary: Ultimate Guide
Fukuoka travel blog:
Miyazaki travel blog:
Beppu travel blog:
Kurokawa Onsen travel blog: