Last updated on September 23rd, 2023
Have some insanely flavorful and tender best motsunabe from Hakata Showraku Motsunabe. One of the best food and must eat in Fukuoka.
Besides the famous Hakata ramen, one must try the motsunabe when visiting Fukuoka. It is typically a stew served in a hot pot with beef or pork intestines, simmering with vegetable, garlic, chili pepper in the flavorful broth. We had tried the Fukuoka must eat, motsunabe from Hakata Ooyama, and really love it. This time, I went solo for dinner as my friend meet up with some local friends. I decided to have another round of motsunabe at Hakata Showraku. I choose to dine in Hakata Showraku as it served the motsunabe for the solo traveler for lunch and even dinner.
This Fukuoka food post is regarding my dining experience in Showraku Motsunabe in the Hakata Station branch. Check it out.
Hakata Showraku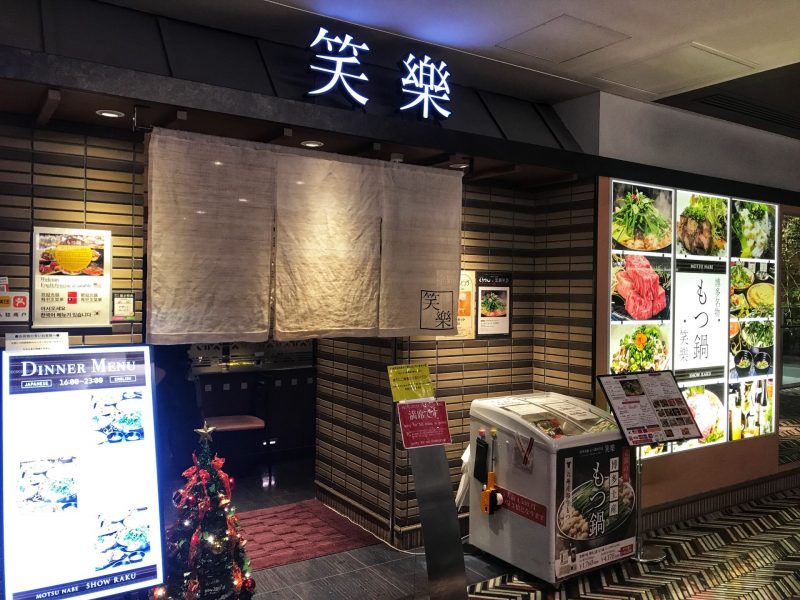 Founded in 1958, Hakata Showraku ( も つ 锅 笑 楽 ) proud himself of secret broth that best picks with Kyushu local ingredients when preparing for this Fukuoka local specialty. It is well known among the locals and also foreign travelers.
How To Get To Hakata Showraku Motsunabe:
Apparently, Hakata Showraku has four branches in Fukuoka city. I went to the one located in 10F of Amu Plaza. So it was very convenient to get there as it being on the top floor of the shopping plaza connected to the Hakata JR station. There are also many restaurants with a variety of options in Amu Plaza. You can also try other restaurants if you don't want the motsunabe.
Inside Hakata Showraku
The restaurant was not too big and probably can be served up to 30 to 40 people. Most of the tables were for group eater and only three seats for a solo person. Although it was quite early, I was waited in line for about 15 minutes. Out of all the restaurants, Hakata Showraku had the longest queue. I spend my time studying the menu while waiting.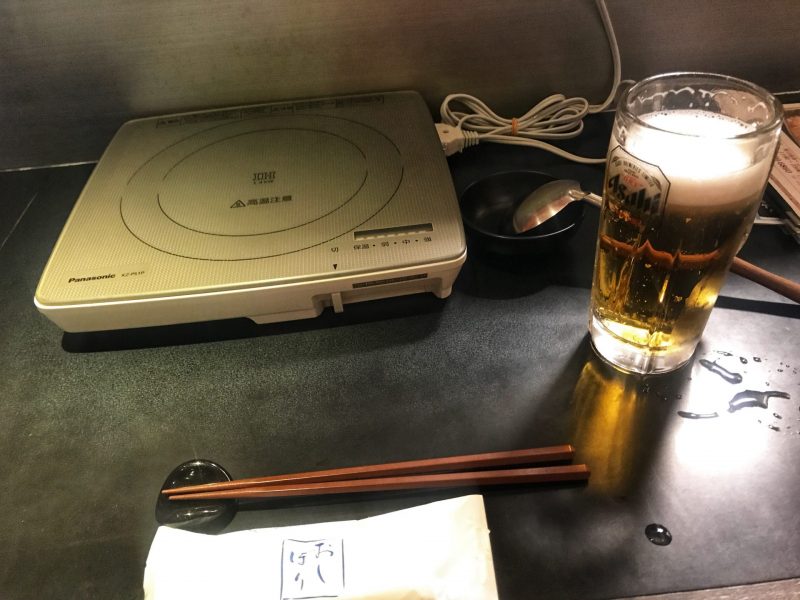 Without long wait, I was seated at the bar counter and can have some view on the open kitchen. Hakata Showraku use portable induction cooker to heat up the motsunabe.
What To Order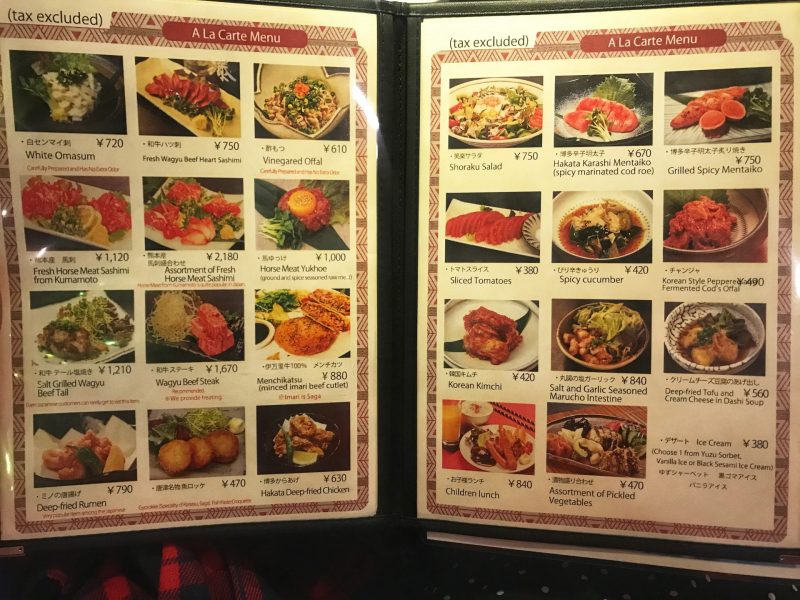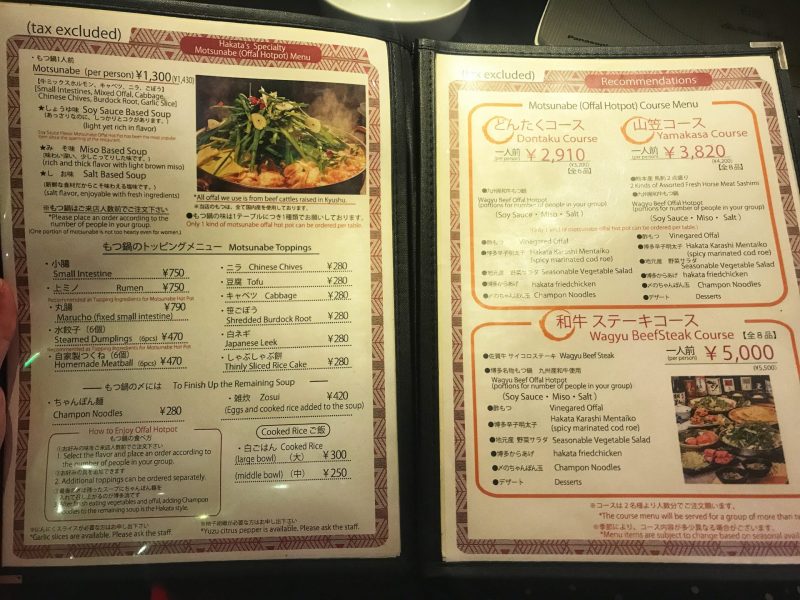 Despite the popular motsunabe, Hakata Showraku also served a variety of Fukuoka local specialties. There were ala carte orders and course menu to order even for one person. I would like to try more variety of food and the set menu made it easy to order. So, I decided to go for the Dontaku Course with a total of six dishes including the Motsunabe hot pot at ¥3,200 after tax.
Hakata Showraku offers Motsunabe in different flavors which include salt, soy sauce, and miso broth. In Hakata Showraku, soy sauce has remained the most popular choice among visitors. I also opted for the soy sauce base as per recommendation from a friendly servant.
Side Dishes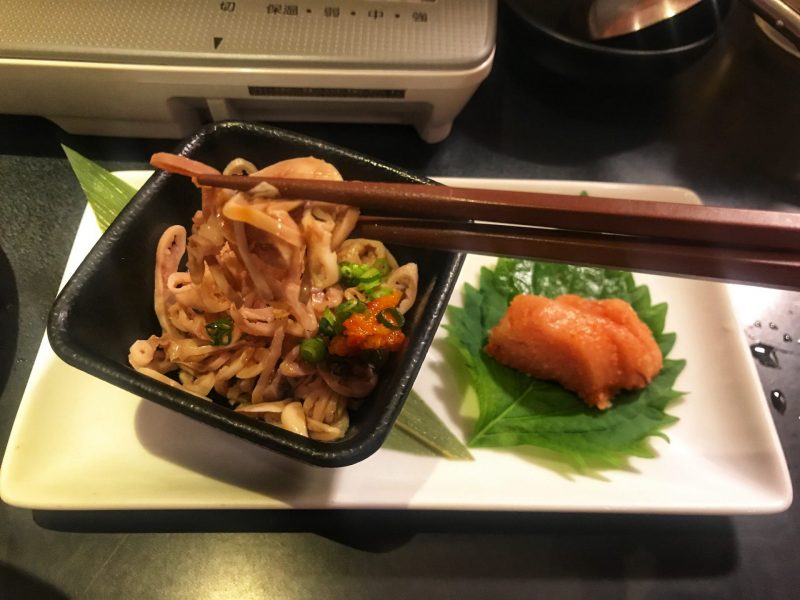 Next, my side dishes from the course meal were served first. I got the seasonable fresh salad, offal in vinegar, and mentakoi. The crispy texture with vinegar makes it very appetizing. Together with the mentakoi, a very great start for the motsunabe.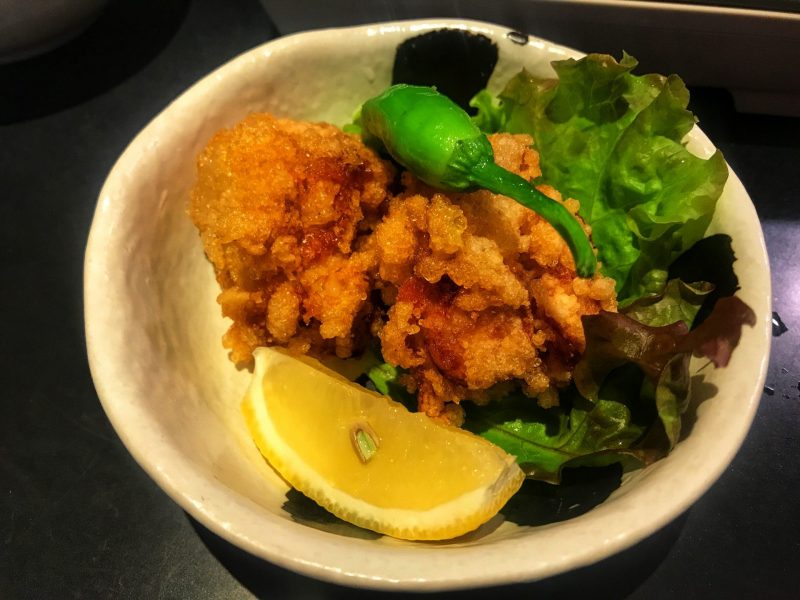 While the fried chicken also not too greasy and very delicious. You can also squeeze the lemon slide if you found it was too oily for you.
The Taste of Motsunabe From Hakata Showraku
Finally, the main dish has arrived. My big bowl of motsunabe was overflow with cabbage, leeks, beef intestine in the hearty soy sauce broth. The aroma was already making my mouth water and can't wait to eat it. But still, we need to wait for another 10 minutes before consuming it.
Be ready to try on the soft and tender on the motsunabe. It was even tender than what I expected when putting into my mouth. The serving is bigger than what I expected. Although some people may be scared to eat offal, it actually has a sophisticated flavor without any foul smell. The experience was worth it.
While the soup is refreshing. It tastes like the sukiyaki broth but slightly less tasty.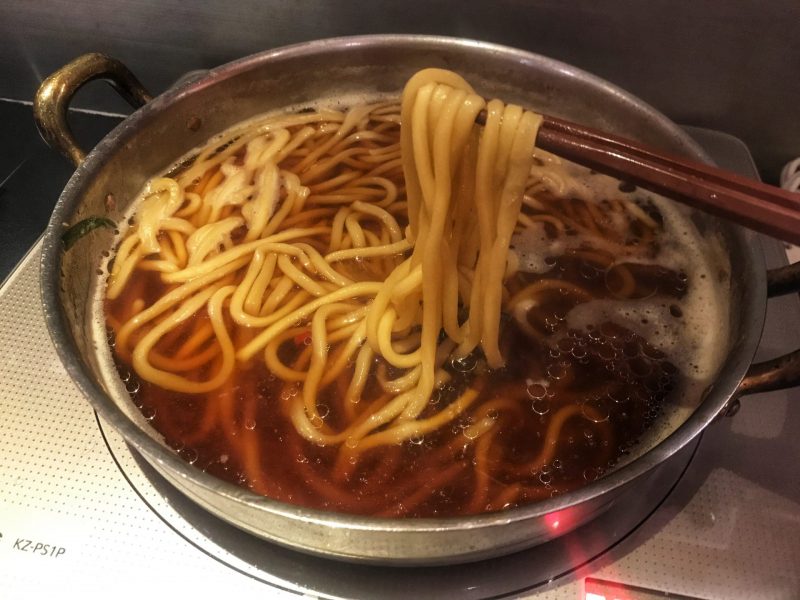 Last but not least, remember to add in the champion noodles into the leftover soup. So that you fully enjoy the dish even more and not waste any part of it. Even though the portion was big, I am able to finish all the noodles and soup.
Overview: Best Motsunabe from Hakata Showraku
Overall, Hakata Showraku does not disappoint me in their menu selection, taste, and overall dining experience. It was an enjoyable meal. The motsunabe and side dishes were delicious.
Be honestly, the motsunabe from Showraku was quite good and does not disappoint. But it was not my liking compare with the one from Ooyama. Not sure is because of the soy sauce broth was not as tasty as the miso soup broth. But still, thumb up for Hakata Showraku it served the motsunabe for one person which is greatly helpful for solo travelers when looking for motsunabe for one person. A good choice if you're wondering what to eat in Hakata Station.
Motsunabe Hakata Showraku Hakataekiten (博多名物 もつ鍋 笑楽 博多駅店)
Address: 1-1 Hakataekichuogai, Hakata, Fukuoka, Fukuoka Prefecture (10F at AMU Plaza)
Operating Hours: Daily from 11:00 to 23:00 (24:00 During Friday and Saturday)
Getting there: 2 minutes walk from JR Hakata Station
Expected to Pay: Lunch for ¥2,000 and Dinner ¥3,000 – ¥5,000
This Fukuoka food post is part of my Fukuoka travel blog. If you need more inspiration, be sure to check on my Fukuoka itinerary and food review below:
The Complete Lists of Fukuoka Food Guide for the best food to eat in Fukuoka.