Last updated on September 23rd, 2023
Read on our wonderful stay in Ryokan Ikoi, a wonderful traditional old Japanese-style hotel with long wood corridor, ash-fireplace and hot spring bath with a thatched roof. A best stay in Kurokawa onsen.
For the first time to Kumamoto onsen, consider to stay one night in a traditional ryokan and experience the popular hot spring bath. There are a variety of ryokan up to to 24 ryokan to choose from. Each has its own unique and beautiful hot spring bath to try on. We spend one night in Ryokan Ikoi and truly enjoy our amazing stay here.
See how we enjoy our one night in Ikoi Ryokan.
Ryokan Ikoi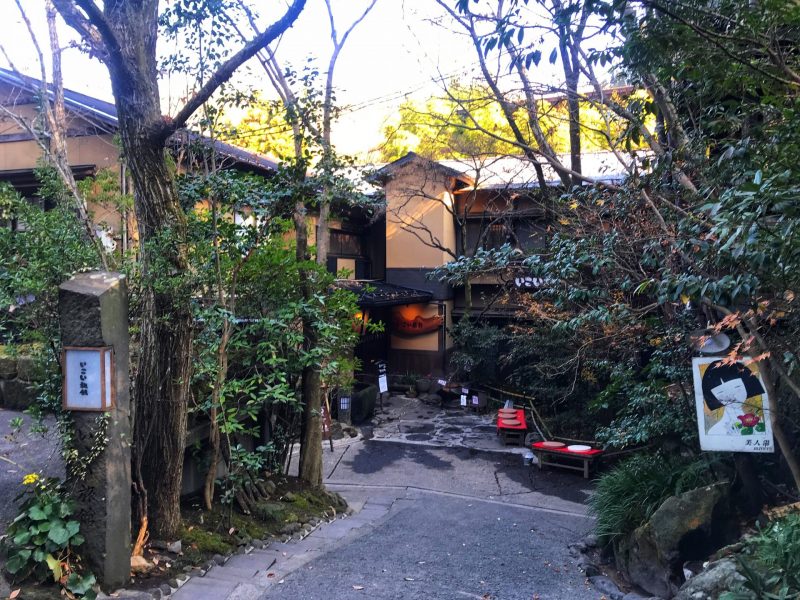 The traditional Japanese guest house, Ryokan Ikoi (いこい旅館) is an atmospheric old inn in a central location of Kurokawa onsen. It is a wooden three-story inn which established more than 50 years ago. The best place to stay in Kurokawa onsen if you love to experience the traditional Japanese stay.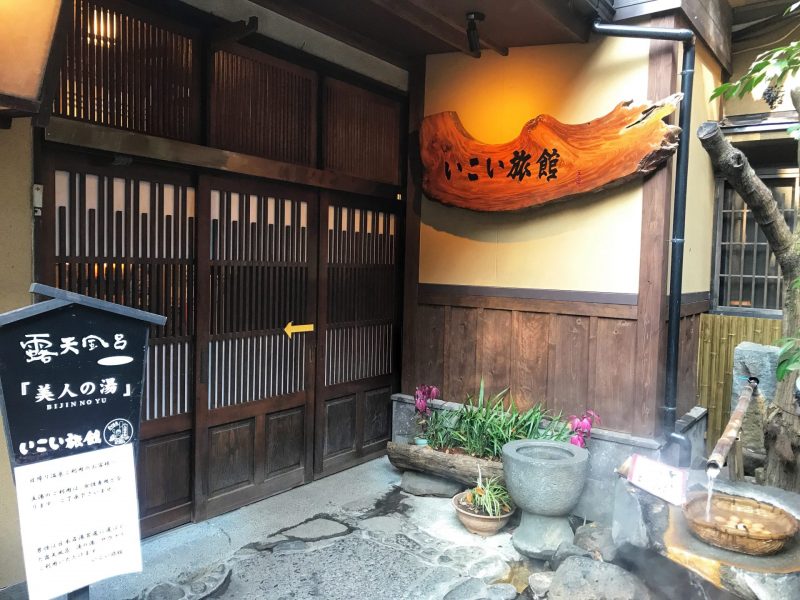 We fall in love before stepped into the hotel. The entrance is beautifully decorated in a Zen garden feeling. Hot water gushing into round stone in the corner and you can get the onsen egg at 50 yen. Free footbath if you are not enough for the bathing.
Moreover, the courtyard featured with traditional ash-fireplace. This is one of the favorite places in Ikoi Ryokan. We sat around at the central fireplace during night time. Doing nothing but admiring the kettle hanging over it with open fire.
Once we stepped into the ryokan, we received a friendly welcome from the staff. The whole building is well maintained in a warm ambiance. While there were still early for the check-in time, we leave our luggage and went for the onsen hopping. In late afternoon, we backed to ryokan Ikoi and continue soaking into the hot spring.
The Ikoi Ryokan also welcome daytime admission with 500 yen or enter with onsen hopping pass. But there are less choice compare with in-house guest.
Onsen Bath in Ikoi Ryokan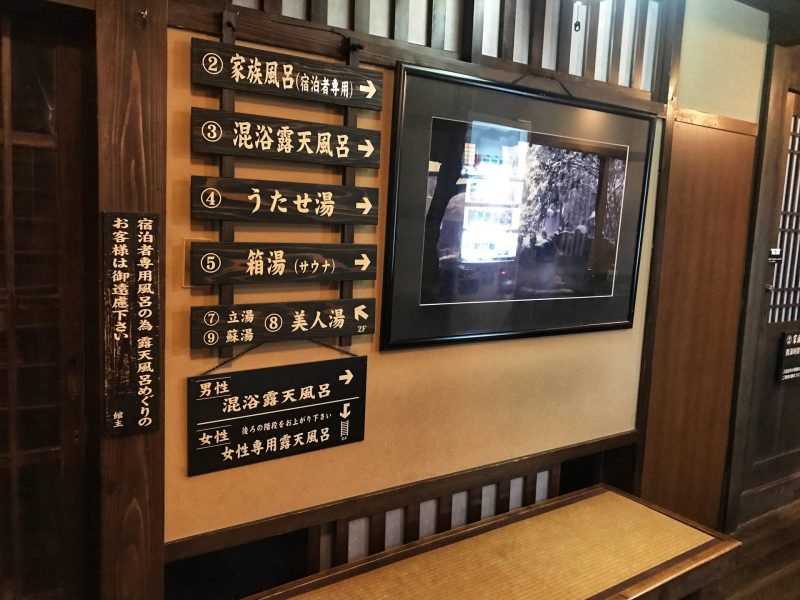 For sure onsen lovers will enjoy their stay in Ikoi Ryokan. There are a total of 13 different types of hot spring baths at Ikoi Ryokan. Three baths were listed in Japan's Best Onsen Ranking which is rotenburo, Takino-yu, and Bijin-yu.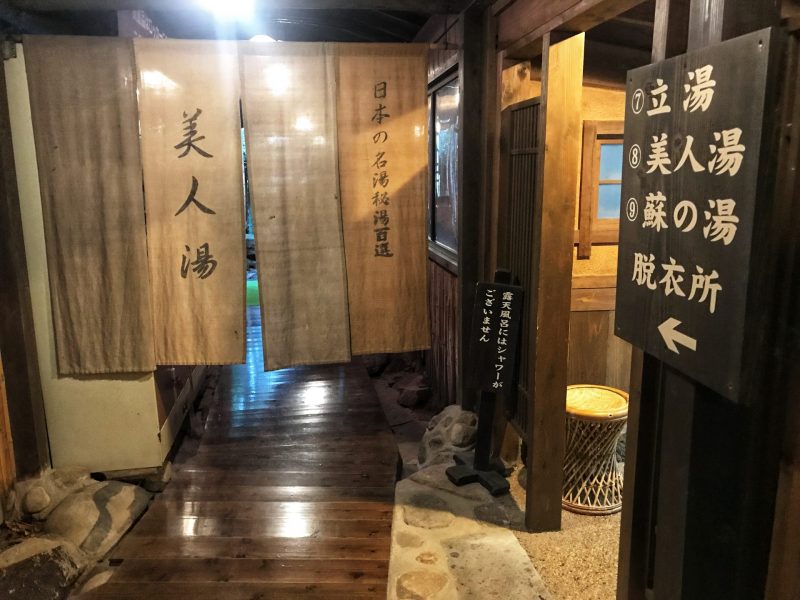 Onsen Lover don't miss it. The beauty bath (Bijin-yu) is good for ladies' skin. I feel warmed and beautified (maybe) after soaking into the water.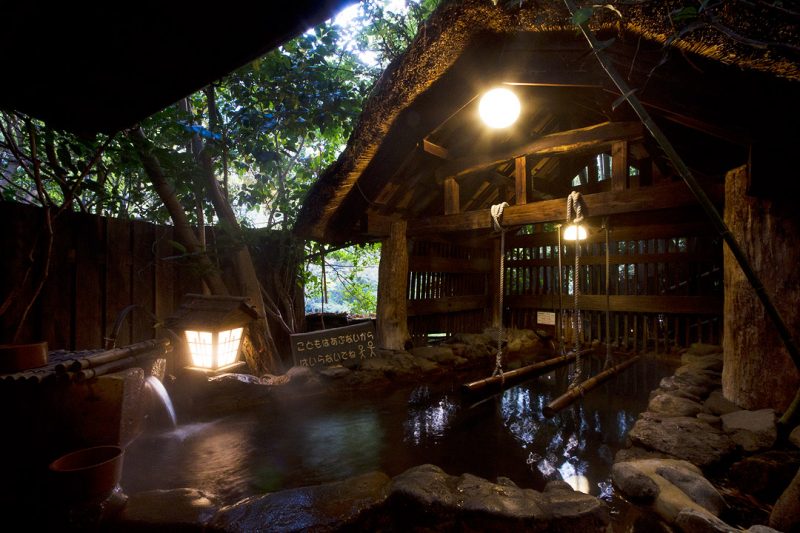 We prefer for the standing bath (Tachi-yu) among all. It is also the most famous onsen bath in Ryokan Ikoi. As per the name called, the water level is up to the shoulder level and guest will need to stand while enjoying the bath. I enjoy my time holding and draping my arm onto the suspended floating bamboo poles.
There are also a few mix gender baths such as Taki-no (waterfall bath) and Utase-yu (Hot Spring Fall) and Boxy bath (Hako-yu). I am not a fan of mix bath so I skipped for this. Probably more suitable for men.
Besides, there are several private and family baths available with reservation required. We tried on the Oke-buro where you can soak into a barrel with gushing hot spring water. Darken wood barrel fitted perfectly my imagination on Japanese traditional onsen bath.
Non-in-house guests can also rent on it with 800 yen for one hour.
Delicious Kaiseki Meal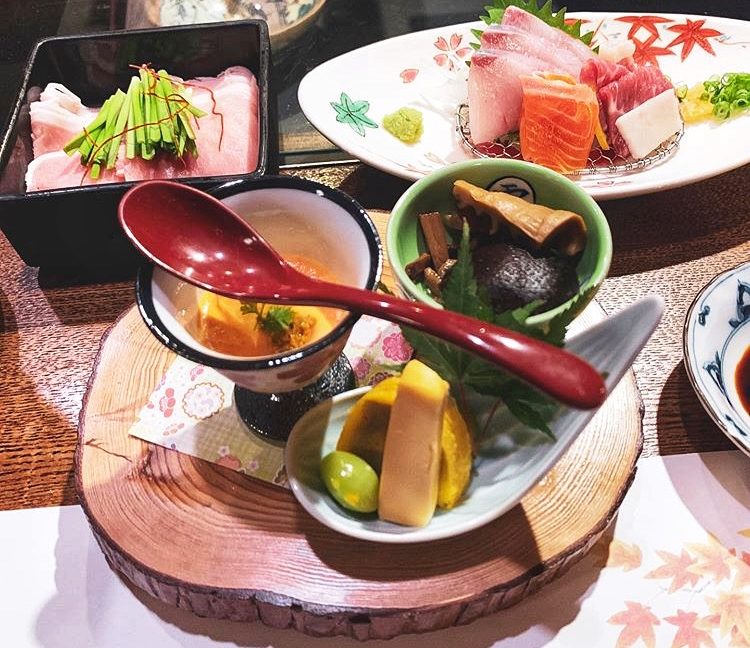 Don't forget to include the meal course in your stay. The kaiseki meal in Ryokan Ikoi makes your stay even more special. We had dinner and a breakfast plan in Ryokan Ikoi.
Kaiseki dinner served was traditional Japanese food in multiple small dishes. The staff explained when serving the meal. The food quality was excellent and delicious.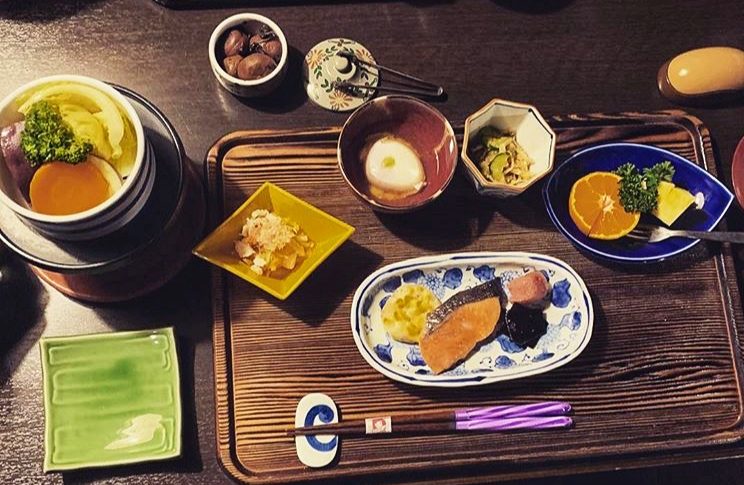 While for the breakfast was served with seasonal local produce. We had grilled salmon, veggie and porridge for the great start of the day. A simple yet delicious meal.
Best Stay in Kurokawa Onsen
All in all, we had an amazing stay in Ryokan Ikoi. It is truly a traditional Japanese inn and beautiful in its simple way. Your stay is in wooden charming structure, narrow bamboo corridor, and hot spring bath with a thatched roof. We highly recommended Ikoi Ryokan if you are love for traditional settling. One of the best stay we had in Japan.
It is a popular ryokan in Kurokawa onsen and it took us some effort to book the room. We booked our room at Ryokan Ikoi from Agoda.com two months ago. Highly recommended to book early to avoid disappointment. (Check rate from Agoda.com)
Alternatively, check our Best Ryokan List: Where To Stay in Kurokawa Onsen if you are looking for the best hotel for your perfect stay in Kurokawa Onsen.
Kurokawa Onsen: A Guide To Natural Hot Spring Town
Travel to Fukuoka, Kumamoto, Aso, and other attractions in Kyushu? Read on our below travel blog below.