Last updated on June 3rd, 2023
Planning to spend 1, 2, or 3 days in Yosemite National Park? This ultimate Yosemite itinerary features the best views, things to do, and travel guide tips to spend your time in this spectacular corner of California.
Famed for its iconic vistas or towering waterfall, spellbinding natural landscapes, smooth domed rock formations, and the unspeakably majestic valley, Yosemite National Park is the kind of national park that's worth the hype. It is an incredible place if there's ever been a "must-visit" destination in the USA.
For me, Yosemite was one of the most beautiful national parks in the US that I ever visited. I have no words to explain how fantastic this place is. During my visit, I had the chance to truly appreciate its splendors by seeing the incredible waterfalls, sprawling meadows, towering granite cliffs, and huge sequoia trees. I can post thousand of pictures, but the impressive and breathtaking views have to be seen in person to be believed.
There are so many things to do all over the park, from hiking, biking, climbing, or even just sightseeing leisurely. No matter how long you spend here, it is important to know how to spend your time in this spectacular corner of California efficiently.
This Yosemite itinerary will show you the best way to plan your Yosemite itinerary for 1, 2, and 3 days. A detailed Yosemite travel guide blog for how I spend 3 days in Yosemite National Parks and some of the useful tips, featuring Glacier Point, Yosemite Valley, Mariposa Grove, and Tioga Pass Road.
Yosemite National Park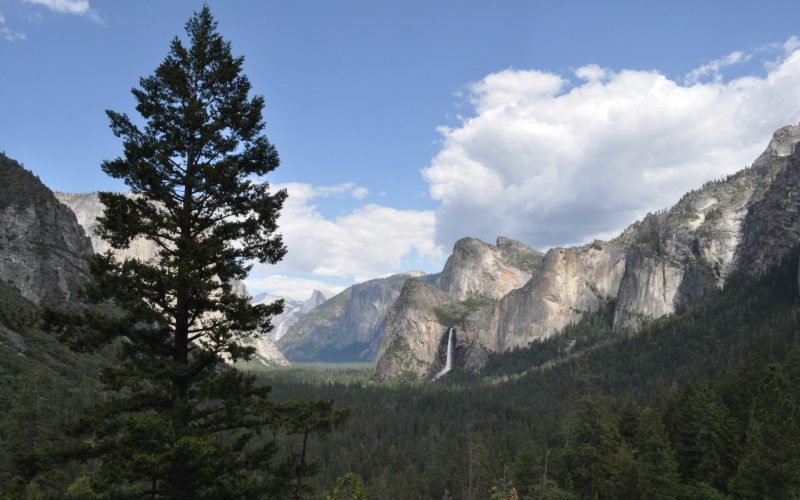 Before we go into detail on our Yosemite itinerary, here is some useful information about the Yosemite National Park.
Yosemite National Park Factfile
Address: PO Box 577, Yosemite National Park, CA 95389
Official Website: nps.gov/yose
Phone: (209) 372-0200
Park Hours: All day, every day
Entrance Fee: US$ 35 Vehicle 7 Day Pass
Annual Visitors: 4.5 million
Top Activities: Hiking, Camping, Rock Climbing, Stargazing, photography.
As per above, the entrance fee costs $35 per vehicle and is valid for seven days. Pay in advance or on arrival at the entrance gates (credit card only). Get America the Beautiful Annual Pass which costs $80 if you plan to visit more than two National Parks within a year.
Wilderness Permit are required for all overnight hikes.
Half Dome Permit is required to hike to the top of Half Dome are required seven days per week when the cables are up and are distributed by lottery.
Lodging options inside Yosemite National Park are extremely challenging to book especially on holidays. It is best to reserve once you have the plan to Yosemite National Park.
Yosemite COVID-19 Restriction: Due to California continuing to experience the COVID-19 pandemic, Yosemite is open with some services limited. Please check the nps.gov for the latest update.
Yosemite Travel Tips
Friendly advice for those who plan to visit Yosemite National Park, especially first time:
Depending upon where you're coming from, this will be a long drive – check your GPS and plan accordingly.
Driving in Yosemite at night is no laughing matter. Construction work started at night in the park and it was dark, really dark. Please plan your time accordingly.
Services are minimal. Get gas for your car before you start.
Do not rely on your cellphone GPS. Get a traditional map from the Visitor Center.
Bring snacks and drinks. I would turn this into a picnic location.
Take your time and make the journey part of the adventure. Yosemite has much to see and doesn't race around from point to point. Stop along the way and enjoy this trip.
Make time and plan for a hike even for the short one!
The camera/Phone is a MUST. Take panoramic photos. The view here is awesome.
How To Get To Yosemite
Depending on where you're coming from, enter to the valley with the nearest entrance can save your time to explore more inside the park.
Los Angeles, and San Diego – enter via Fresno and South Entrance.
San Jose – enter via Arch Rock entrance.
San Francisco and Oakland – enter via either Arch Rock Entrance or Big Oak Flat Entrance.
Sacramento (and North to Oregon/Washington) – enter via Big Oak Flat Entrance.
Reno, Las Vegas, Death Valley (and East to all US) – enter via Tioga Pass Entrance (only opened in May-Oct).
If you plan to hire a car and drive to Yosemite, compare prices and options with Rental Cars for the best price guarantee.
Driving Entrances to Yosemite
Yosemite National Park is huge with 5 entrances in total. Most of the people will use the below 4 main entrance, which is more convenient and accessible to the valley. Most of the travelers should begin and end either at Big Flat Oak, Arch Rock, or the South entrance.
South Entrance (South)
Arch Rock Entrance (Southwest)
Big Oak Flat Entrance (Northwest)
Tioga Pass Entrance (East, only open May-October)
Besides self-driving in Yosemite, Yosemite also provides a free shuttle bus that loops around the valley that you can hop on and hop off at each stop. This greatly helps to reduce congestion and pollution in the park. Finding a car parking space in Yosemite can be frustrated during summer and holidays. We advise starting your Yosemite itinerary as early as possible to avoid the crowd.
Take note that shuttles are currently not running within the parks due to recent global health and safety issues.
Things To Do in Yosemite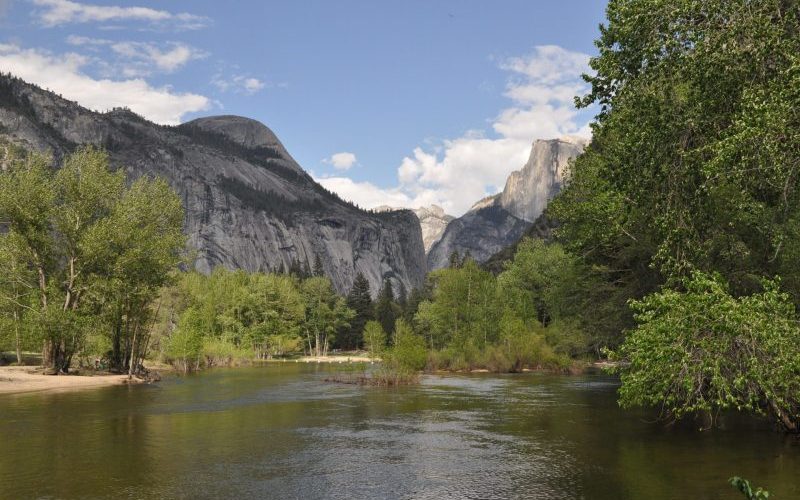 Of course, the best things to do on your Yosemite itinerary are within the Valley itself. Here are some of the top 10 things to do in Yosemite for you to consider in the Yosemite itinerary:
Tour along the valley – Self-guided driving tour is the most flexible way. Simply pick up a map from the visitor center and explore Yosemite at your own pace. While bus Tour is available all year round if you're unwanted to plan to drive. Choices range from 2-hours to a full-day tour.
See Yosemite Valley Waterfalls – Feel the spray hitting you and hear the pounding water from waterfalls in Yosemite.
See the Famous Viewpoints in Yosemite – Tunnel View, Valley View, Glacier Point, Half Dome, El Capitan, and so many of the attractions that you can't miss during your trip to Yosemite.
Rock Climbing –

Yosemite is the most famous rock climbing destination in the United States and has multiple good spots for you to attempt! Make sure you're physically fit for rock climbing.

Hiking -The best way to see the beauty of Yosemite National Park. Pick at least two or three hikes, doesn't matter a short or long hike, just to mesmerize the nature beauty..
Walk Among Giant Sequoias – You can walk among Yosemite's Sequoias; Mariposa Grove, Tuolumne Grove, and Merced Grove.
Camping – A great way to experience the park, and it allows you to wake up on location, ready for a day of exploration or hiking. A wilderness permit has to be obtained before any backpacking activities.
Biking – Take advantage of the 12 miles of paved bike paths available in Yosemite Valley.
Water Activities – Swimming, rafting, boating, kayaking, fishing, there are so many water activities to do in Yosemite!
Ranger and Interpretive Programs – Learn about Yosemite with a ranger while walking around and appreciating marvelous scenery.
For more details, have a look at the 3-Days Yosemite itinerary to do how we spend a wonderful time in the park.
3-Days Yosemite Itinerary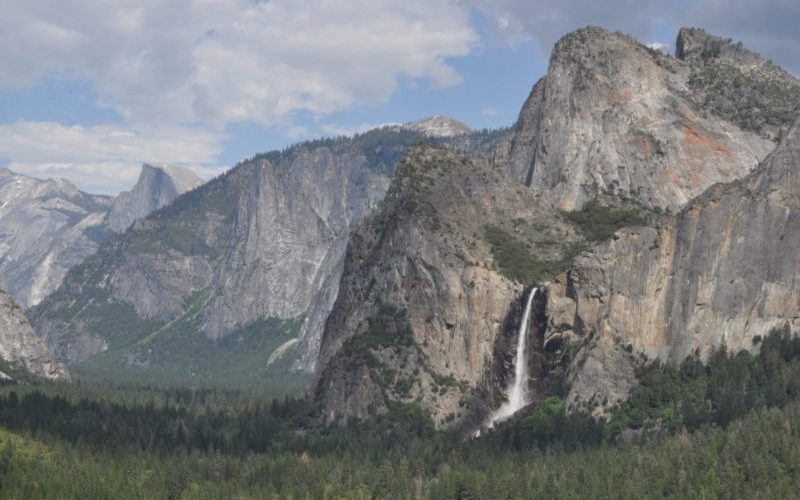 To help you make the most out of your time in the Yosemite national park, here is our Yosemite for day 1, 2, and 3 for your reference. Remember to take into consideration season, timing, interest, travel parties, and the crowd when planning for your Yosemite itinerary.
Yosemite Itinerary – Day 1:
Arrived at Yosemite National Park and head to Glacier Point Road.
View on Half Dome at Washburn Point and Glacier Point.
Sentinel Dome Trail or Taft Point.
Sentinel Meadow and Cook's Meadow.
Tunnel View.
If you have more time on day 1, you can slot in any of the attractions in the Yosemite valley.
Yosemite Itinerary – Day 2:
Continue driving along the valley loop in Yosemite National Park.
Bridalveil Falls
Hike the Lower Yosemite Falls Trail to see the Yosemite Falls.
Mirror Lake
Mariposa Grove of Giant Sequoias.
Grizzly Giant Loop Trail.
Yosemite Itinerary – Day 3:
Begin the drive up Tioga Pass Road.
Olmsted Point, Tenaya Lake, and Tuolumne Meadows.
A short hike at Lembert Dome.
Goodbye to Yosemite.
Above 3 Days Yosemite itinerary is flexible and can easily be done by swapping attractions for day 1 and day 2. But day 3 is slightly far away from the valley. Besides, Tioga Pass Road is only open from May to October.
Yosemite Itinerary – Day 1
On Day 1 of our Yosemite itinerary, we drove all the way and arrived at the Yosemite National Park in the morning. We first made our way up to the winding Glacier Point Road (open from mid-May to October/November) from the South entrance.
Drove to Glacier Point from the Yosemite entrance, takes about an hour. It was a pleasant drive with a panorama view along the journey. We stopped by the Washburn Point to have the first glance at Half Dome on our way up.
At Glacier Point, we took a countless photos before we proceed to the next agenda. The view from the glacier point is breathtaking, one of the most beautiful viewpoints I have ever seen in my life. Next, we proceed for a hike to Sentinel Dome and Taft Point (2.2 miles) for more astounding views. The hikes were short and not too difficult. The views at the top were even better with a 360-degree view of multiple peaks including Half Dome. In total, we spend about 4 – 5 hours at Glacier Point.
Next, we drove back into Yosemite Valley, stopping at Cook's Meadow for another short hike. Depending on your time and schedule, we were late at that time, else you can proceed with the attraction in Yosemite Valley. We ended our Day 1 Yosemite itinerary at Tunnel View and get a perfect picture of El Capitan and Bridalveil Falls.
Yosemite Itinerary Day 1:
Arrived at Yosemite National Park and headed to Glacier Point Road.
Glacier Point, Sentinel Dome, and Taft Point (4 – 5 hours)
Cook's Meadow and Tunnel View (2-3 hours)
Washburn Point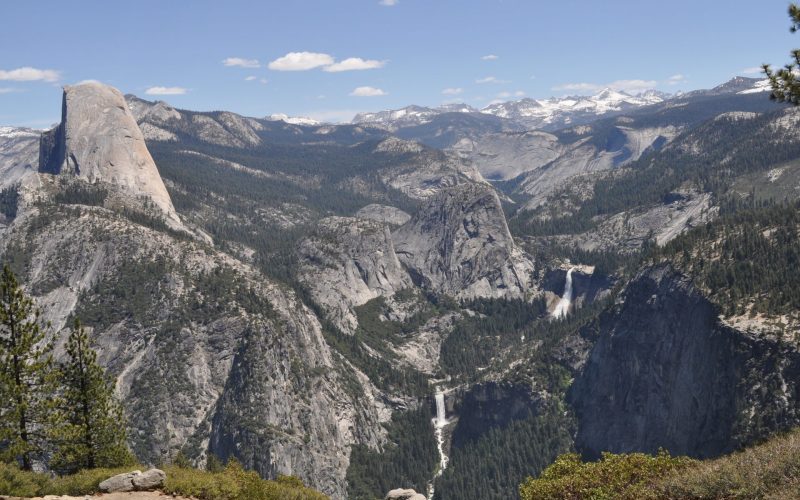 Washburn Point is the first amazing view of Half Dome that you experience when driving up to Glacier Point Road, en route to Glacier Point. Just before Glacier Point, we stopped by Washburn Point to have the first glance at Half Dome on our way up. You can also opt to visit Glacier Point first and come back to Washburn Point.
The views at Washburn Point were so beautiful. It offers a great view of Yosemite Valley and all the famous landmarks. I prefer this view to that of Glacier Point, as it offers great views of both Nevada and Vernal Falls. But you can't see the Yosemite Falls which are on another side. The parking lot is smaller than Glacier Point.
Worth taking the 10-15 minutes stop and soaking it all in.
Glacier Point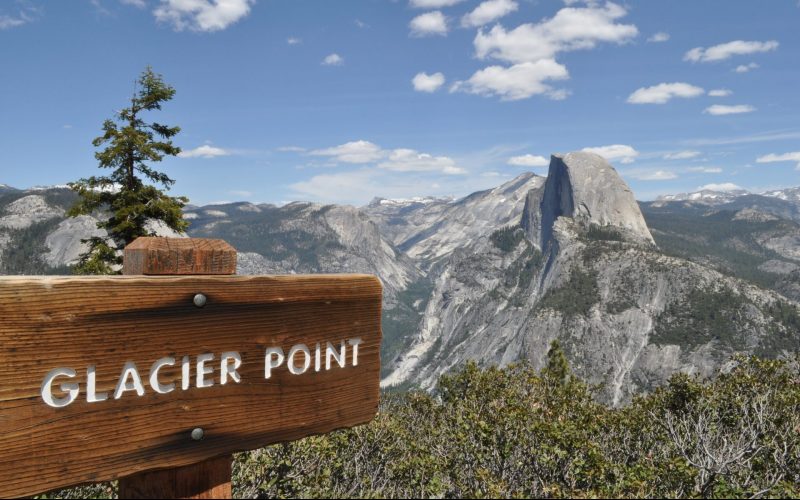 Glacier Point boasts the best panorama in all of Yosemite, arguably on par with Half Dome. You have a complete view of Yosemite village, the meadow, Yosemite Falls, Half Dome, Vernal, and Nevada Falls. The magnificent 270-degree views over Half Dome and the valley are unbelievable. It is easily one of my favorite spots in Yosemite National Park that will be remembered forever.
Be sure to find time to drive up to Glacier Point for the incredible views. Glacier Point is rightly popular and was quite busy. Besides, getting to Glacier Point is a long journey drive, but you will not regret taking the time to drive up there. The driving journey is very windy and narrow with 16 miles of drives up to Glacier road. Endless photo opportunities and gorgeous views along the way. Due to the popularity of this spot, the traffic can be congested along the journey. The parking place is huge but still took us some time to find a parking spot. Be aware that if the parking lot in the Glacier point is full, then the road driving up to the Glacier point may be closed, so better go there earlier.
Best to access Glacier Point from the South entrance and best driven either at the beginning or end of your Yosemite itinerary.
Hiking Trail in Glacier Point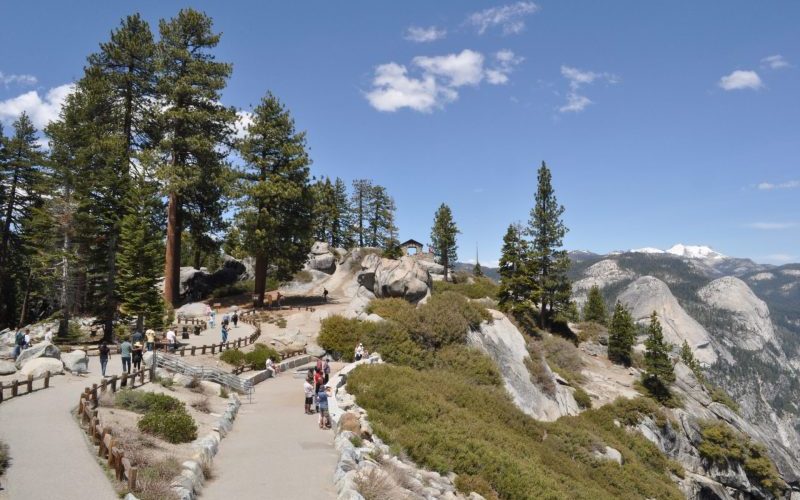 Even if you can't walk well, you still get stellar views in Glacier Point. But if you can hike several miles, there are several hikes at nearby trailheads and you'll be rewarded for doing so. Most people enjoy the short but steep hike in Glacier Point. From there you can see the famous Yosemite Valley entirety with little effort!
Several popular trails can be found adjacent to Glacier Point:
Sentinel Dome – A very short, relatively easy hike with a 2.2-mile roundtrip. You can find Jeffrey Pine during this hike, one of the most photographed trees in the world.
Taft Point and The Fissures – Another easy and stunning view without guardrails found at Glacier Point with 2.2-mile roundtrip.
Four Mile – 4.8 miles for one way can get you to hike to Glacier Point from Yosemite Valley in this strenuous trail.
Panorama – Extension of Mist/John Muir trail and heading from Glacier Point to Nevada Falls with 8.5 miles one way and can be strenuous.
We had the short Sentinel Dome hike and ended our hike with the stunning view of the Half Dome. Don't forget to end your hike by grabbing an ice cream for a snack.
View on Half Dome
Half Dome is one of Yosemite's iconic granite domes, standing proudly at just under 5,000 feet above Yosemite Valley. It is visible from a wide variety of locations within the Yosemite Valley and dominates most nearby viewpoints. It shines in the valley, and from viewpoints like Glacier Point.
Half dome is a gorgeous vista from the valley, and it's an even better sight from the top. It is one of the most strenuous and amazing hikes in the world, covering over 17 miles with 4,800 feet of elevation gain. For sure it isn't an easy hike with 10-12 hours total time. Please make sure you're physically prepared. The view is worth the hike if you can make it.
Yosemite Travel Tips: Hike up to Half Dome requires a permit: either from the lottery held in March or through a walk-in permit. No permit in winter as it is closed.
Sentinel Meadow and Cook's Meadow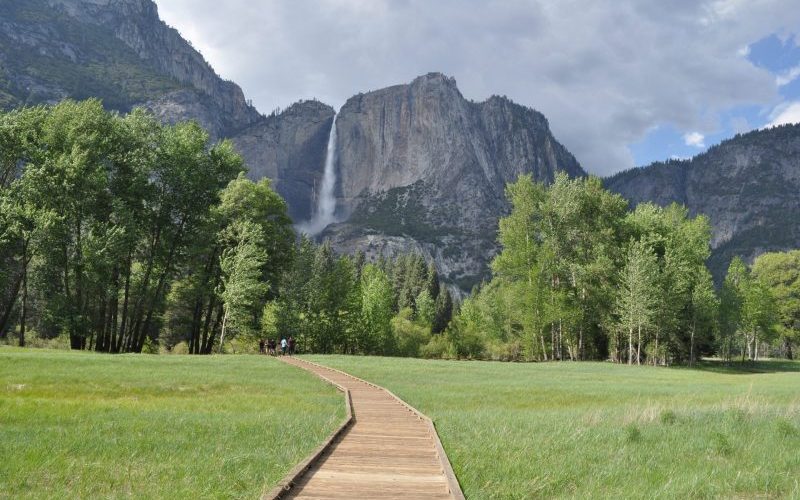 The Cook's Meadow Trail is open year-round and is a great spot to visit no matter when you come to Yosemite as you are always rewarded with a great view.
It is a wonderful short and easy trail that offers stunning views of Yosemite Falls, Half Dome, Glacier Point, and Sentinel Rock. The view is so breathtaking with the green meadows and Yosemite Falls is roaring behind. Do walk it and enjoy its beauty. We couldn't stop taking countless pictures along the trail.
Follow the boardwalk and do not venture out into the meadow. as this may cause trampling and damage the ecosystem.
View on El Capitan at Tunnel View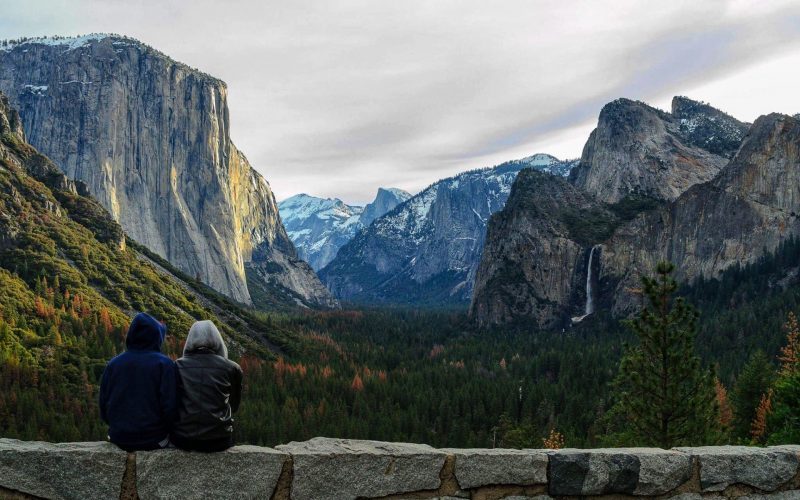 The impressive El Capitan, also known as El Cap, is a granite rock formation that dominates the west end of Yosemite Valley. It is one of the most iconic monolithic features in all of Yosemite. The impressive El Capitan has a smooth face like it's carved out of clay and a pretty pale pink and golden cream color in the sunset. It looks different and impressive from every angle.
El Capitan is the first mountain that you will come upon as you enter Yosemite Valley drive. It is best viewed from El Capitan Meadow, Tunnel View, and Valley View. Viewing El Capitan from anywhere in the park provides a different experience especially when the sunlight hits it at different parts of the day.
We enjoyed the best view of El Capitan from Tunnel View and had some wonderful shots of the valley. The incredible El Capitan was so breathtaking and words are weak to describe it. Another of the must-see landmarks in the Yosemite National Park.
Besides, El Capitan is very popular for rock climbers with about 3000 ft high from its base to the top. The top of El Capitan can be reached by the climb up the sheer granite face or by hiking up 14 miles of strenuous round-trip trail. We didn't include hiking El Capitan as part of our Yosemite itinerary and admire it from far. But we would recommend this hike to anyone who could make it.
Yosemite Itinerary – Day 2
On Day 2 of the Yosemite National Park itinerary, we drove along the Yosemite Valley and continue the attractions of what we stopped on day 1.
We stopped at Bridalveil Falls, Yosemite Falls, and Mirror Lake, Valley View for photography. Most of the points of interest required some easy walk to get closer to the best view. Spend the remaining time driving around the Yosemite Valley and stopping at many meadows, special viewpoints, and river reflection spots.
In the late afternoon, we leave via the South entrance and headed up to Mariposa Grove, about an hour's drive away, to hike the 2-mile Grizzly Giant loop among Giant Sequoia Trees. It was impressive to see the giant sequoia trees.
Besides, a hiker can consider picking one of the popular trails such as Upper Yosemite Trails, John Muir trail, or Mist Trail for a more natural adventure in Yosemite Park. Alternatively, hike the Four Mile Trail to Glacier Point. All are strenuous and will take a good few hours.
Yosemite Itinerary Day 2:
Continue driving along the Yosemite Valley loop.
Bridalveil Falls, Yosemite Falls, and Mirror Lake, Valley View. (3 – 4 hours)
Mariposa Grove and Grizzly Giant loop (3 – 4 hours)
Bridalveil Falls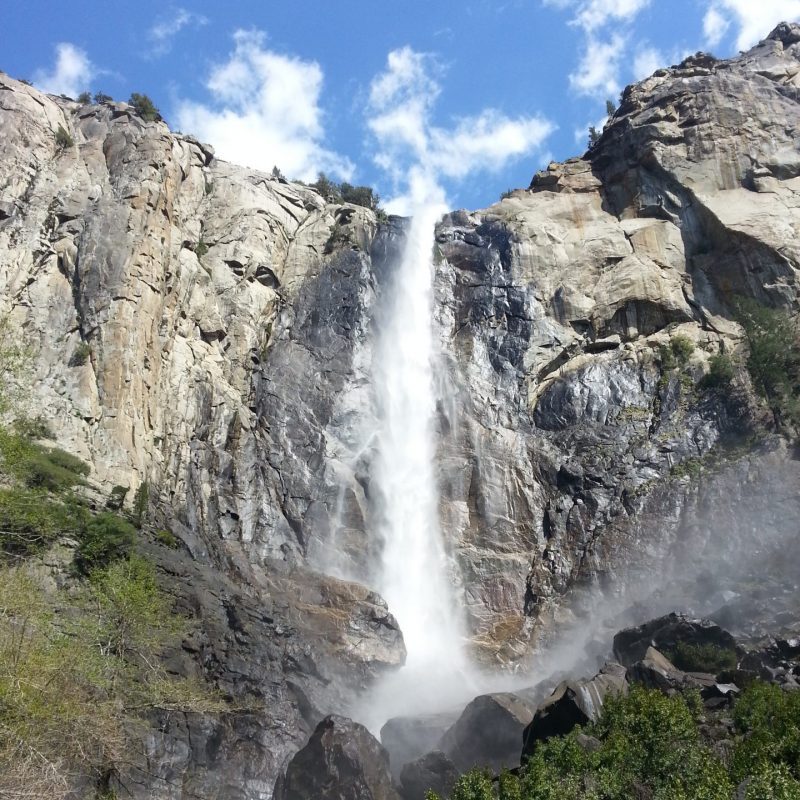 Driving into Yosemite Valley, Bridalveil Falls will be the very first waterfall you see as you enter. It is the iconic waterfall in the famous valley images taken in Yosemite National Park. The amount of water in the fall is affected by the seasons, and it is still flowing in late August.
If you want to take a closer look, Bridalveil Falls is easily accessible with a short walk. The 0.5 miles round trip trail is perfect for young children or those with less able family members. From the car park, it is an enjoyable walk leading to the Bridalveil Falls with a great view of beautiful scenery along the journey.
We enjoyed the sight of the water falling from the top of the falls. The wind was blowing fairly, we can even feel the mist, and the observation area was covered in heavy water spray. Stunning and magnificent at every second!
Yosemite Falls
The Yosemite Valley is unrivaled in its natural beauties, especially the amazing waterfalls. There are several falls to visit in the National Park with some easier to get to than others. Yosemite Falls is an easier one to find in the park. This mighty Yosemite falls is one of the main attractions for visitors to the Yosemite National Park. Standing at over 2,400 feet (700 meters) with water drop down, Yosemite Fall is proud to be the tallest waterfall in North America and the highest waterfall in the Yosemite National Park.
Yosemite Falls are near the Valley Visitor Center which makes it easy to access either by car or the free shuttle (Stop 6) that runs through the park every 10-20 minutes. Going before 11 AM will allow you to enjoy most of it without having to deal as much with crowds and get a better setup for your pictures.
Our visit to Yosemite Falls was brief and we only hiked to the viewing area of the lower falls which was great. There is a very easy paved walk to a viewpoint to see the falls up close and personal.
Yosemite Travel Tips: In the spring season, the waterfall is at its peak. And you will only see water in Yosemite Falls between November and July. If you are lucky, you can see the rainbow at the Viewing Point at Lower Falls earlier in the morning.
Hiking Trails in Yosemite Falls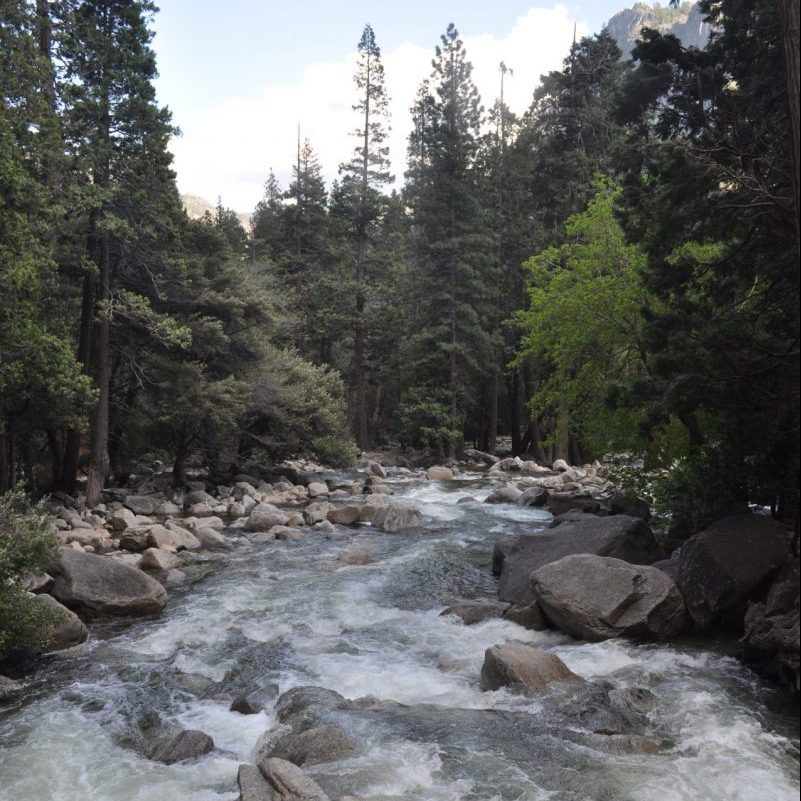 Yosemite Falls consists of three separate waterfalls of varying heights. Only the upper level and lower level can be accessed via trails in the park with varying levels of difficulty.
If you prefer a longer and more strenuous hike, you can hike a strenuous 6-8 hours at 7 miles (11 km) round trip trail to Upper Yosemite Falls. The Yosemite Falls Trail can be taken all the way up to the top of the falls and allows you to see the top of the falls. Gorgeous hike with incredible views with a creek that feeds into it along with being able to overlook the valley.
Alternatively, you can opt for an easy 1-mile (1.6 km) hike which is on a paved road to the bottom of Lower Yosemite Falls. The Lower Yosemite Falls is accessible to people of all ages and fitness levels. It takes you up to the viewing area to see Yosemite Falls.
Mirror Lake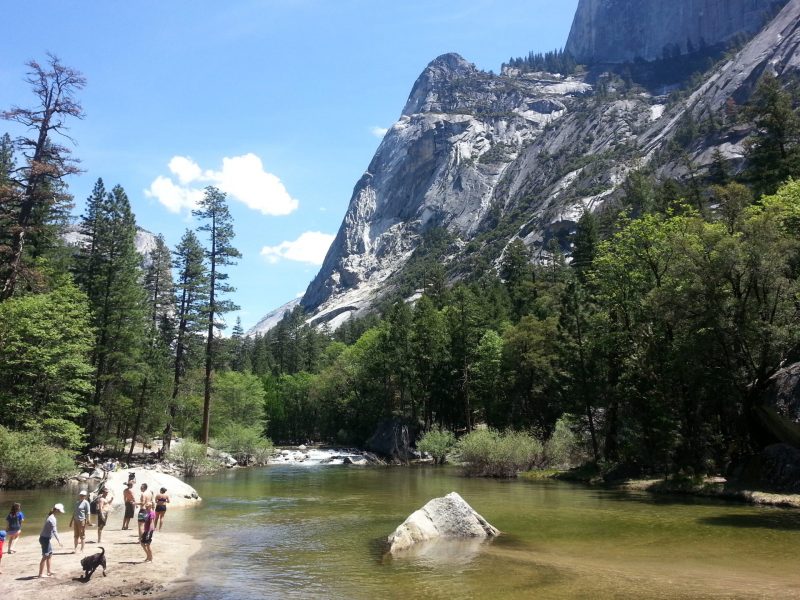 Mirror Lake, in fact just a big pool in Tenaya Creek, is one of the popular destinations in Yosemite. It is also the biggest swimming hole in Yosemite.
The pool at Mirror Lake and the view of Mt. Watkins (8,500 feet/2,600 meters), which rises above the far north end of Tenaya Canyon, are the scenic highlights. Photographers delight at the wonderful reflections you can get on the water's surface. You'll find some good reflections along the way and other excellent photo opportunities if you came here early and during the right season. And this is impossible to see a good reflection if there are a lot of people swimming or soaking their feet.
The hike is considered easy to the moderate, mostly paved road, to see the Mirror Lake. The reflection upon the water is truly worth the short hike. A 2.4 miles (3.8 km) round trip from the trailhead will lead you to Mirror Lake.
Yosemite Travel Tip: Mirror Lake is a seasonal lake and only appears when the snowmelt, and slowly disappear after June. It will become Mirror Meadow if you're there in the summer or fall.
Other Notable Yosemite Attractions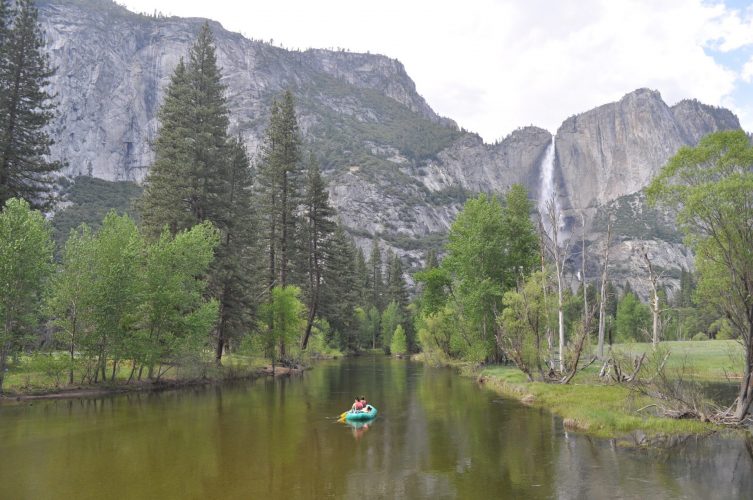 There are several fantastic photography spots with several viewpoints along the Yosemite National Park that are worth making time to see when spending time in Yosemite. You can pull the car over as often as you like to enjoy the beauty of this National Park.
Apart from the popular attractions in Yosemite, there are still some notable stops including Sentinel Bridge, Sentinel Beach, Swinging Bridge, and Valley View. The Valley View is the place where you can see the most beautiful picture of the Merced River Valley (the Yosemite Valley), and the entire Yosemite Park. Worth stopping for a fabulous view of the valley.
Mariposa Grove of Giant Sequoias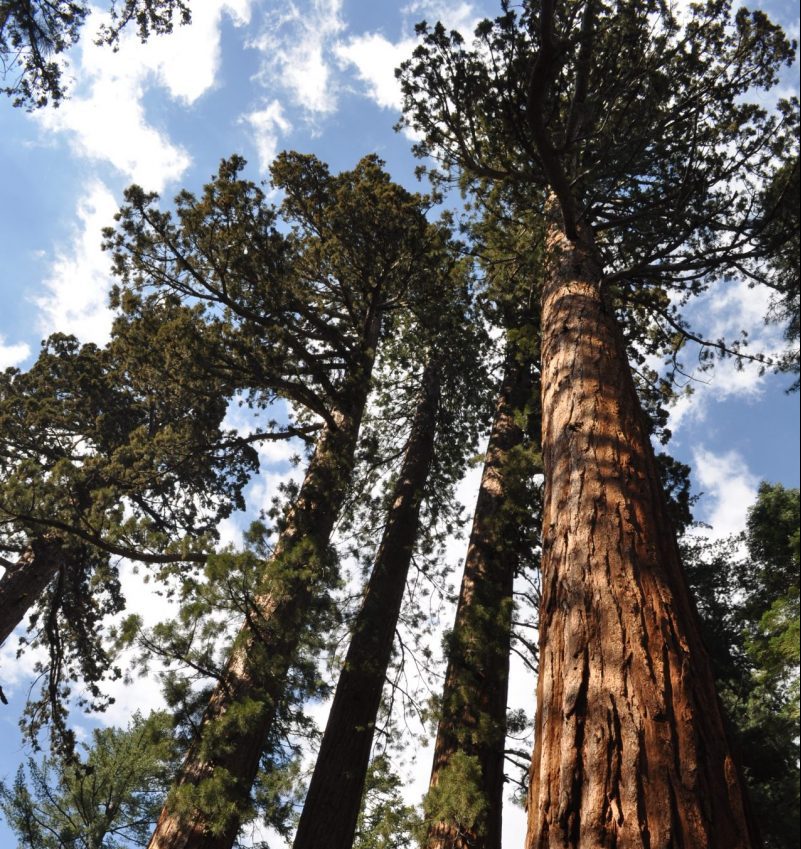 Located near Yosemite's south entrance, Mariposa Grove is the largest Sequoia grove in Yosemite with over 500 mature giant Sequoias, and is home to hundreds of wildlife. Although we visited the Sequoia and Kings Canyon National Park before, it is still worth spending some time to see the gigantic Sequoia Trees.
Hiking Trails in Mariposa Grove of Giant Sequoias:
Big Trees Loop: 0.3 miles (0.4 km); includes Fallen Monarch.
Grizzly Giant Loop: 2.0 miles (3.2 km); includes Fallen Monarch, Bachelor & Three Graces, Grizzly Giant, California Tunnel Tree.
Guardians Loop: 6.5 miles (10.5 km); includes Grizzly Giant Loop trees plus upper grove.
Mariposa Grove Trail: 7.0 miles (11.3 km) round trip; includes Grizzly Giant Loop trees plus Wawona Point and portions of the upper grove.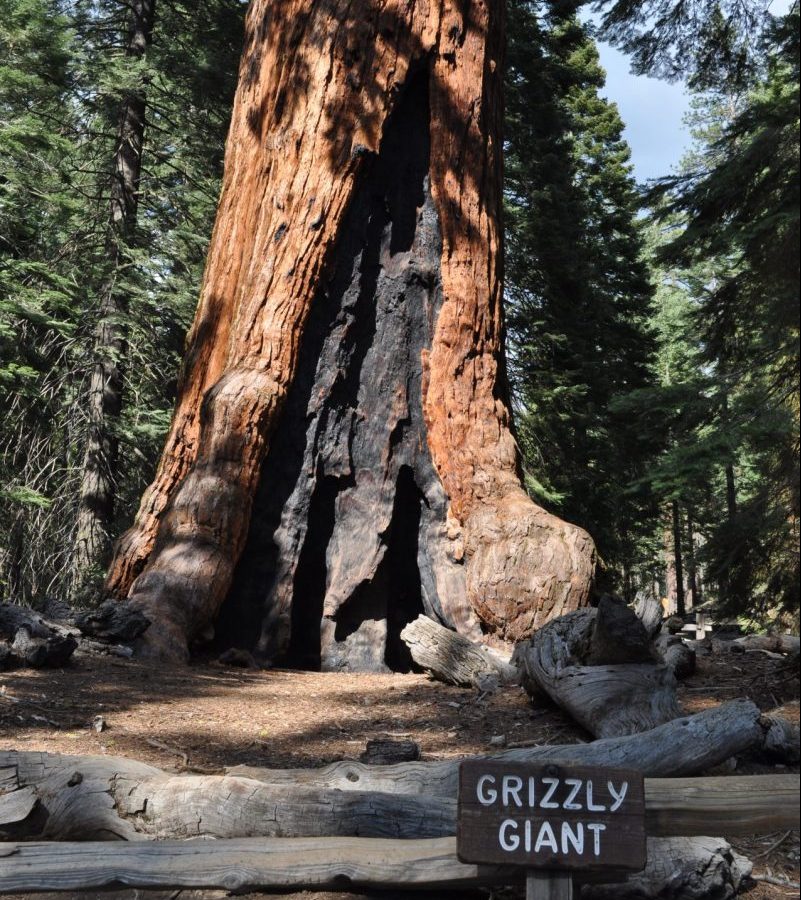 Hike the Big Trees Loop trail if short on time. But we recommended you walk for the 2 miles (3.5 km) Grizzly Giant Loop trail through the forest to see the 1,800-year-old Grizzly Giant sequoia. There are some serious rings in that tree.
The pathway through the Mariposa Grove of Giant Sequoias offers a great view of these beautiful and ancient trees. It is an easy walk with some uphill and mostly in the shaded. We enjoyed our time along the trail to view The Bachelor and Three Graces and The California Tunnel Tree. It is impressive to see these old and majestic trees. Beautiful Sequoias and accessible to all ages. One of the must-see on your visit to Yosemite National Park.
Getting There: The trailhead is two miles (3.2 km) from Yosemite's south entrance.
Yosemite Travel Tips: Be ready to do a bit of driving to Mariposa Grove as it is located on the outskirt of the National Park.
Yosemite's Sequoias Tree Gloves:
Besides the Mariposa Grove, there are another two Sequoias Tree Gloves that you can walk among Yosemite's Sequoias. You can check if this is best to put into your Yosemite itinerary.
Tuolumne Grove – 2.5 miles (4 km) round trip. Located at the joining of Tioga Pass Road and Big Oak Flat Road. The entire Tuolumne Grove trail is downhill with 400 feet (120 meters), and also means a sharp ascent back to the car park. It is home to a couple of dozen mature Giant Sequoias, including one that had a tunnel cut through its base so you can walk through underneath.
Getting There: From Yosemite Valley, take highway 120 ten miles (16.8 km) to the Crane Flat/Tioga Road turnoff, then take Tioga Road half a mile (0.8 km) east to the Tuolumne Grove parking lot. From Yosemite's east entrance at Tioga Pass, take the Tioga Road west 47 miles (75 km) to the lot.
Merced Grove – 3 miles (4.8 km) round trip. The smallest Sequoia grove is located further up Big Oak Flat Road on the way in or out of Yosemite. It is the smallest of Yosemite's three Giant Sequoia groves compare with others with only about 20 Giant Sequoias.
Getting there: The Merced Grove trailhead is off Highway 120 north of Yosemite Valley. From the valley, take 120 north 13.5 miles (21 km) to the well-marked trailhead, which will be on your left.
Yosemite Itinerary – Day 3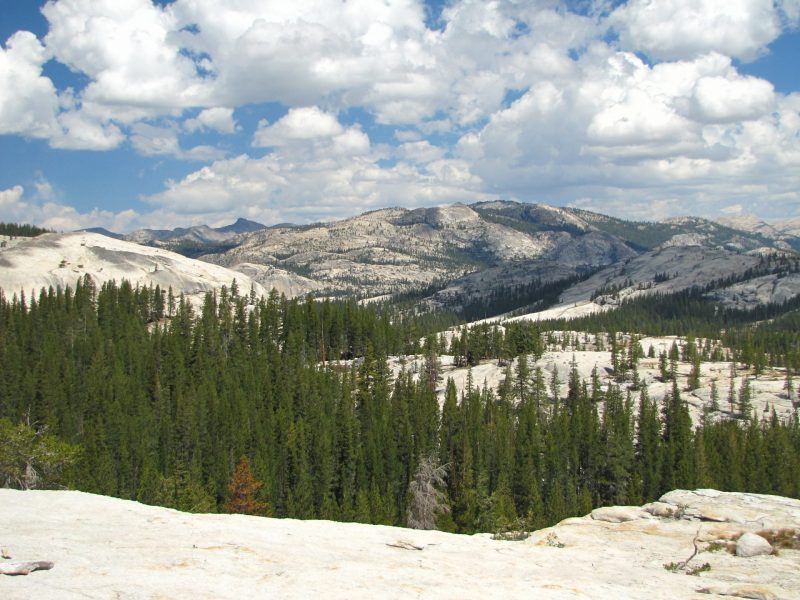 On our last day of the Yosemite itinerary, we spend most of our time in the quieter areas of the park and drive up along the Tioga Pass Road. It was a scenic drive and we stopped by some of the attractions along the journey. We spent about 6-7 hours making the drive. Some stops were pull-offs for pictures, while some like Olmsted Point, Tuolumne Meadows, and Tenaya Lake were stops for about an hour.
At the end of the day, we left the park at the Tioga Pass and drove along the narrow winding road to Lee Vining Canyon.
Yosemite Itinerary Day 3:
Scenic drive along the Tioga Pass Road.
Olmsted Point, Tenaya Lake, and Tuolumne Meadows. (2 – 3 hours)
A short hike at Lembert Dome. (1 hour)
Goodbye to Yosemite.
Again, Tioga Pass Road is only open from May to October. You will not be able to cross the Sierra Nevada on this road between November and April.
Enjoy the stunning view!
Tioga Pass Road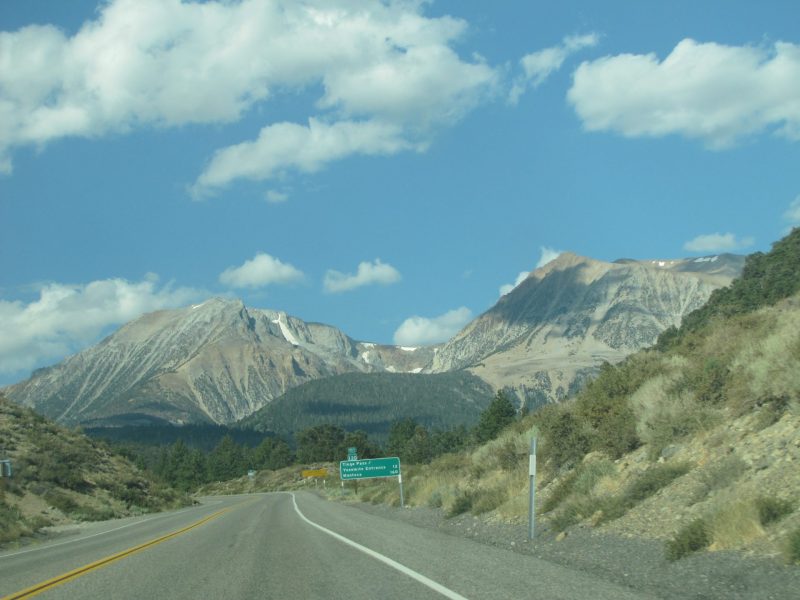 The amazing Tioga Pass Road is a fantastic place for the third day of the Yosemite itinerary if you have spare time. Known as CA Highway 120, Tioga Pass Road is a very great drive with a beautiful view of mountains, valleys, and Half Dome. It is only open from late May to late November depending on the year.
There are places to pull over along Tioga Road with numerous vista points in order to enjoy the scenery. We stopped a lot along the drive and took some short hikes as well.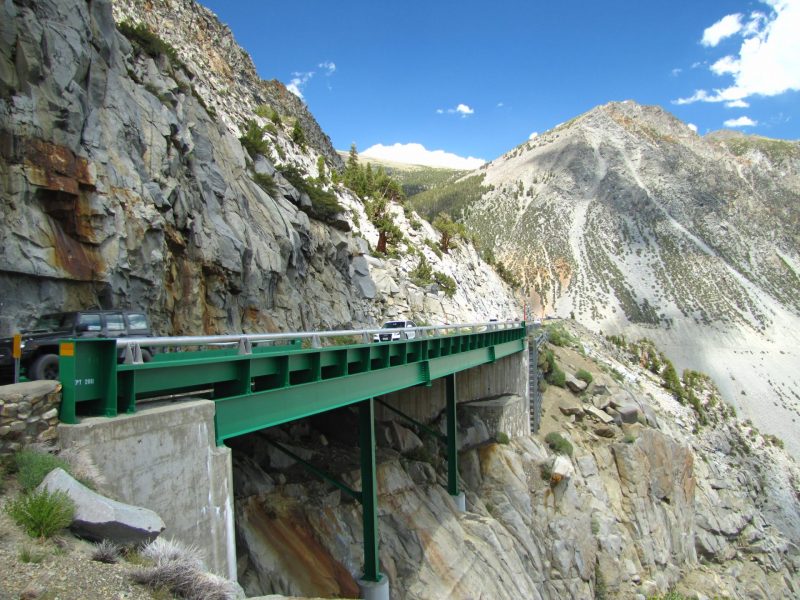 Some of the drive as you get closer into the Valley (north of it) can be narrow and high at times. There are no guard rails along most of the drive.
Be good on gas and carry food and water if you plan to put the Tioga Pass Road on your Yosemite itinerary.
Olmsted Point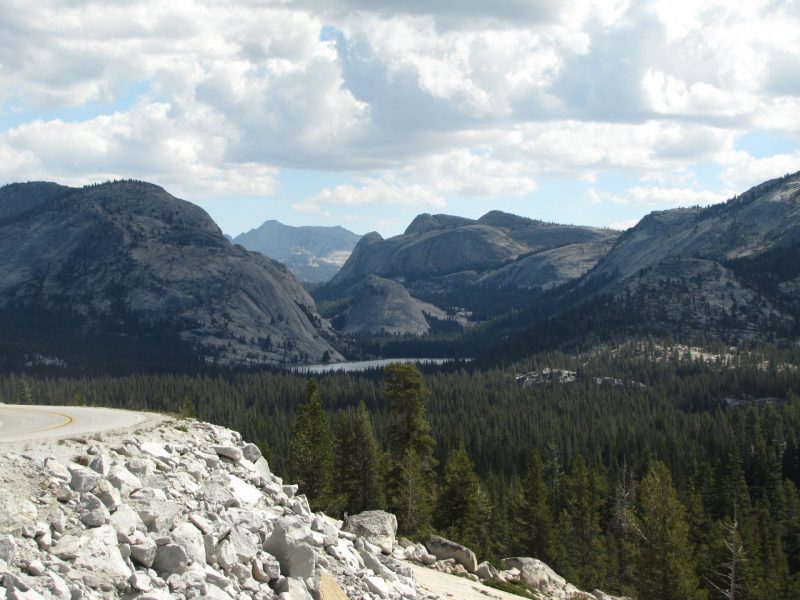 Our first quick stop was at Olmsted Point on our drive from the Yosemite valley out to Tuolumne meadows. This is a great stopping point, and you get another view of Half Dome.
Climb the granite rock and get even a better perspective as you look down on the Valley. There are also a few trails, including a short and easy one that allows for a more unobstructed view of Half Dome. A nice stop.
Tenaya Lake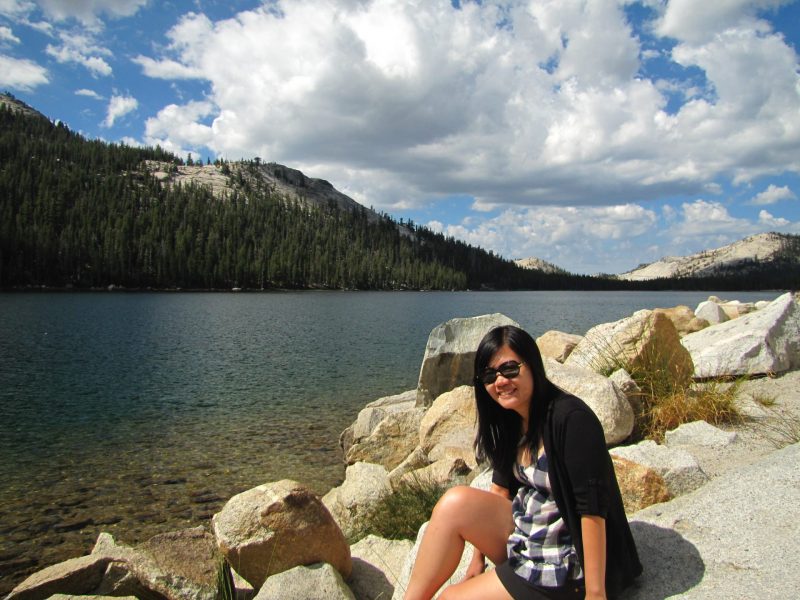 Tenaya Lake is beautiful beyond words! The water is crystal clear and extremely spectacular, with reflections of the surrounding granite domes in the calm water. We walk through ankle-deep water and dip our feet in the frigid water while enjoying the view. It was also a great picnic stop, and a perfect place to canoe, kayak, or paddleboard.
A nice place to spend some time while we drove the Tioga Road.
Lembert Dome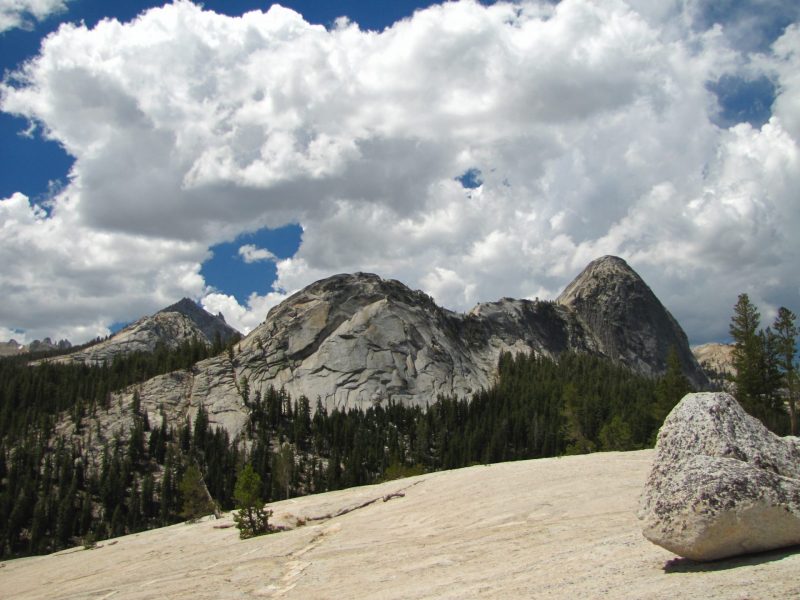 Apart from the wonderful drive along Tioga Road which is worthwhile in itself, Lembert Dome offers a chance to walk up a dome without too strenuous a hike. This is quite a steep and high hike, which involves some steep uphill pitches. Be careful hiking up and down the dome and good shoes to tackle the last hundred yards to the top.
We didn't go to the top as had other plans that day but walked around the front face of the dome for the fun of it.
Tuolumne Meadows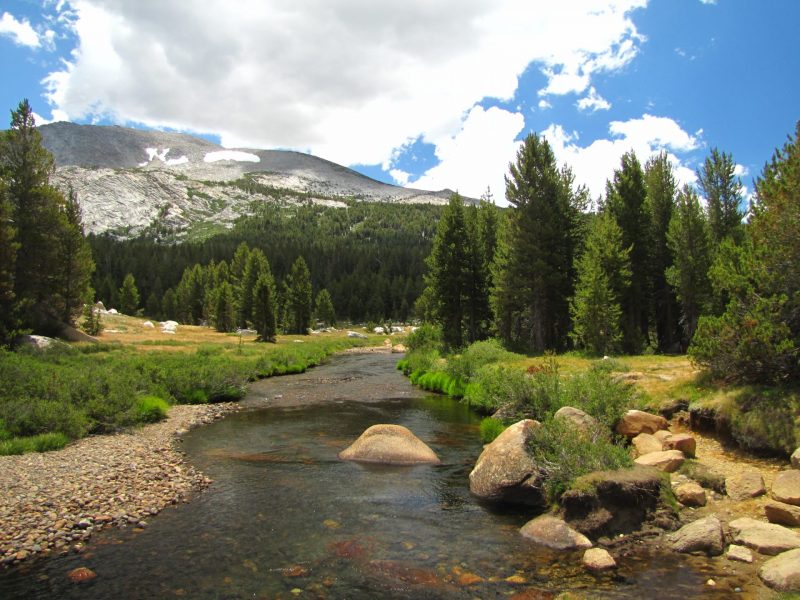 Another worth stopping by along the Tioga Pass Road is the Tuolumne Meadows. The meadow is gorgeous, with a beautiful blend of meadows, rivers, forests, and rock. Following the river, we walked through the green Tuolumne Meadows with a backdrop of granite mountains in the distance. The reflections of the mountains in the stream that flows through the meadows are just beautiful.
Peaceful and lovely. This area is worth an extended visit along Toga Pass Road.
How Many Days For Yosemite
Yosemite National Park is huge and can easily spend an entire week here and not get bored. Here is our opinion on how many days for Yosemite.
1 Day in Yosemite – A day trip to Yosemite is doable but you need to plan and start your Yosemite itinerary early and end it late. It will be very exhausted and most of the attractions are only touch and go. Best to spend most of your time in the Yosemite valley loop.
2 Days in Yosemite – While 2 days will allow you to hit most of the major sights and you are flexible to pick up a few hikes to pack into your Yosemite itinerary. You will need more time if you plan for the longer hike.
3 Days in Yosemite – We believe three days is the perfect amount of time to spend at Yosemite, considering what you can see in 3 days. The Tioga Pass Road can be considered if you have 3 days to spare and extended your visit to Mono Lake.
Where To Stay in Yosemite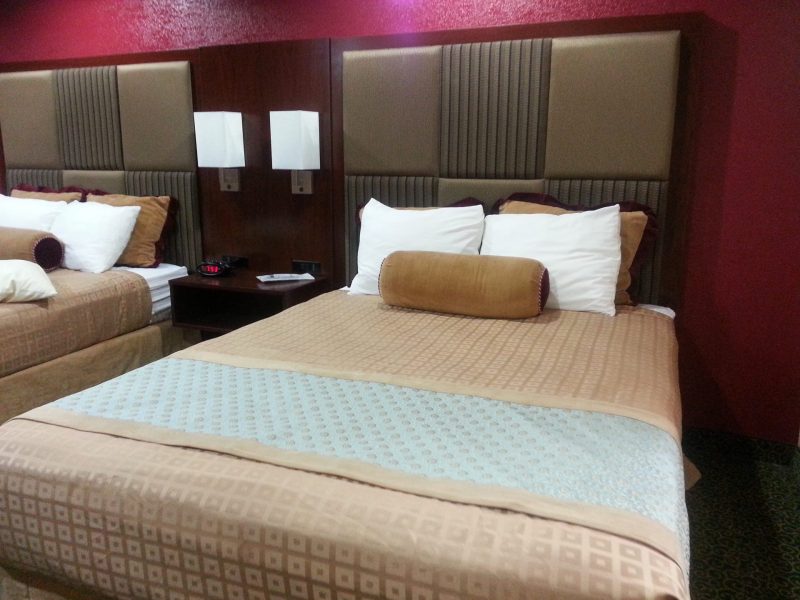 Deciding where to stay in Yosemite is a key part of planning a trip to Yosemite National Park. We've written a complete guide to the best places to stay in Yosemite National Park which we highly recommend.
The accommodations inside the park are notoriously difficult to book and very expensive. If staying in the park doesn't suit your spending plan, you will have to commute. A decent compromise between high prices in Yosemite Valley, consider looking for accommodation outsides the valley.
To save money, we stayed in Comfort Inn Yosemite Area for the first day and moved our stayed to Lee Vining for the last day before our next adventure. We can tell you how inconvenient driving in and out of the park is each day. But it will be far cheaper and easier to book compared with the accommodations inside the valley.
Yosemite Best Accommodation Inside the Park
The best place to stay, if it falls within your budget, is right in the park (ideally Yosemite Valley). It is the best way and best place to stay in Yosemite if you want to maximize your time.
The Ahwahnee (formerly Majestic Yosemite Lodge): Yosemite's only luxury hotel offers fine dining, grand architecture, and a central location in Yosemite Valle. Perfect for those who are looking for luxurious comfortable rooms.
Wawona Hotel: A historic Victorian lodge in the southern part of the park near the Mariposa Grove.
Lodge at the Falls and Curry Village are both popular in-park lodging. Yosemite Valley Lodge is more affordable and has a great location close to Yosemite Falls.
Numerous campsites in the park and booking are required.
Make sure you book far in advance as all the popular stay in Yosemite sell out extremely fast even a year ahead.
Yosemite Best Accommodation Outside the Park
Following options in places like El Portal, Groveland, and Oakhurst are also popular stays when planning for the Yosemite itinerary.
El Portal: The nearest town to the valley and the best option for day-tripping travelers to Yosemite park. The Yosemite View Lodge is very popular and nicely located, close to the Yosemite park with a 10min drive. Some rooms are featuring with a nice view of the mountains and the rivers. The 2-star Cedar Lodge is a slightly budget option, within 30 minutes drive and you can arrive in Yosemite.
Groveland: Yosemite Westgate Lodge is 19 km from the west gate entrance of Yosemite National Park. Well-maintained and a very nice place to sleep when spending long days in Yosemite. Else, Rush Creek Lodge is another good choice and Yosemite's Highway 120 West entrance is 0.8 km away.
Oakhurst: Slightly away from Yosemite with a 60 to 90 minutes drive from the Yosemite valley, but you can find many decent and good hotels in this area. The popular picks among the travelers are Best Western Plus Yosemite Gateway Inn, Comfort Inn Yosemite Area, and the Sierra Sky Ranch, Ascend Hotel Collection.
The popular hotels in El Portal are extremely popular. It is best to reserve your room once your Yosemite itinerary is planned. Look for a hotel with free cancellation possible and amend it in case of any changes.
Wrap Up: My 3-Days Yosemite Itinerary
Nature is on a grand scale in Yosemite. The panorama views of valleys, stunning waterfalls, and famous granite rock formations really take your breath away. For sure the park has something for everyone, from a natural lover, hiker, rock climbers, or even you're just planning to drive through Yosemite valley for a scenic drive on your visit.
The amazing Yosemite exceeded our expectations and you can't go wrong by spending your holiday here. It is a paradise for the nature lover with amazing views, and a good chance to take in all the local flora and fauna.
Different seasons and times offer their uniqueness for each iconic part of the national park. Truly amazing and pictures cannot do it justice! You can come back to re-visit every vista point and enjoy this spectacular place.
We saw a lot in three days but still want to spend time here. Hope we'll come back for another visit!
Yosemite FAQ
Here is the common question when travelers plan for the Yosemite Itinerary:
How Many Days is enough for Yosemite?
At least two days! Two days in Yosemite allows you to hit most of the major sights and you are flexible to pick up a few hikes to pack into your Yosemite itinerary. You will need an additional day to plan for a great hike in the valley.
Can Yosemite be a day trip?
A day trip to Yosemite is doable but it will be very exhausting and action-packed for your trip. And we recommended focusing on the attractions in the valley.
What should I not miss in Yosemite?
We highly recommend incorporating these beautiful spots into your Yosemite itinerary, including Glacier Point, Half Dome, El Capitan, the famous three waterfalls in Yosemite, and Tunnel View in Yosemite Valley.
Is Yosemite Worth Visiting?
Yes, Yosemite is definitely a must-see and should be on the list when planning your USA itinerary.