Last updated on September 23rd, 2023
Don't miss to visit this most beautiful hot spring attraction in Beppu, Umi Jigoku. The real power of nature and tranquility with boiling turquoise blue color hot spring pond with spewing out lots of steam. Truly amazing!
Beppu is famous as a hot spring resort town in Oita prefecture, Kyushu. Many travelers are coming to enjoy its onsen bath. Besides, it has several spectacular and unique hot springs for viewing. Locals called this viewing hot spring as "hells" (地獄, Jigoku) in Beppu. There are 8 steaming hot springs and each is unique in color and composition.
Due to limited time, we only visited Chinoike-Jigoku and Umi Jigoku as part of our Beppu itinerary. Below is our travel blog to Umi Jigoku to view on its amazing cobalt blue color hot spring pond. A must-see attraction in Beppu.
Umi Jigoku (海地獄 Sea Hell)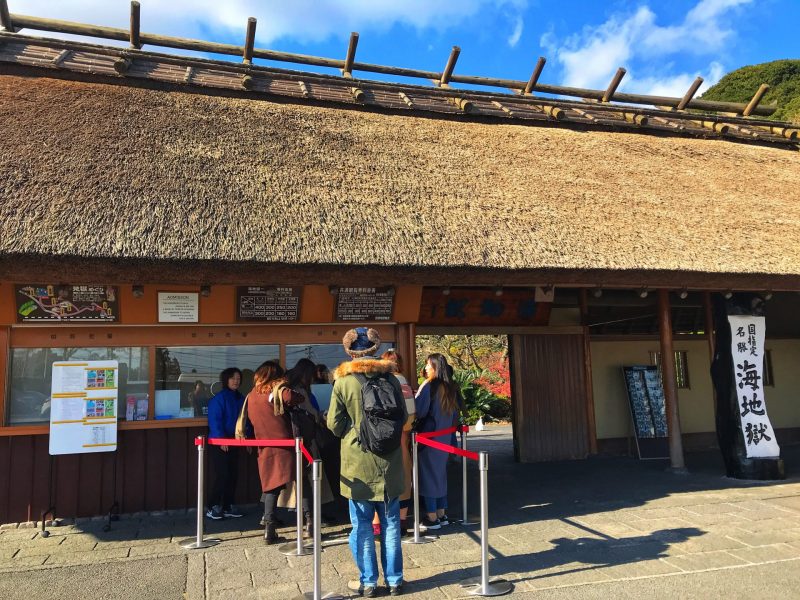 The Umi Jigoku is located in the Kannawa district. There are also other five different Jigoku located nearby. Among them, Umi Jigoku (海地獄 Sea Hell) undoubtedly the most sophisticated one of all seven Hells. It is a very special and spectacular attraction in Beppu.
From Umijigoku-mae stop, walked across the street to the entrance. Well marked sight will guide you to the entrance.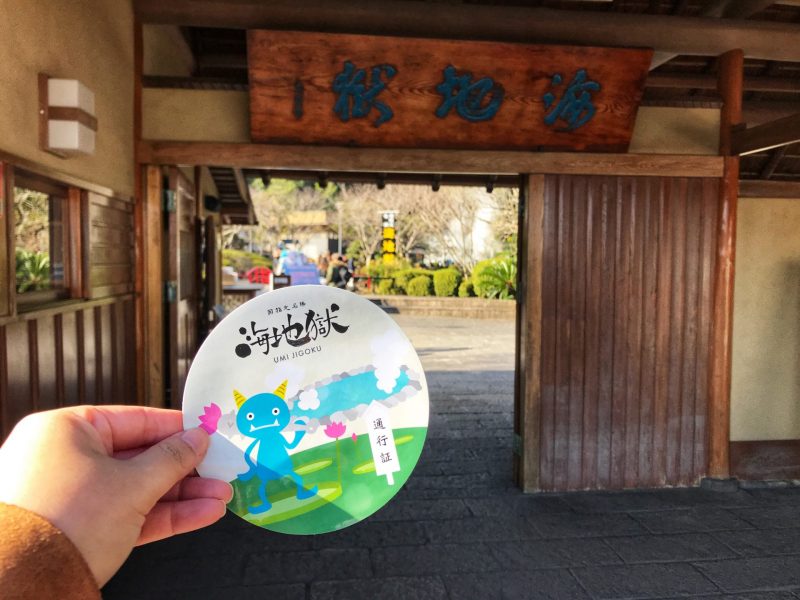 The entrance fee cost ¥400 per adult. If you are planning to visit at least 5 Jigoku, consider getting the Jigoku Onsen Ticket to access all the Jigoku entrance at ¥2,000.
We paid for the single entrance to Umi Jigoku. A nice design of the entrance ticket.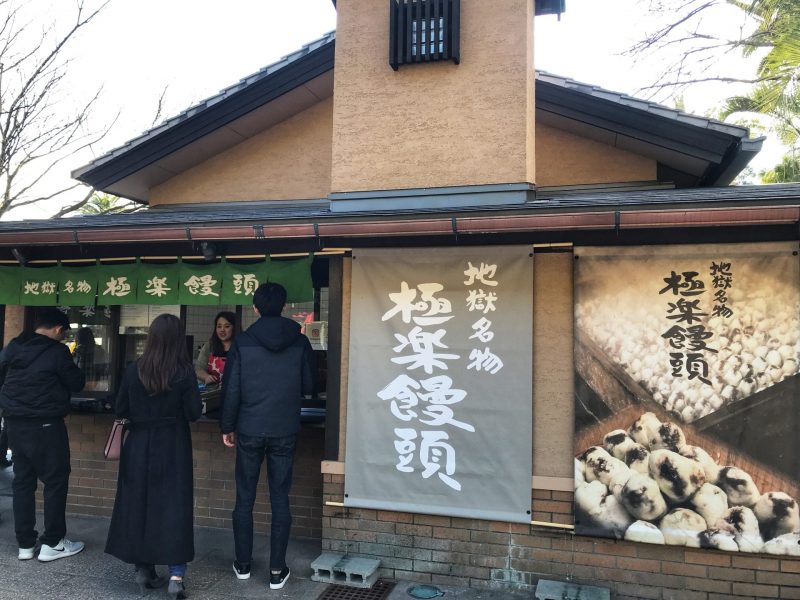 Once entered, there is a shop selling one of the famous food in Beppu. The hot spring steam Manju (Japanese bun) was particularly popular among visitors.
Serene Japanese Garden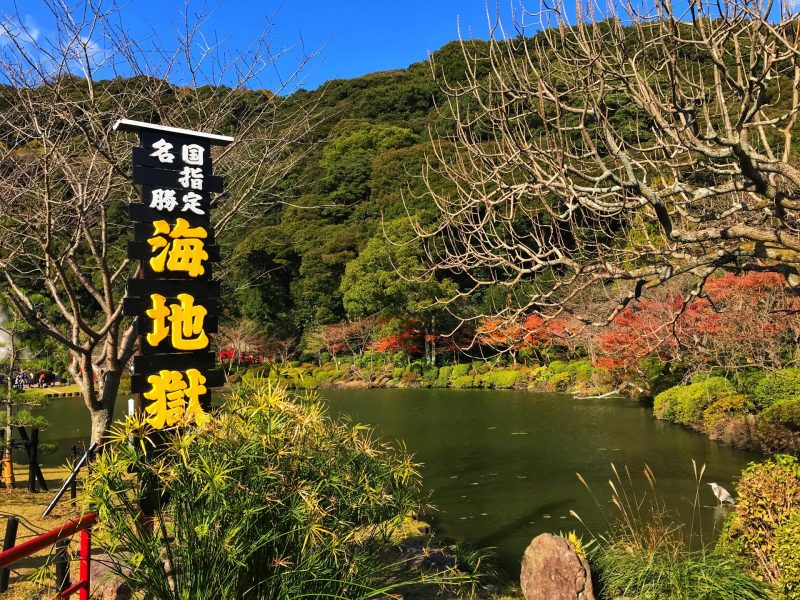 Follow the instruction and pass through the entrance gate to enter the Umi Jigoku Park. The Umi-Jigoku (海地獄 Sea Hell) is a national scenic spot appointed by Japan government.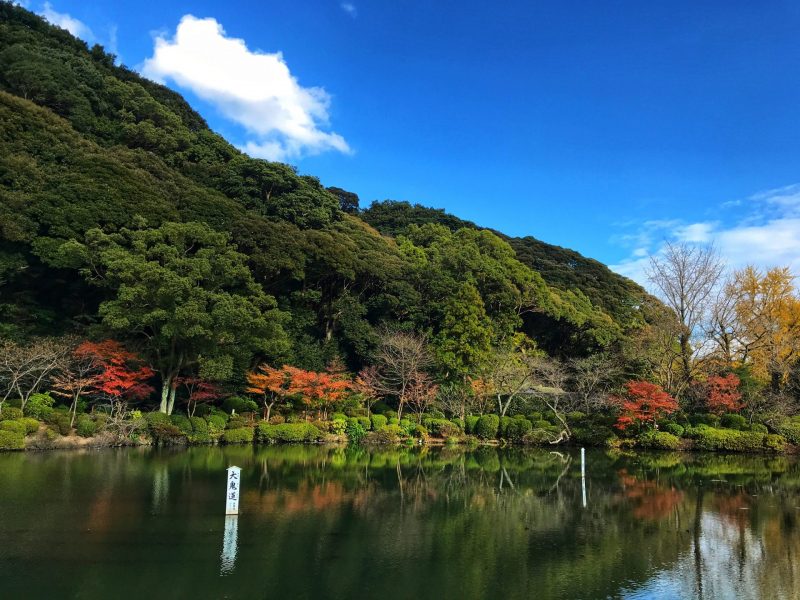 There is a beautiful Japanese garden in the park. The landscape is beautiful with a fish pond and beautiful decorated garden. It was a nice walk around the park. Very beautiful and serene.
Umi-Jigoku: Boiling Blue Color Hot Spring Pond
Follow the path and pass through the souvenir shop, we finally meet this must-visit attraction in Beppu. The Umi-Jigoku was created by a volcanic explosion of Tsurumidake mountain about 1200 years ago.
It is famous and for its sea-blue cobalt blue hot spring water. It contains a large amount of iron oxide in its 98 degrees high temperature.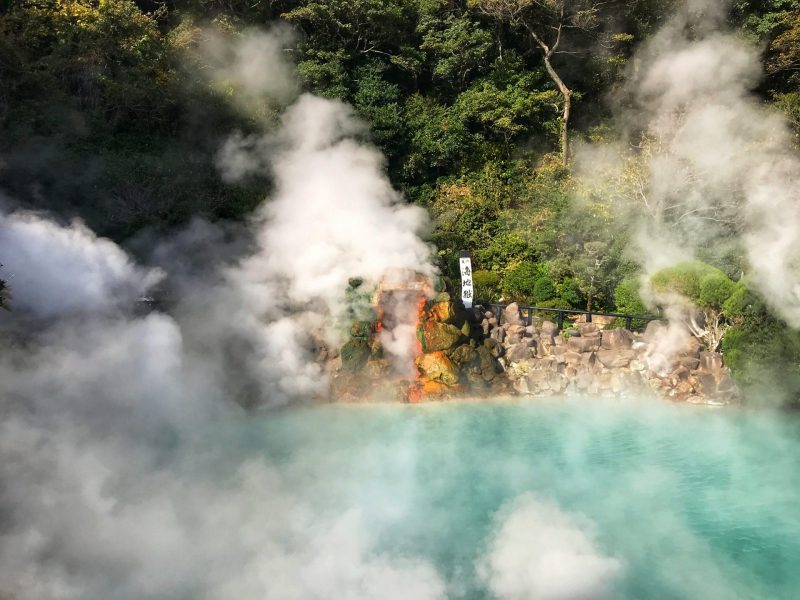 The hell itself shows a lot of activity and spectacular in its blue color. You can see the eruption with strong smoke surrounding the whole pond. The sound is constantly erupting and sometimes the blue color surface is not visible. When the smoke get blow away, it was truly amazing when seeing the turquoise steaming blue color hot spring in front of you.
The blue color pond make a decent photo. We took countless photos in front of the blue color pond.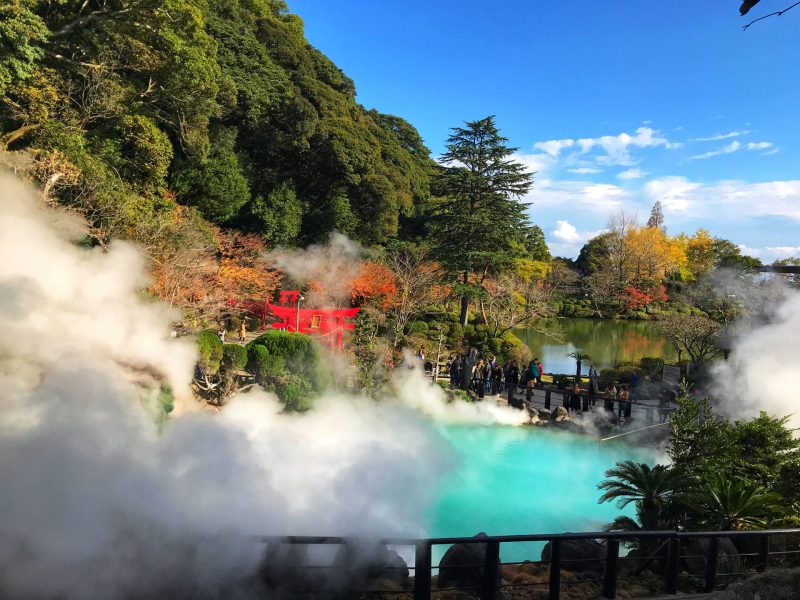 There is a path surrounded the hot spring pool where you can look into the blue color pond from a different angle. the real power of nature and tranquility. The hot spring steam and sulfur smell make an unforgettable experience in Umi-Jigoku.
We walked to take a beautiful view on Umi Jigoku with a red torii gate beside. Such a magnificent view.
Souvenir Shop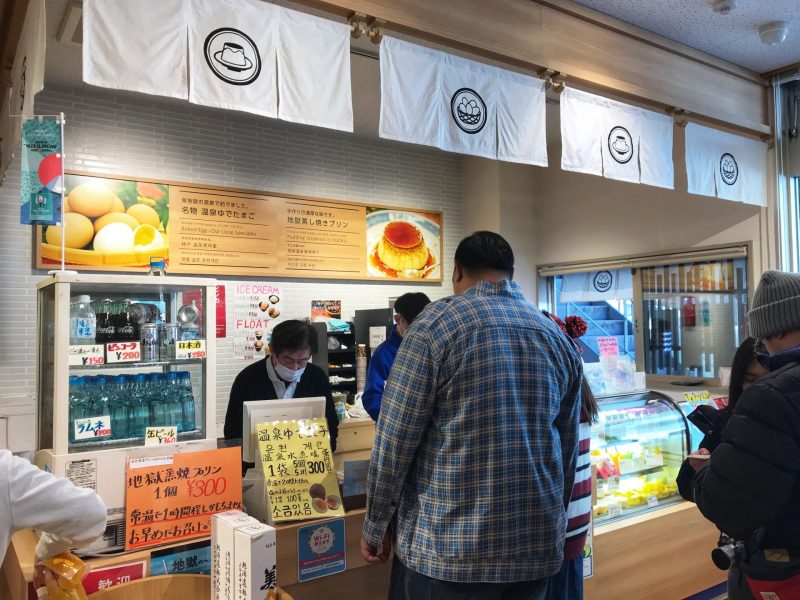 After viewing on the blue hot spring pond, we walked back to the souvenirs shop to get some snacks. It is a huge local specialty store where you can buy all kinds of souvenirs. The entire shop has been refurbished. It is very spacious, comfortable and easy to visit.
There are snack counter selling various local products from Oita. The Hell Steamed Pudding is one of the popular snacks in Beppu. The pudding is steamed by using hot spring directly from the ground. Worth to try if you never taste on it before. We skipped this as we planned to try this signature snack later.
Besides, there is an exhibition which displays on the history of Umi Jigoku in the adjacent building. Consider taking a quick visit if you want to know in more detail.
Hot Spring Gas Emitting Green House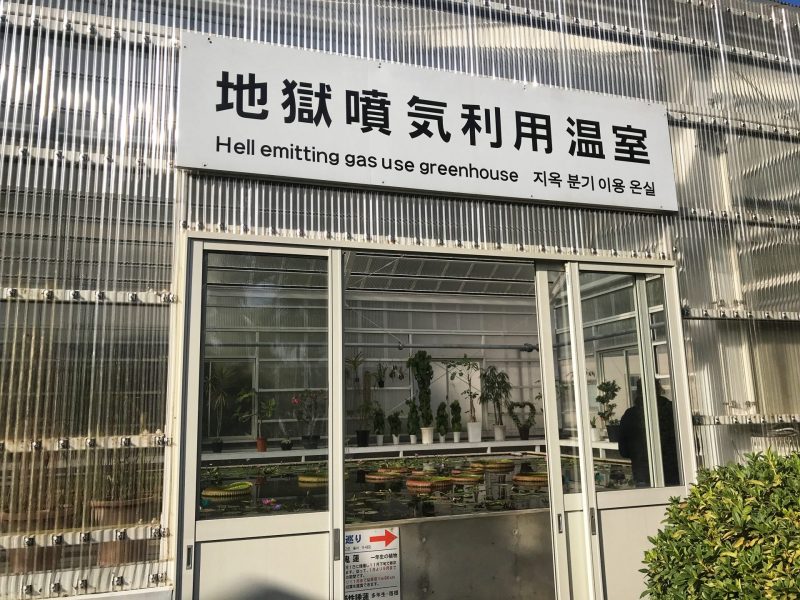 Free feel to take a quick visit to see the tropical plants planted that survive in extremely hot water heat. There is a small hot spring gas-emitting greenhouse just off the main path.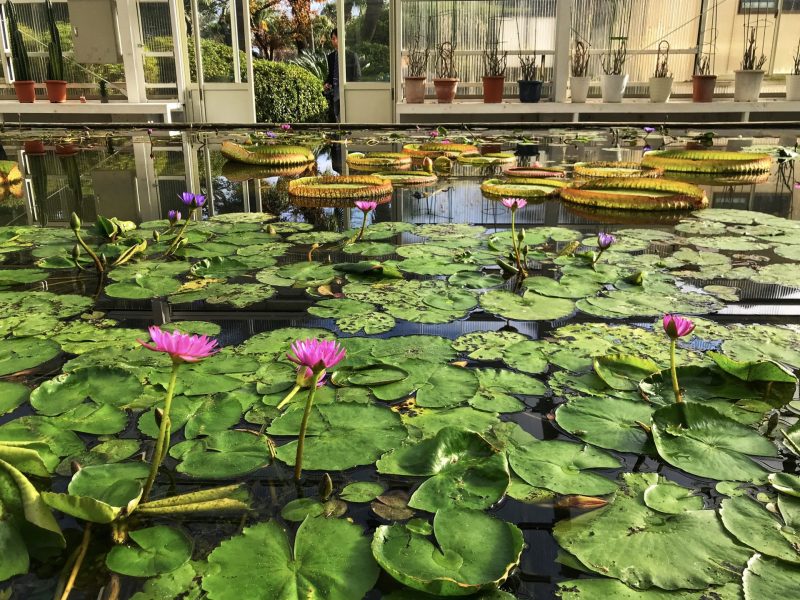 Insides, there are king lotus and colorful water lilies in the pond. The whole area of ​​tropical water lilies planted using hot spring heat. During summer, the giant big lotus can let children up to 20-kg stand on it.
Bloody Red Hot Spring Pond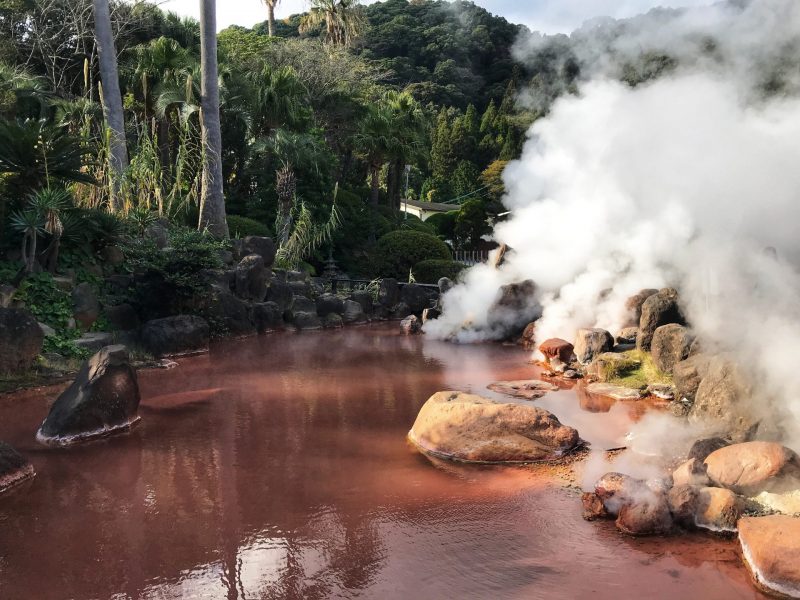 Follow the well-maintained path, a small bloody red hot spring pond next door. It contains iron oxide which makes the pond in red color. An alternative option for those who skip the visit to Chinoike-Jigoku (血の池地獄). It looks similar to the Chinoike-Jigoku with reddish color pond but much smaller.
Free Foot Bath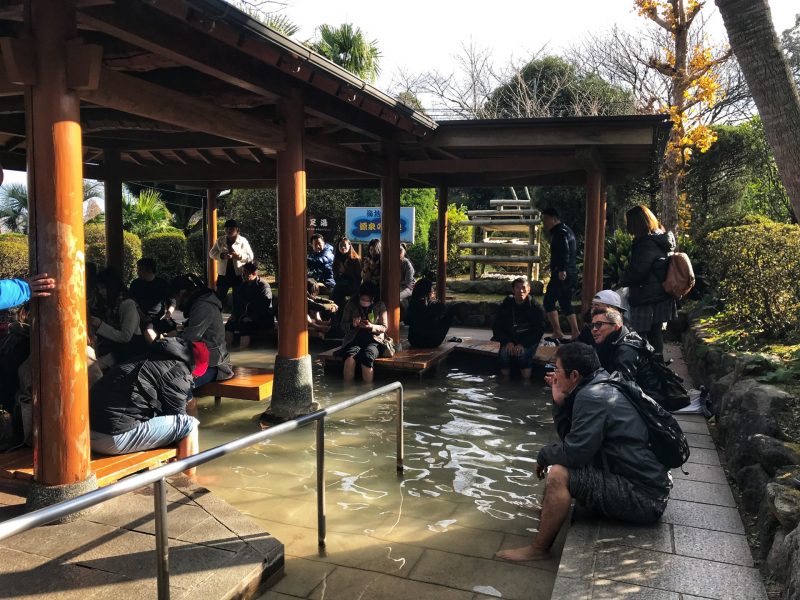 To complete your visit to Umi Jigoku, make sure to enjoy the free foot spa inside the park. The natural hot spring was cool down and flow into the designated area to let people to soak their tired feet.
The weather was cold outside. It was so refreshing to soak your feet in the warm hot spring water. So it was very crowded with lots of people enjoy their free foot soak. Remember to bring your own towel to dry your feet.
All in all, we spend about one hour inside the Umi Jigoku park. We strongly recommend spending some time visiting Umi Jigoku if you are nearby Beppu. Nicely located park with an amazing view. Worth a visit if you are never experiencing such a geothermal attraction.
Getting To Umi Jigoku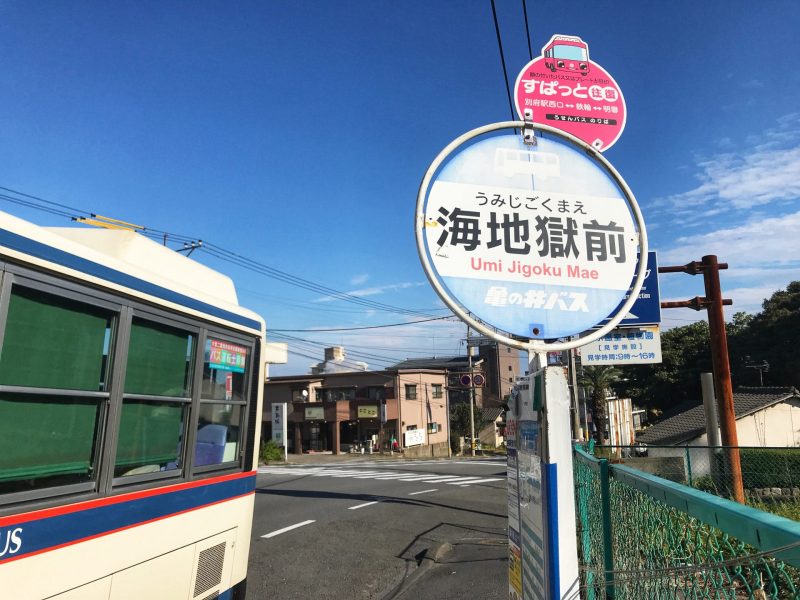 Umi Jigoku is located in the Kannawa district. It was about 20 to 30 minutes by bus from Beppu Station.
Address: 559-1 Kannawa, Beppu, Oita 874-0000, Japan
Access: From JR Beppu Station, take the bus #2, #5, #9, #24 or #41 and get off at Umijigoku-mae stop
Business hours: From 08: 00 to 17: 00
Entrance Fee: ¥400 or ¥2,000 by Jigoku Onsen Ticket (Buy from Klook)
Official website: http://www.umijigoku.co.jp
Expected spend about 30 to 60 minutes in Umi Jigoku.
Continue Read on:
This Beppu travel blog is part of our Beppu itinerary in Kyushu Japan. Don't forget to read on our visit to Beppu to know more about our travel stories. Enjoy your trip to Beppu.
Oita Prefecture: Travel blog to Yufuin and Kononoe Yume Otsurihashi
Related Kyushu and Fukuoka travel blog: How To Plan Your Kyushu Itinerary: Ultimate Guide