Last updated on September 23rd, 2023
Below is my experience for Kurokawa onsen travel guide including transportation, things to do, food to eat if you are looking for any information to get there.
Kurokawa Onsen is one of the popular hot springs in Kyushu. Located in the mountains of Kumamoto prefecture, Kurokawa onsen can be considered as the most scenic natural hot spring town, boasted with various unique onsen and ryokan.
We love onsen (hot spring) in Japan and always allocated at least one night stay to enjoy traditional ryokan whenever visit Japan. This secret gem, Kurokawa Onsen is part of our Kyushu itinerary. We were making our way and catch the highway bus to Kurokawa onsen in the early morning. It should be a tiring trip but we couldn't sleep along the bus journey. We were so excited and looking forward to this trip. Most importantly, the mountain scenery along the journey was so beautiful.
We visited Kurokawa onsen and had a wonderful ryokan stay here. This little travel guide includes transportation tips on how to get to Kurokawa onsen from different cities. Most important, the best food to eat if you are looking for what to eat in Kurokawa onsen.
Hopefully, this Kurokawa onsen travel blog can inspire you to visit here.
What's So Special?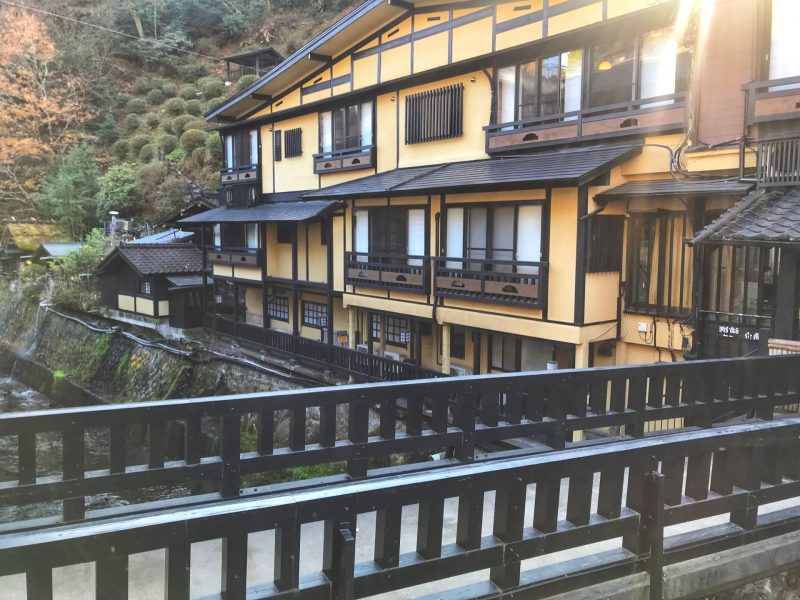 Kurokawa Onsen (黒川温泉) is centrally located at middle Kyushu, between Oita and Kumamoto prefecture. The history of Kurokawa onsen can be dated back to 300 years ago. There was only limited ryokan, probably less than 10 at the beginning. But now has a total of 24 ryokan in Kurokawa Onsen to enjoy the natural hot spring bath.
Unlike other onsen towns full of eon advertisements, Kurokawa Onsen is famous and popular with a natural atmosphere. Located in a forested valley, this is the best place to enjoy natural open air-bath (Roten buro) in traditional wooden ryokan. Its streets and alleyways are lined with beautiful old buildings. Added, various outdoor or indoor, public or private for separate or mix gender hot spring bath to choose from.
One of the special ideas in Kurokawa onsen is "Nyuto Tegata" which made with the local Oguni cedar. People can use the Nyuto Tegata (onsen hopping pass) to visit any three onsen spa in town within 6 months. It cost only ¥1,300 for the onsen hopping experience.
How To Get To Kurokawa Onsen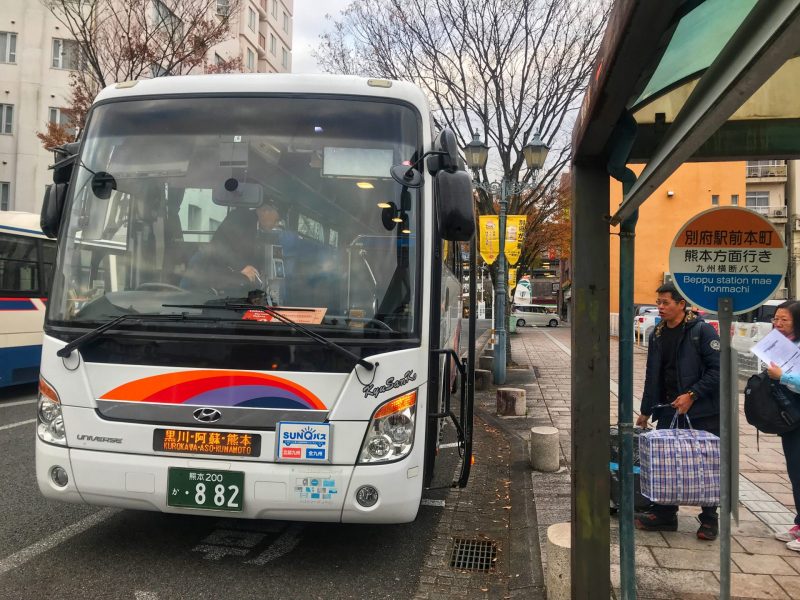 Nested in the mountain range of Kumamoto, Kurokawa onsen is not connected by railway. The only public transport to get to Kurokawa onsen is by highway bus. Travelers can get to the nearest city mentioned and board the bus to the hot spring town. There are highway bus to Kurokawa Onsen from Fukuoka, Kumamoto, Yufuin, or Beppu. All the bus ride is covered by the SunQ Pass.
From Fukuoka: Bus departs from Hakata Bus Terminal and pick up passenger at Fukuoka International Airport to the next destination. There are four departures each day with approximate three hours of traveling time. The one-way fare is ¥3,150. Reservation required for the highway bus ride in Japan.
From Kumamoto: The Kyushu Odan Bus is running between Kumamoto and Beppu. It is the same bus to Aso and Yufuin with several pick up or drop off stop along the journey. The bus fare cost ¥2,500 for about 3 hours bus ride.
From Beppu or Yufuin: It is the opposite bus route for Kyushu Odan Bus from Kumamoto. The bus ride from Beppu (180 minutes, ¥3000) and Yufuin (120 minutes, ¥2000) for one way. There are three departures each day but only the earliest/last bus will get you to Beppu station.
Generally bus schedule to Kurokawa onsen (黒川温泉) – (Kyushu Odan Bus)
Hakata Bus Terminal to Kurokawa onsen: 9:13, 10:18, 12:40, 13:40
Fukuoka International Airport to Kurokawa onsen: 9:56, 10:51, 13:23, 14:23
Kumamoto Station to Kurokawa onsen: 7:33, 8:33, 12:13
Beppu Station to Kurokawa onsen: 8:02
Yufuin Station to Kurokawa onsen: 9:00, 13:50, 14:50
Bus depart from Kurokawa onsen to:
Hakata Bus Terminal/Fukuoka International Airport: 9:30, 10:00, 14:00, 16:00
Kumamoto Station: 10:35, 15:25, 16:25
Yufuin Statio: 10:20, 11:20, 15:00
Beppu Station: 15:00
The Kyushu Odan Bus does not required for reservation. But you can also make your bus reservation online if you are worry about seat availability. Do your smart calculation and get the SunQ Pass if you are planning for a day trip. This valuable pass will cover your unlimited bus ride in Kyushu. Added, the bus schedule is correct on the time that we write on this travel post. Please double confirm on the timing when you are planning on your itinerary. (Kyushu Odan Bus)
Free feel to read at this transportation guide: How To Reserve Kyushu Odan Bus | Sanko Bus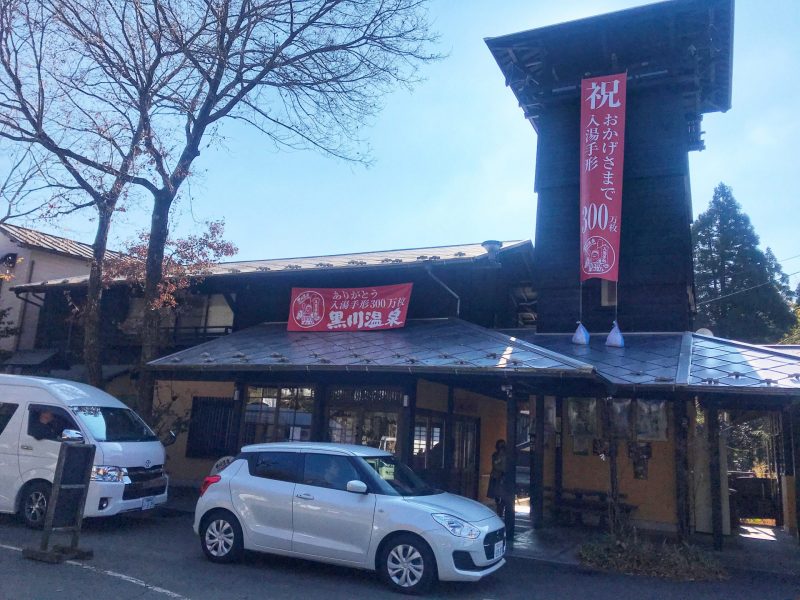 Alternative, renting a car and self-drive to Kurokawa onsen is another great transport way. There are many rental car office at Kumamoto, Beppu, Fukuoka provide the car rental service. They are a few mysterious ryokan famous for beautiful nature views that located out of the town. Self-driving is the best way to get there. Added, we recommended to compare your rental car from RentalCars.com for the best deal. High reputation with best price guarantee.
While a car is hard to access into the town due to the narrow road. It is advisable first drive to tourist information center to get the information and also purchase onsen hopping pass once you get there. There are car parking spaces beside the information center.
Getting Around in Kurokawa Onsen: Once you are in the town, everything can be easily accessed by foot. This hot spring town is very small and most of the restaurants or shops are located centrally at the busy street. There are few onsen ryokan located a few kilometers from town.
Best Time To Visit
That's is to say, it is best to enjoy onsen during winter. But, a hot spring bath is an all-year-round activities for Japanese. Most of the Japanese are visiting the public bath during weekday and go for an onsen town during the weekend. So it is not surprising that Kurokawa onsen is busy during the weekend.
Kurokawa Onsen is particularly beautiful at any time of the year and every season. Imaging, soaking at the outdoor hot spring bath with beautiful sakura at spring, surrounded with greenery at summer, mesmerized with colorful autumn leave at fall and snowy white in winter. Visit Kurokawa onsen at different seasons to see how beautiful their outdoor open-air bath.
Things To Do in Kurokawa Onsen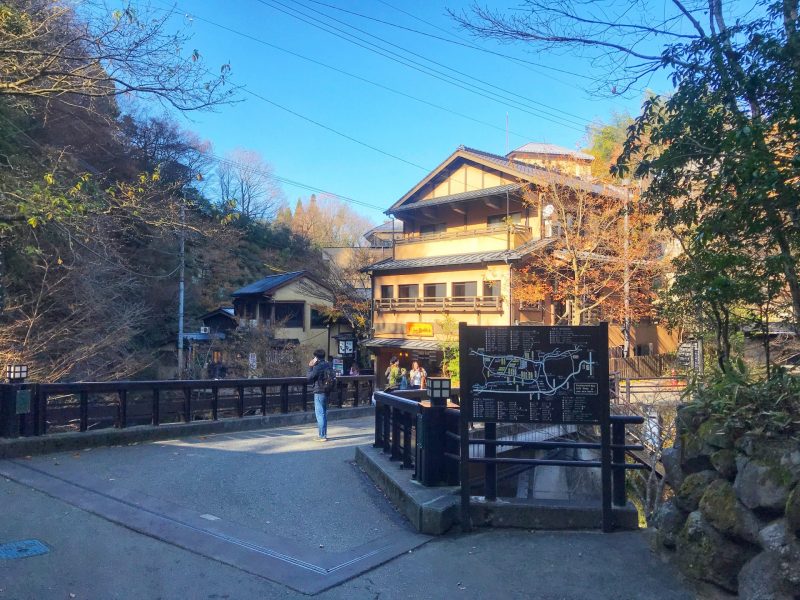 Kurokawa Onsen is a lovely town to enjoy the serenity of the place. It is relaxing and leisure to wander around and imagine what it was like in the past, during the Edo period. The town is relatively small and compact. Most of the shops are located in the narrow busy street. But you probably can finish visiting within one hour.
Next, spend your time soaking into the hot spring bath. Many people are coming here including local and foreigner. Each ryokan is unique in its way and worth to experience their authentic onsen bath. You are free to enjoy the onsen facilities on your ryokan stay. If you are shy about a public bath, some ryokan are offering a private bath for guests.
Don't miss the chance to try on various unique bath in Kurokawa onsen such as standing bath, or cave bath. We recommended getting the Nyuto Tegata (onsen hopping pass, 入湯手形) to access up to three different onsen of your choice at only ¥1,300. Just purchase the wooden pass at the tourist information center and you are on! Alternative, one onsen cost about ¥500 per access.
What to do in Kurokawa Onsen itinerary:
Spend your time soaking into the hot spring bath
Get the Onsen Hopping Pass to experience various unique bath
Wandering in Kurokawa Onsen town
Try the delicious food in Kurokawa Onsen town
Stay one night in Kurokawa Onsen traditional ryokan
List of hot spring bath in Kurokawa onsen: https://www.kurokawaonsen.or.jp/
What To Eat
Kurokawa comes alive with day-tripper during day time. Most of the visitors are cluster in the town area. There are few wonderful little shops, cafes, bakery, restaurants available if you are looking for what to eat in Kurokawa onsen. It is fun to spend some time on a short walk from the beginning until the end to look for the best food.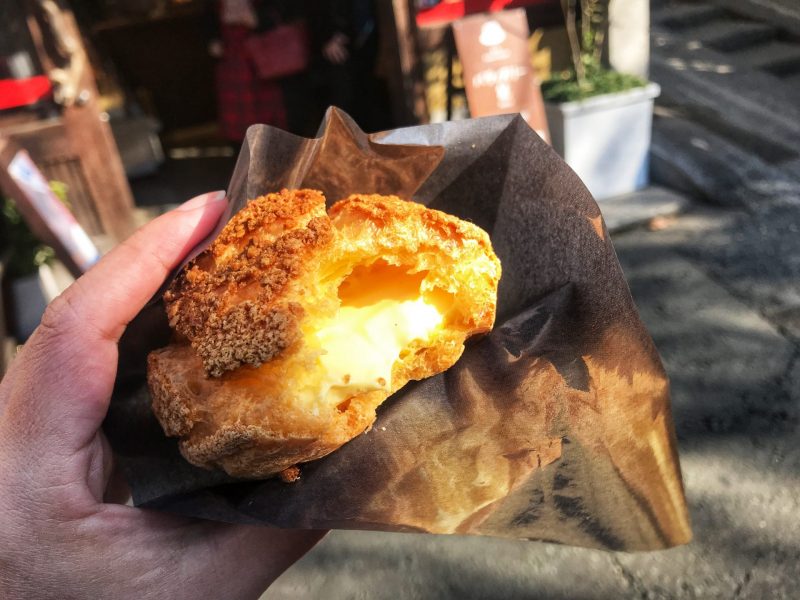 You probably won't want to miss out on the Patisserie Roku, a small dessert shop in Kurokawa Onsen. It is rated as number#1 at Tripadvisor and must eat in Kurokawa onsen. Their freshly baked choux pastry is irresistible and you can smell the aroma from far.
The crusty golden brown cream puffs are filled with the heavenly light melting custard cream once you order. It is overflowing with so much cream and you will know how true it is when you take your first bite. The taste was so damn good. One wonderful cream puff only goes for ¥220 but you will ask for more. Beware that it might be sold out in the late afternoon. You can also order coffee, cookies, and cakes at Patisserie Roku. There are no many seats inside but there have benches outside.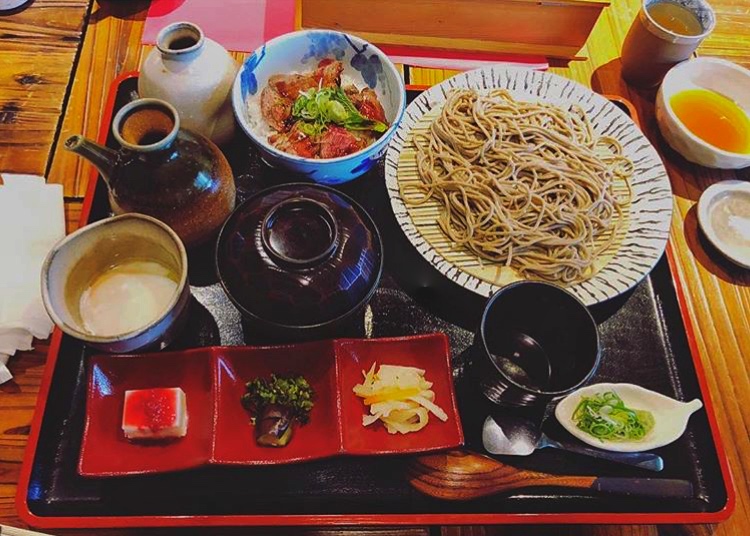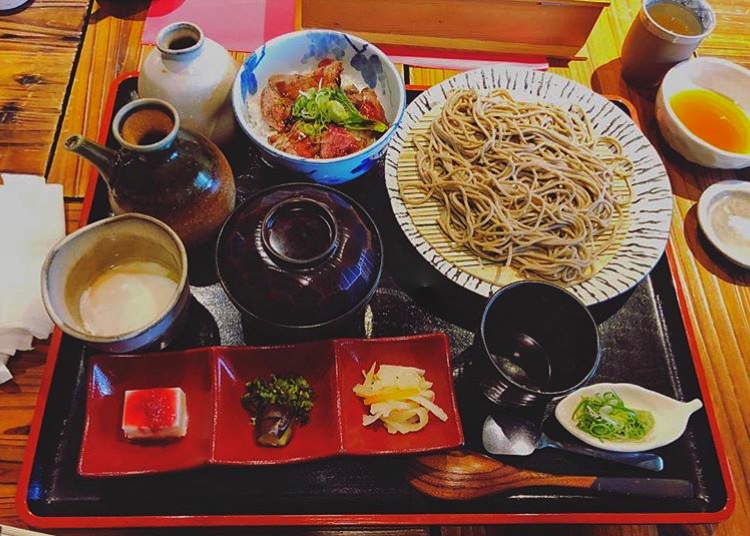 During our visit, we tried the soba with Aso beef rice from Iromomiji (彩もみぢ). They also served some other Kumamoto's specialties such as basashi and tempura. It was a lovely meal and nice to sample various items. The food is relatively good at reasonable prices. The restaurant is located far end of the town and required some walk to get there.
Alternatively, there are also many restaurants in central town and worth trying for their food. The Ufufu is a yakiniku restaurant serving chicken, beef, pork, and even pork in the grill. Reservation is required especially for dinner.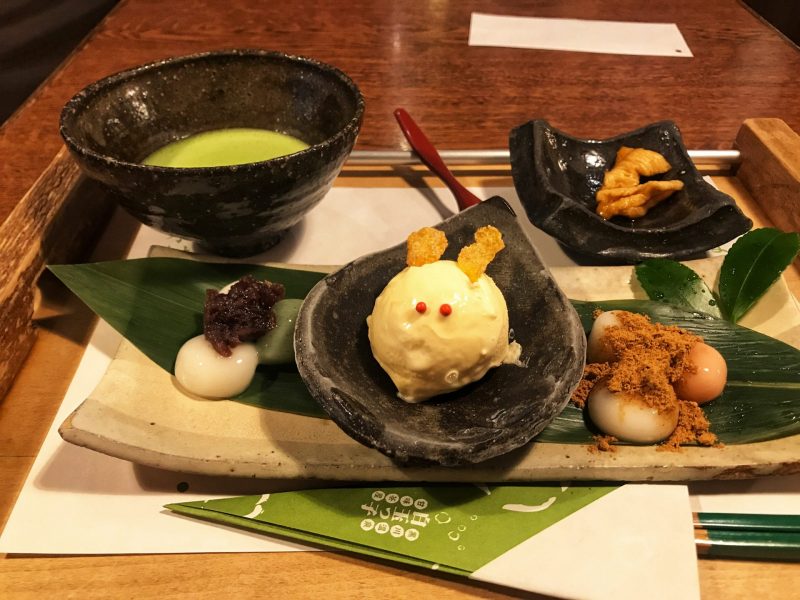 We also enjoyed our time in the dessert shop, Shiratamakko. We walked by and their beautiful matcha dishes caught our attention. The staff, probably the lady boss is so friendly and welcoming. The shops only have four or five tables and offering numbers of tea sets themed with dango and mochi type. We ordered the winter special set with Dango served in with red beans and peanut powder. Together with decorated ice-cream in the middle. Our set comes with pickles and foaming green tea. We enjoy our time and their handmade Dango tasted good.
You may also found an onsen egg (¥50) while wandering around. Feel free to get one and relaxing with a free foot bath.
However, many visitors will have their dinner and breakfast at ryokan. So mostly all the eateries are close at around 6 pm. You can have your early dinner or buy some snacks before all the restaurants close. But it is best to book your meal plan if you are staying overnight. It is amazing to have a traditional Japanese meal for your stay in ryokan.
Kurokawa Onsen Travel Tips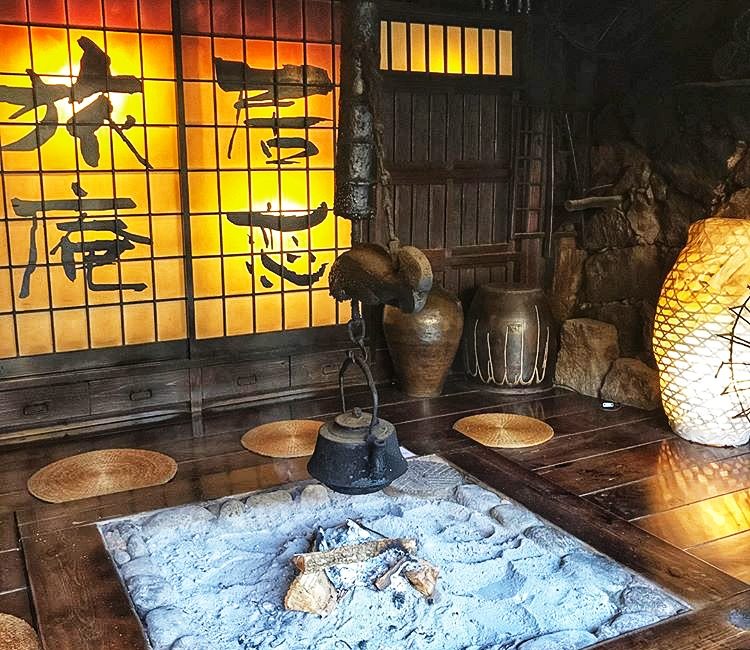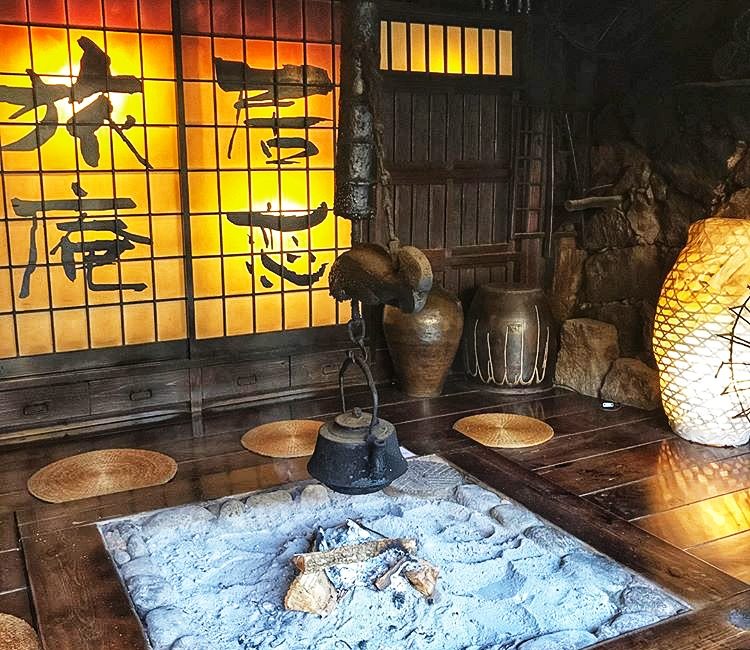 1. Get the Nyuto Tegata (onsen hopping pass)
There are many unique natural hot spring baths (outdoor and indoor) to try on in Kurokawa onsen. Although your stay already include with in house onsen bath, but it worth to explore on others onsen. Some open-air baths featured with beautiful nature views, while some are special with cave bath or standing bath.
2. Stay one night for a relaxing trip
The beautiful little hot spring town deserves more than one day to rest and unwind. Spend some time wandering around in narrow riverside streets, wearing the yukata to experience the traditional Japanese lifestyle. Kurokawa onsen has its charm especially when day tripper leave.
3. Traditional and retro ryokan
There are more than 20 ryokan available in Kurokawa onsen and most of them are wooden buildings. There are no grand, luxurious with five-star hotels here. Kurokawa onsen has its charm and express in its unique style. The whole place has a very relaxing atmosphere and perfect to unwind and get away from city life.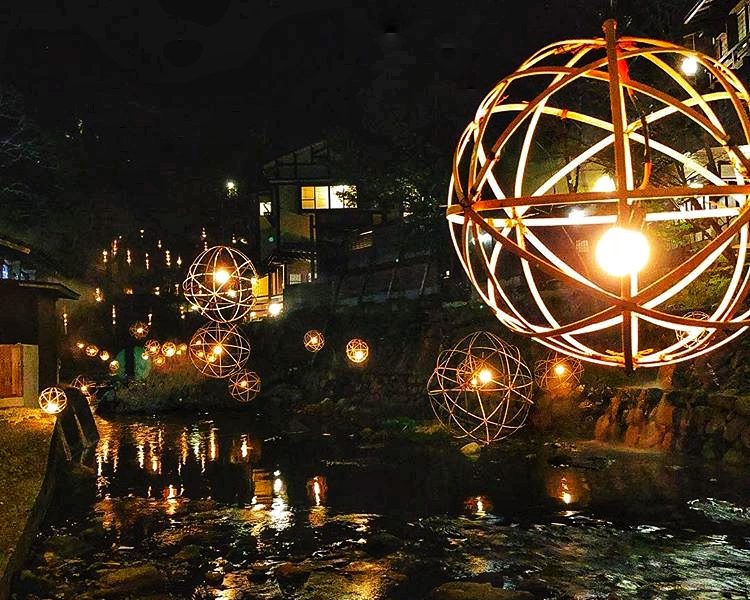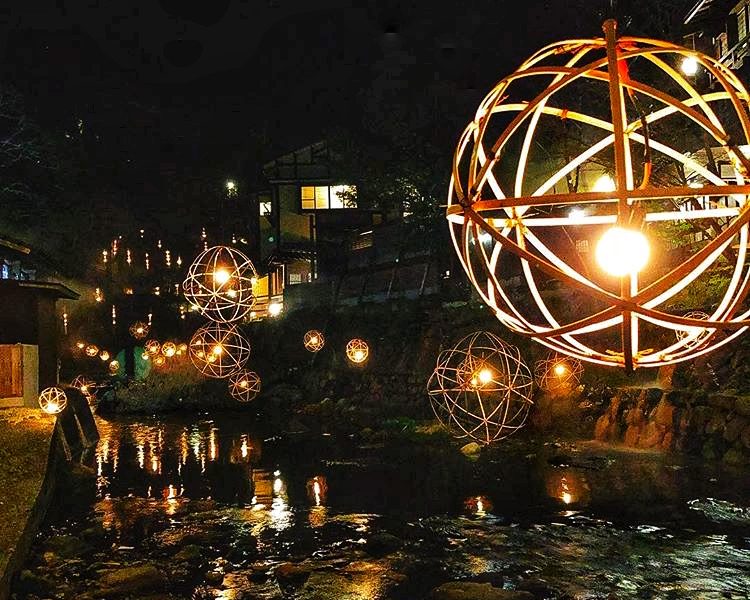 4. Kurokawa onsen town is especially gorgeous in winter
The idyllic town is illuminated by handmade lanterns at night during winter. We were lucky to witness the beautiful event during our visit in early December. It was amazing charm and beauty with thousand of lanterns during the night.
5. The benefit of hot spring bath
Generally, hot springs are ideal for relaxing, soothe aching muscles, and pampering the skin. It helps stimulate certain bodily processes and improve blood circulation. Certain types of springs that contain sulfur or magnesium are said to help treat specific illnesses and conditions. Each ryokan has its hot spring source, with different water. So, it is worth soaking on onsen bath for different types of benefits and health lists for a reason.
Kurokawa Onsen Travel Vlog
For a quick idea on how to plan for your Kurokawa Onsen itinerary, take a 7-minutes video tour of how we spend 4-days in Kumamoto prefecture to Kumamoto city, Takachiho Gorge (Miyazaki), Aso, and Kurokawa Onsen.
If you like our video, don't forget to give us a like and subscribe to us on youtube. Thanks!
Last but not least, hopefully, this Kurokawa onsen travel guide is helpful. We enjoyed our trip to Kurokawa onsen and worth visiting here if you are visiting Kyushu. Feel free to drop by with any questions if you need our help. We try our best to answer for you. Thanks for stopping by and enjoy the hot springs in Kurokawa Onsen!
Related Kurokawa Onsen Hopping Travelogue can be found here:
Travel to Fukuoka, Kumamoto, Aso, and other attractions in Kyushu? Read our below travel blog below.