Last updated on September 23rd, 2023
We tried on Nichinan best food, bonito fish in multiple way at Gallery Kodama Obi. Highly recommended if you are looking for what to eat in Miyazaki.
Known as Kyushu's own little Kyoto, Obi Castle town is a highly preserved samurai district located from about one hour drive from Miyazaki city. There are many things to do and see in the historical Obi town. However, during our visit to Obi town, we did not spend too much time to visit Obi castle and others attractions. In stead, we came along the way to try on Nichinan's local specialty, the fresh Katsuo or bonito fish.
Nichinan is known as number one bonito fish catches in Japan, using a single pole-and-line fishing method. This single hook fishing method is called Ippon-zuri (一本釣り) in Japanese. That's is to mean that fish stock to catch the bonito fish by pole and line fishing is very healthy. This is also one of the most environment friendly and selective by catch method.
The bonito fish is served in unique way in Nichinan city. While there are many restaurant served this best local food. We choose to visit the Gallery Godama, a popular restaurant served this Nichinan's specialty bonito in multiple eating method. All bonito fish are freshly caught from single pole-and-line fishing. Gallery Godama is a popular restaurant among Japanese and local. There are limited English information can be found for this little gem in Obi town. So glad we get to know this restaurant from my local friend.
Continue read on our food review in Gallery Godama for the delicious grill bonito fish in Obi town. One of the must try food if you are visiting Nichinan in Miyazaki.
Gallery Kodama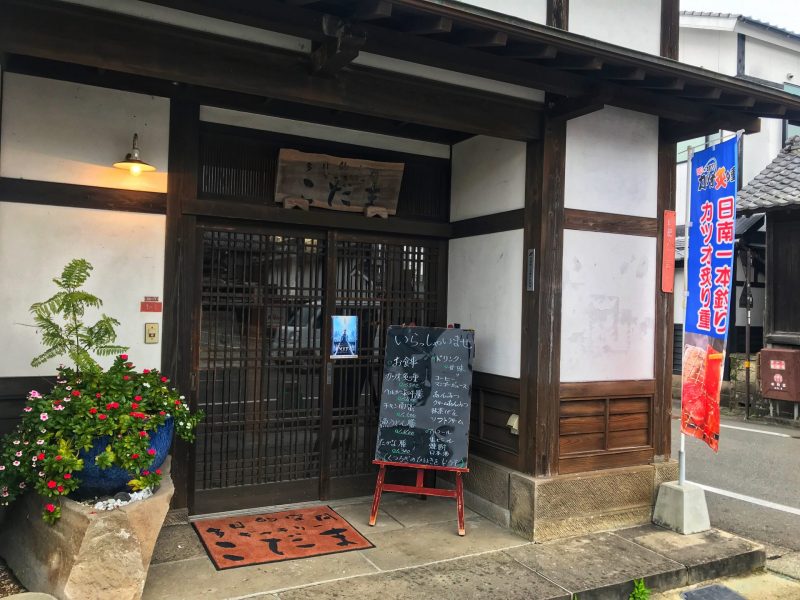 After visited Udo Shrine, we decided to go for lunch before continue our one day adventure trip in Miyazaki. Bus from Udo Shrine take about 40 minutes to Obi town.
Gallery Godama (ギャラリーこだま) is the best place to try local bonito multiple ways in a set meal called katsuoaburi-ju. It is a 120 years old retro private restaurant located at the main street of Obi town. Situated at the corner before getting to Obi castle, it required abut 3 minutes walk from Obi Bus station. If you are coming to Obi by train, the Obi train station is slightly away from Obi town with 13 minutes walk required.
Address: 8-1-1 Obi, Nichinan, Miyazaki Prefecture
Operating Hours: Daily from 11:30 to 17:00 (Closed at Tuesday)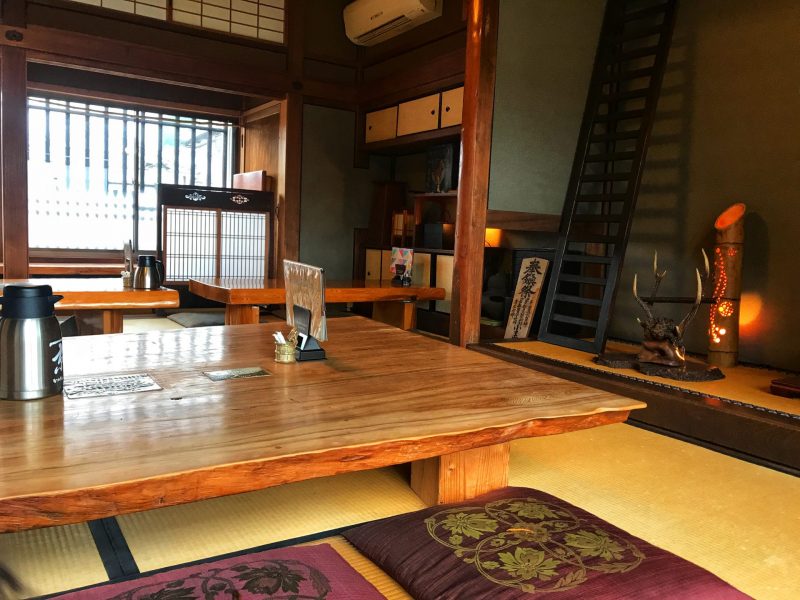 Our arrival time consider late lunch hour. So we asked about the lunch was still served in restaurant. We were so glad that lady boss was very welcome us. We were greet and lead to the dining hall. The atmosphere inside the restaurant was very cozy and relax. There were many handmade works on display and full of Japanese traditional feel.
While this is weekday after lunch hour, there was no much customers inside. The seating area are in Japanese style tatami flooring. We choose to seat at the table with a view of garden. We had a great pretty garden view for our lunch in Obi.
English Menu with Well Explanation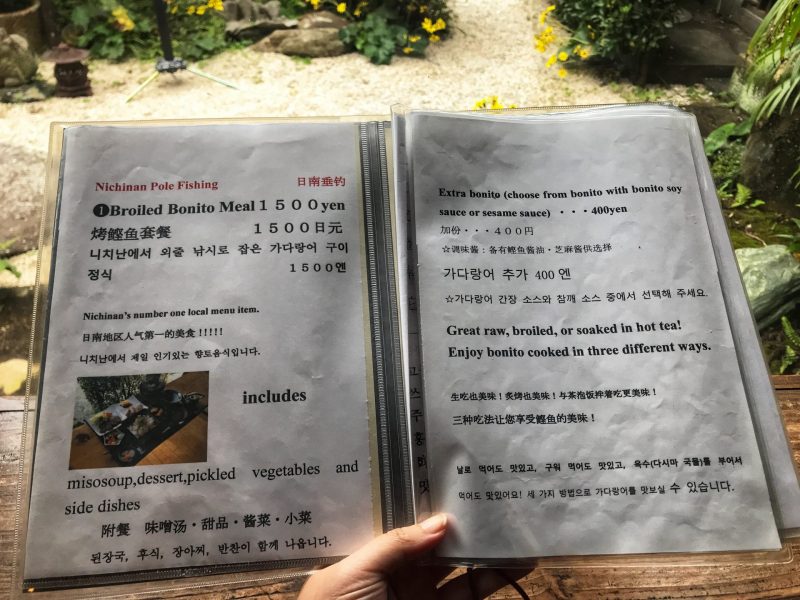 Hot tea was served and we had English menu from the friendly lady boss. The English menu also attached with the way to enjoy their charcoal grill bonito fish.
There were also other Miyazaki's local food served in Gallery Kodama restaurant. Such as Nanba chicken set, healthy Japanese beef set and others Udon and rice set.
Without long consideration, we ordered for the Nichinan number one local dish, bonito fish meal set. It also came with rice, miso soup, Japanese pickled vegetable, side dish and dessert.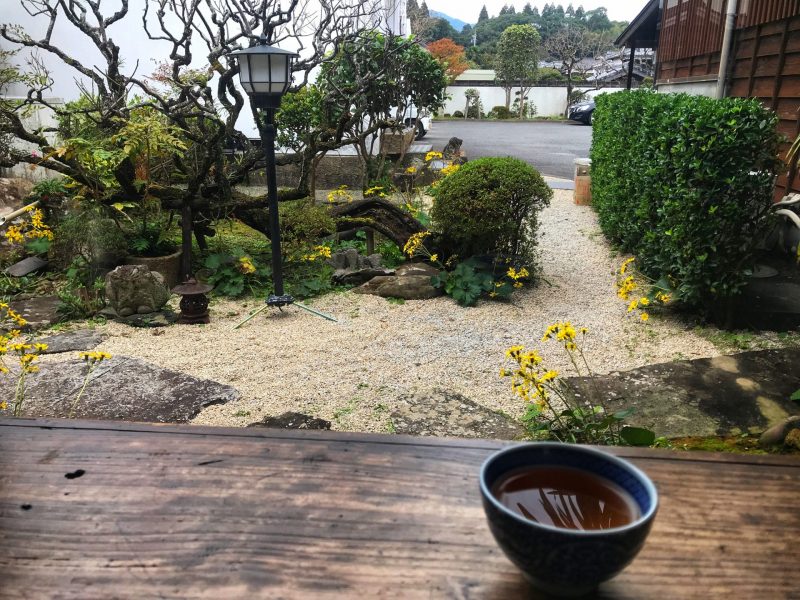 While waiting for the meal, we enjoyed our hot tea with beautiful garden view. Soon, our bonito fish set were served. The lady boss briefed about the eating method to enjoy the bonito fish.
There was English instruction to guide you on how to eat the bonito fish differently. There are four pieces of bonito fish were served. You can eat the bonito fish in the recommended three method, which is in raw, grilled and on rice soup. Lastly, save the last piece for the best way you like the most.
How To Eat Bonito Fish in Multiple Way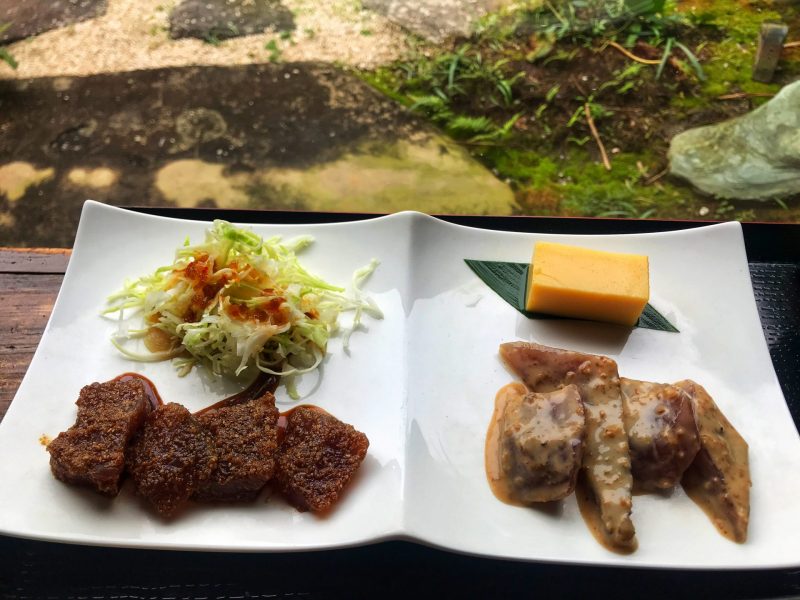 The bonito fish is served into four pieces and marinated in two kinds of savory sauces. The first one is sesame sauce and second one is soy sauce which mix of garlic and ginger taste.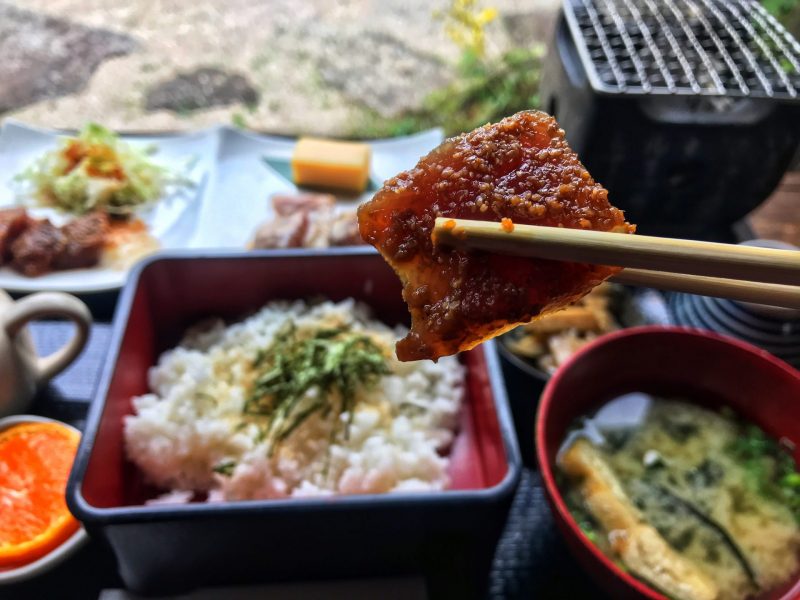 Firstly, we had a taste of bonito fish in raw. The bonito sashimi were fully covered with the sauce. I prefer on the sesame sauce as it taste fresher compare with soy sauce.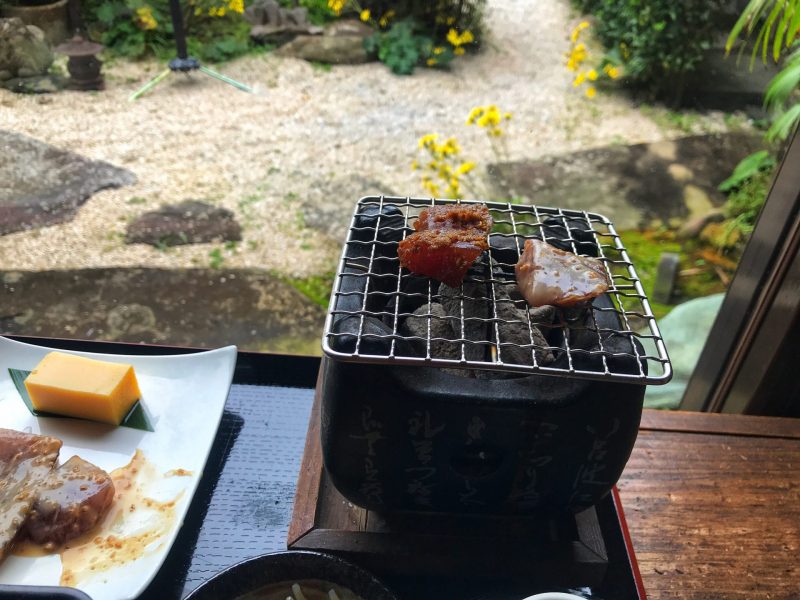 Secondly, we try on the bonito fish which grilled over the tiny hibachi. Place the fish on the charcoal grill placement and and cooked it yourself. The lightly burn fish bonito is flavorful and full of the aroma. Perfect match with plain rice.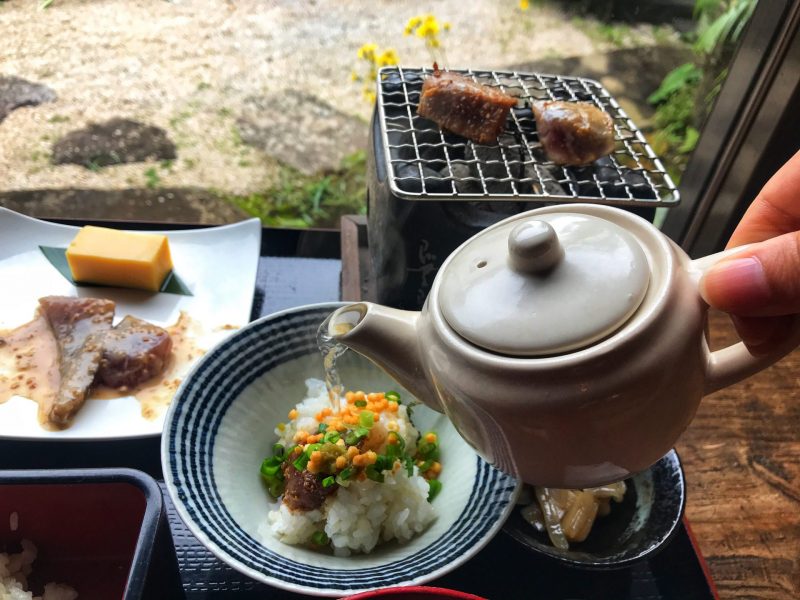 Next, nestled it over rice and condiments. Poured the hot tea on it. It is the best way to enjoy the smooth texture of bonito fish with hot broth.
Lastly, enjoy your last piece of bonito fish in any of the three way. I choose to grill the fish on the hibachi as i like taste with slightly burn aroma. You can choose to top up the bonito fee at additional charges the eat your remaining rice. We were full after finish the whole set. Added, we also enjoyed eating the Japanese pickled vegetable and side dishes.
Must Try Nichinan Best Food
All in all, we had a great time in Gallery Kodama to try for bonite fish in multiple way. It was the best bonito fish I've eaten. Worth to visit to try on this best food in Obi, Nichinan. One of the suggestion if you are looking for what to eat in Obi Castle, Nichinan.
This Nichinan food review is part of our Miyazaki travel blog. We visited Miyazaki and had a great time here. Read on our travel post if you are looking for what to do and eat in Miyazaki.
Takachiho Gorge: A Mystical Hidden Gem in Kyushu, Japan