Last updated on September 23rd, 2023
If you are looking for where to stay in Miyazaki, take a look at our best recommendation hotel for your holiday trip. Some useful travel tips included.
Located on the southern coast of Kyushu region, Miyazaki (宮崎) is the city blessed with bright sunlight and full of subtropical atmosphere. It is a great stopover for exploring on your Kyushu trip.
Spend your time Aoshima island surrounded with blue ocean and white beach, roaming around beautiful rock formation Devil's Dashboard along coastline, appreciate the historical Aoshima shine and pray for good fortune. Enjoy the pacific ocean along the Nichinan coast and visit to Udo Jingu which situated at the seaside cliff or touch the Moai statues in the East without getting to Easter Island. Alternatively, venturing to well-preserved samurai district countryside at Obi castle town.
There are also stunning natural landscapes and picture-perfect Takachiho Gorge which worth spending for a long journey to get there. There are much more things to do and see awaiting you to discover.
If something above inspiring you of venturing here soon, here are our best recommendations on where to stay in Miyazaki.
Overview: Where To Stay in Miyazaki
Miyazaki is extremely popular among locals for weekend gateway. Many locals are visiting this place for surfing and water spot activities especially during summer. We highly recommend booking your best stay in Miyazaki as rooms are running fast.
There are few useful tips when looking for where to stay in Miyazaki:
Staying nearby Miyazaki Station is very ideal for visitors traveling by public transport.
Most of the shops and eateries are located at the busy street, Tachibana dōri (橘通) in the town area. It is about 10 minutes walk from Miyazaki station.
For the best holiday gateway, stay nearby the beautiful beaches and along the coast. Highly recommended for visitor planning for self-driving in Miyazaki.
There are limited budget hostel in town. However, most of the hotels are at a reasonable price. Guesthouse is another budget option at a cheaper rate.
The hotel rate will be slightly increased during the weekend especially peak season. However, it is much reasonable compare with the percentage in Fukuoka.
*** Disclaimer: Photo source from Booking.com website***
JR Kyushu Hotel Miyazaki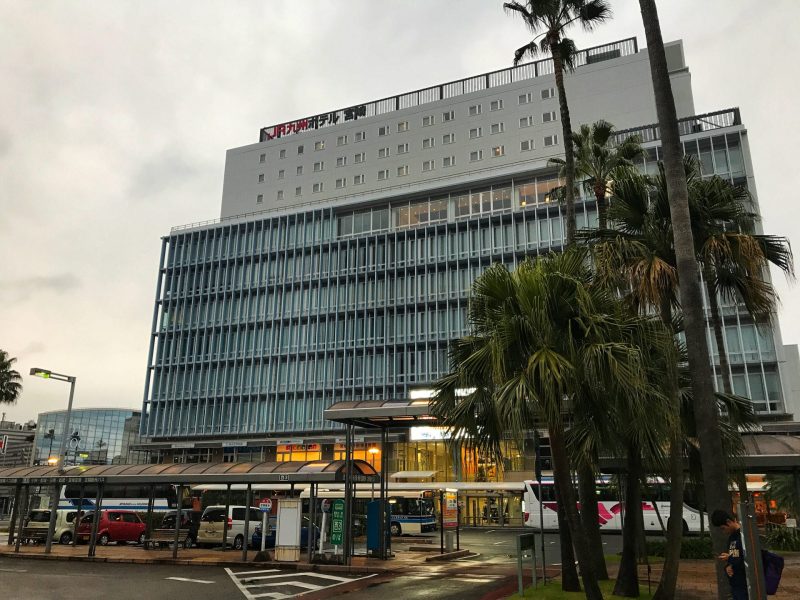 Travelers' best choice, JR Kyushu Hotel Miyazaki is strategically located right next to the Miyazaki JR station. The location is superb for visitors traveling by public transport. You'll just check in to the hotel or rest in the conform room after the long tiring train or bus ride. Spacious and clean room, professional and helpful staff. Walking distance to the busy street in the central town. In short, JR Kyushu Hotel Miyazaki had everything you could need.
Hotel Sky Tower Miyazaki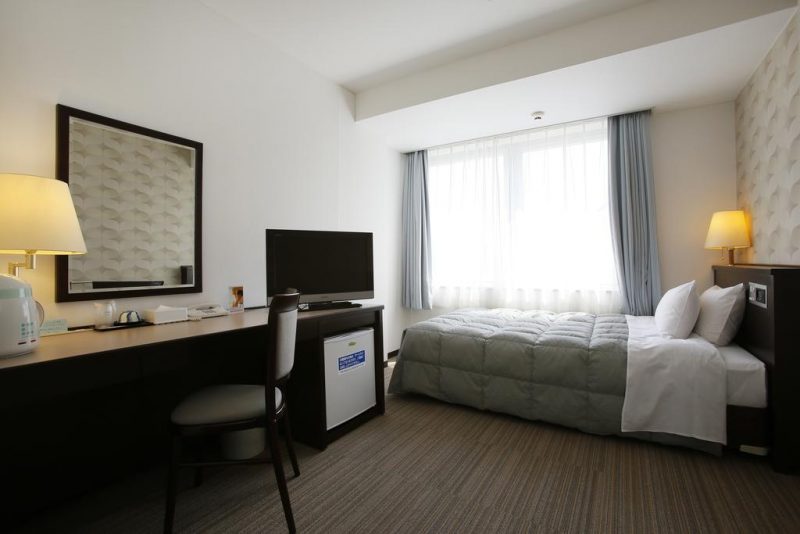 Located 5 minutes' walk from Miyazaki station, Hotel Sky Tower featured with clean and comfortable room for your best hotel stay. It is walking distance to restaurants, transportation access, and shopping street. Nice sized room, friendly staff, and lovely breakfast. You can even get the free bicycle venturing around the city. Enjoy the city view on the top floor with a complimentary drink. For self-driving guests, a small amount of parking fee is required but very reasonable.
Dormy Inn Miyazaki Natural Hot Spring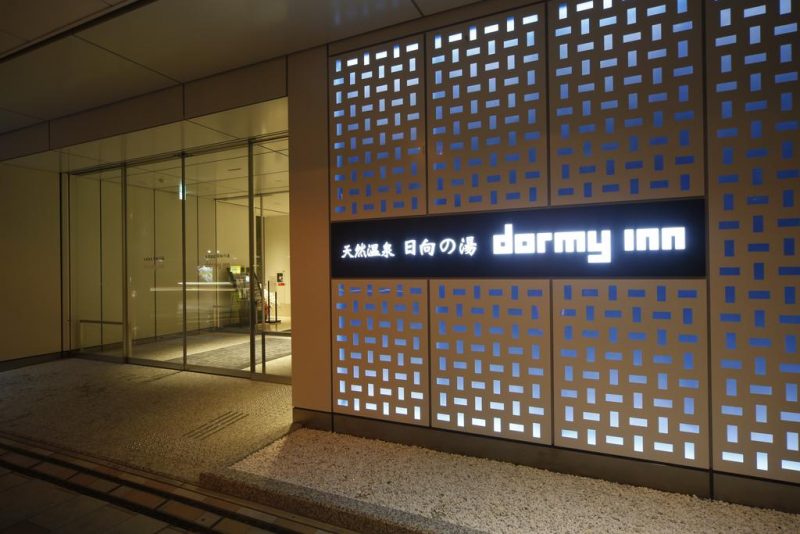 Being part of the famous chain onsen hotel in Japan, Dormy Inn Miyazaki Natural Hot Spring is a comfortable boutique with a clean room in a reasonable size. Your stay will be featured with natural hot spring water public bath and free ramen for your supper after the onsen soak. The location is perfectly situated in the central town with lots of eateries around the corner. Short walk to the bus and train station.
The Little Garden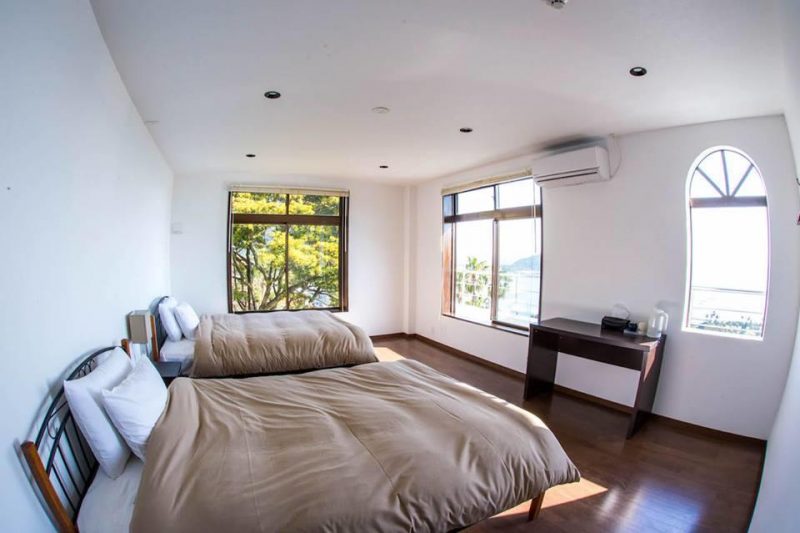 Situated next to the beach, The Little Garden has an amazing ocean view. This guesthouse is hosted by a welcoming owner and exceptional hospitality staff. It offers both Western and Japanese bedding options for family, couple and group of friends. Moreover, it also featured with a dormitory room with shared bathroom for solo travelers. You'll enjoy your stay with a gorgeous sea view at common area and room. Pleasant outdoor area with a beautiful garden and flowers and palm tree. Most importantly, prices are very reasonable with a clean and spacious room for your best stay in Miyazaki.
ANA Holiday Inn Miyazaki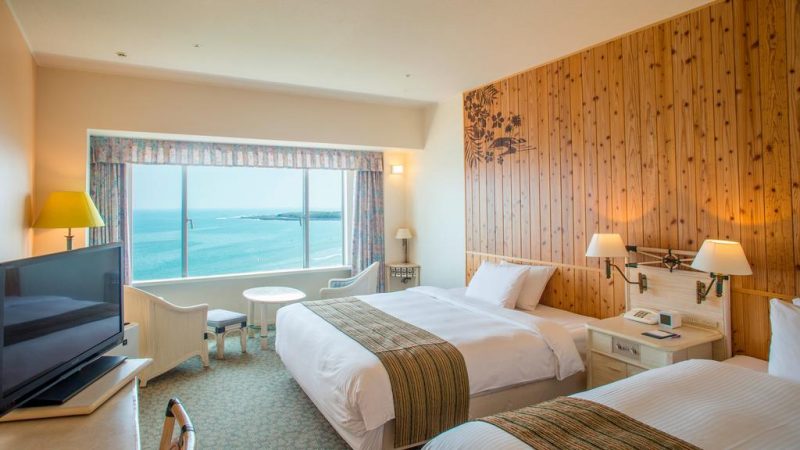 For the best holiday experience, stay at ANA Holiday Inn Miyazaki. It is the best option with an amazing sea view just right in front of the doorstep. Located close to the Aoshima beach where you can just walk to the Aoshima island and shrine. Perfect for surfers and water activities lover. If you are visiting Miyazaki by public transport, bus stops just right in front of the hotel, which can take you to all the major attractions along the Nichinan Coast. Alternative, Kodomonokuni JR Station just 5 minutes' walk to the hotel. If you are coming by self-driving, onsite parking is free for hotel guests. You'll comfy and cozy during your best holiday stay here.
Sheraton Grande Ocean Resort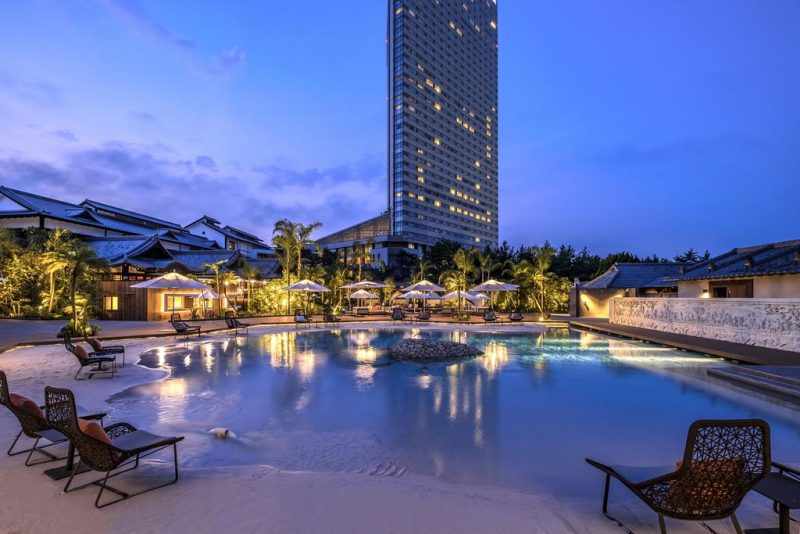 Lastly on our best hotel for where to stay in Miyazaki, Sheraton Grande Ocean Resort. This holiday resort boasted with hot spring, golf gorse and beautiful swimming pool. You'll love their in house facilities for your best stay. A deluxe resort featured with amazing ocean view with a relaxed atmosphere. The place is so well-presented that you might not even want to leave to explore around. You will regret staying too short in Sheraton Grande Resort without fully enjoy here.
Continue Read On:
In short, hopefully, our recommendation hotel list on where to stay in Miyazaki can give you some idea for your holiday trip. We have documented the things to do and food to eat during our visit. Happy travel to Miyazaki.
Lastly, if you need any further reason to inspire you, read on our Kyushu travel guide blog below.