Last updated on September 23rd, 2023
Enjoy eating the tasty best mabushi in Yufumabushi Shin, one of must eat in Yufuin. Highly recommended if you are looking for what to eat in Yufuin.
Yufu Mabushi Shin (布まぶし 心) is the best place serving the authentic mabushi in Yufuin. During our visit to Yufuin, we tasted this delicious and authentic local dishes in Yufumabushi Shin and strongly recommended it.
We arrived at Yufu Mabushi Shin in late afternoon but there was still a queue waiting. Glad that line does move quickly. We waited for about 30 minutes before entered the restaurant. The restaurant is not too big but all the tables were fully seated. Many locals and visitors coming along the way for this must eat food in Yufuin.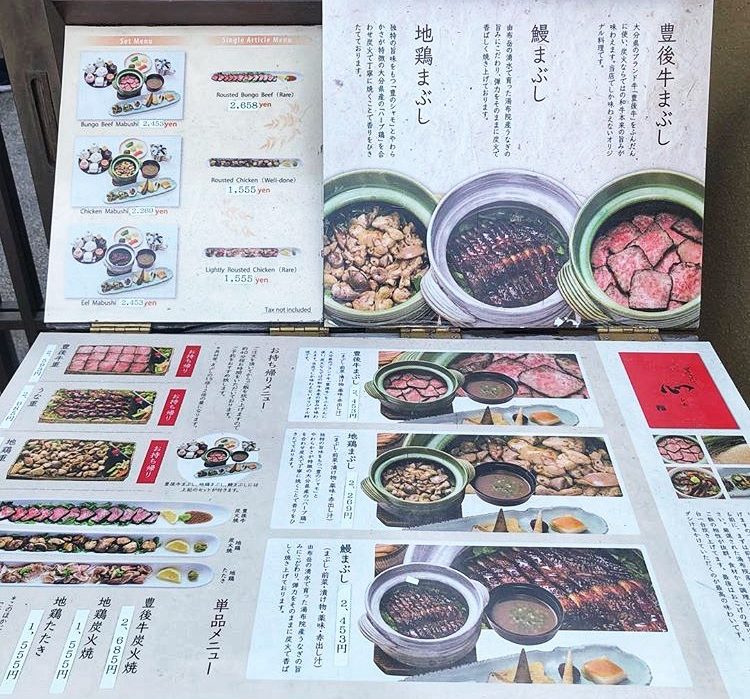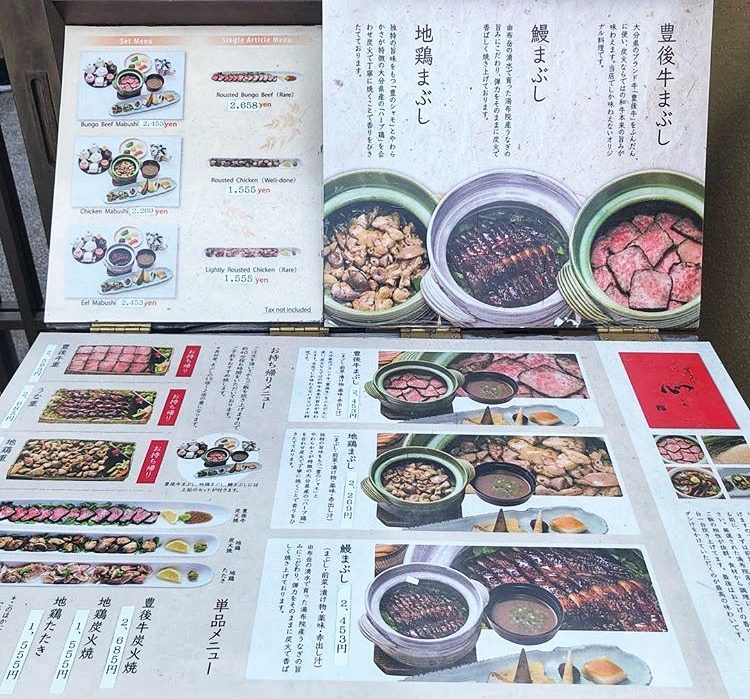 There are only three type of set menu to choose from, which is rice topped with local chicken (jidory mabushi), beef (Bungo-gyu mabushi) and unagi (hitsumabushi). All served piping hot in ceramic clay pot. Without hesitate, we ordered the famous beef mabushi and eel mabushi set to try on the best mabushi in Yufuin.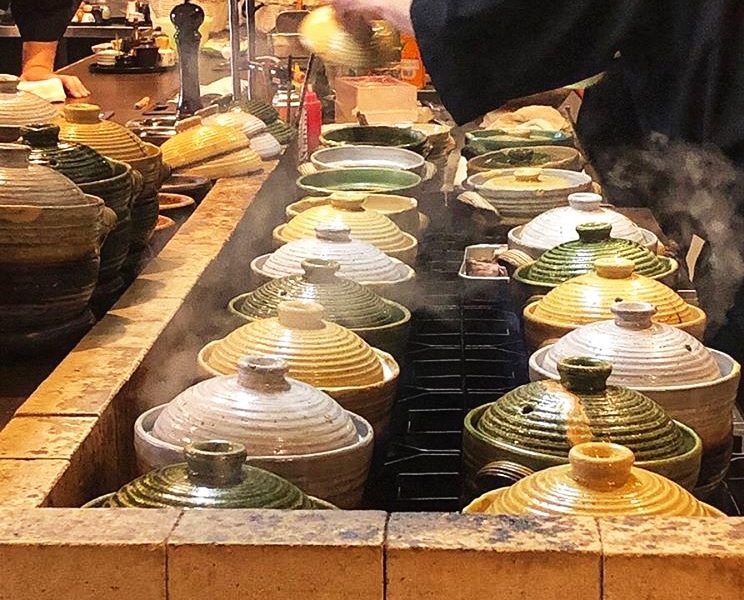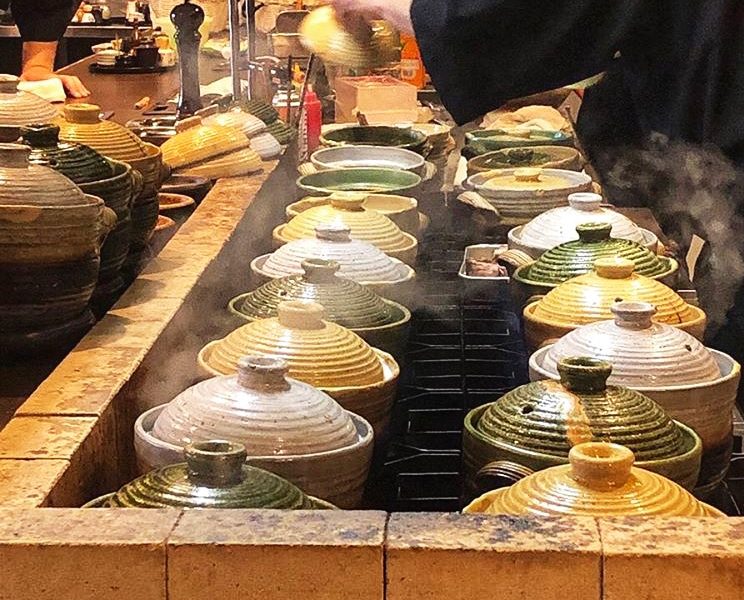 All the mabushi was freshly cooked after order in the open kitchen. So it may take time before your order was served. There are also different Yufuin sauces provided that can be added into the rice.
Side note: One hour of eating time is limited for dining in Yufu Mabushi Shin.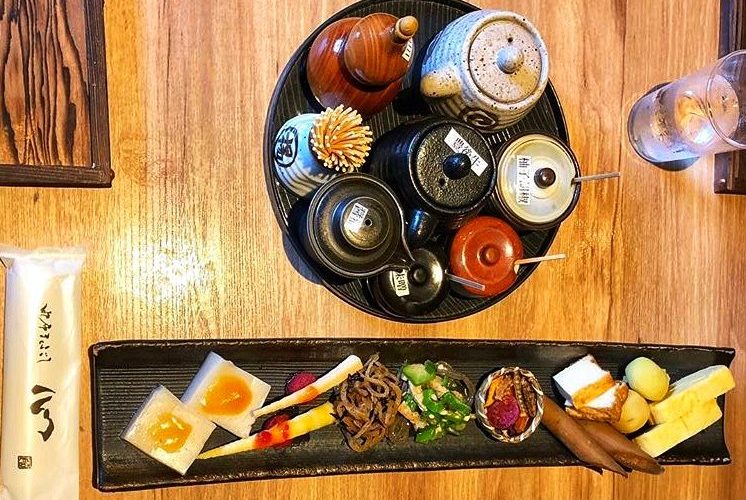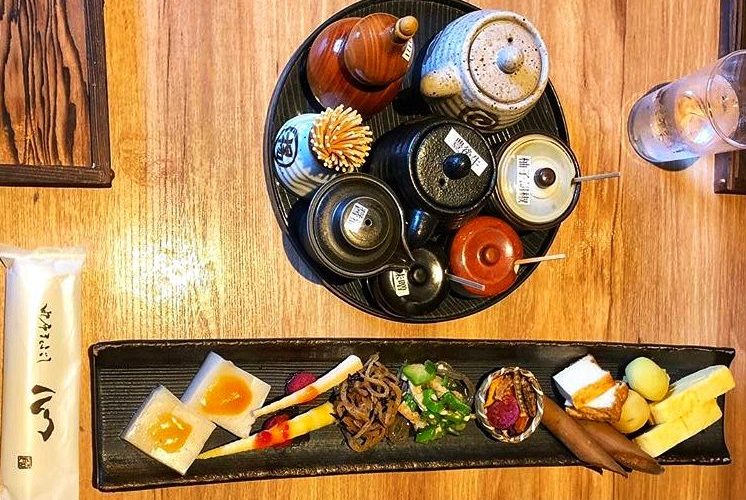 Although your food took some time before serving, Yufumabushi Shin was serving the appetizers in a beautiful platter while waiting for your mabushi. All the food and seasonal vegetables were local produce and grown. It tastes so delicious and ordinary.
How To Eat Yufu Mabushi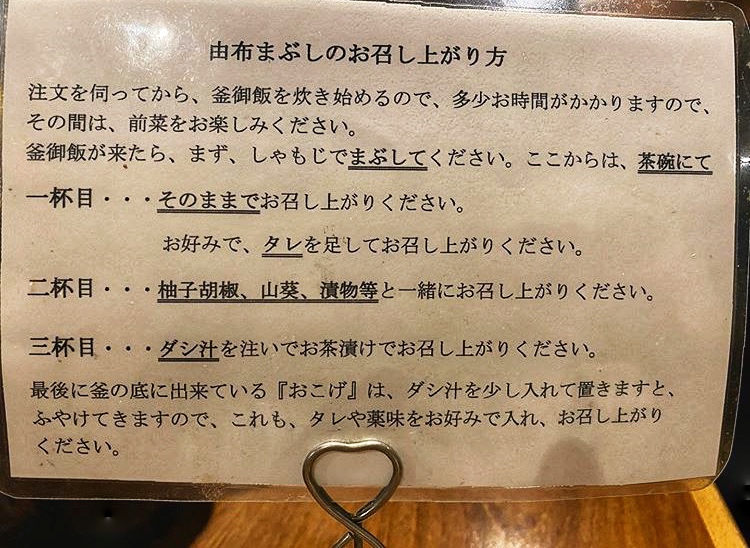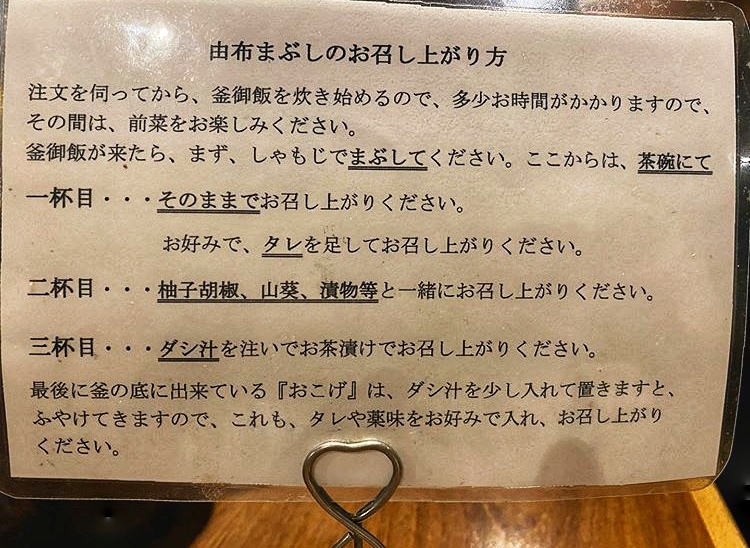 While waiting, you can also spend some time to read through the instruction on how to eat the Yufu Mabushi. There was good documentation in multiple languages including Japanese, Mandarin, English, and Korean language to guide you on how to enjoy the mabushi. We forgot to capture the English version instruction. But, generally, it was pretty simple as below:
1. Firstly, enjoy the mabushi on its own. Just mix it well and add condiments to your liking.
2. Next, freely adding the spicy yuzu, chili peppers, miso or variety of Yufuin sauce to enhance the flavor.
3. Eat as ochazuke by pouring the stock (dashi-shiro) together with rice.
Bungo Beef Mabushi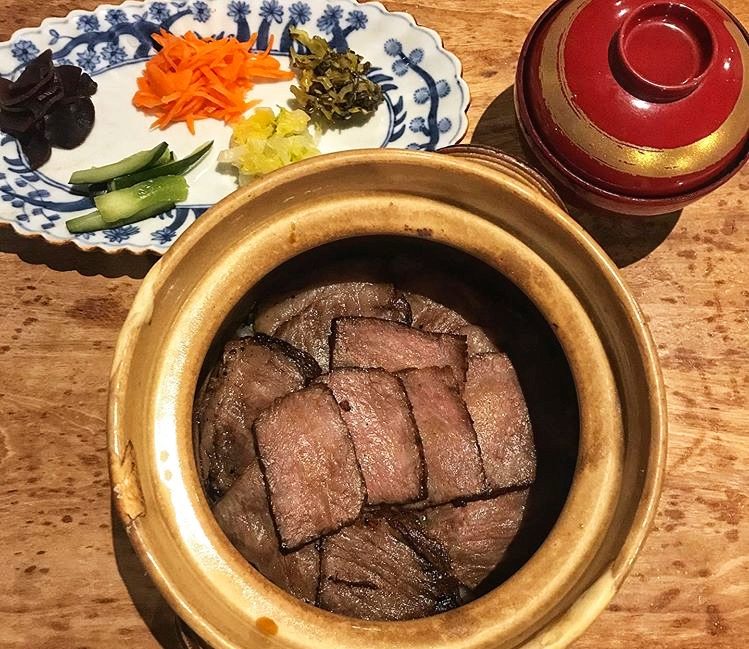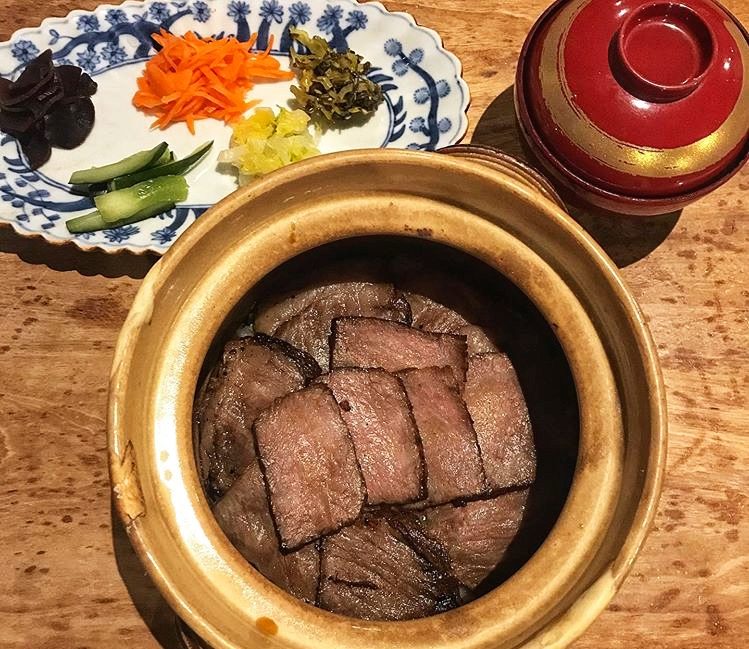 Finally, our mabushi were served. The Bungo beef mabushi was so flavorful. There was so much meat that you can't see the rice below. The beef was so juicy and tender.
A must order food in Yufumabushi Shin.
Hitsumabushi – Unagi Mabushi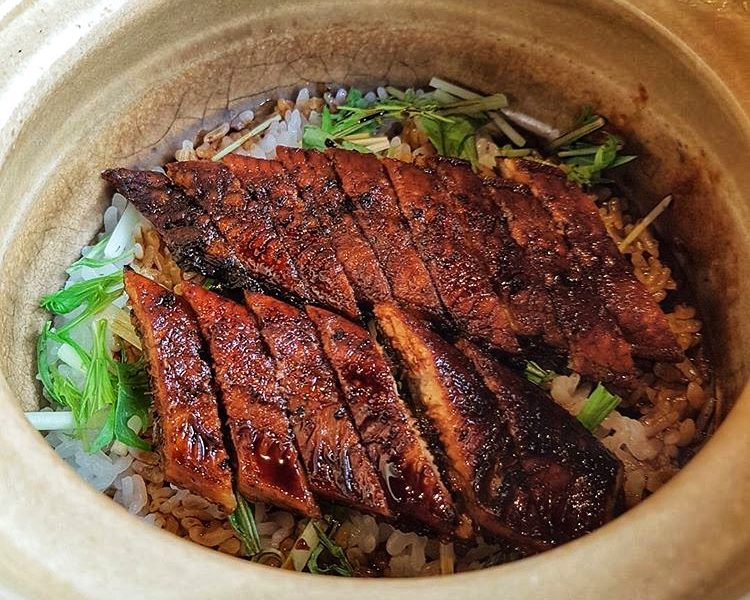 Another must in Yufu Mabushi Shin is the hitsumabushi. Here's our bowl of eel mabushi topped above rice in clay pot. If you are a fan of unagi, you definitely will love the hitsumabushi here. It was rich in flavor and good taste.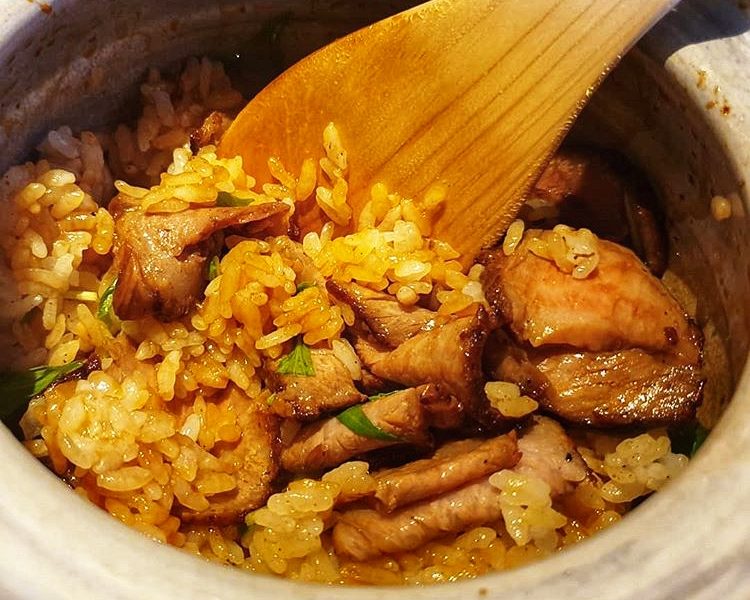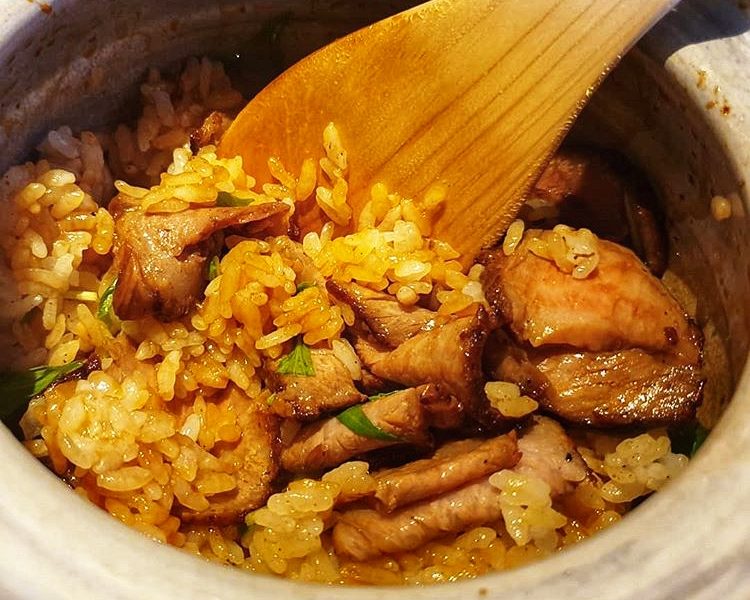 Follow the instruction, we slowly enjoy the delicious mabushi. All eating methods were so delicious and satisfying. Among all the three eating method, the spicy yuzu sauces was my liking as it did enhance the flavor of the perfect slides of meat. But my friend voted for the tastier ochazuke.
We ended cleaning up everything in the pot. Everything was superbly delicious. One of the must-eat food in Yufuin and highly recommended. Please visit Yufu Mabushi Shin if you have more time to spare in Yufuin. Definitely worth the wait.
Getting To Yufumabushi Shin
There are two outlets in Yufuin, one located near Yufuin Station and another nearby Kinrin Lake. Most of the people are prefer to dine on the honten nearby Lake Kinrin. Expected long queue especially lunch hour. So if you want to eat this best food in Yufuin, be sure to make a reservation or come early. If you have a tight schedule, consider visiting the Yufumabushi Shin Yufuin Ekimae with only 2 minutes walk from JR station.
Yufu Mabushi Shin Kinrinko Honten
Address: 1492-1 Yufuincho Kawakami, Yufu 879-5102, Oita Prefecture
Operating Hours: 11:00 to 16:00 and 17:30 to 21:00 (Closed on Tuesday).
Getting there: 30 minutes walk from Yufuin JR Station
Yufumabushi Shin Yufuin Ekimae
Address: 5-3 Yufuincho Kawakita | 2F, Yufu 879-5114, Oita Prefecture
Operating Hours: 11:00 to 16:00 and 17:30 to 21:00 (Closed on Thursday).
Getting there: 2 minutes walk from Yufuin JR Station
Price: Expected to pay ¥3,000 per order (Cash only)
Last Order: 30 minutes before closing at each session
Continue Read On:
This food review on Yufumabushi Shin is part of our travel blog when visiting Yufuin. We visited many beautiful places in Kyushu and truly enjoy our trip here. If you are interested, feel free to click on our travel blog.
Yufuin Travel Guide: Must Eat Food And Things To Do
Related Kyushu travel blog to Fukuoka, Kumamoto, Beppu and other attractions in Kyushu.