Last updated on September 23rd, 2023
Read on my Dazaifu itinerary with the recommended walking route. A great place for an easy day trip with less than an hour away from Fukuoka to Dazaifu by train or bus.
Located just 18 km southeast of Fukuoka city, Dazaifu (大宰府) is a historical small town in Kyushu. In the 7th century, Dazaifu played an important role as the administrative center in Kyushu for over 500 years. Nowadays, Dazaifu attracts millions of visitors to the famous Dazaifu Tenmangu Shrine. It is an important shrine and particularly beautiful with lines of plum trees especially during full bloom from late February to mid-March.
Besides the popular Dazaifu Tenmangu Shrine, Dazaifu also offers a lot of interesting things to do and eat for an easy day trip from Fukuoka. Enjoy your time visit the historical shrine and temple, visit the exhibition in the newly open Kyushu National Museum and taste Japanese local sweet (umegae mochi).
Read on my Dazaifu travel guide blog if you want to know more about planning on your Dazaifu itinerary including how to get there and getting around in Dazaifu. Besides, we also included some of the interesting things to do and what to eat in Dazaifu. Check it out.
From Fukuoka To Dazaifu
The nearest city to get to Dazaifu is from Fukuoka by 30 minutes train ride. So it very easy to plan for a day trip from Fukuoka to Dazaifu. But, there are various ways to get to Dazaifu from Fukuoka including Nishitetsu train, direct bus, and JR train combined with Nishitetsu train.
Here are all the possible transportation options from Fukuoka to Dazaifu for your reference.
By Train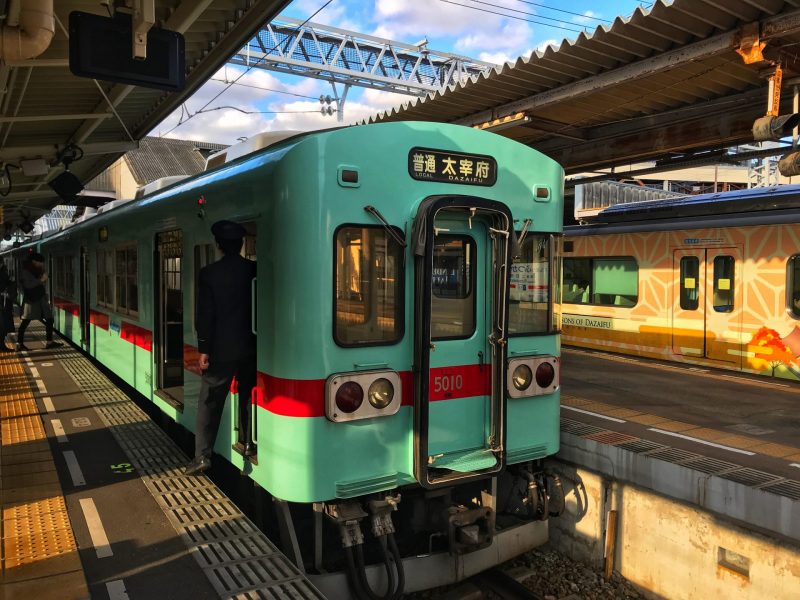 By Nishitetsu Train: From Nishitetsu-Tenjin Station to Nishitetsu-Futsukaichi Station on Nishitetsu-Tenjin-Omuta Line. Next, transfer to Dazaifu Station on Nishitetsu-Dazaifu. The journey takes about 50 minutes with ¥400. During morning from 9:00 to 12:00, there is also Limited Express or Express train departing from Nishitetsu-Tenjin Fukuoka station to Dazaifu Station which does not require a transfer.
By JR Train: From JR Hakata Station (Fukuoka), take the JR train to JR Futsukaichi Station and walk for about 20 minutes on foot to Nishitetsu-Futsukaichi Station. From there, transfer to Nishitetsu train to Dazaifu Station by train on Nishitetsu-Dazaifu. It takes about 90 minutes for a complete journey at ¥420 (JR train ¥270 and Nishitetsu train at ¥150). JR Pass is covered for this ride.
Take note that Nishitetsu-Futsukaichi and JR Futsukaichi Station are not adjacent to about 15 minutes of walking distance.
By Bus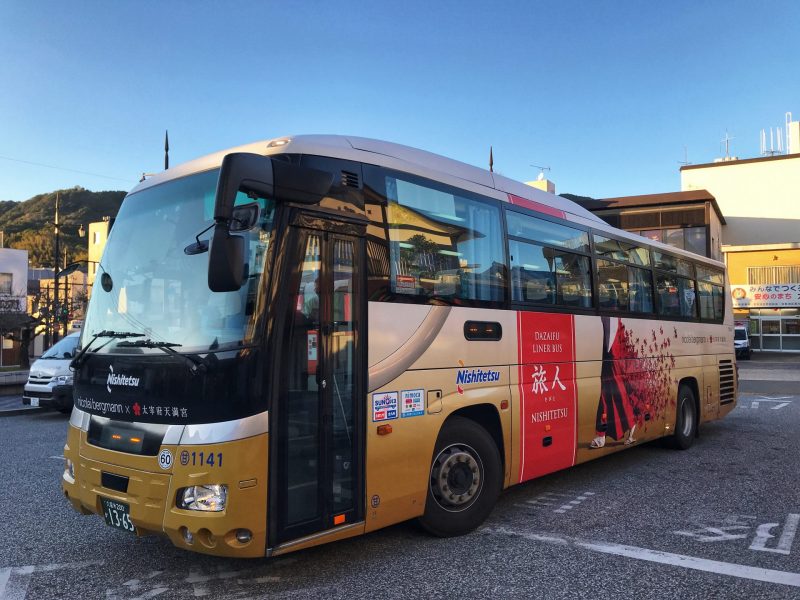 By Bus: From Hakata bus terminal (Fukuoka) to Dazaifu Station (Dazaifu) by Nishitetsu Dazaifu Liner Bus "Tabito" with 40 minutes at ¥600. The bus departed every 20 to 30 minutes. Besides, the bus will make a few stops including Fukuoka International Airport while heading to Dazaifu station.
Among all the transport options, getting to Dazaifu from Fukuoka by Nishitetsu train is the easiest and most convenient way. For JR pass holder, travelers can save on a few bucks by the journey from Hakata station to JR Futsukaichi station. But it required to transfer at Nishitetsu-Futsukaichi station by 15 minutes walk.
Dazaifu Itinerary: What To Do and Eat in Dazaifu
The Dazaifu is connected by Nishitetsu-Dazaifu station and perfect for a day trip from Fukuoka by public transport. Once you reached Nishitetsu Dazaifu station by bus or train, Dazaifu can be easily getting around. This compact city is perfect to explore on foot with all important sights can be found within 30 minutes walk. Planning a walking route ensures that you can see everything in your Dazaifu itinerary. Besides, make sure to wear a pair of comfortable shoes to enjoy your day trip to Dazaifu.
Here's my walking route in Dazaifu itinerary:
Start from Dazaifu Station
Strolling Through Tenjinsama-dori
Try Dazaifu Popular Japanese Sweet: Umegae mochi
Coffee Break in Wooden Starbucks Concept Store
Pray For Good Luck in Dazaifu Tenmangu Shrine
Visit Kyushu National Museum
Strolling Through Tenjinsama-dori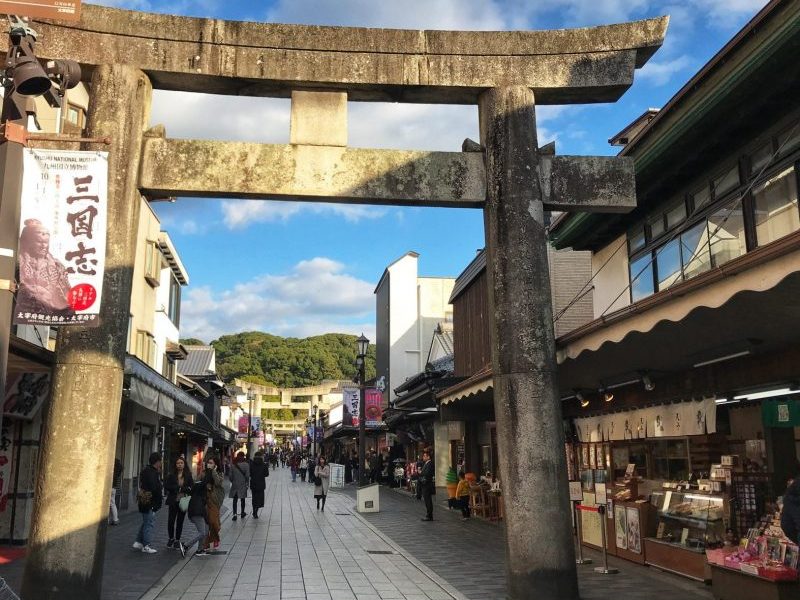 As soon as you exit Dazaifu Station, you will see Tenjinsama-dori. It is the main shopping street in Dazaifu lined with many restaurants, stores, and cafes on both sides of the street. It leads from the station to the entrance of Dazaifu Tenmangu Shrine, Dazaifu's most important shrine.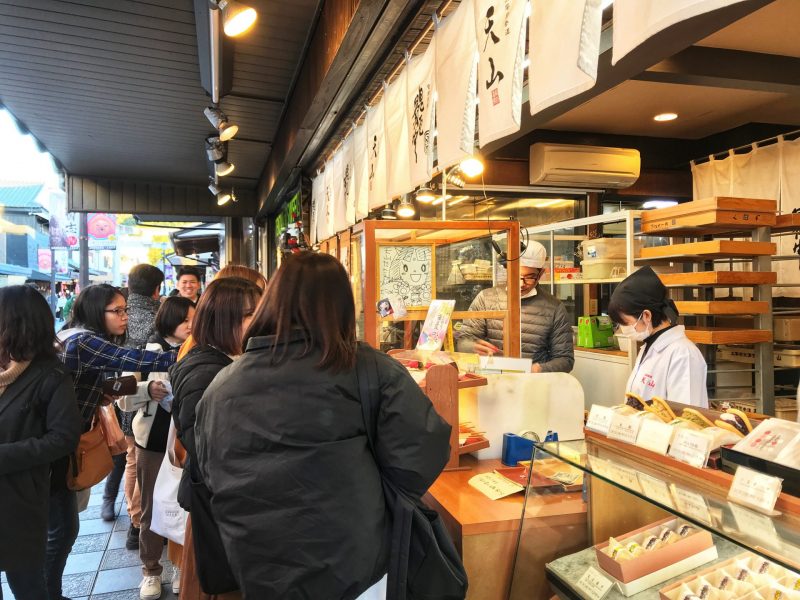 There are many shops selling Japanese souvenirs and local snacks along the street. But the most popular item is Umegae mochi with people lining to try on this local snack in Dazaifu. You can get it now or later at the end of the visit.
Besides the popular Umegae mochi, another worth recommended Japanese traditional sweet is Daifuku. It is a rice cake stuffed with sweet bean jam and fresh cream, beautifully topped with seasonal fruit such as strawberry, grape, peach, and even sakura.
There is also an Information Centre with a restroom at the end of the shopping street. Great place to pick a map or clear your doubt on your Dazaifu itinerary.
Try Dazaifu Popular Japanese Sweet: Umegae mochi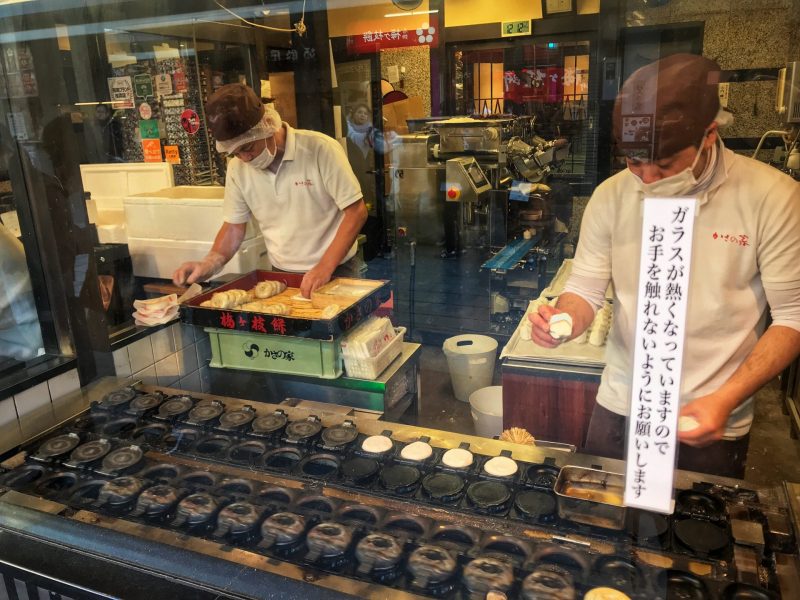 Although Umegae mochi is directly translated to "plum rice dumpling", it is actually grilled sweet dumpling with red bean paste wrapped in mochi. Along the shopping street, there are many shops selling this Japanese traditional sweet along the street. You even have the opportunity to view on how the making of Umegae mochi at cast iron molds over a flame.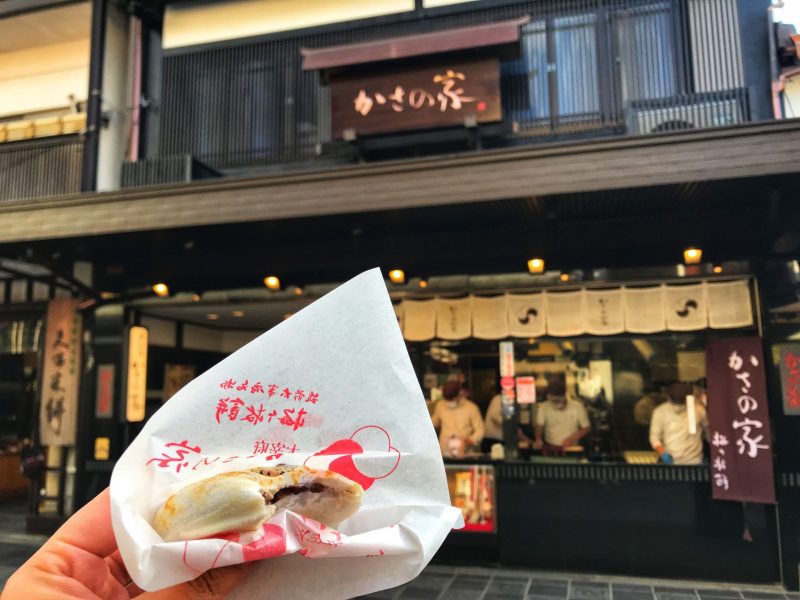 We also buy one to try on this Dazaifu must eat food. Make sure to eat it while still hot right off from the grill. It was slightly crispy on the outside while the inside was sweet. Not too bad with the price of ¥120. You can also buy some and bring back as souvenirs.
Coffee Break in Wooden Starbucks Concept Store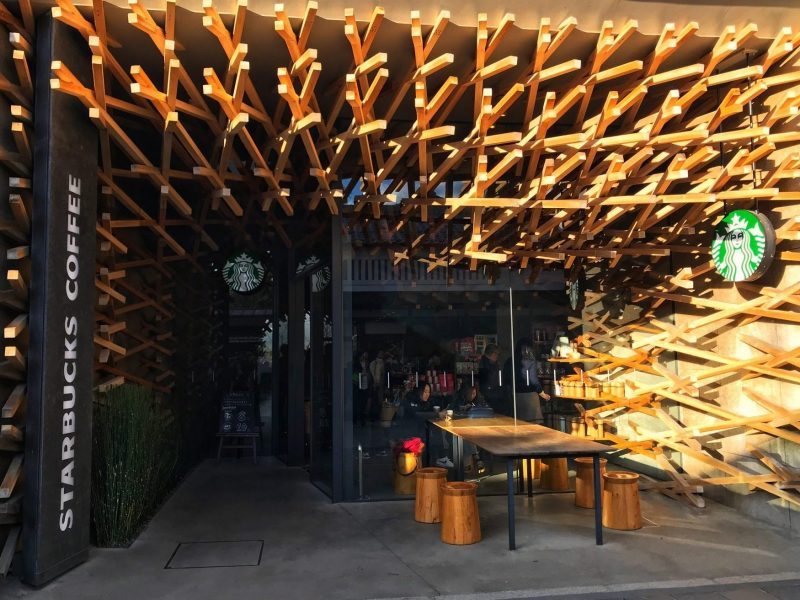 Located on the way to the Dazaifu Tenmangu Shrine, Starbucks Dazaifu Tenmangu Omotesando Store stand ahead among the traditional souvenir shops along the streets. It is the only Starbucks concept store in Kyushu and famous for its woodwork design by using a traditional Japanese method, Kigumi. The woods were cut and slotted together without using single nails to solidity the wooden structure. Truly a unique design and worth spending time for a coffee break in the Starbucks store.
Getting there: 3 minutes walk from Dazaifu Station.
Pray For Good Luck in Dazaifu Tenmangu Shrine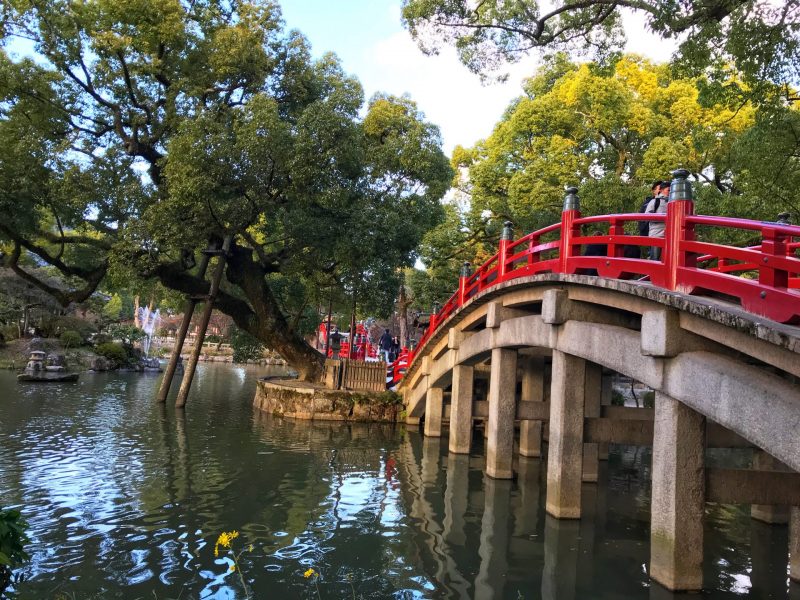 From the Torii gate, we followed the path and walked into the Dazaifu Shrine. We first meet with the beautiful pond with bright red color arched bridges that lead you to the shrine. The arches bridges were composed with three sections which symbolize the past, present, and future. While the pond was build in the Japanese character of heart-shaped. The view was very gorgeous with lots of photo opportunities.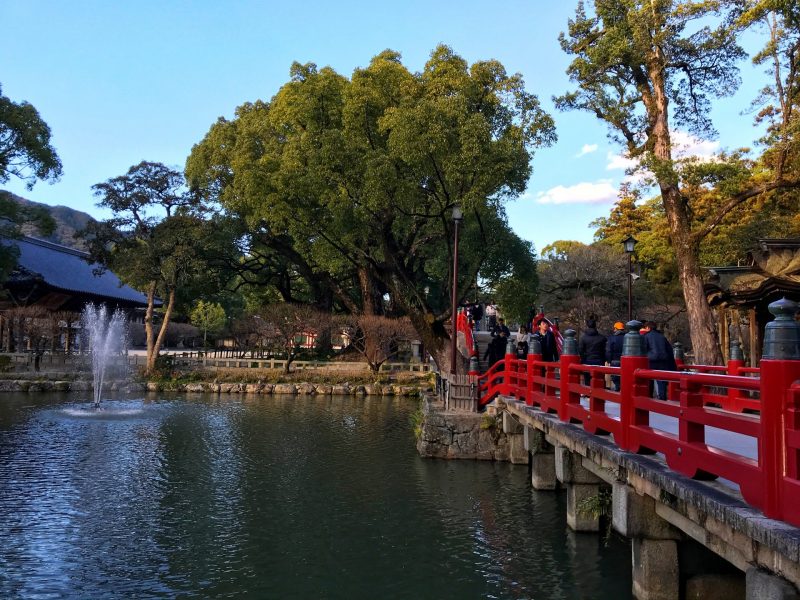 If you are interested, you can visit the Dazaifu Tenmangu Museum with a ¥400 entrance fee which located between the pond and the main hall. It houses and displays various important treasures from the shrine. Passed through the bridges and continue walked into the courtyard of the shrine.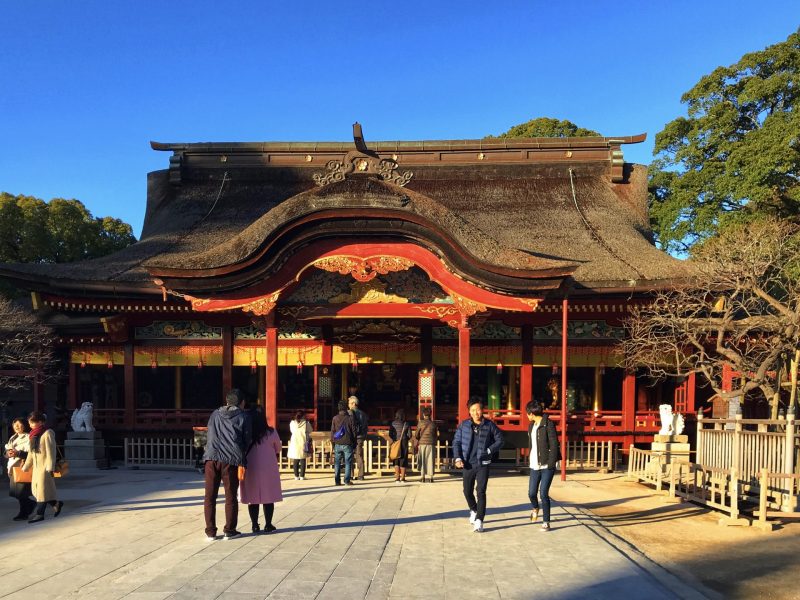 The Dazaifu Tenmangu Shrine (大宰府天満宮, Dazaifu Tenmangū) is one of Kyushu's most historical temple. It is dedicated to the spirit of Sugawara Michizane, an important scholar politician in Japan, and was associated with the Shinto god of learning. So it is particularly popular during exam time among students. Many students from Japan purposely come to Dazaifu to pray for good luck in the exam.
Together with the Kitano Tenmangu Shrine in Kyoto, Dazaifu Tenmangu Shrine also one of the most important Tenmangu shrines in Japan. Many visitors were praying for best luck in the Dazaifu Tenmangu Shrine. You can also buy a good luck charm and pray for the best luck before leaving the shrine.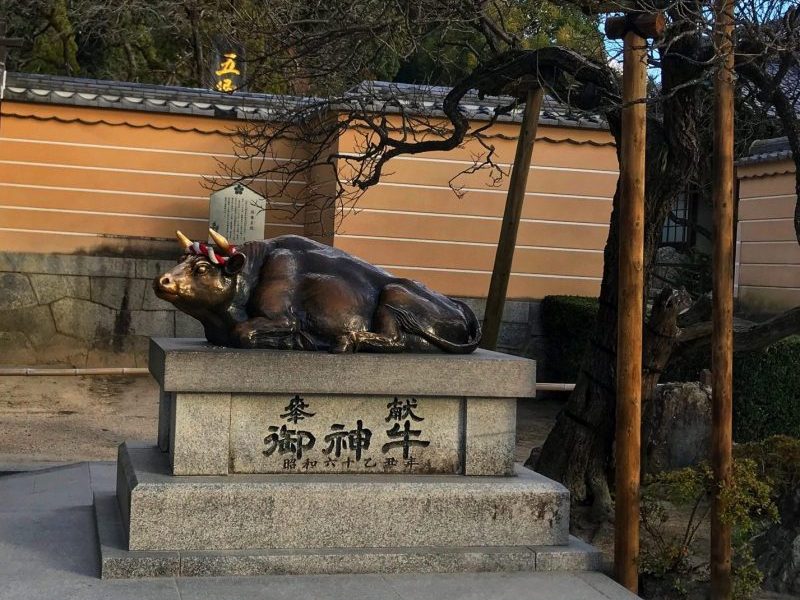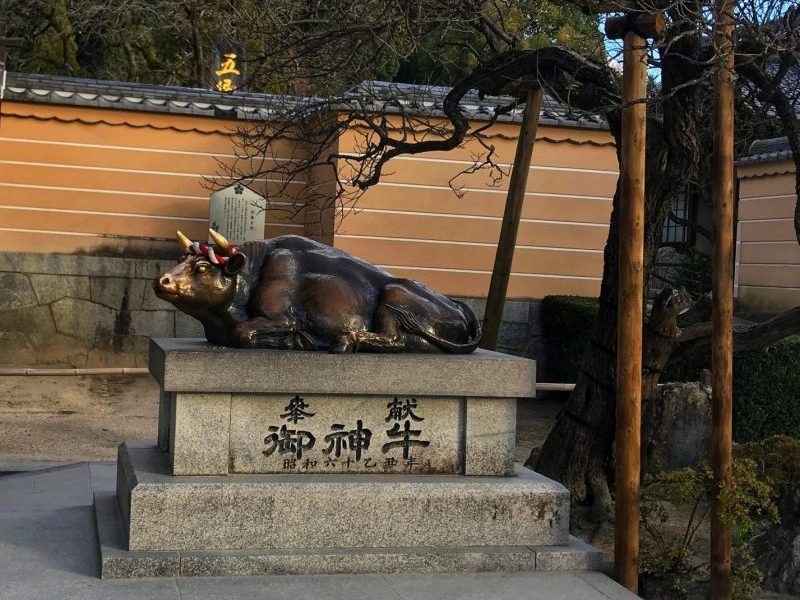 Besides, don't forget to touch the ox statue to pray for good luck. It is located beside the torii gate in Dazaifu Tenmangu Shrine.
Getting there: 5 minutes walk from Dazaifu station.
Visit Kyushu National Museum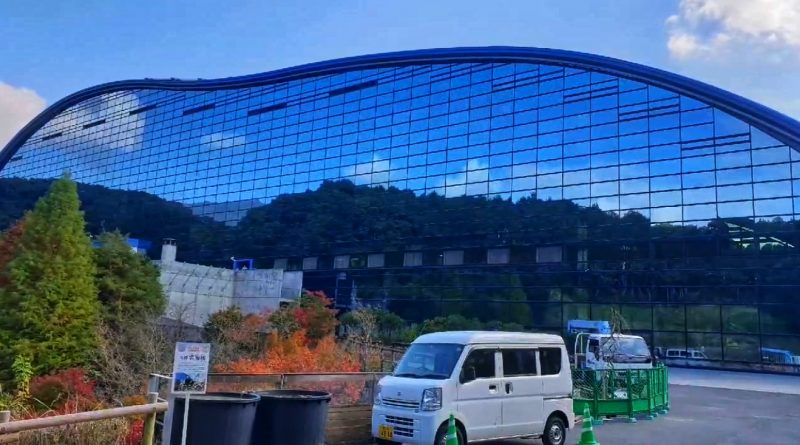 Located about 5 minutes walk from Dazaifu Tenmangu Shrine, Kyushu National Museum (九州国立博物館, Kyūshū Kokuritsu Hakubutsukan) proud itself as the 4th national museum in Japan after Tokyo, Kyoto, and Nara. It was grandly opened in 2005 and build with massive blue modern contemporary. The exterior of Kyushu National Museum has resembled a sports stadium.
The modern design is totally different from the traditional atmosphere in Dazaifu, making it one of the unique attractions in Dazaifu. It has welcomed more than millions of visitors since its opening.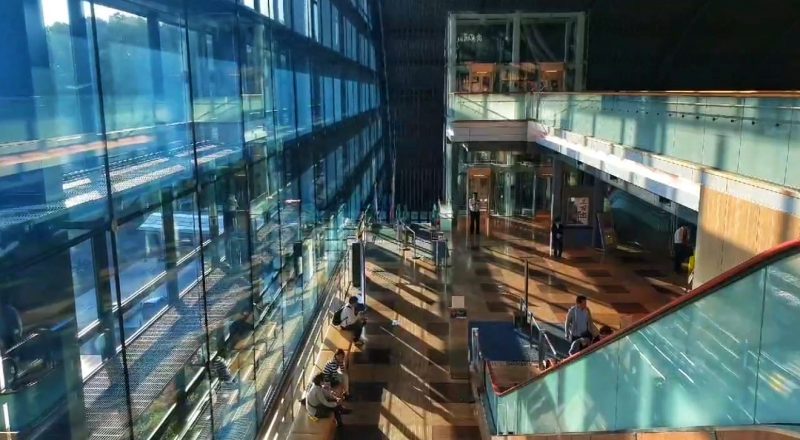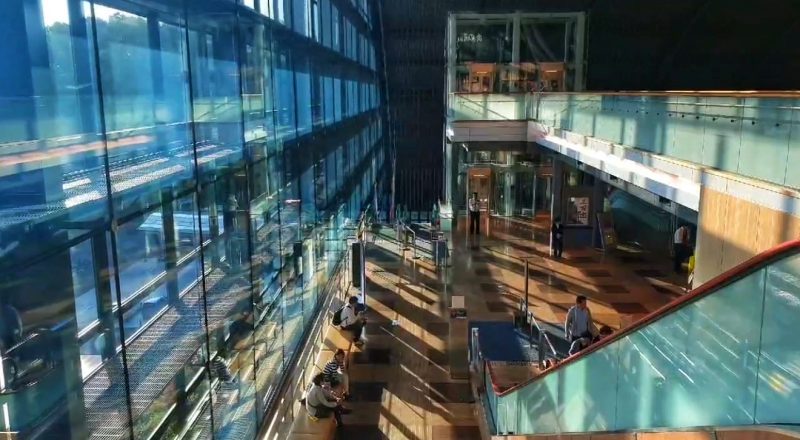 The entrance to the first floor is free for a souvenir shop, cafe, restaurant, and an interactive gallery known as ajippa. While the main permanent exhibition is located on the 4th floor with an admission fee of ¥430. It is the best place in Kyushu to learn about the pre-modern history of East Asia with Japan. Travelers will inspire by its spacious collection of Japanese artifacts related to Kyushu history. It will also host a special exhibition on the third floor with an additional admission fee.
Worth visiting the Kyushu National Museum if you love to explore the history of Kyushu and Japan.
Get The Kyushu National Museum Admission Ticket
Getting there: 5 minutes walk from Dazaifu Tenmangu.
Overview: Day Trip To Dazaifu Itinerary
In short, if you are looking to take a short day trip from Fukuoka, look no further than Dazaifu. A good place from the hustle and bustle of city life in Fukuoka. Added, getting to Dazaifu from Fukuoka is very convenient and easy. Whether you have a few hours or a full day, a day trip to Dazaifu is really worth for visit. lastly, I hope the above recommendation day trip from Fukuoka to Dazaifu can inspire you to include the Dazaifu itinerary into your Kyushu trip. Happy travel to Dazaifu.
If you are looking for more information about traveling in Fukuoka and Kyushu, take a look at our travel blog post below.
Planning on the Kyushu itinerary? Check out Kyushu Itinerary: Ultimate Travel Guide For Kyushu Trip.