Last updated on September 23rd, 2023
The best Beppu itinerary and travel guide. Including things to do and see, best food to eat, where to stay, money saving tips when visiting this onsen town.
Located in Oita Prefecture, Beppu (別府市, Beppu-shi) is one of the famous onsen spa resorts in Kyushu Japan. It is home of more than two thousand of onsen spot and blessed by a variety of hot spring resources. Don't be surprised by its numerous hot spring steam across the city when you are getting around. Although many travelers come to Beppu to relax in the hot spring bath, there are so many things to do and see in this popular hot spring town. Whether you are only planning for one day Beppu itinerary or spending one night for its amazing hot spring bath, Beppu is one of the great places for a relaxing trip. Not to forget the best food and local dishes that highly recommended to try on when visiting in Beppu.
This is my Beppu itinerary during our visit to Kyushu Japan. Beppu is located nearby Yufuin and Kurokawa onsen which famous for quaint and laid back hot spring town. Beppu has its charm and long been known as Japan's premier hot spring resort city. The main attraction is to experience Hell's valley for its visually stunning hot springs.
In this Beppu travel guide blog, we listed down the must-visit attraction, things to do and see when visited here. It is also suitable for those who plan for a one to half-day trip to Beppu. Check it out.
Beppu Transport Guide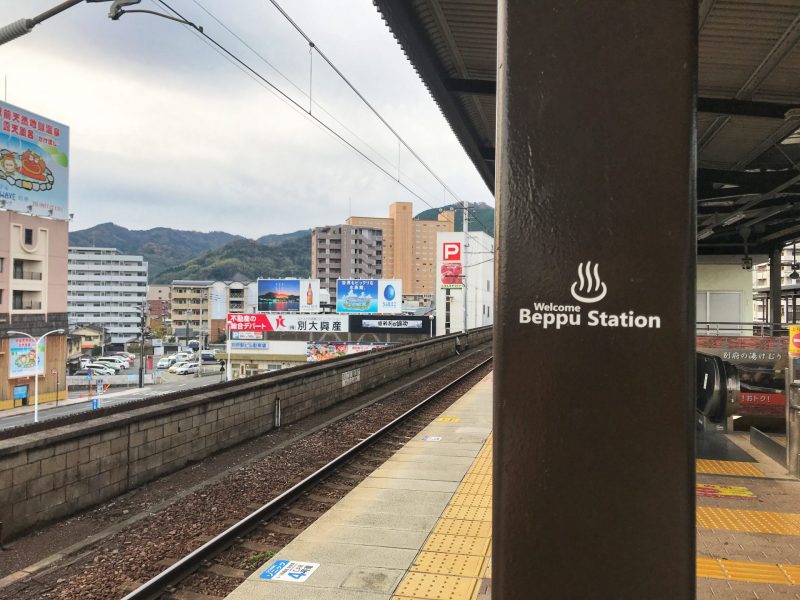 The fastest way to get to Beppu is to get to Kyushu Airport and then traveling to Beppu. There are few International and domestic airports nearby Beppu, welcome visitors by flight in Oita Prefecture. Most of the travelers will choose to get to Fukuoka International Airport as it is the biggest and busiest airport in Kyushu Japan.
Travel Tips:
We recommended to stay nearby Beppu Station for easy getting around and food hunting. The
Beppu Kamenoi Hotel
is located within 5 minutes walk from the station. It has a high reputation by offering great size rooms with a spacious layout. Popular pick in Beppu.
How To Get To Beppu
Assuming you are already in Japan, Beppu can be easily accessed from Fukuoka or other cities in Kyushu. Self-driving by renting a rental car for the Kyushu road trip is the best option to travel at your own pace. It is also suitable for those travel with elderly or family with kids. Sometimes, the transportation expenses also cheaper if you are traveling with a group of families. There are many car rental depots in Kyushu and mostly are located nearby the airport. You may check on your car rental option from RentalCars.com. It provides a range of reliable car rental company in Japan with a proper price listed. Compare your best rental car from RentalCars.com.
Getting to Beppu by JR Train: Depend on your itinerary planning, the JR train is a great option if you are traveling to Beppu from Fukuoka. The Sonic Limited Express train departs from Hakata Station to Beppu with two to three train depart per hour. One way of train ride takes about 120 minutes at 5150 yen. While train ride is always not cheap in Japan. For foreign travelers, consider getting the Japan Rail Pass or JR Kyushu Pass to save on your train ride.
Getting to Beppu by Bus: Kyushu highway bus running frequently to Beppu from various cities. The bus fare can be ranging from 2,000 yen depends on the distance. SunQ Pass is a great money-saving pass when traveling Kyushu by public bus. It is dedicated to foreign visitors for an unlimited bus ride and covered almost 99% of the bus service in Kyushu.
Beppu Transport Tips:
Regardless of traveling by bus or JR train, please plan your Beppu itinerary. Although frequent transportation getting to Beppu, please reserved your seat to avoid standing along the journey.
I bought the SunQ Pass when traveling in Kyushu. It was super convenient as must-have, especially you are planning to visit Takachiho Gorge, Kurokawa Onsen, Mount Aso, and other attractions that not accessible by train. Do your smart calculation to see whether the SunQ Pass is a great value for you. Choose from the Southern Kyushu 3-Days Pass, Norther Kyushu 3-Days Pass or All Kyushu 3-Days/4-Days Pass based on the covered region. You can get on and off by just showing this pass without paying any additional fee. However, please take note express bus required for online reservation.
Getting Around in Beppu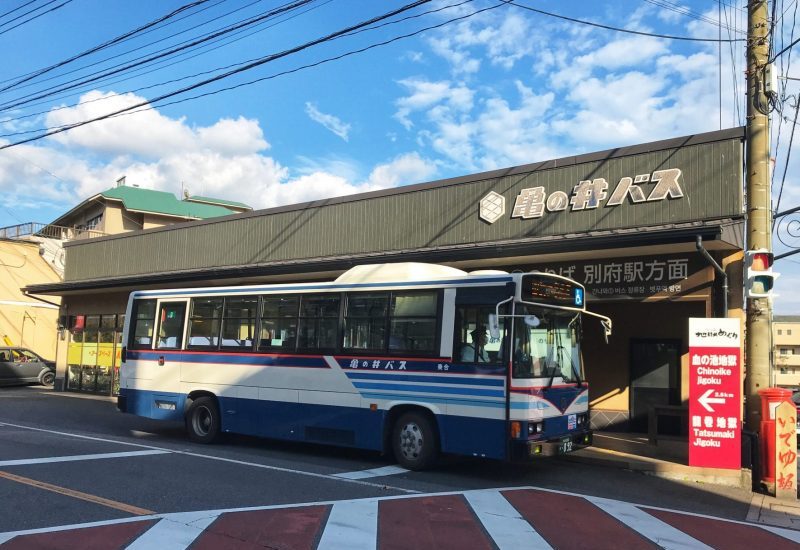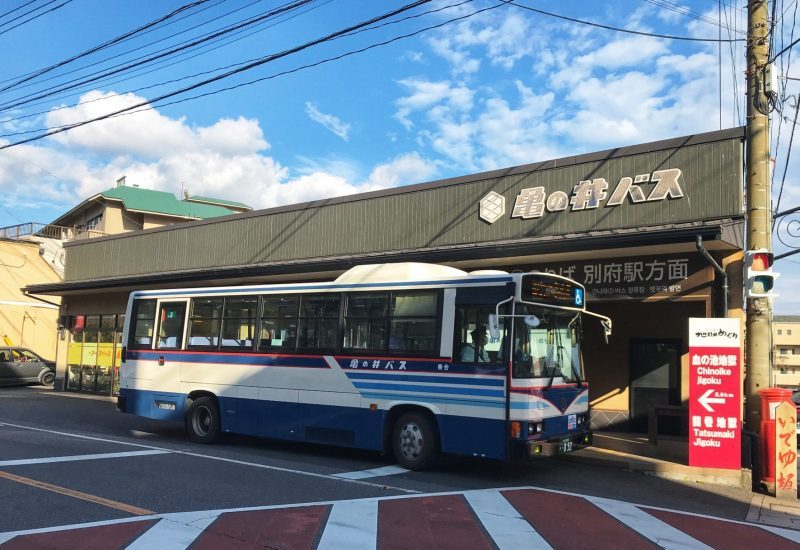 Beppu is a big city and getting around in Beppu is not flexible. Most of the well-known onsen and top attractions such as eight hells (地獄, Jigoku) are located in the Kannawa area. So Kamenoi Bus is the most convenient public transport in town especially if you are planning to visit these top sights.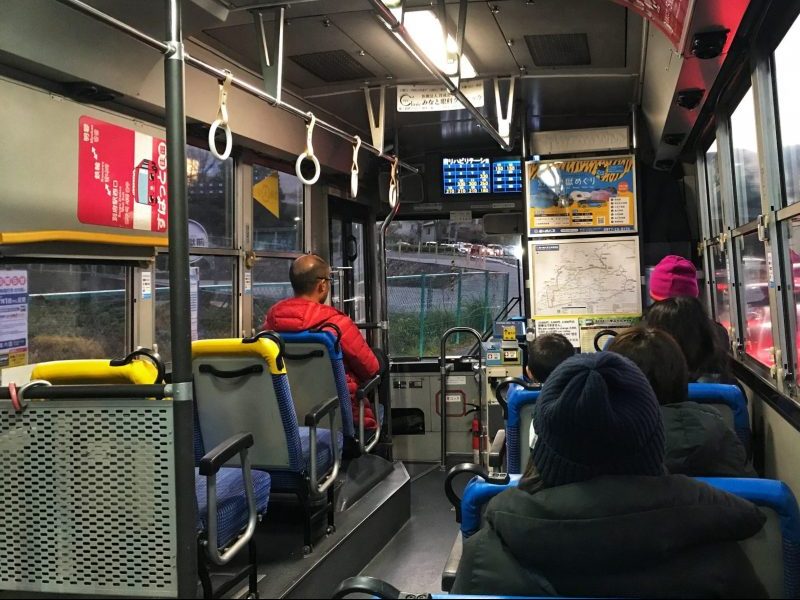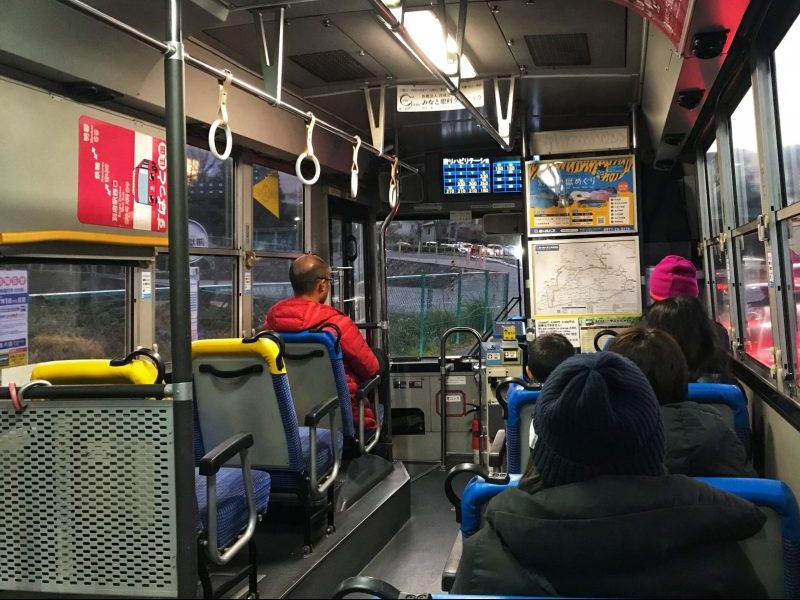 Regular bus service departs almost 30 minutes from Beppu Station and takes you to the main attraction in Beppu. The bus fare depends on your distance and operate in the same manner in Japan. Just take the bus number ticket and drop your coin into the payment box once exit. So prepare your coin. We recommended getting the one-day bus pass which is likely the best deal. Just show the pass to the driver whenever you get off from buses. Besides, SunQ Pass is covered all the bus routes in Beppu.
There are a few types of bus pass available to help you get around in Beppu.
My Beppy Free Pass: 1 Day ¥900 and 2 Days at ¥1,500 (Within Beppu City central)
Wide Beppu Free Pass: 1 Day ¥1,600 and 2 Days at ¥2,400 (Cover up to Yufuin)
You can get the bus pass from Tourist Information Office inside the JR Beppu Station. Besides, don't forget to ask for the bus route map and other useful sightseeing information guide from the friendly staff. Take note that you cannot get the Beppu Day Bus Ticket on board.
Kannawa Bus Station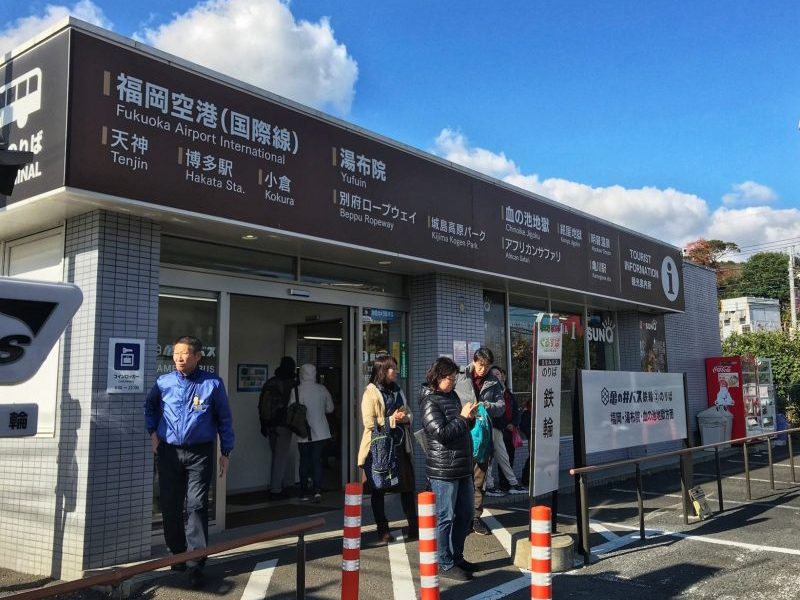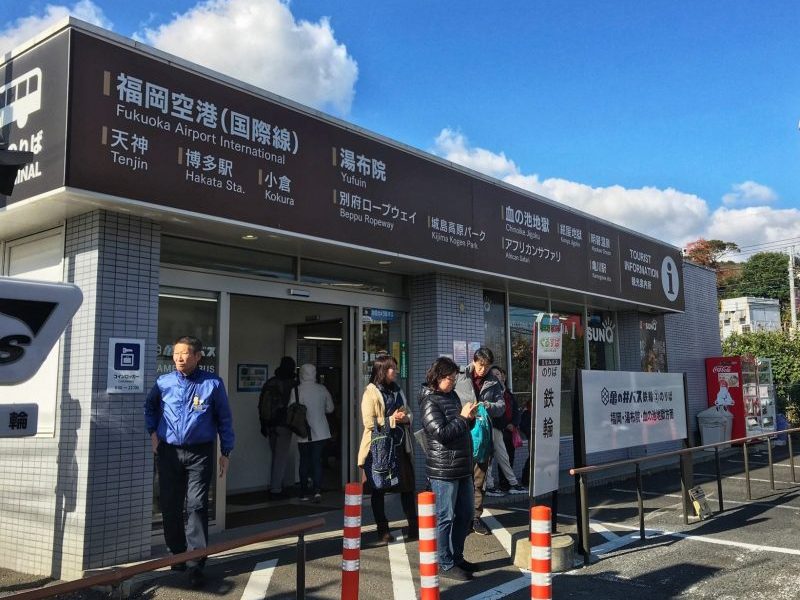 Beside the Beppu Station, Kannawa Bus Station is one of the important transportation hubs in Beppu. It is the main interchange station when touring around the hot spring attraction. No worry on getting around Beppu by bus. The bus schedule is well displayed in the station. Buses arrived timely and the drivers were polite.
Added, there are also helpful staff helping and guiding the onboarding bus to the desired attraction. We were confused on how to get to Myoban onsen from Kannawa. The lady in the Kannawa information counter is very helpful and could speak fluent English.
Things To Do in Beppu
There are many things to do in Beppu when planning on our Beppu itinerary. During our visit to Beppu, we spend about one day visited the most popular Hell Valley. Moreover, we were staying one night in town to try on the onsen bath before proceeding to the next destination.
Once in Beppu, we headed to our accommodation to deposit our luggage. Our hotel, Nogamihonkan Ryokan is about 8 minutes walk from the JR Station. It is a traditional ryokan with a public hot spring bath. Besides, our room is clean and equipped with modern facilities.
Next, we headed our way to Kannawa by bus. We spent several hours touring the main sights and tried on some unique local dishes in Beppu. So read on our one day Beppu itinerary below.
Things To Do in Beppu itinerary:
Meet the Kumahachi Aburaya statue in front of Beppu Bus Station
Jigoku Meguri Tour (Eight Hell of Beppu): Chinoike Jigoku and Umi Jigoku
Try the Hot Spring Steam Food: Jigokumushi Kobo Kannawa
Myoban Onsen: Visit Yunohana Goya
Taste The Original Jigoku-mushi Pudding
Enjoy Sand Bath in Takegawara Onsen
Kumahachi Aburaya in Front of Beppu Bus Station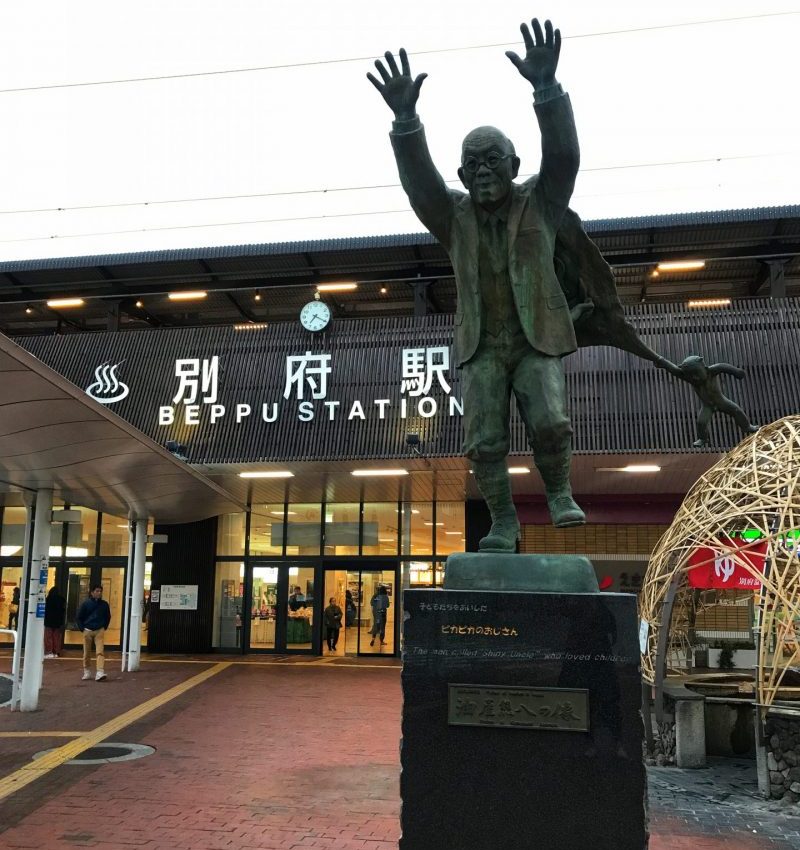 Before taking your bus ride, don't forget to meet the bronze statue of Kumahachi Aburaya. He is the father of Tourism in Beppu and works hard to promote the sightseeing of Beppu Hot Spring. This statue is just situated right outside of Beppu station which it is hard to be missed.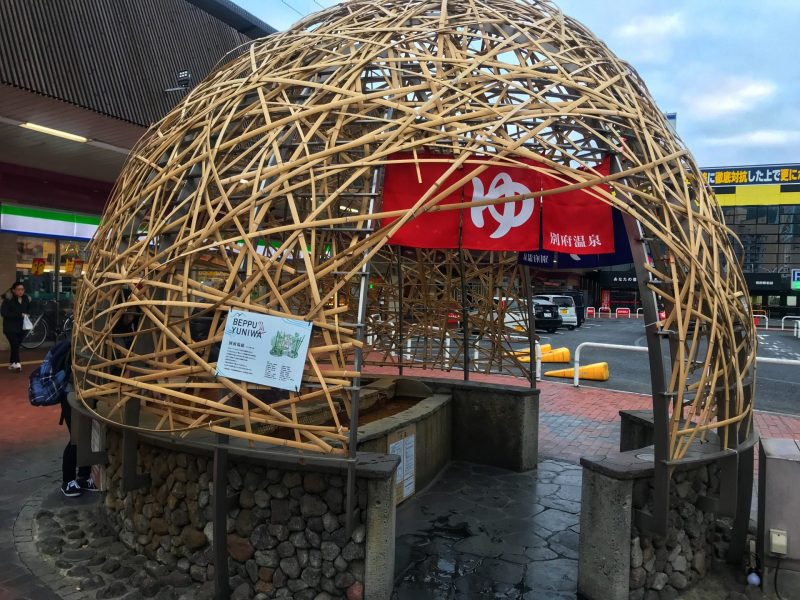 There is also a semi-circular shape located outside of the station with a hand spa available for free beside the statue. It was nice for people who need to warm up their hands before leaving the station.
Jigoku Meguri Tour: Eight Hell of Beppu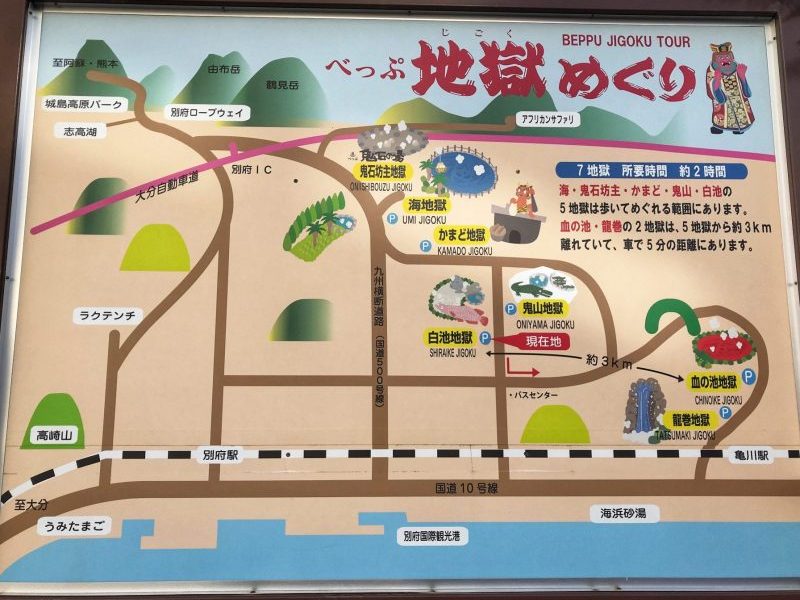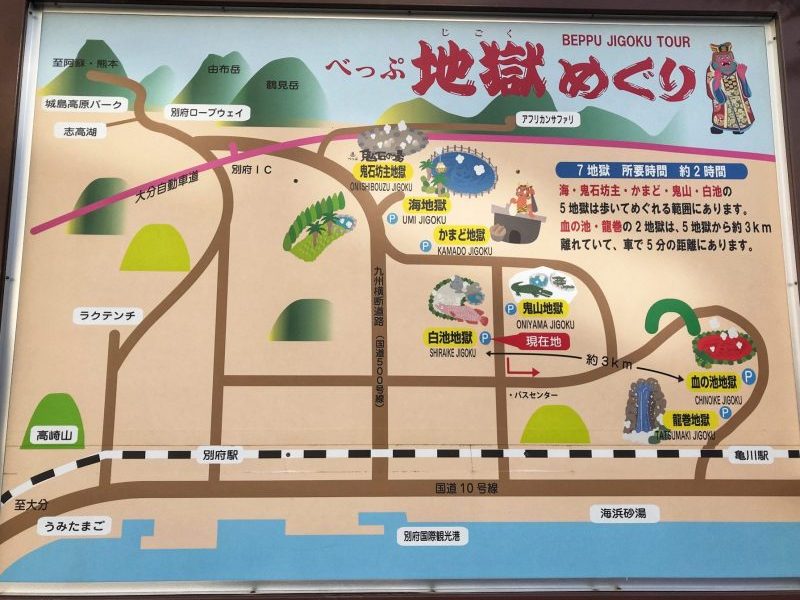 The popular tourist spot, Beppu is simmering with various hot spring attractions. One should visit the most popular Jigoku Meguri (地獄めぐり) which consist of 8 unique hot spring. Each of them has different colors and characters of their unique attraction. A 30 minutes bus ride from Beppu Bus Station will get you to the Kannawa area.
Kannawa District
Below six Jigoku are located nearby and can be accessed within a few minute's walk. Just take the bus #2, #5, #9, #7, #41, or #43 from JR Beppu Station to the Umijigoku-mae stop.
Umi-Jigoku (海地獄 Sea Hell): National Scenic Spot. Famous with hot spring with bright blue color due to the large amount of iron sulfate.
Oniishibozu-Jigoku (鬼石坊主地獄 Shaven Monk's Head Hell): Boiling mud bubbles pools and look like the shaven heads of monks
Kamado-Jigoku (かまど地獄 Boiling Hell): Features several boiling ponds and a flashy demon statue.
Oniyama-Jigoku (鬼山地獄 Demon Mountain Hell): 70 species of crocodile are bred using hot springs with crocodile feeding shows can be seen.
Shiraike-Jigoku (白池地獄 White Pond Hell): Feature with white and milky hot spring pond.
Yama-Jigoku (山地獄 Mountain Hell): A big hippo is inside the park (newly added and not covered in Jigoku Onsen Ticket)
Shibaseki District
While the remaining two Jigoku is located about 2 km away. From Umijigoku-mae stop, walk for less than 5 minutes will get you back to the Kannawa Onsen Bus stop. From there, board the #16 and #16A bus to Chinoike-Jigoku-mae stop. While bus number #26 and #26A runs in the opposite direction. The buses run twice per hour.
Chinoike-Jigoku (血の池地獄 Blood Pond Hell): Feature reddish color hot spring pond
Tatsumaki-Jigoku (龍巻地獄 Geyser Hell): Hot geyser spot that erupted every 40 minutes
Beppu Travel Tips:
Each Jigoku has its entrance and car park with 400 yen per entrance. It required about three to five hours to visit all the Jigoku. There are Jigoku Onsen Ticket to access all the Jigoku entrance at 2000 yen. Worth it if you plan to visit at least 5 Jigoku. However, if you only have limited time, we recommended visiting the Umi-Jigoku and Chinoike-Jigoku. I feel that not necessary to visit all Jigoku. But it is also not a bad idea for first-time visitors to view on geothermal wonder.
If you don't walk to arrange transportation, consider joining the day tour for a hassle-free trip to Beppu. There are few options which coupled up with popular attraction in Kyushu. Click on below for more info:
Chinoike Jigoku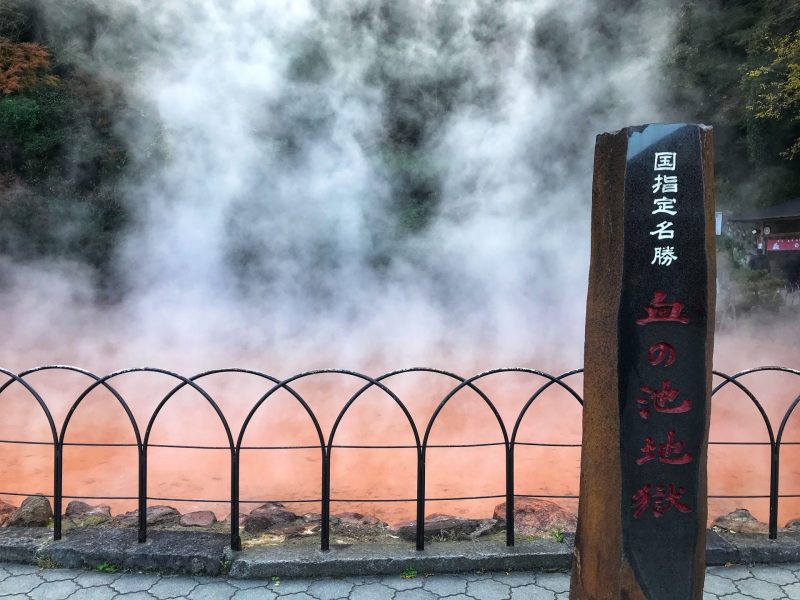 Due to limited time, we decided to visit only the Umi-Jigoku and Chinoike-Jigoku among all the Beppu attraction. To ease on transport arrangement, we first headed to Chinoike-Jigoku among all the Jigoku Meguri.
From Beppu station, it was about 30 minutes of bus ride to get there. The Chinoike-Jigoku (血の池地獄 Blood Pond Hell) is famous for its reddish and orange thermal mud lake at high temperature that includes iron oxide and magnesium oxide.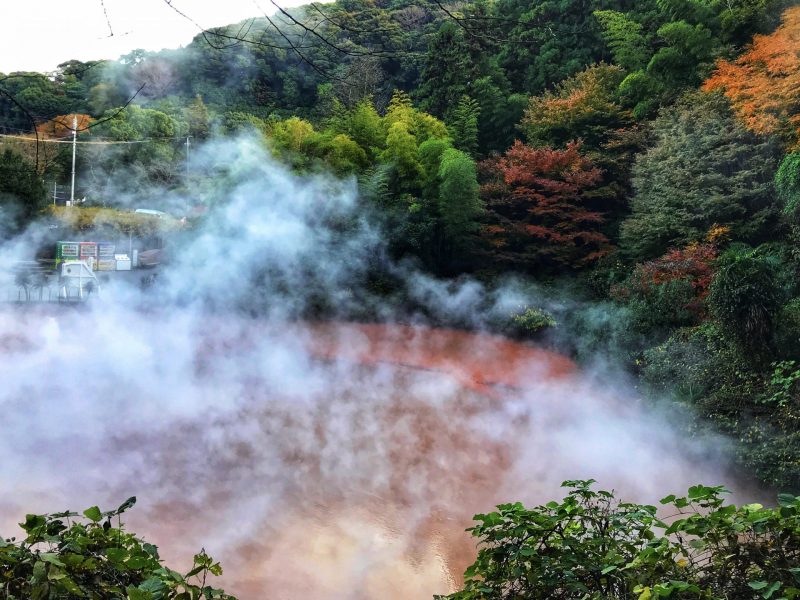 It's a pretty small attraction and you can finish with less than 20 mins to tour around. There is a trail that goes up and behind the pool which offers a very good photo opportunity. Added, there is also a footbath to try out for tired feet.
Beppu Travel Tips: If you are planning to visit Chinoike Jigoku and Tatsumaki Jigoku. The Tatsumaki Jigoku is a geyser spot and will erupted up at every 40 minutes. It is recommended to going there and check out the time for the geyser before heading to the Chinoike Jigoku. Once you know the time for the geyser, you can enter the Chinoike Jigoku, view the red hot pond that resembles a blood bath, enjoy the nice Japanese garden until the time for the geyser.
Getting There: From Beppu or Kannawa Bus Station, take bus #16 and #16A and get off at Chinoike-Jigoku-mae stop.
Umi Jigoku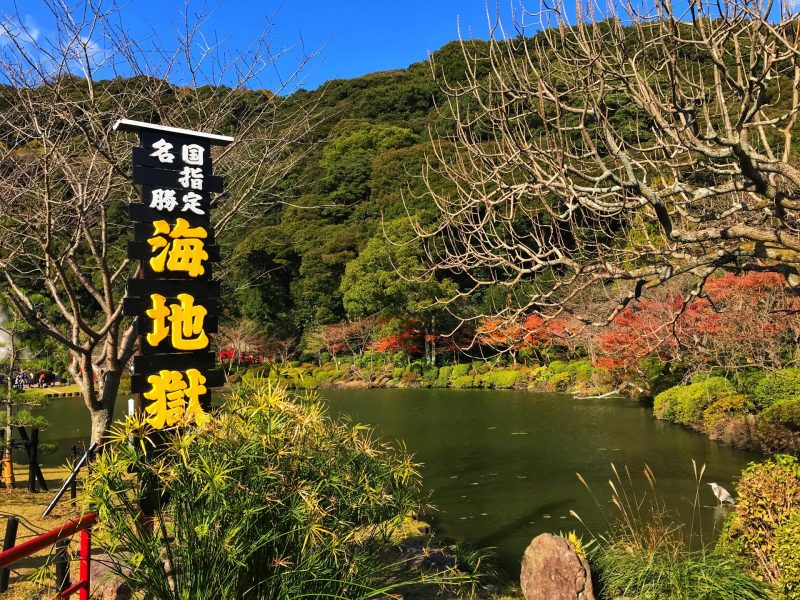 Next, we boarded the bus to Umijigoku-mae stop to Kannawa district. It is also the remaining six Jigoku located nearby. We visited the Umi-Jigoku (海地獄 Sea Hell) for its beautiful cobalt blue color hot spring pond.
Once entered, it was the lovely walk with trees, pond, fish pond and bridge in subtly decorated Japanese Garden. Continue pass through the souvenir shop, the grand volcanic hot steaming pool was awaiting us. It was so impressive, photogenic and quite a sight to see for me.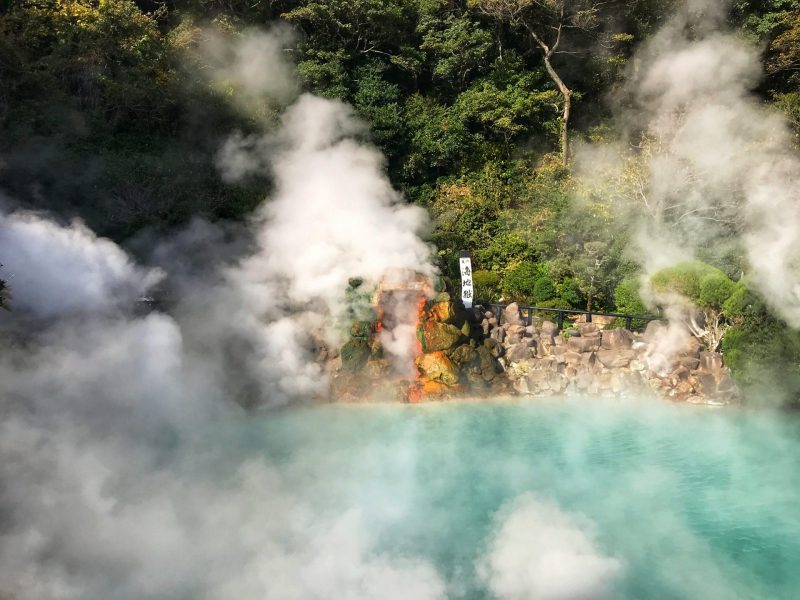 The Umi-Jigoku is the largest and most beautiful among all the eight Jigoku. The cobalt blue color steaming hot spring pond was spectacular. It was composed of a large amount of iron oxide in its 98 degrees high temperature. A lot of photo opportunities at every corner. We enjoy the experience of the sights and sulfur smell.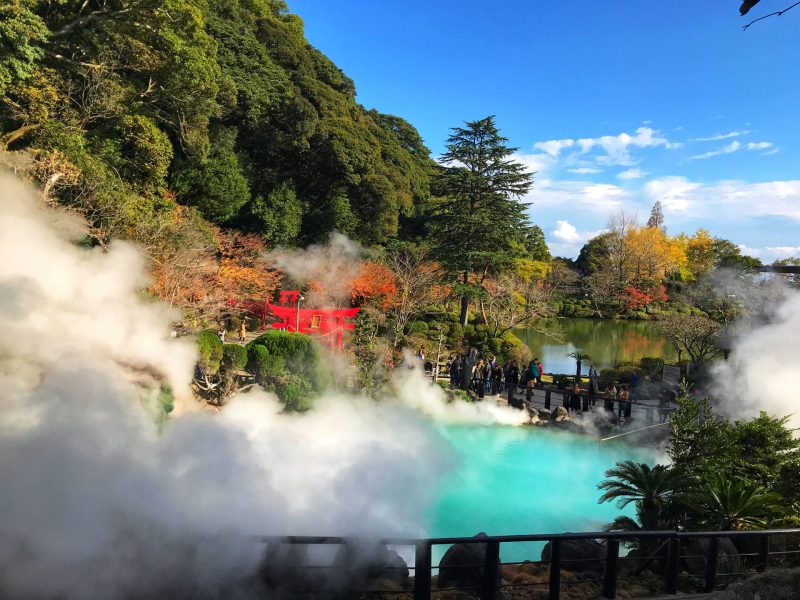 Though it wasn't my first time to see a hot spring with colors, this is truly beautiful and amazing. The hot spring keep bubbled up with steam jet up. It was still very impressive to see the natural geothermal right in front of you.
Take your time slowly enjoy the park. Well-established souvenir shops were selling local snacks that fully utilized the hot spring steam. Try the hell steamed pudding, onsen egg, and Manjus and various of snack here. Remember to take a small towel for the footbath.
Getting There:
From Beppu Station, take the bus #2, #5, #9, #24 or #41 and get off at Umijigoku-mae Stop.
From Chinoike-Jigoku-mae, take bus #26 and get off at Kannawa Bus Stop. Then change the bus or walk to Umijigoku (about 500 meters with 5 minutes walk)
Continue read on our visit to Umi Jigoku Beppu.
Hot Spring Steam Food: Jigokumushi Kobo Kannawa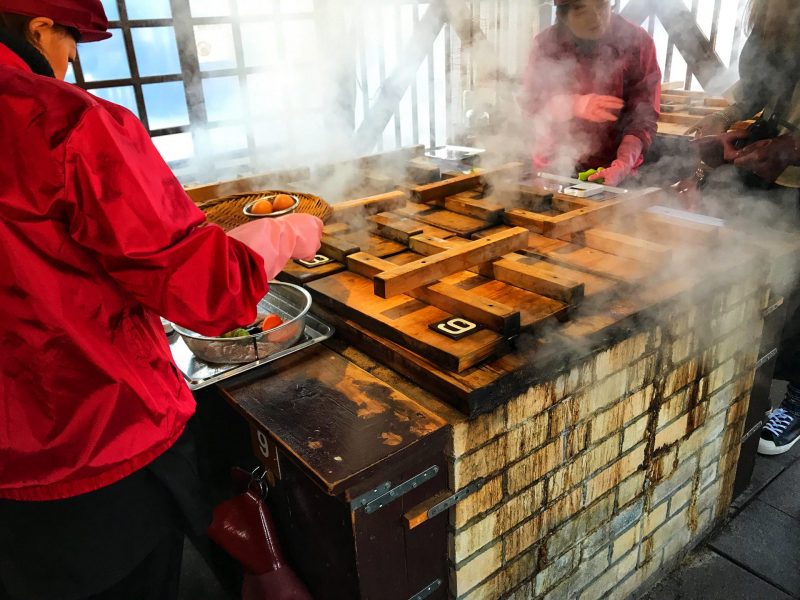 Next, we walked to the Kannawa area for late lunch. Local people in Beppu has harnessed the naturally hot steam and developed it into Beppu special local dishes. The hell steam cuisine (Jigoku mushi, 地獄蒸し). Visitor can select their ingredient and cooked them with hot steam jetting out directly from the ground. This simple method can bring out the most original and true flavor of food.
There are many Hell Steam restaurant in Kannawa. We choose to dine in the most popular Jigoku Mushi Kobo (地獄蒸し工房鉄輪, Jigokumushi Kōbō Kannawa). It is the self-service restaurant and run by local volunteers. That's mean you have the opportunity to try and prepare the hot steam food on your own.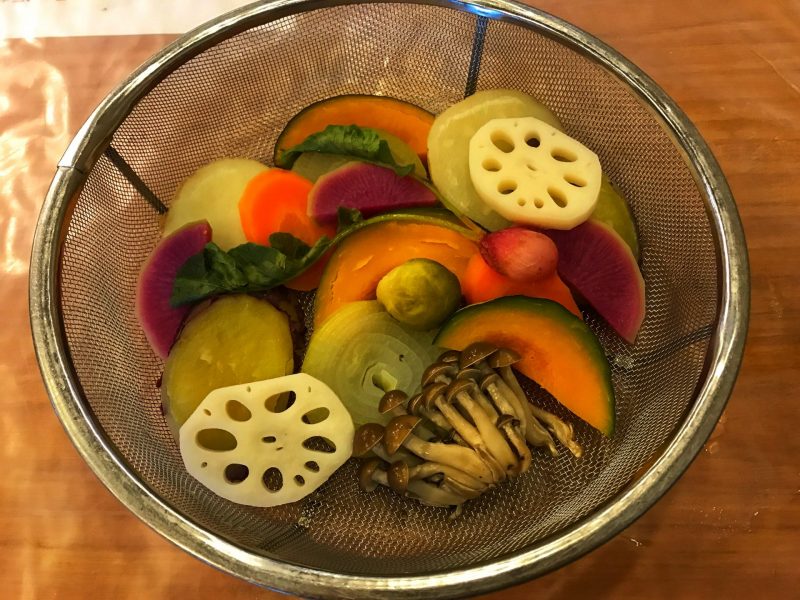 Follow the well-organized flow and instruction. We have our self prepared hot steam cook. See our steam fish and vegetables set. We like the vegetables set especially the pumpkin taste so sweet even without any seasoning. Generally, the taste was light and you can opt to dip it with salt or soy sauce.
An interesting experience. One of the must-try food if you are looking for what to eat in Beppu.
Operating Hours: 9:00 to 21:00 (last start for cooking at 20:00)
Closed: Third Wednesday of each month (or the next day if Wednesday is a holiday)
Expected to Pay: Ranging from ¥2,000 to ¥4000 per person depends on what you order
Getting There: 2 minutes walk from Kannawa Bus Stop
Further reading on: Fun Dining Experience in Jigokumushi Kobo Kannawa, Must Try Food in Beppu
Myoban Onsen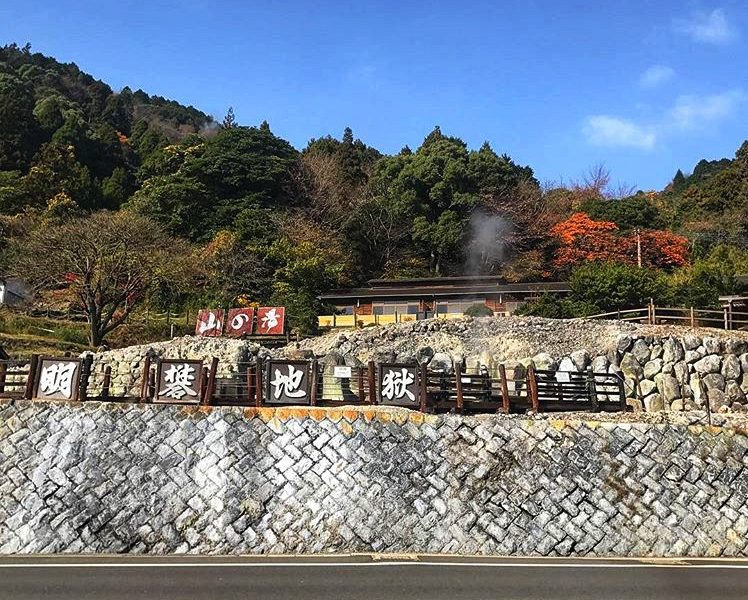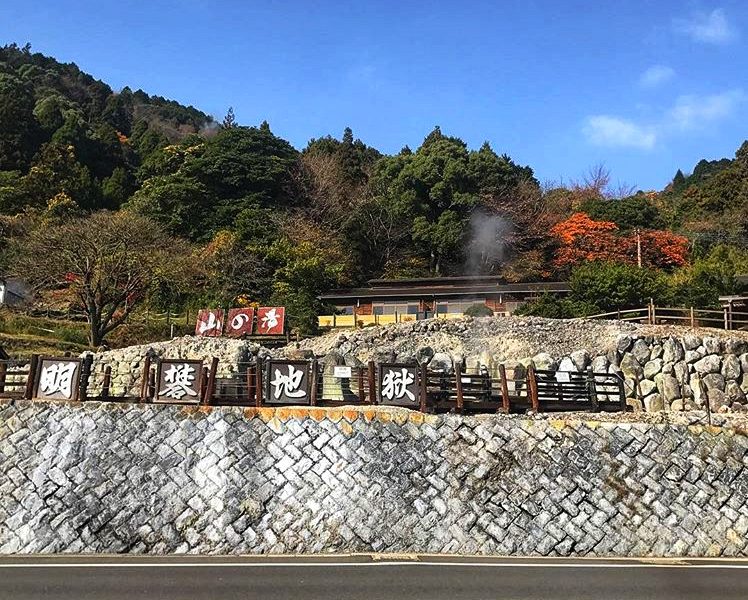 Lastly, we decided to make use of the unlimited bus ticket and get to the Myoban hot spring village. Myoban Onsen (明礬温泉) was located on a hillside at the north of Beppu. This hidden gem is famous among locals for its rustic feel and authentic onsen. There has family only private spa (onsen), mixed outdoor spa to try on.
Below are the top three hot spring bath in Myoban Onsen:
Myoban Yunosato is an outdoor onsen with a milky bath and renowned for producing its salt bath. Enjoy your onsen bath with great views with the surrounding hill.
Onsen Hoyoland is unique for its outdoor mud bath which enriches with sulfur and good for soothing skin.
Okamotoya Ryokan is one of the best hot spring established in Beppu. It is particularly famous for its turquoise blue water onsen baths or Umi Jigoku. Staying one night in Okamotoya is not cheap. Alternatively, you can try on their day visit.
Yunohana Goya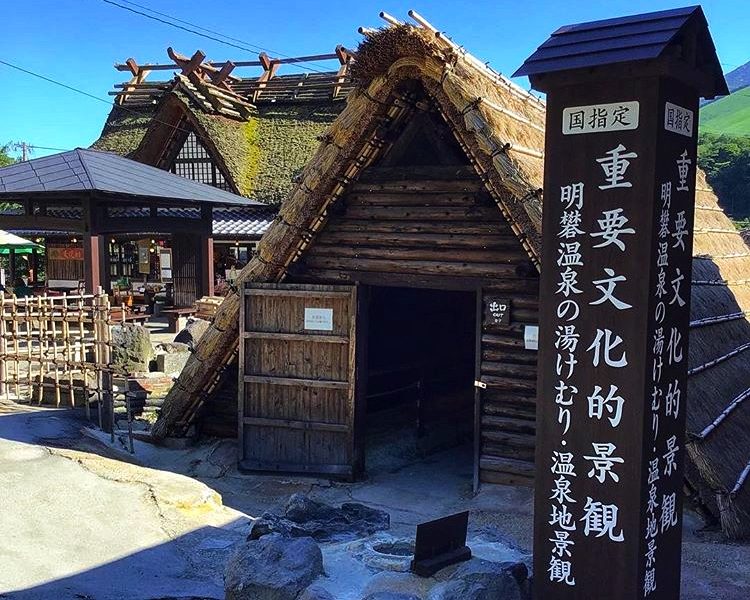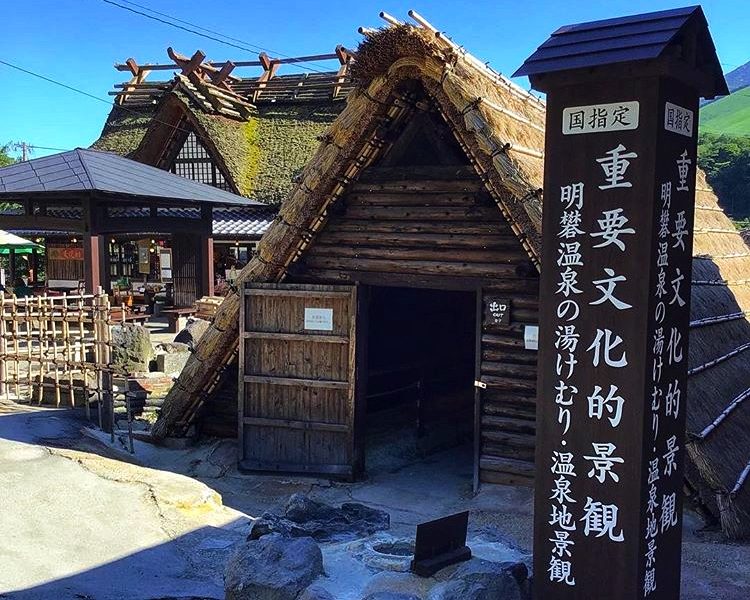 We went to Yunohana Goya for a leisure walk. There were straw-thatched huts in a hot spring area to collect the "Yunohana" onsen powder for bathing. It was formed when vapor gushing out from the underground in Yunohana Goya.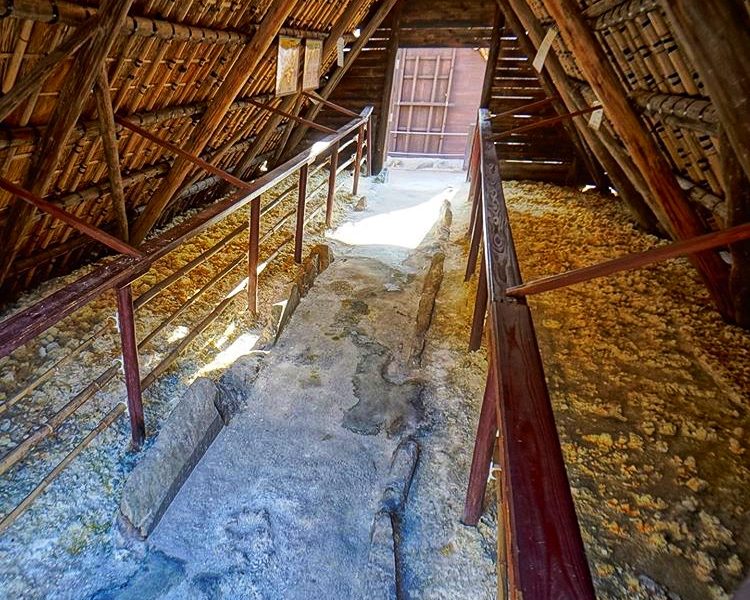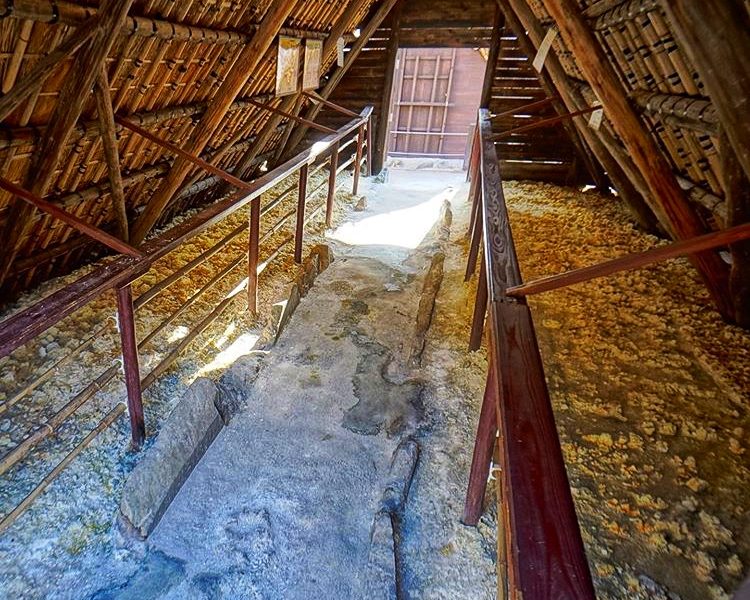 We were allowing seeing how the onsen crystal was growing and collected from the little huts. A unique experience to see how the traditional method to collect the natural bath powder.
The whole area was full of rotten egg smell due to the sulfur. The hilly side with unique thatched huts were very picturesque. However, please take note on the sunset time. We were slightly rush as the sky get dark early during winter.
Getting there: From Kannawa Bus Stop, take the bus #5, #24, #41 to Jizoyumae (地蔵湯前). It is the bus stop located just beside Okamotoya Restaurant.
Taste The Original Jigoku-mushi Pudding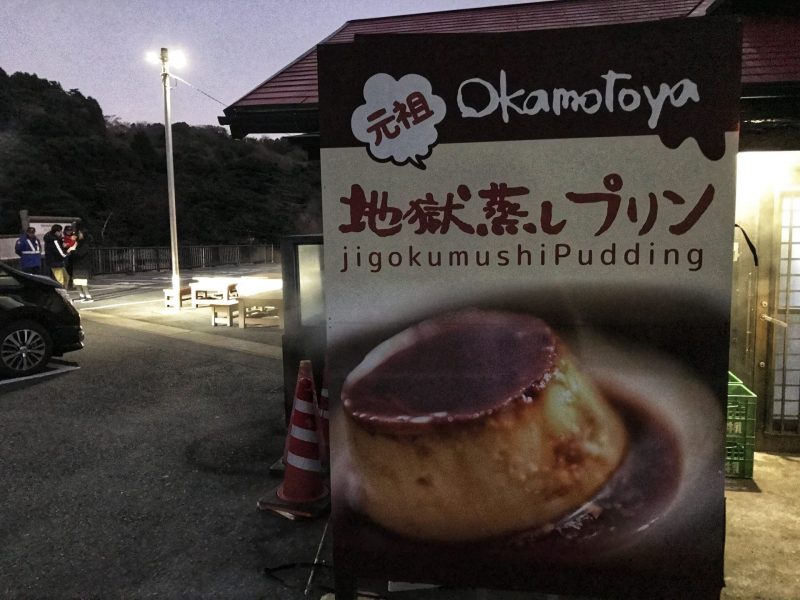 Our main purpose to Myoban onsen was to try on the original Jigoku-mushi Pudding. The Okamotoya restaurant (岡本屋売店 元祖地獄蒸しプリン) is the first inverted and selling the famous Jigoku-mushi Pudding in Beppu since 1988. It also serves other hot spring steamed specialties such as onsen eggs and udon, curry rice and so on. A great place if you look for what to eat in Beppu.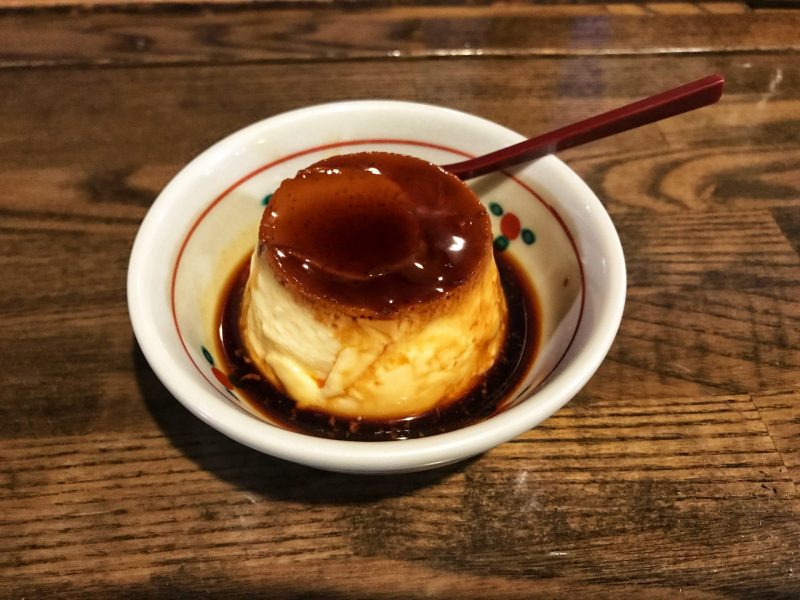 We ordered the Jigoku-mushi Pudding for a quick snack. Although this hot spring steamed pudding is everywhere, but the pudding tastes different in each place. We like the Jigoku-mushi Pudding from Okamotoya. It has the right amount of caramel and rich in flavor. Not too sweet and come with slight bitterness and salty taste.
Enjoy your time and relax watching the steam rise into the sky, or gazing at the Yunohana-goya huts. We had enough rest inside the Okamotoya restaurant. Next, we boarded the bus back to the Beppu Bus Station.
Okamotoya Restaurant
Operating Hours: 8:30 to 18:30
Getting There: Take the bus #5, #24, #41 to Jizoyumae (地蔵湯前) from Kannawa Bus Station
Official Website: http://www.jigoku-prin.com/
Enjoy Hot Spring Sand Bath
Beppu is known for onsen town which features with many traditional bathhouse. Many travelers are flocking into Beppu to try on its hot spring bath. One of the unique experiences in Beppu is try on the sand bath. There are two popular places to try on the sand bath in Beppu.
Shoningahama Beach Sand Bath (別府海浜砂湯): steaming in hot sands while enjoying the sea view
Takegawara Onsen (竹瓦温泉) is one of the retro onsen facility in Beppu which build in 1879.
Takegawara Onsen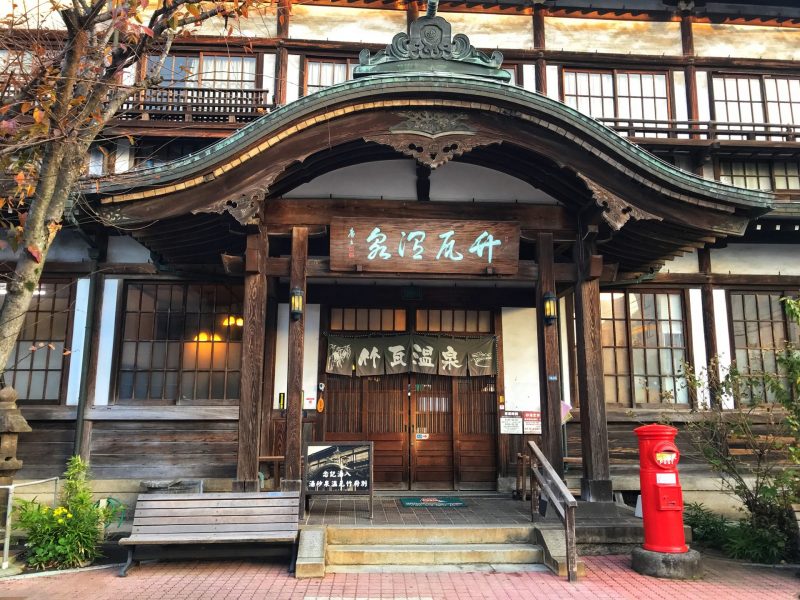 We choose to enjoy our first sand bath experience in Takegawa Onsen. It is located within 2 minutes walk from our hotel, Nogamihonkan Ryokan. Takegawa Onsen probably is the most traditional onsen facility in Japan. So don't expect for modern equipment. But it has its charm and extraordinary.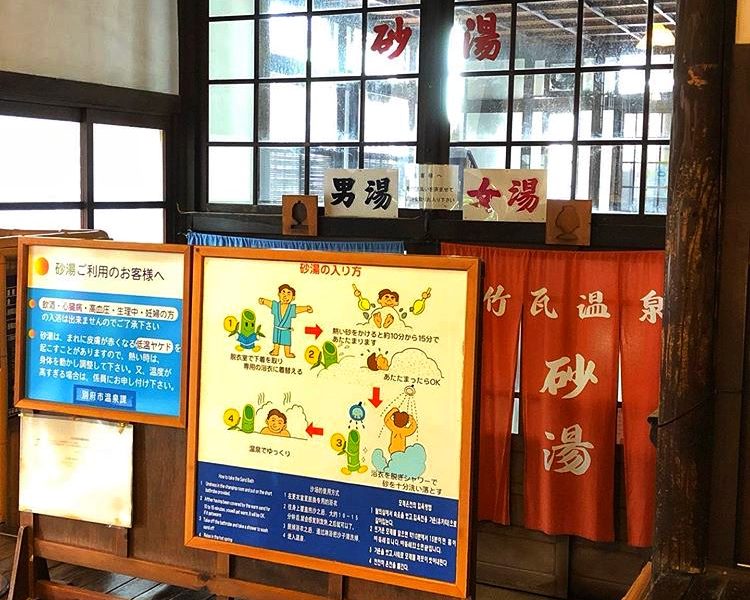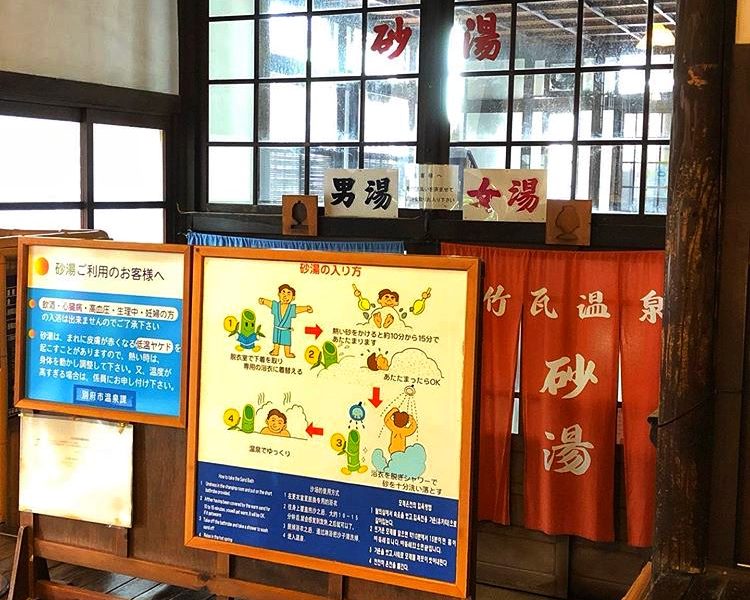 Although the staff couldn't speak English but they are very friendly. There was instruction to guide you on how to enjoy the sand bath. Man and female were buried in the same area, but we were given the yukata during the process.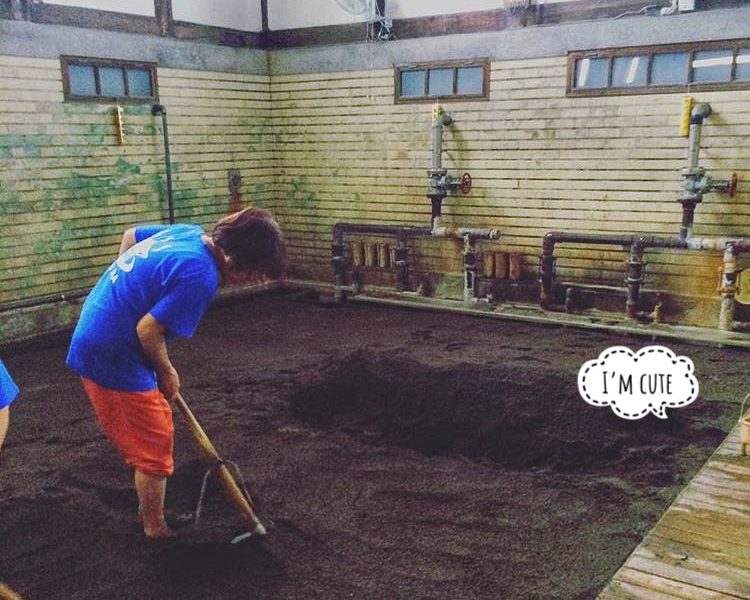 The sand is heated in the thermal hot spring and then bury you up to the neck for up to 10 minutes. It is said the thermal sand bath is very effective to help the body release the joint and muscle pain. Once finished, you can clean up your body and enjoy the traditional hot spring bath with gender separate.
One of the fun and extraordinary hot spring experience in Beppu. While it only accommodates 8 people in one time, so you might need to wait for your time slot. We waited for 30 minutes even in the morning. It probably will be longer during peak time. Bring your towel, else you will need to buy one at additional charges.
Takegawara Onsen
Operating Hours: 6:30 to 22:30 (onsen bath) and 8:00 to 22:30 (sand bath). Last entry at 21:30
Entrance Fee: ¥110 (onsen bath) and ¥1050 (sand bath)
Getting There: 10 minutes walk from Beppu Station
Official Website: https://www.city.beppu.oita.jp/sisetu/shieionsen/detail4.html
What To Eat in Beppu
Besides the hot spring steam food, there are many local cuisine and worth to try on in Beppu. Here is the list of restaurants that we have visited in Beppu.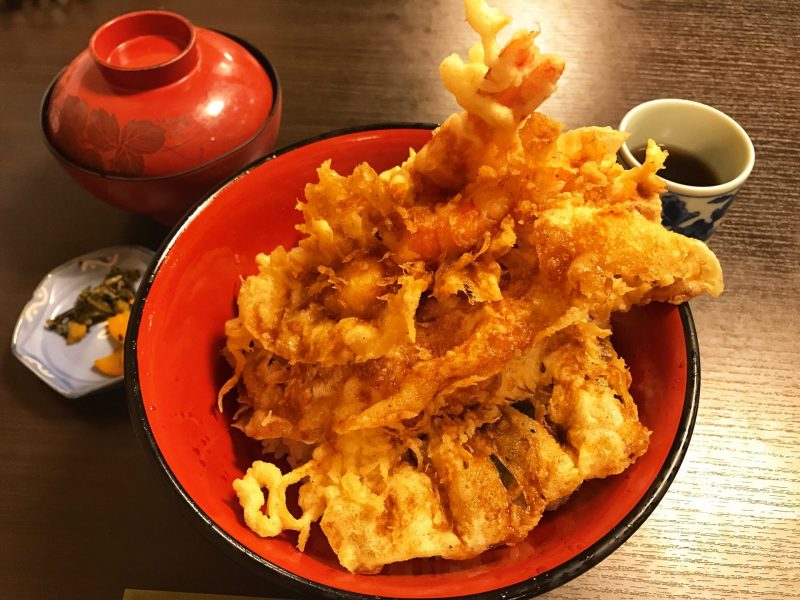 Toyotsune Beppu: Must Try Best Tempura Rice Bowl (Related Post: Food Review in Toyotsune)
Don't miss the delicious tendon in Toyotsune. It is one of the popular restaurants among local and foreign visitors in Beppu. Toyotsune served the best chicken, shrimp tempura over rice and other delicious meal. The tempura was crispy and delicious. Added, generous portion of food in reasonable price. Highly recommended if you are looking for what to eat in Beppu.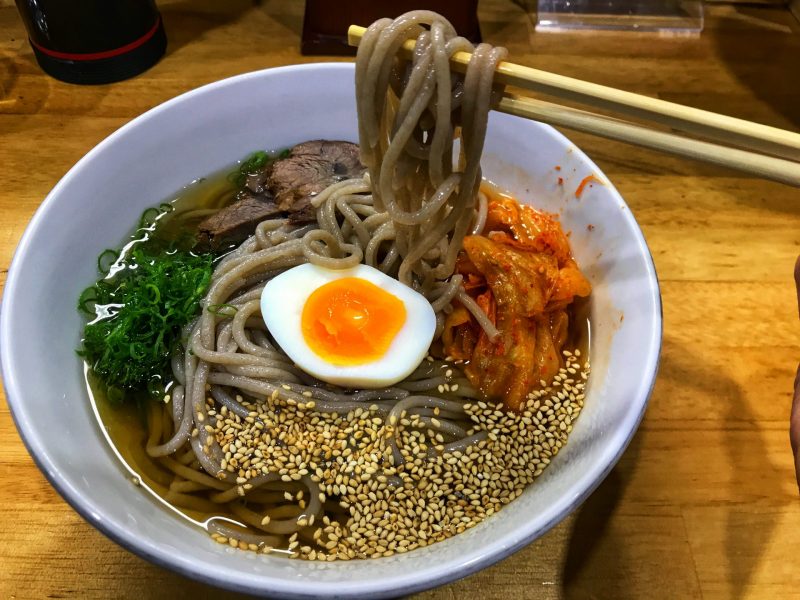 Rokusei Beppu: A Bowl of Handmade Reimen (Related Post: Food Review in Rokusei)
Beppu is particularly famous for cold noodles. Reimen was first introduced in Korea and make its way to Beppu. Local was advanced and altered into one of the popular noodles cuisine in Beppu. There are many reimen restaurant in Beppu. We visited the Rokusei for its handmade reimen. It was refreshing and tasty. One of the best cheap eats in Beppu.
Planning On Attraction Nearby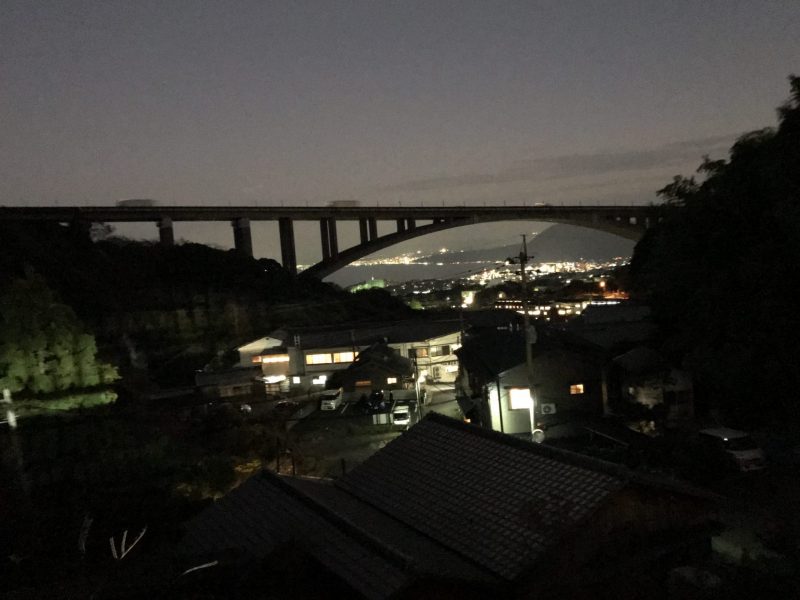 Beppu is a good base for getting around. Although we stayed in Beppu for 2 nights, we only visited Beppu city within 1 day. However, there are still many interesting attractions in Beppu that worth to spend some time.
Day Trip to Yufuin
The renowned onsen town, Yufuin is about a 1-hour bus ride from Beppu. Enjoy the leisure walk by strolling in town. Visit the beautiful serene Kinrin lake and try on various local snacks in town.
Getting there: From Beppu, both trains and buses can easily get you to Yufuin. The journey takes about 60 to 90 minutes one way.
Beppu Ropeway to Mount Tsurumi
The largest ropeway in Kyushu to Mount Tsurumi (鶴見岳, Tsurumidake). It is the best place with panoramic views of Beppu and Oita City. Once you reach the top of the ropeway station, take the easy hike to the top of the Mt.Tsurumi. The best vantage point which offers a beautiful view of the Beppu Area, Mt. Yufu and mountainous region in Oita.
Getting there: From Beppu Station, take bus #33, #34, #36 or #37 (¥420)
Ropeway: ¥1,000 for one way and ¥1,600 for a round trip.
Sanrio Harmonyland
For sure kids love to visit this fun theme park in Oita. Harmonyland is a Sanrio theme park featuring Hello Kitty, Cinnamon, My Melody, and crew. Spend time with your family and kids to enjoy the ride, musical and performance. It is not too big but Sanrio lover would love this.
Entrance Fee: ¥3,000
Travel Tips: Get Discounted ticket from Klook. Cheaper and easily redeemed at the ticket counter.
Where To Stay
Can't wait to visit Beppu after read through our Beppu itinerary? Let's take a look at the accommodation guide if you are looking for where to stay in Beppu. Depend on your Beppu itinerary, there are few areas to get your best stay in Beppu. We recommended staying in a hotel/ryokan with hot spring bath facilities. So that you can enjoy the hot spring after the tiring trip.
Below are our top three picks of the best stay in Beppu nearby Beppu Station.
Nogamihonkan Ryokan is a traditional ryokan with modern facilities in Beppu. Located about 10 minutes walk from Beppu station, Nagomi Honkan can unwind in the free public hot spring bath or private family bath. Complimentary drink and bike rental available. One of the popular picks for mid-range ryokan in Beppu.
Beppu Kamenoi Hotel strategically situated within 5 minutes of walking distance to Beppu Station. So it is very convenient to getting around and planning for a day trip to an attraction nearby. It offers an onsite public hot spring bath and sauna for guests. Comfortable room and friendly staff. Most importantly. reasonable price tag. One of the best sellers in Beppu.
Nishitetsu Resort Inn Beppu is another top pick for travelers when looking for a comfortable stay. The hotel is situated with less than 10 minutes' walk JR Beppu Station. Breakfast served in Western and Japanese styles at a cheap price. Added, public onsen bath, and free parking for hotel guests. Limited room and always fully booked. The traveler loves its reasonable price and strategic location.
Beppu Travel Vlog
At the end of the Beppu travel guide, feel free to take a 10-minutes video tour of how we spend 3-days in Oita prefecture to Oita, Beppu, Kokonoe and Yufuin. Hope this is helpful on how to plan your itinerary to Beppu.
If you like our video, don't forget to give us a like and subscribe to us on youtube. Thanks!
Overview: My Beppu Itinerary
All in all, hopefully, my Beppu itinerary can inspire and give you some idea to plan your trip to Beppu. Although Beppu can be quite busy and commercial compare with quaint Kurokawa Onsen and Yufuin. We truly enjoyed our visit to Beppu. The Jigoku hells tour is interesting for an hour or two. But we could spend a long time exploring the hot spring in town. We also love the Beppu local dishes and enjoy the extraordinary sand bath experience. Worth spending some time visiting this unique onsen town.
Lastly, this Beppu itinerary travel guide is part of my Kyushu travel blog. If you need some inspiration to plan for your trip, check out our trip to some other attractions nearby such as Kurokawa Onsen, Yufuin, Kokonoe, and more. Happy travel to Beppu.