Last updated on September 23rd, 2023
Read on our Aso travel guide if you are looking for how to get to Aso and getting around to sightseeing places. Find the best way to travel.
Mount Aso (阿蘇山, Asosan) is a popular attraction in Kumamoto prefecture. There are many beautiful attraction can be plan for one day or two day Aso Itinerary. The active volcano and the world's largest caldera give unforgettable experiences when visiting Aso. However, Aso is not easily accessed by public transport, especially after the 2016 earthquake.
We visited Aso as part of our Kyushu travel trip. Although it is difficult to access by public transport but pretty straightforward. Before the trip, we had a hard time looking for transportation information and still confused. It is very easy after our visit. Continue read on.
How To Get To Aso
There are various ways to get there by bus or by train. We had listed some of the useful Aso transport information if you are planning on Aso travel itinerary.
How To Get To Aso by public transport:
Beppu to Aso by train (120 minutes, ¥3100)
Beppu/Yufuin to Aso by bus (210 minutes, ¥3500/120 minutes, ¥2700)
Kumamoto to Aso by train (damage by earthquake)
Kumamoto to Aso by bus (120 minutes, ¥1500)
From Beppu/Oita To Aso By Train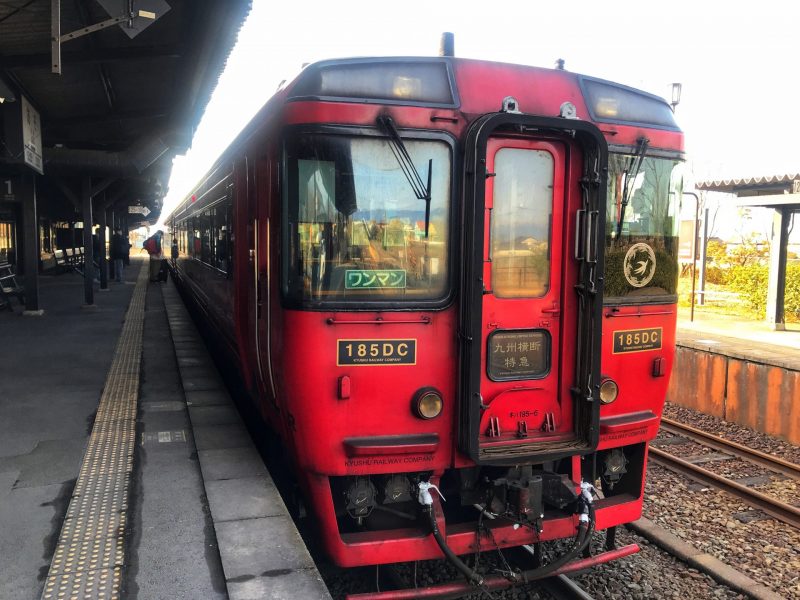 Firstly, from Beppu/Oita, you can either take a bus or train to Aso Station. From there, transfer to a local bus to Mount Aso.
The Kyushu Odan Tokkyu and Limited Express Aso Boy will be running between this train route. Most of the time, Limited Express Aso Boy will be running weekend while Kyushu Odan Tokkyu will be running during the weekday. (Check on train schedule). This direct train will take about 2 hours to Aso.
Direct Express Train running between Beppu (別府駅) and Aso Station (阿蘇駅):
From Beppu Station To Aso Station: 10:05
From Aso Station To Beppu Station: 15:11
However, there are only about 3 hours of visiting time if you choose to get to Aso from Beppu by direct train within one day. There is also a local JR train is running between Oita and Aso Station with approximately 2 hours of traveling time.
The traveling time difference for direct train and local train is about the same. For those who plan for 1-Day Aso Itinerary by JR train, it is an alternative option so that you can have a longer time to visit Aso's attraction. The only bad thing is the local train is not comfortable compare with the express train.
Local Train running between Oita (大分駅) and Aso Station (阿蘇駅):
Oita Station To Aso Station: 9:14
Aso Station To Oita Station with one-time transfer at Bungo-Taketa Station (豊後竹田駅).

From Aso Station to Bungo-Taketa Station: 16:41
From Bungo-Taketa Station to Oita Station: 17:44
Train from Beppu to Oita only takes about 10 minutes.
One way of express train journey cost about ¥3000. If you are planning to travel to Aso and Kyushu area by train, consider getting the Kyushu JR Pass (3-Days/5-Days). This pass will greatly save on the transportation pass. Valid for foreign visitors only.
From Beppu To Aso By Bus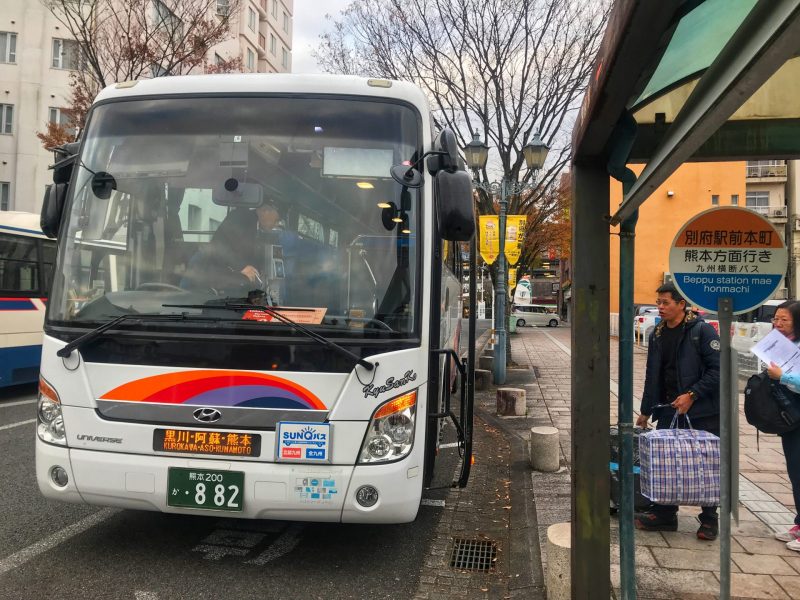 The bus takes longer time than trains. From Beppu station, take the Kyushu Odan Bus (210 minutes, ¥3500) to Aso Station. While this is the Kyushu Odan bus running between Beppu and Kumamoto, this bus will stop at Yufuin Station, Kurokawa Onsen and pick up the customer along the way to Kumamoto. Many travelers are using the Kyushu Odan Bus to Kurokawa Onsen too.
Kyushu Odan Bus website: https://www.kyusanko.co.jp/sankobus/kyushu_odan/
Bus running between Beppu (別府駅前本町) and Aso Station (阿蘇駅前):
From Beppu Station To Aso Station: 8:05
From Aso Station To Beppu Station: 14:12
Bus running between Yufuin (由布院駅前) and Aso Station (阿蘇駅前):
From Yufuin Station To Aso Station: 9:00, 13:50, 14:50
From Aso Station To Yufuin Station: 9:37, 10:42, 14:12
Aso Travel Tips: Get discounted Kyushu SunQ Pass from Klook with cheaper price. Pick up at Fukuoka Airport HIS counter and activate in Kyushu Service Counter beside. Advanced purchase is cheaper compare with buying on the spot.
From Kumamoto To Aso By Bus
Unfortunately, there is only bus is running between Kumamoto and Aso. The train service had been badly destroyed by 2016 earthquake. It needs time and a huge amount for reconstruction. The Kyushu Odan Bus is the only transport if you wish to get to Aso from Kumamoto by public transport. There are three buses per day (120 minutes, ¥1500). You can choose to board the bus from Kumamoto station or Kumamoto Sakuramachi Bus Terminal.
Bus running between Kumamoto (熊本駅前) and Aso Station (阿蘇駅前):
From Kumamoto Station To Aso Station: 7:31, 8:36, 12:06
From Aso Station To Kumamoto Station: 11:33, 16:23, 17:23
Self-Driving To Aso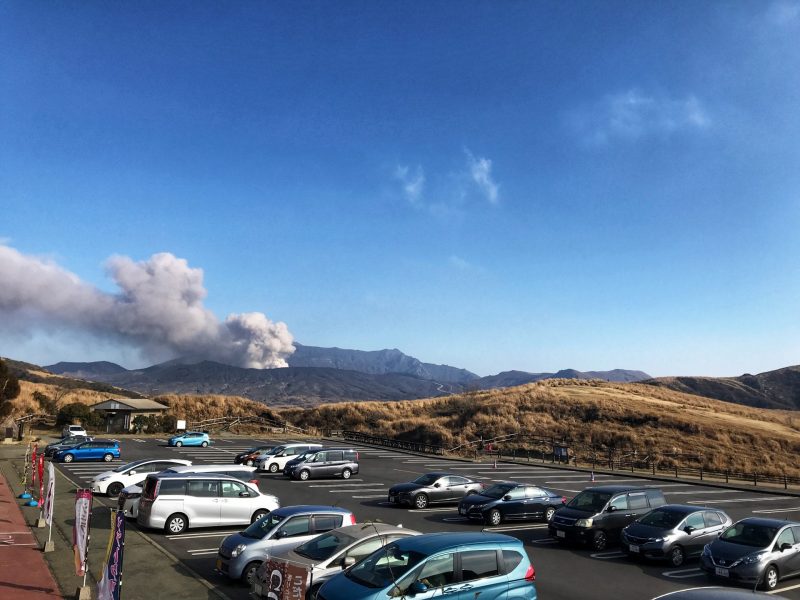 No doubt, self-driving is the best way to visit Aso. There are many rent a car offices are available to plan for your onward journey. Most of the offices are located at the airport. You can pick up your rental car once you get off from Fukuoka Airport or Kumamoto Aso Airport.
We recommended renting your rental car from RentalCars.com for the best deal. You can freely choose your car rental, pick up and drop off location at your reference. Most importantly, the best price guarantee. Driving in Kyushu is one of the leisure things to explore the attraction at your own pace. There are plenty of car parks at Aso's attraction to park their car.
Related Post: Tips on Renting Car and Driving in Japan
Getting Around by Sanko Bus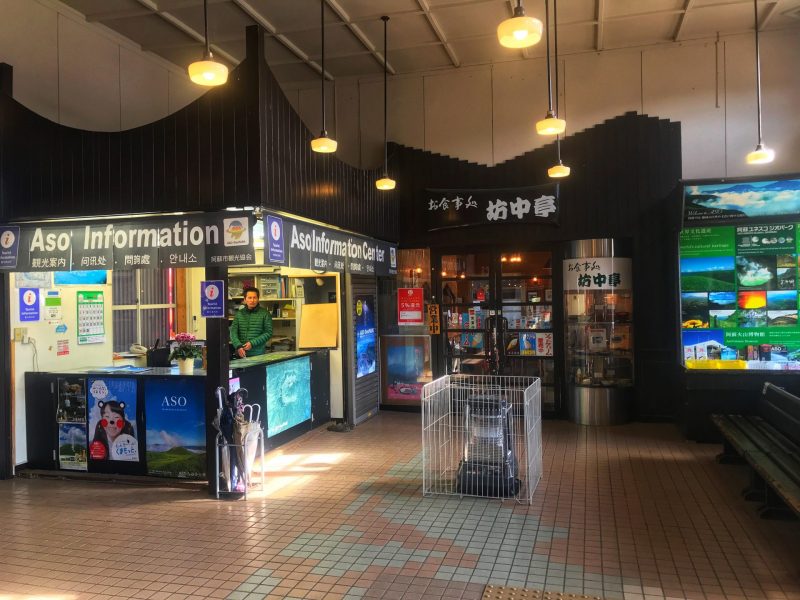 Once you get off from the train station, you can take the local bus (Sanko Bus) for sightseeing. The travel information counter is available inside the train station. They are very helpful if you need some help for visiting around. Added, you can also get the bus schedule to the volcano crater, Kusasenri or Daikanbo.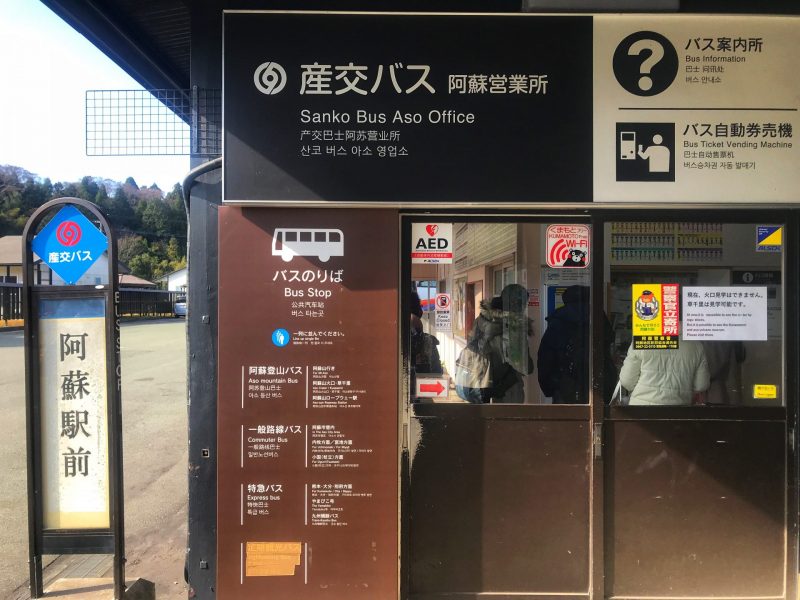 While the bus station located right beside the train station. You can purchase your bus ticket inside the station.
Detail bus schedule and fare: https://www.kyusanko.co.jp/sankobus/aso_sen/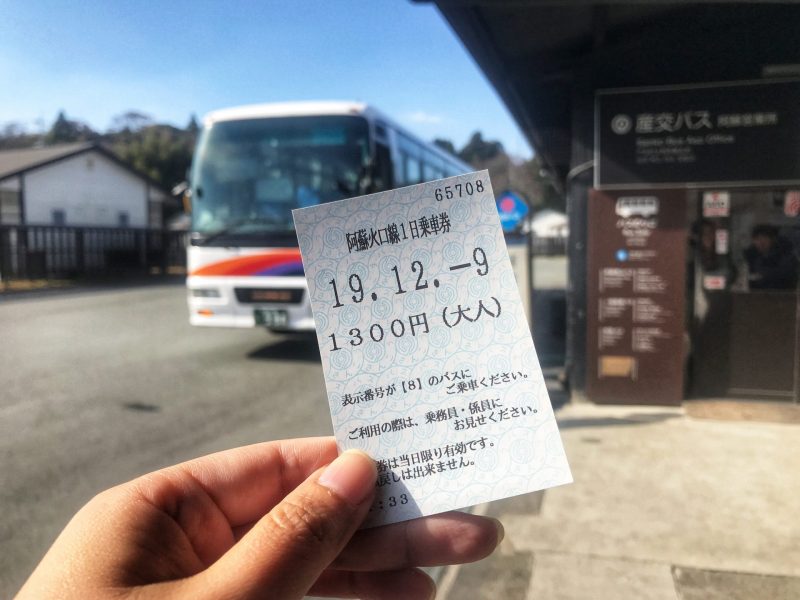 The popular Kusasenri and Aso Crater are located about 20 to 30 minutes from Aso station. Sanko bus runs between Aso station to Kusasenri station at ¥570 and Asosan Nishi-Eki station (Mt Aso) at ¥650.
The One-day bus pass at ¥1300 for an unlimited bus ride for getting around. It does not save much but you can board the bus in more convenient. Added, IC card also acceptable for Sanko bus. The SunQ bus pass is covered for this bus route.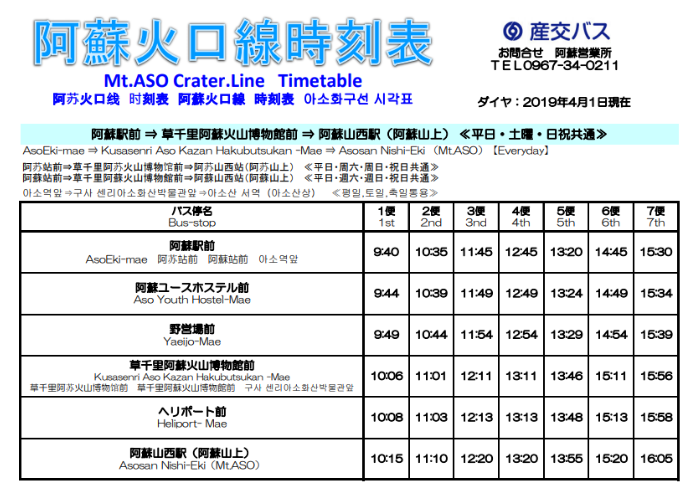 Asosan Loop Shuttle Bus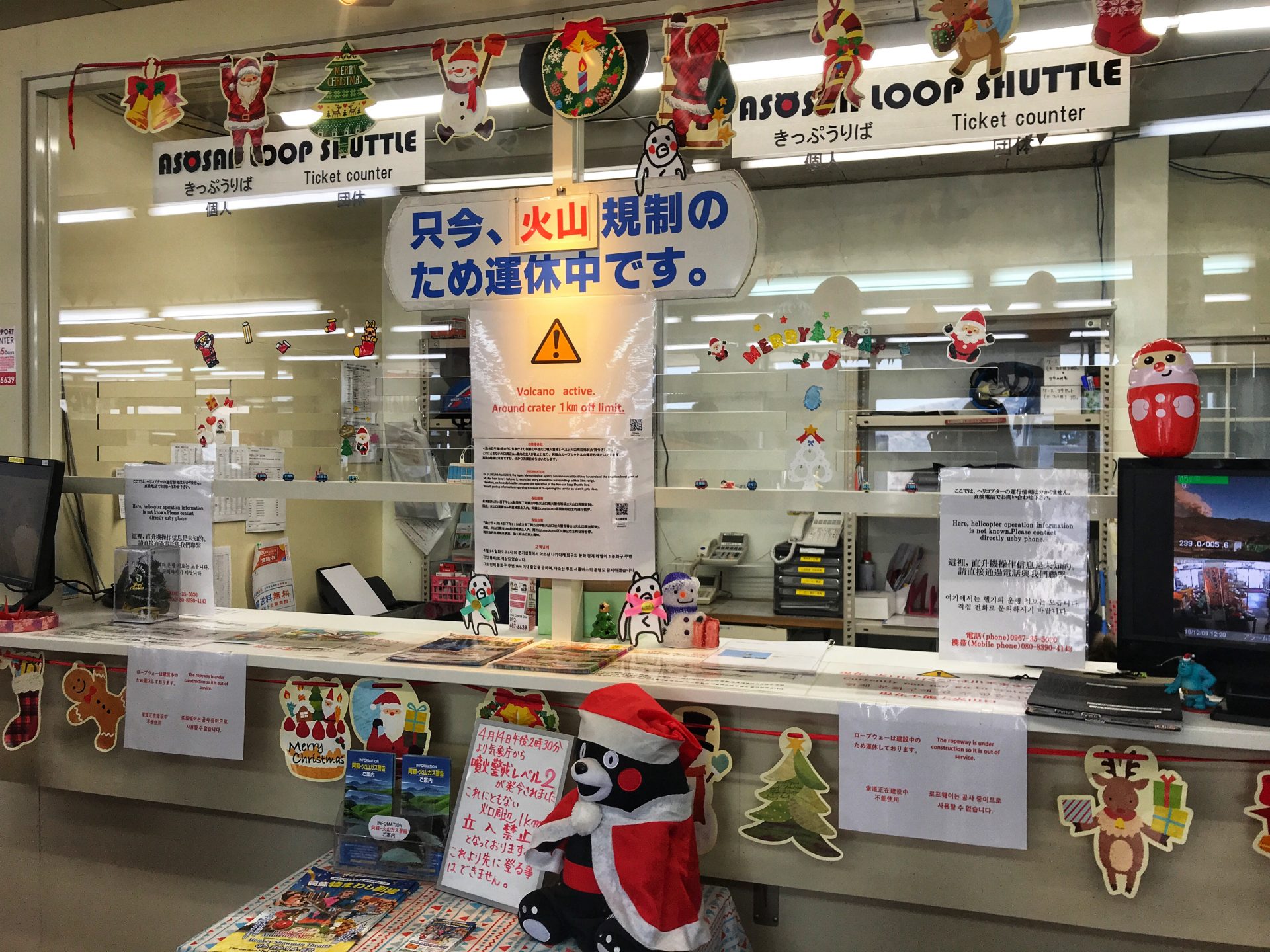 The best way mesmerized the active volcano activities of Mt Aso is riding the ropeway. However, the ropeway had been badly damaged due to the 2016 earthquake. The Asosan is close since then and has been re-open at 2018. The Asosan loop shuttle bus is operated to replaced the ropeway. Travelers can take the Asosan loop shuttle bus from Asosan Nishi-Eki station to Nakadate crater.
However, the Japan Meteorological Agency has announced that they have raised the eruption level alert of Mt. Aso from level 1 to Level 2. This means that restricting entry around the surroundings within a 1km range. That is to say, the closest we can get to Mount Aso is until the Asosan Nishi-Eki station. Too bad we miss the chance to get closer to this famous active volcano in Japan.
We already checked and understand that Asosan is close to the increasing of eruption level of volcano activities. Our main travel attraction is visiting the Kusasenri. But we still decided to get to the Asosan Nishi-Eki station and wandering around. We stayed about 10 minutes and then boarded the same bus to Kusasenri.
For those who also plan on travel itinerary to Aso, make sure to check on the official website. (https://www.kyusanko.co.jp/aso/business/)
Lastly, hopefully, my Aso travel guide can help if you are looking for transportation to access there. Aso is part of our Kyushu travel itinerary to Kumamoto prefecture. Read on our travel blog to other attractive places nearby. Enjoy your Aso trip!
Things To Do in Aso For 1-Day Aso Itinerary
Related Kumamoto travel blog: