Last updated on September 23rd, 2023
Ultimate Miyazaki travel guide to plan on your Miyazaki itinerary including things to do, food to eat and some useful money saving tips.
Miyazaki (宮崎), capital of Miyazaki Prefecture on Kyushu region Japan. This amazing city is full of tropical nature and historical landmarks. But it is an under-estimated and lesser know place to visit in Japan. It was once the top honeymoon spot with domestic travelers and the best place to spend their summer vacation in Japan. There are many beautiful beaches, resorts and amazing attractions in Miyazaki. It's one of the must-visit places and should be part of your Kyushu Japan travel itinerary.
Miyazaki is full of attractions and worth to spend one or two days to discover. We visited Miyazaki during our trip to Kyushu. We had a great time there and would like to inspire you to get there. Listed below are what to do and eat during our 1-day itinerary in Miyazaki. While this Miyazaki travel blog is covered on the major sights in Miyazaki city. We also visited Takachiho Gorge, another delightful town in outskirt Miyazaki. Check on our day trip to Takachiho Gorge if you are interest to know.
While this is a complete Miyazaki travel guide, feel free to click in below each session to dive in the travel blog.
Best Time To Visit
Similar to other cities in Japan, Miyazaki has a lot of offers and can be visited all year round. It blessed with long hours of sunlight and rainfall compare with other regions of Japan. So don't be surprise Miyazaki is full of tropical atmosphere. The best time to visit Miyazaki is depending on what you want to do and see.
Spring starts early as it has warmer climates compare with other regions of Japan. Temperature begins to warm up at around February. You may start to see the first bloom of spring flowers such as sakura and plum tree. You can enjoy the sakura in full bloom in late March.
Summer is the best time for water activities lovers. Miyazaki has many beautiful beaches and resorts for water spot activities. A lot of festival is taking place during the summer month. It can be quite hot to enjoy the natural beauty under the sunny sun.
While autumn is the best time for hiking. Miyazaki does not famous for autumn foliage, but the weather is very ideal if you prefer the milder weather. The Takachiho Gorge is one of the best places for autumn foliage, and normally peak time is around mid to end of November.
Lastly, winter in Miyazaki. Due to its warmer climates, it is rare to snow (except mountain area) compare with other regions in the cold season. Weather remain warm and slightly chill during winter. But still recommended bringing warmer clothes as night time can be very cold with the strong wind.
How To Get To Miyazaki and Getting Around
From Tokyo or Kyoto to Miyazaki, the fastest way would by flying with domestic flights. Depending on the season, sometimes it can be the cheapest option starting from ¥5,000. However, you need to consider the cost of getting to and from the airport. Alternatively, Shinkansen is another option to get to Miyazaki via transfer from Fukuoka. If you are getting this option, consider getting the Japan Rail Pass to save on transportation fees.
Assuming you are already in Fukuoka or other cities in Kyushu, JR Train is very convenient to get to Miyazaki. There is no direct train from Hakata station and required transfer to get to Miyazaki. So it is best to couple up your trip to Kagoshima or Oita prefecture.
From Hakata Station, take the Shinkansen to Kagoshima and then to Miyazaki. This train route takes about 4 hours. While the JR train to Oita and then Miyazaki takes a longer time at about 6 hours. Visitors can save on the expensive train fee by getting All Kyushu JR Pass.
Another option to get to Miyazaki is to take a highway bus. Buses run between the cities and connected with Miyazaki including Fukuoka, Kumamoto, Beppu, Oita, Saga. It might take a long time but much cheaper compare with a train. For foreign visitors, the SunQ Pass Kyushu is worth to consider to save on transportation fee.
Getting around in Miyazaki: The main transportation hub in Miyazaki is Miyazaki JR station with bus and train run frequently to other attractions. Added, the Miyazaki bus terminal is located 15 minutes from the JR train station. Most of the attractions are required transport to get there, either by bus or train. The bus fare is not cheap. Luckily, Miyazaki offers an unlimited bus pass for foreign visitors at ¥1,500. Easy redeem at Miyazaki Airport and Bus Station. Check the Miyazaki Bus Pass from Klook.
For visitors traveling with kids and elderly, self-driving with car rental is the best way to get around in Miyazaki leisurely.
Miyazaki Itinerary: Things To Do in 1-Day
When you are in town, there are many things to do in Miyazaki. Nestled along the southeastern coast of Kyushu island, it is a great idea to spend your time for the sun, sea, and surf in beaches. However, the best thing to do in Miyazaki is to take an excellent day trip to the Nichinan coast and visit the popular attractions. This is what we did on our Miyazaki itinerary. Read on our travel journey by bus.
Here is the Miyazaki itinerary including things to do and food to eat in 1-Day:
Aoshima Island, Devil's Dashboard and Aoshima Shrine
Pray at Udo Jingu Shrine
Enjoy the Nichinan Coastal View
Try the Nichinan local specialty: Bonito fish in multiple way
Wandering in Obi Castle Town
Find the Moai Statues in Sunmesse Nichinan
Dinner with Miyazaki best local food: Nanba chicken, charcoal grill chicken
Miyazaki Travel Guide Vlog
For a quick idea on how to plan for your Miyazaki itinerary, take a 7-minutes video tour of how we spend one day in Miyazaki. If you like our video, don't forget to give us a like and subscribe to us on youtube. Thanks!
Aoshima Island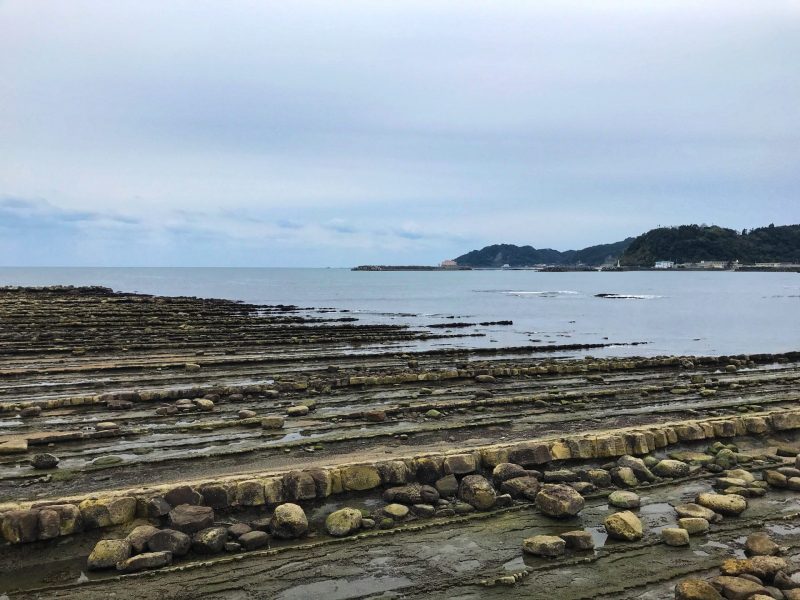 Firstly, we get to the Aoshima island from Miyazaki city. The unique Aoshima island is one of the main reasons to come to Miyazaki. This beautiful small island is well known for pretty white sand beaches surrounding the island where you can relax and swim during summer.
Aoshima island is connected via a bridge where you can walk to the island from the mainland. Follow the path to Aoshima Island, there is a geological phenomenon which made up of rock layers in the shallow sea. It is the unique rock formations known as Devil's washboard (鬼の洗濯板, Oni no Sentakuita). Enjoy your time to get closer to this natural wonder.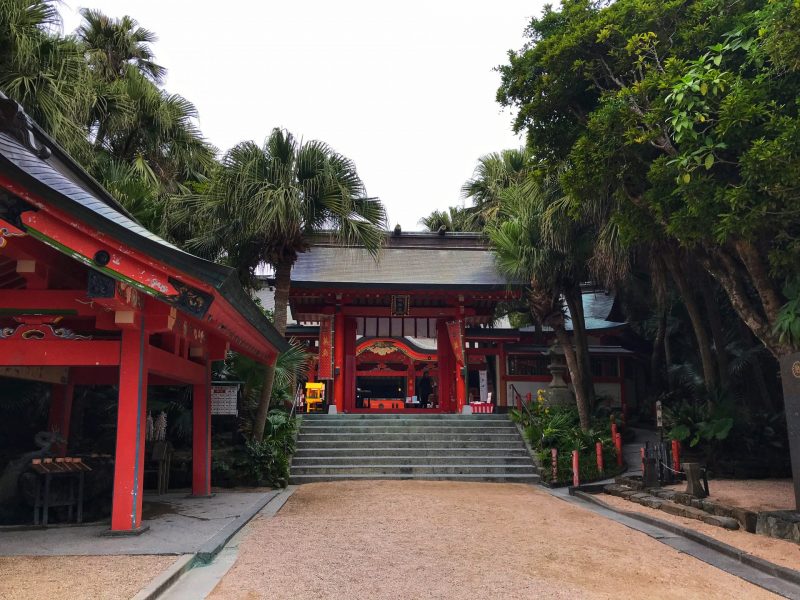 Hidden in the center of tropical forest is the Aoshima Shrine. It is a colorful local shrine and home to a powerful matchmaking deity. It is popular among locals who looking for true love. Inside, there are also many unique ways to pray for a better future such as throwing clay disk on the target place.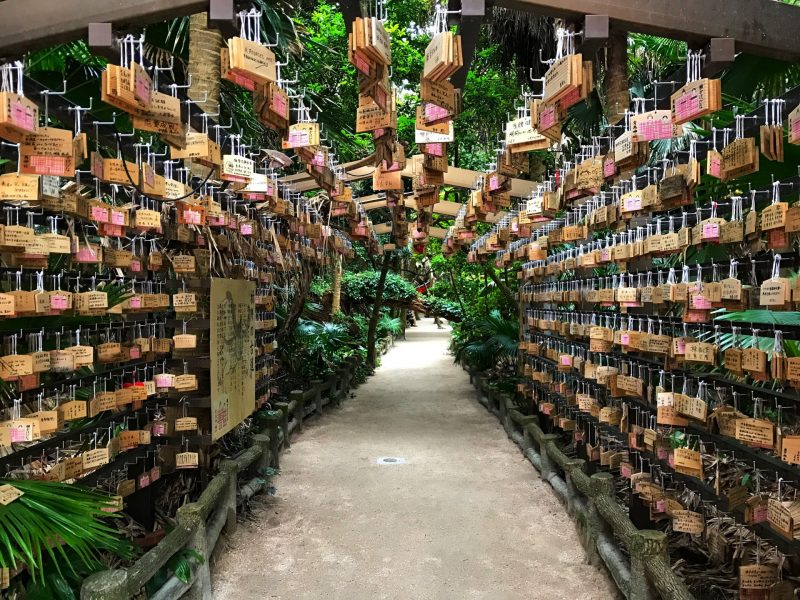 A round trip circling the Aoshima island can be done within 30 minutes but I doubt you can finish it without inevitably tempted along the walking journey. There are plenty of photo opportunities and worth spending your time wandering around. Don't forget to check out the big torii gate along the coast.
We enjoyed our time listening to the splashing wave, mesmerized the unique rock formation and enjoy the breezing wind. One of the must-visit places on your Miyazaki itinerary.
Getting there: From Miyazaki Station, take JR train to Aoshima Station (30-minutes, ¥370) or by bus (50 minutes, ¥730).
Address: 2 Chome-13 Aoshima, Miyazaki-shi, Miyazaki-ken 889-2162
Opening Hours: Any time
Related travel blog: Aoshima Island with Devil's Dashboard and Aoshima Shrine
Pray at Udo Jingu Shrine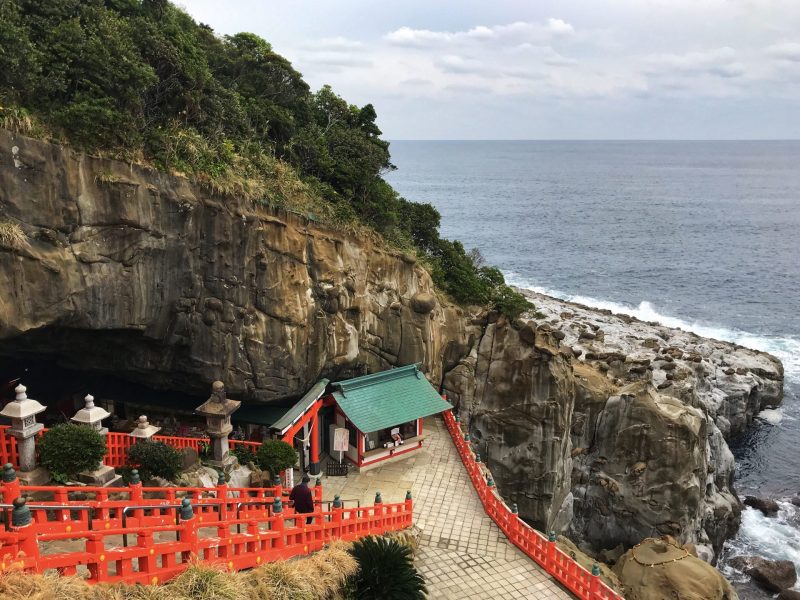 The beautiful Udo Shrine (鵜戸神宮, Udo Jingu) is a historical shine with dramatic settling in the seaside Nichinan coast. Unlike other shrines in Japan which build on the high ground or mountain, Udo Shrine is beautifully painted by the powerful blue waves against the beautiful rock structures.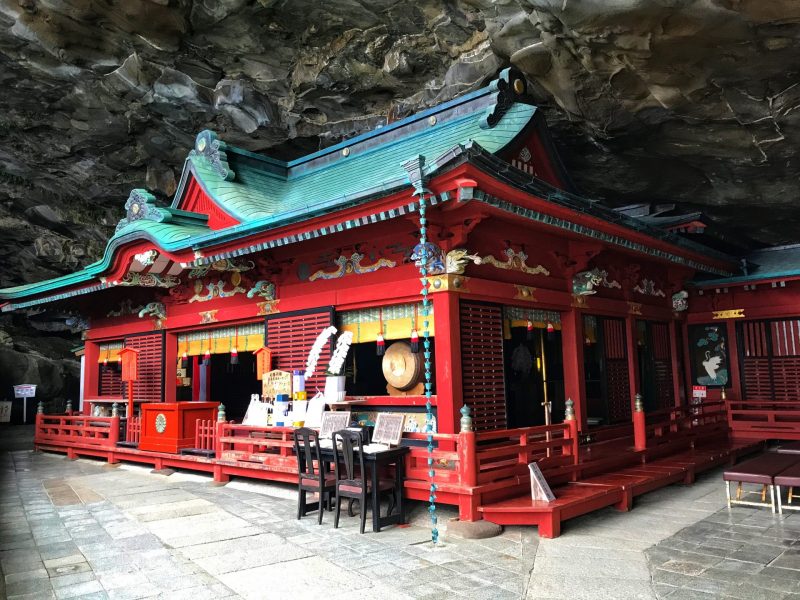 One of the unique points of interest in the Udo Shrine is the main shrine is build and hidden in the grotto. Locals are praying in the Udo shrine to hope pregnancy and have a child. While couples wish for good luck and better fortune.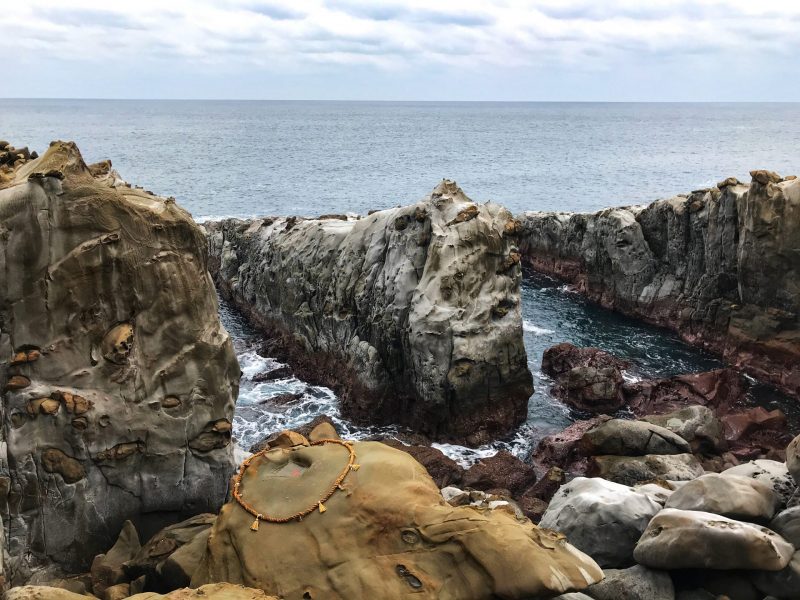 Lastly, don't forget to try your luck by throwing the small wooden beads (undama) to Kameiwa. It is a special rock by the sea with a rope surrounding a puddle. Your wish will be granted if you manage to throw the undama into the hole.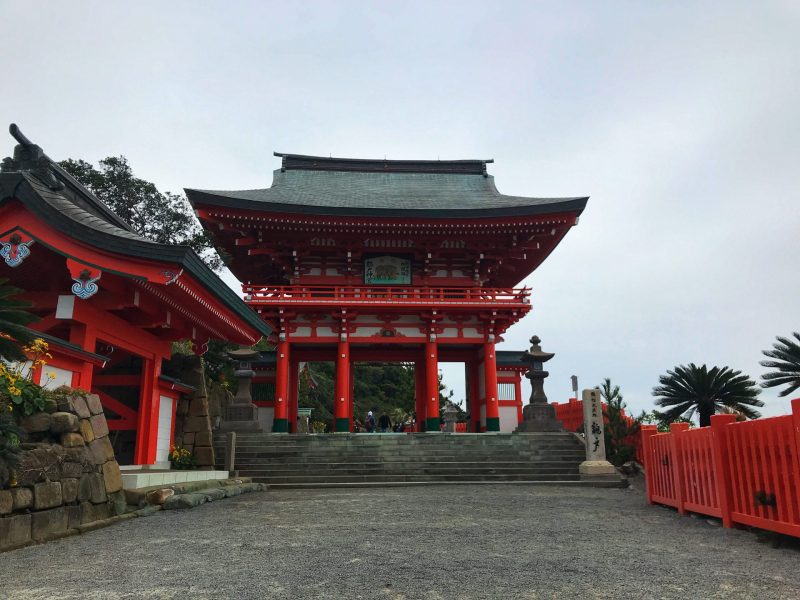 From the car park/bus stop, there was some distance with ascend and descend steep to get there. Once you reach the entrance, you will be amazed by the view of the pacific ocean and building along the way. A spectacular visit to Udo Shrine in Miyazaki.
Getting there: By bus from Miyazaki station and get off at Udo Jingu Irigushi bus stop (90 minutes, ¥1,510).
Address: 3232 Miyaura, Nichinan, Miyazaki 887-0101, Japan
Opening Hours: (April – September) 6:00 to – 19:00 and (October – March) 7:00 AM – 18:00
Further reading: Udo Shrine: A Stunning Shrine at Seaside Cliff
Enjoy Nichinan Coastal View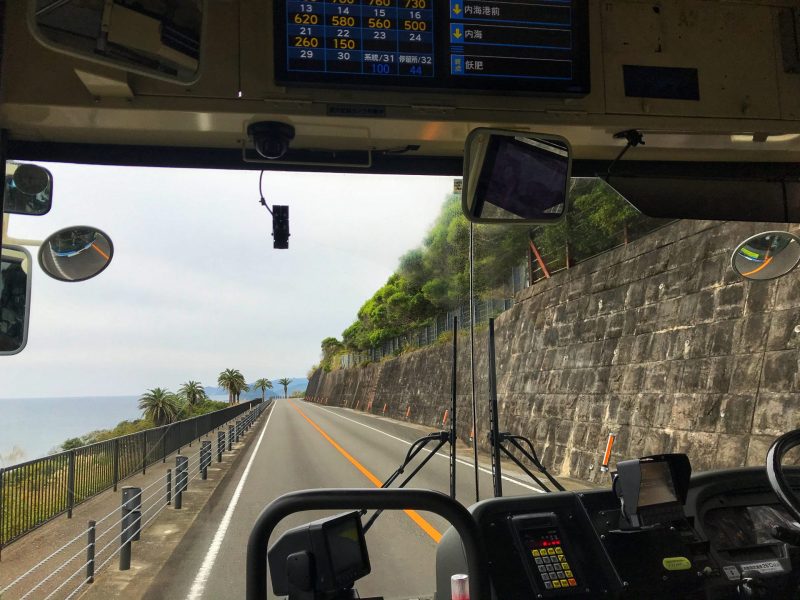 The drive along the Nichinan coast rewarded with amazing views of the Pacific Ocean. The view is spectacular especially from Aoshima Island to Udo Shrine. Our camera was non stop along the bus journey.
It is even a better idea to plan for self-driving with rental car to Nichinan Coast in Miyazaki. Imagine driving along the highway with beautiful ocean, breezing view and listening to a country song. It sounds even amazing if you happen to be passing during sunset.
Try The Nichinan Local Specialty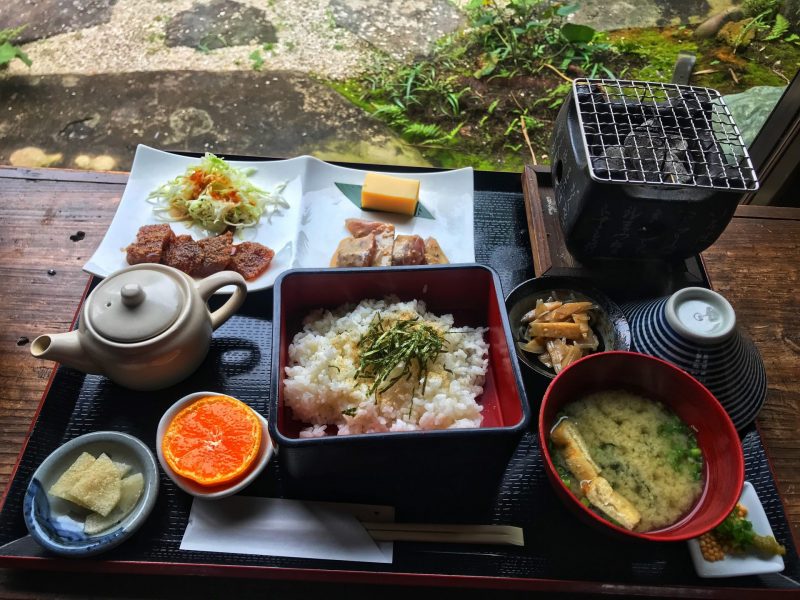 Next, it's time for looking for what to eat in Nichinan, Miyazaki. There is no way but Nichinan for the best local food in Miyazaki. While Nichinan is well known for best catcher on bonito fish or Katsuo. Fish are freshly caught by using the single hook fishing method, Ippon-zuri (一本釣り).
Gallery Kodama in Obi town served this Nichinan local specialty: Bonito Fish in multiple ways. You can eat in raw, grilled over the tiny hibachi or poured with hot broth. This traditional 120 years old restaurant is located in Obi town, nearby Obi Castle. It is best to couple it together when you are visiting Obi.
Getting there: 3 minutes walk from Obi Bus Station or 13 minutes from Obi JR Station
Address: 8-1-1 Obi, Nichinan, Miyazaki Prefecture
Opening Hours: Daily from 11:30 to 17:00 (Closed at Tuesday)
Food Review in Gallery Kodama, Obi: Nichinan Best Food: Bonito Fish in Multiple Way
Obi Castle Town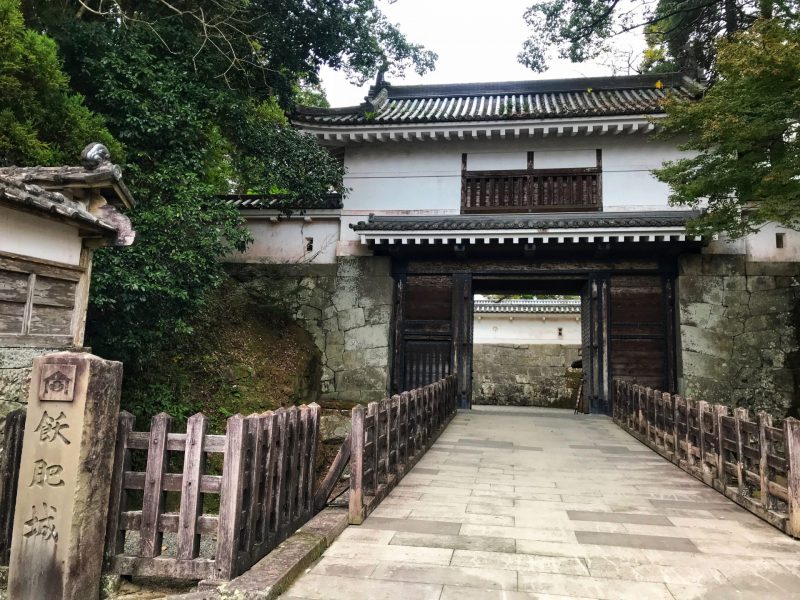 Known as Kyushu's own little Kyoto, Obi town (飫肥) is a highly preserved samurai district with traditional streets and old buildings. The town area is not too big but full of traditional houses from the 18th or 19th century. You'll feel like back in the time to Edo period while wandering in Obi town.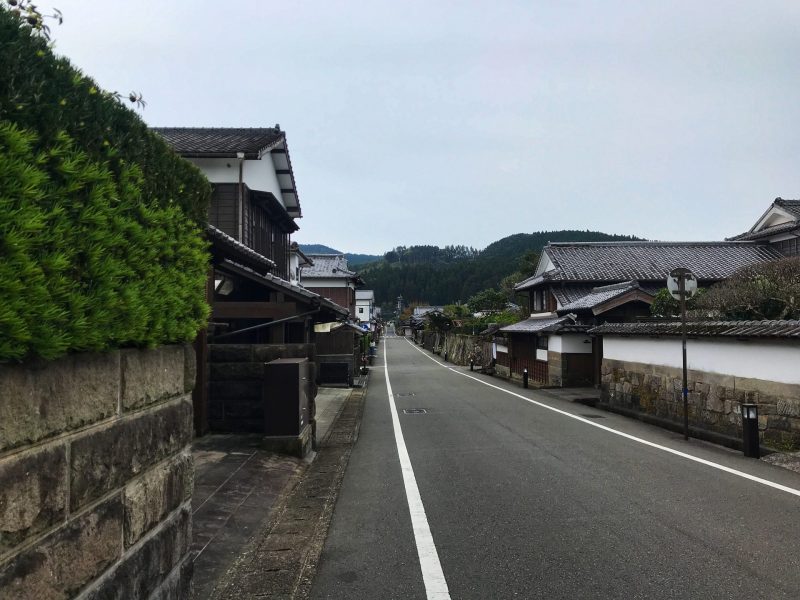 There are numerous of museum, residences and garden are open to visitors. Some may be required with a small amount of entrance fee while some are free of charge. Alternatively, just enjoy your stroll through the serene street, just like what we did. Don't forget to check out the beautiful koi fish that live in the canals.
Another worth spending time is the Obi Castle Ruin (Obijyo). The impressive Ote-mon main gate, sit at the entrance of Obi Castle ruin. The moat ruin, stone wall are full of history. Although we didn't spend much time in Obi Castle time but it is worth dropping by while visiting the Nichinan area in Miyazaki.
Getting there: From Miyazaki, take the JR Train to Obi Station or by bus to Obi Bus Station (120 minutes, ¥2,120).
Address: 1-1-1 Chuodori, Nichinan 887-0021, Miyazaki Prefecture
Find the Moai Statues at Sunmesse Nichinan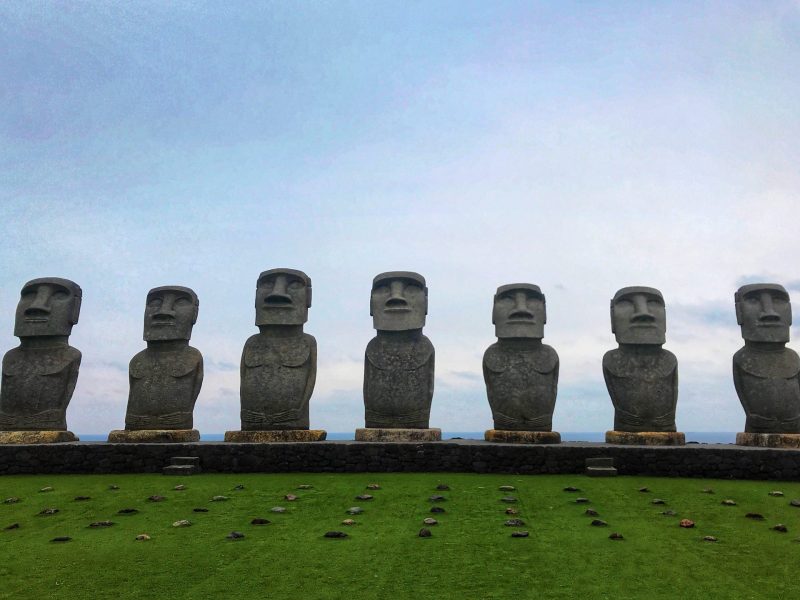 The Sunmesse Nichinan is a seaside park overlooking the pacific ocean. It is home to the Moai statues of Easter Island, the only replicas permitted in the entire world. There are total seven mysterious Moai located inside the park. A great opportunity to touch the Moai statues without getting to Easter Island.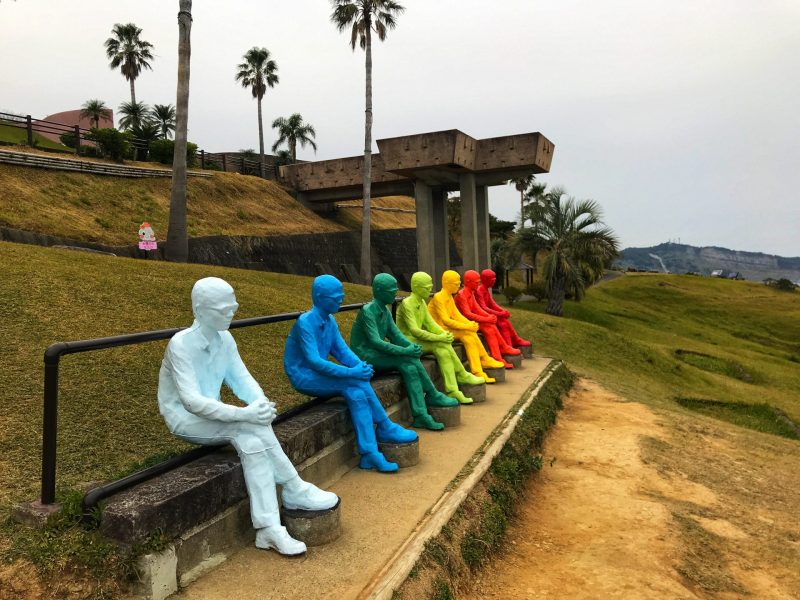 Inside the park, there are also some modern art and a picture-perfect spot for photo opportunity. Worth to spend some time if you are interested in Moai.
Getting there: Take the bus from Miyazaki station and get off at Sunmesse Moai Station (75 minutes, ¥1,450).
Address: 2650 Miyaura, Nichinan, Miyazaki 887-0101, Japan
Opening Hours: From 9:30 to 17:00 (Closed at first and third Wednesday of every month, open during August and holiday)
Related Post: Miyazaki Travel: Sunmesse Nichinan With Moai Statues
Miyazaki Must Eat Food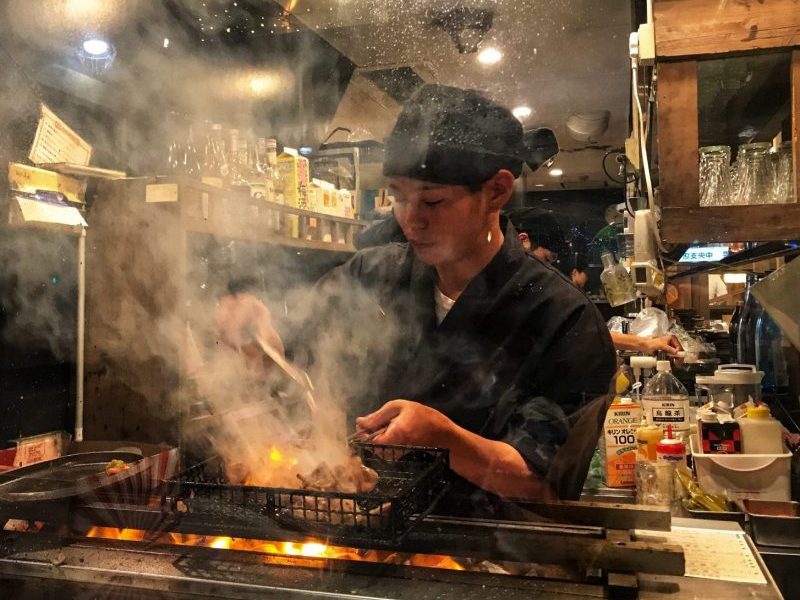 We ended our Miyazaki itinerary at one of the popular Izakaya restaurant for dinner. Tsukada Nojo Miyazaki is specialized in chicken dishes with a variety of choices. This is the best place to try the Miyazaki dishes in one place. We ordered the Namba chicken, charcoal grill chicken, lemon pot motsunabe in chicken soup and other mouth-watering dishes.
We especially love the lightly burn charcoal-grilled chicken. Although it might look down on its dark-colored on charcoal-skin. But it taste so juicy and tender. The must eat food in Miyazaki. In short, a satisfying meal after a tiring journey.
Related Food Post:
How To Plan Miyazaki Itinerary by Bus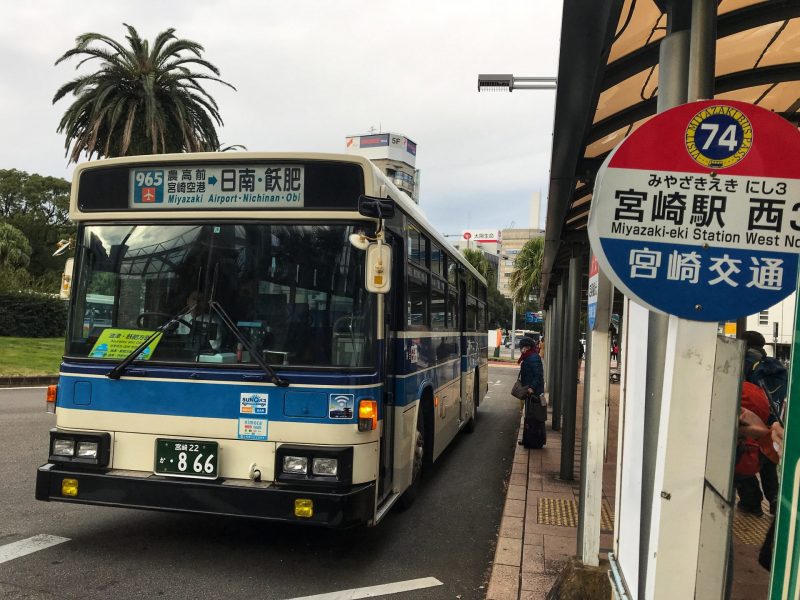 Most of the things to do in Miyazaki are situated out of the city area. Expected to spend at least one hour to get to the nearest attractions. Although the JR train is connected to some of the attractions, the bus is the best public transport to visit Miyazaki. It is very convenient to take the bus and visiting Miyazaki and the surrounded area. Miyazaki bus station is located right in front of JR station with a well-display platform.
My one day Miyazaki itinerary is completed by public bus. From Miyazaki station, we took the earliest bus to Aoshima island, followed to Udo Shrine, Obi Castle town and lastly back to Sunmesse Nichinan. Freely to switching the attraction along the bus ride. We arranged this way just to go for lunch at Obi town. Alternatively, there are restaurants and cafes if you are looking for what to eat at each attraction.
While it is a full filling Miyazaki itinerary and we only spend about one hour at each attraction before boarded the next coming bus. So please be aware of the bus schedule and plan your Miyazaki itinerary wisely. For leisure travel in Miyazaki, consider picking two or three attractions within one day. Any of the attractions above are worth to visit.
Onboard the bus, announcements are made in different languages including Japanese, English, and mandarin. The coming stop and bus fare also well display in the front panel. So it will very helpful for foreign visitors.
Moreover, if you are planning your one day Miyazaki itinerary, consider getting the Miyazaki One Day Bus Pass in ¥1,500. It will cover above Miyazaki attractions with an unlimited bus ride within the city. Alternatively, get the SunQ Pass if you are planning to travel to other places in Kyushu like what we did. Both bus buss are value for money and easy to hop on and off when visiting Miyazaki.
Click here for Miyazaki Bus Schedule.
Day Trip To Nearby Miyazaki Attractions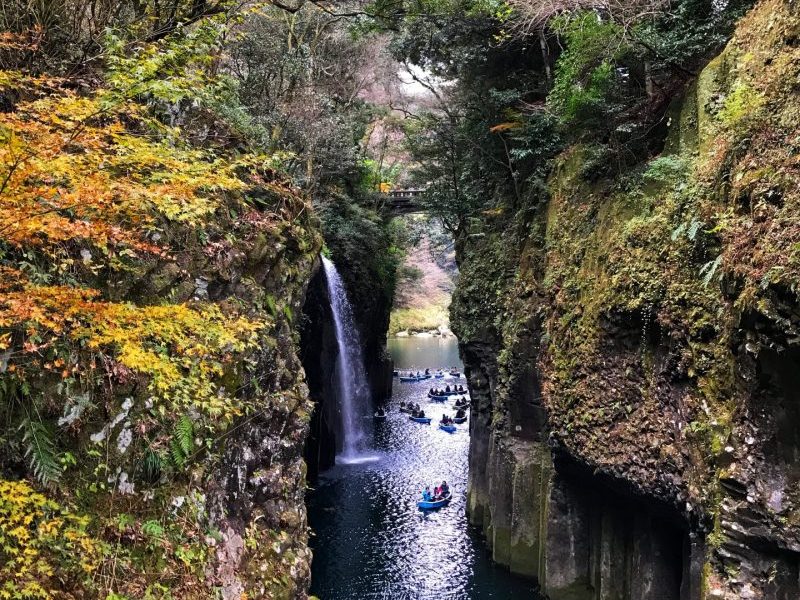 Although there are so many things to do in Miyazaki city, it is worth taking an excellent day trip to other attractions nearby. The Takachiho is situated to the north and Kirishima to the southwest in Miyazaki. Both are the best places to plan for a day trip to Miyazaki.
However, if you are only one extra day to space, we highly recommended planning for day trip to Takachiho Gorge. Probably the most stunning scenery in Kyushu, Takachiho Gorge is renowned for its natural beauty. It is a popular attraction among visitors and many people come along the way to appreciate the beautiful scenery.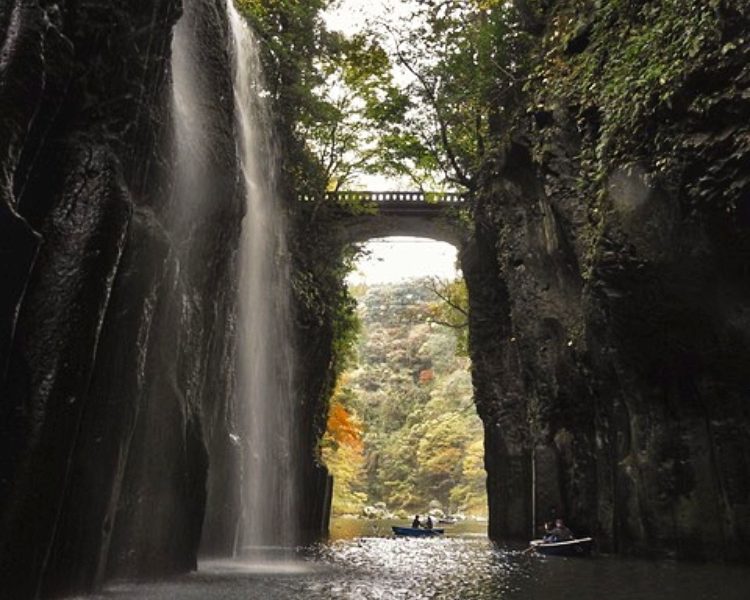 The stunning gorge is formed by the eruption from Mount Aso volcano over 90,000 years ago. The pyroclastic flow was deposited and abruptly cooled down at Gokase River, resulted in the dramatic columnar rock formations. One of the best ways to get closer to Takachiho Gorge is rowing the boat for its best sight.
We visited Takachiho gorge and had an amazing time there. Read on our Takachiho Gorge travel post if you are interested to know more.
Continue Read on
Last but not least, this Miyazaki travel guide is part of our itinerary in Kyushu Japan. Don't forget to read on our visit to Kumamoto, Aso, Kurokawa Onsen, Beppu to know more about our travel stories. Enjoy your trip to Miyazaki.