Last updated on December 11th, 2023
Which is the best Kyushu transport pass for you? Here is the complete Kyushu budget guide on Kyushu transport pass that helps you travel around Kyushu on a budget with Kyushu JR Pass, SunQ Pass, and other city passes.
Generally, transportation is always one of the highest expenses when traveling in Japan. The great thing about visiting Japan is there are many options and transport passes available to plan for your trip. Depending on your Kyushu itinerary and preferences, there are many transport pass in Kyushu to make your hassle-free journey. The key is to understand where you want to go and which is the best Kyushu transport pass that best suits your itinerary.
In this Kyushu budget guide blog, we will break down all these options to help you figure out the best transport pass for your Kyushu itinerary.
Traveling Around Kyushu On Budget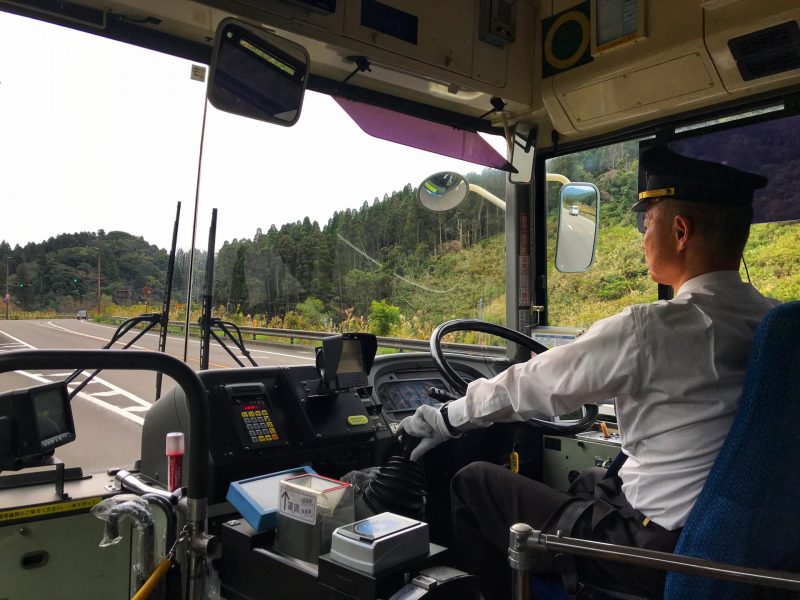 Thanks to the good connectivity transport system in Japan. Traveling in Japan can be hassle-free if you do your homework ahead of your trip. All transport options are departed and arrive on time due to their strict compliance with punctuality. So it is very easy to plan for a Kyushu budget trip by using public transport. Fully make use of websites such as HyperDia.com and YahooTransit.com when traveling around Kyushu on budget. The most important is to understand where you want to visit and allocate some buffer time when connecting from one place to another.
There is only three major transport options to travel around in Kyushu:
Self-driving with rental car. 
By public transport by using trains or buses.
Metros, trams, buses within the cities.
If you planning to self-driving in Kyushu, check for your best rental car from RentalCars.com.
To plan for the best transport option to travel around in Kyushu, we'll provide a detailed description of each option and the reason. So you easily see the difference and know which one is suitable for your Kyushu itinerary.
JR Kyushu Rail Pass
Kyushu Transport Ticket Overview: Kyushu Rail Pass (JR Kyushu Pass) is a valuable rail pass ticket for foreign visitors to travel around Kyushu with an unlimited JR train ride. This train pass is covered for Kyushu Shinkansen (Fukuoka-Kagoshima) and limited express trains.
However, take note that it can not be used for Sanyo Shinkansen (Fukuoka-Osaka including Hakata and Kokura) which is operated by JR West. Seat reservation is free for Kyushu JR Pass holders at any Kyushu JR counter.
Kyushu JR Pass (More info about the validity, price, and coverage):
One of the best things about JR Kyushu Pass is special sightseeing trains (Design & Story) are covered. Including the Yufuin no Mori (ゆふいんの森), Ibusuki no Tamatebako (指宿のたまて箱), Umisachi Yamasachi (海幸山幸) and remaining.
Due to limited availability and high popularity, you should make reservations online for these trains as soon as you exchange the e-voucher for the pass. Reservation online costs ¥1,000 per adult but you are opted to try your luck with a free reservation once arrived in Kyushu.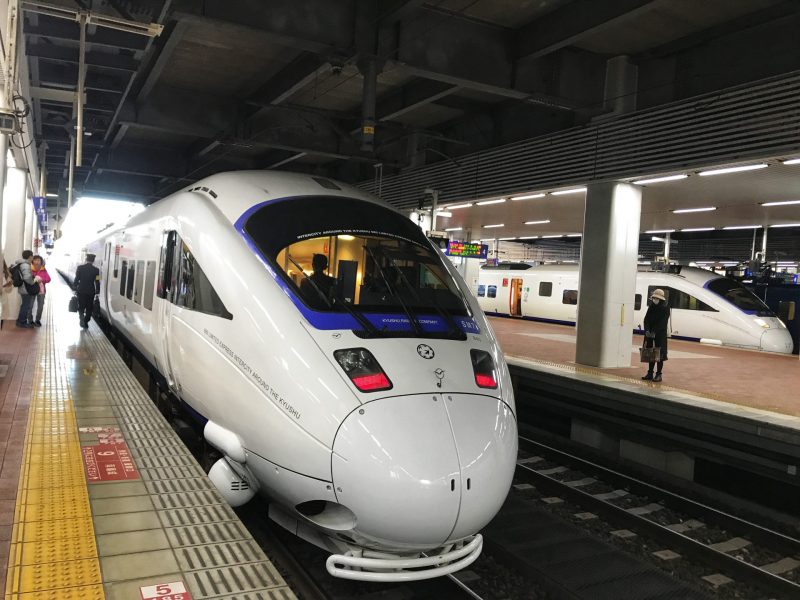 Do you need this Kyushu Rail Pass?
JR Kyushu Pass can be a huge money-saving pass if you are getting around in Kyushu by train. For example, a one-way train ride from Fukuoka to Kumamoto already costs more than ¥4,500. Some of the travelers even fully make use of the Kyushu JR Pass and travel extensively from Fukuoka with day trips within the validity period.
Kyushu SunQ Pass
Kyushu Transport Ticket Overview: Kyushu SunQ Pass, Kyushu's most budget transportation ticket for an unlimited bus ride in the Kyushu region. Nearly 99% of highway buses, city passes, and some ferries in Kyushu are covered by SunQ Pass. It even can be used in the Shimonoseki area of Yamaguchi Prefecture on Honshu island.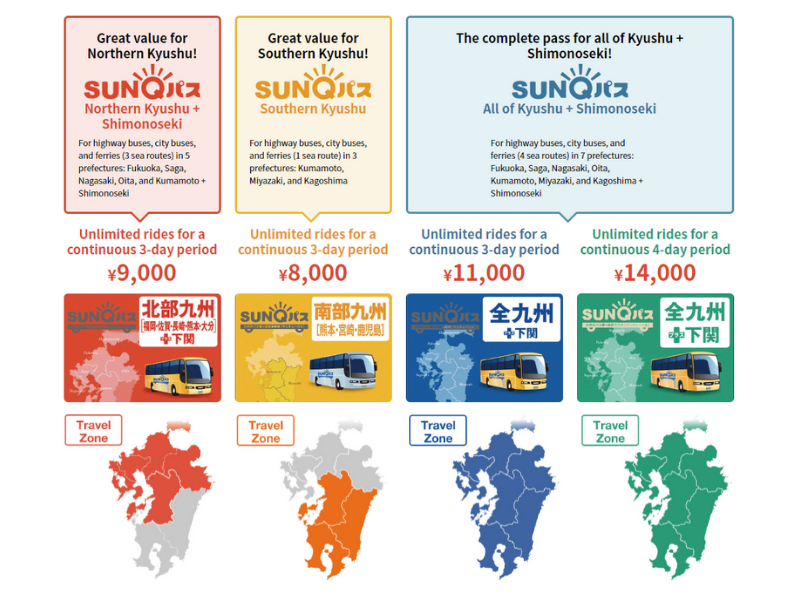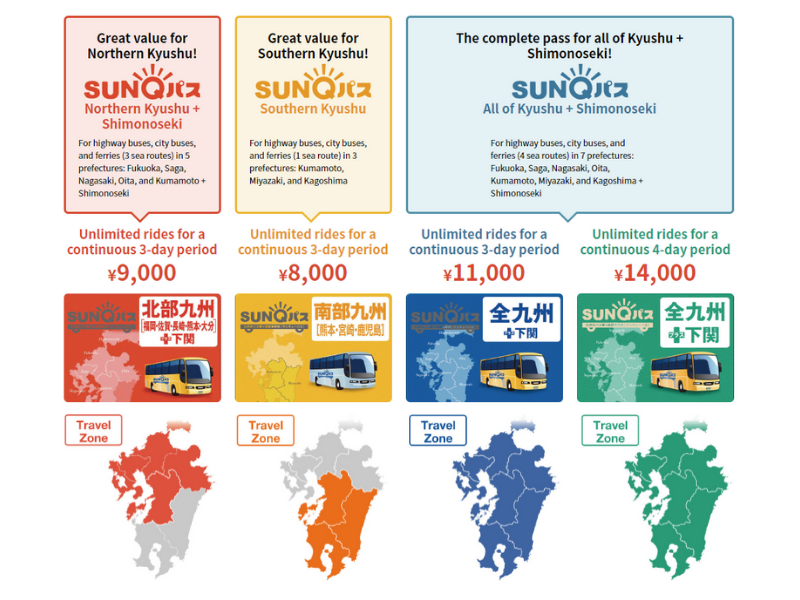 SunQ Pass Ticket For Unlimited Bus Ride in Kyushu: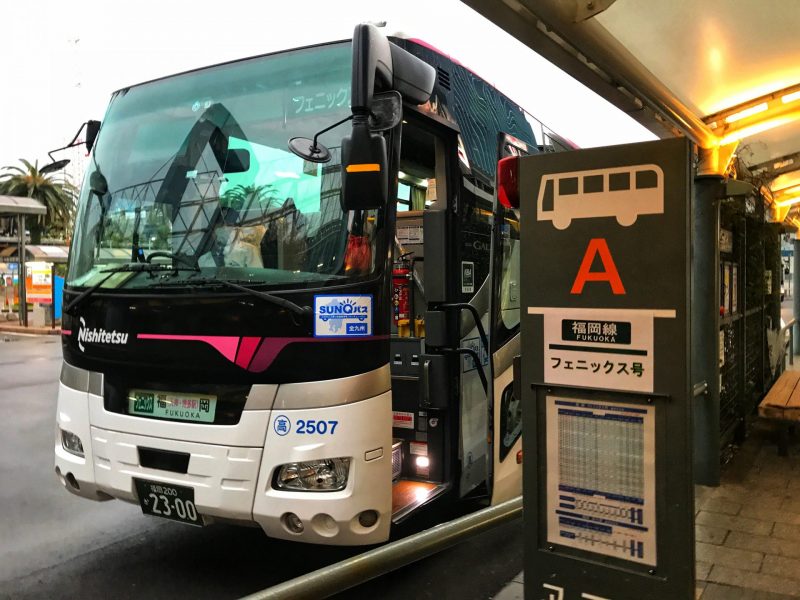 Similar to Kyushu JR Pass, SunQ Pass also offers All Kyushu, Southern, and Northern Kyushu SunQ Pass options. It is valid for 3 or 4 consecutive days with prices ranging from ¥8,000 to ¥14,000. The Northern Kyushu pass is only valid in Fukuoka, Saga, Nagasaki, Oita, and Kumamoto prefectures in Kyushu and the Shimonoseki area in Honshu.
While the Southern Kyushu pass is only valid in Kumamoto, Miyazaki, and Kagoshima prefectures in Kyushu.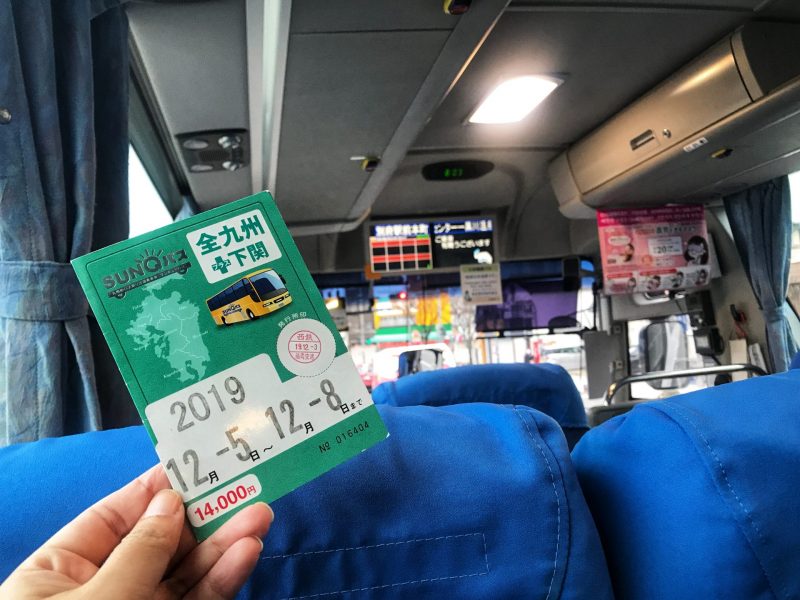 Do you need this Kyushu Pass?
In Kyushu, the highway bus is an alternative solution to trains. It is cheaper and sometimes can be equally fast as a train except for Shinkansen. Moreover, some of the top attractions such as Takachiho Gorge (高千穂), and Kurokawa Onsen (黒川温泉) can be accessible by bus only. It is very worthwhile to get the SunQ Pass if you are traveling to and fro as the one-way ticket already cost ¥2,500.
Kyushu Transport Pass Travel Tips:
If you are planning to travel around Kyushu by bus, consider to get the SunQ Pass from Klook with further discounted. It is cheaper compared with purchase in Japan. Choose from
All Kyushu, Northern or Southern SunQ Pass
as per your itinerary. Easy redeem at Fukuoka Airport.
JR Kyushu Rail Pass vs SunQ Bus Pass
Generally, most travelers are confused about which is the best Kyushu transport pass that suits your Kyushu budget trip. Below are some of the pros and cons of using JR Kyushu Pass vs SunQ Pass:
Traveling by rail will usually have a more frequent departure time, probably every half hour. But highway buses mostly with every hour or less frequently compared with a train.
For a similar distance, trains are usually faster compared with a bus. Especially buses have possibly run into traffic jams and stop at traffic lights.
Almost all Kyushu highway buses are required for reservation. But still, you can board the highway bus without reservation but priority will be given to those with reservation. While on the train you can jump to a non-reserve seat car at any time. But bear in mind, that you might also need to stand if the seats are fully occupied.
However, the bus will run into rural areas like onsen town where the JR train is not accessible. The Kurokawa Onsen, and Takachiho Gorge, are some of the attractions that can be getting there by using a bus.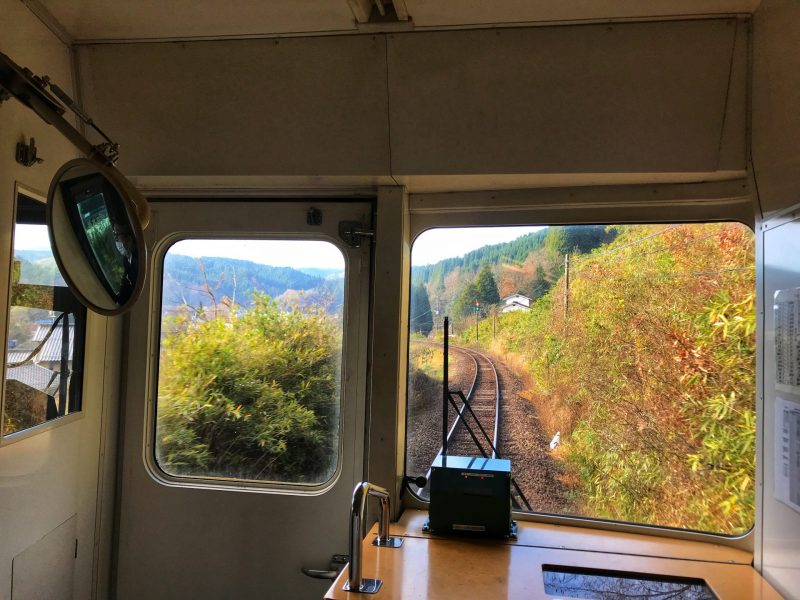 Generally, the train is much more convenient. However, the bus is the only option for some of the attractions. It depends on your Kyushu itinerary. Sometimes, taking the bus works better compare with trains. In fact, as a foreign traveler, you can make use of a combination of the JR train Pass and SunQ bus pass which you are traveling around. It is the most budget transport option for foreign visitors.
Kyushu City Pass
When traveling within Kyushu, there is also a variety of transport passes that are designated in individual cities for different transport types. Here are some of the valuable Kyushu city passes that are worth recommending to visitors when traveling around Kyushu.
Do note that most of the bus ride is covered with SunQ Pass. Added, please buffer some time due to the infrequent of the bus schedule.
Northern Kyushu Transport Pass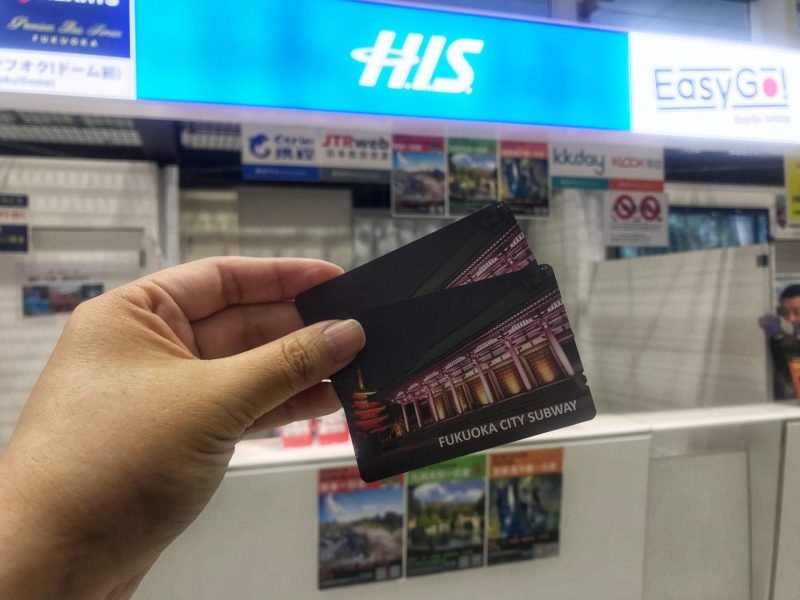 Fukuoka City Pass
The Fukuoka Subway Unlimited Pass (1-Day at ¥640 and 2-Days at ¥740). One single subway ride costs more than ¥210 and above. We strongly recommended the 2 days pass as it only costs an additional ¥100 compare with a 1-day pass.
Fukuoka City One-Day Free Pass (Nishitetsu)
All-you-can-ride ticket for a day for Fukuoka city local buses at ¥900.
All-you-can-ride ticket for a day for Fukuoka city local buses and Dazaifu Liner Bus "Tabito" (between Hakata St./Fukuoka Airport and Dazaifu area) at ¥1,500.
Unlimited ride on Nishitetsu trains and buses in Fukuoka for one day at ¥2,600.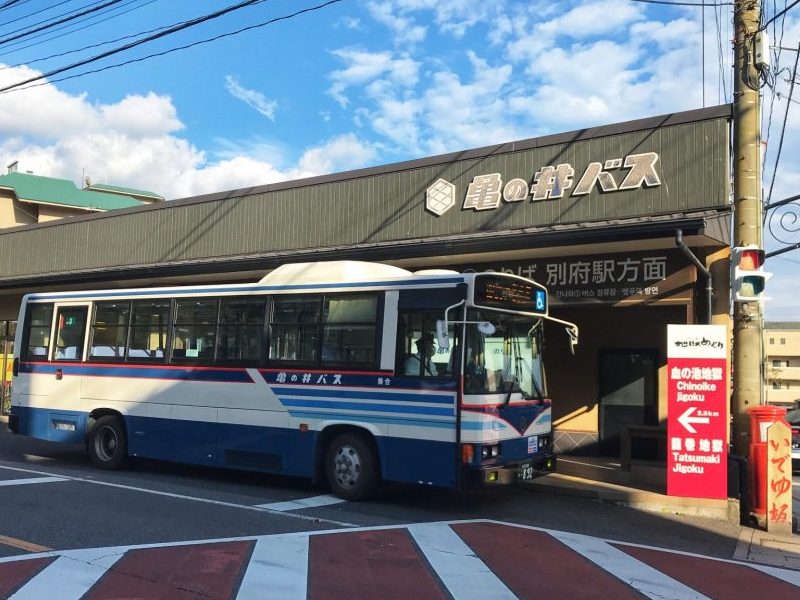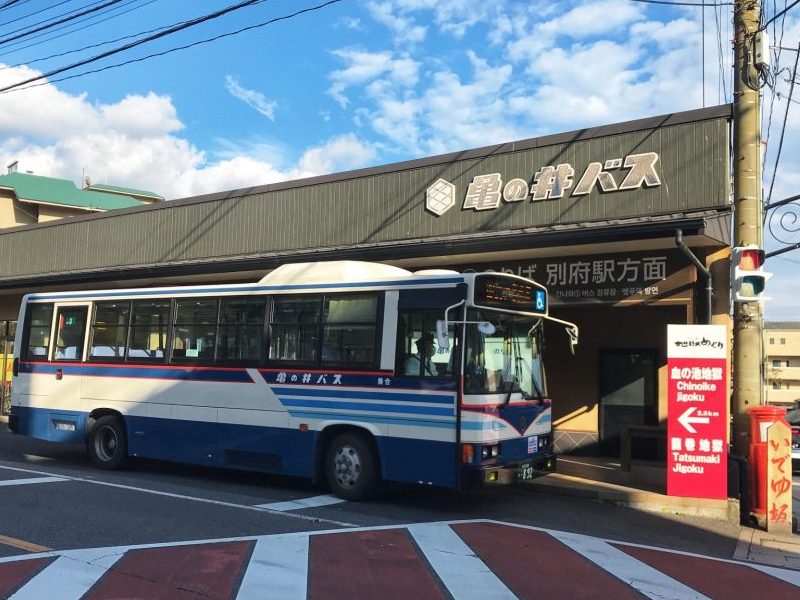 Oita City Pass (Beppu and Yufuin)
When traveling in Beppu, the bus is the only public transport option to get to attractions such as Hell Valley, Myoban onsen, and more. Get the Beppu bus pass to save on the bus ride.
My Beppu Free Pass: 1 Day ¥900 and 2 Days at ¥1,500 (Within Beppu City central)
Wide Beppu Free Pass: 1 Day ¥1,600 and 2 Days at ¥2,400 (Cover up to Yufuin)
Nagasaki City Pass
Nagasaki can be visited by buses or trams/streetcars.
One Day Bus Pass at ¥500: Unlimited rides on buses within the designated area in Nagasaki City.
One Day Tram Pass at ¥500: Use on all tram lines in Nagasaki city. One tram ride costs has ¥120.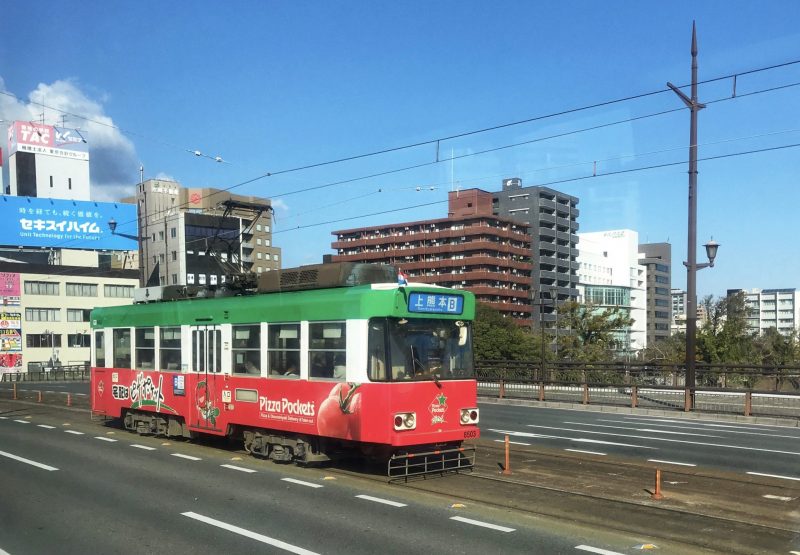 Kumamoto City Pass
Kumamoto city is well connected with various transport, including trams and city buses. So there are various types of transport pass available.
Kumamoto City 1-Day Tram Pass at ¥500. One tram ride with a flat price of ¥170. Take the 1-Day Tram Pass if you intend to take at least 3 tram rides within the day.
Wakuwaku 1-Day Pass: Price from ¥700 to ¥2,000 depending on the coverage area. Good for those plans to take unlimited rides on buses and city trams in Kumamoto Prefecture.
Southern Kyushu Transport Pass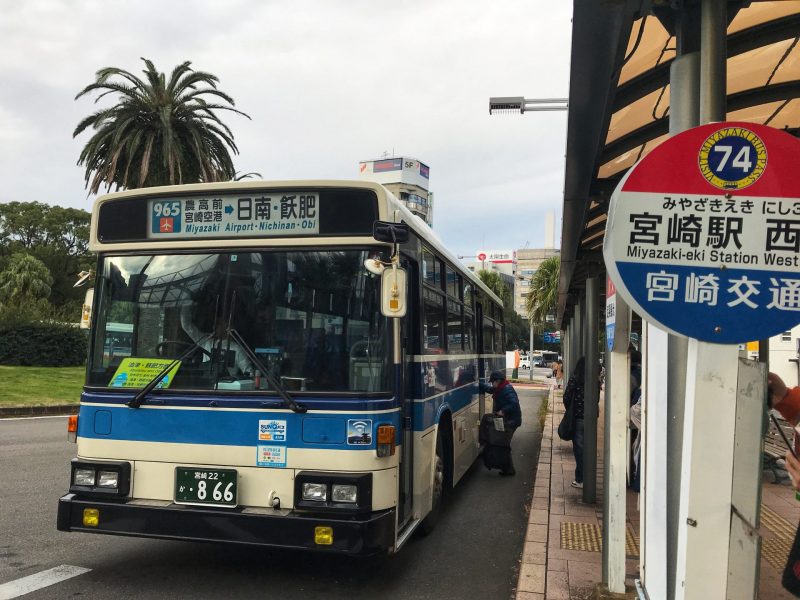 Miyazaki City Pass
The Miyazaki 1-Day City Pass (¥1,500) for unlimited travel on public buses within Miyazaki cities. This is the best value transport pass if you planning to visit Miyazaki's attractions by bus. The one-way bus fare from Miyazaki city to sightseeing attractions along the Nichinan coast easily costs more than ¥1,000.
Overview: The Best Kyushu Transport Pass
All in all, these convenient discounted tickets can be very useful when traveling around Kyushu as well as for the sightseeing in a single city. Again, depending on your Kyushu itinerary, you should consider taking either a self-driving, train or bus. Bear in mind that Kyushu is very huge. It is recommended to plan ahead of time for your transport option. We also advise you to slow up your pace to explore Japan's hidden gem Kyushu.
Here is the useful Kyushu Transport Guide to making a reservation for train and bus:
Lastly, if you don't have a Kyushu itinerary yet, check out our Kyushu travel blog. We also include the best Kyushu transport pass that you should get for your itineraries.
How To Plan Your Kyushu Itinerary: Ultimate Guide
Planning to travel to Takachiho Gorge and Kurokawa Onsen with SunQ Pass? My Kyushu SunQ Pass itinerary as below:
Kyushu SunQ Pass itinerary: From North To South By Bus
Northern Kyushu (Fukuoka, Kumamoto, Aso, Kurokawa Onsen, Beppu, Yufuin):
Southern Kyushu (Miyazaki, Takachiho Gorge):