Last updated on October 2nd, 2023
If you are planning the Kyushu itinerary, this ultimate Kyushu travel guide blog has all the essential information including things to do, where to stay, and money-saving tips for your Kyushu trip.
Kyushu (九州) is Japan's third-largest island and is located southwest of the main island Honshu. Literally, as nine provinces, Kyushu encompasses seven prefectures: Fukuoka, Kumamoto, Nagasaki, Oita, Saga in Northern Kyushu, and Miyazaki, Kagoshima in Southern Kyushu.
An early center of Japanese civilization, Kyushu offers many historic treasures, modern cities, and natural beauty. Undoubtedly, there are numerous things to do and delicious local dishes to eat in Kyushu. From stunning coastlines at Miyazaki, active volcano Mount Aso, mysterious Takachiho gorge, and hot spring paradise in Beppu, Kurokawa Onsen, and Yufuin. Additionally, Kyushu is the birthplace of many mouthwatering Japanese cuisines. The world-famous Ichiran tonkatsu ramen also origin from Kyushu.
However, take note that the Kyushu region is huge. It can be very headache when planning on the Kyushu itinerary. Additionally, most of the top attractions are scattered around in different places. It also takes time and effort for traveling around. So it is important to have a rough idea of Kyushu's attractions before starting planning for your Kyushu itinerary.
In this Kyushu travel guide blog, we will share things to do and how to arrange transport to get there. Most importantly, some of the useful guides and money-saving tips when planning your Kyushu trip itinerary. This ultimate travel guide blog has all the essential information including things to do, where to stay, and money-saving tips for your Kyushu trip.
Pre-Trip Essential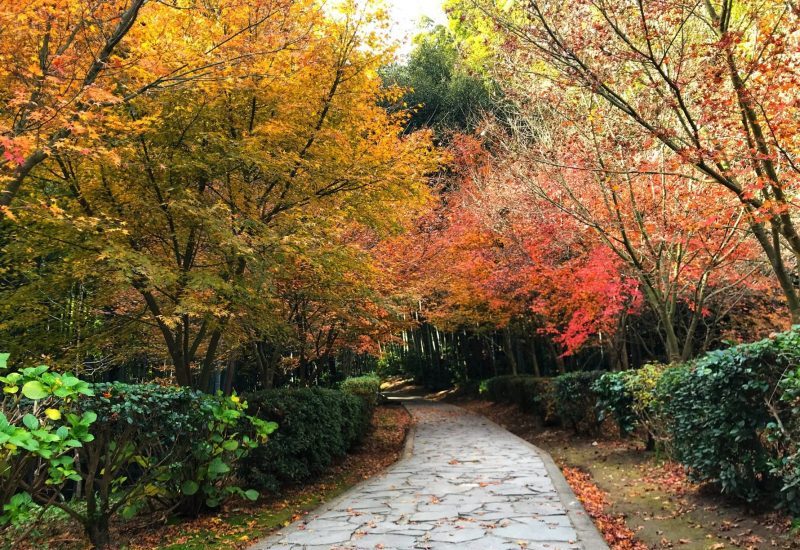 How Many Days Do You Need in Kyushu?
It takes at least 14 days to visit all the top sights in Kyushu, not counting those Kyushu's hidden gems. Bear in mind, that Kyushu is a huge region and there are so many things to do and see in Kyushu. Moreover, most of the top attractions are scattered around in different places and prefectures.

However, if you only have limited time, it is recommended to narrow down the places and focus on either Northern or Southern Kyushu for 5 days or even 7 days Kyushu itinerary. So, you won't waste too much time on transport arrangements.
Best Time To Visit Kyushu
You can visit Kyushu Japan at any time of the year as it is a great place to visit all year round. Kyushu has its charm and is rich with historical, cultural, and natural scenery and is beautiful in every season, whether spring, summer, autumn, or winter. Most importantly, Kyushu is less crowded compared to Tokyo, Kyoto, or Osaka. Additionally, for budget travelers, Kyushu is the perfect destination to visit as travel expenses is much cheaper compared with those busy city. But take note that most of the cities in Japan may be impacted by typhoons from mid-August to September. So try to avoid those two months.
How is the Kyushu weather?
Due to its geographic location, the weather climate in Kyushu isn't as freezing as the one in Hokkaido. However, you can still expect chilly weather. It can be very cold if you are getting to the mountainous area of Kyushu such as Takachiho Gorge and Mount Aso.
Here are some places and top attractions that you can consider on your Kyushu itinerary.
Places to visit in the Northern region in Kyushu Itinerary:
Fukuoka Prefecture: Fukuoka, Dazaifu, Mojito Retro, Kokura (2 to 3 Days)
Saga Prefecture: Takeo Onsen (1 Day)
Oita Prefecture: Oita, Yufuin (2 to 3 Days)
Nagasaki Prefecture: Nagasaki, Sasebo (Kujukushima Island), Huis Ten Bosch (2 to 3 Days)
Kumamoto Prefecture: Kumamoto city, Mount Aso, Kurokawa Onsen (3 Days)
Places to visit in the Southern region in Kyushu Itinerary:
Miyazaki Prefecture: Miyazaki, Takachiho Gorge (2 Days)
Kagoshima Prefecture: Sakurajima, Yunohei Observatory (2 Days)
Among all the top attractions in Kyushu, Takachiho Gorge (Miyazaki), Kurokawa onsen (Kumamoto), and Yufuin (Oita) are the top priority and must-visit in my Kyushu itinerary. While Fukuoka is always my first approach and last city before getting to/from Kyushu. It is also a great base if you are planning to travel to nearby attractions such as Kitakyushu, Mojiko, and Kokura.
Due to limited time, we still have no chance to explore the Kagoshima prefecture. Probably we can plan for this area for our coming Kyushu trip.
Where To Stay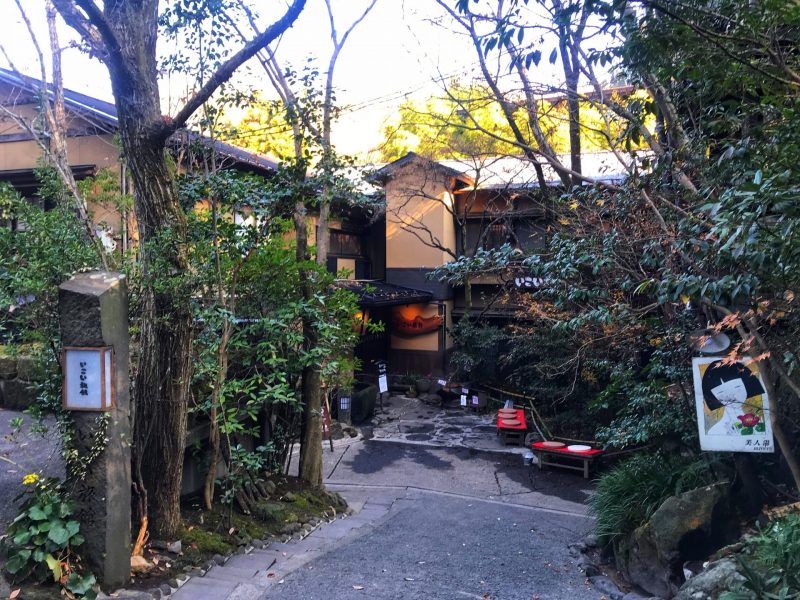 Kyushu has a wide range of accommodation options ranging from hotels, to guesthouses, and cozy hostels to choose from. To find your lodging options, it's important to first plan your Kyushu itinerary and transport mode. Bear in mind that Kyushu is huge and each prefecture has its attractions.
For the Kyushu itinerary by using public transport, we advise staying nearby the station. It provides access to most of the attractions and easy getting around. One of the great examples is Fukuoka. It is my great base before ending our Kyushu trip.
We booked and stayed in Montan Hakata Hostel. This designed concept hostel provides a private room with an en-suite bathroom for two, three, or four-person beds, and also a dormitory with a bunk bed for solo travelers. Simple breakfast for free! It was located about a 10-minute walk to Hakata Station and a 5-minute walk to Higashi-Hie subway station. So we were given the option to choose either station.
For the traveler's plan for a self-driving Kyushu itinerary, the accommodation options are much more varied. You can choose from Japan guest houses, homestays, or even traditional ryokan stay.
Here is the accommodation guide on popular places if you are looking for where to stay in Kyushu:
Planning on Kyushu Itinerary
There are many top attractions and a must-see in Kyushu and some of those very great destinations that I don't want to miss. So we were so dilemma to plan the most perfect Kyushu itinerary and keep on adjusting on schedule. But don't forget that Kyushu is a huge island. So it is best to plan out what is your interest and want to visit. From that, planned out the order you want to go then mapped out the best way to travel between the cities. Bear in mind that, transportation is also a headache and you need to understand the best way to travel.
The Ultimate 10 Days Kyushu itinerary:
Day 1: Arrived in Kyushu and headed to Kumamoto from Fukuoka.
Day 2: Day trip to Takachiho Gorge
Day 3: Mount Aso – Kurokawa Onsen. Stay at Kurokawa Onsen.
Day 4: Kurokawa Onsen – Beppu.
Day 5: Beppu (Jigoku Meguri Tour).
Day 6: Yufuin – Kokonoe.
Day 7: Nagasaki or Huis Ten Bosch.
Day 8: Sasebo (Kujukushima Island)
Day 9: Kitakyushu (Shimonoseki, Mojiko , Kokura)
Day 10: Fukuoka – Yanagawa- Dazaifu. Goodbye Kyushu.
The above recommendations are just my personal experience and there is still many more hidden gem awaiting you to explore. You can freely adjust your places to visit in Kyushu based on your interest, route, and planning. Added, there are also lots of seasonal things to do and see in spring, summer, fall, and winter. This itinerary just showcases that Kyushu has so much to offer and we are impossible to cover all the things to do in Kyushu within 10 days of the Kyushu itinerary. You are free to adjust based on your interest, travel date, transport, and budget.
So, let's start to explore and tour in more detail the Kyushu itinerary.
Day 1: Kumamoto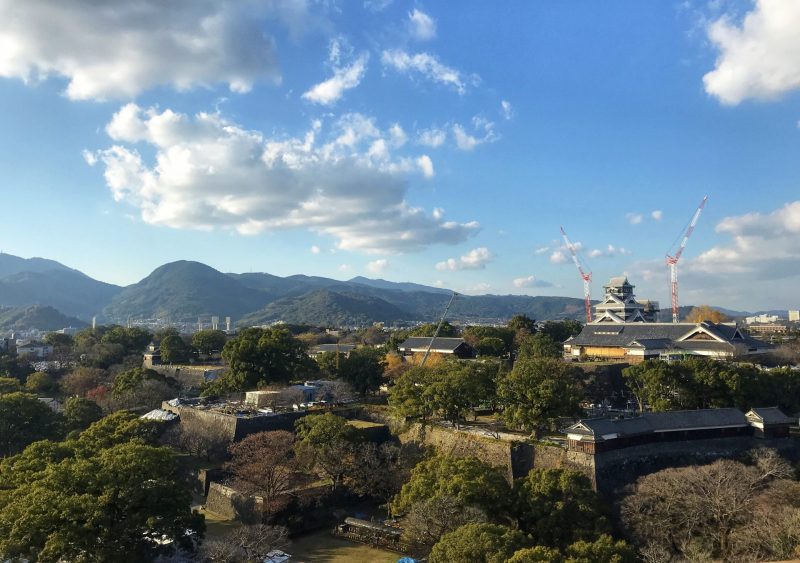 Start your Kyushu itinerary by visiting Kumamoto prefecture. Sadly to say that Kumamoto had the biggest hit during the 2016 earthquake. The Top three Premier Castle in Japan, Kumamoto Castle is badly destroyed by this natural disaster. The reconstruction and repairing work needs to take a least 20 years. Now, part of the Kumamoto Castle group is open to the public for free visits without a ticket. But you still can spend some time visiting the historical castle, meet the cuties Kumamon, and enjoy the best food in Kumamoto.
Related Article: Things To Do in Kumamoto: 1-Day Itinerary
Getting there: Highway bus from Fukuoka International Airport, or Hakata and Tenjin Station. Alternatively, 50 minutes Shinkansen ride will get you from Hakata Station (Fukuoka) to Kumamoto.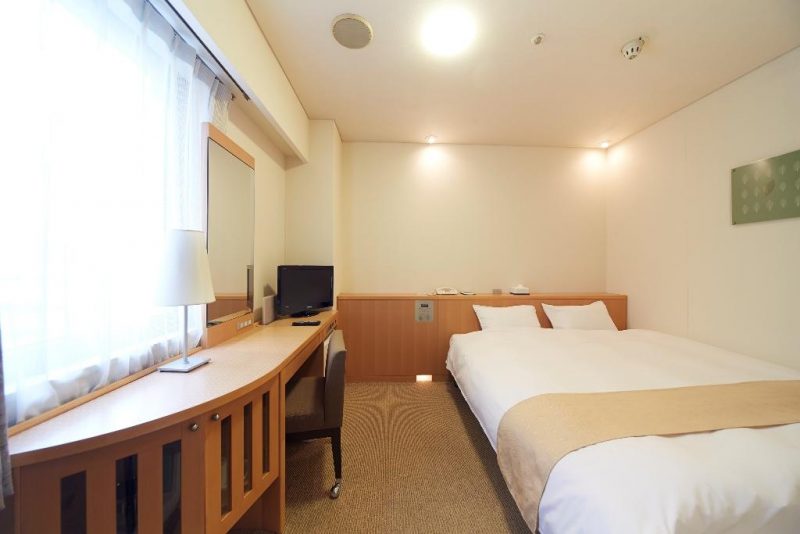 Where To Stay: We recommended staying somewhere near Sakuramachi Bus Stop (the central bus station downtown). Nest Hotel Kumamoto is a three-star business hotel strategically situated approximately 2-mins walk from the bus station. I would recommend it as it is convenient and at a reasonable price. Alternatively, Dormy Inn Kumamoto Natural Hot Spring is strategically located with the bus terminal is directly opposite the hotel. It will greatly help to save time and energy if you are planning to travel for a day trip to Takachiho Gorge the next day.
More accommodation options from Where to Stay in Kumamoto: Best hotel and areas.
Day 2: Takachiho Gorge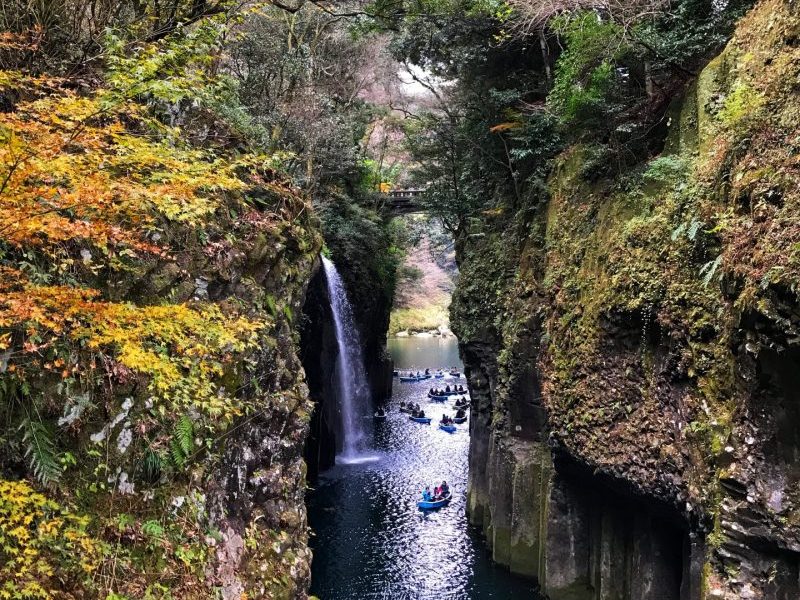 In my Kyushu itinerary, Takachiho Gorge is a must-visit attraction on my bucket list. The mysterious V-shaped gorge has to be one of Miyazaki prefecture's most famous sights. It was formed from the volcanic lava from Mount Aso, flowing through the Gokase River which resulted in the 100-meter-high cliffs of volcanic basalt columns. Rowing the boat in Takachiho Gorge and mesmerizing the Manai fall from below. The breathtaking look is even more spectacular with yellow leaves during Autumn.
Related Article: Takachiho Gorge Travel Guide: 1-Day Itinerary Blog
Getting there: Bus from Kumamoto to Takachiho Bus Station, and then get to Takachiho Gorge.
Where To Stay: Day trip to Takachiho Gorge is doable. If you planning for an overnight stay, Solest Takachiho Hotel is a good option. This gorgeously designed hotel is featuring Japanese and Western-style accommodations. The location is excellent and easy access to major attractions within walking distance.
Day 3, 4: Mt Aso – Kurokawa Onsen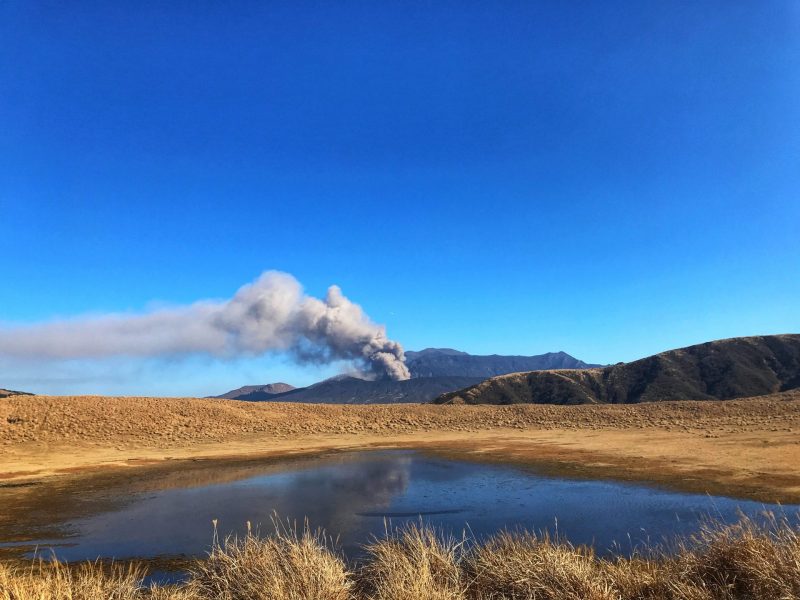 Next, let's head to Asosan, the largest active volcano mountain in Japan. It has one of the largest calderas in the world, allowing viewing of real volcanic eruptions with a closer view. However, take note that Mount Aso will close for a visit if the volcano activities are too frequent. So make sure to check on it before your visit. If this is the case, you can spend your time wandering in Kusasenri, an amazing vast grassland with Asosan as a backdrop.
Getting there: Take the Kyushu Odan Bus from Kumamoto to Aso Station and then transfer to the local Sanko bus.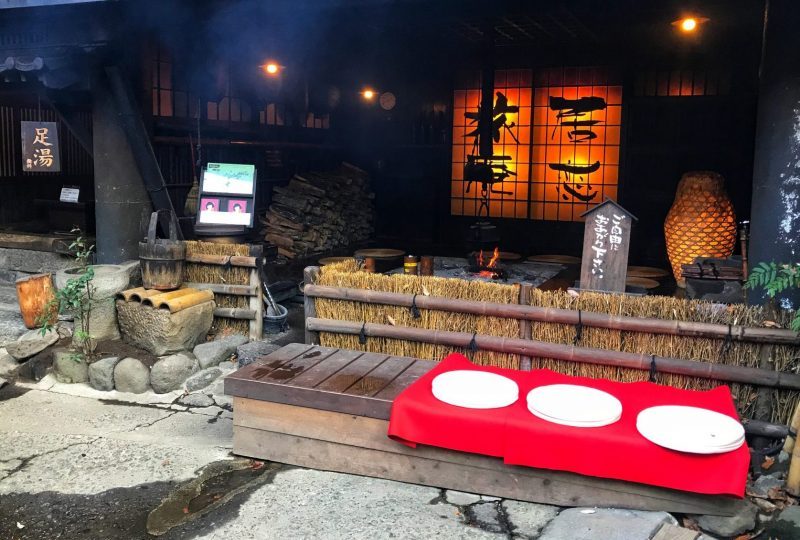 A visit to Kyushu is incomplete without soaking in a natural hot spring bath. You probably won't miss your visit to Kurokawa Onsen which is located about 2 hour's driving journey from Kumamoto city. It is one of the most magnificent traditional hot spring towns in Japan and boasted of various unique onsen baths. Visitors can get the Onsen Hopping Pass and enjoy three different hot springs from the ryokan list. But, it is worth spending one night and relaxing in the laid-back quaint hot spring town.
Kurokawa Onsen: A Guide To Natural Hot Spring Town
Getting there: Take the Kyushu Odan Bus from Kumamoto/Mt Aso to Kurokawa Onsen.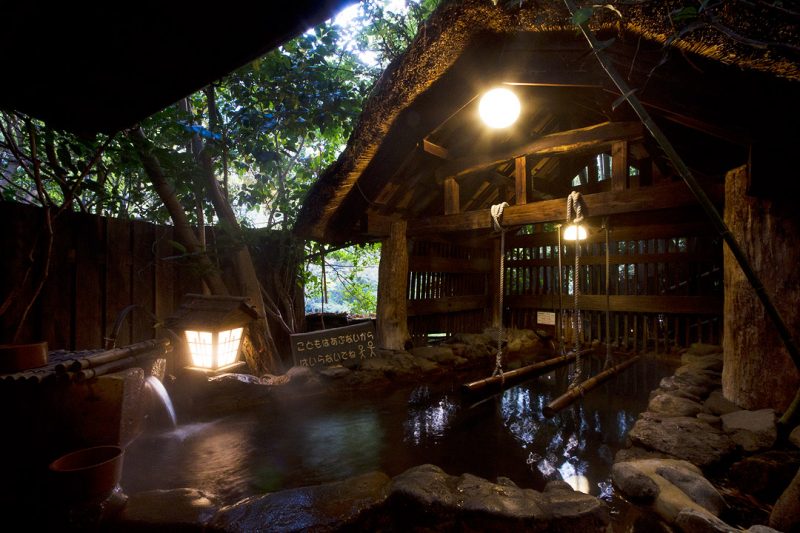 Where To Stay: We recommended spending one night in Kurokawa onsen. Ryokan Ikoi is one of the great options for those who prefer to experience the rustic traditional ryokan stay. After the tiring traveling days, allow yourself to get out of the hustle and bustle and soak into the onsen bath. One of the best experiences in the Kyushu itinerary.
Alternatively, take a look at our best ryokan pick in Kurokawa Onsen. There are many more recommendations that suit your budget and travel style.
Day 5: Beppu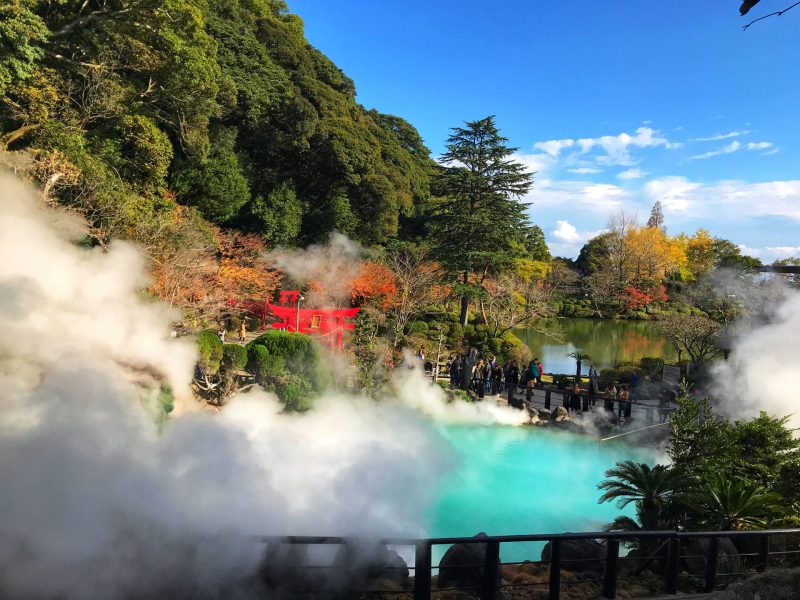 Beppu is one of the popular hot spring towns in Oita prefecture. Beppu city has more than two thousand hot spring spots and is blessed with a variety of hot spring resources. Local make use of onsen for various interesting activities.
During your Kyushu itinerary in Beppu, you can view on colorful hot spring attraction at Jigoku Meguri, consisting of 8 unique hot spring spots. Taste the hot spring steamed dishes at Jigoku Mushi Kobo and also Jigoku pudding dessert. Lastly, enjoy a unique sand bath heated by hot spring water.
Beppu Itinerary: Ultimate Travel Guide Blog
Getting there: Highway bus running between Beppu and major cities in Kyushu. Added, frequent JR train connects between Hakata Station and Beppu.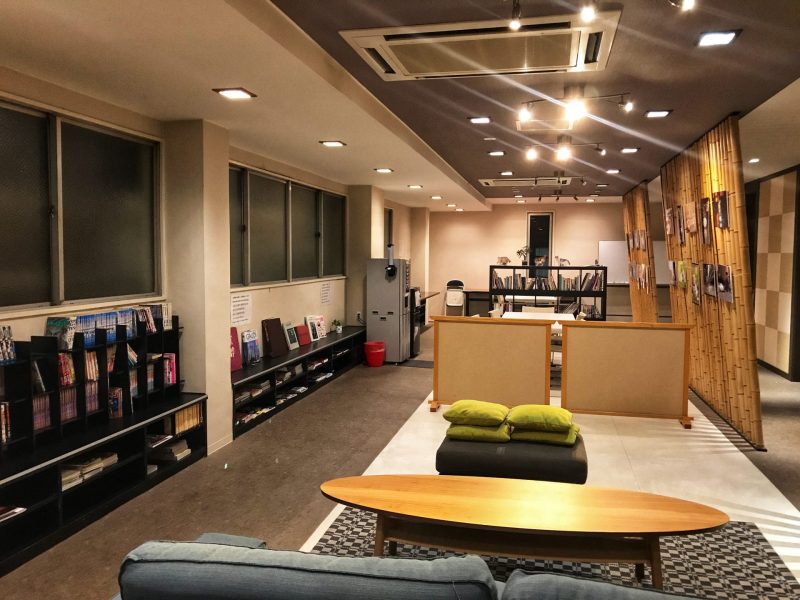 Where to Stay: We choose to stay in Nogami Honkan, a traditional ryokan with modern facilities in Beppu. It is located at an easily walkable distance from the train and bus stations. You can choose even the nearest at Beppu Kamenoi Hotel, a three-star hotel located nearby Beppu station within a 5-minutes walk.
Read More: Where to Stay in Beppu [Best Hotels and Ryokans]
Day 6: Yufuin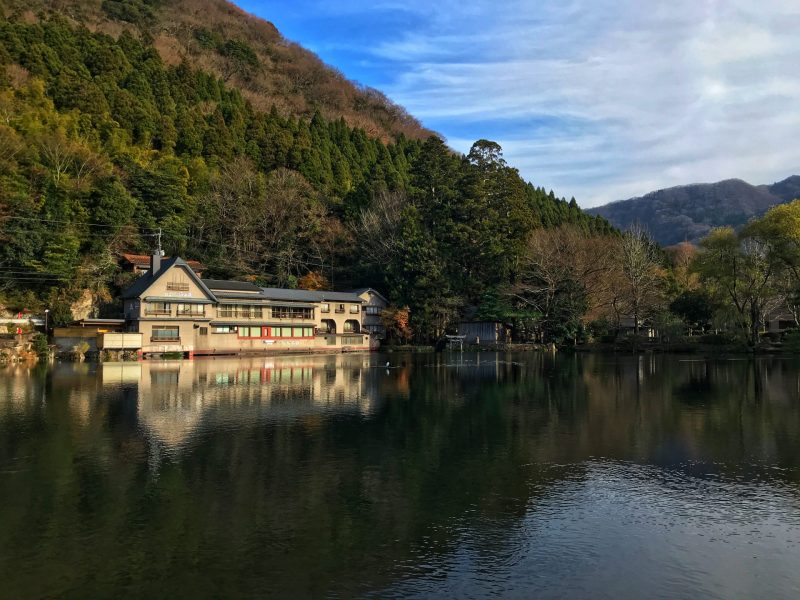 Yufuin (由布院/湯布院) is the most popular sightseeing spot in Oita prefecture. This onsen town is boasted unique cafes, restaurants, and shops selling high-quality locally-made handicrafts, boutiques, and art galleries. Enjoy a scenic stroll along the Yunotsubo Kaido, sample various Japanese snack food, and enjoy the atmosphere. End your walk at the beautiful Kinrin lake (金鱗湖, Kirinko) that is fed by onsen waters.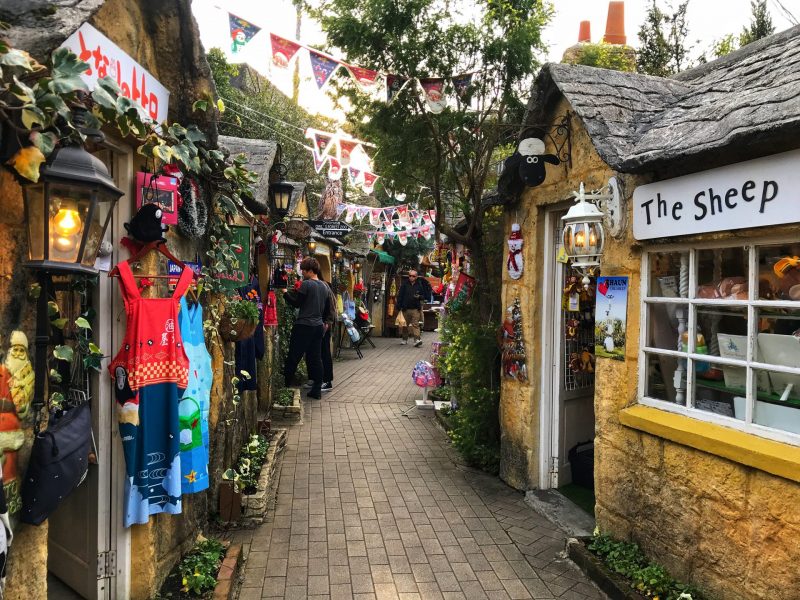 Stopped by Yufuin Floral Village for its colorful and vibrant Europe settling town. The narrow street was lined with yellow-painted souvenirs and toys shops and decorated with colorful flowers, vintage lamps, and decorations. Added, you can find the owl museum, a cat cafe, and even an animal encounter zone. Plenty of photo opportunities at every corner.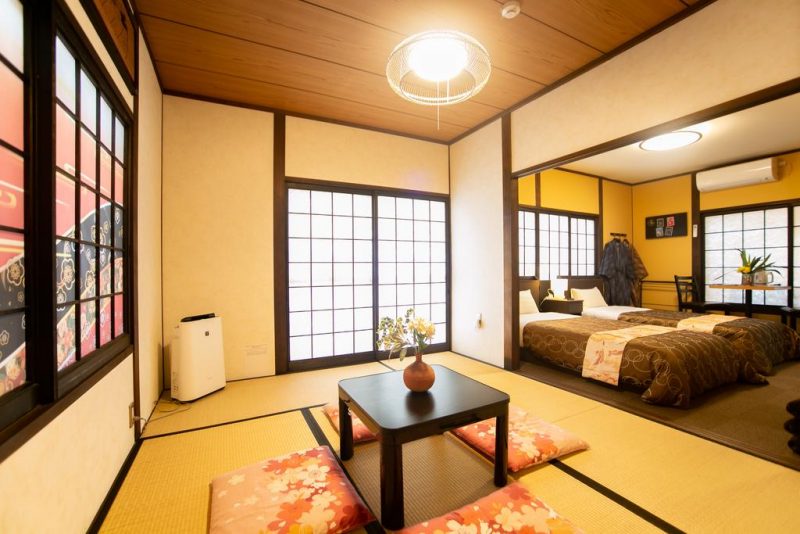 As an onsen enthusiastic, we spend another night in Yufuin. There are many charming ryokan inns featured with an onsen hot spring bath in Yufuin. Our recommendation is the Yufuin Lamp no Yado. It s a more than traditional onsen ryokan with a renovated 175 years building structure in Yufuin. Staying one night in Yufuin with kaiseki dinner is very wonderful.
Here is the best ryokan list on where to stay in Yufuin. Take a look if you are interested.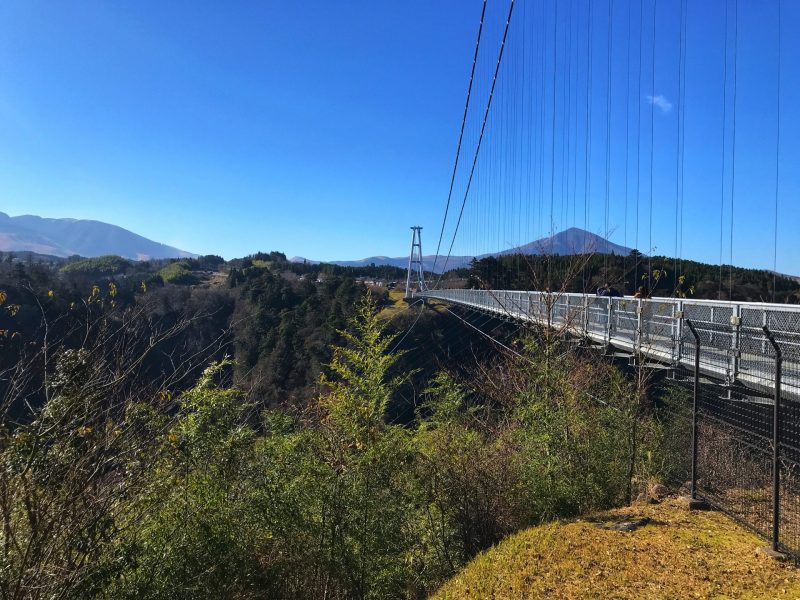 If you have more time, consider to had a half-day trip to Kokonoe Yume Otsurihasi (九重"夢"大吊橋), Japan's Highest Pedestrian Suspension Bridge. The construction of this grand suspension bridge purely comes from the public without any subsidy from the government. And that's is the name "The Dream of Kokonoe" comes from. This is also the best place to view fall foliage during Autumn.
Walking through the suspension bridge, mesmerized by the beautiful view surrounding me and grab the Kokonoe burger for a snack. Worth a half-day visit to this natural scene. However, please take note of time allocation due to infrequent and not well-connected transport arrangements.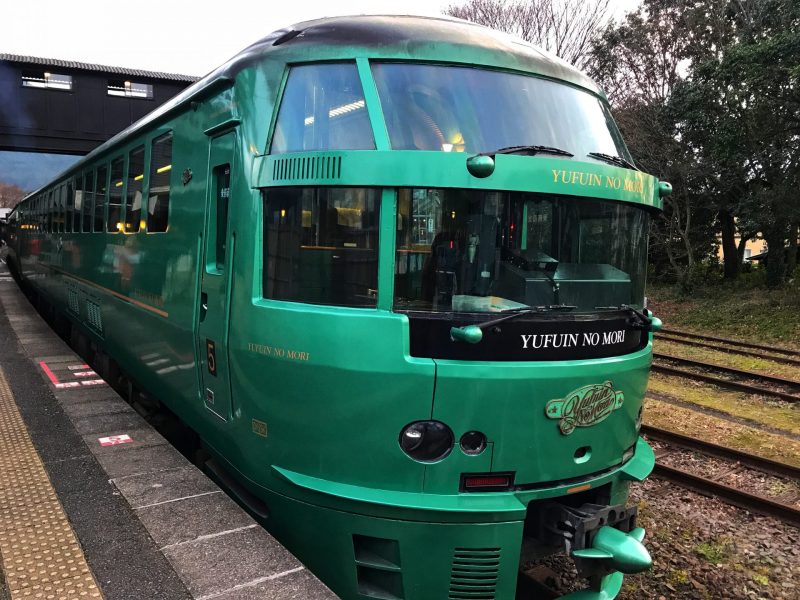 One popular transport to note is Yufuin no mori (ゆふいんの森) which runs between Hakata and Yufuin. It is a popular sightseeing train and reservation is a must. The train is beautifully decorated with a forest theme and offers a great view along the train ride.
More information and itinerary travel guide in Yufuin and Kokonoe:
Day 7, 8: Nagasaki – Huis Ten Bosch – Sasebo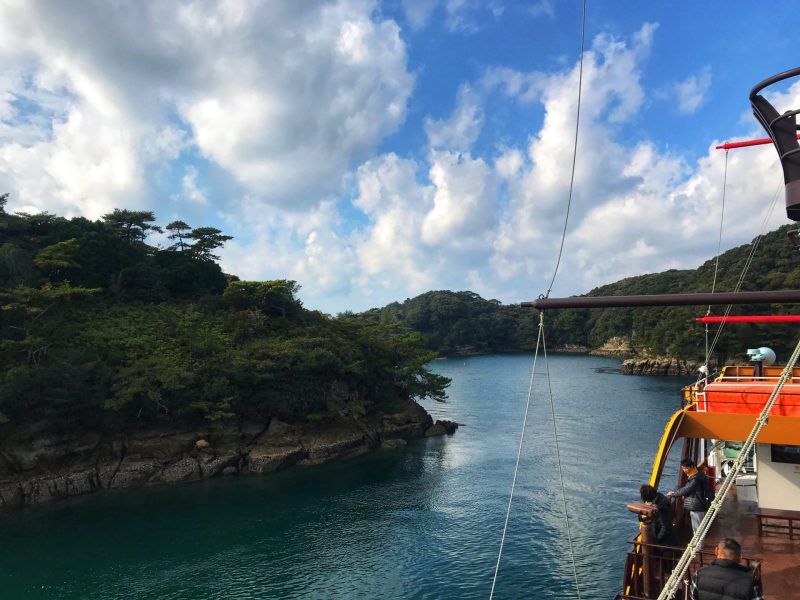 Nagasaki city is worth the recommendation. It has extensive insights into World World II with Nagasaki Atomic Bomb Museum, Nagasaki Peace Park, and historical memorial. Moreover, being one of the port cities open to foreigners during Japan's isolation period, Nagasaki is a charming city that perfectly combined Japanese and Western cultures. The Dutch, Portuguese, and Chinese influences from the 16th century until nowadays. The Nagasaki Chinatown, also known as Shinchi Chinatown, is Japan's oldest Chinatown. It is best known for famous local noodle dishes, Champion and Sara udon.
Plan your visit to Huis Ten Bosch, the largest amuse theme park in Kyushu with the ambiance of a 17th-century Dutch town. It is also particularly beautiful with Dutch windmills and European architectural buildings, especially during the tulips festival. Lots of fun and shows such as water magic, fire performance, lighting & music canal parade, concert, and more.
Kyushu Travel Tips: Get Discounted Huis Ten Bosch Ticket
Not to forget the Kyushu hidden gem, Kujukushima (99 Island) in Sasebo, Nagasaki prefecture. It is one of the top attraction spots that we highly recommended for your Kyushu itinerary. Although the name is called ninety-nine islands, there are a total of 208 uninhabited islands at the coast bay. Enjoy the sightseeing cruise to mesmerize the beautiful coastal view.
Ticket Information:
The Kujukushima Sightseeing Cruise: ¥1,500 for an adult and ¥750 for kids (4-15). Get Ticket from Klook.
Getting there: From Hakata Station (Fukuoka), take the highway bus or JR train to Sasebo/Nagasaki/Huis Ten Bosch. Approximate 2 hours journey.
Further Read on: Sasebo Itinerary: Kujukushima Sightseeing Cruise
Day 9: Kitakyushu (Shimonoseki, Mojiko, Kokura)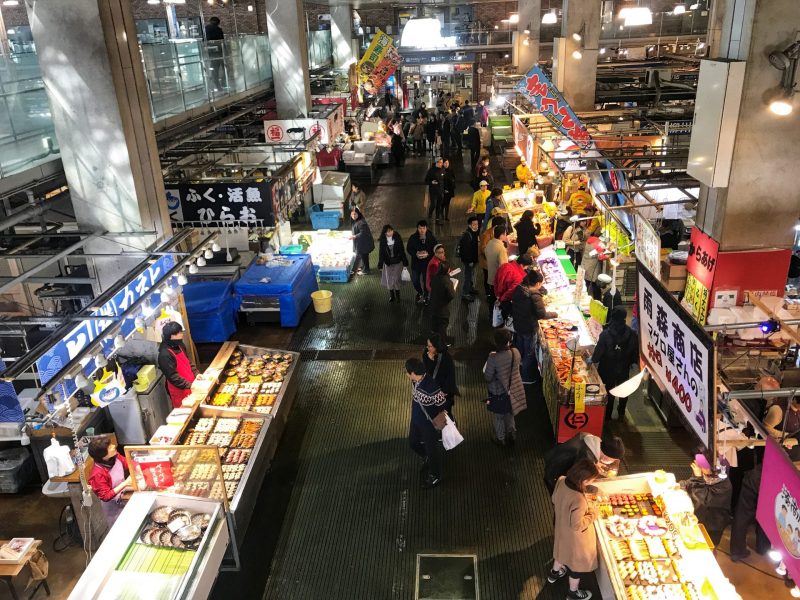 Kitakyushu is the northernmost city in Kyushu between the Honshu in Japan. From Fukuoka, you can visit both of Japan's islands in one day. You can even cross these two islands through the underground water tunnel which is connected between Mojiko and Shimonoseki.
Take a 5 minutes ferry from Mojiko to the Karato market in Shimonoseki. Started your day with marvelous sushi, sashimi, and seafood dishes in Karato Market. The fresh market will host the sushi event on Friday, Saturday, and Sunday. It served freshly caught seafood and was popular for fugu (pufferfish) at a cheap price. The Karato market is located only 5 minutes ferry from Mojiko.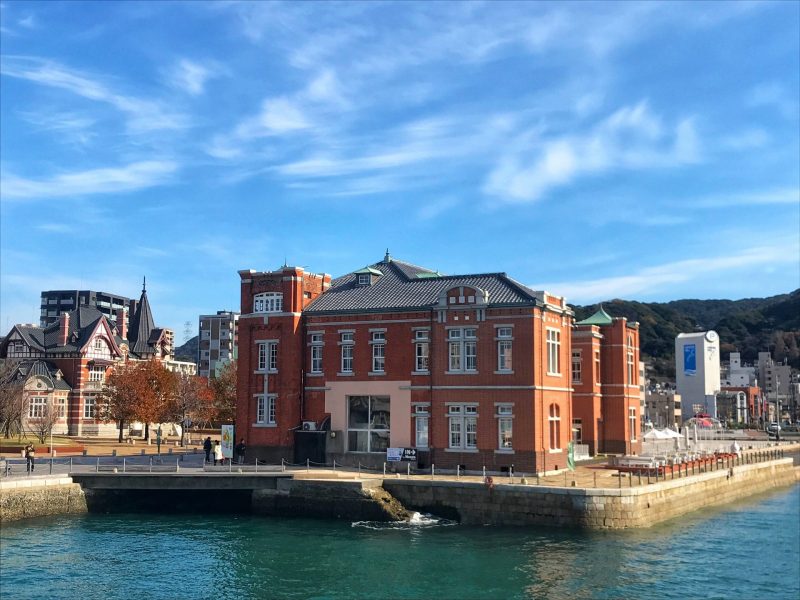 Then strolling in Mojiko retro area to enjoy Neo-Renaissance style architecture with the breezing wind. If you still have more room, you must also try the yaki curry here. The baked curry with cheese is Mojito's specialty.
You can even plan a short visit to Kokura Castle and go to the Tanga Market for another food hunt. The entire Kitakyushu area has a sense of tranquility and is a great place for a relaxing stroll.
Free feel to continue to read below:
Where we stayed: Montan Hakata Hostel is a designed concept hostel located about a 5-10 minutes walk to the nearby subway station.
Day 10: Fukuoka – Yanagawa- Dazaifu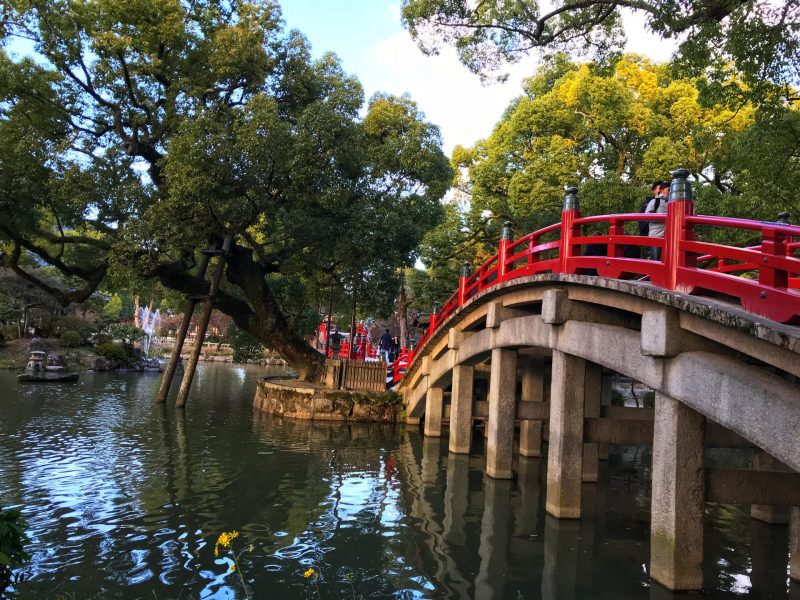 Fukuoka is the biggest and busiest city in Kyushu. It is also the main transportation hub for visitors when visiting Kyushu. Frequent shinkansen, JR train, and international and domestic flights welcome thousand of travelers per day. It's a great starting off and ending point for your Kyushu itinerary. Additionally, you can also make use of the JR train and visit the nearby attraction.
Similar to most of the bustling cities in Japan, Fukuoka has a lot of shopping mall stores such as Hakata Canal City, and Tenjin shopping group to fulfill your shopping needs. Aside from that, Fukuoka is also well-known for its food and birthplace of many local cuisines. The Hakata ramen, mizutaki, motsunabe are must eat food in Fukuoka. Yatai food stalls are also one of the unique food cultures that you can widely find in the city.
Plan your visit to Yanagawa, the Japan version of Venice with a traditional boat ride through the picturesque canal build around the castle town. Don't forget to taste the Unagi rice for lunch in Yanagawa. Next visit the Dazaifu Temangu, one of the most important Temangu shrines in Japan.
Read more: Things to do on Your Fukuoka Itinerary
Where we stayed: Another one-night stay in Montan Hakata Hostel.
Kyushu Transport Guide
Getting To Kyushu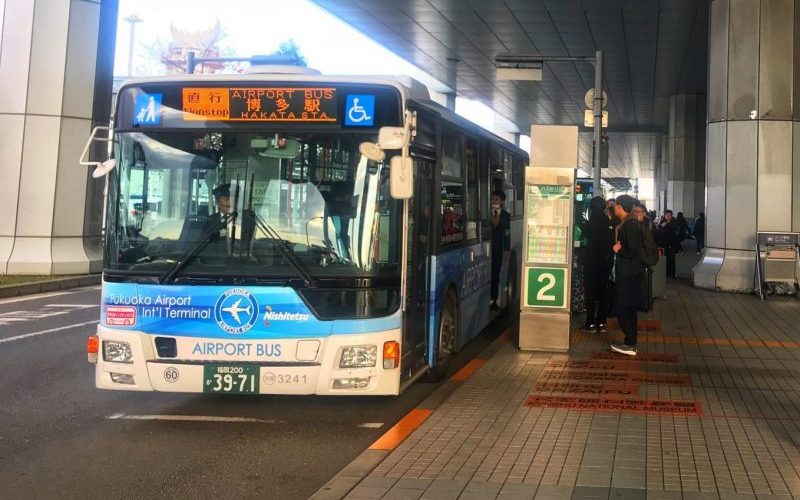 By Shinkansen: Tokyo and Fukuoka (Hakata Station) are connected with Tokaido/Sanyo Shinkansen. One way journey takes about 5 hours and costs about ¥23,000. Foreigner travelers can get the Japan Rail Pass to save on this bullet train ride. However, take note that JR Rail Pass is not valid for Nozomi trains, and have to ride the Hikari train instead.
By Air: The biggest airport in Kyushu is located in Fukuoka. It is the main transportation hub for domestic and international travelers. Frequent domestic flights per day from Tokyo to Fukuoka and other cities in Japan. It also welcomes international travelers from Hong Kong, China, Taiwan, South Korea, the Philippines, Malaysia, and more.
One of the best things about flying to Fukuoka is the city is located extremely near to the airport. It is only about 2 stops of a subway ride with about 10 minutes at ¥260. Take note that the subway station is situated at the domestic terminal building. But glad that a free shuttle bus service is connecting the international domestic building in Fukuoka Airport.
Further Read: From Fukuoka Airport To City By Bus, Subway, and Taxi
Friendly Reminder: Nowadays, mobile data is invaluable and extremely useful when traveling in Kyushu. Being able to research a place to visit and having real-time navigation was invaluable and we highly recommend purchasing to get your mobile once you arrive in Japan. It is advisable to reserve early as it was cheaper than purchasing on arrival.
Click here to pre-book unlimited 4G Sim Card and Wifi router.
Getting Around in Kyushu
There are only two ways for getting around in Kyushu, either by self-driving or public transport. My advice is to plan out what you want to see and then look for transport to travel between the cities and attractions.
Although the southern region such as Kumamoto, Kagoshima, and Miyazaki is accessible by shinkansen or local train. But most of the attractions are only can be accessed by self-driving or buses. While the northern region such as Fukuoka, Nagasaki has better railway service with a train and metro system in town.
Self Driving in Kyushu
Kyushu is very ideal to plan for Kyushu self-driving itinerary especially when you are traveling with the elderly and kids. Self-driving in Kyushu allows you slowly travel around at a slow pace. You can book your rental car and pick up your car at the airport. It is also much cheaper when traveling in a group and flexible. For hassle-free, consider getting the Kyushu Expressway Pass to save on the toll fee.
Click here to check for your best price for the wheel from RentalCars.com.
If you're wondering how should approach renting a car in Kyushu, check out this article for some useful tips on How to Rent A Car For Self Driving in Japan.
By Using Public Transport
Transportation is not cheap when getting around in Kyushu. Luckily, Japan offers various transport passes that allow you to take unlimited trains and buses at a cheaper price. This is a great deal for foreign visitors as we need to travel around to many cities. You need to pick one of two transport pass to save some money.
Below is the popular and top pick for Kyushu Transport Pass that you need.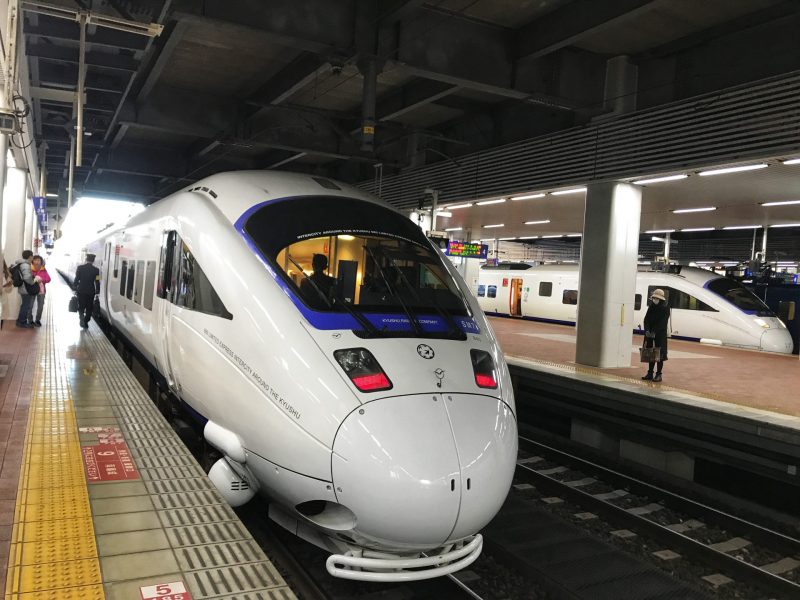 If you plan on visiting multiple destinations on Kyushu Island by train, worth to consider to get a JR Kyushu Rail Pass. There are 3 types available: the Southern Kyushu Pass, the Northern Kyushu Pass, and the ALL Kyushu Rail Pass.
Kyushu JR Pass (More info about the validity, price, and coverage)
** Important Note: The cost of the Kyushu Rail Pass is officially increased on October 1, 2023. Still, it is worth grabbing a JR Kyushu Pass when traveling around Kyushu.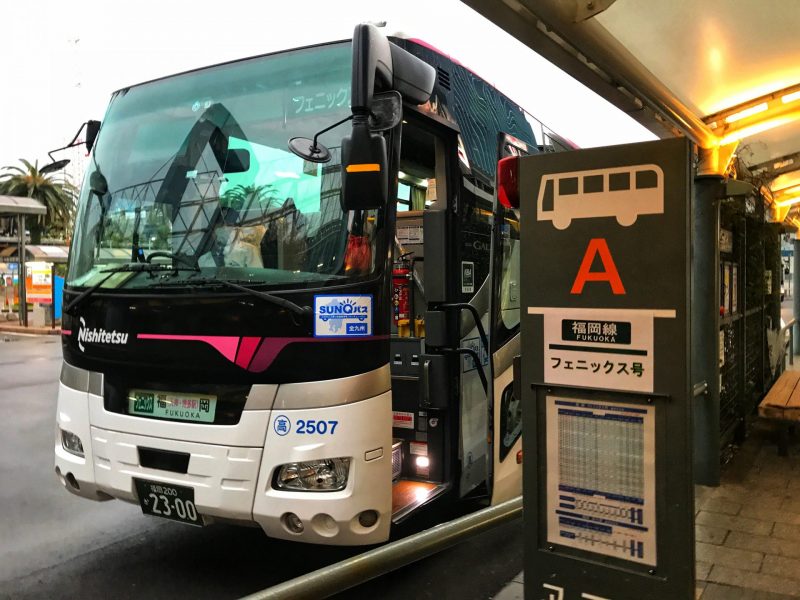 Moreover, some of the attractions such as Kurokawa onsen, and Takachiho Gorge are only accessible by self-driving or bus. If you are planning these places as part of your Kyushu itinerary, take a look at Kyushu SunQ unlimited Bus Pass. It covers almost 99% of highway and local buses in Kyushu.
SunQ Unlimited Bus Pass (More info about the validity, price, and coverage)
We have also documented how to reserve your seat ticket using each pass. Check it out if you need more information.
Overview: Kyushu Itinerary
All in all, this Kyushu travel guide blog will give you some ideal things to do and see in Kyushu. There are various transportation options and attractions in each place. Free feel to check more detail on each travel blog when planning your Kyushu itinerary.
So, that's it. Hopeful this Kyushu itinerary is helpful to plan for your Kyushu trip. If the above Kyushu travel guide can inspire you, feel free to continue reading on our travel blog below to know in more detail. Enjoy your Kyushu trip.
Northern Kyushu (Fukuoka, Kumamoto, Kurokawa Onsen, Beppu, Yufuin, Kitakyushu, and more):
Southern Kyushu (Miyazaki, Takachiho Gorge):