Last updated on December 11th, 2023
Don't miss the opportunity to explore the unpolished charm with a day trip to Bratislava from Vienna. Located 67 km away from Vienna, Bratislava is a charming old town awaiting you to slowly discover with one or more days of the Bratislava itinerary.
Bratislava, the capital of Slovakia is centrally located 1 hour from Vienna or 3 hours from Budapest by train. So, it is ideal to include your Central Europe itinerary with Bratislava when visiting Austria or Hungary.
Firstly, we keep debating if it was worth visiting Bratislava as there are so many things to see and do in Vienna. As a result, we are glad that we finally made the right decision by spending one day trip to Bratislava. We enjoyed it.
This lively city may not be one of the Top-10 Must-Visit of European cities. It does not have eye-catching attractions to wow about. However, the nice character of the city is good for a slow traveler to explore this charming and unspectacular city.
Read more on all you need to know on the Bratislava travel guide blog with one day Bratislava itinerary with a day trip from Vienna.
Traveling To Bratislava from Vienna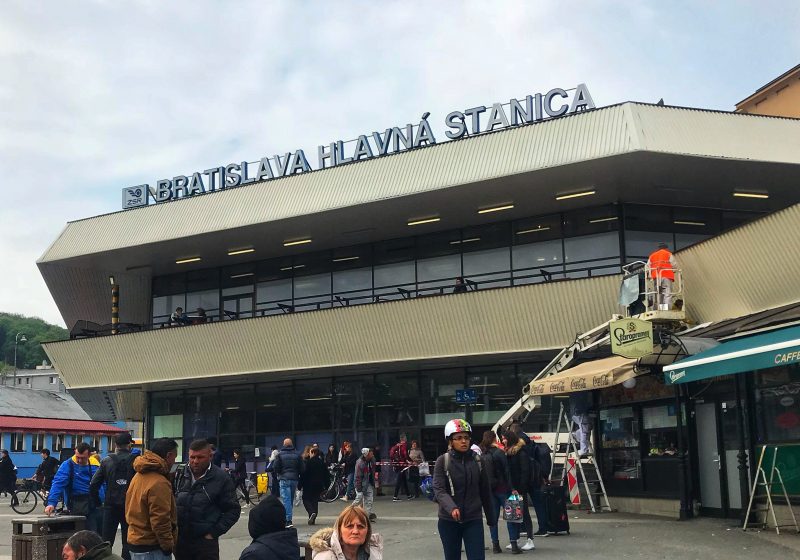 Overall, there are plenty of transportation options for making your day trip to Bratislava from Vienna. The most common four transportation for traveling from Vienna to Bratislava is by bus, boat, bus, and train. Among them, train no doubt is the most convenient way as the frequent train departs from Vienna to Bratislava.
Getting To Bratislava By Car
Driving to Bratislava from Vienna seems pretty straightforward. If you're driving a rental car, ensure there are no issues with the rental agency about driving across borders. RentalCar is a reputation car rental agency with great customer service and a lower price guarantee. A vignette (sticker) is required when driving in both Austria and Slovakia.
Getting To Bratislava By Boat
If you prefer a more scenic route you could take one of the high-speed boats along the Danube but it's more expensive than the train or driving.
Getting To Bratislava By Bus
Traveling by bus is one of the cheaper transportation to get from Vienna to Bratislava. Flixbus and Slovak Lines offer an hourly service to Bratislava from Vienna International Busterminal. It takes approximately 50 minutes to arrive at Bratislava Novy Most (sometimes referred to as Most SNP) or Einsteinova bus station. From here, it is a short walk to the city center.
Getting To Bratislava By Train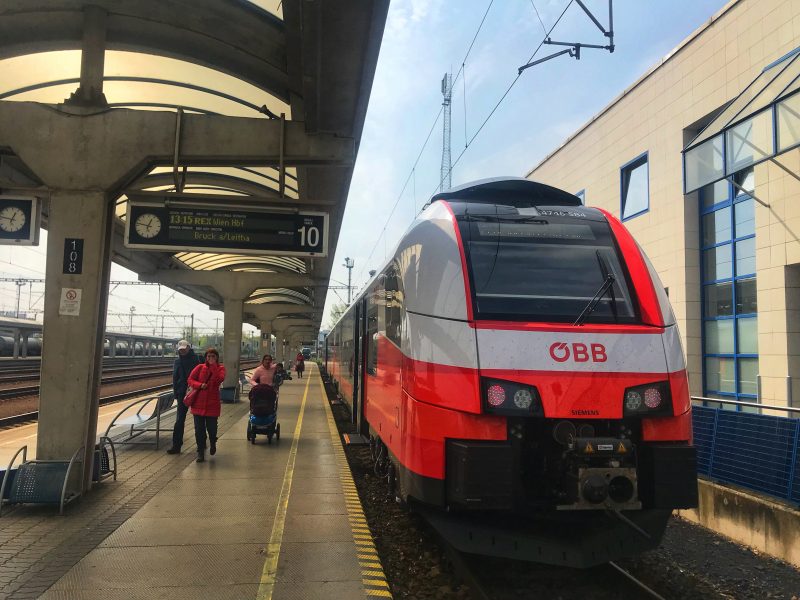 All Vienna to Bratislava trains are run by ÖBB. Trains depart from Vienna Hauptbahnhof to Bratislava's main station at 6:00. The arrival train station is either Bratislava Petržalka or Hlavná Stanica depending on the departure time.
Train depart twice hourly on regional trains to the center of town by every hour of 45 minutes to Bratislava Petržalka. While every hour of 16 minutes will bring you to Bratislava Hlavná Stanica. Both take about an hour to reach Bratislava's main station.
The ÖBB Bratislava Ticket
A return train ticket at €16 for travel between Bratislava and Vienna with free use of public transport in Bratislava including city buses and tram at that day of validate. Any ÖBB ticket office or online can this good deal.
Getting Around In Bratislava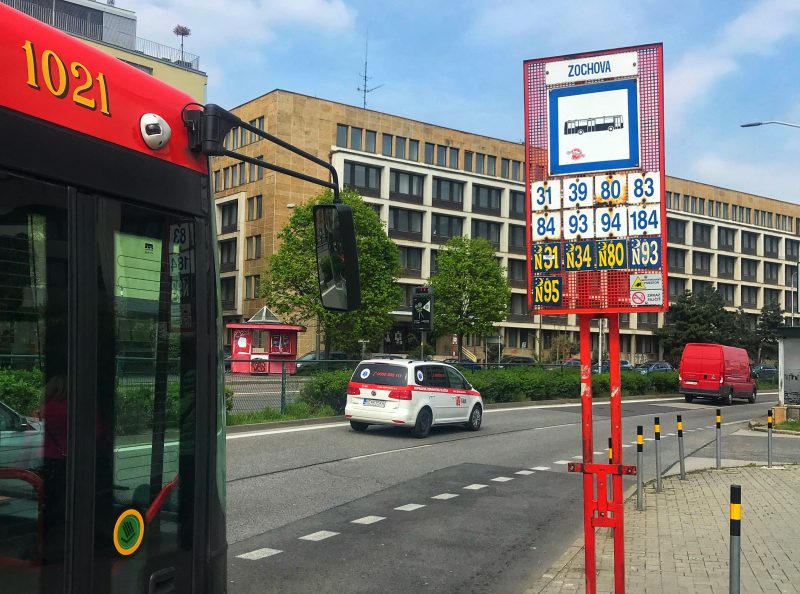 Most of Bratislava's sights are within easy walking distance. Once you've reached Bratislava, neither of the city's train or bus stations are in the center of town. So either option requires a walk to the sights.
We walk to the Bratislava castle and old town when we are getting to Bratislava from Vienna. At the end of the day, we choose to take a bus ride back to Bratislava Hlavná Stanica station after exploring the city.
One Day Bratislava itinerary
There are many things to do in Bratislava that deserve more than a quick day visit. But if time is limited, spending a day trip from Vienna to Bratislava is a good option. It's probably best to get started to know the place in one day.
Bratislava itinerary – What To Do in Bratislava:
Hike Up To Bratislava Castle
Wandering In Bratislava Old Town
Discover The Quirky Sculptures
Taste Slovakian Cuisine And Beer
Visiting Blue Church
Other attractions nearby Bratislava (Devin Castle, wine tasting tour at Modra, Košice)
How Many Days Do You Need in Bratislava?
One day in Bratislava is completely enough to tour the most popular sites in the Old Town.
What To Do in Bratislava in 1 Day?
We recommended to tour the Bratislava downtown and visiting the grounds of Bratislava Castle.
How To Get To Bratislava from Vienna?
Bratislava is is a great option for a day trip from Vienna. You can get there by train, bus or boat.
Is a day trip to Bratislava from Vienna worth it?
It is definitely worth giving up one of your days with a day trip to Bratislava from Vienna. The charming old town is awaiting you to slowly discover its beauty.
Hike Up To Bratislava Castle
Bratislava Castle (Bratislavský Hrad) is one of the must-see landmarks at Bratislava. This important building was in ruin and went through renovation several times, and finally perfectly restored into this massive rectangular castle. Travelers can walk up to Bratislava Castle on foot or on a short train ride.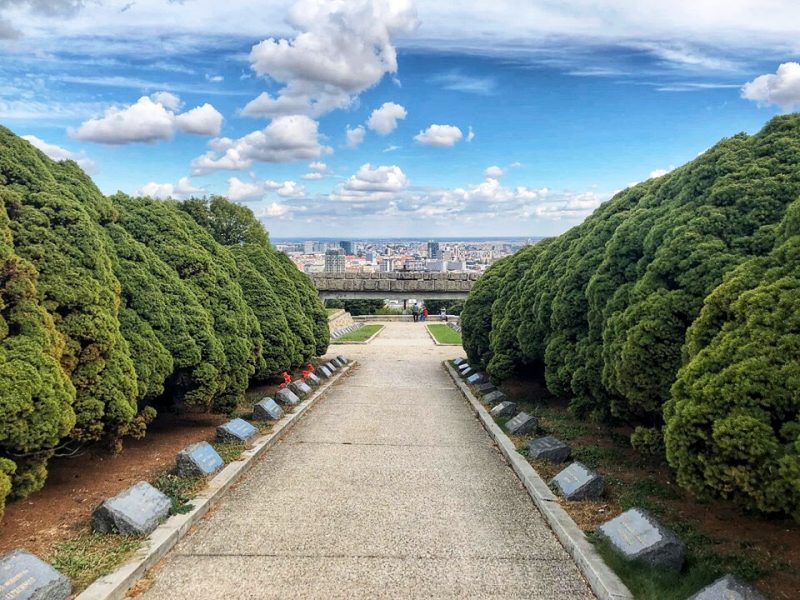 The historical building is now the National Museum of History but visiting the grounds and gardens is free. From here, you will impress by the spectacular panoramic views out over the Danube river and the quaint charm of Bratislava city. Exploring the castle ground took about 30 minutes. But it is best to have an aerial view of Bratislava city.
Don't miss Bratislava Castle while you are in town!
Wandering In Bratislava Old Town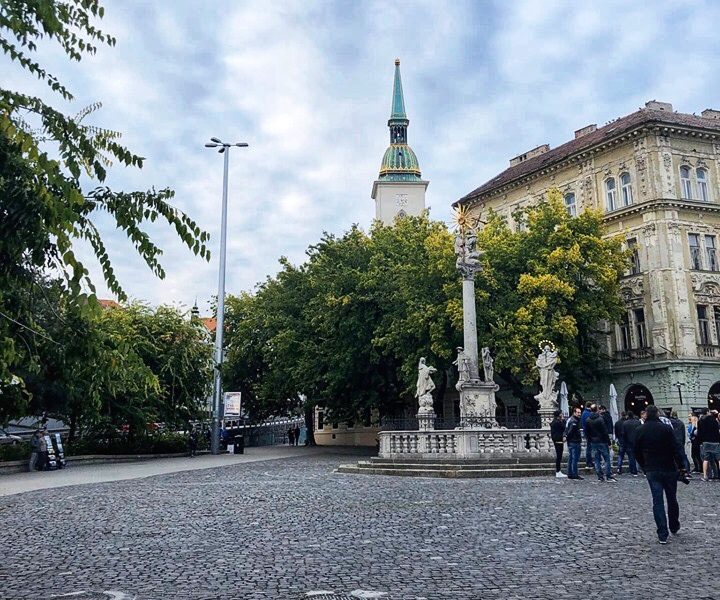 Well, the best things to do in Bratislava are wandering around in the old town and looking for photo opportunities. A walking tour is a good option, otherwise, self-exploring is another way to discover the charming city on your own.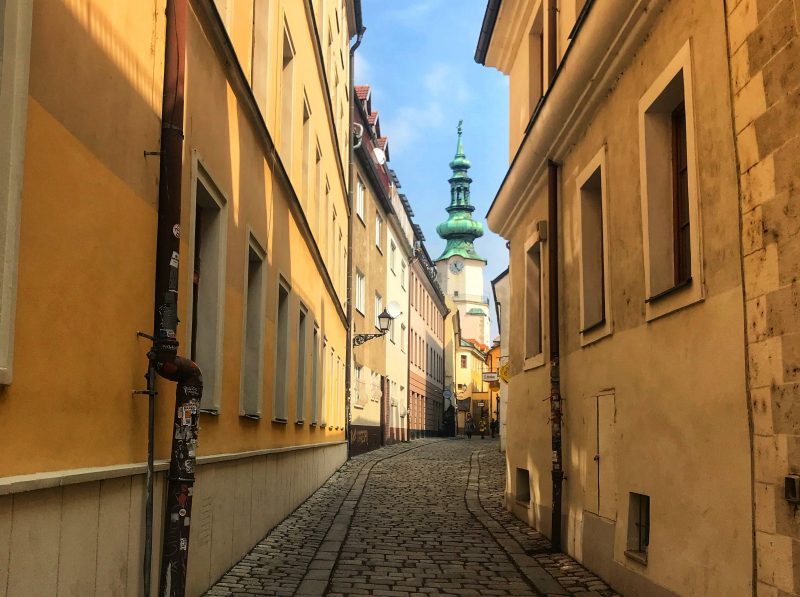 Make your way down via the stairs on the Castle side and continue heading towards the old town direction. You will come across the streets of Michalska, with the iconic Michael's Gate at the end. St. Michael's Gate (Michalská brána) is the only preserved gate from fortifications and you can walk up for a panoramic view of the old town.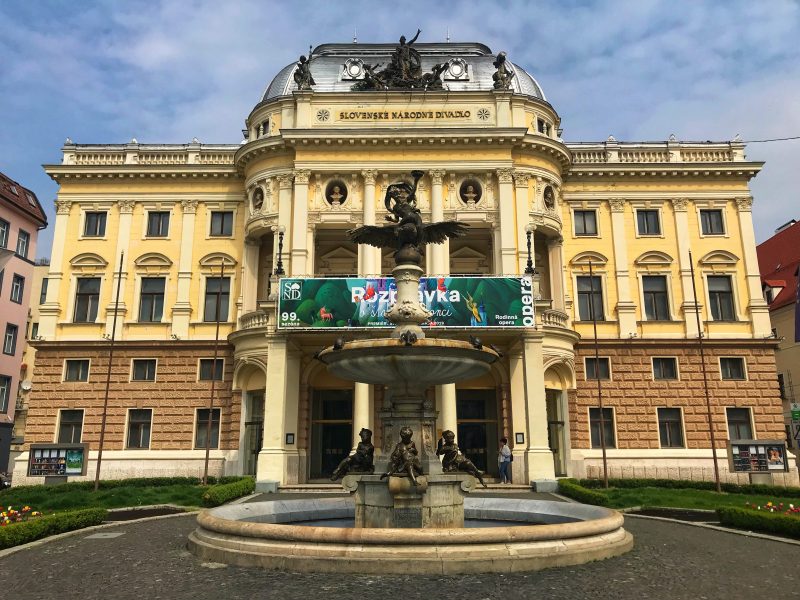 Continue head to the left will lead you to the city's main square. Here are some of the highlights that you hard to miss when exploring around.
St Martin's Cathedral (Katedrála svätého Martina) is the oldest and largest church in the city.
Old Town Hall, is the oldest city hall in Slovakia.
Slovak National Theater with its tree-lined pedestrian street and cooling fountains.
We do not have a proper walking route when exploring the old town. While the old town is pretty small and you hardly can get lost. We enjoy seeing the interesting Central European architecture and strolling into a corner with peeling paint exteriors and graffiti tags.
And we enjoyed it so much more!
Discover The Quirky Sculptures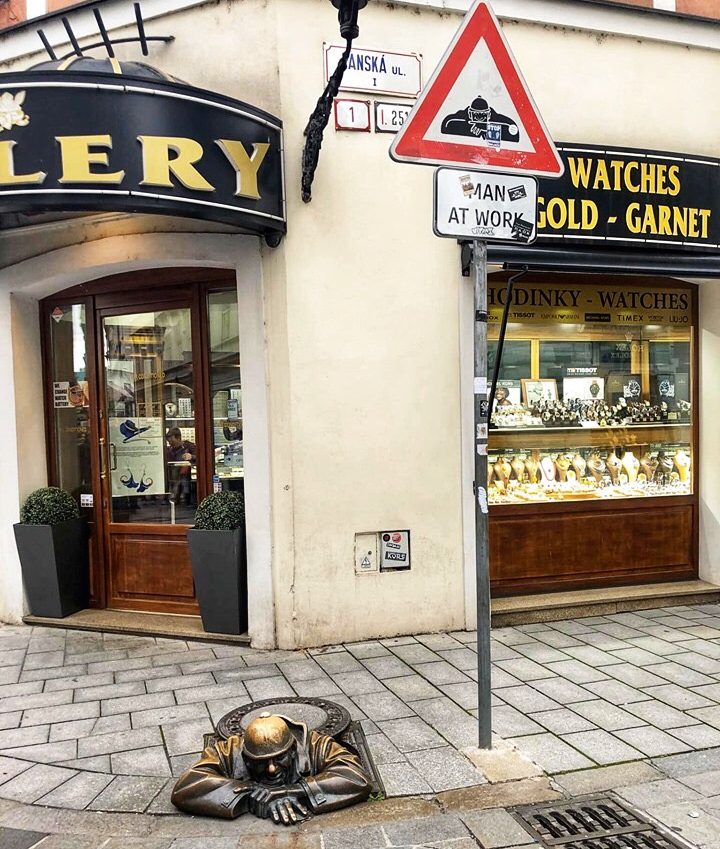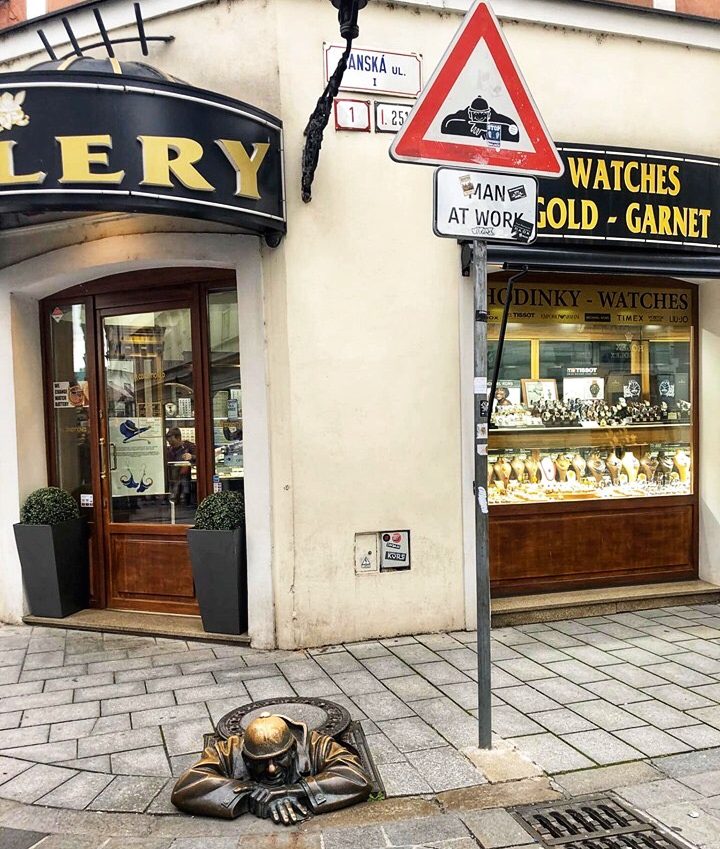 Not to forget the quirky sculptures scattered across the Old Town which will surprise you at each corner. A lot of human-sized bronze statues will catch your attention every time we turn a corner.
The most famous is the Čumil the Watcher, a man peeping into a manhole. The statue had lost his head twice due to inattentive drivers so now there's a unique road sign next to it that says "man at work".
The remaining famous statues awaiting you to discover include "Napoleon's Soldier" leaning on the bench at the busy square, "Paparazzi" keep peeping with his camera at the corner, "Schöner Náci" bowed in an elegant suit and top hat at streets of the city.
And there are still some hidden quirky sculptures awaiting you to discover when getting around in Bratislava.
Taste Slovakian Cuisine And Beer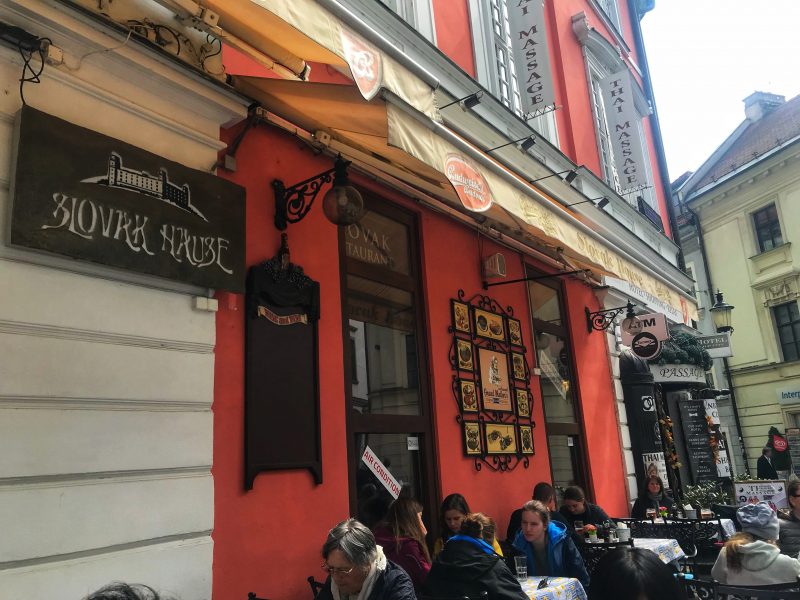 Don't forget to try some Slovak beer and food while in Bratislava for the day. The beautiful Michalska street is home to many restaurants and a good option to stop for Slovakian cuisine.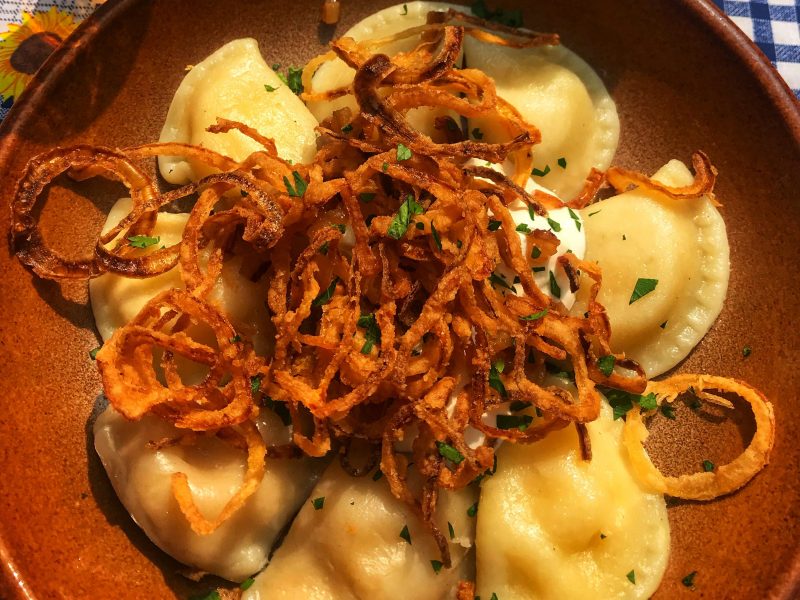 There are plenty of restaurants to choose from, which serve local dishes at affordable prices with a good atmosphere. We simply choose a restaurant for lunch and it certainly was a worthwhile gamble. We like the Halusky (small dumplings) with sheep's cheese and bacon which serving cheap and filling with a refreshing dark Slovak beer.
Visiting Blue Church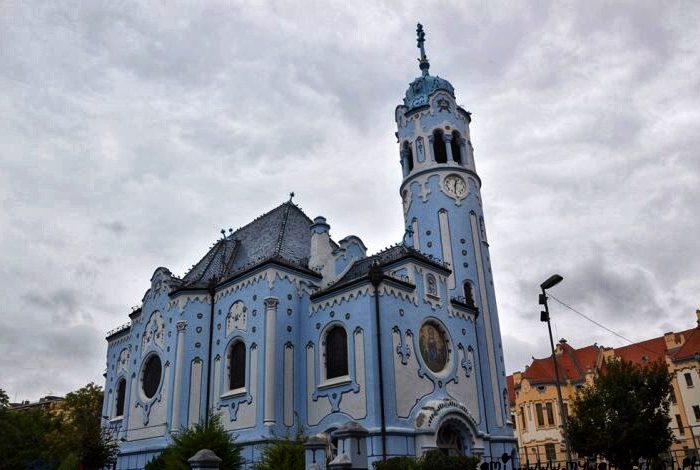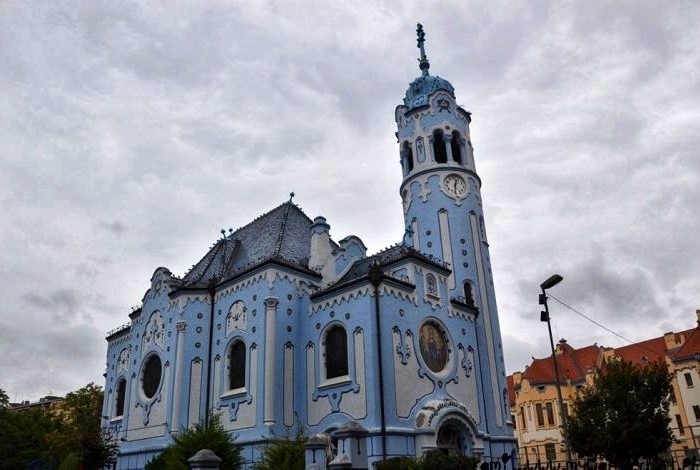 Located at Bezručova Street about 15 minutes walk from the old town, the Blue Church (Modrý kostolík) is one of the most unique churches in the world.
Unlike other's grand and pristine churches, Blue Church is designed in the Art Nouveau style with lots of decorations that resemble a wedding cake in blue color. The colorful blue painting makes us almost forget its real name is the Church of St. Elizabeth!
Other Things To Do Nearby Bratislava
Devin Castle is located on the outskirts Slovak capital, Bratislava 10 kilometers from the Old Town. It can be reached on bus #29 or #128 from the city center in just 30 minutes. You can spend time wandering along the medieval walls and climb up to the viewing point for some breathtaking views.
Website: http://www.spisskyhrad.sk/
Take a wine tasting tour at Modra for Slovakia's finest wine. Modra is known for its wine production and is located 35 minutes away from Bratislava. The bus journey took about 1 hour to get there once every hour.
If you're interested in more destinations in Slovakia, consider the Košice, a charming town in Eastern Slovakia with more enigmatic attractions.
Where To Stay In Bratislava?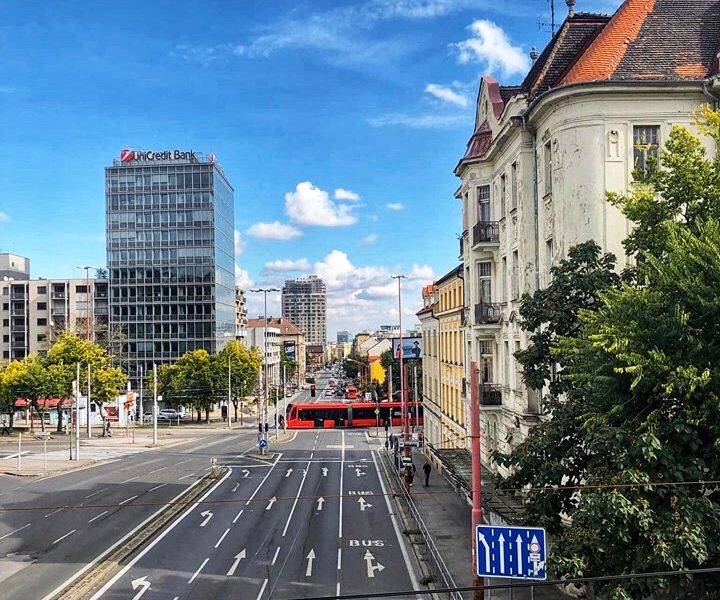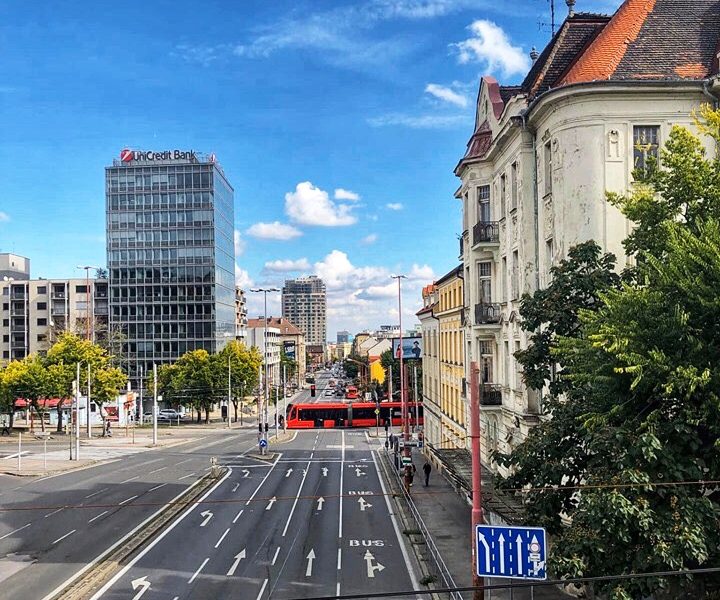 Overall, accommodations are very affordable in Bratislava. And we would highly recommend the accommodation in or around Oldtown so that you can easily get around on foot.
Below are some of the recommendations that we are researching when we are still debating on making a day trip or spending one night in Bratislava.
Marrol's Boutique Hotel is one of the good choices which is located in the city center with a short walking distance to the old town. It is comfortable, super-clean, with helpful and professional staff.
Park Inn by Radisson Danube Bratislava is one of the best-rated locations close to the Bratislava castle and next to the Danube river. Enjoy the most picturesque views of the Bratislava castle and the Danube during your stay.
Radisson Blu Carlton Hotel, is a historical building dating back to the 13th century. Excellent located directly in the city center of Bratislava with the Slovak National Theatre and the Philharmonic Orchestra are only a few steps away.
Bratislava Hotel Tips:
When looking for the best price and biggest selection of hotels in Bratislava check prices for
Bratislava Best Hotel from Booking.com
. We found they are the best option and have a great cancelation policy.
How To Plan Your Bratislava Itinerary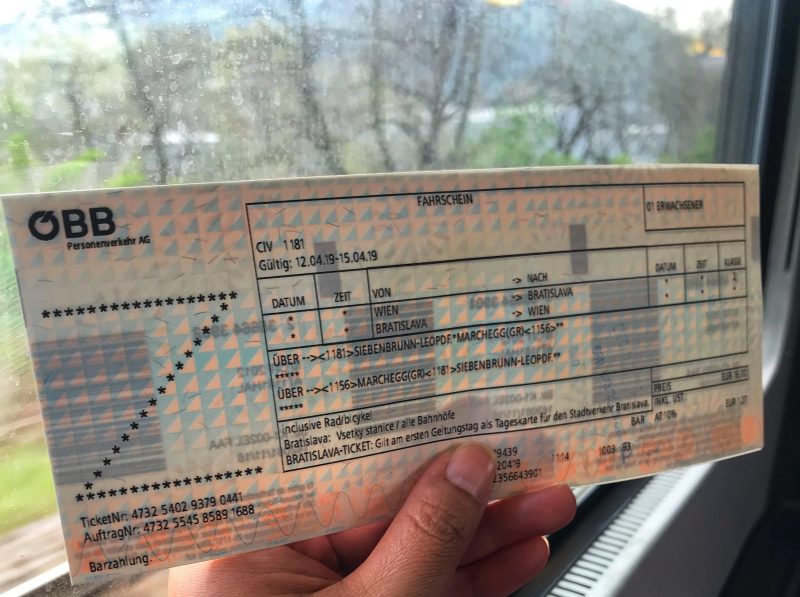 My visit to lovely Slovakia is on a day trip to Bratislava from Vienna and did not stay one night in the city. We choose to take the best deal from ÖBB, the 'Bratislava Ticket' which includes the return train from Vienna and public transportation in Bratislava at €16.
One hour of the train journey will bring us from Vienna Hauptbahnhof to Bratislava Petržalka. Instead of taking the public bus, we choose to slowly walk to the Bratislava castle and have a bird's eyes view over the Danube river and the quaint charm of Bratislava city.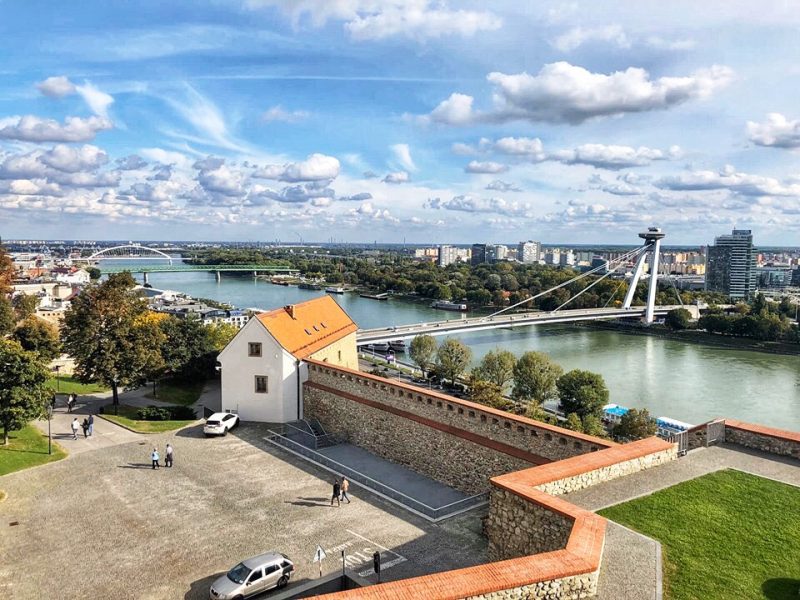 We spent an afternoon wandering around in the old town and getting a feel for Bratislava. Moreover, we also have wonderful Slovakian cuisine on the pedestrian street of Michalska. The city is like a mini version of Prague. For example, the castle, church, and hidden cool spot in the narrow cobbled stone street. We found a good honey wine shop and bought it as a souvenir to bring back to the home country.
At the end of our Bratislava itinerary, we took the public bus back to Bratislava Hlavná Stanica station instead of Bratislava Petržalka station which is better suited to the train schedule.
Day Trip To Bratislava, Worth Visiting?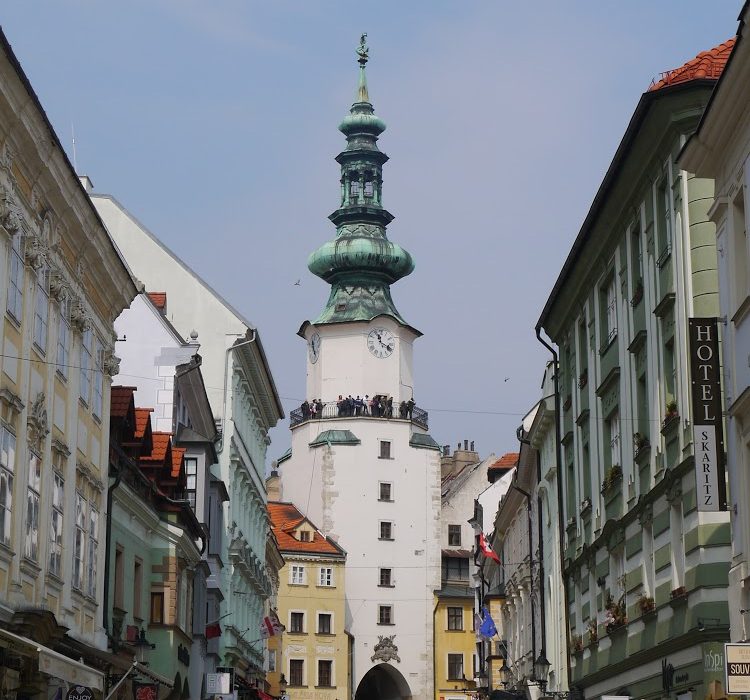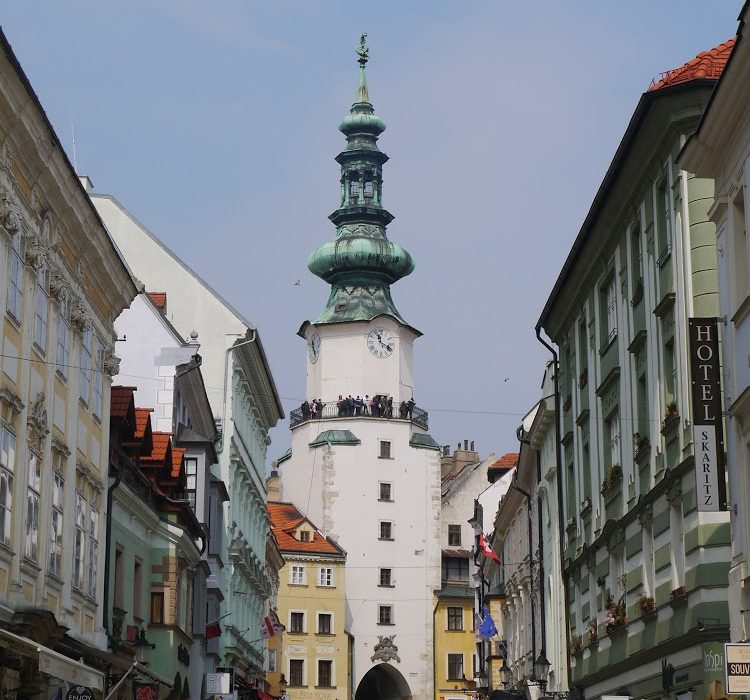 In short, a day trip to Bratislava is only good for us to feel the vibe of Bratislava. Most important, we haven't seen and experienced the other parts of the city including Devin Castle and the other side of the Danube river.
If time is limited, Bratislava is deserving more than just a pass-thru day trip to know in more detail. I enjoy the unpolished charm of Bratislava city.
Read More On Our Central Europe Trip
If you're thinking of venturing to Central Europe and other interesting cities, here are our best recommendations on how to spend your holiday in the Czech Republic, Austria, Germany, and Hungary. Check it out.
Central Europe Itinerary: How To Spend 13 Days in Top 3 Must Visit Country in Central Europe