Last updated on September 23rd, 2023
Here is the Tokyo food guide for what and where to eat in Tokyo. A food blog that listed down all the must-eat best Japanese food.
If you are going to Tokyo, you are going to want Japan's best food. Tokyo is a fierce battleground among restaurants that serve delicious Japanese cuisine. The city's food scene is truly vast, encompassing a range of local styles, as well as regional variations. No doubt, the city is also widely considered the Japanese food capital of Japan and also the world. Besides traditional Japanese food, Tokyo also plays an important role in combining Japanese food culture with various Asian and Western cuisine. It is one of the world's most exciting dining destinations. There is so much amazing food in Tokyo, as well as the best cafes and restaurants that you hardly can't miss.
I was so excited whenever return to Tokyo to visit. Although the amazing lively city is one reason, the marvelous Japanese food was another main driving force. If you're wondering what to eat in Tokyo, you're in the right place!
It's safe to say I ate a lot since my first visit to Tokyo but I'd far from sampled everything. I'm so much more into blogging and finding the best food and restaurant in Tokyo after my few visits. It was inevitable that this Tokyo food guide was on this blog. Hope all these Tokyo's best food can give you some tiniest ideas on where and what to eat in Tokyo.
If the Tokyo trip is a food tour, I am sure these are the local dishes that you just have to try. Read on my Tokyo food blog here!
What To Eat in Tokyo?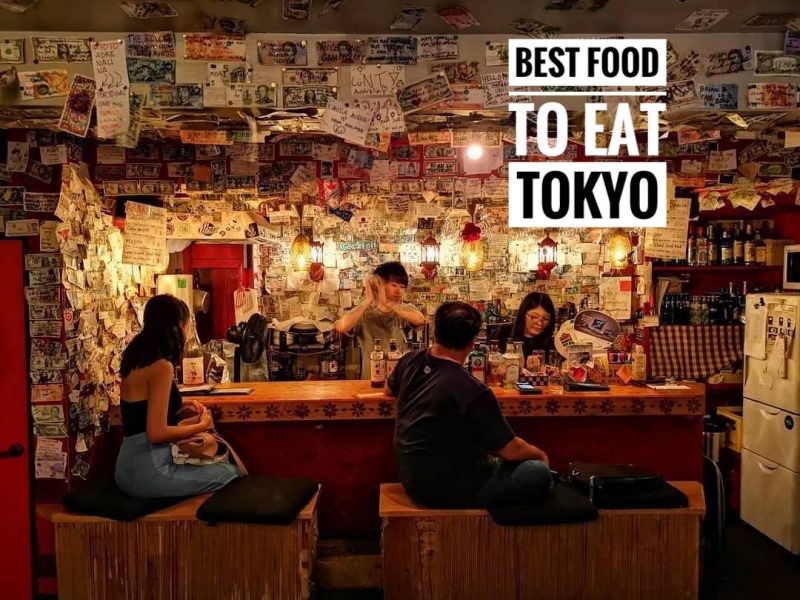 As you plan out your Tokyo food hunt, there are some of the other things you don't want to miss out on. Tokyo is home to thousands of Japanese food, it can be pretty daunting if you're planning a short trip. If you need some help finding what to eat in Tokyo, here are the best recommended Tokyo restaurants to get you started.
In this Tokyo food guide for food lovers, find out where are the best places to eat in the city whether it's sushi, udon, ramen, yakitori, dessert, and more. Below is the variety of food that we tried during our past Tokyo trips.
Tokyo Food Guide: Must-Eat Best Food in Tokyo (Where To Try Them)
Sushi – Daiwa Sushi and Sushi Dai
Conveyor Belt Sushi – Kura Sushi and Sushi-Ro
Ramen with Gyoza – Mutekiya Ramen Ikebukuro, Ichiran Ramen, Chuka Soba Tomita Ramen, Ichifuku Shibuya
Tendon and tempura – Daikokuya Asakusa
Yakitori (Grilled Chicken Skewers) – Shinjuku Omoide Yokocho
Unagi – Nadai Unatoto Ueno shop
Udon – Shin Udon Tokyo
Japanese Dessert, Cake, and Pastry – Harbs Mille Crepe, Harajuku Crepe, Animal cafe at Harajuku and Shinkuju area
Japanese Street Food – Grill seafood, tamagoyaki, takoyaki, yakisoba, taiyaki, Mitarashi dango, and more.
Western food in Tokyo – Luke's Lobster Shinjuku
There are still many more of Tokyo's best food and restaurants awaiting you to discover!
What food is Tokyo famous for?
Tokyo is best known for its sushi, ramen, and izakaya. It is the top best food to eat when you visit Tokyo.
How much does food cost in Tokyo?
The meal prices in Tokyo can vary and the average meal price in Tokyo normally costs about ¥1,500 per person. While there is no upper limit when comes to a high-class restaurant. Besides, expected the dinner price will be more experience than lunch.
How much money do I need for food for 1 day in Tokyo?
We recommended a budget of ¥4,000 to ¥6,000 for one day of food in Tokyo.
Where To Eat Cheap in Tokyo?
There are a lot of cheap eats to be found in Tokyo. It is easy to find cheap food and chain store that offer inexpensive food.
Tokyo Food Tips:
For seamless food hunting, make sure to get connected when visiting Tokyo. Always book the
4G Sim Card
and
Wifi Rental from Klook
at a cheaper price!
Sushi | 寿司
The ONE Food that must eat in Tokyo is sushi and sashimi, the most well-known food in Japan. When people think of Japanese food, the first thing that comes to mind is sushi. It is a Japanese national dish and also probably the most important food in Japan.
The sushi is served topped with a sliver of raw fish with vinegared rice or in slides as sashimi. You can get them in many places throughout the world and even in your home country. But trust me, for the original flavor and most quality sushi, Japan is still the number one serving the best sushi.
Where to eat sushi in Tokyo:
You can get sushi at high-end sushi restaurants, a sushi bar, a local market, and even convenience stores in Tokyo and all over Japan. But for the fresh sushi, don't hesitate to proceed to the local market. Tsukiji market is home to one of the largest fish markets in Tokyo, with a lively tuna auction that is held in the early morning. A Tokyo food hunt wouldn't be complete without a visit to one of the sushi restaurants in the fish market.
Daiwa Sushi and Sushi Dai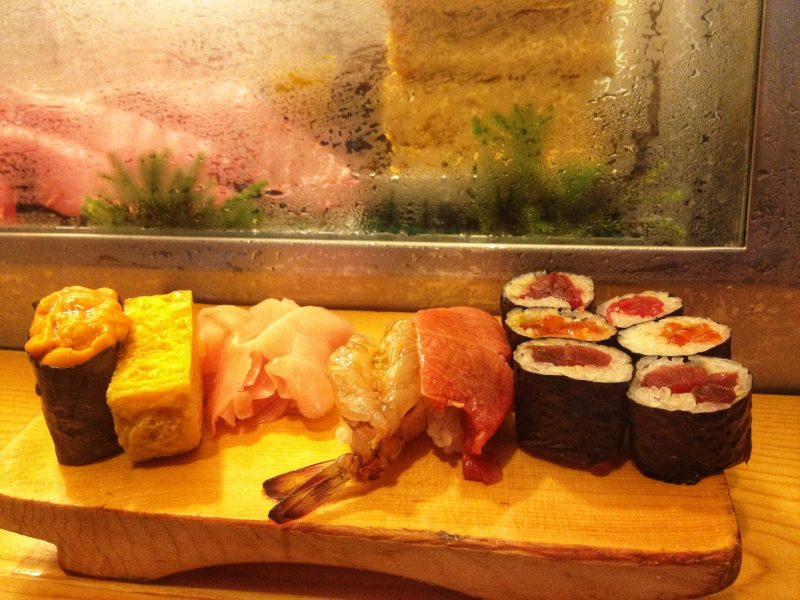 No doubt Daiwa Sushi and also Sushi Dai are the most popular sushi restaurant in Tokyo's local market. Both are the two sushi restaurants that constantly get reviewed for their best sushi in Tokyo.
We visited Daiwa Sushi during one of our visits to Tokyo. And this was the first time we tried the omakase (chef's selection style) in Japan. The simple yet extremely fresh sushi is nothing that you'll die for. All served with extremely fresh ingredients. It was such a glorious food experience and probably the best sushi that I've eaten in my life.
Take note that long lines are always in front of these two popular shops. But if you really want to try sushi, for sure you will be waiting in line. Don't miss out!
Note: Daiwa Sushi and Sushi Dai are moved from the Tsukiji market to the Toyosu market in 2019. But no worry, both still serve the fresh best sushi in Tokyo.
Daiwa Sushi, Toyosu
Address: Japan, 〒135-0061 Tokyo, Koto City, Toyosu, 6 Chome−3−2 5街区 青果棟 1階
Opening Hours: From 6 am to 1 pm (Closed on Sunday and Wednesday)
Sushi Dai, Toyosu
Address: 6 Chome-5-1 Toyosu, Koto City, Tokyo 135-0061, Japan
Opening Hours: From 5:30 am to 2:30 pm (Closed on Sunday and Wednesday)
Conveyor belt Sushi | 回転寿司
Conveyor Belt Sushi ("kaitenzushi" in Japanese) (回転寿司) is very popular among locals and travelers. Here you can savor some tasty sushi and a uniquely Japanese food dining experience. The sushi is served on a conveyor belt that goes around the center of the restaurant. So it's convenient and easy to pick out your favorite sushi since you just need to reach out and pluck the plate off the belt! The food menu can be ranging from authentic sushi to creative ones with more than a hundred delicious dishes to choose from.
Japan is one of the most expensive countries, but you can travel around on a budget. Among all the Japanese food, sushi tends to conjure up images of wealth and can easily cost more than ¥3,000. You'll surely be surprised at the wide availability of conveyor belt sushi restaurants in Tokyo that offer delicious sushi at truly reasonable prices
Where To Eat Conveyor belt Sushi in the budget in Tokyo: We recommended Kura Sushi and Sushiro to enjoy Japan's longtime affordable and delicious fast food.
Kura Sushi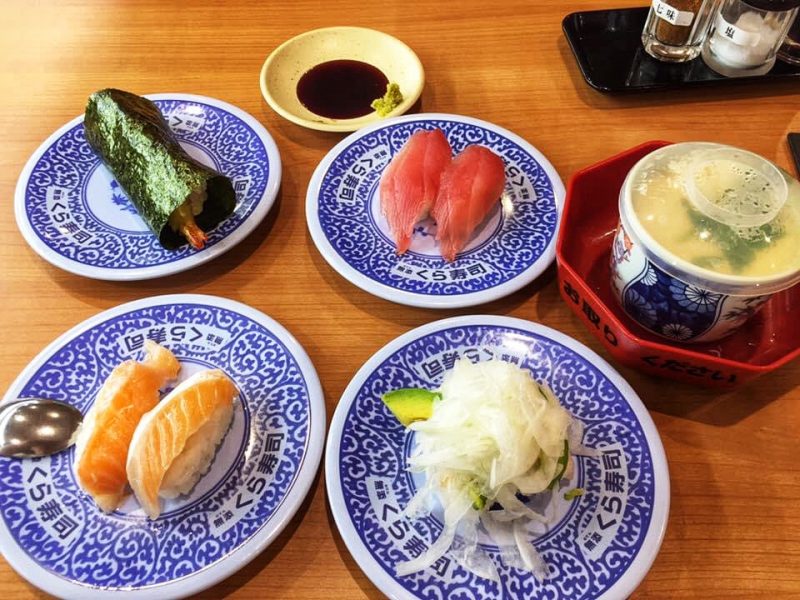 Kura Sushi is Japan's leading conveyor belt sushi chain, literally can be found in almost all of Japan. It is beloved not only by visitors but also by Japanese people. Most of their food menu items are incredibly cheap with just ¥100 per plate. Besides, all the food's pretty good and also complimentary green tea. Kura Sushi definitely one of our top choices when looking for the best budget sushi in Tokyo.
There is almost 400 Kura Sushi restaurant in Japan. Just find the Kura Sushi near you!
Sushiro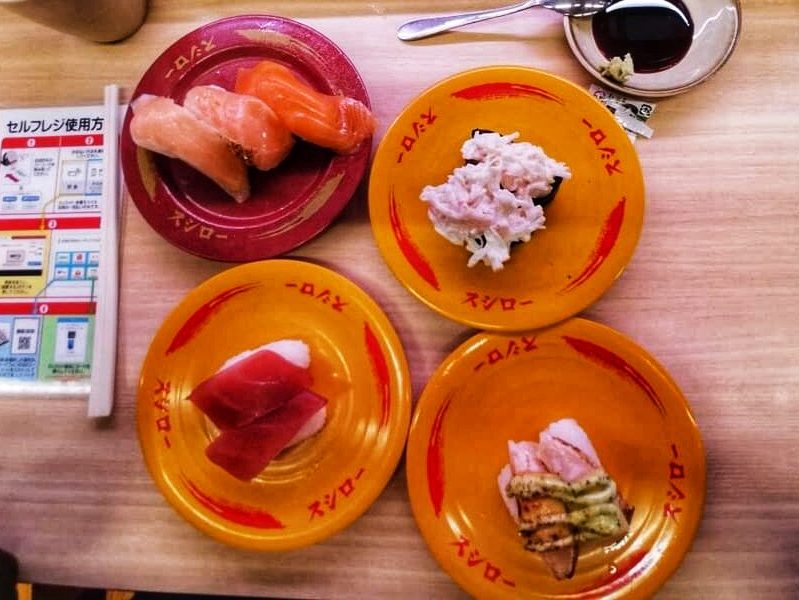 Another famous conveyor belt sushi chain in Japan, Sushi-Ro is very popular among Japanese students and families. It has branches all throughout Japan and even in Hokkaido. You can either choose your items from the conveyor belt or order from the screen in front of you. The panel screen is offered in Japanese, English, and Korean language with the item image display. So it is very easy to order your favorite sushi dishes!
Aside from their standard sushi menu, they have been introducing a variety of meat sushi menus. It is a good, cheap, and delicious dining option when looking for the best cheap conveyor belt sushi in Tokyo.
Ramen | ラーメン
Next, a hot bowl of Japanese ramen is one of the must-eat food in the Tokyo food guide. This noodles soup dish is made with noodles, topped with sliced pork or a variety of ingredients in a flavorful broth.
Everyone probably has their own take on the best ramen in Tokyo and the broth is one of the important factors in making good ramen. You'll find different types of ramen with their own signature broth from the different regions; such as Miso ramen from Sapporo, Shio ramen from Hakodate, and finally my favorite heavy creamy tonkatsu ramen from Fukuoka.
Ramen is always one of the best food to eat on a windy day or after a tiring trip. Just slurp away the noodles and big sip of the soup. It is such a satisfaction!
Generally, a bowl of ramen costs about ¥800 to ¥1500, depending on the portion and topped up ingredients. One of the best cheap eats in Tokyo.
Where To eat Tokyo Best Ramen: There are endless ramen shops in Tokyo serving the best ramen in a variety of flavors. You can get the ramen from internationally renowned chain ramen shops to local ramen shops.
Mutekiya Ramen Ikebukuro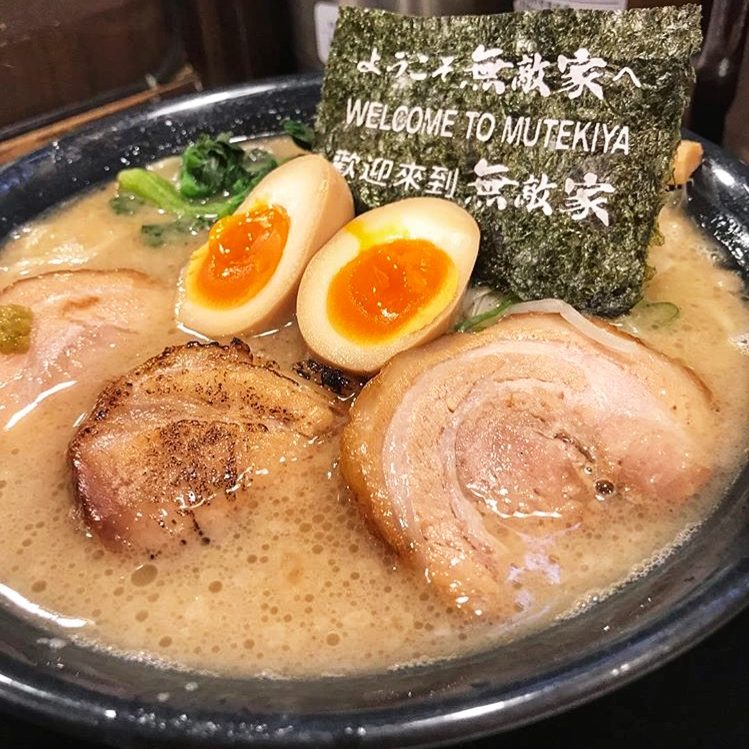 If I can only up for one ramen in Tokyo, go with this one. Personally, I prefer Mutekiya Ramen Ikebukuro which is probably the best ramen shop in Tokyo. The extremely tasty ramen with flavorful broth is topped with generous slides of pork. Heart and extremely addicted. I am sure you will come back again after your first visit! Of course, we ate more than one time here.
Mutekiya is a traditional tidy ramen restaurant that only can fit about 20 people. It serves the taste of flavorful ramen with generous pork slides yet at affordable prices. Always a long queue. Must-eat ramen in Tokyo.
Related Food Blog: Mutekiya Ramen Ikebukuro: Must Eat Tokyo Best Ramen
Mutekiya Ramen Ikebukuro
Address: Japan, 〒171-0022 Tokyo, Toshima City, Minamiikebukuro, 1 Chome−17−1 崎本ビル1F
Opening Hours: From 10:30 am to 4:00 pm (Daily)
Ichiran Ramen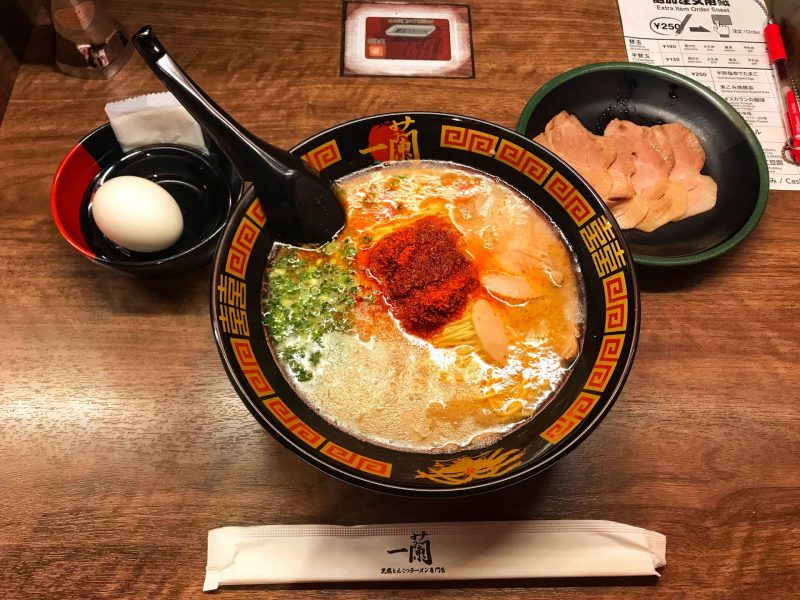 If you don't have any idea to look for the best ramen in Tokyo, Ichiran (一蘭) may be one of the best places to begin your Tokyo ramen journey. I am Ichiran ramen addicted and always look for the opportunity to eat a bowl of Ichiran ramen whenever visit Japan. Origin from Fukuoka, Ichiran ramen is the most famous ramen chain shop in Japan and they even have branches in Asia.
Ichiran ramen is famous for tonkatsu ramen. The pork bones are simmered for hours until the marrow is unleashed and turns into the milky tasty white broth. Topped with scallions and slices of pork meat, I have the ramen that I like!
Ichiran ramen is present in 65 locations thorough Japan. Just walk into any Ichiran ramen that suits your itinerary. The pictured bowl of Ichiran ramen was tried in Ueno Station. Oh yeah, the Ueno Ichiran Ramen is open 24 hours per day.
Related Tokyo Food Blog: Ichiran Ramen Ueno: Best Ramen Shop in Ueno Tokyo
Ichiran Ramen Ueno
Address: Japan, 〒110-0005 Tokyo, Taito City, Ueno, 7 Chome−1−1 アトレ上野
Opening Hours: Open 24 hours (Daily)
Chuka Soba Tomita Ramen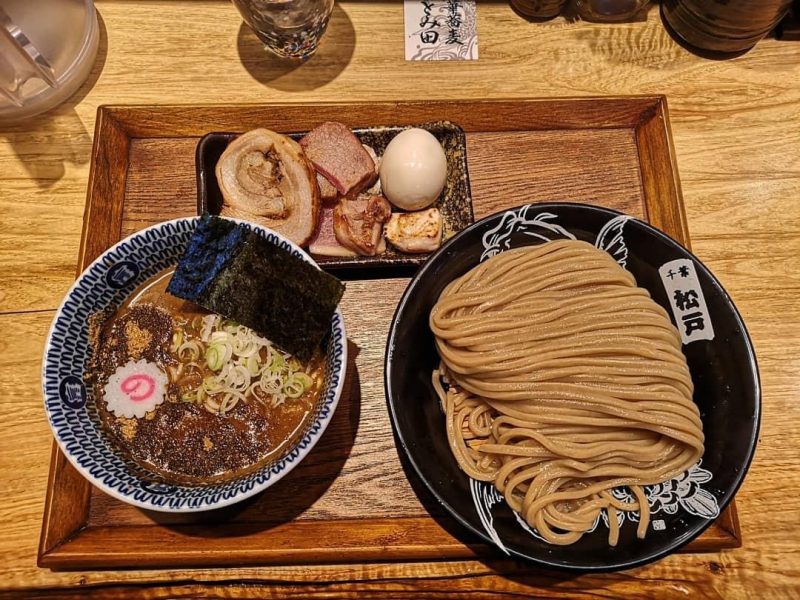 Ramen lovers, for sure will know Chuka Soba Tomita Ramen (中華蕎麦 とみ田), the most famous shop among all the top ramen shops. The award-winning tsukemen has won the grand prize in TRY (Tokyo Ramen of the Year) for 4 consecutive years and many Ramen tournaments. It is the best tsukemen I've tasted in Japan!
Due to its popularity, it is a bit time-consuming and hassles to taste the best Tokyo ramen. We spend a total of 5 hours in order to taste this marvelous bowl of tsukemen including the traveling time from the Tokyo Hotel via JR train. Check out our Tokyo food blog below if you want to know more.
Continue Read on: Chuka Soba Tomita Ramen: Tokyo Best Tsukemen
Chuka-Soba Tomita
Address: 1339 Matsudo, Matsudo 271-0092, Chiba Prefecture
Opening Hours: Daily from 11 am to 3 pm
Ichifuku Shibuya, Tokyo Michelin Star Miso Ramen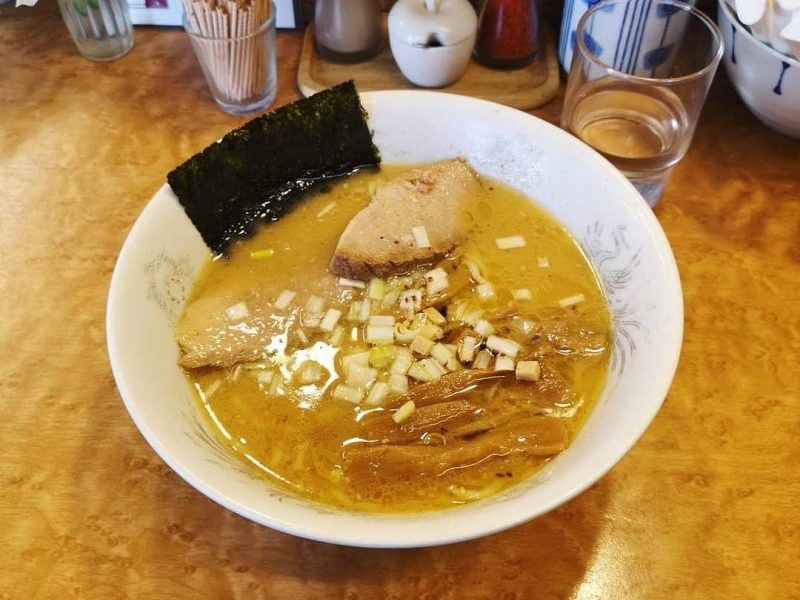 The Ichifuku (らぁめん 一福) is a renowned miso ramen shop run by a female chef. It is a Michelin-Starred Ramen trucked in the back of buzzing Fudo-dori shopping street in Shibuya. Unlike the heavier taste of miso ramen, Ichifuku is serving homely Japanese-style miso ramen without any modern touches. The taste is not overwhelming, but you won't be able to stop until finishing the whole bowl of ramen in an empty bowl.
Ichifuku Shibuya: A Taste of Tokyo Michelin Miso Ramen
A popular miso ramen shop highly raved about by locals.
Ichifuku Ichifuku (一福) – Tokyo Michelin Ramen
Address: 2-17-14 Honmachi, Shibuya Ward
Opening Hours: From 11.30 am to 3 pm or when the ramen runs out.
Gyoza | 餃子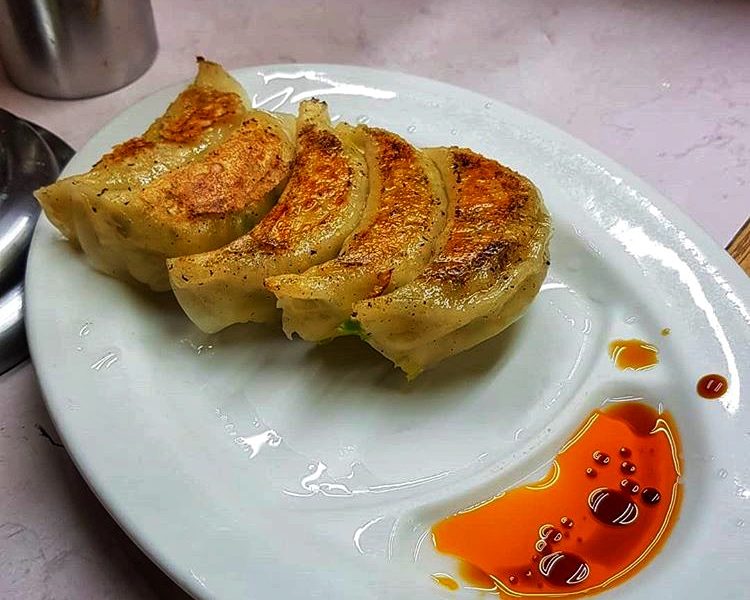 The delicious Japanese gyoza is similar to Chinese jiaozi dumplings. It is made with the perfect ratio of juicy pork and vegetable filling with soft skin. Dipped with lightly vinegary sauce with a dash of yuzu pepper, gyoza is absolutely unbeatable.
Sampling gyoza isn't too hard as one can easily get it in ramen shops. The reason is simple. A perfect accompaniment to your ramen is gyoza or garlic fried rice. Japanese people love to order a bowl of ramen with a plate of gyoza, or a small bowl of garlic fried rice for a complete meal. Some shops even offer the combo meal to order with two or with all three.
Tendon | 天丼, てんどん
When you travel to Japan, it might be a good idea to eat Tendon by experience the Japanese food culture. The classic tendon is a Japanese traditional donburi dish that consists of a bowl of rice topped with tempura. The main ingredient can be prawns, squid, and vegetables, coated with wheat flour and then deep-fried into perfection. These crispy tempura are then served with their in-house secret house with rice.
Where to eat the best tendon in Tokyo: There are many Japanese restaurants serving Tendon. But for the best tendon in Tokyo, just proceed to go to Asakusa to try the authentic tempura with rice. There are few famous restaurants in Asakusa serving their tendon, such as Tempura Daikokuya, Tempura Masaru, Shitamachi Tendon Akimitsu.
Daikokuya Asakusa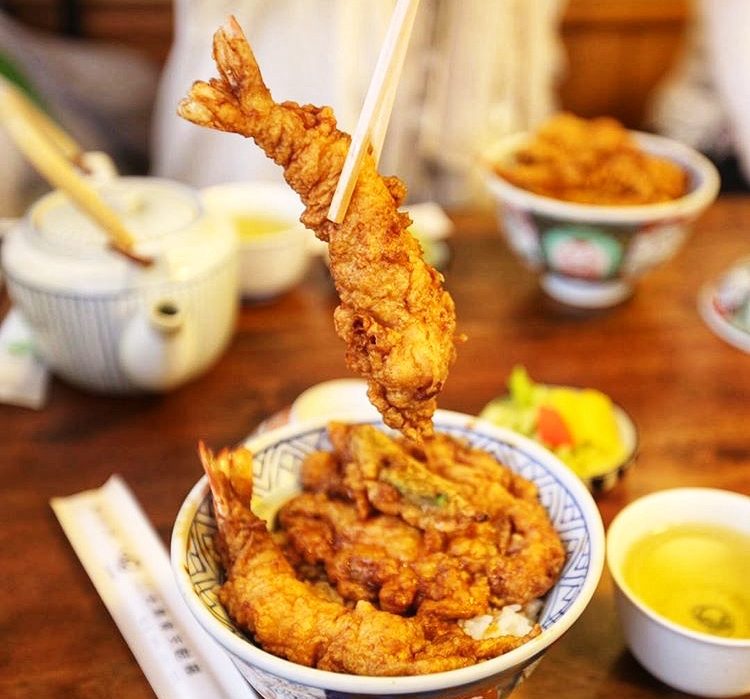 There are many histories about the origin of tendon and Daikokuya Asakusa is probably one of the few restaurants that started it. The Daikokuya Asakusa served tendon at the beginning of the Meiji period and is still open today. It is famous for its soft and soggy tempura dipped in its secret black sweet sauce. This is something different from the normal crispy tempura that we normally ate.
Related food blog: Tempura Daikokuya, the must-eat food in Asakusa
Daikokuya Tempura
Address: 1 Chome-38-10 Asakusa, Taito City, Tokyo 111-0032, Japan
Opening Hours: 11:00 am to 8:30 pm (Daily)
Yakitori | 焼き鳥
Yakitori is a Japanese style of tasty skewed chicken meat seasoned with sweet soy or salt that is grilled over a charcoal fire. Chicken meat is the most common item but it can also serve hard-core meat such as heart, opal, skins, liver, and other internal organs.
Shinjuku Omoide Yokocho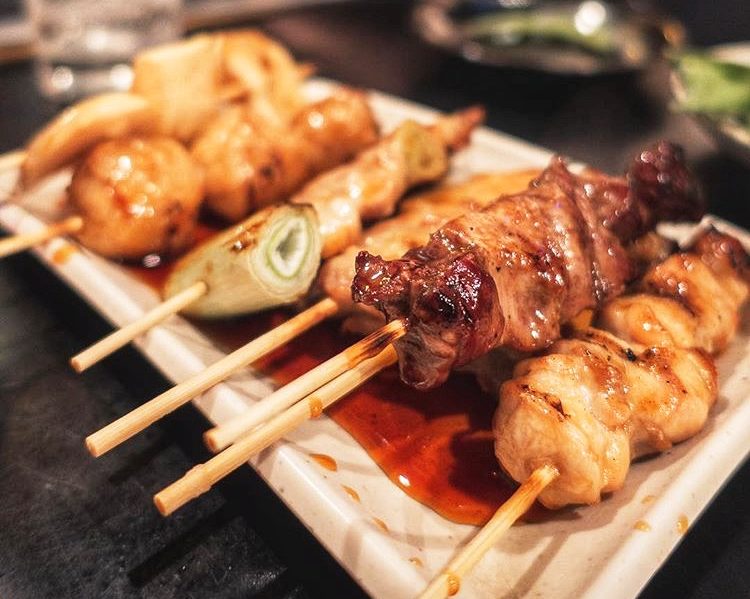 The best places to enjoy yakitori in Tokyo are at an izakaya or Yakitori specialty restaurants. We recommended trying the yakitori in Omoide Yokocho (Memory lane aka Piss alley). It's a narrow alleyway next to the bustling Shinjuku station with lots of tiny restaurants or stalls on both sides, mainly for yakitori and kushiyaki.
Omoide Yokocho is a regular place for Japanese workers to come for after-work happy hour. The area is full of yakitori smell and cheering sounds. You can hear people chit-chatting and cheering for food with friends along the alley.
We just pick a counter-style Japanese stall with seats available and start enjoying our food. The yakitori is delicious but what really enjoy is the atmosphere. A truly memorable experience.
Shinjuku Omoide Yokocho
Opening hours: Depend on the stall. Normally from late afternoon and until late midnight.
Unagi | 鰻
Unagi or freshwater eel is a traditional food and beloved delicacy in Japan. This delicious dish is rich in vitamins, protein, minerals, and is easy to digest. Locals even believe unagi can provide stamina and energy on hot days. So it is a high demand in summer or on a sunny day.
Unagi can be served in a variety of cooking methods. You can eat unagi sushi at most of the sushi restaurants or head over to the unagi specialties store.
Nadai Unatoto Ueno shop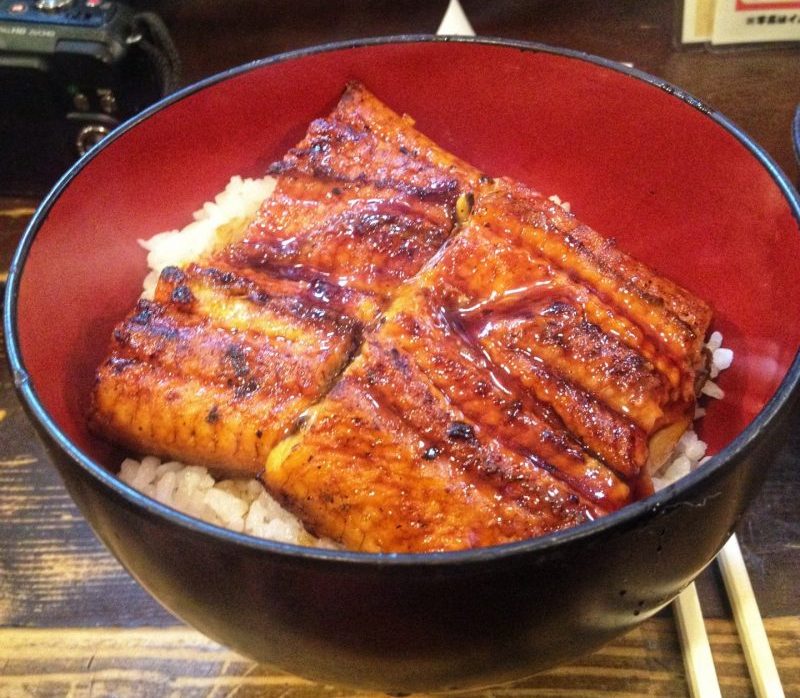 The unagi dishes can be very pricey due to the difficulty in catching eel and food processing. It can be ranging from ¥3,000 to ¥5,000 depending on the eel quality. We found a budget best value Unagi specialties shop, Nadai Unatoto Ueno shop. It served the unadon (grilled sliced eel topped over a bed of rice) with the breaking price of ¥500 to ¥1,000.
The unagi served in Nadai Unatoto is soaked in their in-housel sauce and then charcoal-grilled it. Although the price of unagi in Nadai Unatoto is cheap, the quality is still good. It has a pleasant salty-sweet flavor and is perfect to eat together with rice. The amount of unagi is not many but worth the price paid.
Nadai Unatoto Ueno shop
Address: 6-11-15, Ueno, Taito-ku, Tokyo, 110-0005, Japan
Opening Hours: From 11:00 am to 11:00 pm
Udon | うどん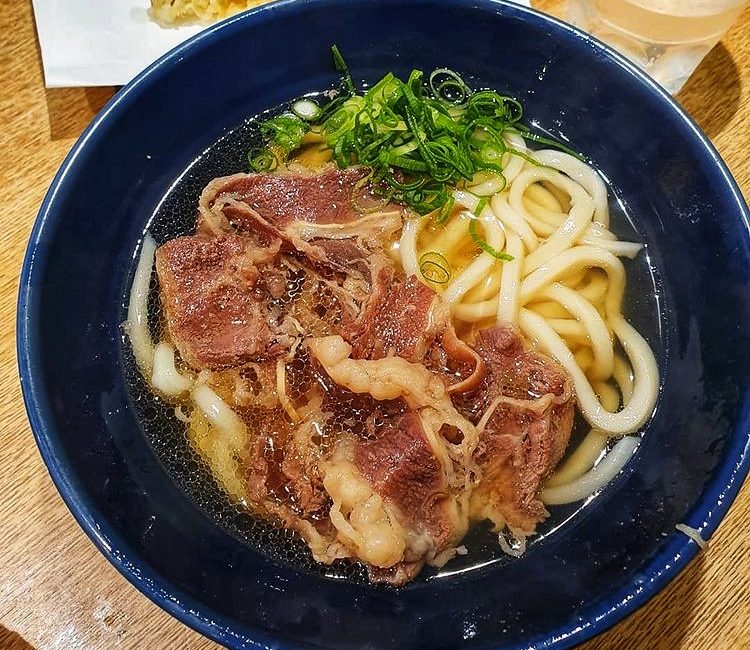 Similar to ramen, Udon is one of the best cheap food in Tokyo. For less than 1,000 JPY, you would be able to enjoy an excellent noodle meal in one of the world's most expensive cities, Tokyo. Udon is a thick noodle made from wheat flour, used in Japanese cuisine. The wholewheat noodles are thicker than soba noodles and are widely used in a Japanese restaurant in various hot and cold dishes.
Udon is the most common staple food in Japan. It is tasty, healthy, and affordable. Eat your way and slurp noodles at the cheap Udon restaurant during your Tokyo food hunt!
Shin Udon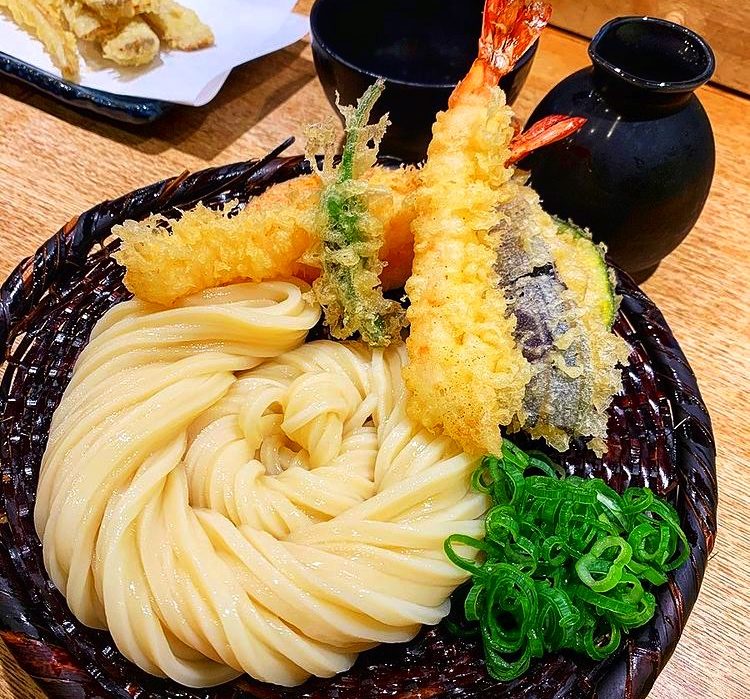 One of the popular best Tokyo Udon shops is Shin Udon. This famous Tokyo Udon shop is listed by Trip Advisor as the "2020 Travelers Choice" and Time Out as the "Best Udon in Tokyo". It is a little shop, with six seats at the counter. So it is always packed at all times.
The udon from Shin Udon Shinjuku is hand-made and the ingredients are top quality. The Udon is fresh to order and you can see the chef is preparing the Udon dishes in front of you. Besides, the Udon can be served in cold, hot soup, or just warm with butter and egg. Their signature 'carbonara udon' is one of the must-try if you're visiting this tiny shop. The udon is topped with grated cheese and butter. I highly recommended the beef udon and tempura and topped with a runny soft-boiled egg, The broth is tasty and the toppings were so divine!
Delicious Handmade Udon Shin Tokyo
Udon Shin (うどん 慎)
Address: 2 Chome-20-16, Yoyogi, Shibuya City, Tokyo 1F
Opening Hours: 11:00 to 23:00 (Fri – Sat), 11:00 to 22:00 (Sun – Thu)
Japanese Dessert, Cake, and Pastry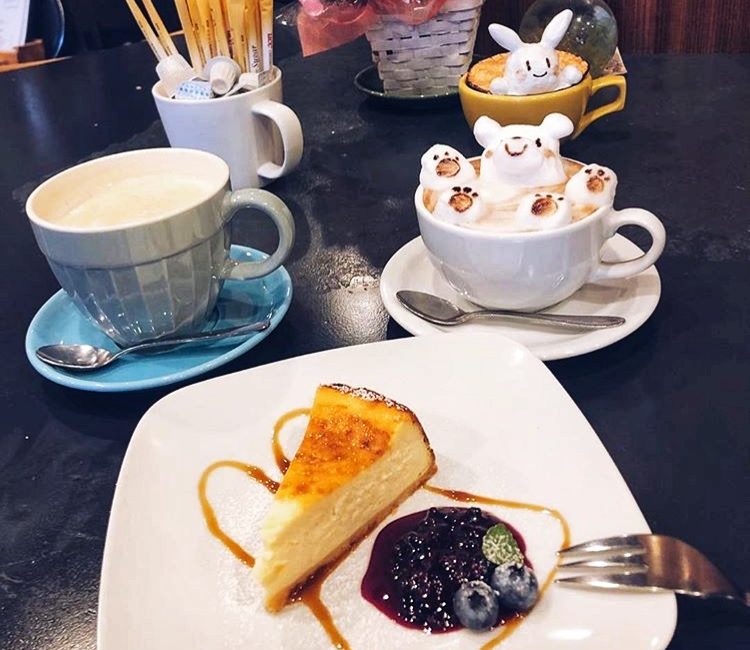 A food hunt in Tokyo wouldn't be complete without a visit to the cafe. There are many unique cafes you should try in Tokyo such as the cat cafe, owl cafe, maid cafe, and other nice cafes in Tokyo. Although this might not a must-eat food in Tokyo, I'd still recommend trying it while in Tokyo.
Most of the animal cafe is scattered in Harajuku and Shinjuku area.
Harbs Mille Crepe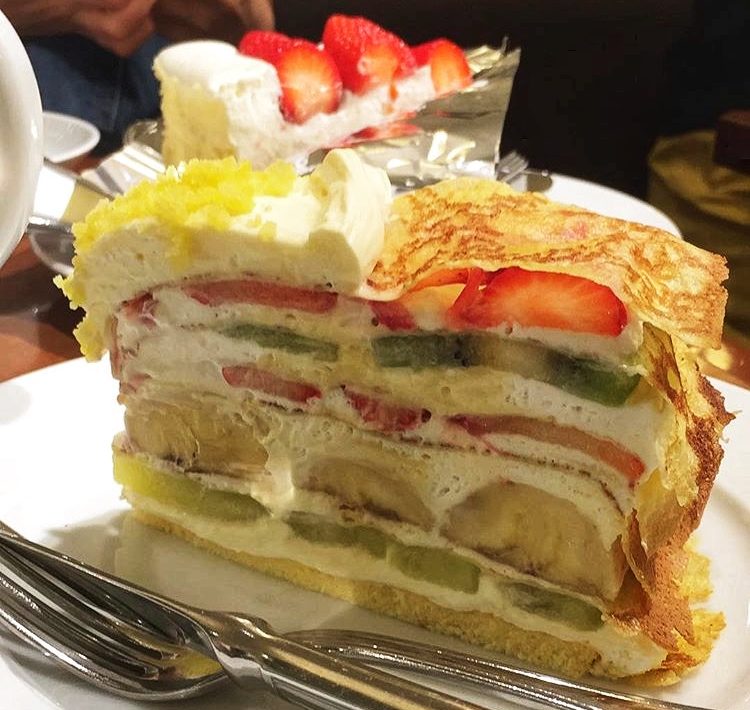 If you enjoy desserts, then you will want to try Harbs. The Nagoya cake specialties, Harb is famous for its hand-make cake. It has more than 20 cakes but their Mille crepe is definitely divine. The fruit-based Mille Crepe is overwhelmingly the most popular item in the restaurant. The six layers of crepes are packed with seasonal fruits with fresh whipped cream. It is super light, fluffy, and melts in your mouth. You can taste the freshness of fruits and cream. A taste of heaven!
A slice of Mille crepe cost about ¥830 in a good serving portion. But you need to order a drink per pax for a minimum order if eat in the restaurant. Watch out for the queue and expected to wait to taste it.
Harbs Lumine Est Shinjuku
Address: 38-1, Shinjuku 3 Chome, Shinjuku Tokyo Prefecture
Opening Hours: 10:30 am to 9:30 pm (Daily)
Harajuku Crepe
For dessert lovers, make sure you have an empty stomach when strolling along Takeshita street in Harajuku. Harajuku is well-known for its mouthwatering crepe. The Harajuku crepe is not a traditional style of crepe. It can be created from millions of different kinds of topping such as ice cream, fruits, and cheese and not just put on the Nutella. It is folded into a cone holder into Harajuku-style crepe!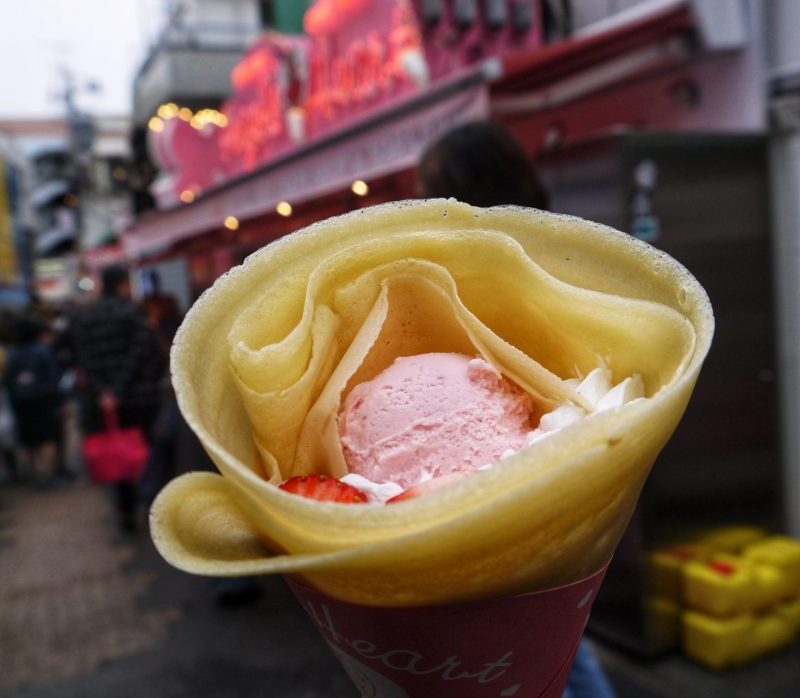 There are several stalls that serve this delicious dessert on Takeshita street. But the two popular crepe stores that gaining a lot of attention are Angel Crepes and Marion Crepes.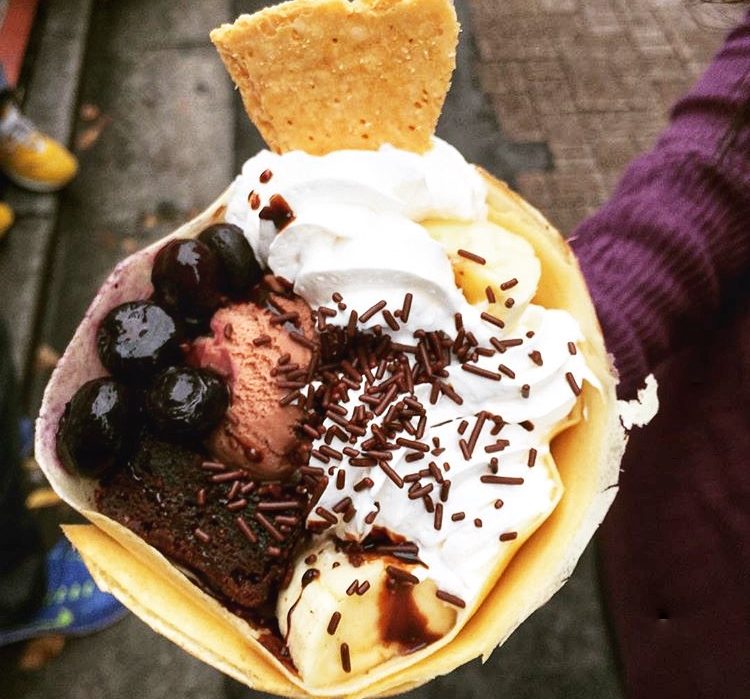 We tried the Harajuku crepe from both Marion Crepe and Angel Heart. It is difficult to say which one is better. In our opinion, just grab one with a shorter line when you are there.
There are so many different types of topping that you can mix and match or directly get the one recommended from the menu. Any crepe with fruits, cheese, and ice cream is highly recommended.
Marion Crepes
Address: Japan, 〒150-0001 Tokyo, Shibuya City, Jingumae, 1 Chome−6−15 ジュネスビル 1F
Opening Hours: From 10:00 am to 8:00 pm at weekend and 10:30 am to 8:00 pm on Weekday
Angels Heart
Address: 1 Chome-20-6 Jingumae, Shibuya City, Tokyo 150-0001, Japan
Japanese Street Food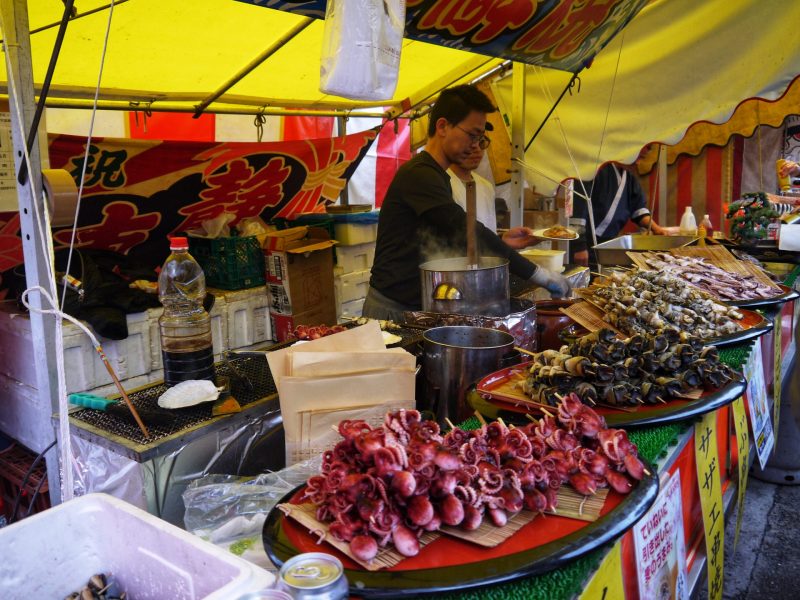 Tokyo is filled with amazing Japanese street food. You can sample a variety of Japanese street food in small food stalls, called Yatai Japanese streets, or at festivals. It is the best place where you can find some Japanese dishes such as grilled seafood such as scallops, prawns, or fish, takoyaki, yakisoba, taiyaki (鯛焼き fish-shaped waffles), Mitarashi dango (みたらし団子) and more.
I enjoyed my time sampling different types of flavorful Japanese street food in Tokyo.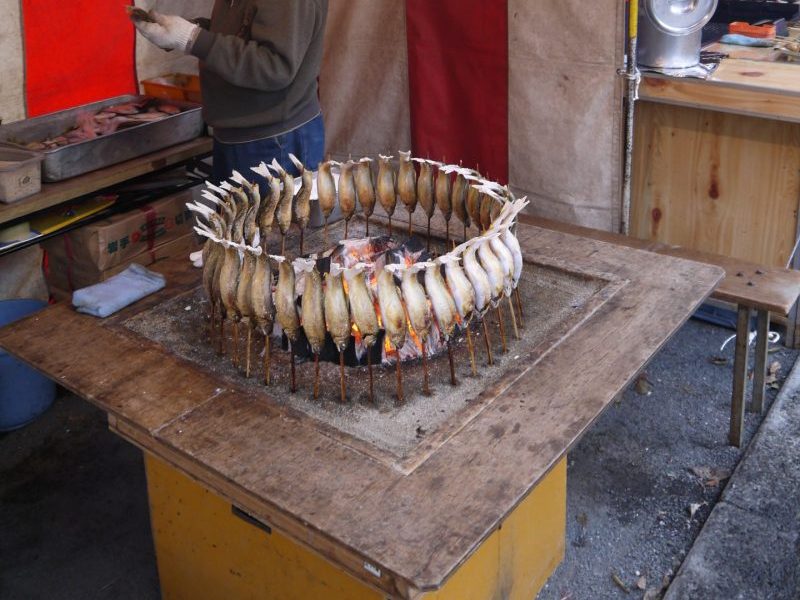 Ayu no shioyaki, an ancient method of grilling whole small fish, ayu with salt on an open fire. Try it when we bumped into a food festival in Ueno Park.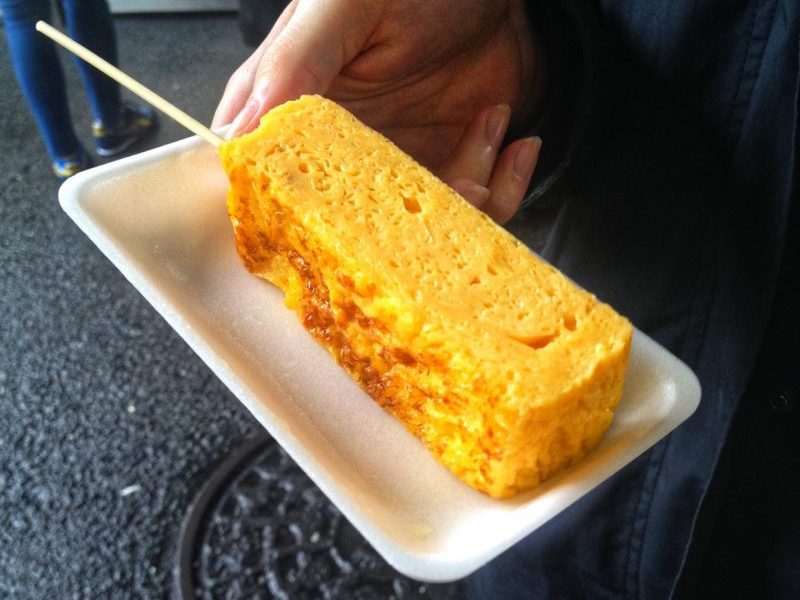 Tamagoyaki (玉子焼き) – Japanese Rolled Omelette, which is made by rolling together several layers of cooked egg. Sweet yet savory snack.
We ate this delicious Tamagoyaki in one of the food stalls in the Tsukuji market.
Western Food in Tokyo
Like many modern cities, there's no end to Western food in Tokyo. If you're too much local Japanese cuisine, I'd recommend trying to eat Western food in Tokyo. All the Tokyo's best Western food recommended below is very popular among locals and tourists.
Luke's Lobster Shinjuku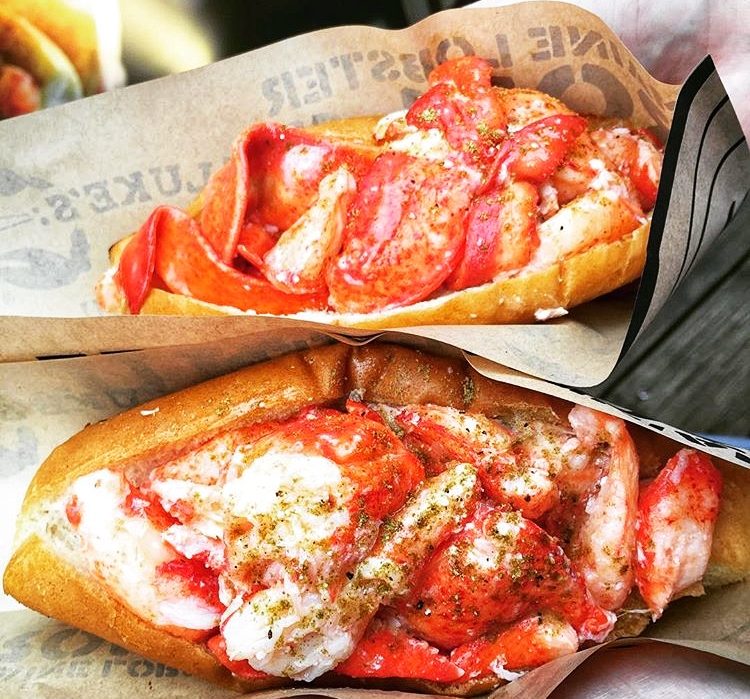 The huge population of Tokyo makes this city a great place to learn about different food cultures and cuisine from a foreign countries. In Shinjuku, there is many fusion of Japanese and Western food to try out. My pick for the best food to try in Shinjuku is Luke's Lobster. It is something that you can die for if you are a lobster lover.
The lobster was fresh cuts with generous goodness in a tasty sauce, with a soft, buttered sandwich roll. It was so juicy and succulent. Remember to go for the US version. I'm sure you'll love it too.
It usually has a line and you won't miss it when passing Shinkuju. However, the service is fast and efficient. Just grab it and eat it on the go. There are no eating tables but you can have them on the two ready benches located on the sidewalk. The price is on the high side at about ¥1500. But you won't go wrong trying it once when you are in Tokyo.
Luke'S Lobster Omotesando
Address: Japan, 〒150-0001 Tokyo, Shibuya City, Jingumae, 6 Chome−7−1 1F
Opening Hours: From 10:30 am to 8:30 pm (Daily)
Overview: Tokyo Must-Eat Food
Thanks for reading my Tokyo food guide! We hope our Tokyo food guide can give you some tiny idea of where to find the best food in Tokyo.
The above Tokyo's best food is just a minor part of Tokyo's culinary delights, and you could even find more days eating throughout the city. Sometimes I really wish I can have a big stomach and more time when visiting Tokyo. There are so many must-eat foods on my Tokyo food bucket list. Let's start to plan for another food trip to Tokyo!
Are you visiting Tokyo and would like to share your best eats in Tokyo? We'd love to hear from you.
How To Plan your trip to Tokyo (Must read for first-time visitors):
Tokyo Food Blog:
Planning on a day trip to Hakone: