Last updated on December 11th, 2023
Learn the best places to stay in this Where to Stay in Takayama guide. We've listed down the best hotel or ryokan which is highly convenient for sightseeing.
Takayama, Gifu is one of Japan's best holiday destinations in the Chubu region. We visited Takayama during my Chubu Japan trip and it was truly unforgettable. The city is full of well-preserved old buildings, and historical intricate architecture, boasted of mouth-watering Hida cuisine. Moreover, the UNESCO Shirakawa-go is less than one hour drive from Takayama. Not to say that the Hirayu Onsen which famous for its natural outdoor hot spring bath.
There's so much to do and see in this historical town that is worth spending a night or a few days of the visit. Takayama does not pack with tons of accommodation choices, but getting the right stay is still a headache question. Below are our best pick of where to stay in Takayama which was once on my bucket list. We truly hope you'll pick the best hotel in Takayama for your wonderful trip.
Are you getting ready for an exciting holiday and need help deciding your best stay? Here's where to stay in Takayama.
General Guide: Where To Stay in Takayama
Takayama is easily explored on foot regardless of where to stay in Takayama. Staying closer to the station will be convenient for traveling around. While the central town will be located nearby which will save time for your Takayama itinerary.
Where To Stay in Takayama:
Stay nearby to the Takayama station
Staying in the historical traditional ryokan
Break up your stay with 1 day in Takayama city and then to nearby attractions such as Shirakawago or Hirayu Onsen
If you're only traveling by public transport, stay nearby the Takayama station. This is the main entry point to the historic town with bus and train stations located close to each other. An ideal place to do the historic sightseeing and touring in town. Additionally, Takayama is an ideal base if you plan to day trip to the neighborhood area. You'll always be within walking distance from the station to your hotel. Staying nearby the Takayama station will save you a lot of energy and time.
For the best experience in Takayama, consider staying in the historical traditional ryokan. Your stay will offer a rustic and laidback vibe, impeccable service, and wonderful staff. Most of the ryokan will be featured with an amazing public bath for a unique onsen experience. A great idea for a relaxing holiday.
If you're having more than three nights for your holiday, break up your stay. Stay one to two nights in Takayama City, then move to nearby attractions such as Shirakawago or Hirayu Onsen. The best way to fully explore the Gifu prefecture.
Takayama is home to one of the biggest festivals celebrated in Japan, the Takayama Festival (Spring and Autumn). Impressive float and parade will be During the festival day, luxurious sacred floats will be exhibited, as well as amazing mastery dolls and historical costumes will be a parade through the city. Almost all accommodations are fully booked a few months ago.
Best Hotel Nearby Takayama Station
Staying nearby the Takayama station, you'll find the largest selection of accommodations including a hotel, hostel, and even some ryokan stay. This is also the most convenient area for travelers with lots of convenience stores and restaurants to choose from. Added, bus station and JR train station located just a step away. Once you are in Takayama, the city is easy to explore on foot no matter where you stay. The popular attractions in Takayama are less than 30 minutes walk from the Takayama Station.
Here are a few of the best pick hotels to stay in Takayama Station nearby: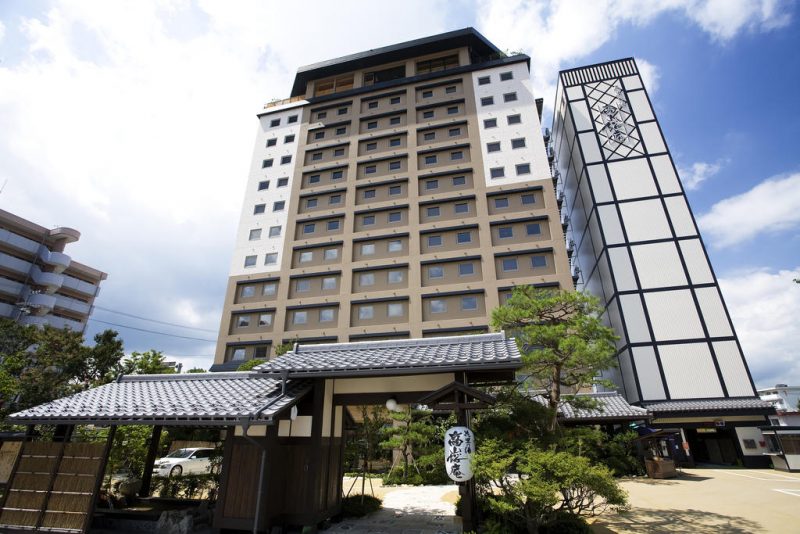 The Takayama Ouan is a great place to stay in Takayama if you want a nice mix of convenience, leisure tripping, and sightseeing. It is a type of traditional ryokan inn with tatami flooring yet also comes with western modern. Guests can enjoy them in house large public bath or private family bath (first come first serve) for relaxation onsen soaking. Located nearby the station and within walking distance of the central town.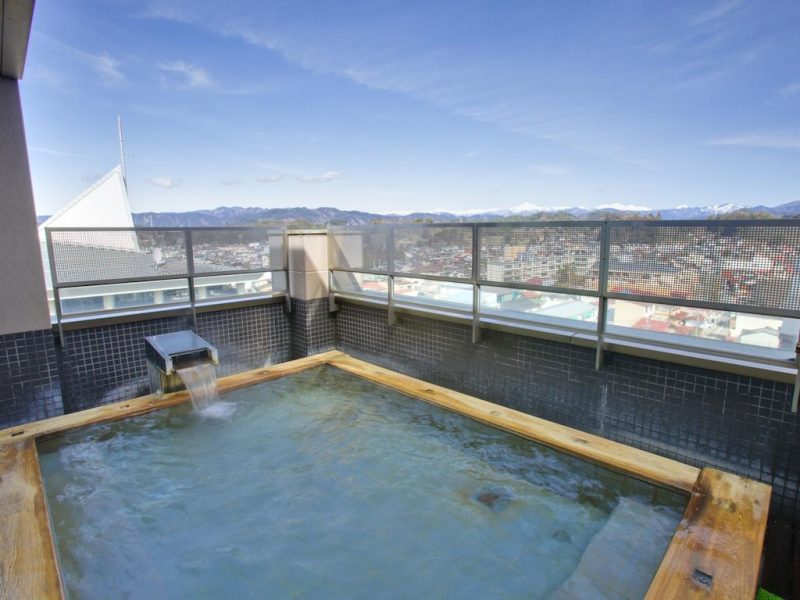 The Hida Hotel Plaza offers spacious and comfortable rooms for couples and families with kids in Western and Japanese styles. Most importantly, your stay is featured with an indoor and outdoor hot spring bath. Enjoy the onsen dipped at the rooftop bath with a mountain view, for sure will brighten up your day after the tiring trip. Their location brings you close to Takayama station and old town. Both in the middle and within walking distance.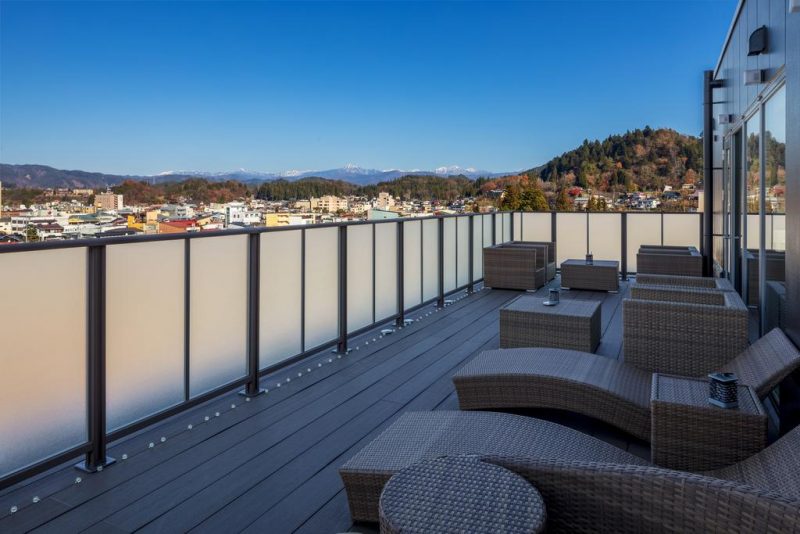 Next, Wat Hotel & Spa Hida Takayama is one of the best picks for travelers who love a modern and comfortable stay. This new hotel featured an elegant design and furnishing. Guests can make use of their modern public outdoor bath and also a private bath when staying in Wat Hotel. Not forgetting the strategic location within walking distance of the station.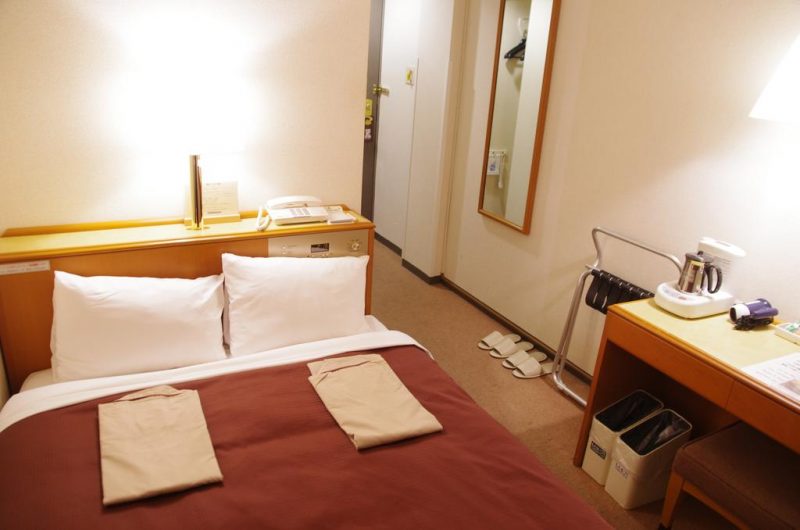 Lastly, Takayama Country Hotel is the most popular hotel in Takayama. Similar to most of the Japan hotels, the room is pretty standard with limited space to move around. But Country Hotel is perfectly located opposite the JR train and bus station. Most importantly, all rooms are at an affordable price tag for budget travelers. So, it is the best place to stay in Takayama if you are looking for budget accommodation.
Where To Stay in Takayama: Central Town
The central town is the best place if you are looking for accommodation near the historic area yet still accessible by walking distance from the station. The Sanmachi Suji District is an iconic sightseeing place and is full of historic wooden structures and buildings. This area doesn't have many hotels to choose from and most are ryokans and guesthouses.
Below is our recommendation of where to stay in Takayama Old Town Area: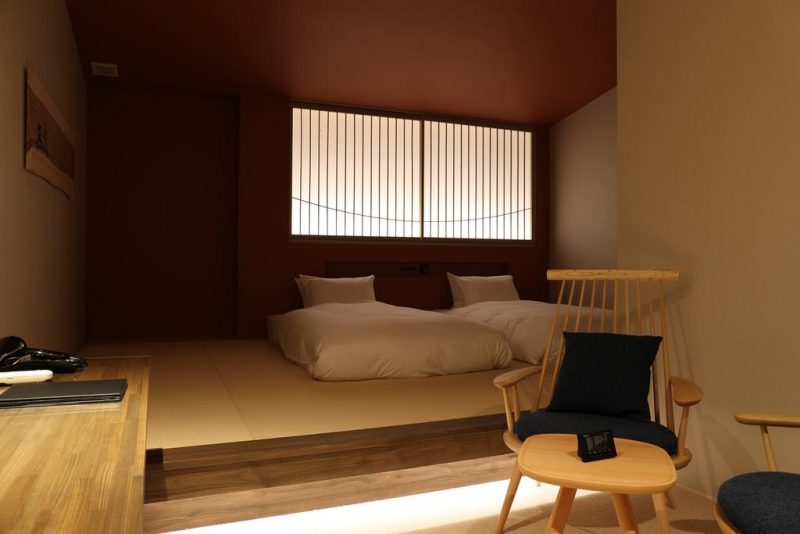 The Hotel Wood Takayama is a brand new hotel in the central town and gains its popularity by its beautiful contemporary design and traditional touch. It is also probably one of the hotels located within the historical old town area. Immaculate Japanese hospitality by helpful staff, clean and comfortable room and guests can even sample sake from the various local distilleries. Perfect stay for your wonderful trip to Takayama. Limited room and usually running fast.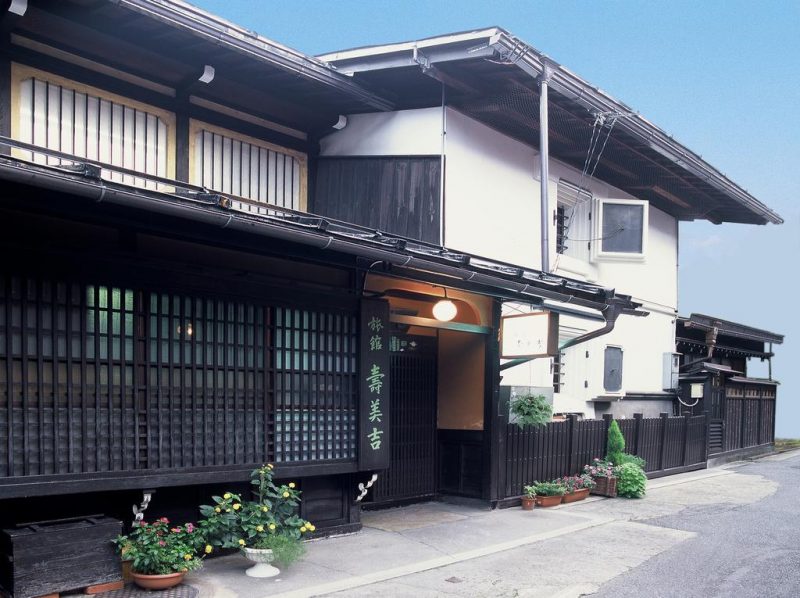 While Sumiyoshi Ryokan is located in the central town just minutes from the popular Miyagawa Morning Market. This traditional ryokan is a historic townhouse building, that featured a public bath and a little garden for your homely Japanese-style stay. While many people come to Takayama for its historical building and you are staying in it. Sumiyoshi Ryokan is hosted by a friendly couple and running the ryokan with heart care.
Next, Takayama Kanko Hotel is a traditional settling ryokan and mixes with resort hotel facilities. Spacious room and comfy futon bed with an amazing view. This hotel also provides an outdoor public bath with an amazing view and four private onsen baths during your stay. Located in the old town area with about 10 minutes walk or free shuttle ride from the hotel's guests.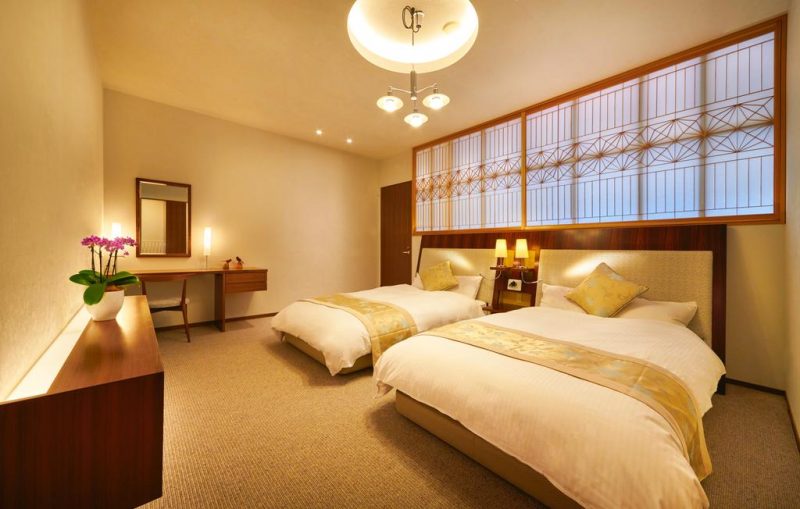 Lastly, Honjin Hiranoya Kachoan for a unique Japanese stay experience with modern room facilities. Your traditional ryokan stay comes with impeccable service, hot spring baths, and a fabulous authentic kaiseki meal for your stay in Takayama. Located in the central town 10 minutes from the station, Honjin Hiranoya Kachoan also offers a free pick up and drop off shuttle service.
Best Budget Hostel
For budget or solo travelers, the hostel is the main choice if you are looking for the best stay without breaking your bank. There are a few budget hostels for your choice during your Takayama holiday.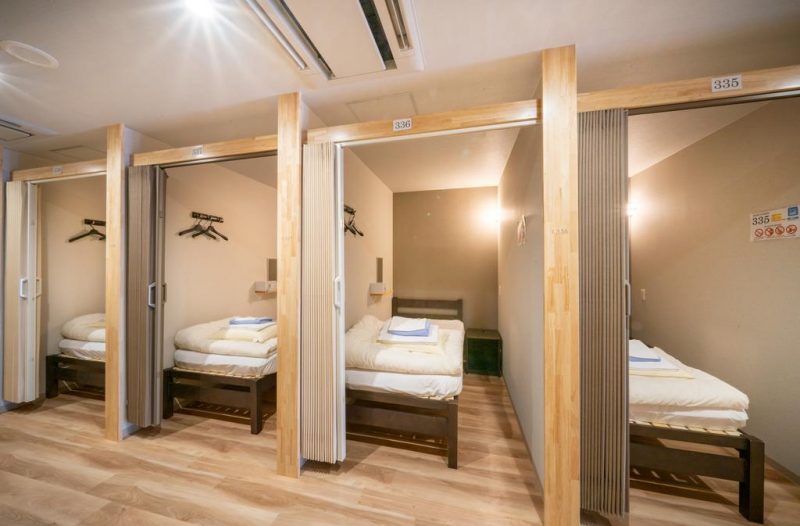 Firstly, Relax Hostel Takayama Station is everything you need for a budget hostel. Excellent location with the train and bus station just within 2-mins away. Choose from single, double, or quadruple beds from this best budget stay. Each room comes with privacy and security control. Separate gender for share bathroom. Complimentary simple croissants for breakfast which is nice to have some food before your venture into town.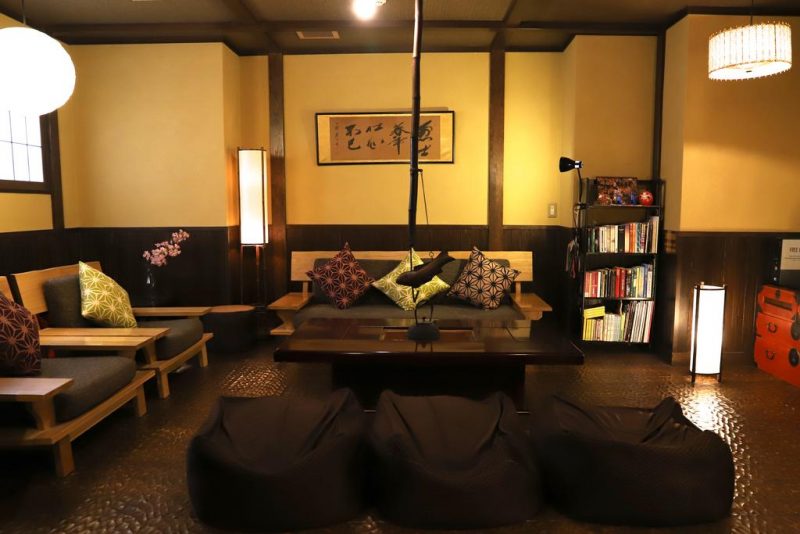 While K's Hostel Takayama is one of the renowned chain hostels from K's hostel group. It featured with private double, triple and quadruple room en-suit bathroom and dormitory bed for solo travelers with shared bathrooms. The Zen atmosphere designed common area is the best place to mix with friends from all around the world. Comfort bed, friendly staff, and walking distance to most of the attractions make your best stay in Takayama.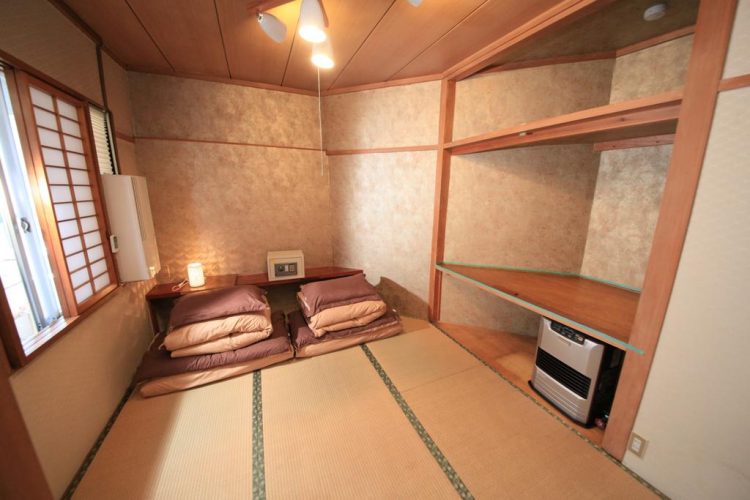 The Takayama Station Hostel is another popular budget pick for travelers. The location is excellent and conveniently situated a minute away from the JR and Nohi bus station. Choose from economy Japanese or Western-style rooms for single, double, twin, triple, or even room for six people. Share kitchen and bathroom for hotel guests. They also help to arrange a bus tour to nearby popular attractions, Shirakawago.
Final Tips on Best Stay in Takayama
What is the best place to stay in Takayama?
We recommended staying nearby Takayama Station or Central town in Takayama city for one or two days stay. Break your stay to Okuhida Onsen and Hida Takayama Onsen if you have more days to experience the traditional Japanese ryokan stay.
How much does a hotel in Takayama cost?
The price of the hotel can be varied depending on a weekday, weekend, and even season. The average price per night for a 3-star hotel in Takayama is about $100, a 4-star hotel is $150, and for a 5-star hotel more than $400 per night.
Continue to read on:
Last but not least, hopefully, this quick and easy guide to Takayama's best hotels and accommodations will help you decide where to stay. Whether you're in the mood for modern hotel facilities, a traditional ryokan with a relaxing ambiance or a budget stay to save on some money, we've got the best of the Takayama hotel for you.
This Where to Stay in Takayama guide is part of our travel blog in Chubu Japan. If you are interested, continue to read about my travel adventure to some of the beautiful places in the Chubu region. Happy travel and enjoy your trip.