Last updated on October 2nd, 2023
Learn the best place to stay in this Where to Stay in Budapest guide. We've listed the best areas to stay in Budapest and hotels that are highly convenient for sightseeing.
Looking for a holiday where you'll go for wine tasting, soak in the thermal bath, visit the castle, and taste mouthwatering Michelin food? Budapest is the perfect destination for you. Moreover, Budapest is an affordable city to visit compared with other cities in Europe, making it a popular destination among travelers. It is one of my favorite cities during my visit to Central Europe. We spend almost four days in this amazing city but never enough. Whether you're staying for 3, 4, 5 days, or even a week in this beautiful city, you'll never run out of things to do.
But what most first-time visitors are surprised to find out is that Budapest is huge. Although it is well connected with public transport, it is advised to stay somewhere central and convenient. So you'll save a lot of time and energy when getting around in Budapest.
This quick and easy Budapest accommodation guide covers the best hotels and accommodations to help you choose where to stay in Budapest. We will help narrow down the best neighborhood and hotel based on your budget and need. Check it out.
Quick Tips: Where To Stay in Budapest
Finding the best Budapest hotel during our first-time visit was a bit of a challenge. We had no clue about finding our best stay in Budapest. But it was solved after we understand that Budapest is divided into two halves (Buda and Pest). Regardless of staying in Buda or Pest, each of them offers a lot of top sights and a wide range of delicious food. The most important thing to decide where to stay in Budapest is depending on the things you want to do, see, and budget.
However, Budapest has more than 23 districts, and not all of them are good for tourists. Here is our top pick recommendation neighborhood when looking for where to stay in Budapest for travelers.
Where To Stay in Budapest – Quick Tips For Best Areas and Hotels:
For first-time travelers, stay at Pest Side District V (Belváros-Lipótváros). This is the top place to stay in Budapest for sightseeing with many luxury hotels.
For family travelers with kids, stay at Buda Side District I (Várkerület). This area is more suitable for families with kids as well as laid-back travelers.
For budget travelers and travelers looking for nightlife, stay in Pest Side District VII (Erzsébetváros). This area is the best place for nightlife and a wide range of quality budget hostels.
For travelers with a quick stopover, stay in Pest Side District VI (Terézváros). This area is close to a major transportation hub and easy for getting around.
I hope the above quick tips can give you hints for your best stay. Now let's find out which are the best hotels in each of these 4 districts of Budapest. Take note of the hotel price for reference only. The rate will fluctuate at different peak seasons and room types.
Staying in Buda or Pest Side?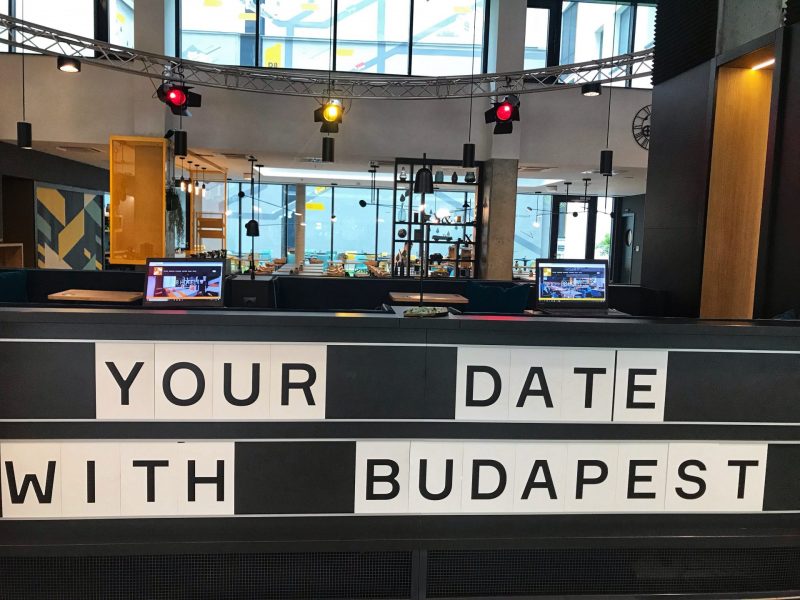 Budapest is divided into many districts and each with its distinct personality. Where you want to stay depends on what you consider your top priority. Is it easy access to transportation, proximity to the popular sights, restaurants, and nightlife, or are you looking for a laid-back holiday?
Stay in the Pest side is a better option with lots of shops, restaurants, great food, and nightlife. Stay in Buda side for laid back holiday and nearby Buda Castle. While the Deák Ferenc Tér is the major transportation in the central town.
Budapest Hotel Tips:
When looking for the best price and biggest selection of hotels in Budapest check prices for
Budapest Best Hotel from Booking.com
. We found they are the best option and have a great cancelation policy.
District V (Belváros-Lipótváros)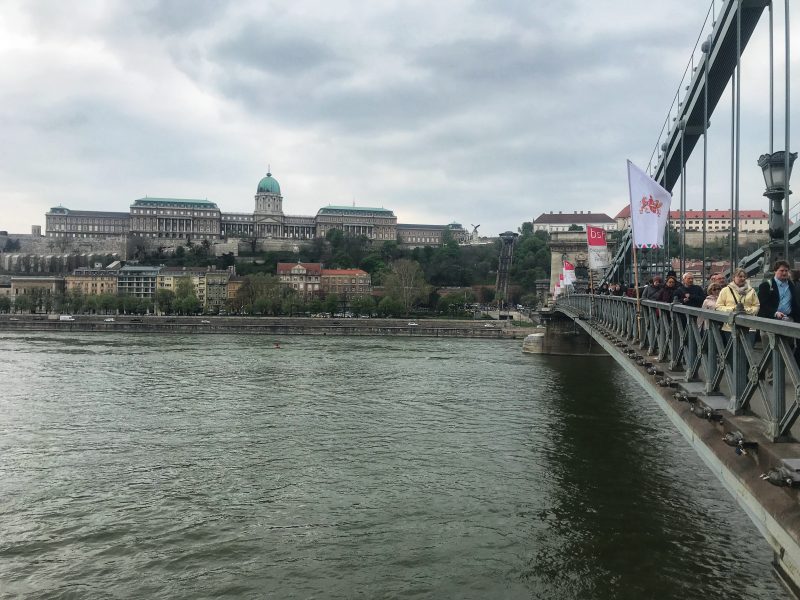 In our opinion, District V (Belváros-Lipótváros) is the best area to stay in Budapest if you are a first-time visitor or tourist. Located on the Pest side, it is home to the Hungarian Parliament with tops attractions along the Danube bank. The St. Stephen's Basilica, Széchenyi Chain Bridge, and Shoes on the Danube Bank memorial are within walking distance. Moreover, district V is the real heart of a vibrant and modern city vibe with Váci Utca shopping street, best-in-class restaurants and bars, and down to local delicacies at the Hold Street Market.
Being the most popular district to stay in Budapest, the accommodation in this area can be quite expensive. Many luxury 5-star hotels are situated in this region. But no worry. Here is the best hotel in central downtown for all pockets.
Best Hotel in Budapest District V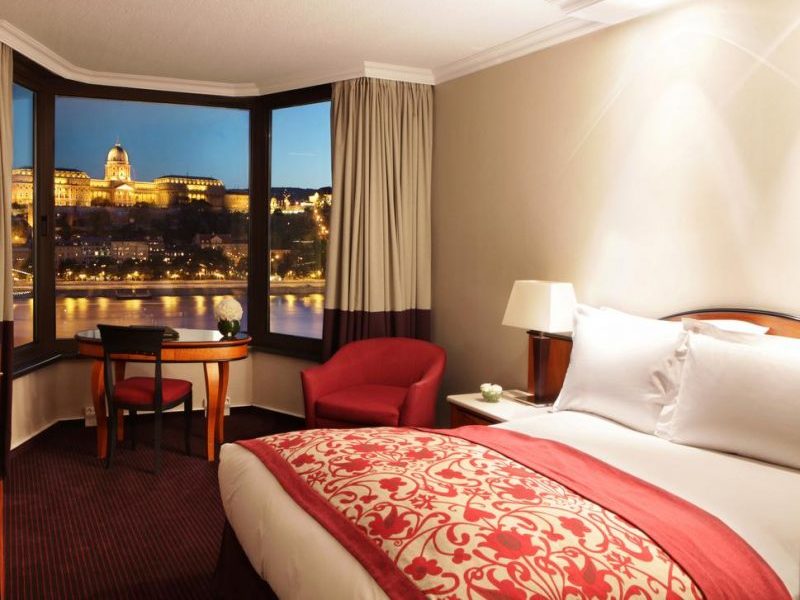 Luxury accommodation (US$160 and above)
InterContinental Budapest – We highly recommended this option if you are looking for the best luxury stay. Set right by the river, Intercontinental Budapest has a superb strategic location. The setting is truly magical for rooms with river views. The hotel itself feels luxurious and has excellent service from the staff.
Sofitel Budapest Chain Bridge – This is another great luxury hotel with world-class facilities such as an indoor pool, a fitness center, the Paris Budapest Restaurant, and Bar, as well as a summer terrace. Most importantly, it offers breathtaking views of the Chain Bridge and the Royal Castle.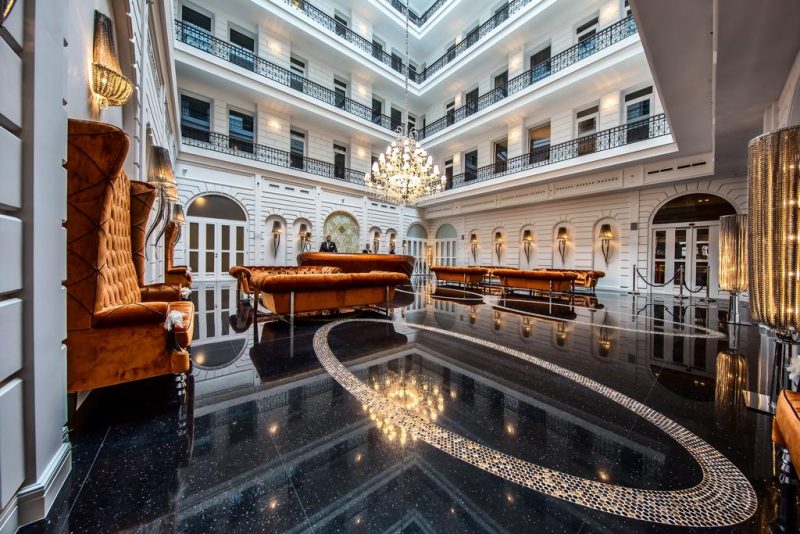 Prestige Hotel provides one of the most classy stays in Budapest. Beautifully set in a renovated historic building in the city center, Prestige Hotel offers elegant rooms with Cavalli furniture. Besides, the Michelin Star Costes Downtown is situated in Hotel President Budapest. Why not enjoy the word class meal during your stay here?
Budapest Marriott Hotel – One of the top pick for the best hotel in Budapest if you love to stay with an amazing view of the Danube river. Budapest Marriott is the only hotel with all rooms featured with Danube views. Large and comfortable room with a good-sized bed for great rest after a tiring trip.
Mid-range Accommodation in District V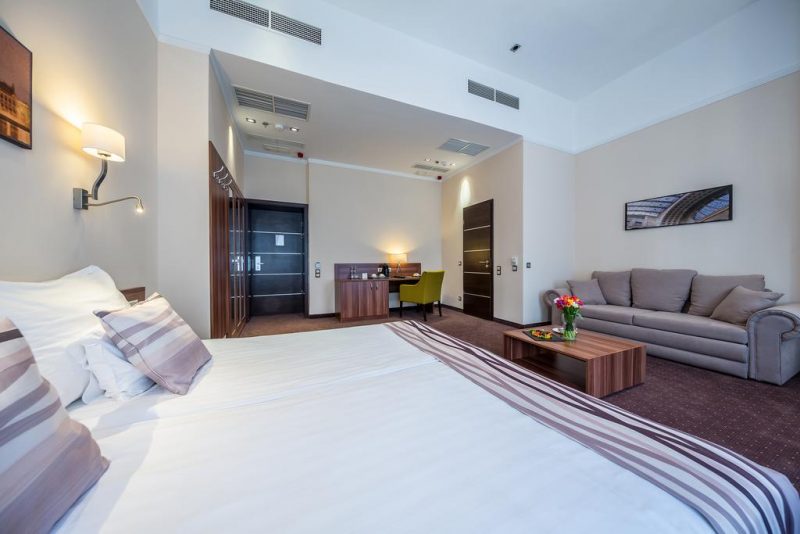 Mid-range accommodation (US$100 to US$160)
D8 Hotel – This 3-star hotel gains its popularity since it's grandly opened. The strategic location in district V with all top attractions is within walking distance. The Chain Bridge is only 400 meters away! Modern and clean room with helpful staff. Most importantly, a reasonable price tag for such a great stay in Budapest.
Hotel President Budapest – A 4-star fantastic accommodation with an immaculate room. The rooftop terrace offers an amazing panoramic view of the Danube bank. A very good breakfast is included for your stay in Hotel President.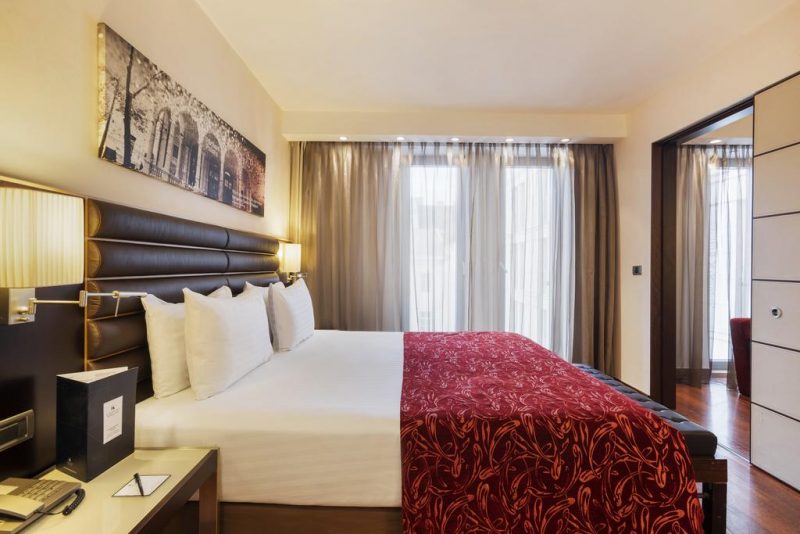 Eurostars Budapest Center is situated within a 3-minute stroll of the National Museum and well connected with several metro stations such as Ferenciek Tere and Astoria station. Spacious clean room and each room features a sleek interior design. One of the top pick for the best hotel in district V.
La Prima Fashion Hotel Budapest is situated right in the center of the city set on the pedestrian shopping street Váci Utca. The location is convenient with the Danube promenade being within 200 meters. Added, it is a super stylish accommodation perfect for your holiday vacation.
District I (Várkerület)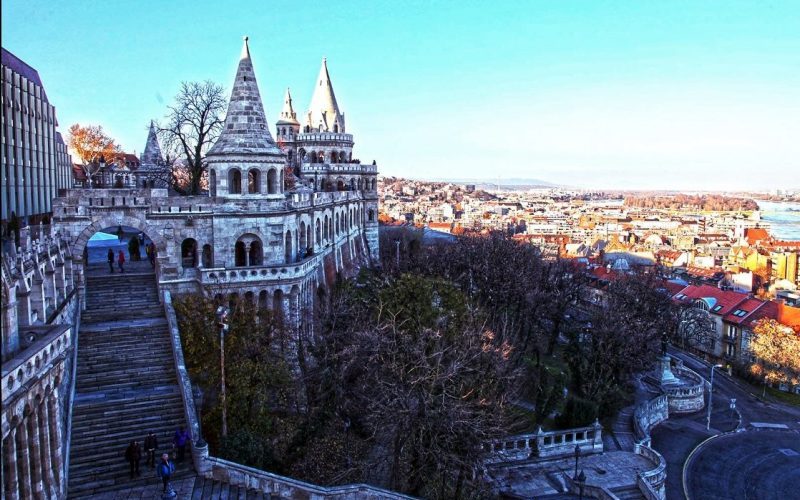 If you are after a luxurious, upscale experience, District I (Várkerület) is your perfect place to stay in Budapest. Located on the Buda side of the River Danube, this neighborhood is the most iconic district in Buda site with quaint cobblestone streets and grand medieval architecture. Top attractions include Buda Castle, Matthias Church, Fisherman's Bastion, Gellért Hill, Rudas Thermal Baths, and lots of stunning historical buildings surrounded.
Additionally, District I is also very suitable for families with kids as well as laid-back travelers. It is popular during day time and rather calms at night. The view is stunning especially during the evening when most buildings put up fantastic light shows to lure in the travelers.
Best Hotel in District I (Várkerület)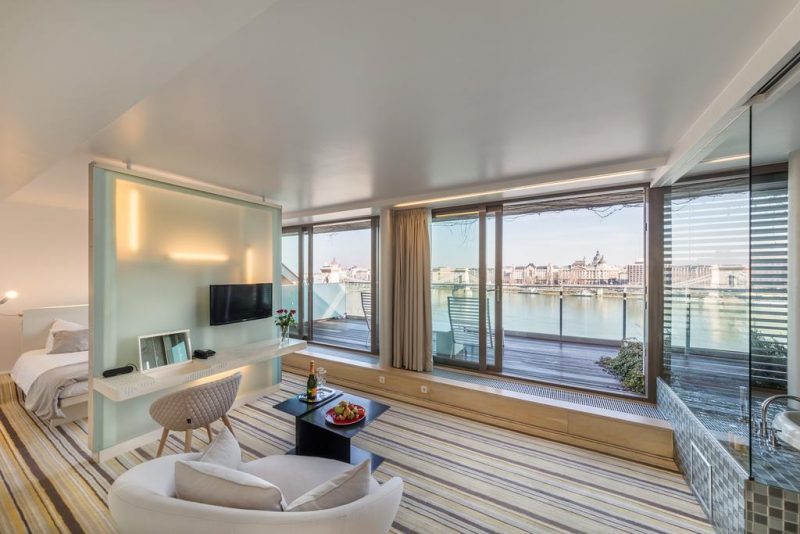 Luxury to Mid Range accommodation (US$130 and Above)
Lanchid 19 Design Hotel is an awesome design hotel that provides a panoramic view of the UNESCO World Heritage sites of Budapest. Each room has an individual look and some will feature a castle or river view. It is situated on the Danube riverbank, below the Buda Royal Castle.
Monastery Boutique Hotel is a lovely hotel conveniently located within 5 minutes walk to Fisherman's Bastion. It is a modern beautiful building with a nice location. A warm heart breakfast served during your stay.
Hotel Charles is located on the Buda side a few minutes away from Gellert Hill and not too far from Castle Hill. Added, it is easy to access with the public bus with a bus stop located nearby. Spacious room with kitchenette and heartwarming friendly staff welcoming your stay.
District VII (Erzsébetváros)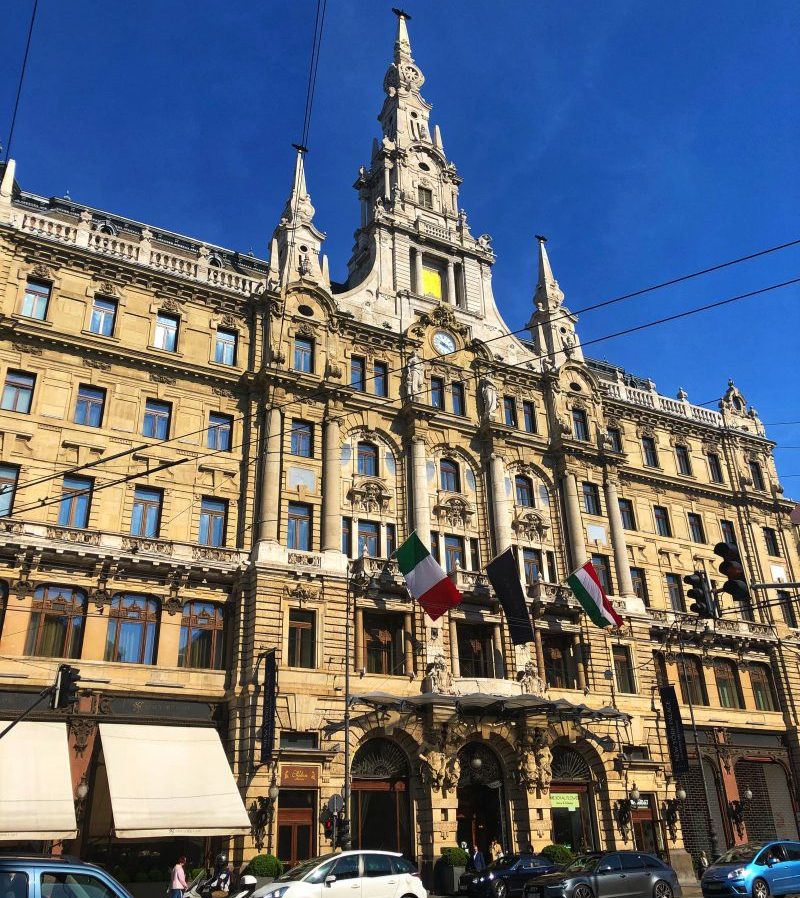 Being the former Jewish district in Budapest, District VII (Erzsébetváros) is a great option for nightlife tourists with vibrant neighborhoods. Although it is the smallest neighborhood in the city, District VII offers everything you could ask for and more. This area includes the world's most beautiful cafe New York Palace and tons of good locals restaurants including the famous Ruin Bars. Enjoy your time and get closer to locals with a beer in cafes, bars, restaurants, and cool nightclubs.
It's a food paradise and home to many good food and drinks which makes it easier for tourists to try on the best food in Budapest. Beyond this, there is a lot of great accommodation in Budapest, from upscale hotels to budget hostels which you can base yourself on in this lively neighborhood.
Best Hotel in District VII (Erzsébetváros)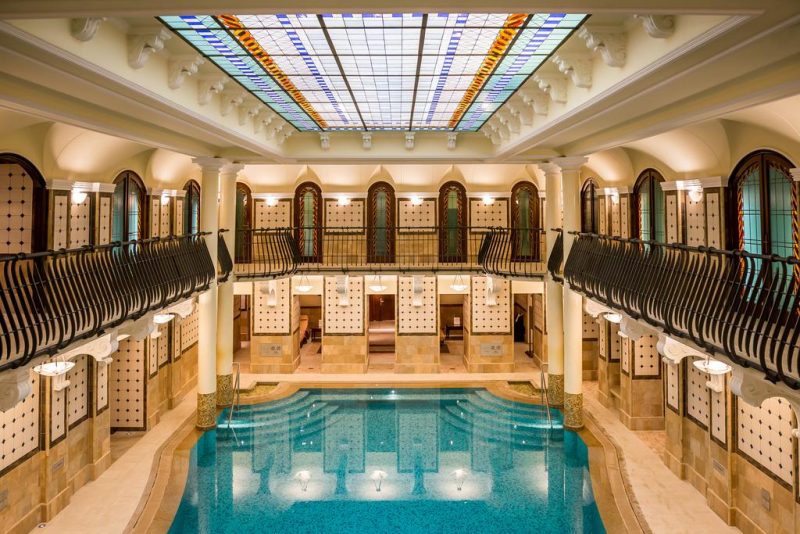 Luxury Accommodation (US$160 and above)
New York Palace is home to the world's most beautiful cafe. Being part of The Dedica Anthology, Autograph Collection, New York Palace is truly an iconic accommodation in the city. Enjoy your stay in the world's most beautiful building is truly one of the marvelous things about your trip.
Corinthia Budapest is a 5-star hotel on the Grand Boulevard featured with the most luxury stays in Budapest. Some rooms even come with free access to its historical Royal Spa. You can enjoy several relaxation areas, saunas, steam baths, hot tubs, a fitness room, and a wide variety of treatments. Make sure to include it when booking your stay here.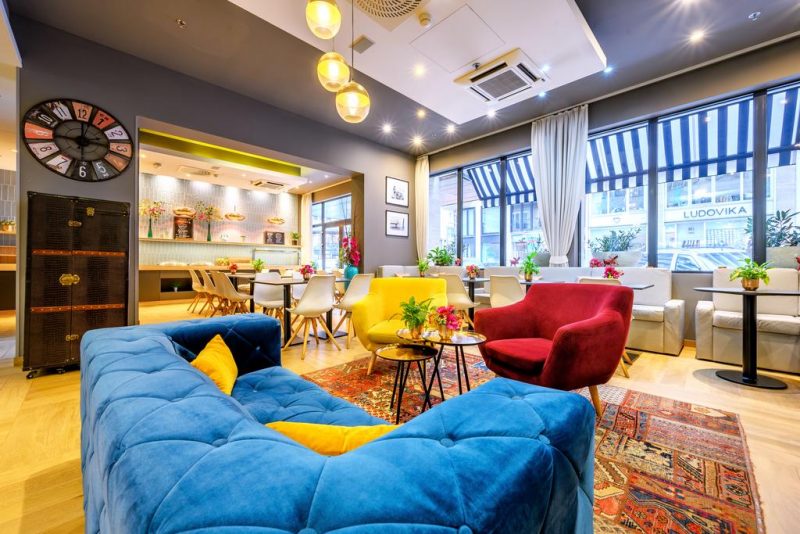 Mid Range Accommodation (US$80 – US$130)
Arcadia Hotel Budapest offers a convenient stay at a good price. It is strategically located with Deák Ferenc Square is only 200 meters away, providing 3 metro lines to choose from. Lots of bars, restaurants, and eateries nearby.
Roombach Hotel Budapest Center – Situated in the city center with good connectivity with the metro system. The Deák Ferenc Square is 300 m away, making it very easy to get around in the city. Modern decoration and comfortable bed with fabulous breakfast included for your stay.
Budget Hostel in District VII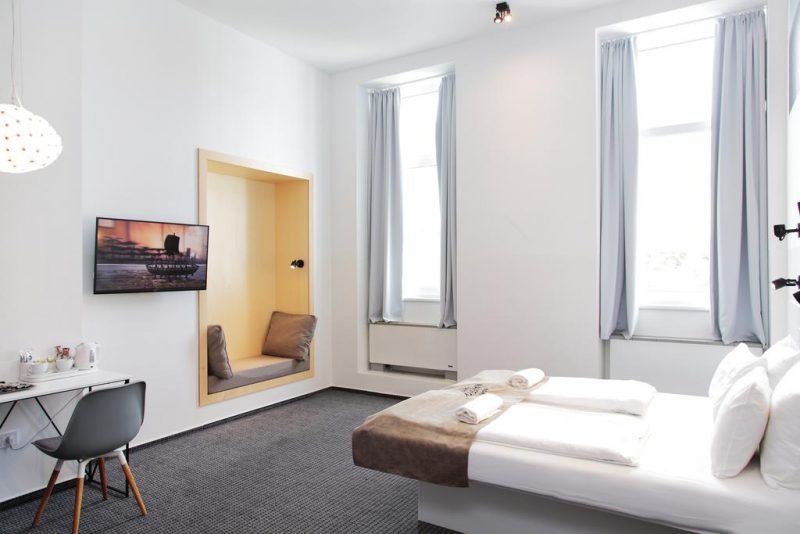 Maverick City Lodge – Probably one of the most popular hostel and budget stay in Budapest. It provides a simple and clean room and bed for travelers. Just choose from a room with a private and shared bathroom or dormitory bed in this awesome hostel. Convenient location with public transport accessibility and many great restaurants nearby.
The Hive Party Hostel Budapest – Enjoy a party all night with great vibes here with the hostel in a bar. This lively hostel offers a dance club with live performances in the courtyard and a rooftop bar. Moreover, Szimpla Kert is just a few minutes away. Choose from a private room or single bed from a double, quadruple, or six people room.
District VI (Terézváros)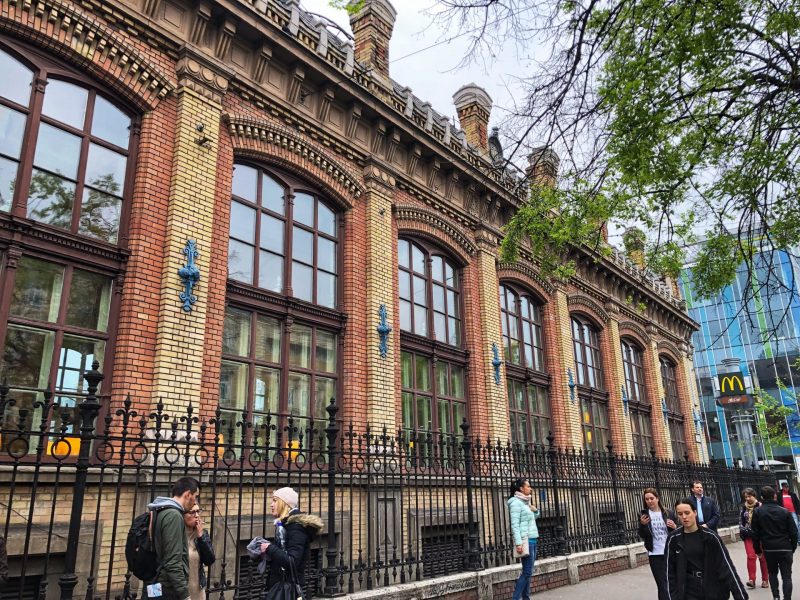 Lastly, the lively District VI (Terézváros) is another great option for those who love cultural attractions and shopping. The well-known Andrassy Avenue, a UNESCO World Heritage site is the Budapest version of Beverly Hills' Rodeo Drive. Many high-end fashion brands and boutique shops can be found in this region. Added, the oldest train station, Nyugati Railway Terminal also located in district VI. Don't forget to visit the Szechenyi Baths, as well as the Hungarian State Opera for a proper hangout night here.
Another great thing about this neighborhood is that there are many mid-range and budget accommodations in District VI. Here are our top pick hotels in District VI for all budgets.
Best Hotel in District VI (Terézváros)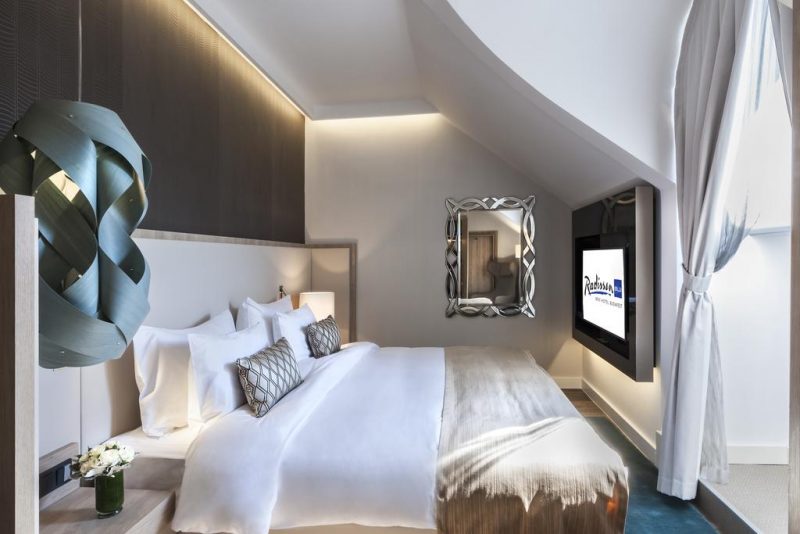 Luxury to Mid Range Accommodation (US$100 to US$150)
Hotel Moments Budapest is one of the popular picks for the best stay in Budapest. The building is a nice combination of the traditional and contemporary mix which is so present in the city. Perfectly located on the iconic Andrássy Avenue of Budapest The State Opera House is just 200 m from the hotel. Highly recommended.
Barceló Budapest is a fantastic contemporary hotel that features an elegant room. Friendly staff, fabulous breakfast, and great location. Couldn't ask for more!
Radisson Blu Béke Hotel – Another top pick and popular among travelers. This awesome 4-star hotel is nicely decorated, and clean with reasonable prices. The location is superb with 300 m from the Nyugati Train Station making it very easy for getting around.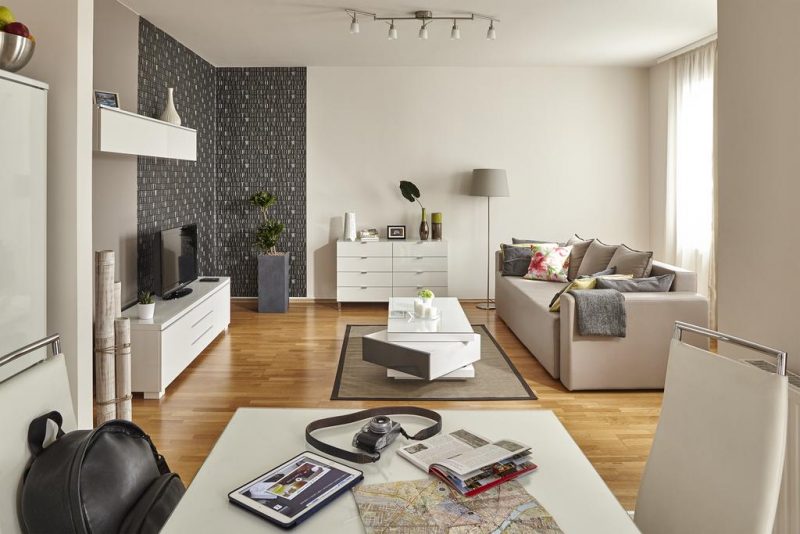 T62 Hotel is situated in an excellent central location with stylish and modern rooms. Slightly small room but reasonable for the price tag. Comfortable and immaculately clean for your stay in Budapest.
7Seasons Apartments Budapest is a well-appointed apartment with the ease of a hotel and the comfort of a home. This awesome property offers you spacious 1 to 3-bedroom apartments in the heart of Budapest. Walking distance to everything with major transport hub Deak Ferenc tér is only 100 meters away.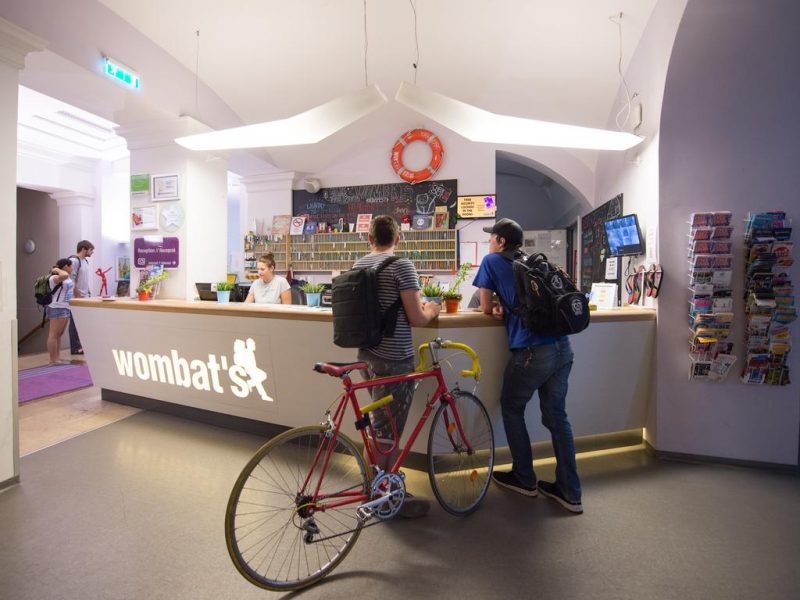 Budget Hostel (About US$50 and Below)
Wombats Hostel Budapest is perfectly located in Deák Ferenc Tér, where three metro lines and several bus and tram lines meet, which is within 300 meters. A popular backpacker hostel chain in Europe. Choose from en-suite rooms and beds in mixed dormitory rooms. A clean and fun hostel in Budapest.
More Budapest Accommodation Tips
How many days are enough in Budapest?
At least two days! Two days is enough for you to see Budapest city. But you can easily expand to 3 to 5 days and not feel rushed.
What is the best area to stay in Budapest?
In our opinion, the best places to stay in Budapest are District V (Belváros-Lipótváros) and District VI (Terézváros).
Where should a first-time tourist stay in Budapest?
District V is the best area to stay in Budapest for first-time visitors. It is in the center of Budapest with top attractions located within walking distance. Alternatively. we recommended staying in District VI where you'll find a wide range of accommodation from luxury, mid-range, and budget hostels at a reasonable price. Great restaurants and good food are surrounding.
Is it better to stay in Buda or Pest?
Stay in the Pest side is a better option with lots of shops, restaurants, great food, and nightlife. While staying in Buda side for laid back holiday and nearby Buda Castle.
Overview: Where To Stay in Budapest
Last but not least, hopefully, the above quick and simple guide is helpful to find your best stay in Budapest. We enjoyed our visit to Budapest. It is truly a charming city, perfect for 2, 3, 4 days, or even 1 week. But make sure to book a great stay to boast up your wonderful trip.
Check out my stay in D8 Hotel Budapest: D8 Hotel Budapest Review: Excellent Place To Stay
In case you need more travel inspiration, free feel to read through our Budapest travel story:
Find out where and what to eat when visiting Budapest: The Must Eat Food Guide in Budapest.
Added, if you have any suggestions or questions on where to stay in Budapest, please feel free to drop us an email if you need further help. We also listed down our Central Europe itinerary for reference. Enjoy your trip!