Last updated on September 23rd, 2023
To make your vacation easy, check out this guide to find out where to stay in Jeju. I hope my little guide can find you to find the most suitable accommodations for your wonderful holiday.
Jeju Island is one of South Korea's most popular tourist destinations for honeymoons, family holidays with kids, groups of friends, and even solo travelers. With several UNESCO heritage sites, stunning natural landscapes, and historic spots, there's so much to see, eat, and do on this tiny small island.
First of all, choosing what to do and deciding on your transportation is a great starting point for your accommodation search. Getting the right transportation can save on your traveling time, and get a better deal on your accommodation regardless of homestay, budget, and luxury hotel.
However, for first-time visitors, where to stay in Jeju Island is the most headache question. The island is not huge but it will be very tiring to travel from North to South in one day. It is likely that you will find yourself on Jeju Island for at least a few days!
Here, we listed the best places to stay if you are looking for where to stay in Jeju Island when visiting here. Feel free to take a look and choose your best hotel and resort for your wonderful holiday.
Traveler Tips: Where To Stay in Jeju Island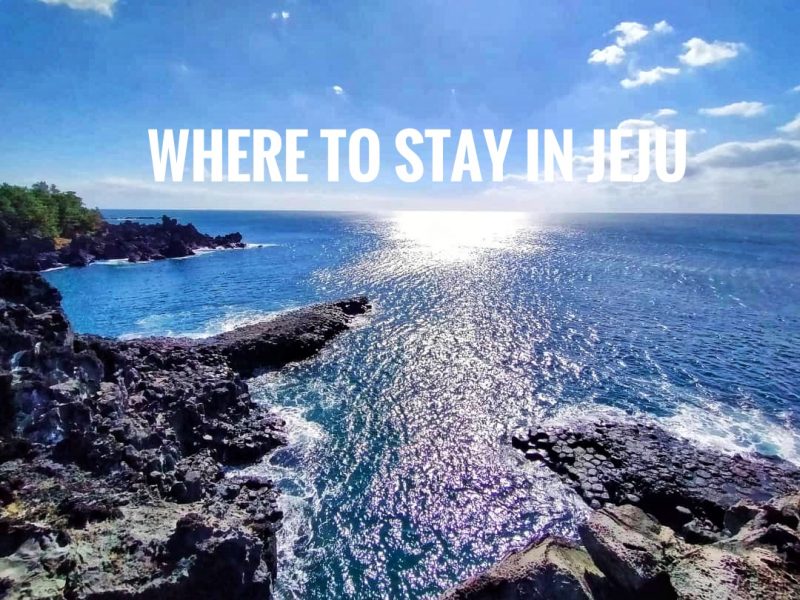 Jeju Island is surrounded by sea with Hallsan mountain located at the center of the island. Mapped into four distinctive parts in North, West, South, and East, you can visit Jeju Island in four days by round island trip. Not to forget the two major cities for your accommodation selection at Jeju Island – Jeju city in the North and Seogwipo city in the South.
Choosing the right accommodation is the first step in deciding where you stay and the next spot you will be. Below is a breakdown of Jeju's best accommodation listed from my research and recommended based on my Jeju road trip travel. Generally, Jeju Island can be separated into 4 areas when deciding where to stay. There is Jeju city in the North, Seogwipo in the South, Seongsan in the East, and lastly Aewol in the Northwest.
Here are the quick tips when looking for where to stay in Jeju island:
Jeju City is a great base when looking for where to stay on this tiny island. We recommended for old town area or public transport accessible. The best option if you're unsure where to stay.
Seogwipo is the second biggest city in Jeju. The accommodation in Seogwipo will be cheaper compared with Jeju city. Choose the best accommodation with a sea view to enjoy your trip. This is the best place to stay in Jeju for a holiday gateway.
Experience the unique Korean pension at Seongsan. Coupled up the Udo island and Seongsan Ilchulbong visit into one day.
Aewol is famous for its beautiful sea view and sand white beaches. Stay here for a relaxing gateway!
Read on our best hotel recommendation in Jeju for you in more detail.
What is the best location to stay in Jeju without a car?
Jeju City is a great base when looking for where to stay without a car. The old town area with public transport access is ideal for those traveling by public transport.
Staying in Jeju City or Seogwipo?
Jeju city is the most ideal for a short stay traveler. If you are only visiting for only a single night or two, stay in Jeju city. It has the best transportation connected all around no matter whether you are self-driving or using public transport. Break Your stay into multiple locations like the southern or eastern coast. It will save you a lot of traveling time without going back to the same hotel. Renting a car and change two to three places for your Jeju trip!
Where To Stay in Jeju for a relaxing and laidback holiday?
Jungmun tourist center at the southern coast has the most luxury hotel stay for your gateway with sandy white beaches and ultimate sea view.
Is it better to stay in a local pension in Jeju?
There are many local traditional pensions run by locals, especially in rural areas like the west and east coast. Take a night to explore how the locals stay at their pensions.
---
Jeju City, The North
Jeju City, the capital of Jeju Island, is located in the north part and this is the main entrance to enter Jeju Island regardless of by air or by sea. For convenience, stay in Jeju City. It is also the best place to do shopping and food hunting. Staying in Jeju city is the most convenient place when visiting Jeju island.
Where To Stay in Jeju City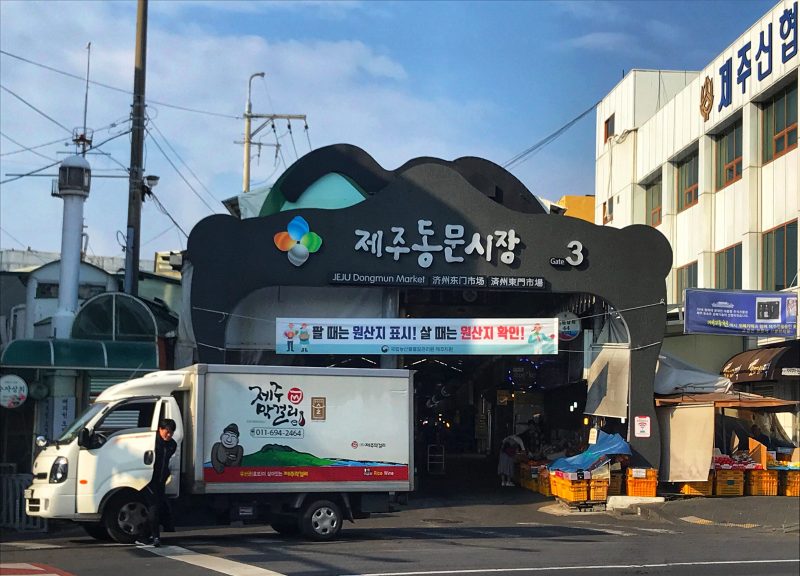 Great base to explore the vibrant city with strategic location by walking distance to nearby eatery and shopping. Just a leisure walk to Black Pork Street, Sashimi street, Dongmun market, and Jungang underground shopping street.
Located in the old town area, the hotels listed can easily access the city must's see attraction with lots of eateries, shopping, and convenient shops surrounded.
Not to forget the harbor front ocean view where you can stroll along the coastal walkway with the breezing wind. A good option for those looking for comfortable and convenient accommodation on Jeju Island.
Best Hotel in Jeju-si old town area:
While the new town area will have more entertainment and restaurant options. You'll also have more accommodations when choosing where to stay in Jeju city. It is busier and more developed when compared to the other areas on Jeju Island.
Best Hotel in Jeju-si new town area:
Hotels With Public Transport Accessible
For those who are not planning for self-driving, public transport is the major consideration in deciding your accommodation. Getting around by bus is the cheapest way to explore the beautiful island. The transportation hub is their intercity bus terminals run between Jeju City and Seogwipo with different routes. Those city buses make several stops cover most of the island including major tourist attractions for visitors.
Best Hotel near Jeju intercity bus station: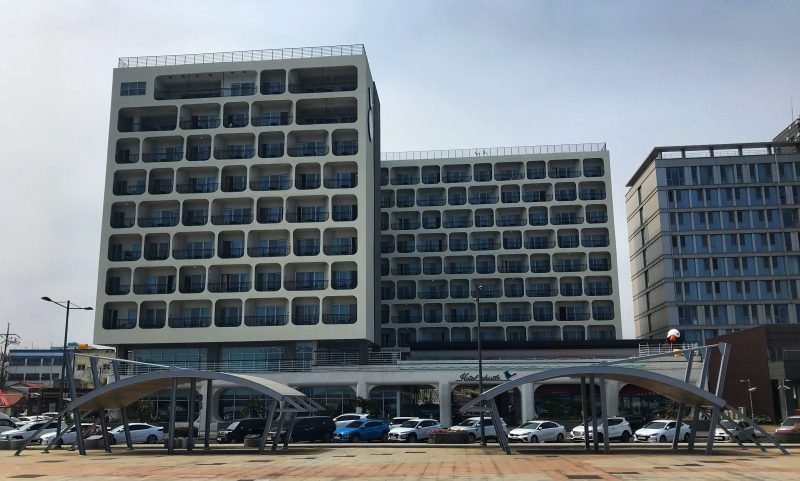 On the first day, once we landed in Jeju, we decided to stay in Whistle Lark Hotel in Jeju city. It is a 4-star hotel at a reasonable price in the old town area. We walked to Dongmun Market and black pork street to enjoy our dinner.
---
Seogwipo, The South
Our next recommendation on where to stay in Jeju is Seogwipo. The vibrant Seogwipo is the second-largest city located in the south of the island. It is the best location to explore the charming natural beauty but still ease of transport for getting around. The city is near to most of the natural attractions on Jeju island to see and visit.
Where to stay in Seogwipo City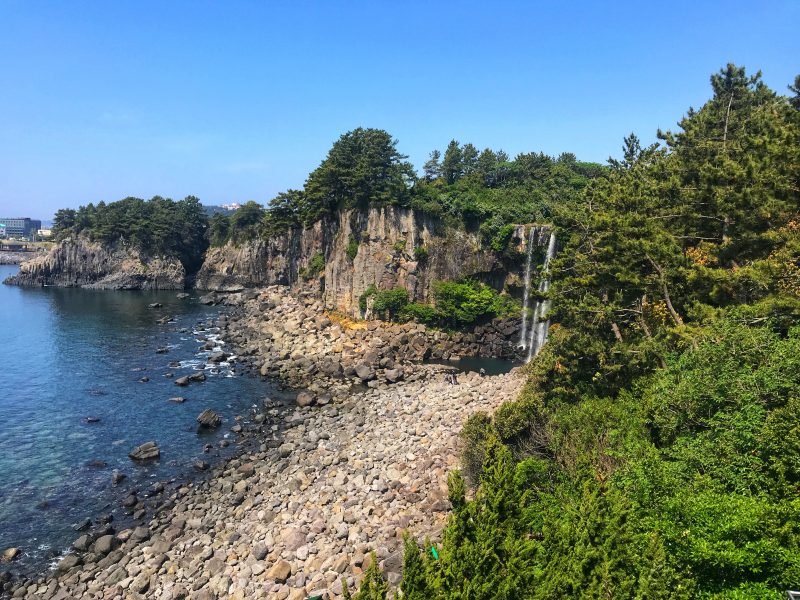 Stay at Seogwipo city when you are traveling on the southern coastline. The price of accommodation at Seogwipo is much more cheaper compared with the city area on the north side in a similar range. You can stay at a four or five-star hotel at a cheaper price at Seogwipo. Don't forget to check out the three famous waterfalls and the quirky museums located at Seogwipo, the southern part of Jeju.
Best hotel in Seogwipo:
Where to Stay in Jungmun
Enjoy your luxury holiday with the emerald sea with sandy white beaches, and stunning natural landscapes of rock formation with lava coastline at Jungmun Tourist Area. Superb amenities are offered from luxury range hotels – modern and comfortable rooms, infinite pools, sauna, fitness club, and even an onsite casino to keep you entertained during your stays. You can just do nothing, and ready yourself for the perfect gateway at the Jungmun area.
Best relaxing hotel and resort in Jungmun:
Unique Experience with Pension Runs By Locals
The southern coastline has many wonderful pension runs by locals. Normally those pensions are very unique and feature a very beautiful view, either in-room basic for two people or the whole unit for a group of members. Instead of keeping staying at a hotel, experience by staying one or two nights at the pension. You won't regret your decision for staying on a pension.
Additionally, we also included the top 10 best guesthouse in Jeju. Most of them are facing the sea view. If you are interested, take a look at our accommodation guide below.
Best pension in Seogwipo with sea view: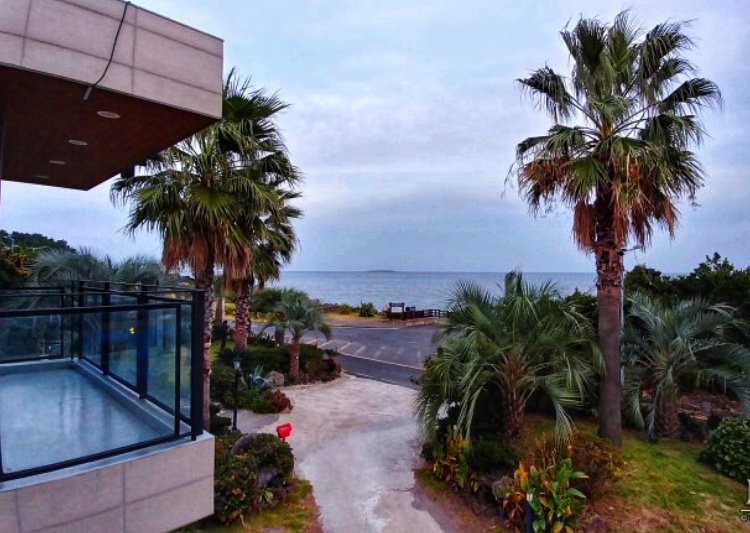 During our road trip, we stayed at Jeju Aurum for one night. A warm welcome from the host with a beautiful sunrise and sunset view can be seen from the front of the pension. Don't forget to book earlier as limited room available offered from the pension.
---
Seongsan, The East
There are two major attractions on the eastern coastline, Sunrise Peak Seongsan Ilchulbong, and Udo Island. Both are located very close and ideal coupled for a day trip. Driving from the Northside of the city or south of Seogwipo city will simply need an hour of driving journey to reach the east coastline.
Where to Stay in Seongsan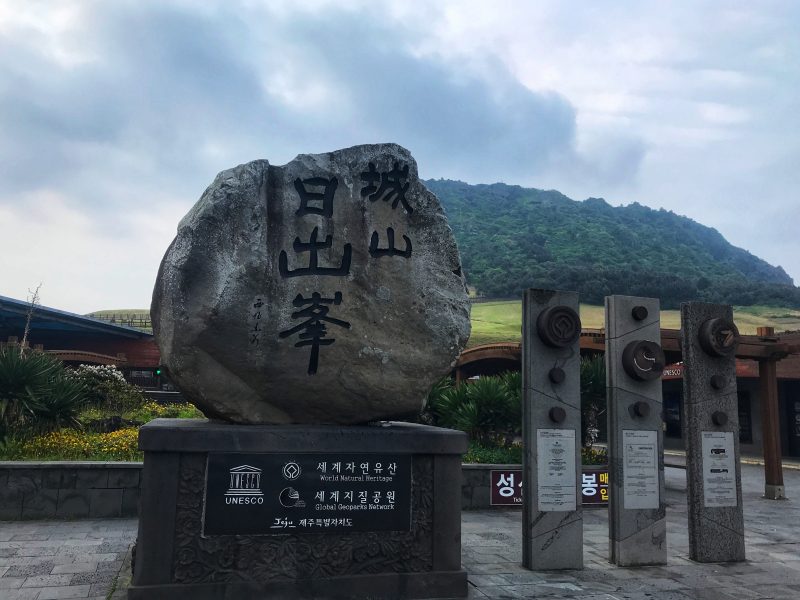 Staying one night on the east coast is one of the good options, especially for those planning for the sunrise at Seongsan Ilchulbong. Some of the accommodations can be so close to the Seongsan Ilchulbong by less than 10 minutes of walking distance. The view of Seongsan Ilchulbong is so spectacular, especially during sunrise.
Best hotel nearby Seongsan Ilchulbong:
One Night At Udo Island
Udo Island is the miniature of Jeju Island with sandy white beaches and scenic peaks with a lava coastline. Spending a day at Udo Island is perfect for relaxing in a peaceful calm atmosphere. However, limited accommodation is offered on Udo island with only a few pensions run by locals located close to the Udo Harbor. Book early if you plan for a night at Udo Island.
Best stay on Udo Island: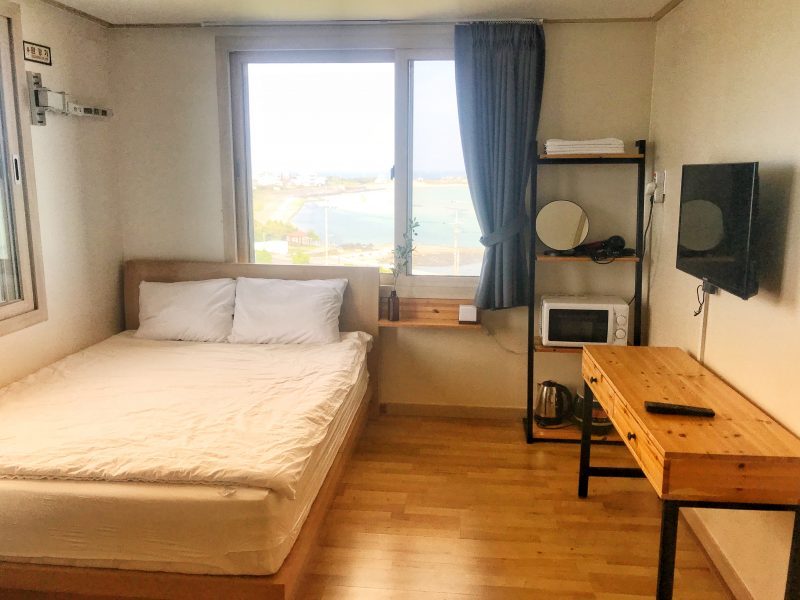 B&Sun Pension is our accommodation stay during our trip to East Coastline. We woke up earlier to Seongsan Ilchulbong for sunrise which is located less than 10 minutes from the hotel. Next, we proceeded on a half-day trip to Udo Island by bicycle.
---
Aewol, The Northwest
The areas like Aewol, Hallim, Hangyeong, Hyeopjae, and Byyang-do are under my northwest part of the coastline. If you are familiar with Jeju geography, you definitely know that those listed locations are famous for the beautiful sea view and sand white beaches.
Where to stay in Aewol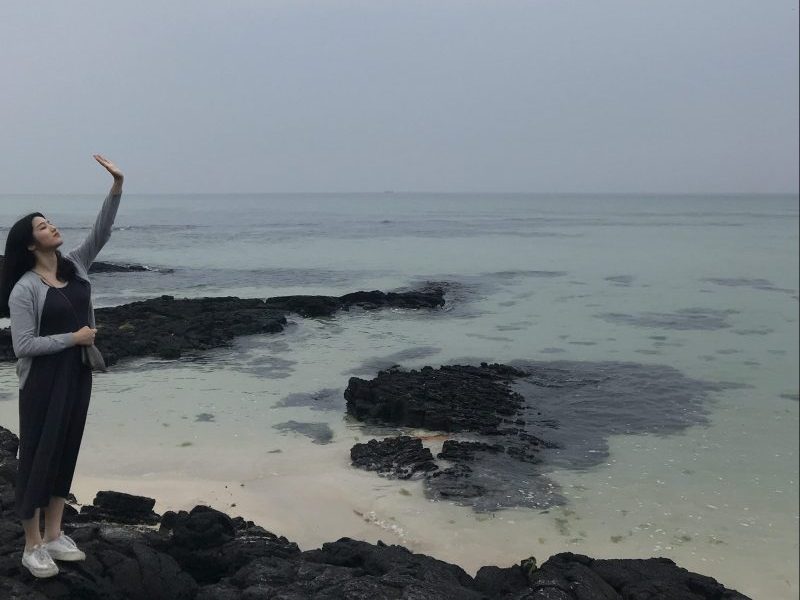 Many beautiful beaches can be found around the island but nowhere can beat the northwest coastline. The Hyeopjae beach is the most beautiful beach with crystal clear water and sand white beaches. Enjoy your day by tipping your toes into the sea and building sandcastle at beaches.
Best sea view hotel at Aewol: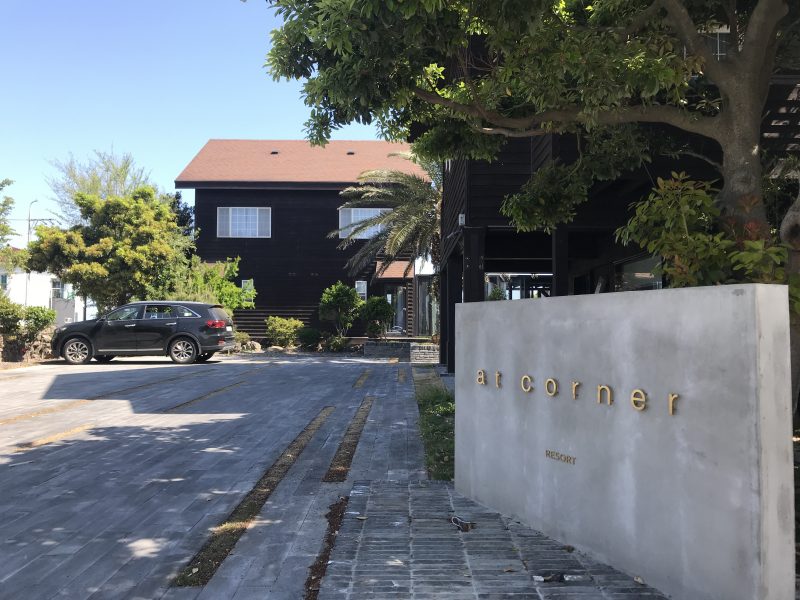 We stayed at Yedaoom pension (at Corner) for my last two nights during our Jeju road trip. This pension features an overlooked garden and a nice view of the sea. The pension is not very brand new but well equipped and clean. Located closer to Jeju city, it is only 10 minute's drive to the airport.
Check out where I stay in Jeju: At Corner Garden Resort
---
Where We Stayed During Jeju Road Trip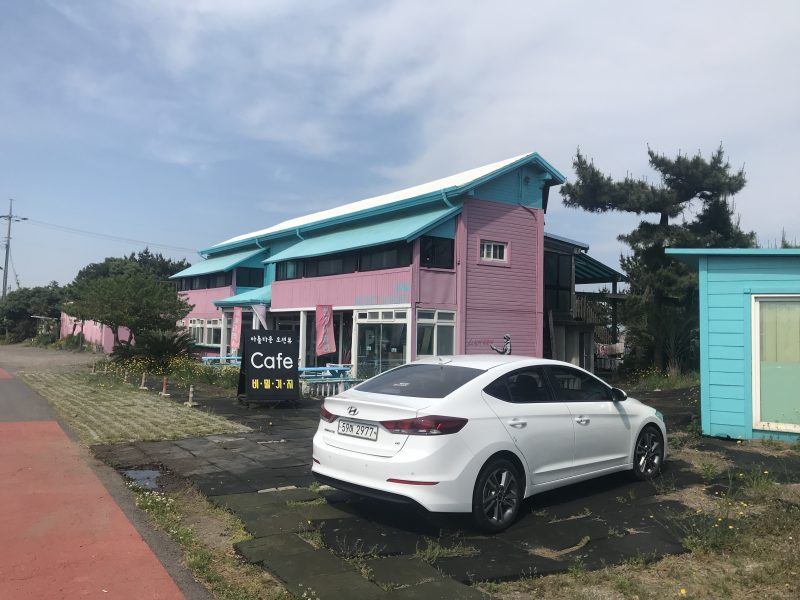 I finally make my visit to Jeju Island with one of my best friends by self-driving. For the past 6 days of the road trip journey, we stayed at a few locations like the city area in the north, Seogwipo in the south, and Seongsan in the East.
We highly recommended renting a car to explore the hidden beauty at your own pace. Many accommodation options are available to choose from if you don't restrict by transportation. I prefer to stay at the pension run by locals rather than the hotel. However, wherever you decide to stay in Jeju, I'm sure you'll have fun. It is such an amazing island!
I hope my Jeju travel blog helps you choose the best accommodation in Jeju Island, South Korea! Thanks for reading and happy travel!
Check out where we stayed for our Jeju itinerary!
Don't forget to compare your best hotel in Agoda.
Ultimate 6 Day Jeju Road Trip Itinerary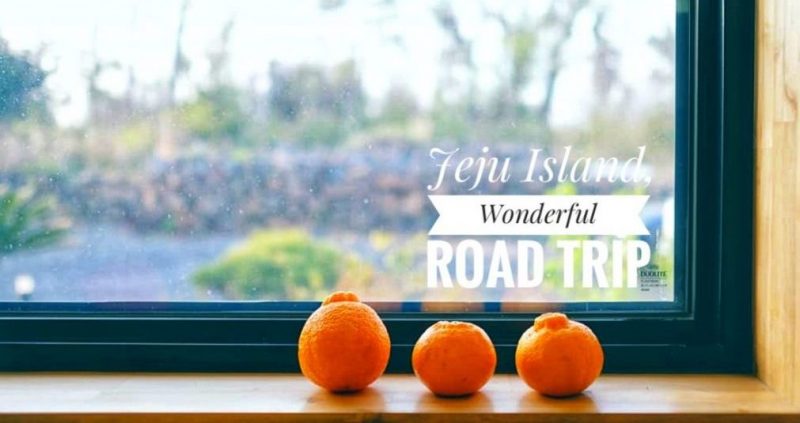 Read more on 6 days 5 nights Jeju itinerary with the best things to do and great food to eat for your wonderful road trip.
Jeju Food Guide: For food lovers, don't miss out on the chance to try on unique local food.