Last updated on December 11th, 2023
For the first-time traveler, it's important to know what you want to get out of your trip before deciding on where to stay in Hakone. We've figured out the five best neighborhoods and picked the best hotels and ryokans in Hakone that suit your interest and budget.
From its beautiful Japanese quaint village countryside to its traditional onsen bath, Hakone remains the most favorite holiday gateway from Tokyo by locals with about an hour of a train journey. It is part of the Fuji-Hakone-Izu National Park and is rated as a popular destination for visitors to Japan looking to discover the beautiful nature of the country.
If you're still wondering whether you should take a day trip or stay for longer, trust me, Hakone is worth more than a day trip from Tokyo. The quaint villages, tranquil hot springs, and interesting cultural attractions can easily spend one to three days in Hakone. This is the place to be to learn about Japanese tradition. But choosing the best stay in Hakone can be tricky as you will need to plan ahead of the transportation, interest, and most importantly, budget. Plan your trip quickly and easily.
Below our Hakone accommodation guide comes with top hotels and ryokans arranged by neighborhood with suggested things to do and see. Most of the recommendations come with the traditional Japanese hot spring, so you can soak into the Japanese culture in style.
Let's read on to learn about the 5 best areas in Hakone.
Quick Tips: Where To Stay in Hakone
Here is the 5 top neighborhood when looking for where to stay in Hakone:
Let's explore them in more detail and understand why these areas are the best place to stay in Hakone.
5 Best Neighborhoods to stay in Hakone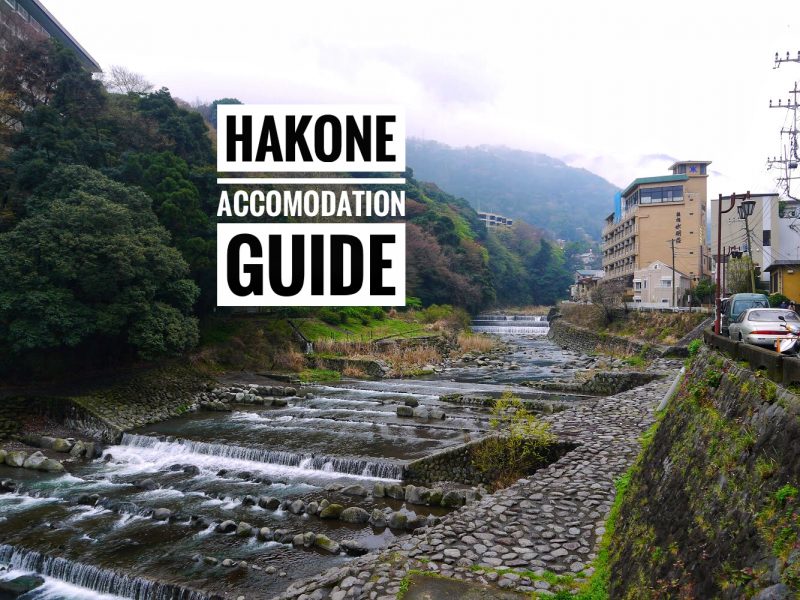 For ease in your planning, Hakone is can be divided into five major neighborhoods when finding your best stay in Hakone; which are Tonosawa, Gora, Sengokuhara, Hakone, Yumoto, and, Motohakone. Each area has something unique to offer,
Tonosawa
For the first-time traveler to Hakone, we recommended staying in Tonosawa. This area is not far away from the busy street of the main station, yet offers a peaceful atmosphere with old wooden buildings lining the street and river. Many traditional ryokans with long years of history here.
Gora
Mountainside resort area with steep slopes, famous museums, and hot springs. The location is perfectly located right in the middle of Hakone, making it an ideal base for getting around the area. The town area is blended with great facilities with local and foreign modern cultures.
Sengokuhara
The large area of Sengokuhara is located in the highlands of Hakone, a wonderland of natural beauty and outdoor activities. The hilly side of Sengokuhara is featured many types of accommodation, including golf resorts, luxury hotels, and vacation homes. It is particularly popular during the Autumn season when the scenery turns into a beautiful golden color.
Hakone-Yumoto
If you're looking for the best budget stay in Hakone at a more affordable price, Hakone-Yumoto is a great choice, This area is the first gateway to the Hakone and the main tourist center of Hakone, with plenty of shops, eateries, museums, temples, and hotels scattered around. Plus, this area is well connected via buses and trains, providing convenient transportation between attractions. Plus, the room rate in this area is inexpensive with a variety of options. A crowded spot with visitors even on weekdays.
Motohakone
If you're in the mood for total natural luxury, chill out at Motohakone. This is the best place to stay in Hakone for nature, which featured the area's most famous sights; Mount Fuji, Lake Ashinoko, and Mount Hakone, You almost won't need to go anywhere else during your stay here. Just spend your time pampering yourself by soaking in the natural onsen bath while enjoying the awesome view.
Tonosawa
The lovely small town, Tonosawa is a great introduction to Hakone for the first-time traveler who has never visited the area before. The atmosphere in the town is exquisitely charming, with old wooden houses lining the street and river. While the mountains and forests come with stunning views that give you a peaceful atmosphere.
The location is about 15 minutes walk from the Hakone Yumoto Station. But this area is easily accessed with train and bus are well-connected. Besides, you also opt for the shuttle bus service run by Hakone Spa Associate at Hakone Yumoto Station. It runs every 30 mins from 14:00 to 18:00 and costs about 100 yen for one ride.
Here you can find the traditional ryokans with onsen facilities and dip into the natural hot spring bath. Staying in this area places you closer to natural attractions in Hakone.
Here are a few of the best hotels and places to stay in the Tonosawa: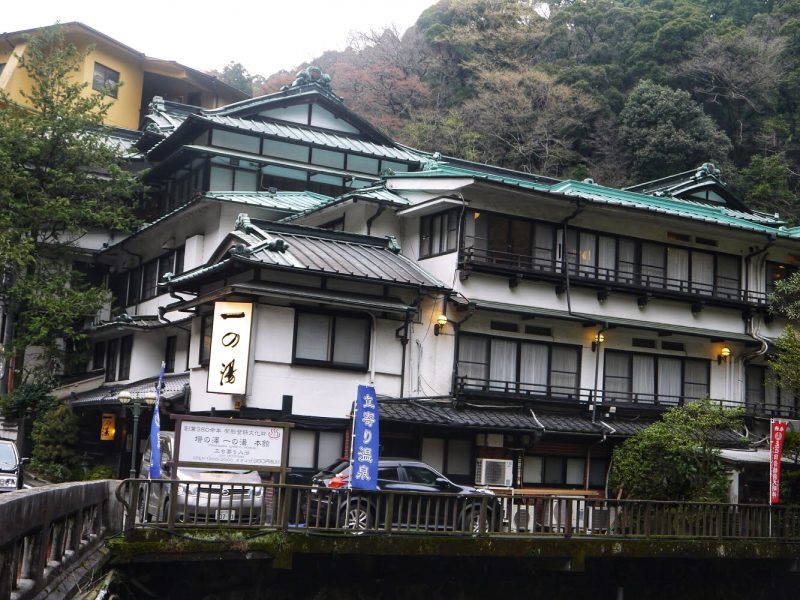 If you're on a budget and yet looking for a traditional ryokan stay in Hakone, Ichinoyu Honkan is your best choice. It offers a great opportunity for backpackers to experience traditional Japanese lodging without breaking the bank. The building was established over 380-years ago and registered as a Cultural Heritage. Guests can soak in the public onsen and private bath for free. It was located nearby Tonosawa station and easy access by train and bus.
A popular pick for travelers and even locals. Reserve your room early to avoid disappointment. (Check room availability)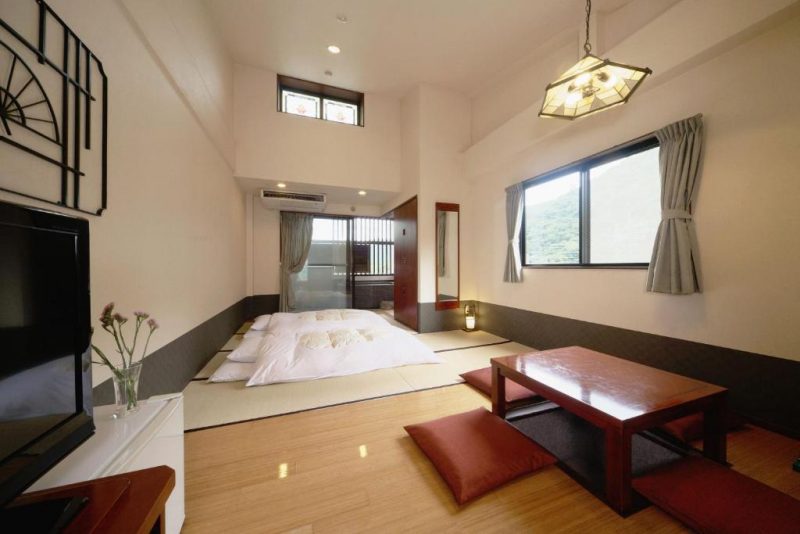 Another chain ryokan owned by its original chain Ichinoyu Honkan. Unlike the traditional settling by Ichinoyu Honkan, the Ichinoyu Shinkan is featured newer buildings with western bedding or rooms with Japanese futon bedding on the tatami to suit your travel style. The price remains a great price for the budget traveler who looking for cheap accommodation in Hakone.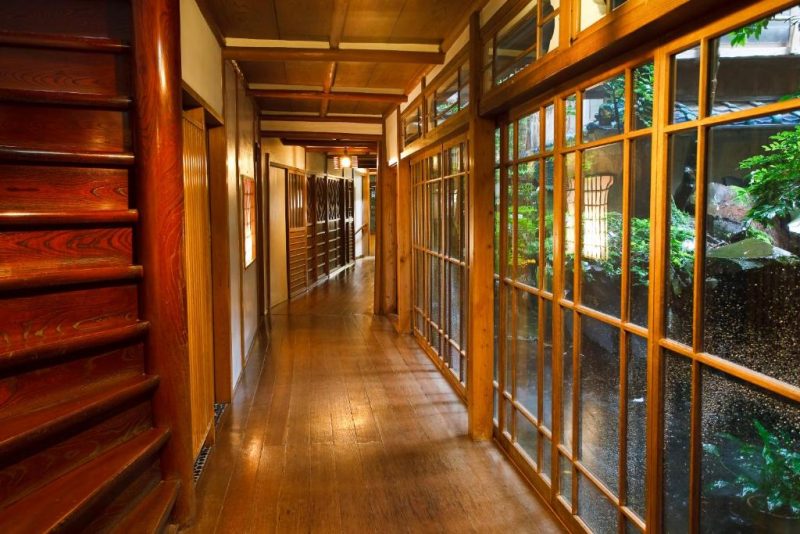 The Fukuzumiro is a gorgeous four-star ryokan that sits alongside the Hayakawa river with Japanese rooms decorated in a traditional style that will transport you back in time. It is an old building that was built over 100 years ago but is very well-kept and maintained. Bathrooms are shared which is common in a traditional old buildings in Japan. You can be relaxing on the lovely onsen in a beautiful, traditional setting. Remember to reserve the traditional Japanese multi-course dinners with seasonal local dishes when you arrived. A perfect way to embed yourself in traditional Japanese culture in style.
Limited rooms and remember to reserve them earlier. Check room availability in Fukuzumiro.
Gora
Gora is perfectly located right in the middle of Hakone, making it an ideal base for getting around the area. This town area is specifically designed with tourists in mind, so it is blended with great facilities with local and foreign modern cultures. Here you can find the gorgeous rose garden in Hakone Gora Park, interesting museums, and plenty of onsen and teahouses.
Gora can be reached via the Hakone Tozan Cable Car, one of the main transportation in the Hakone area. It is one of the popular places to stay in Hakone and hotels in Gora get very busy. So remember to book in advance.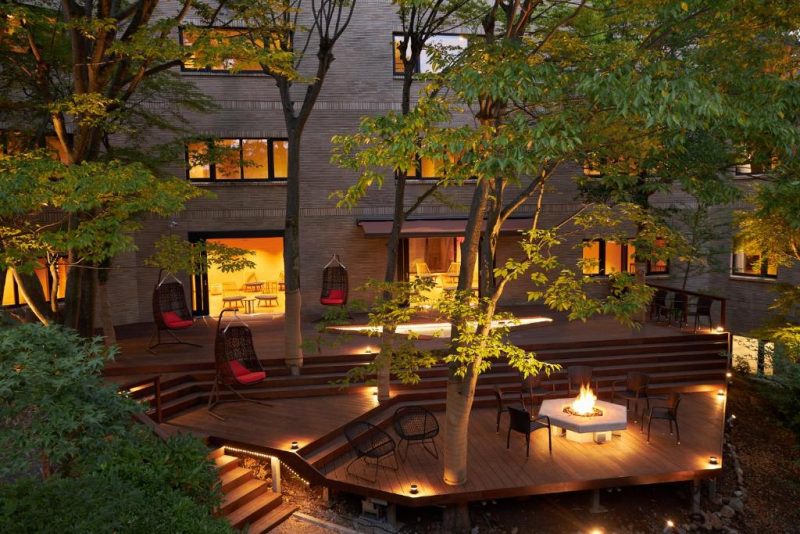 The Hakone Yutowa is a great place to stay in Hakone if you want a nice mix of traditional and modern stay. They have spacious rooms and great hotel amenities such as a restaurant, free private parking, a shared public lounge that provides books, table games, and drinks. The location is great, within walking distance to Gora Station.
Travelers can spend time visiting the Hakone Gora Park and Open-Air Museum, Lawson convenience store is available nearby. It is a clean and modern hotel with comfortable rooms. The hotel featured public and private hot spring baths for guests after a tiring trip in Hakone.
The price is not expensive and the best place to stay in Hakone, for sure. Check the best rate for Hakone Yutowa here.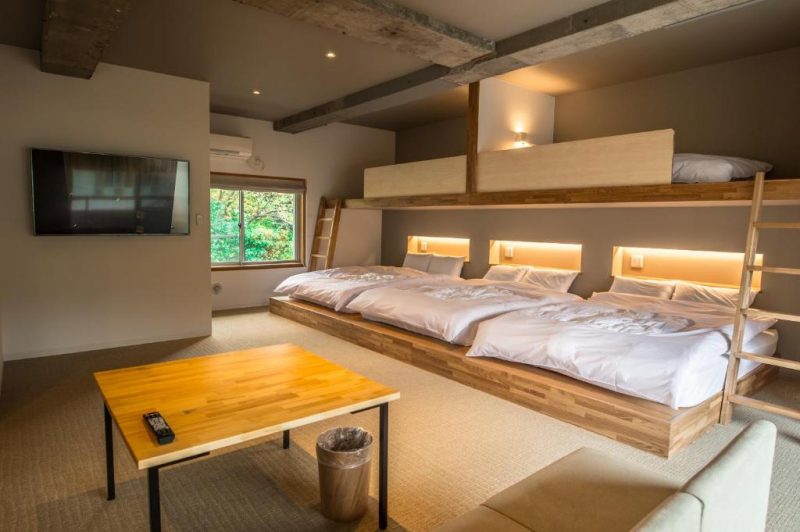 The brand new, Emblem Flow Hakone is a modern facility in Hakone with a young vibe. The rooms are decent and can accommodate up to a maximum of eight people depending on the room size, So it is very suitable for the traveler with a large group. Super friendly, attentive, and English-speaking staffs are always ready to help you whenever you need help. The location is very convenient and is located just steps away from the cable car at Gora. It is accessible and walkable to many attractions and restaurants. Free parking is available nearby.
The onsen is lovely and awesome. The best part is, that tattooed people were welcomed to soak in the hot spring bath, which is rare in whole Japan.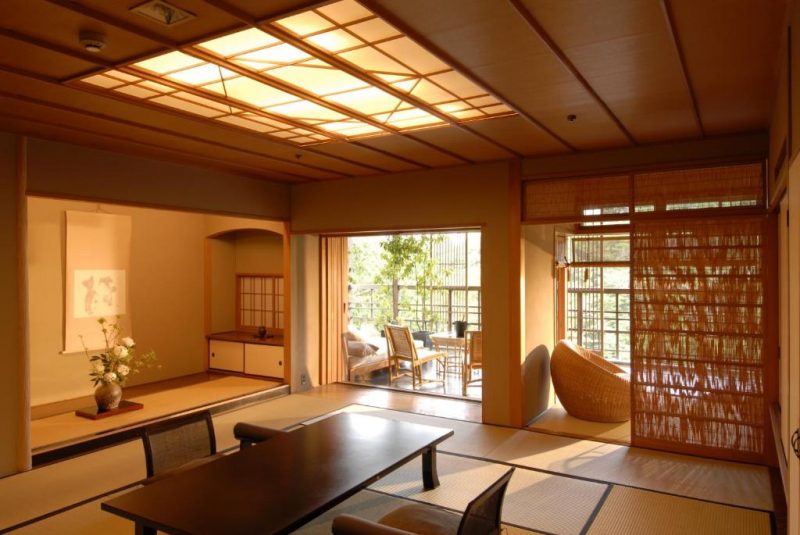 Experience world-class service at Gora Kadan, a five-star accommodation in Gora that comes with some added luxuries that ensure you will have a comfortable stay. The wooden building is gorgeous and authentic, with every part of the building inspiring calm and relaxation. While the public open-air bath is awesome and it makes good use of the view over the valley, provides a stunning view when you soak in the natural hot spring. Staffs are super attentive and helpful.
Spending one night in Gora Kadan is not cheap but worth the money if you are looking for a unique ryokan experience with impeccable service. Check how much to spend one night in the Gora Kadan.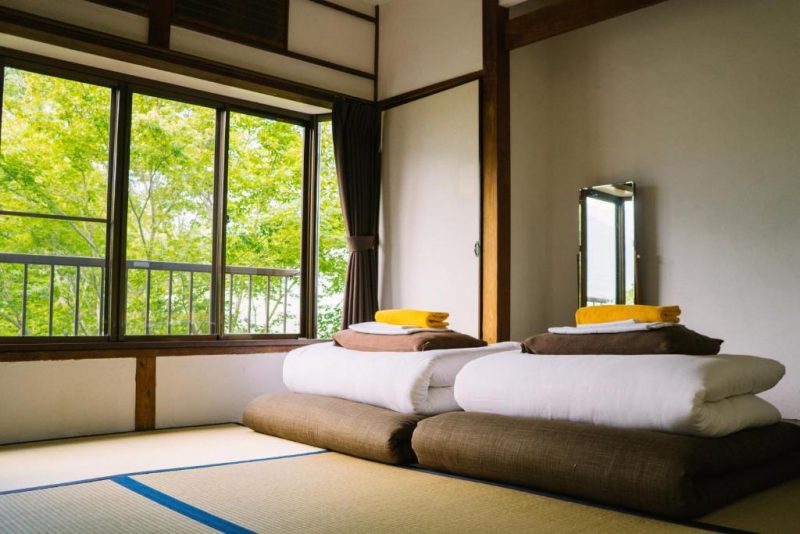 Lastly is the Onsen Guest Hakone Tent, a budget hostel with a 2-minutes walk from Gora Station. This basic hostel is the perfect choice for backpackers that want to save money when planning a trip to Hakone. All rooms are simply decorated and equipped with air conditioning and heating facilities. The price is very affordable and your stay is featured a private onsen which is amazing for the price paid.
Popular hostel for solo travelers to Hakone with single room and dormitory room available. Check room availability.
Sengokuhara
Located in the north of Hakone, the large area of Sengokuhara is the great area in Hakone that truly takes you into the flora and fauna. This area is full of natural beauty with amazing views that await you to slowly explore. A great option for travelers that want to discover all Hakone has to offer in a calmer setting. It is particularly popular in the autumn months with a spectacular mountain view.
Sengokuhara is easy to access other towns thanks to the railway station. Here is our recommended hotel in Sengokuhara: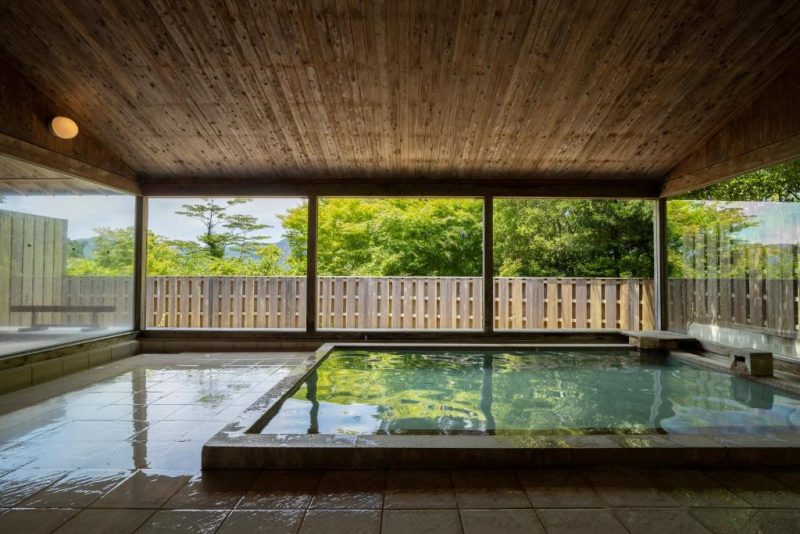 Tucked within the forest, Hakone Retreat Fore is a rural retreat that makes you feel in the middle of the woods. It is situated in the mountain ranges of Hakone in the Sengokuhara Hot Springs region, but still super easy to find and very close to the bus stop. Service was just excellent, all staff are friendly and always looking for a way to help out. Guests can walk along the wooden deck surrounded by the forest to get to the outdoor hot spring bath. Amazing relaxing getaway among nature with luxury service.
Check room availability in Hakone Retreat Fore.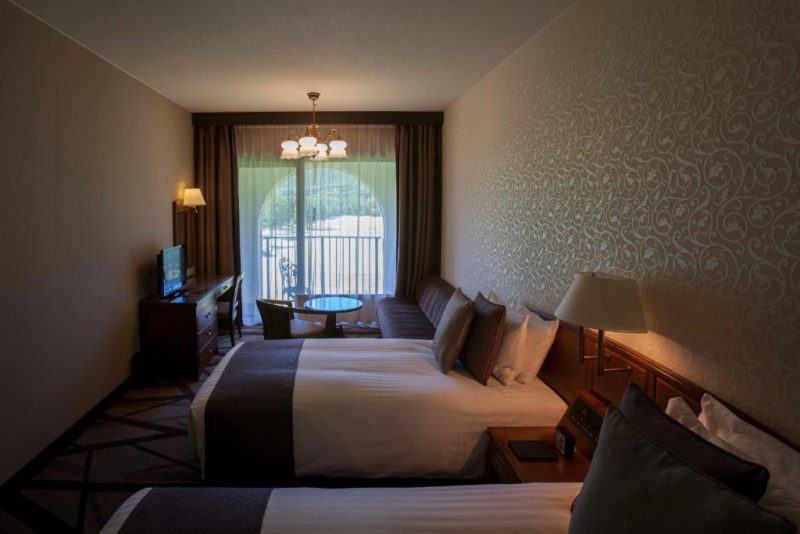 For a hotel room with a scenic view, Hakone Sengokuhara Prince Hotel is a perfect pick. It is boasted of natural hot spring open-air baths and a stunning view of the Hakone Mountains which surround the area. The location is slightly far away from the main attraction, but a shuttle service is available for guests to the main train station. So it is convenient for those traveling in groups or with family. Luggage storage, currency exchange, and dry cleaning service are available.
Hakone-Yumoto
Whether you're coming to the Hakone by self-driving or public transport, you'll be passing the Hakone-Yumoto. This town is the first gateway to the region and the main tourist center of Hakone. Plenty of shops, eateries, museums, temples, and hotels are scattered in these areas. As a result, the accommodations in Hakone-Yumoto are surprisingly inexpensive compared with other neighborhoods in Hakone. It is the best option for the traveler who looks for a budget stay in Hakone and also the best place to stay in Hakone for convenience.
If you plan to explore the Hakone using public transportation, Hakone-Yumoto is an excellent base as you'll always be within walking distance of a bus and train terminal. The train station keeps travelers well connected with the other neighborhood of Hakone, as well as with Tokyo.
Here is our pick for the best Hakone-Yumoto Hotels: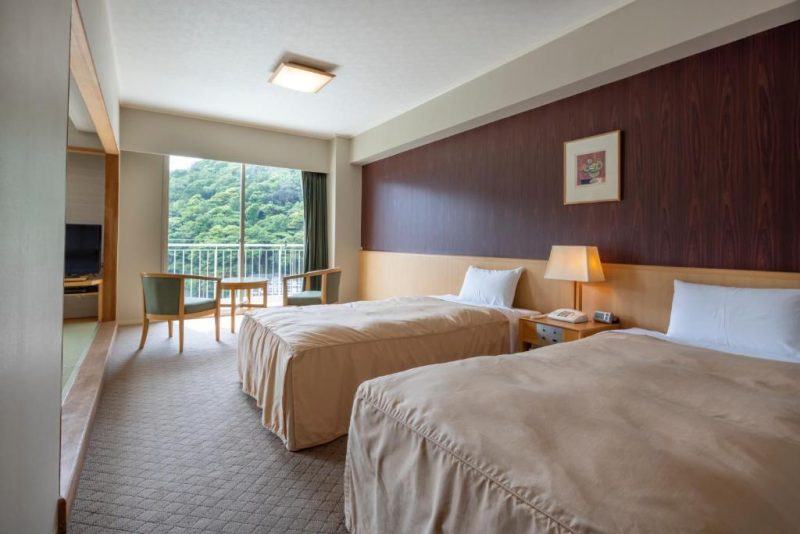 The popular Yumoto Fujika Hotel is one of Hakone's best hotels and our top pick in the Hakone-Yumoto town. The location is superb and located right next to the train station. So it is easy to access by walking distance from the station and perfect for travelers with familiars and kids.
Nestled in amongst the mountains, this four-star hotel gives your holiday a great start with comfortable and spacious rooms, a lovely view over the nearby river, a traditional public onsen bath, plus a great central location. A private onsen bath is optional with an additional fee. A dinner option is available with a reservation required. Alternatively, plenty of eating options with a lot of shops and restaurants around. Overall the price is slightly expensive but the service is impeccable.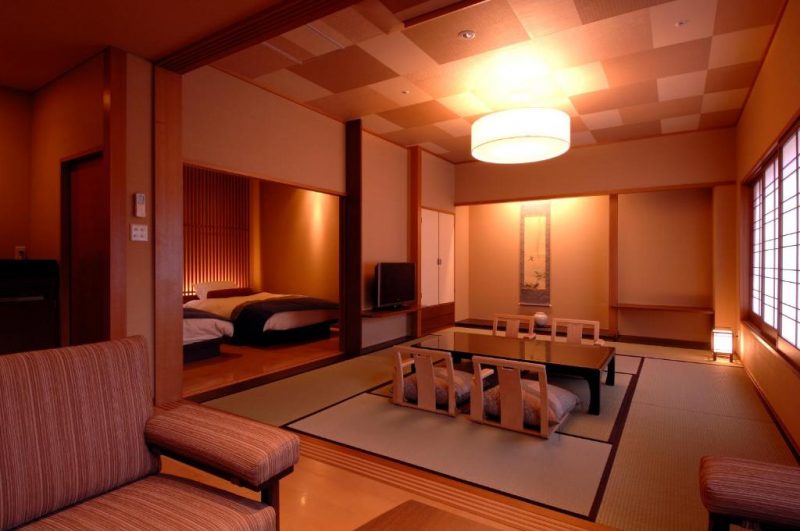 Located a 5-minute walk from Hakone-Yumoto Station, Hotel Kajikaso is a three-star ryokan with Japanese-style rooms. Rooms featured traditional futon bedding on the tatami floor, perfect for travelers who looking for a traditional stay in Hakone. The ryokan is well-situated along the Hayakawa River, offering outdoor and indoor public hot spring baths with nature views. For a small additional fee, you can also opt for a room that has its own private hot spring.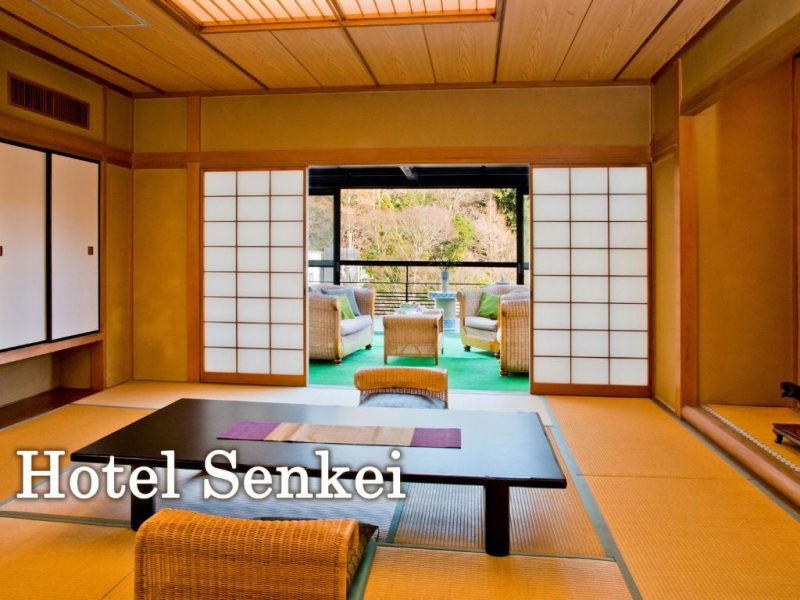 The traditional ryokan in Hakone, Hotel Senkei is classic Japanese-style accommodation with gardens and surroundings in a nice calm ambiance, Rooms are nicely arranged with modern amenities. Friendly staff with English-spoken which is helpful for foreigners. The Senkei hotel offers spacious hot spring baths to make your stay more enjoyable. Its open-air rooftop hot spring with views of Hakone's mountains was truly lovely. The location is accessible within about 710 minutes walking distance from Hakone-Yumoto train station and bus stops
Check room availability in Hotel Senkei.
Motohakone
A visit to Motohakone is truly a breath of fresh air in the Japanese countryside, It is the prime neighborhood in the Hakone which features the most famous sights; Mount Fuji, Lake Ashinoko, and Mount Hakone making it the best location to mesmerize the unbeatable vistas of Mount Fuji and stunning lake view of Lake Ashi. The beautiful settling makes Motohakone perfect for the short gateway with romantic settling. As a result, this area is often busy with tourists, especially during weekends and public holidays.
The accommodations along the side of the lake are very popular and can be quite pricey. But worth the money for the remarkable views.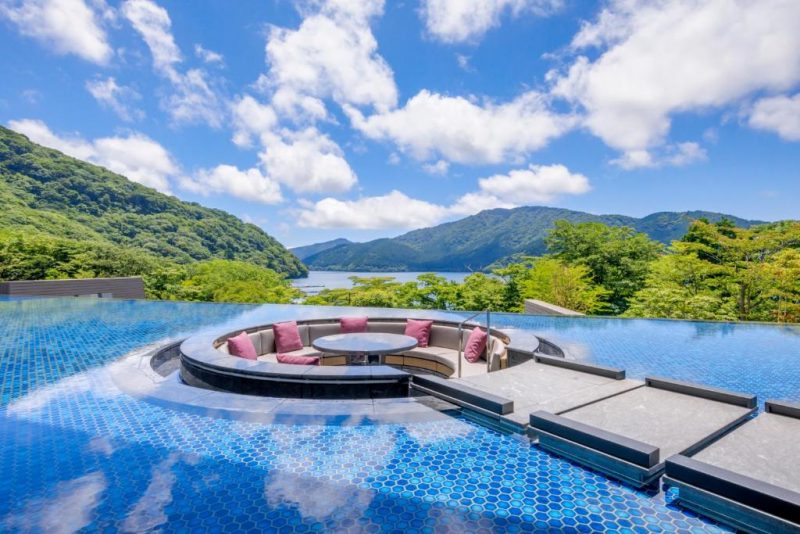 Hakone Ashinoko Hanaori is another popular hotel for travelers who looking for a perfect gateway in Hakone. It is an amazing modern hotel with an incredible view and beautiful setting. The highlight of the stay is the awesome onsen facility that included an open-air bath with a lake-side view. Great location right next to the lake with a 2-minute walk from Togendai Station on Hakone Ropeway. Shuttle bus service is offered to transfer from Odawara station to the hotel.
A popular pick in Hakone an advanced reservation is recommended. Check room availability in Hakone Ashinoko Hanaori.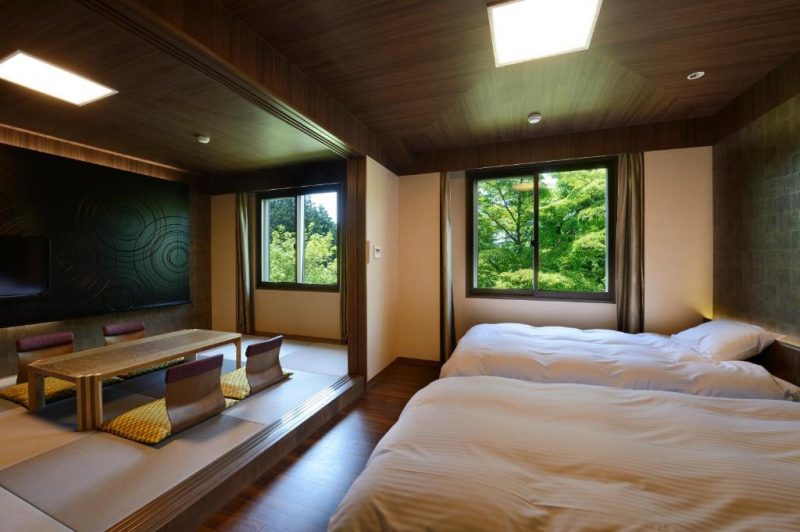 Hakone Lake Hotel is a three-star hotel in Motohakone that is located right on the lakefront of Lake Ashi. It is also one of the few western-style hotels in the town. The location is central to many of the attractions and can be easily accessed by public transport.
Convenient bus and ropeway stops are available within a 3-minute walk from Togendai Ropeway Station and a 5-minute walk to Lake Ashi. The hot spring facilities are awesome and guests can unwind in the public bathing area, which features an open-air bath with amazing mountain views.
Hotel Musashiya is a charming three-star ryokan located right next to Lake Ashi. With balconies that look over the lake, your stay boasted of a picturesque Lake Ashi view from the room. It offers simple large hot spring baths, both indoor and outdoor. The location is perfectly situated close to the bus terminal or a 1-minute walk from the sightseeing cruise port. The owners will make sure your stay goes smoothly and help you with local recommendations. A great place for a tranquil weekend away.
Final Thoughts: Where to Stay in Hakone?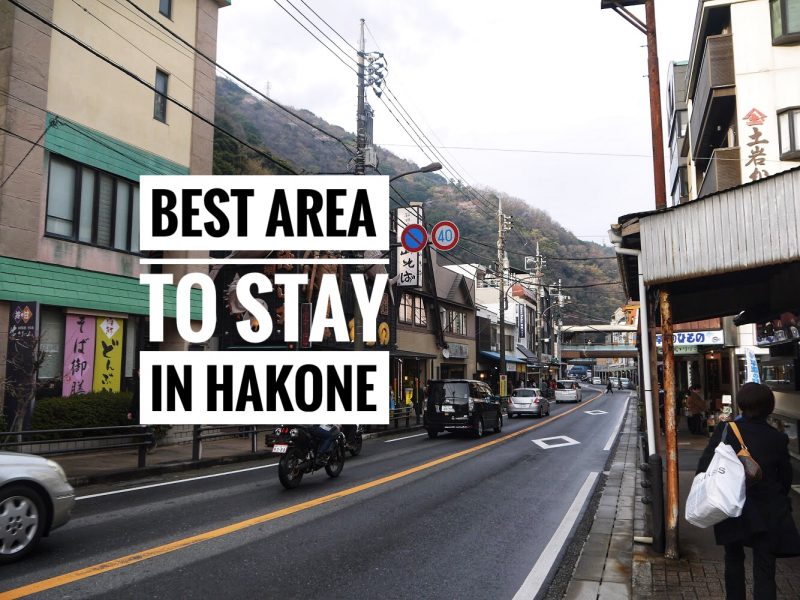 We hope this list of accommodations in Hakone can help you find your holiday home for your gateway. We visited Hakone a few times, but the most memorable visit is during the spring cherry blossom season during April. It is beautiful all year round with its stunning natural setting. It is the most popular destination near Tokyo for those that want to experience traditional hot spring baths. Plus, there are many things to do in the area of Hakone aside from onsens and natural beauty, including museums, temples, and restaurants.
Our top recommendation especially for first-time travelers is Tonosawa. Nestled in the arms of a picturesque valley, this area is renowned for its hot spring bath and quieter place to base yourself on a trip to Hakone. The historical Ichinoyu Honkan and Fukuzumiro are the perfect picks. You may check out our stay in Ichiniyu Honkan with a detailed hotel view and transport arrangement.
If budget is not a concern, look for the best accommodation in the Motohakone area. The stunning view from Hakone Ashinoko Hanaori that overlooked the scenic Lake Ashinoko is part of my memorable journey in Hakone.
Friendly reminder, rooms running fast, especially that popular accommodation in Hakone. It is advisable to book early if you're planning to stay in Hakone during the weekend and public holiday. Book your room in Hakone via booking.com with free cancellation of anything when the travel plan changes.
Thanks for reading and happy travels to Hakone.
Planning on a trip to Hakone? Here is a useful guide for your planning:
How To Plan your trip to Tokyo (Must read for first time visitors):